The Top 7 Places to Get a Facial in Winnipeg
Whether we like it or not, our faces are exposed to the elements (good and bad) on a daily, moment-by-moment basis. We can have the best skincare regimen ever, but there are simply days when even our go-to products won't work as efficiently.
We shouldn't have to wait until our skin gives up on us – that's what facials are for! Luckily, there are some really amazing places to go to in Winnipeg for a facial, and we've got our top picks right here.
How much does a facial usually cost in Winnipeg?
Pricing for facials is dependent on the specific problem area they address and the complexity of the treatment. We can safely say that an express-type, basic service would be in the $50-80 range; while more targeted, premium treatments (excluding add-ons or boosts) could go all the way up to $300.
To give you a better idea, here is the price list for some of the facial spas featured in our list.
Spa Botanica
| | |
| --- | --- |
| Basic Cleansing Facial | $75 |
| OM Fresh Facial | $135 |
| Cupping Facial Treatment | $60 |
| Back Facial | $80 |
| Huna Customised Facial | $120 |
Myüz Makeup Artistry and Esthetics
| | |
| --- | --- |
| Biologique Recherche Customised Facial | $235 |
| Custom Facial | $145 |
| Fire and Ice Facial | $125 |
| Forlle'd Sparking Oxygen Facial | $150 |
| Forlle'd Platinum Glow Facial | $200 |
| Forlle'd Bio Filler Facial | $200 |
| 2022 Client Custom Facial | $250 |
| Facial Sculpting & Intraoral Lift | $215 |
| Microcurrent Facial | $200 |
| Healing Facial with Facial Reflexology | $110 |
| Living Libations All Natural Facial | $135 |
| Forma Radio Frequency | $225 / session |
| Steam and Extraction Facial | $75 |
| LED Light Therapy Facial | $70 |
| Lunch Time Fire & Ice | $80 |
Urban Retreat Derma Spa
| | |
| --- | --- |
| Consultation | $100 |
| IMAGE Facial | $115 |
| Refreshing Facial | $95 |
| Dermaplaning Facial | $155 |
| Men's Skin Treatment | $95 |
| IPL Photofacial–Face | $275 |
| Pregnancy Facial | $140 |
| Extractions | $85 |
| Signature HydraFacial | $170 |
| Clarifying HydraFacial | $210 |
| Brightening HydraFacial | $240 |
| HydraBoost HydraFacial | $225 |
| Regenerative HydraFacial | $290 |
| Hydrafacial Express | $120 |
| Hydrafacial Back | $175 |
The Face Bar and Skincare Dispensary
| | |
| --- | --- |
| Peel | $169 |
| Purge | $79 |
| Lift | $79 |
| Glow | $79 |
| For Richer or Pore (Purge x 2 + Glow) | $209 |
| Selfie Ready (Purge + Lift + Glow) | $209 |
| Gen X (Peel + Glow + Boost) | $219 |
Soul Beauty Boutique
| | |
| --- | --- |
| Custom Facial | $130 |
| Fire & Ice Facial | $145 |
| Micro Treatment | $70 |
| Back Cleansing Treatment | $95 |
| Microdermabrasion Facial | $135 |
| Dermaplaning Facial | $135 |
| Celluma Light Treatment | $55 |
Reviewing the Best Places for a Facial in Winnipeg
We kept the following considerations in mind when scouting for the best places to get a facial:
1. Spa Botanica
| | |
| --- | --- |
| WEBSITE | https://spabotanica.ca/ |
| CONTACT DETAILS | 1459-C Corydon Ave, Winnipeg, MB R3N 0J2 |
| ADDRESS | Phone: (204) 489-8107 |
| OPERATING HOURS | 9:00 AM-9:00 PM daily |
| SIGNATURE OR CUSTOMER-RECOMMENDED FACIAL/S | OM Fresh Facial |
Our Rating:
| | |
| --- | --- |
| Quality / Comfort | ★★★★★ (5/5) |
| Customer Service | ★★★★★ (5/5) |
| Price | ★★★★★ (5/5) |
| Overall Experience | ★★★★☆ (4/5) |
Customers praise owners and estheticians Gabrielle Zoppa and Harman Dhaliwal for creating a relaxing and assuring experience at Spa Botanica. We love that many of them were served by the owners themselves, which tells us that the owners are very hands-on in the business.
Spa Botanica makes use of all-natural ingredients for its facial products, which customers appreciate. We think that guaranteeing chemical-free treatments is a great way to keep them coming back, knowing that there are no potential negative effects in repeating the service.
A quick look at their website shows us that they have a smooth and seamless appointment booking system, digital shop, and gift cards that may be purchased online.
We like that the brand experience can start from browsing the site, especially now that most people like to "canvass" from home before physically going to the spa.
Clients also love the friendly, thoughtful, and caring service of the estheticians. We're impressed that what they remember the most about their experience is how the staff treated them.
One thing that stands out is how the esthetician makes sure to explain the process before even starting. This helps set the expectation and make the client feel comfortable and assured, which is a plus for those coming in for a facial for the first time.
Customers also love that their facials come with extra massages. We think that this is a great way to enhance the experience, making the client feel completely pampered from top to bottom.
Finally, the spa itself exudes a relaxing and cosy vibe, which is a great mood-setter for some much-deserved downtime and self-care.
Though one of the people we talked to related a miscommunication in pricing, we think that it was a one-off experience, as evidenced by largely positive reviews all around.
Open daily
Treatment is thoroughly explained at the start
Online booking
Gift cards available
Cosy and peaceful atmosphere
Use of natural products
Facials combined with massages
One bad review on communication issues
Customer Reviews
Uses natural products
"Best facial in the city! Very relaxing, great natural products and superb professional customer service" –Lori Proznick
Goes the extra mile
"First time at the spa for the OM facial. It was fabulous! Much more than just a facial, it included a back massage, arm and shoulder massage, hot stone massage along with magnificent scented potions and lotions for face. Highly recommend." –Barbara Dixon
Relaxing and peaceful atmosphere
"The OM Fresh Facial was amazing. Janica was everything you would hope for; friendly, professional, and always gave a head's up for what she was doing. The atmosphere was relaxing and peaceful. Would definitely recommend." –Shannon Neufeld
2. Myüz Makeup Artistry and Esthetics
WEBSITE
https://myuzartistry.com/
CONTACT DETAILS
1444 Corydon Ave, Winnipeg, MB R3N 0J3
ADDRESS
Phone: (204) 306-8502
OPERATING HOURS
Tuesdays and Thursdays - 10:00 AM-9:00 PM

Wednesdays and Fridays - 9:00 AM-4:00 PM

Saturdays - 8:00 AM-3:00 PM

SIGNATURE OR CUSTOMER-RECOMMENDED FACIAL/S
Biologique Rerherche Facial, Myüz Custom Facial
Our Rating:
| | |
| --- | --- |
| Quality/Comfort | ★★★★★ (5/5) |
| Customer Service | ★★★★★ (5/5) |
| Price | ★★★★★ (5/5) |
| Overall Experience | ★★★★☆ (4/5) |
When we heard what clients have to say about Myüz Makeup Artistry and Esthetics, it is clear that what they value the most in their experience is the owner's expertise. Having been in the business for over 10 years, owner Tina Cable indeed seems to have seen it all.
Customers rave about how the estheticians take time to listen attentively to their stories before making any recommendations. They also come across as genuine and empathetic, which makes clients feel special and well-cared for.
Looking at their menu of services, we love that they do skin consults and custom facials. This is a great way to offer bespoke treatments and target unique skin issues.
Another thing that we like is how they differentiate the services for a returning customer and a first-time client. This tells us that they honor the specific skill sets required for each type of client and that each one will be guided and serviced accordingly.
We were also happy to hear that they communicate well with new and returning clients, whether through e-mail, text, or phone. Clients feel that they gain the information and assistance they need, which reflects the level of attentiveness given even without meeting face-to-face.
Another thing that clients love about Myüz Artistry and Esthetics is the thoughtful product recommendations given to them. They are given morning and evening skincare regimens to follow that are tailored to their needs.
We think that this is a great benefit to be had, particularly for first-time clients who are clueless about skincare and need a lot of hand-holding.
Clients likewise commend their beautifully designed space, which they find healing and tranquil. This is a major part of the brand experience, so the fact that Myüz nailed this is a testament to how well they know their audience.
They also feature a great rewards and incentives system where customers can earn points for services availed and people referred, which is a great motivator for repeat purchases.
Finally, they offer bridal packages, which is a smart and relevant way to integrate their expertise into another industry.
Online appointment booking system
Extensive selection of facial services
Skin consults and custom facials available
Bridal services
Responsive customer service
Thoughtful product recommendations
Rewards system
Different schedules per day – may be confusing for some clients 
Customer Reviews
Great for first-timers
"I went for my very first facial and had a great experience. Super friendly staff and a very warm greeting when I walked in. I had booked an appointment with Dinah and she did such a fantastic job. Since this was my first facial, Dinah walked me through what was happening and ensured I was comfortable. Some great product recommendations and a very relaxing atmosphere. I was happy with the results and my skin felt very good afterwards. I highly recommend going here and seeing Dinah." –Jason Skinner
Attentive and caring estheticians
"I'm so happy to be coming to Myuz for my facials. I've seen Tina, Madi and Dinah and all the facials are amazing with each provider. They take the time to listen to my skin concerns and adjust the products accordingly. I use mainly iS Clinical products and have noticed an improvement with my skin. I just added Active Peel System and it's AMAZING. My skin after each facial always looks flawless and is glowing for weeks. No red marks are left. The front staff is always kind and the shop is always clean and stocked with goodies. You'll find something for yourself and gifts for friends!" –Ashley P
Beautiful space and wide range of treatments
"I've been going to Myuz for about a year and a half now and it truly is the best place in Winnipeg for facials and high quality skincare products.
So many positives to note: the space is beautiful, Tina (the owner) has high standards for quality and only brings in the best products that will actually show results, and there a wide range of the best facials & skin treatments to suit anyone. Tina ensures herself and her staff are always learning new techniques to continually provide the best treatments available, which is personally really important to me, as I feel Wpg often lags behind with offering newer esthetic treatments that are common in bigger cities.
I've done a couple of different facials now with Madi which have all been wonderful. I recently did the intraoral massage & sculpt facial with Tina and it was hands down the most relaxing experience ever. I've never felt more drained and reset in the best possible way. I'd recommend it to everyone!" –Alexandria Levandoski
3. Urban Retreat Derma Spa
WEBSITE
https://urbanretreatdermaspa.com/
CONTACT DETAILS
444 St Anne's Rd, Winnipeg, MB R2M 3C8
ADDRESS
Phone: (204) 895-4696
OPERATING HOURS
Tuesdays and Wednesdays: 10:00 AM-6:00 PM

Thursdays:10:00 AM-8:00 PM,

Fridays: 9:00 AM-5:00 PM,

Saturdays: 9:00 AM-4:00 PM

SIGNATURE OR CUSTOMER-RECOMMENDED FACIAL/S
IMAGE Facial, IPL Photofacial, HydraFacial series
Our Rating:
| | |
| --- | --- |
| Quality/Comfort | ★★★★☆ (4/5) |
| Customer Service | ★★★★★ (5/5) |
| Price | ★★★★★ (5/5) |
| Overall Experience | ★★★★☆ (4/5) |
We noticed right away that Urban Retreat Derma Spa has a lot of clients who have been coming to them for years, not just for self-care but to also address medical skin issues. This tells us right away that they are well-known for their expertise and results.
This is evidenced by rave reviews on many of their estheticians who have been servicing returning clients. They are described as passionate specialists who really care about their customers, which we find admirable and impressive.
A great standout comment on Urban Retreat Derma Spa is that they stay abreast of the latest skincare technology. They apply it in their treatments and even in their investment in up-to-date equipment.
From our perspective, this is the mark of a dynamic brand that keeps the changing needs of the consumer in mind, while aligning it with the best methods to address their pain points.
For new clients, a major plus for them is that no pushy sales tactics are applied here. This eases the initial apprehension of getting a facial for the first time, which we think reflects the brand's genuine desire to put the client's interests at heart.
They also offer great products to take home or to give as gifts, which brings the brand experience to the home and to potential clients. In terms of the actual space, clients find their interiors clean and relaxing, which are two essential elements of excellent spa design.
Unfortunately, they have had a couple of negative reviews pertaining to treatment experience and their tipping calculation.
That being said, we are really impressed by how Urban Retreat Derma Spa promptly responded, making the necessary apologies, clarifications, and reparations without invalidating the client's experience.
Huge lineup of facial services
Great skincare products for self-care or gifting
No pushy sales tactics
Updated on latest skincare technology
One-off review on a painful treatment experience
Calculates tipping fee based on total price, which may include retail purchases
Customer Reviews
Friendly staff and great atmosphere
"I saw Tyra for a image signature facial and she was amazing! She was very knowledgeable and professional and made me feel so comfortable and relaxed! I also bought some products that she recommended to keep my skin looking amazing! The atmosphere of the spa is great and very friendly staff also! Go see Tyra! I highly recommend her!!" –Amrine Ghattora
Consistently excellent service
"I have very dry skin and Michelle at Urban Retreat has helped me to keep my skin in great shape for years! I trust her advice and rely on her treatments to keep feeling and looking great. On her advice, I recently got a photofacial and hydra facial to treat dark spots from a summer in the sun and it turned out great! My skin has never looked better and I have already booked my next treatment. Thanks Michelle – you are appreciated!" –Cindy Choy
Good lineup of skincare offerings
"I just had a hydra facial with Michelle and my skin feels amazing! My experience here is always great! The whole team is so friendly and knowledgeable and in addition to great skin care products and advice, they have so many other great products that I love for myself or for gift giving! Definitely recommend for all your skincare needs!" –Kristi Cheetham
4. The Face Bar and Skincare Dispensary
| | |
| --- | --- |
| WEBSITE | https://thefacebar.ca/ |
| CONTACT DETAILS | 280 Fort St, Winnipeg, MB R3C 1E5 |
| ADDRESS | Phone: (204) 504-2227 |
| OPERATING HOURS | Tuesdays to Fridays: 11:00 AM-7:00 PM Saturdays: 10:00 AM-6:00 PM |
| SIGNATURE OR CUSTOMER-RECOMMENDED FACIAL/S | Purge Facial |
Our Rating:
| | |
| --- | --- |
| Quality/Comfort | ★★★★★ (5/5) |
| Customer Service | ★★★★★ (5/5) |
| Price | ★★★★★ (5/5) |
| Overall Experience | ★★★★☆ (4/5) |
The only "face bar" concept in our list, The Face Bar and Skincare Dispensary is a perfect choice for on-the-go clients for their signature brand experience: quick service with great results.
There are so many things we love about them. Treatment-wise, they offer relatively shorter service times without compromising quality and results.
Most of their facials last only 30 minutes, but they manage to accomplish a lot in this span of time. Clients are happy that they are able to enjoy better and glowing skin and still have plenty of time left in the day, which we think is a unique selling point.
Of course, this is not everyone's cup of tea, which is why some clients don't appreciate the quick servicing and lack of privacy. However, staff do a good job of explaining that they are not designed to offer a spa-like experience, given their "face bar" concept.
We like their simple and easy-to-understand treatment names. One already knows what it's for just by the name of the facial (Peel, Purge, etc.) – and we really love that they offer "What to Expect" post-treatment guides on their website for some of them.
Those looking to do a facial series for different problem areas will love their facial packages. Each one is thoughtfully curated to address a specific combination of skincare needs and can be availed over a period of 6 weeks.
We think that this is a great option for clients looking to do a longer-term investment in their skin without having to spend too much time on it.
They even have party packages, which is such a great idea for a face bar! Guests can enjoy quality treatments and still be able to properly mingle with one another since the facials can be done in a shorter amount of time.
Estheticians are described as friendly and knowledgeable, which are welcome attributes in this type of client servicing. Clients also love that everything is reasonably-priced – from the facials themselves to the beauty products being sold.
Lastly, they also have exclusive membership perks when you subscribe for a period of time. These include monthly facials, skincare kits, birthday gifts, event invites, and yoga classes.
Simple, easy-to-understand treatment names
Skincare consultation available
Party packages
Membership perks
Online appointment booking system
Reasonable pricing
Relatively quick facials offered
Doesn't offer a "spa" experience – no privacy while getting treatment
Customer Reviews
Excellent results
"Came here today for a purge facial and it was awesome! My skin is soooo soft and clear from all the gunk in my pores, they really know what they're doing. Awesome place, very beautiful inside. They also have an array of skin products you can purchase for decent prices. The ladies working were extreamly friendly as well, I'll definitely be returning and recommending to all my friends!" –Haleys comet
Accessible and approachable
"Had a great first experience at the Face Bar! What was so nice was that everything was very approachable– pricing isn't crazy, atmosphere isn't stuffy, staff were warm and knowledgeable, and the facial was only 30 minutes with great results. Definitely easy to make this part of your beauty routine. I am already looking forward to trying a different facial next time! So nice to see something like this in Winnipeg!" –Andrea Jackson
Reasonably-priced skincare products
"I personally cannot say enough about The Face Bar. The ladies are all extremely knowledgeable and friendly, the space is always spotless and relaxing and the products are incredible. The way my skin has evolved from my first visit baffles me, I went from a face full of acne to now skipping foundation. Was hesitant on buying products at first, but I have tried a large majority of them and they are all spectacular and very reasonable compared to some others. 12/10 recommend The Face Bar to anyone looking to show some love to their skin!" –Quintana White
5. Soul Beauty Boutique
WEBSITE
https://soulbeauty.ca/
CONTACT DETAILS
575 Academy Rd, Winnipeg, MB R3N 0E4
ADDRESS
Phone: (204) 489-7685
OPERATING HOURS

Tuesdays to Thursdays: 10:00 AM-6:00 PM

Fridays: 10:00 AM-5:00 PM

Saturdays: 11:00 AM-4:00 PM

SIGNATURE OR CUSTOMER-RECOMMENDED FACIAL/S
Fire & Ice Facial
Our Rating:
| | |
| --- | --- |
| Quality/Comfort | ★★★★☆ (4/5) |
| Customer Service | ★★★★★ (5/5) |
| Price | ★★★★☆ (4/5) |
| Overall Experience | ★★★★☆ (4/5) |
So many customers praise the beautiful and spotless interiors of Soul Beauty Beautique, and we have to agree. Their space is warm and inviting, yet current – a great combination that attracts a trendy yet discerning clientele.
Their staff are also described as kind and friendly. We think that their positive energy is one of the main reasons why they have plenty of returning clients.
At the same time, they are also appreciated for their honesty and thoughtfulness. We love that clients remember how they are able to identify real skincare issues without judgment and make the necessary recommendations.
In an industry where it is far too easy to over-sell by presenting skincare problems as worse than they actually are, we think that this makes them a true gem.
Happy clients pay it forward by recommending Soul Beauty Boutique to others, which we think is the most effective advertisement.
Since they are known for other fantastic beauty services, many clients go there to avail of a combination of these. However, most of them are quick to point out that their version of the Fire & Ice Facial is one of the best in town.
Other clients also appreciate how they go the extra mile on giving them true value for money – even when the service is just half an hour long. This tells us that Soul Beauty Boutique is determined to put quality at the core of their treatments and services.
The only thing that several clients gripe about is the slightly pricier products in their shop, but this shouldn't be a major dealbreaker. At the end of the day, their loyal clients go to them for their expert care and positivity – and that's what ultimately matters.
Beautiful, modern, and clean interiors
Online appointment booking system
Pricey products
Some complaints about new staff
Customer Reviews
Great value for money
"I have had the Fire and Ice facial a couple of times with Joy, she is awesome! Takes her time and goes the extra mile to ensure you get your hour and half money's worth. The IS products may be a bit pricey but goes a long way and the results are amazing! Love the staff!" –Mala Lackhan
Honest and accurate assessments
"I just had a facial with Veronica and it was one of the best facials I have ever had .My skin feels and looks amazing.
She advised which facial would be best for my skin and I appreciate her professionalism and her honesty. My skin is just glowing I will be back for sure" –Zena Ollinik
Clean space and friendly staff
"Highly recommend Soul Beauty. Friendly staff, clean environment and great excellent services. During my pedicure Alex told me about their " Fire and Ice" facial, I thought why not. I had the facial today and I can't speak highly enough about it, my skin feels like velvet.
Thanks Alex" –Liz Tavares
6. The Magic Room Beauty Bar & Med Spa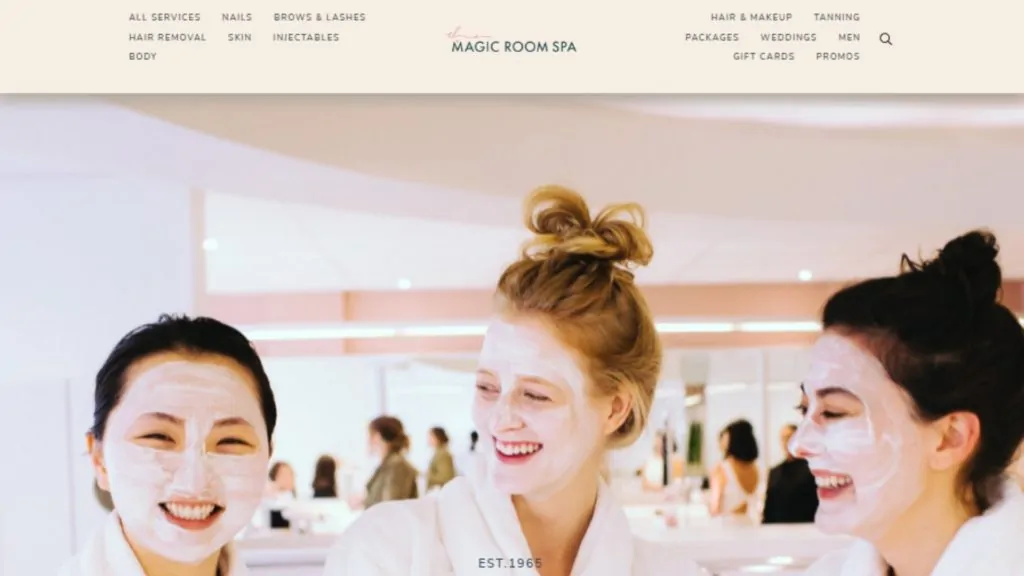 WEBSITE
https://www.magicroomspa.com/
CONTACT DETAILS
264 Edmonton St, Winnipeg, MB R3C 1R9, Canada
ADDRESS
Phone: +1 204-943-6702
OPERATING HOURS
Mondays to Fridays: 9:00 AM-7:00 PM

Saturdays: 9:00 AM-5:00 PM

SIGNATURE OR CUSTOMER-RECOMMENDED FACIAL/S
Signature Facial, Microneedling
Our Rating:
| | |
| --- | --- |
| Quality/Comfort | ★★★★☆ (4/5) |
| Customer Service | ★★★★☆ (4/5) |
| Price | ★★★★☆ (4/5) |
| Overall Experience | ★★★★☆ (4/5) |
The Magic Room is a top beauty bar and med spa on our list that can provide you with a good facial in Winnipeg.
We like that there are a bunch of options to choose from. From their list, they have an express, classic, signature, back, dermaplaning, and more kinds to suit different needs and preferences.
The prices begin at $60 for a 35-minute session. Though their starting price is average, their other facial treatments (especially the deluxe and platinum options) may be pricey for some.
If their extensive list looks overwhelming, they have a skin consultation service for $20 to discuss your most pressing concerns. This is also among the more affordable consults we've seen, so we suggest getting it before making a decision.
Aside from the facials, they offer many other services like nail care, brows and lashes, waxing, hair and makeup, and the like.
Not only that, but we found it valuable that they also provide mani-pedis for kids and several skin services for men.In our opinion, this could be a relaxing bonding moment for the family.
Conveniently, The Magic Room Beauty Bar & Med Spa is open daily, except on Sundays.
Available 6 days a week
Extensive list of facials
Good starting price for facial and consults
Offers skin services for kids and men
Some advanced facials may be costly
Unavailable on Sundays
Customer Reviews
The friendliest place to receive care
"The best most friendliest and professional place to receive care professionalism and personal courtesy. I recommend this place to anyone and everyone who is thinking of getting any personal care or treatment. You will not be disappointed." –Stan Loiselle
Really nice
"Kim took such good care of me. The before and after contrast was amazing. And it's really nice in there!" –mystiquemjt
Kind, professional, and welcoming
"I've been to see Lei Ann three times now for a Bespoke Medical Facial, and have only wonderful things to say both about her, and all of the staff I've come across during my visits. They are kind, professional, and create a welcoming environment. I would highly recommend The Magic Room and Lei Ann in particular." –Nicole Derkach
7. Forget Me Not Body Image
SERVICES
Skin, hair, and body services
WEBSITE
http://forgetmenotspa.com/
ADDRESS
3073 Ness Ave
Winnipeg, MBR2Y 2G3
CONTACT DETAILS
204-831-7940
[email protected]
OPERATING HOURS
Wednesday 10am – 6pm (reserved for Ideal Protein Clients)
Thursday 12pm – 8pm
Friday 9am – 6pm
Saturday 9am – 3pm
| | |
| --- | --- |
| Quality/Comfort | ★★★★☆ (4/5) |
| Customer Service | ★★★★☆ (4/5) |
| Price | ★★★★☆ (4/5) |
| Overall Experience | ★★★★☆ (4/5) |
Forget Me Not Body Image has been helping countless individuals in Winnipeg for over 35 years. Their objective is to serve their customers with comprehensive well-being of the body, skin, and mind through practical solutions.
They provide several services that can be classified in three parts which are their skin & hair services, body services, and weight loss programs. Among these services they particularly excel in their skin and hair services, especially on their facial services. 
We highly recommend their custom facials along with several other clients who are satisfied with it because of their use of galvanic current, high frequency and their Viennese massage to finish the treatment.
Aside from their use of galvanic current, they also customize their technique and products to suit your skin type and concerns. 
Available 6 days a week
Experienced staff
Personalized treatments
Provides weight loss programs
Does not accommodate walk-ins
Customer Reviews
The special care and professional foot care is a must for everyone
"I have had a facial and a pedicure. My skin feels amazing! Two hours spent on my face was incredible. I also learned a great deal about caring for my skin. My feet have been sore and after the pedicure I have been pain free! The special care and professional foot care is a must for everyone." – Susan Schmidt
Had a very relaxing enjoyable spa day
"Had a very relaxing enjoyable spa day. The ozone stream therapy was amazing and I noticed immediately how my skin improved. Followed by reflexology and a massage, it made the perfect day. This spa is wonderful for one on one service. Thank you to the knowledgeable friendly staff. I will be booking again soon." – Andrea Mair
FAQs on the Best Places for a Facial in Winnipeg
---
Hopefully, we've pointed you in the right direction for your Winnipeg facial! In the meantime, if you're looking for general dermatological services, we also curated a list of our favorite dermatologists in the area.
Today is always a good day to start taking better care of your skin. Here's to a healthier, glowing, more confident you!