5 of the Best Factory Outlet Stores in Winnipeg
Factory outlet stores are fun places to find cheaper products from well-known brands. But did you know that in the late 1990s, outlet stores carried mostly subpar products?
Today, factory outlets now carry functional and not damaged items, although most will have lower quality than their standard ounterparts.
In case you're looking for the best outlet shops to score great deals, we looked into the different factory outlets in Winnipeg and reviewed the best ones in this article.
Outlet stores usually price their items at least 20% off the original prices of their brands' premium line. Some even offer up to 50% or 80%, depending on the item.
For example, wallets from well-known designer brands can cost at least $300 at retail stores, while you can purchase them for around $102.
Some outlet stores also impose a flat rate off of selected items. For example, you'll find pairs of shoes marked $50 (or sometimes more) off their retail prices, regardless of size or model.
Besides clothes, furniture pieces are also offered at outlet stores. You'll be surprised to find couches originally priced at $12,000 marked at $8,000 and still in good condition.
How did we select the best factory outlet stores in Winnipeg?
We've chosen the following factory outlets to be the best in Winnipeg based on these criteria:
1. FXR Factory Outlet Superstore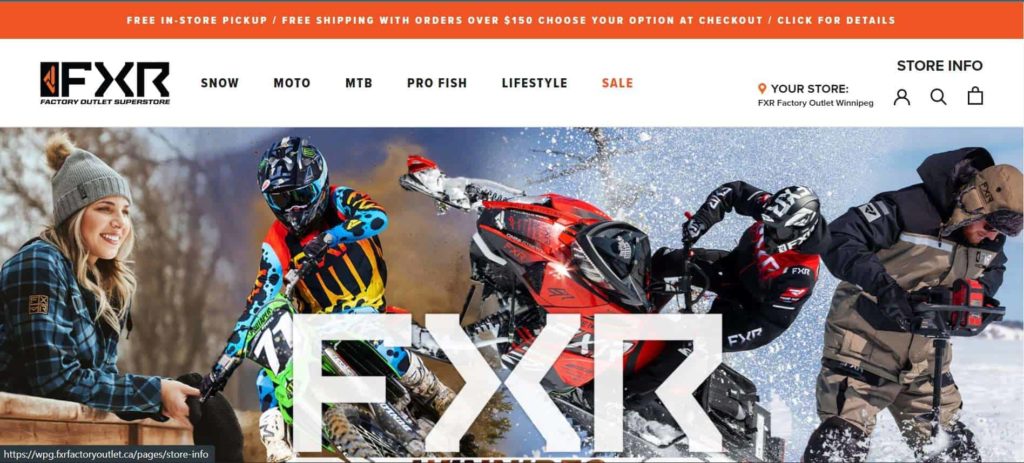 | | |
| --- | --- |
| CRITERIA | RATING |
| SELECTION QUALITY | ★★★★★ 5/5 |
| > Variety | ★★★★★ 5/5 |
| > Product quality | ★★★★★ 5/5 |
| PRICES | ★★★★☆ 4/5 |
| SHOP | ★★★★☆ 4/5 |
| > Clean, organised, and well-lit | ★★★★★ 5/5 |
| > Accessible and easy to navigate | ★★★☆☆ 3/5 |
| CUSTOMER EXPERIENCE | ★★★★★ 5/5 |
FXR Factory Outlet Superstore currently carries different products for motocross, snowmobile, skiing, and fishing.
In terms of pricing, we think the shop's rates are fair as at many of their sports goods are $20 to $30 cheaper than their retail counterparts.
We also have to give it to FXR for providing warranties, although the duration depends on the item. For example, products under the company's Race and Lifestyle categories are only given one-year warranties.
Three-year warranties, on the other hand, are currently limited to snowmobile attire, footwear, and gear.
Another favourable aspect of this factory outlet is that it has an online store. They offer convenient payment methods such as credit cards and digital wallet transfers, which is great.
We're just a bit iffy that this store currently doesn't accept debit card payments online, which we think can be limiting for those who don't have credit cards or digital wallets.
We're also giving it to FXR for providing shoppers different courier options that will suit their budgets and distance.
A downside to this store that it currently only has one branch and is a little too far from those living in Winnipeg's outskirts.
We think that this availability lets customers get their goods safely, as well as save time and money from driving to the main outlet store for pickup.
Impressive sports gear selection
Offers warranty periods of one and three years
Has an online store
Accepts different payment modes
Lets customers choose preferred couriers
Debit cards are not accepted online
Location might be too far for some
Customer Reviews
Staff were very accommodating, knowledgeable and helpful.
"Went in for a helmet and goggles with very little knowledge about what I needed and how the sizing for helmets works. Staff were very accommodating, knowledgeable and helpful. They explained how the sizing works, recommended a few different options for me and offered to order a pair of goggles for me as they didn't have the colour I wanted in stock. I appreciated that they said the entry level/most cost effective options would still be 100% safe and would work for what I needed instead of trying to upsell the more expensive gear. Their covid-19 protocols were also great, and the staff were lighthearted but still religious about their sanitation protocols. Definitely will be back!" – Cristina Gregory
Loved the great selection of snowmobile gear.
"The store has a friendly atmosphere. Really great selection on a lot of snowmobile gear. The store is clean tidied and well-organized. I love the fact that they post pictures of suspected shoplifters on their front doors. But the location of the store does suck 4 anyone wanting to buy FXR product and especially if they don't live in the city LOL but I will still continue to travel 45 minutes to this store for its great product." – Manitoba Life
2. Skechers Warehouse Outlet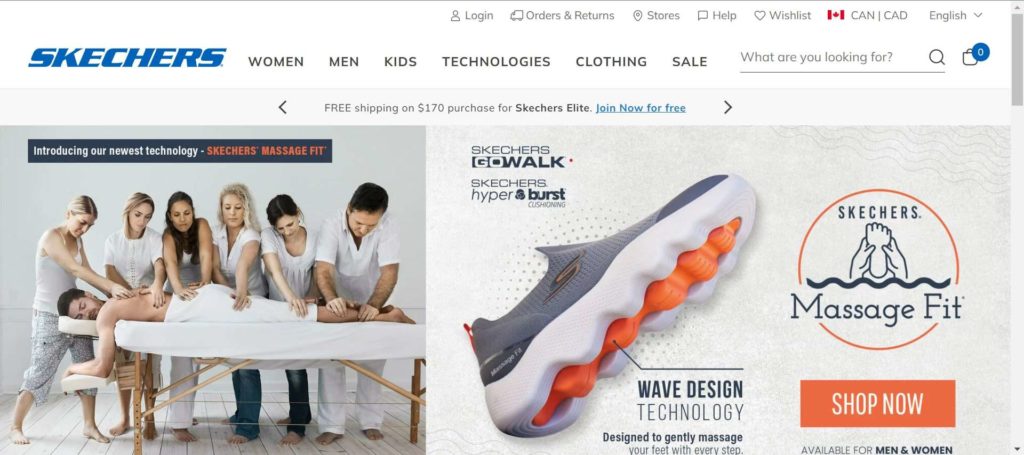 PRODUCTS

Shoes

Fitness clothing

Fitness accessories

Hats

Safety support gear

WEBSITE
https://www.skechers.ca/
ADDRESS
1555 Regent Ave. W Ste #2B, Winnipeg, MB R2C 4J2, Canada
CONTACT DETAILS
Phone: +1 (204) 654-9350

EMAIL: [email protected]

OPERATING HOURS

Monday to Friday: 10:00 AM – 8:00 PM

Saturday: 10:00 AM – 6:00 PM

Sunday: 11:00 AM – 6:00 PM
| | |
| --- | --- |
| CRITERIA | RATING |
| SELECTION QUALITY | ★★★★☆ 4/5 |
| > Variety | ★★★★★ 5/5 |
| > Product quality | ★★★☆☆ 3/5 |
| PRICES | ★★★★★ 5/5 |
| SHOP | ★★★★★ 5/5 |
| > Clean, organised, and well-lit | ★★★★★ 5/5 |
| > Accessible and easy to navigate | ★★★★★ 5/5 |
| CUSTOMER EXPERIENCE | ★★★☆☆ 3/5 |
Skechers' warehouse outlet carries a wide array of shoes such as sandals, slip-ons, sneakers, and trainers for women, men, and kids.
We were also pleased to find other products such as t-shirts, socks, hats, fitness accessories, work-out gadgets, and safety support gear in its inventory.
For pricing, we found plenty of footwear marked at $20 off their original retail prices. We think these are sweet deals, given that a pair of Skechers shoes can cost at least $100.
We also have to give it to this factory outlet for having a clearance section. Customers can apparently enjoy half-price discounts for quality footwear.
Do note, however, that some of the outlet items have mediocre quality. Although understandable given the nature of the shop, we think it's best to carefully peruse the items, especially those on clearance.
It is also worth noting that the store currently only accepts returns for products bought from its online shop. Any items bought in-store – including outlet items – can't be returned or refunded.
Another strong point of this factory outlet is that it is big on sustainability.
Some of its efforts include recycling shoe boxes, reusing reclaimed plastic and materials to make shoes, and using soy-based ink on their labels to reduce toxic chemicals from going into landfills.
We just wish management would consider retraining or upskilling its staff. We were quite bummed to hear about some of the personnel being unfamiliar with their discount codes or unfriendly to shoppers.
Carries different kinds of footwear
Offers great deals and half-price discounts
Also has a clearance section
Advocates for sustainability
Returns and refunds are currently limited for online purchases
Customer services need fine-tuning
Customer Reviews
Offers great deals for all kinds of footwear
"Great store with an amazing selection, from slip ons to running shoes. The clearance section at this location was great, many extremely discounted shoes." – Amanda L.
Thankful for the great custoemr service and discounts
"Yesterday my husband, Barry, came home with 2 pairs of shoes, saying he just had one of the best customer service experiences ever and wanted to make sure that this store knew that. He loves Skechers shoes and only buys this brand but had a limited budget to buy the shoes he needed for work. The salesperson, HARKOMAL, provided excellent customer service to help him find the right shoes for his work. She was also concerned enough to help him in any way she could so that he could stay within his budget; while taking advantage of "the buy the 2nd pair at the half-off special". She helped him tremendously by finding the right type of work shoes he needed and by giving him an 'extra' discount so he could afford them. She was awesome! Thank you HARKOMAL for your excellent customer service!" – Linda Riench
3. Palliser Factory Outlet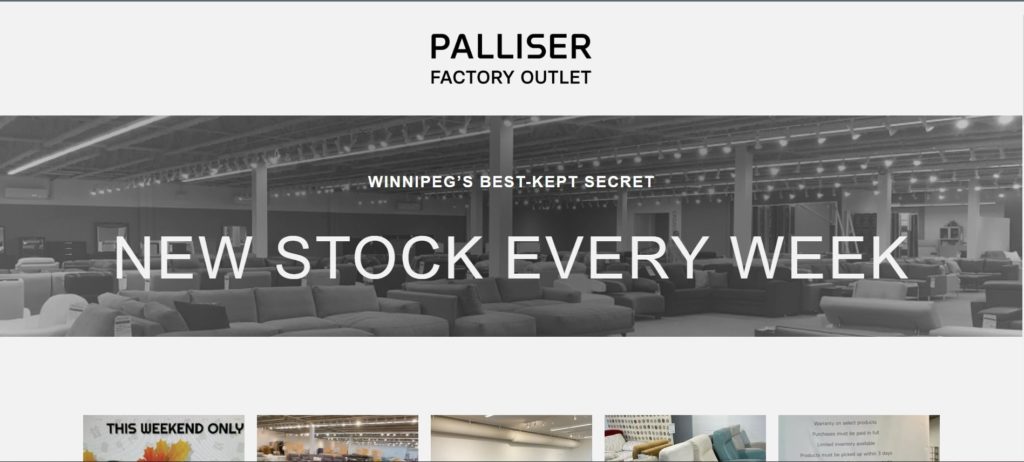 PRODUCTS

Couches

Beds

Coffee tables

Ottomans

Bar stools and tables

Dressers

Nightstands

End tables

Home decor items

WEBSITE
https://palliserfactoryoutlet.com/
ADDRESS
630 Kernaghan Ave. #79, Winnipeg, MB R2C 5G1, Canada
CONTACT DETAILS
Phone: +1 (204) 988-0800

EMAIL: [email protected]

OPERATING HOURS

Monday and Tuesday: Closed

Wednesday to Friday: 10:00 AM – 7:00 PM

Saturday and Sunday: 10:00 AM - 5:00 PM
| | |
| --- | --- |
| CRITERIA | RATING |
| SELECTION QUALITY | ★★★★☆ 4/5 |
| > Variety | ★★★☆☆ 3/5 |
| > Product quality | ★★★★★ 5/5 |
| PRICES | ★★★★★ 5/5 |
| SHOP | ★★★☆☆ 3/5 |
| > Clean, organised, and well-lit | ★★★★★ 5/5 |
| > Accessible and easy to navigate | ★☆☆☆☆ 1/5 |
| CUSTOMER EXPERIENCE | ★★★★☆ 4/5 |
Clothes and shoes aren't the only items you can find at factory outlet stores. In fact, we're quite happy to have come across Palliser Factory Outlet, a great place to shop for furniture and other home accents for cheap.
In terms of furniture quality, we were amazed to find that they have a range of furniture sets similar to what popular stores like Ikea offer.
Some of the great pieces we found include couch sets, dressers, beds, ottomans, nightstands, coffee tables, bar stools, and dining tables and chairs.
They even have high-tech sofas featuring charging ports, cup holders, secret storage compartments, and adjustable reclining modes.
We also visited the showroom to check out some design inspirations for different rooms in the house and other furniture pieces not shown on the store's online sites.
What we liked about the showroom is that it was spacious and neat. We were also pleased to see some great ideas for curating living rooms, bedrooms, and dining rooms.
The furniture outlet also updates its inventory every week, which we think is ideal for shoppers regularly seeking new or unique pieces to add to their home.
It was also nice to find some of the comfort chairs that come with water fountains that we think are great options for those who prefer having their drinks within reach.
That said, we do note that the majority of the shop's furniture pieces are couches and chairs. We think it is quite limiting, as some customers will need to visit other places to shop for other furniture and decor pieces.
It also wouldn't hurt for them to improve their customer service. Apparently, some of the employees are not so helpful to customers with disabilities, in terms of moving around the place.
Updates inventory weekly
Has a physical showroom
Offers high-tech furniture pieces
Majority of furniture pieces are couches and chairs
Could improve on helping customers with disabilities
Customer Reviews
Appreciate the no-pressure tactics of the employees
"Wouldn't normally review a furniture store, but I promised the wonderful lady who helped us buy our chairs at a very good price that I would write about her. Shwe (spelling is correct) is a wonderful person and sales associate that helped us with pure kindness and no pressure tactics at all. Very impressed with her at Palliser! Go see Shwe!" – Kevin Dyck
Great quality for more affordable prices
"Fantastic! We have been going here for 10+ years and have bought many pieces . You can't really complain as pallister has eq3 quality at IKEA prices. We were helped by a lovely salesperson and checked out by their new manager(1.5 years new) who together ended up making our experience PERFECT." – Jon K.
4. Mattress Plaza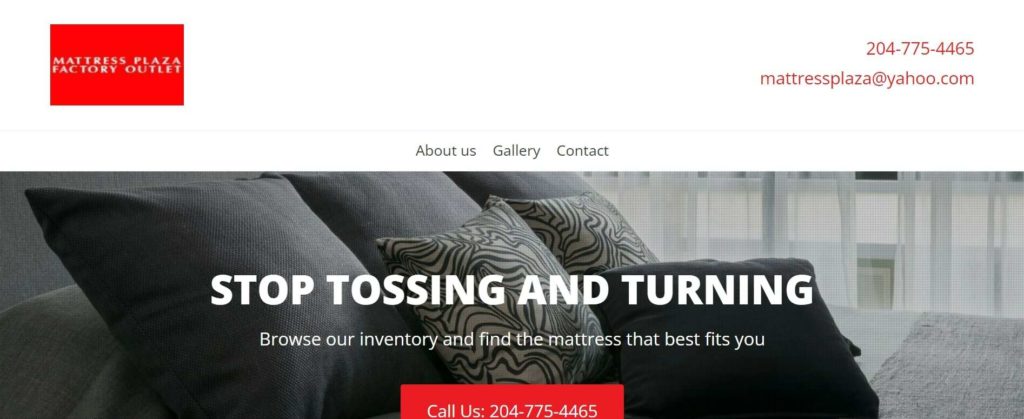 PRODUCTS

Pillows

Beds

Mattresses

Adjustable beds

Futons

Bed frames

WEBSITE
https://www.mattressplaza.ca/
ADDRESS
1391 St James St. #4, Winnipeg, MB R3H 0Z1, Canada
CONTACT DETAILS
Phone: +1 (204) 775-4465

EMAIL: [email protected]

OPERATING HOURS

Monday to Friday: 9:00 AM – 5:00 PM

Saturday: 9:30 AM – 5:00 PM

Sunday: 12:00 PM – 3:30 PM
| | |
| --- | --- |
| CRITERIA | RATING |
| SELECTION QUALITY | ★★★★☆ 4/5 |
| > Variety | ★★★☆☆ 3/5 |
| > Product quality | ★★★★★ 5/5 |
| PRICES | ★★★★★ 5/5 |
| SHOP | ★★★★★ 5/5 |
| > Clean, organised, and well-lit | ★★★★★ 5/5 |
| > Accessible and easy to navigate | ★★★★★ 5/5 |
| CUSTOMER EXPERIENCE | ★★★☆☆ 3.5/5 |
Mattress Plaza carries bedding materials that provide support, comfort, and therapy. The factory outlet also offers an extensive selection of beds suitable for indoors and outdoors.
As for brands, the mattress outlet currently carries beds by Serta, Therapaedic, Primopaedic, and Rest More.
We also have to give it to the factory outlet for offering custom box spring options suitable for customers who want a specific bed build that caters to their sleeping needs.
Since their product offerings are normally expensive, we think that this place is worth looking into, especially if you have plans to purchase more than one bed.
For example, the outlet offers mattresses trusted and used by hotels for around $99 to $399. We think these deals are budget-friendly, given that hotel-quality bedding can cost around $800 up to $1,000.
Do note, however, that this outlet doesn't offer much in terms of bed variety. When we visited, the shop mostly offered bunk beds with limited designs and sizes.
Admittedly, we were also a bit bummed that the factory outlet doesn't currently have an online store, which would allow customers to conveniently canvass and shop from home.
On the bright side, we've been told that customers find the physical store spacious, organised, and easy to navigate.
We're also giving plus points to this store for offering a variety of payment methods that make transactions hassle-free. Shoppers can opt to pay via cash, credit cards, or Interac transfers.
Carries therapeutic and supportive mattress brands
Portable/travel beds available
Accommodates different payment methods
Limited bed style options
No online store available
Customer Reviews
Prompt services, great mattress selection, and superb staff
"Absolutely 100% the greatest Customer Service I have had yet, very informative and so helpful. When ever I need a new mattress I know where to go! Awesome quality mattresses at very reasonable prices, Delivery was timely and Gentleman was pleasant and quick to help . Thank you Mattress Plaza, Would recommend to everybody looking for a great deal as well as great service" – Roxan Dixit
Best place to buy affordable and great quality beds
"I would recommend mattress plaza to all my family and friends to purchase their mattress at this location. The service is amazing. sales guy was so helpful and knowledgeable.Very good experience! Very helpful with answering all the questions I had. Highly recommend! Most of all was very impressed with how they took the time to explain everything and go through a lots of beds before I finally settled on a bed. They didn't push me to get anything that I didn't want either! best place to buy affordable and great quality bed at very reasonable prices." – Mike Lacey
5. Canada West Boots Factory Outlet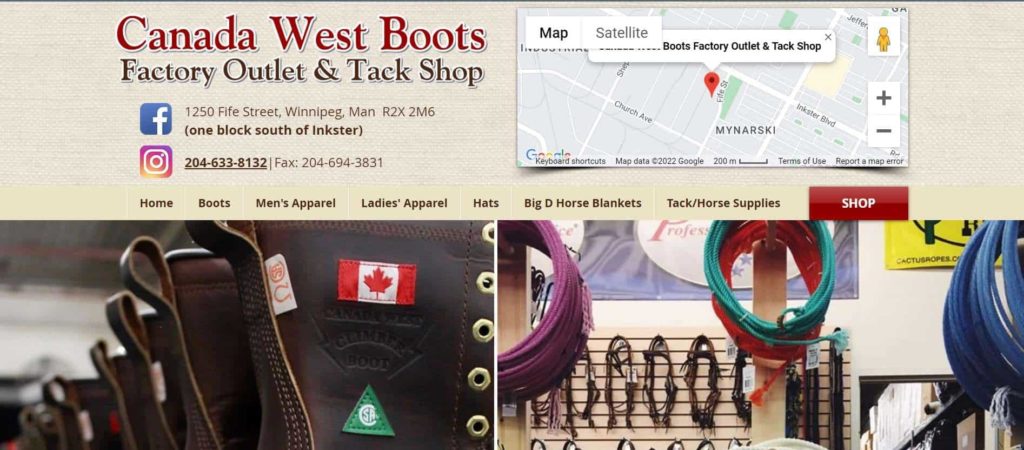 | | |
| --- | --- |
| CRITERIA | RATING |
| PRODUCTS | ★★★★★ 5/5 |
| > Variety | ★★★★★ 5/5 |
| > Product quality | ★★★★★ 5/5 |
| PRICES | ★★★☆☆ 3/5 |
| STORE QUALITY | ★★★★☆ 4/5 |
| > Clean, organised, and well-lit | ★★★★★ 5/5 |
| > Accessible and easy to navigate | ★★★☆☆ 3/5 |
| CUSTOMER EXPERIENCE | ★★★☆☆ 3/5 |
Horse supplies and riding items can be costly. That said, we're pleased to find that the Canada West Boots Factory Outlet carries all sorts of leather items and horse supplies at more affordable prices.
The store's current collection carries leather boots, belts, and hats from notable brands.
The ranch hand boots also come in more than one colour and design, as well as varying toecap shapes and sizes.
As for its hat selection, we were pleased to find straw, felt, and oilskin varieties available.
Another strong point of this store is that it offers up to 30% off on discontinued and factory-second boots.
That said, since they don't have the largest inventory, we recommend visiting the store to check which rare designs of boots you can get for cheap.
Although, take note that that this outlet's online store doesn't have prices displayed for its boots selection, which can be an inconvenience.
It's also worth mentioning that not all discounted items at this store are really "discounted".
For example, a pair of Wrangler cowboy cut original fit jeans for men sold at this outlet is currently offered for a discounted price of $55.
We searched for the same jeans model at non-outlet stores and were a tad disappointed to find that their original prices are around $49 to $54.
Carries notable leather boots brands
Impressive horse supplies inventory
Offers discounts on discontinued items
Some items don't have their prices displayed
Some discounted items are priced similarly as their counterparts in regular shops
Customer Reviews
A great place for leather footwear and horse riding needs
"Great shop for quality leather footwear. Associates were very welcoming, friendly, and always helpful. I have purchased both a pair of casual boots and work boots from them and they are holding up wonderfully despite my wide feet, no complaints. Definitely worth a visit." – Mike J.
Offers great deals on hats and jeans
"When in store on Oct 4th just looking for boots. The two ladies working were very helpful. I did find a pair boots that fit great. Prices are also good as well. I will be back to get some jeans and a hat. They really have some good stuff in there store. Good job!" – Glenn Wright
FAQs on Factory Outlets
---
And that ends our impartial review of the best factory outlet stores in Winnipeg!
If you're looking for other great shopping spots in Winnipeg, we recommend checking out these other reviews: