6 Best Fencing Contractors in Winnipeg
Securing your property with fences is a complicated endeavor. For a fencing job to work out smoothly, you're going to want a competent and reliable contractor on your side.
In this article, we'll help by nailing down our top picks for the best fencing contractors in Winnipeg. We'll also touch on how much the service costs, along with other common questions about fencing in the city.
How Much Does Fencing Cost in Winnipeg?
The cost of fencing depends on your material of choice, as well as how it's styled and installed. Some layouts are more complex than others, making them more expensive to build.
Wooden fences also tend to be more expensive than the chain link variety, as they're fuller and require special treatment to withstand the elements. You'll see that in the estimates below.
| | |
| --- | --- |
| FENCE TYPE | ESTIMATED COST |
| Average wooden fence | $30 to $55 per foot |
| Cedar wood fence | $50 per foot |
| Brown treated wooden fence | $40 per foot |
| Average chain link fence | $18 to $24 per foot |
| Galvanised chain link fence | $18 per foot |
| Black PVC-coated fence | $24 per foot |
Multiply these rates by the desired perimeter of your fencing project and you have yourself a good quote to start with.
Best Fencing Contractors in Winnipeg
Now that we've set foot on the budget-side of things, here are our picks for the best fencing contractors in Winnipeg.
1. Excellence Fences & Decks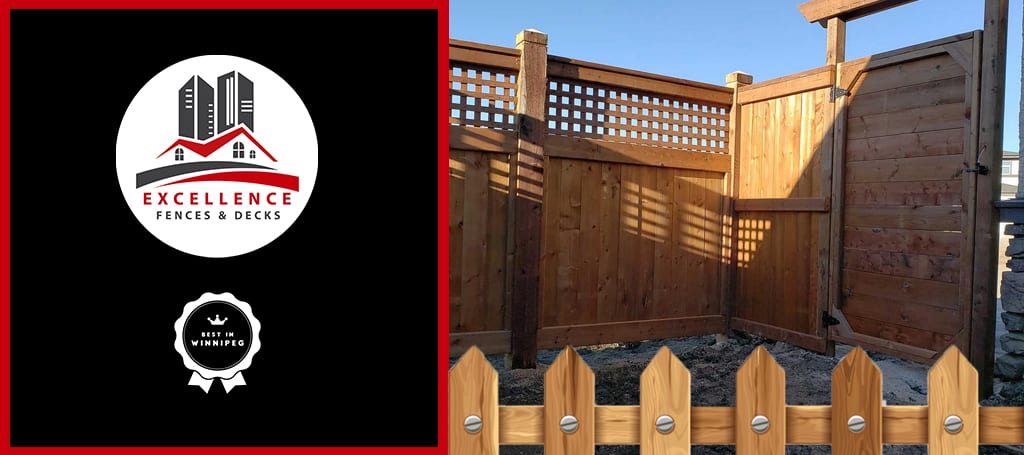 SERVICES
Wood, vinyl, ornamental iron, aluminum, chain link, and composite fencing
WEBSITE
https://excellencefences.ca
ADDRESS
63 Glen Ave, Winnipeg, MB R2M 1V4, Canada
CONTACT DETAILS
Phone: 204-500-3242
Email:

[email protected]

OPERATING HOURS
Monday to Friday – 8:30 AM to 6:30 PM
Saturdays by appointment only
Excellence Fences & Decks provides outdoor construction services to homes and commercial spaces across Manitoba. And while they've only been servicing Winnipeg for about 6 years, their track record is already taking the town by storm.
What's neat about their process is that they start a project with 3D design. This can help you visualise your new fencing project without difficulty.
Co-designing on a computer also opens their range for customisation. Should you want any special features integrated into the design, it's easy to draft your ideas with them in this way.
Excellence also does gates, decking, and landscaping. That said, they have the creative eye to make your fence not only durable but also aesthetically pleasing.
Clients say they enjoy their efficiency, responsiveness, and clean work ethic. They also sport good craftsmanship, from what we've seen, and take care of all the demolition work for you.
Clean, efficient, and responsive
Demolition and disposal include
Relatively new to Winnipeg
Customer Reviews
Here are people's opinions on Excellence Decks & Fences:
"It was my first acquaintance with this company and their personnel. I was very impressed. They have an attentive attitude and an individual approach with each client. They are very professional, and they provide accuracy in everything! Highly recommend! The company does its job perfectly well. Thank you very much for everything!"―Lana King
"I really recommend Stefan and his team! They removed a very old fence (50+ years) that was very difficult to access due to plants and rock landscaping. They installed a lovely new fence in less than a day. The fence is of very high quality and looks just great. The team was respectful and cleaned up everything – I am very pleased! It is a beautiful addition to my yard!"―Kelley F.
"We had Stefan and crew quote and build us a fence plus remove the old one. They did everything from demolition and getting Hydro out to mark the lines for power and gas.They were professional and built a great fence even though it wasn't a very level yard and they designed something a little different that looks great. We highly recommend their services. We will be looking to them for future projects."―Ken Legge
2. Accurate Building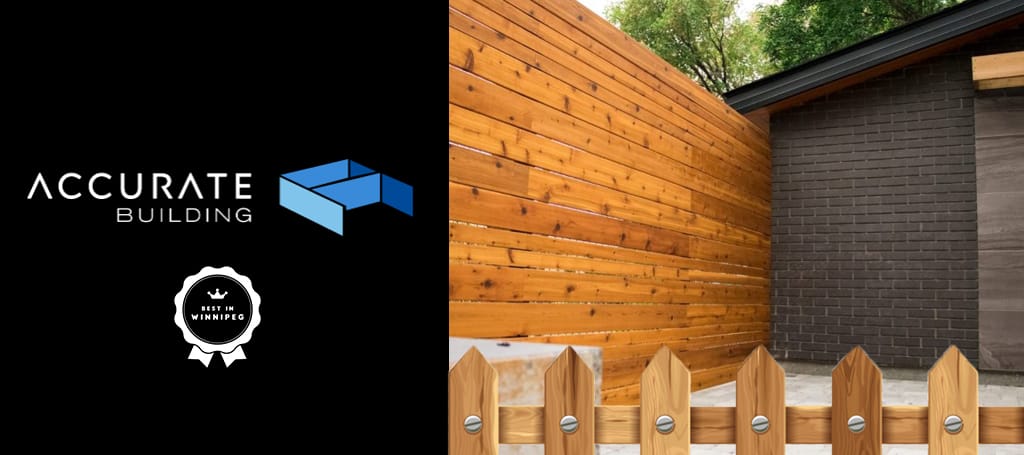 SERVICES
Privacy screens, barefoot brown treated wood and cedar wood fencing, standard and custom fencing
WEBSITE
https://accuratebuilding.ca
ADDRESS
Promenade Brunet, Winnipeg, MB R2J 0A1, Canada
CONTACT DETAILS
Phone: 204-793-3419
Email:

[email protected]

OPERATING HOURS
Monday to Friday – 8:00 AM to 5:00 PM
Closed on weekends
Founder of Accurate Building, Paul Aubin, has over 30 years of experience in construction, and the business itself has been around since 1997. Accurate Building works with clients to design and construct gorgeous outdoor living spaces―quality fencing included.
They're known to work neatly, always tidying up at the end of a workday. If your project is set to run for more than a day, expect to have a clean yard in between their visits.
Upon consultation, they listen intently to their client's vision and provide design sketches using the latest tech. Additionally, they'll be happy to assist you in choosing the right colours and materials for your dream fence.
They also educate their clients on building permits and offer to hand in all the pertinent documentation to city hall themselves. While standard residential fences don't require permits, Accurate Building will make sure you adhere to zoning laws and height restrictions.
Decades of construction experience
On-time design and construction
Diligent with paperwork and building permits
Customer Reviews
Here's some feedback from clients of Accurate Building:
"I recently had a privacy fence built by Accurate Building. I found them to be very professional, knowledgeable and helpful in answering my questions and providing suggestions. They provided great customer service and their quality and workmanship was outstanding. Would highly recommend them."―Heather Ritchie
"We had Paul from Accurate Building build a large fence and I cant recommend him enough, His attention to layout, style and finished product were all beyond expectations, I would highly suggest to anyone looking for a new fence or deck to call Accurate Building."―David Zerkee
3. KMA Building
SERVICES
Pressure-treated lumber, picket, and deck-side fencing
WEBSITE
https://www.kmabuilding.com
ADDRESS
90 Cornwall Blvd, Winnipeg, MB R3K 0V2, Canada
CONTACT DETAILS
Phone: 204-930-1904
Email:

[email protected]

OPERATING HOURS
Monday to Saturday 8:00 AM – 6:00 PM
Having completed over 1000 building projects, workers at KMA Building know the ins and outs of installing a new fence.They also have 15 years of construction experience to help guide you through the process.
KMA Building is known for their high attention to detail, fast completion times, and personable builders.They also offer a workmanship warranty to assure you a quality build.
Workers are careful to mind underground utility mains before digging any holes. Speaking of holes, the ones they dig are at least 4 feet deep to (quite literally) ground your fence posts securely.
Additionally, they make sure that surrounding gravel is packed tightly to set the foundation right. To give you durable fencing, they secure the panels with special ceramic-coated fasteners and treat wooden fencing with an end-cut preservative.
Although they haven't hopped onto the 3D design train, KMA Building has got a lot, if not all, of the important things figured out. That's why they're on our list!
Workmanship warranty
Good security procedures
Fast completion times
Customer Reviews
Folks have a lot of good things to say about KMA Building:
"I had a fire at one of my rental properties that caused major damage. We got some quotes but decided to go with KMA building as he was the most honest and professional contractor that we spoke with. Kevin did a wonderful job and finished the job even before the date that I needed it done by. He did not disappoint us, it was done to perfection.Since then he is my go to guy for all my other properties and also has done beautiful work on my residence. It's nice to have a contractor that I 100% trust and he always over delivers.Thanks KMA for everything you have done for my family. We truly appreciate it. Looking forward to many more projects with you."―Shawn Dziedzic
"I was greatly satisfied with KMA building. Not only was their workmanship phenomenal, but the project was completed astonishingly quick. They wasted no time, were very efficient, and communicated with me any issues and ideas they had. Their rates and availability were the best I found, and it was not at the cost of quality or workmanship. It was the first time I did business with them and I would contract them again for any further projects in the future."―Kenny Braun
"I had a fence built by Kevin (KMA Building) and couldn't be happier. Great guy to deal with. Amazing attention to detail and quality workmanship all the way through with KMA. I've seen his work on decks as well in my neighborhood and the finished build is perfection! A++"―Marc Dobson
4. Squirrel Construction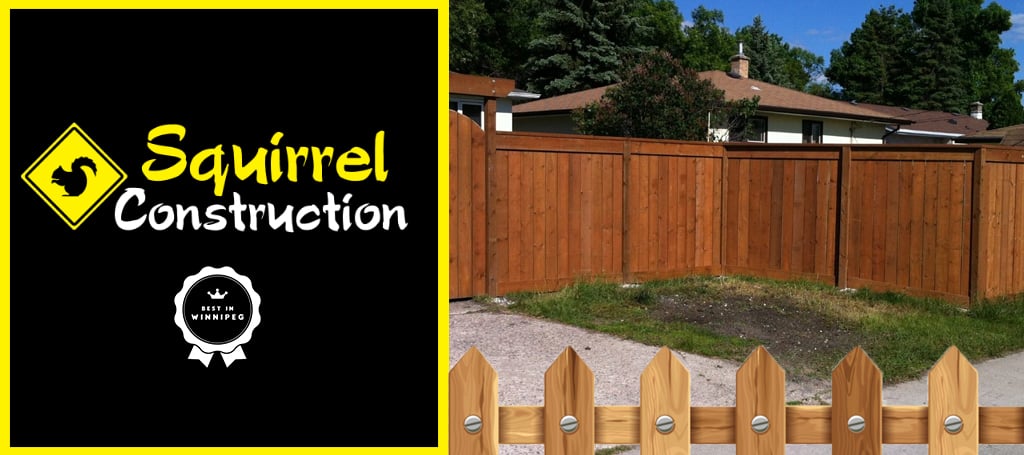 SERVICES
Assorted styles of pressure-treated lumber fencing
WEBSITE
https://squirrelconstruction.com
ADDRESS
1035 Southwood Ave, Winnipeg, MB R3T 1J7, Canada
CONTACT DETAILS
Phone: 204-223-9553
OPERATING HOURS
Monday to Friday – 9:00 AM to 6:00 PM
Closed on weekends
Squirrel Construction is a local construction company that specialises in residential fencing and home construction. They're particularly good with wooden construction and carry pressure-treated lumber.
When you give them a call for a quote, they can provide you with an estimate on the spot. You won't have to wait for them to churn out a fancy blueprint before getting a rough tab.
They also inform you of their payment scheme right away, which we like. You pay a deposit of 5% as a reservation fee and 50% of the material cost 2 weeks before the construction date.
People at Squirrel Construction are praised for being good communicators. Derek and his team give constant updates and operate well within a given timeline.
They've also become a favourite among many homes across Winnipeg. Most of it has to do with their professionalism, affordable prices, and an uncompromised standard for quality workmanship.
On-the-spot estimates
Competitive prices
Great communication 
Often fully booked
Does not accept credit card payment
Customer Reviews
Here's what some satisfied clients have to say about Squirrel Construction:
"Derek and his staff did an amazing job on my front yard fence and gate. In addition to great craftsmanship, his professionalism and communication skills are second to none." R.L.
"We had our back yard fence and gate replaced last year (2019) and the quality of build was excellent. We shopped around and were impressed with both the price and the service we got from Derek at Squirrel Construction. The fence was in a tricky spot with lots of underground utility lines, existing structures and patio stones to contend with in various places and he managed to do the job without disturbing or damaging anything. I can unreservedly recommend Squirrel for your next fence building project."― Grahame Young
"Derek and his crew installed a 6' tall backyard fence and a 3' front yard fence for us last fall and did a fantastic job. They were very reasonably priced and had great communication throughout the summer as to their timelines for completing projects. We have received so many compliments from our neighbors on our fence. Highly recommend Squirrel Construction Ltd!" ―Teresa Senderewich
5. AMF Builders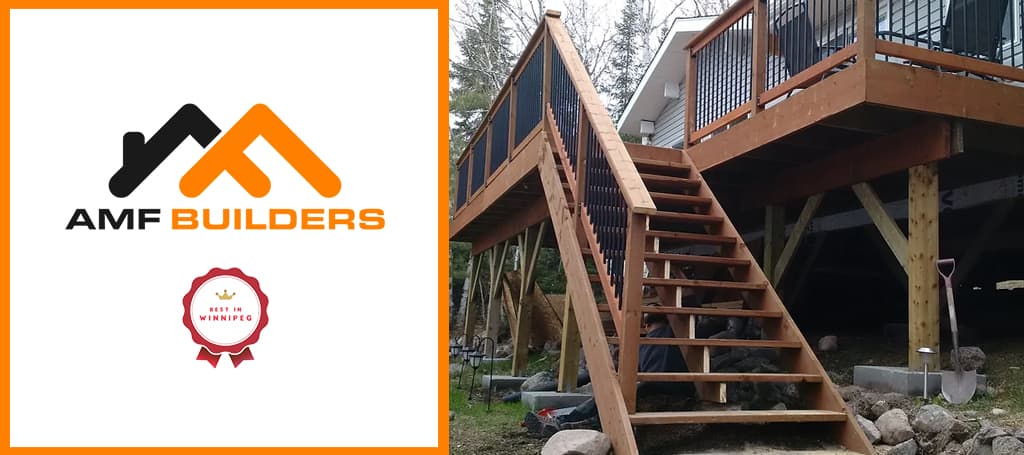 | | |
| --- | --- |
| SERVICES | Assorted styles of residential and commercial fencing |
| WEBSITE | https://www.amfbuilders.ca |
| ADDRESS | 68 Sadler Ave, Winnipeg, MB R2M 1N5, Canada |
| CONTACT DETAILS | Phone: 204-223-4224 |
| OPERATING HOURS | By appointment / consultation |
AMF Builders offers home and commercial construction services all throughout the city. Their range is quite extensive―from custom homes to interiors, framing, decks, fencing, and more.
AMF can give you a free no-commitment quote on your project too. They pride themselves on being cost-effective and delivering results in a timely manner, and customer testimonials seem to support that.
They're also not picky when it comes to scale. You can either call them in for minor work on your chain link, or upscale the project to fence a large property.
We also like that they allot their resources to quality work and word of mouth instead of painting it heavy on the marketing department.
All in all, they work sensibly and have a project portfolio that speaks for itself. So far, they've managed to snag themselves a town following with a 5.0 rating on Google Reviews to back it up.
Affordable
Flexible project scale
Wide range of services
Customer Reviews
Here's what people think about AMF Builders:
"Andre was a great pleasure to work with! He's a hardworking friendly professional that delivers top notch work at a fair price."―Liel LaFreniere
"Professional work! Great communication and all around great people to deal with. Thank you so much for your great work and attention to details." ―Denis Devigne
6. Wallace + Wallace
SERVICES
Fencing, Overhead Doors, Specialty
WEBSITE
https://www.wallacedoors.com/
ADDRESS
90 Lowson Crescent Winnipeg, MB, Canada R3P 2H8
CONTACT DETAILS
Phone: +1 204-452-2700
Email:

[email protected]

OPERATING HOURS
Monday to Friday – 8:00 AM – 4:30 PM
Wallace + Wallace is a company that provides a variety of industrial, commercial, and residential fencing solutions. Founded back in 1919, they have since then become one of the reputable brands in the area offering such services.
We like that they are highly experienced both in the landscape and the field of fencing so that clients can be assured that they receive proper and durable fencing.
They also readily feature a variety of products that the clients can choose from in which they could choose from DIY fences to company-installed selections as well.
Though note that their products and services do not readily have rates on their website and clients may need to request a quote.
Overall, with their fully equipped facilities and experienced crew, we highly recommend them to clients in the area looking for fencing services that can last the test of time.
Experienced workers
Wide range of fencing options
Quality products
FAQs About Fencing in Winnipeg
---
Now that you know your way around fencing (hopefully there's no way around yours), feel free to save these contacts for future projects.
For more ways to spruce up your yard, do check out the providers of the best lawn care in Winnipeg.