6 Best Coworking Spaces in Winnipeg
Featured Image Source: Croissant via Unsplash
Need a comfortable nook to ramp up productivity? Whether you work best alone or in a group, we know some great workspaces where you can get things done.
Today, we're listing the best coworking spaces in Winnipeg. We'll also be talking about how much they cost to rent, while we answer some questions about coworking in the city.
How Much Do Coworking Spaces Cost in Winnipeg
Coworking spaces can be versatile environments to work, collaborate, and present ideas to colleagues and clients. When you subscribe to this service, you're paying for amenities like fast Internet, free-flowing beverages, private and semi-private spaces, and more.
Below are cost estimates of renting a coworking space. Actual rates vary, naturally.
| | |
| --- | --- |
| SERVICE | ESTIMATED COST |
| Single pod | $5 per hour |
| Whole day pass | $20 |
| Meeting space, up to 10 people | $40 per hour |
| Individual membership | $70 to $100, 4 to 8 visits per month |
| Group membership (5-15 people) | $500 to $1000 for 25-75 visits per month |
| Personal desk | $300 per month |
| Personal office | $750 to $850 per month |
| Virtual mailing address | $20 to $50 per month |
Best Coworking Spaces in Winnipeg
Now that you're acquainted with a general price list, get to know the best coworking spaces in Winnipeg.
1. Launch Coworking
SERVICES
Hot desks, conference rooms, personal and executive offices, group events, virtual coworking
AMENITIES
Coffee and tea, fast internet, beer on tap, HD projectors, private phone booth, lockers, parking, mail service
WEBSITE
https://launchcoworking.ca
ADDRESS
Southside (home): 2nd Floor of 1460 Chevrier Blvd, Winnipeg MB
Exchange: 5th Floor of 167 Lombard, Winnipeg MB
Village: 130 Scott Street, Winnipeg MB
CONTACT DETAILS
Phone: 204-285-9511
Email:

[email protected]

OPERATING HOURS
Monday to Friday, 9:00 AM to 5:00 PM
Closed on weekends

Extended access for certain plans
Launch is an all-in-one coworking space with locations studded around Winnipeg. It offers a dynamic environment either for working solo or hosting team meetings.
At Launch, you'll find that the space is divided into several private and semi-private sections. Some conference rooms even have acoustic panels if you need a place to do voice-overs and record podcasts.
They also offer office memberships if you want sole monthly access to a fully furnished room. These can get pretty pricey, but you get a space that's completely your own― with a sign sporting your name and logo to match.
If you're a nomadic student just looking for a place with coffee and power outlets, Launch is a bit much. This space is more geared toward remote workers, startup teams, and entrepreneurs who work and meet with clients around the clock.
People keep raving about the free-flow craft beer and we wonder if that ever heightens workflow. If you're interested in a membership plan, check it out and see for yourself.
Sprawled locations throughout the city
Lots of good amenities
Wide range of membership plans
Open, clean, and modern
Not the best choice for walk-ins, monthly plan only
Customer Reviews
Here's what people think about their coworking experience at Launch:
"Whether you want a closed office like mine or prefer the creative collisions that come up in an open space, the facility boasts first class presentation facilities, boardrooms and meeting rooms, as well as a large Nespresso machine and local craft beer on tap. Launch is not only a space but also a community with companies of all sizes in many sectors that can often share expertise at a high level."― Andrew MacSkimming
A top notch coworking space – with many opportunities to network, make new connections, take training and be inspired! Love the decor, cleanliness, coffee and different work spaces. Highly recommended for any small business or entrepreneur!"― Anne Macgregor
2. TableSpace Coworking
SERVICES
Full spaces, meeting rooms, single pod hot desks, team packages, virtual mailing address, Monday coffee chats, weekly webinars, networking events, team building
AMENITIES
Fast Fiber WiFi, unlimited coffee/tea, private offices, printers, cozy break zone, virtual coworking, personal mailbox
WEBSITE
https://www.tablespace.ca
ADDRESS
196 Osborne St, Winnipeg, MB R3L 1Z3, Canada
CONTACT DETAILS
Phone: 204-202-3210
Email:

[email protected]

OPERATING HOURS
Monday to Friday, 9:00 AM to 5:00 PM
Closed on weekends

Extended access for certain plans
For a more student-friendly option, check out TableSpace in Osborne Village. It's a great location― the neighbourhood is calm, quiet, and perfect for taking walks in between work sessions.
Booking a tour with them will get you a free day pass to try the space out. If you just want to pop in for a short while, no strings attached, you can rent a pod daily or by the hour.
Individual plans range from 4 days a month to unlimited access depending on how frequently you need the space. They also have group packages, along with the option of reserving your own desk or office.
Students also get the benefit of a 25% discount. That means no more breaking the bank for a cozy spot to study up for finals!
They even do you the favour of recommending the best lunch spots around the area. This info is bundled with a bunch of other self-help articles on their community blog.
TableSpace hosts speaker sessions, team building, and weekly coffee chats. The community deserves a pat on the shoulder for all the initiatives they run to build a happy, productive work culture.
Top-notch community support
Student discounts
Free first day redeemable
Option to rent per hour
Slightly pricey for non-students
Customer Reviews
Here are some reviews from customers who've been more productive since joining TableSpace:
"Hello,
I've been working at TableSpace for the last 9 months. During COVID, this place has been my sanctuary to get away from my home, to help me focus and especially to achieve great things while at work. TableSpace has a great calming energy which really allows you to focus and work without interruptions. They have great healthy snacks and Osborne Village is a great neighbourhood to go out and take a walk in when you need a break. I highly recommend this place. I am so much more productive here than I ever would be at home."― Joel Cloutier
"I have been a member at Tablespace for a few months now, and it has been an absolute LIFESAVER!!! I'm a full time student who doesn't have a proper workspace at home, and with the lockdown I was having so much trouble getting things done. A friend mentioned Tablespace to me, and I was hooked after my first visit! I don't think I've ever been as productive as I am when I'm at Tablespace!" ― Tekla Cunningham
3. Creative Manitoba
SERVICES
Meeting and event spaces, boardroom rentals, large classroom rentals, multimedia labs, hot desks, personal desks, personal offices
AMENITIES
Shared reception services, high-speed WiFi, kitchen facilities, coffee/tea/filtered water, fee-based printing and photocopying
WEBSITE
https://creativemanitoba.ca
ADDRESS
300-245 McDermot Avenue, Winnipeg, MB R3B 0S6
CONTACT DETAILS
Phone: 204-927-2787
Email:

[email protected]

OPERATING HOURS
Monday to Thursday, 10:00 AM to 4:00 PM
Closed Friday to Sunday
Creative Manitoba is the favoured hub of artists and creative professionals in the city. The space itself is open to both coworking and events.
Creative Manitoba is an excellent workspace if you and your work group need large spaces like multimedia labs, sacred circles, or big open rooms. And while these spaces are there when you need them, you can also make good use of their individual cubicle-style hot desks.
They also offer hourly and daily rates for boardrooms and meeting spaces. While you don't get your own locker and designated parking, coworking fees at Creative Manitoba aren't as expensive as their counterparts elsewhere.
Private desks and offices are also available to rent monthly if you so choose. They come with free usage of the boardroom for a certain number of hours depending on your plan.
While they may not be as modern as other spots on our list, spaces at Creative Manitoba have a warm inviting feel and their multimedia lab has been recently upgraded. Do also note that the hours are shorter than other workspaces of its kind.
All in all, it's a convenient and affordable option with a unique tie to larger studios spaces.
Affordable
Drop-in day pass available
Warm ambiance
Shorter hours, closed on Fridays
Customer Reviews
Here's what people think about Creative Manitoba's workspace:
"Worked out of the Creative Manitoba for a few days. Crazy fast internet, privacy and chill work environment. Would definitely highly recommend it to others." ― Miceal Gallagher
"A great local arts organization dedicated to helping emerging artists and creative entrepreneurs. The organization is housed in a beautifully repurposed heritage building and they offer office space and hot desks to rent to their members. They also have classrooms on the 4th floor where many of their workshops for artists and arts organizations happen and also a Sacred Circle for their indigenous programming. A great place to go if you want to develop your practical business skills / knowledge and take your creative career to the next level." ― Aaron Zeghers
4. 888 Business Centre
SERVICES
Coworking spaces, dedicated desks, private offices, virtual offices, reception and mailing, meeting rooms
AMENITIES
Fast WiFi, coffee and tea, lounge, parking, landline, lockers, print & copy station, photography studio
WEBSITE
https://www.nordstrandttn.ca
ADDRESS
888 Sargent Ave., Winnipeg, MB R3E 0C7, Canada
CONTACT DETAILS
Phone: 431-998-9868
Email:

[email protected]

OPERATING HOURS
Monday-Friday: 8:30 AM to 5:00 PM
24/7 access for tenants
888 Business Centre is another clean modern space where you can get that to-do list all checked out. It sits comfortably in the city centre, making it easier to do errand runs and reach other locations within the day.
They also have an in-house photography studio so you don't need to hopscotch elsewhere for a self portrait or those pesky little 1x1s. Your document flow is also supported by a print and copy station well within arm's reach.
At 888 Business Centre, free parking is right outside the door and there's plenty of it. As opposed to underground parking, you don't have to waste a valuable 2 minutes to get from your car to your workstation.
All their plans are monthly, so you don't really have a walk-in option if you happen to want just an hour or two to get a work block in. You're better off at a Starbucks for that, anyway.
What's great is you can customise your plan to fit your preferences with relatively low starting rates. It's a good way to trim the fat off the services you can live without.
If you do choose to be a regular there, you'll enjoy 24-hour access to your claimed little corner of town.
Highly customisable plans
Affordable
In-house photography studio
Central location
Customer Reviews
Here are some satisfied clients with good things to say about 888 Business Centre:
"Very modern and clean office environment with very good rent. I am surprised with the rent that includes everything. I like David and Jennifer, they are so easy to deal with and very kind!"― Treylan Westwood
"Kind people, nice work space and it's 24hr access!"― JM
5. The M Business Centre
SERVICES
Dedicated desks, coworking desks, private offices, virtual offices, reception and mailing, meeting rooms, boardrooms
AMENITIES
Fast internet, pincode access, cable and smartcast TVs, shared kitchen, high-end speaker system, bar and ice machine, convertible pool table
WEBSITE
https://www.the-m-business-centre.business.site
ADDRESS
238 Portage Suite 3, Winnipeg, MB R3C 0B1 Canada
CONTACT DETAILS
Phone: 204-809-0732
Email:

[email protected]

OPERATING HOURS
Monday-Friday: 8:30 AM to 4:00 PM
Closed on weekends
Another central location on this list is The M Business Center along Portage Avenue. It's a great space if you like a clean corporate atmosphere.
The M Business Center also works on a monthly-only membership scheme, which shouldn't be a problem if you're set on working here often.
We'll tell you this now to get it out of the way: free parking isn't on the amenity list for this particular space. To compensate, the nearest parking lot is a 1-minute walk away right across the street.
Similar to 888 Business Centre, they don't specify the cost of add-on services―only their starting monthly rates, which are pretty reasonable. If you wish to configure your plan, you can draft a customised arrangement with them.
While everything else is standard fare, one of the more unique things about The M Business Center is that their boardroom area converts to an event area. After a grueling day's work, you and your team can easily use the same room to enjoy a bar area and pool table!
Their office chairs are also more comfortable than other coworking spaces, which is a highly underrated feat. People spend hours sitting in front of their desks and a good chair can spell the difference between good posture and a bad back.
Overall, The M Business Centre is a great place to get some tasks done alongside your team or in the company of other dedicated individuals. Just be willing to set aside cash for parking fees.
Custom usage plans
Work-hard-play-hard amenities
Comfortable chairs
Central location
No walk-in/daily rates
No free parking
Customer Reviews
Here are some positive takes on the workspace experience at The M Business Centre:
"Love this office! Beautiful space. My clients all find it very impressive. Easy parking, safe and secure, very professional." ― Laura M.
"Perfect place to code….it is my office now and forever"― Parth B
6.   North Forge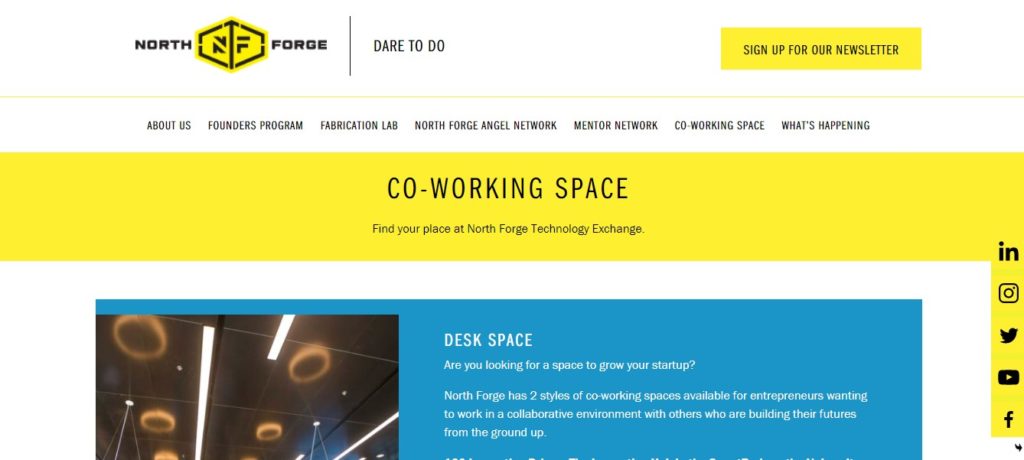 SERVICES
Desk space, chair, electrical, meeting rooms, board room with video and big screen
TV, whiteboards, printer
AMENITIES
High-speed internet, coffee/hot chocolate, kitchenettes, gender neutral bathrooms
WEBSITE
https://northforge.ca/spaces-for-rent/
ADDRESS
Innovation Hub: 441-100 Innovation Drive, Winnipeg, MB R3T 6G2
Fabrication Lab: 125 Adelaide Street, Winnipeg, MB R3A 0W4
CONTACT DETAILS
Emelia Nyarku


[email protected]


204.262.6400
OPERATING HOURS
24/7/365 at both locations
Are you looking for a space to grow your startup?
We introduce to you, North Forge. In comparison to other spaces, they are one of the few that has 2 styles of co-working spaces available for entrepreneurs wanting to work in a collaborative environment with others who are building their futures from the ground up.
The first one is their Innovation Hub in the SmartPark on the University Manitoba campus at 100 Innovation Drive. Unlike other hubs, this one is just a few steps away from Investors Group Field.
To make it better, this state-of-the-art building with its floor-to-ceiling windows and friendly atmosphere will help you focus your entrepreneurial journey and offers many opportunities for innovative collaboration.
The second co-working space is the Fabrication Lab (FabLab TM ) at 125 Adelaide Street. The difference from the first hub is that it is located at North America's largest publicly accessible fabrication lab in downtown's historic exchange district.
Believe us when we tell you that if your startup is based in advanced manufacturing or product/prototype development, and you are looking for a friendly community to become a part of, then this is the place for you.
We prefer them over others because their office spaces and coworking desks are all subsidized and intended for those within our startup programming. Additionally, this downtown location provides convenient access to the North Forge Fabrication Lab and to potential collaboration with other fabrication lab members.
Unfortunately, their coworking desk spaces and office spaces are available to rent only by North Forge Founders, North Forge alumni (past participants in the North Forge programming), North Forge Fabrication Lab members, former fabrication lab members, Mitacs E-Accelerate founders, and Lab2Market founders.
Affordable
Friendly and welcoming environments
Open, clean, and modern
Open 24/7/365
Free parking at Innovation Hub
Locker rental at FabLab
Close to bus routes and cycling paths
Need to be a member or alumni of the North Forge Founders Program, North Forge Fabrication Lab, Mitacs E-Accelerate founder or Lab2Market founder
No walk-ins or daily rates
No free parking at Fabrication Lab
FAQs about Coworking
---
Looks like we've covered everything and are ready to clock out! We hope you've found this guide useful in choosing your perfect coworking station.
By the way, we have a lot of other lists for business services relevant to startups and entrepreneurs. If you'd like to learn more about improving your business, for example, feel free to check out our list of the best web design agencies in Winnipeg. They can give you the boost you need to stay relevant in an ever more digital world!
---