The 6 Best Financial Planners in Winnipeg
Whether you're someone who has come into some money or lost some money, having a financial planner can benefit you. And if you're looking for one, you're on the right page!

In this list, we'll talk about the best financial planners in Winnipeg. We'll also give you a description of each one's strengths, weaknesses, and services.
The Cost of Financial Planning Services in Winnipeg
When it comes to financial planning, the cost depends on your financial situation as well as the financial plan you have chosen. A reasonable rate to be charged for this service is 1% per year.
Take a look at the price table below for a clearer picture of the cost of a financial planner.
| | |
| --- | --- |
| SERVICES | ESTIMATED COST |
| Retainer Fee (annual) | $2,000 to $7,500 |
| Hourly Fee | $200 to $400 |
| Financial Plan Only Fee | $1,000 to $3,000 |
The Best Financial Planners in Winnipeg
Now that you have a better idea about the cost of financial planning services, let's take a look at our list of the best financial planners in Winnipeg.
1. Bilyk Financial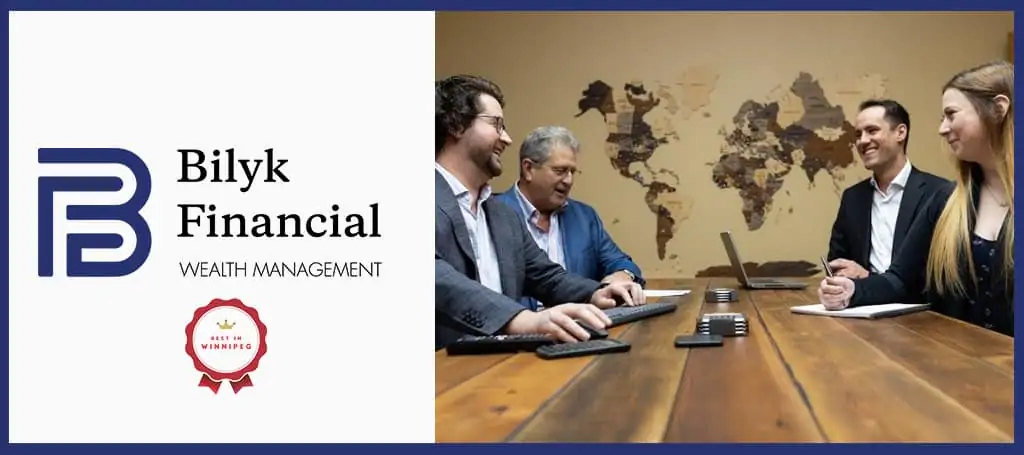 SERVICES
Summary of services, investment management, insurance, legacy planning, risk management, tax planning, and group benefits.
WEBSITE
https://bilykfinancial.com/
ADDRESS
4769 50 Ave, Vegreville, AB T9C 1L1, Canada
CONTACT DETAILS

[email protected]


780-632-6770
OPERATING HOURS
Monday – Friday, 9:00 AM – 5 PM
If you're looking for a process-oriented financial planner in Winnipeg, then Bilyk Financial is definitely the one for you. With 50 years of experience under their belt, they're well-known for their long-lasting customer relations and tailored services.
The company helps its clients secure their future through various investment advices. They're backed by the National Bank Independent Network (NBIN), and offer most of their services through their partnership with Aligned Capital Partners.
However, we believe that they can still expand their offerings to include services like debt consolidation and the like.
Another thing we like about this company is their proactive relations with clients, which is great if you want to stay updated with emerging market trends and technologies.
Bilyk Financial operates an institutional-grade investment management approach that they customize precisely to your situation. Most advisors start with an allocation to different asset classes and then fill the "buckets" with specific investments. They go the other way: they start with a universe of strategies, analyze each on the basis of returns, volatility, and correlations, and then build a portfolio that combines them in a way that they believe will best meet their clients' objectives.
In practice, that means going outside the traditional stocks-bonds paradigm and into alternatives, which can be especially useful for generating income in the current environment. Each portfolio will include exposure to different investment solutions, including public equities, private equities, fixed-income, private real estate, private infrastructure, private credit, and commodities.
They believe that they can provide investors with above-average, long-term, risk-adjusted returns by consistently following their investment philosophy and process.
With Bilyk Financial, you know that your assets and investments and in good hands. They also charge a flat fee for their services, and you can count them for complete transparency.
Process-oriented approach
50 years of experience
Offers free financial consultation
Requires a call or appointment for more information
Customer Reviews
They provide professional advice and service
"I have been a client of Adam and Joe for over 12 years. It has been a very positive relationship from day one. They provide professional advice and service and are always available to answer questions or address any concerns I may have. Looking forward to the next 12 years!" – Darryl Vinet
Impressed with their customer service, responsiveness, and positive approach
"We have dealt with Adam and Joe for several years and have always been impressed with their customer service, responsiveness, and positive approach to managing our investments. They definitely stand out amongst financial advisors in our view." – Mark Corkery
2. Tetrault Wealth Advisory Group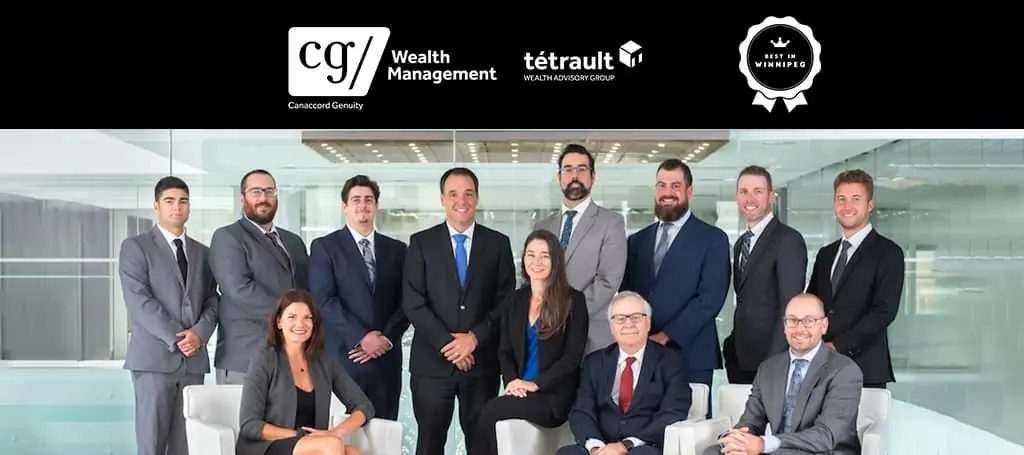 | | |
| --- | --- |
| SERVICES | Financial Planning, Investment, Financial, Tax, Insurance and Retirement Planning, Wealth, Portfolio and Asset Management, Investment Portfolios, Private & Corporate Wealth Management, Government Programs, Risk Tolerance, Asset Allocation |
| WEBSITE | https://robtetrault.com/ |
| ADDRESS | 1010-201 Portage Ave, Winnipeg, MB R2B 3K6, Canada |
| CONTACT DETAILS | 204 259 2859 |
| OPERATING HOURS | Monday to Friday 8:00 am to 4:30 pm |
Rob Tetrault, the owner, is an award-winning Portfolio Manager from Tetrault Wealth Advisory Group, and has been chosen three times to be on Wealth Professional's list of "Top 50 Financial Advisors in Canada".
Tetrault Wealth Advisory Group offers clients a wide variety of financial services like financial planning, investment planning, retirement planning, insurance planning, and tax planning.
They offer free consultations, by the way. That's a useful way to check them out beforehand and also lets them assess your current financial status and gather all the necessary data about you and your financial goals for if you do become a client.
What's really great about Tetrault, in our opinion, is that they will present a variety of financial scenarios to better determine what will work best for you. It helps you better visualise your options and participate in the creation of your financial plan.
After you have chosen your financial plan, they will put this into motion and consistently monitor and update as needed.
Free consultation
Access to 45+ banks and credit unions
Customized financial plans
Online client portal available
Closed on weekends
No online payment
Customer Reviews
Take a look at these reviews to learn more about the services of Tetrault Wealth Advisory Group.
"Rob and his team have been excellent to deal with. Extremely good at communicating especially when the markets are volatile. Always available to answer questions and provide information. They treat you like a friend not just a client." – Rhonda H.
"Rob and the Tetrault team are incredibly organized, personable and knowledgable. I have never received financial advice with the level of immediate understanding that was communicated to me by this firm. After a first impression, I am already confident they are worth exploring a financial plan with." – Kevin J.
"Rob and his team do an outstanding job at every level. Over the years, I had given a number of other local firms a 2-year tests period to prove their value to me as an investor. I settled on Rob and his team. They consistently outperformed others, offered great council, charged fair fees and do really seem to care about my wellbeing above their own. Beyond that, they do a great deal of benevolent and community outreach work, which also makes them a good corporate citizen; and this is important to me. It is good to have my assessment confirmed by numerous financial management bodies, who keep ranking Rob and team among the top 5 in Canada. Un Grand Merci a Rob et toute son équipe qui sauf-garde toujours les intérêts de moi et de ma famille. On investit tous avec Robert. Il appuie notre communauté francophone et offre ses services en français; rien de mieux." – Guy P.
3. Cascade Financial Group Inc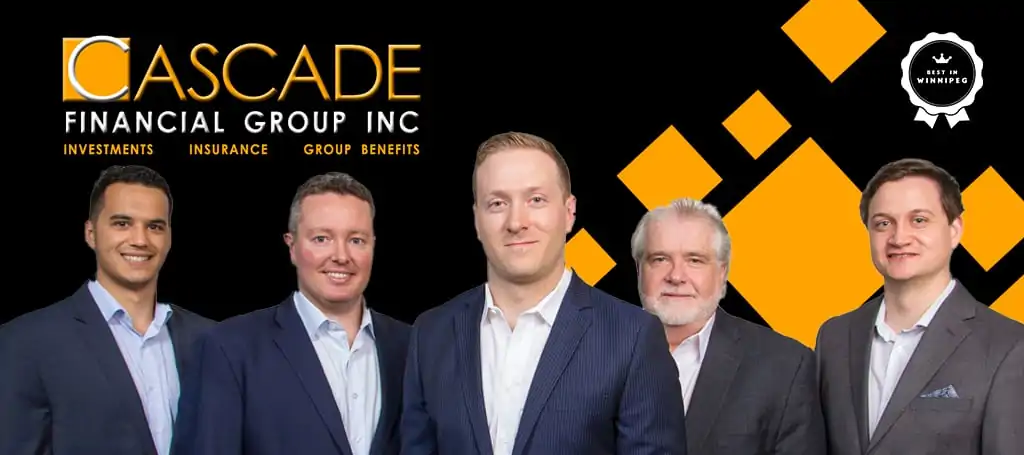 | | |
| --- | --- |
| SERVICES | Legacy & Financial Planning, Wealth Management, Group Benefits, Investment, Retirement Income, Estate, Business, Succession, Asset Allocation, Employee Benefits, Term, Permanent Life, Disability & Critical Illness Insurance |
| WEBSITE | https://www.cascadefinancialgroup.com/ |
| ADDRESS | 1730 Corydon Ave, Winnipeg, MB R3N 0K3 |
| CONTACT DETAILS | 204 837 1161 |
| OPERATING HOURS | Monday to Friday 9:00 am to 4:30 pm |
Cascade Financial Group Inc. is a financial services provider that has been providing financial planning to Winnipegers for over a decade. Their main focus is financial planning and retirement planning.
The financial services offered include investment planning and insurance planning as well. They're known for designing a plan based on your financial goals and implementing it in the most tax-efficient manner.
They offer their services to both personal and professional clients, and they work with each client's lawyers, accountants and other professionals to ensure the plan is customized efficiently. They also have a client portal on their website that allows you to manage your investments based on your personal financial plan.
They also have some financial calculators available on their website for you to compute your finances more effectively. We found this to be helpful in computing for our mortgage needs, and life insurance requirements.
Besides the many services they offer, another reason we included them on our list is that they're known to keep close and transparent communication with each of their clients. We think that communication is one important factor to consider when choosing your financial planner.
Customized financial plans
Online client portal available
Offers other financial services like insurance
Closed on weekends
No online payment
Customer Reviews
Let's take a look at what people have to say about Cascade Financial Group.
"Hans is a very personable and friendly advisor. He explains everything you need to know in a very straight forward way. He truly wants to see each of his clients succeed and enjoys meeting and working with his clients! We always feel like our needs are being taken care of and Hans is easy to get ahold of if we have any questions. I highly recommend Hans to anyone who needs a knowledgeable hard working advisor." – Whitney F.
"My husband and I have been dealing with Hans Minish for years and we LOVE the transparency with all our investments and insurance. We always know where our money is going and trust him completely. Highly recommended Hans!" – Julianna W.
"Ralph and his team are knowledgeable in current market trends, and truly have my best interests at heart! I will retire one day thanks to his help! He has helped me with business needs as well as our personal financial planning!! Thanks for all you do for us Team Cascade!" – Cliff C.
4. Sole Financial Service Ltd.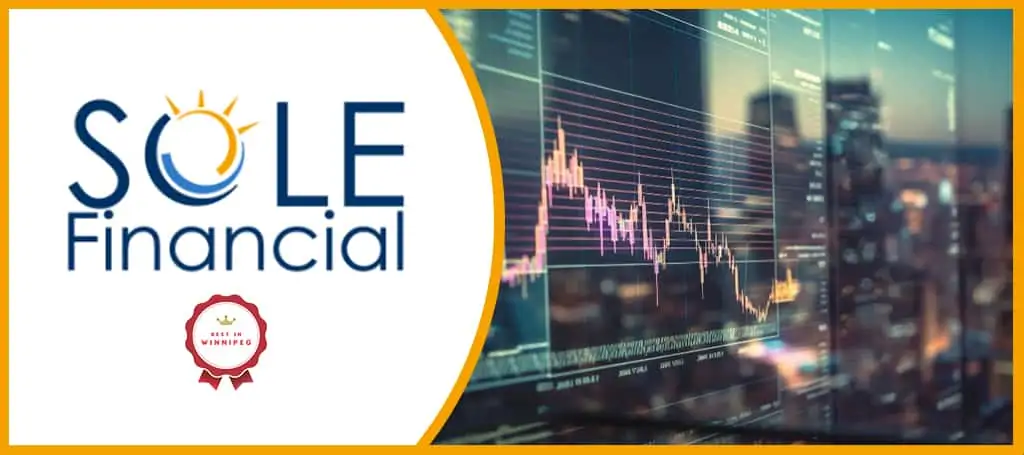 | | |
| --- | --- |
| SERVICES | Financial Planning, Final Tax and Estate Planning, Individual, Critical Illness Insurance, Health, Dental and Vision Care, Long Term Care, Employee Benefits, Investment Analysis, Registered Retirement Savings Plan & Registered Education Savings Plan, Personal, Contract, Self Employed,Small Business |
| WEBSITE | https://www.solefinancial.ca/ |
| ADDRESS | 137A Sherbrook St., Winnipeg, MB R3C 2B5, Canada |
| CONTACT DETAILS | 204 283 6268 |
| OPERATING HOURS | Monday to Friday 9:30 am to 4:30 pm |
Sole Financial Services is an independent, full-service financial planning firm that provides a wide variety of financial services. They serve individual, professional and business clients.
Their financial services cover individual insurance, investment analysis, wealth accumulation, retirement planning, employee benefits, tax estate & planning, and wealth income plans.
They personalize each of these services according to clients' needs. This is fine through careful surveys of the Canadian marketplace to find the best products and pricing for each client's circumstances.
Based on client reviews, they provide quality service at reasonable rates. We found this to be true – you can already see it in the fact that they've priced their personal tax return at only $50.
If you go with this company, you'll get a certified financial planner and a licensed financial advisor helping you get your finances in order. They can also assist you with retirement plans to own a home and minimize your taxes, as well as protect your income and assets.
Affordable rates
Full-service financial planning
Small team
No online resources
Closed on weekends
Customer Reviews
Here are some reviews about the services of Sole Financial.
"Knowledgable and friendly team. Relaxed atmosphere that I find comforting and suited to the area. Taxes are done well and at a very reasonable cost." – M.E.
"great service reasonable priced for doing taxes. highly recommmend" – Jason J.
"Awesome service, knowledgeable, friendly, fast, and reasonably priced." – Earl K.
5. Warkentin Group Private Wealth Management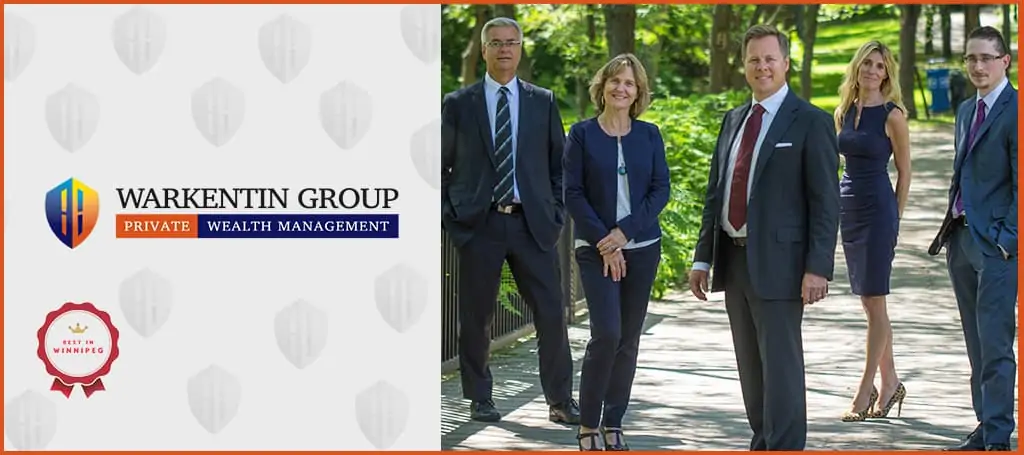 | | |
| --- | --- |
| SERVICES | Financial Planning, Wealth Management, Wealth Planning, Tax Minimization Planning, Income Projecting & Analysis, Trusts & Estate Planning, Net Worth Analysis & Management, Investments |
| WEBSITE | http://warkentingroup.com/ |
| ADDRESS | 363 Broadway #906, Winnipeg, MB R3C 3N9, Canada |
| CONTACT DETAILS | 204 414 2479 |
| OPERATING HOURS | Monday to Friday 8:00 am to 4:00 pm |
Warkentin Group takes a comprehensive and personal approach to financial planning. They work one-on-one with each client to come up with a financial plan that is tailored for your needs specifically.
They follow an 8-step wealth management process that takes a holistic approach. A financial plan is customized to address things like tax minimization planning, estate planning, retirement income, business succession, and more.
This holistic approach takes the client through a number of meetings so that they can learn about exactly what will be done for their finances, after which they will meet with a tax lawyer to iron out final details.
We found this to be helpful because you're basically being spoon-fed all the information that you need for you to have a financial plan that works for you.
Once the financial plan has been implemented, a regular review will be put in place to help you stay on track.
This is another service that we feel is important in financial planning because if you don't regularly review your financial plan, you can miss out on some great opportunities.

They can help you plan exactly how you will create a continual flow of income to fund your dreams, and your retirement too.
Online client portal available
Member of the Canadian Investor Protection Fund
Closed on weekends
No online payment
Customer Reviews
Take a look at these reviews to find out more about why Warketin Group made it to our list.
"I've dealt with money managers and management groups from all around the world and I've never met anyone I've had more faith in than Doug and his team. Doug set out a clear plan and has been accessible every step of the way. I trust his advice and he has never steered me wrong. I would recommend Doug and his team to anyone. Before I met Doug, I use to work for money, now Doug is making my money work for me." – Darren K.
"This was an amazing place to invest. He took time to explain everything to me. You need to make sure if investing you can trust the people telling you where it is best to put your money. Trustworthy is how I would describe this company. Thank you for helping me and my family." – Amy W.
"Warkentin Group has my highest recommendation!! Due to their services and expertise, my meager accounts have grow substantially! They have always been responsive to my inquires and questions as well as responsible with my investments and future. With all the is going on in the world, the accounts that Warkentin Group manages on my behalf are one less thing I have to worry about and actually a substance of peace and reassurance in my life! Thank you!" – Vanessa K.
6. Yourstyle Financial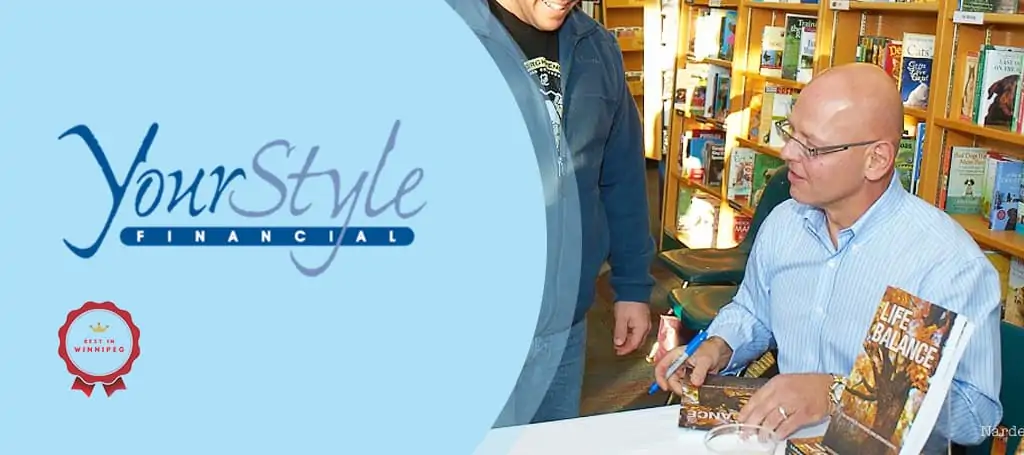 | | |
| --- | --- |
| SERVICES | Financial Planning, Personal, Business, Income Replacement, Travel Emergency, Extended Health and Dental, Private Health Services Plan, Critical Illness, Retirement Options, Speaking Engagements |
| WEBSITE | https://www.yourstylefinancial.ca/ |
| ADDRESS | 2020 Portage Ave #1B, Winnipeg, MB R3J 0K4, Canada |
| CONTACT DETAILS | 204 474 2929 |
| OPERATING HOURS | Monday to Friday 9:00 am to 5:00 pm |
Doug Buss is well-known and well-liked around Winnipeg that its no wonder that his financial service company gets such good reviews. He's a dedicated financial planner who'll work closely with you to develop a personalized financial plan.
Yourstyle Financial takes a more structured approach in developing a personalized financial plan for you. They go as far as actually teaching you Financial Planning 101, Estate and Tax Planning, Retirement Income Planning, and more.
In the courses offered, they will teach you about contingency plans, healthcare issues, how to properly manage your assets, how to deal with intergenerational wealth transfers, etc.
They take this approach because part of financial planning is building a stable base, which requires you to know the basics of it.
This firm is ideal for those who prefer a more hands-on approach and would like to be 100% involved in all the decisions and investments being made.
We included Yourstyle Financial on our list because we think it is important to have a financial planner that listens to what your goals are and helps you work towards them. We like that they take the time to bounce ideas back and forth to gauge your comfort level and your appetite for risk.
Wide variety of financial services available
Many resources available on website
Personalized financial plans
Closed on weekends
No online client portal
Premium rates
Customer Reviews
We can see why Yourstyle Financial is a Winnipeg favorite. Read these reviews to find out more about their services.
"We have been with Doug for over 20 years. He has helped us review our objectives and has recommended the right investments to meet our goals. He has also been there to bounce ideas off regarding financial issues and made himself available to discuss our finances prior to my retirement. I consider Doug a good friend that I can trust as well as being a financial planner. He is truly a good person." – Vince H.
"Doug and the team at Yourstyle financial are fantastic. They approach their business from a place of care for their client and they really know their stuff. If you want a financial planner who will have your best interest at heart and will take the time to listen, contact Yourstyle." – Louisa H.
"It would be easy to just talk about the many successful years of experience that Doug has in the financial industry and stop there. It would not do any justice for potential clients. It's truly his personaly that makes the difference. Doug cares about his clients and takes a lot of time in getting to know them. It helps when making solid financial decisions that will carry well into the future." – Richard R.
FAQs about Financial Planning in Winnipeg
---
Now that you know about the best financial planners in Winnipeg, it is time to get your finances in order and build a more stable future for you and your family.

Did we miss out on any other notable financial planners? Tell us all about them so that we can check them out as soon as possible.
By the way, if you're interested in more financial services, check out this list of the best accountants in Winnipeg.