The 6 Best Financial Advisors in Winnipeg
Featured Image Source: Pexels
Do you know what a good retirement plan, successful investments, and transparent finances have in common? Unless you're a financial genius, they're all only possible with the best financial advisor in Winnipeg, of course!
Finding a financial advisor may be a challenging task. But don't worry because we've got you covered – we've rounded up the top financial advisory groups in the city.
We also answered frequently asked questions about financial advisors, which you can find near the end of this article. But before we move on, we'll first give you the criteria on how to choose a financial advisor.
What to Find in a Financial Advisor in Winnipeg
1. Certifications
Many traders and professionals may call themselves financial advisors. But you also have to ask yourself if they're really what they say they are.
So, to avoid any scams or inefficiencies, you can first check out your potential advisor's full name. When you see these titles, you know you'll be in good hands:
CFA – Chartered financial analyst
CFP – Certified financial planner
CHFC – Chartered financial consultant
CIM – Canadian investment manager
CLU – Chartered life underwriter
CMP – Certified management professional
RFP – Registered financial planner
TEP – Trust and estate practitioner
2. Expertise
Next, you also have to check out the expertise that your potential advisor offers. Financial advisory covers many things, including the following:
Assets and properties management
Stock trading
Retirement, estate, and long-term health care planning
Tax planning
Investment planning and trading
Debt management
With such a wide range of services, you need to find a financial advisor who will cater to your specific needs.
Hence, if you're looking to maximize your wealth, you may do better with an investment planner than, say, an expert in debt management.
3. Communication skills
You also have to find a financial advisor who has good communication skills. This only means that you need to find someone willing to listen to your needs, who respects your situation, and who updates you on your transactions.
4. Values
To avoid losing any money or staining your name, make sure you're only dealing with a moral and trustworthy advisor that follows financial laws and guidelines strictly.
You can do this by searching for complaints via reviews or disciplinary actions via Canada's Investment Industry Regulatory Organization (IRRO).
Of course, you also need to find someone trustworthy because they'll be handling your money and assets.
Make sure you're doing business with someone who won't make a run for it the moment they get hold of your hard-earned money.
5. Costs
You also have to check how much you'll need to pay your financial advisor. After all, you're seeking their help to be financially stable, so you must find someone you can pay within your budget.
If you don't know just how much is too much when it comes to paying financial advisors, we'll cover that in our next section.
How Much Do Financial Advisors Charge
Payment for financial advisors depends on the type of service they're providing. For example, you may have to pay an hourly or flat-rate fee for a financial planner.
On the other hand, if you're hiring a financial advisor as a stock or investment broker, you'll likely pay them through a commission.
Lastly, if your advisor manages your investments and properties, you'll have to pay them a percentage of how much they're handling. Here's a guide to how much the best financial advisor in the city may charge you.
| | |
| --- | --- |
| Type of payment option | Cost range |
| New financial plan | $2,500-$5,000 |
| Annual financial advising | $3,000-$7,500 |
| Hourly fee | $200-$500 |
| Investment management/stock brokering | 0.5%-2% |
The 5 Best Financial Advisors in Winnipeg
Now that you know how to choose a financial advisor, it's finally time to pick one. Here are our top picks of financial consultancy companies in Winnipeg to help you out.
1. Tetrault Wealth Advisory Group
| | |
| --- | --- |
| BEST FOR | Free expenses calculator |
| SERVICES | Wealth management, tax planning, business management, insurance planning |
| WEBSITE | https://robtetrault.com/ |
| ADDRESS | 1010-201 Portage Ave, Winnipeg, MB R3B 3K6 |
| CONTACT DETAILS | (204) 259-2859 |
| OPERATING HOURS | Monday – Friday: 8:00 AM – 4:30 PM |
Tetrault Wealth Advisory Group is an award-winning wealth management company and fiduciary. It offers its services to individual and corporate clients alike.
It guarantees to keep in mind its client's needs in the present and the future. This company also prides itself on its founder, Rob Tetrault, who has already won numerous awards both locally and nationally.
Rob leads a team of financial advisors who are also experts in insurance, business management, and planning. With all of these experts under one roof, Tetrault can work as a legal fiduciary, handling insurance, investment, retirement, and tax planning.
The best thing about Tetrault is that it also has an online financial calculator where you need only input current savings and your current goals. Thus, anyone can receive sound financial advice in real-time with Tetrault.
Free online expenses calculator
Free no-obligation phone or video consultation
Award-winning financial advisor
Excellent communication
Full-access to financial assets
Customer Reviews
Customers have also praised Tetrault for its open line of communication. Here are some reviews for more information:
"Rob is very involved in ensuring that your needs are addressed and questions are answered. He and his team are very accessible and have a great customer service approach. It is truly a pleasure to be able to speak with someone when you call. We are always left feeling that we have been heard and any requests we may have will be taken care of."—Mary Loepp
"Rob Tetrault and his team have given us professional friendly personal guidance with our retirement planning and savings, especially during and after the sale of our business. We can openly discuss our concerns and feel he is working in our best interest. He is very knowledgable in his field and see him not only as our Financial Advisor but also a friend. I have recommended him to many of our friends."—Agnes Gosselin
2. Warkentin Group Private Wealth Management
| | |
| --- | --- |
| BEST FOR | Packaged well management |
| SERVICES | Wealth management, tax, philanthropic, insurance, and investment planning |
| WEBSITE | http://warkentingroup.com/ |
| ADDRESS | 363 Broadway #906, Winnipeg, MB R3C 3N9 |
| CONTACT DETAILS | (204) 414-2479 |
| OPERATING HOURS | Monday – Friday: 8:00 AM – 4:00 PM |
Warkentin Group Private Wealth Management delivers just as its name suggests. It follows a comprehensive and holistic 8-step process to benefit its clients.
Its wealth management plans involve investment, estate, and tax strategies so its clients can have the future they want. Warkentin Group's services also include philanthropic planning, thus guiding its clients as they bring significant change to their own environment.
As part of its process, Warkentin also connects its clients with tax lawyers who'll ensure finances are well within legal grounds.
Doug Warkentin, one of the top-ranking Canadian advisors, leads this company with his expertise in tax and wealth-building strategies. He also has an FCSI fellowship and a license for investment management.
All-in one financial planning package
Additional philanthropic planning
Connection with other experts like tax lawyers
Only one package for wealth management
Limited to personal finances
Customer Reviews
Customers have claimed that Warkentin's services go up and beyond their expectations. Here are the reviews that felt the same way:
"I have been a client of Doug's since 2018, and in that time Doug has navigated my portfolio through very turbulent markets with success which has exceeded my expectations. Someone like myself with very little market knowledge, Doug has been patient taking the time to explain certain strategies. Thank you Doug and your team for the the great service !"—Andrew Voth
"My husband and I came to Doug about a year ago for advice on financial planning, as I had never been given any by the bank I that I have worked at for 17 years. He completed a detailed financial plan for me and my family, and put together a portfolio recommendation. The reports and graphs that he showed us painted a picture we could fully understand. We now know when we can retire and are confident that we are on track. Thank you Doug!"—Aneta Wychowaniec
3. Cascade Financial Group Inc
| | |
| --- | --- |
| BEST FOR | Investments |
| SERVICES | Insurance, financial, and investment planning |
| WEBSITE | https://www.cascadefinancialgroup.com/ |
| ADDRESS | 1730 Corydon Ave, Winnipeg, MB R3N 0K3 |
| CONTACT DETAILS | (204) 837-1161 |
| OPERATING HOURS | Monday – Friday: 9:00 AM – 4:30 PM |
Cascade Financial Group can handle long-term and immediate financial planning and management for both individual and group clients. Most especially, it specializes in securing continuity with insurance planning.
Ralph Irwin, an FPSC financial planner, leads a team of four financial advisors. The team then starts its process by informing its clients of the financial strategies essential for their long-term goals.
Aside from insurance planning, Cascade also does investment and financial planning.
Its investment planning is also a continuous process as its financial advisors constantly monitor opportunities to rebalance and reallocate your funds.
Additionally, Cascade Financial Group specializes in funding for key-person and business transitions so businesses can stay stable despite the loss of essential people. It can also help its commercial clients obtain group benefits efficiently.
Expertise in insurance planning
Real-time monitoring of investment opportunities
Group benefits
Services applicable for individual, family, and commercial clients
No tax planning services for commercial clients
Customer Reviews
Here are some testimonials from customers who view Cascade as the best financial advisor in Winnipeg:
"Hans was fantastic in assisting me in getting Critical Illness insurance for my kids and in helping me set up RRSP investments. He made the process for both smooth; and was happy to have discussions with me regarding the investment options available through Cascade Financial and tailoring one to my own liking."—Sean Restall
"Hans is a very personable and friendly advisor. He explains everything you need to know in a very straight forward way. He truly wants to see each of his clients succeed and enjoys meeting and working with his clients! We always feel like our needs are being taken care of and Hans is easy to get ahold of if we have any questions. I highly recommend Hans to anyone who needs a knowledgeable hard working advisor."—Whitney Friesen
4. Yourstyle Financial
| | |
| --- | --- |
| BEST FOR | Holistic long-term financial planning |
| SERVICES | Personalized and business financial, insurance, and tax planning |
| WEBSITE | https://www.yourstylefinancial.ca/ |
| ADDRESS | 2020 Portage Ave #1b, Winnipeg, MB R3J 0K4 |
| CONTACT DETAILS | (204) 474-2929 |
| OPERATING HOURS | Monday – Friday: 9:00 AM – 5:00 PM |
Yourstyle Financing is yet another type of financial advisor offering help for Winnipeggers to fulfil their long-term goals. Its expertise is suitable for personal accounts and both public and private companies.
Its focus lies mainly on insurance and long-term planning for individuals. To carry out such services, Yourstyle's founder, Doug Buss, heads a team of financial advisors, business managers, and life planners.
For its business clients, Yourstyle works much like an insurance broker, but with more personalized services. It thus offers complete employee benefits coverage, including travel, emergency, health, dental, life, and retirement plans.
But what sets Yourstyle apart from its competitors is it approaches retirement and long-term goals through other aspects not just financially.
Thus, clients can engage in presentations about family, inner peace, health and fitness, relationships, and other life-essential aspects.
Presentations to achieve life balance
Caters to both public and private businesses
Complete employee benefits
Elderly and long-term finance experts
No tax and investment planning
Customer Reviews
Another thing that clients appreciate about Yourstyle is its reasonable pricing. Here are the some reviews to tell you more about what clients like about this company:
"Our business is highly competitive in the area of employee retention. Doug Buss was able to give us a leg up on the competition by providing us with a comprehensive benefits package. He explained different options that were available and we were able to choose the one that fit us best. We appreciate the experience and knowledge Doug was able to share with us."—Ira van den Berg
"Doug and the team at Yourstyle financial are fantastic. They approach their business from a place of care for their client and they really know their stuff. If you want a financial planner who will have your best interest at heart and will take the time to listen, contact Yourstyle."—Louisa Hofer
5. Winnipeg Financial Planning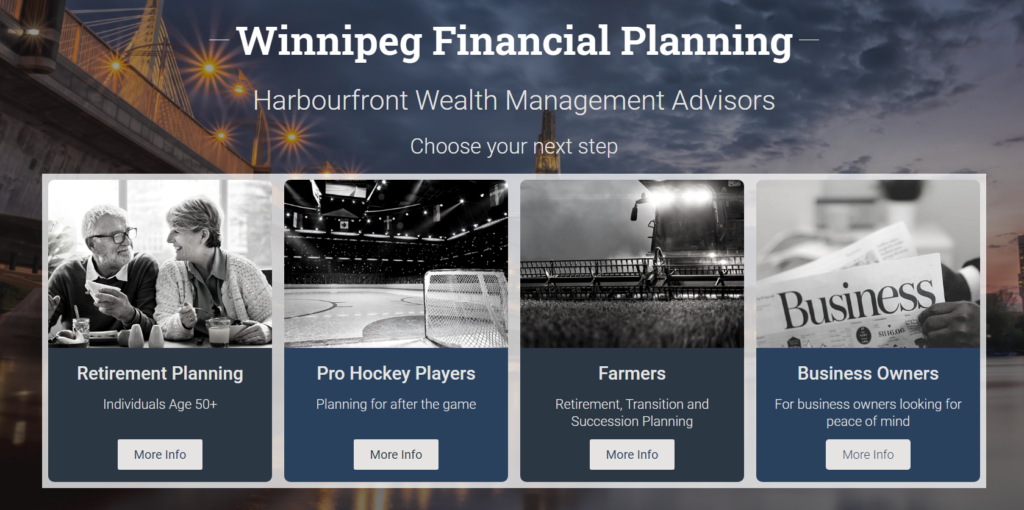 | | |
| --- | --- |
| BEST FOR | Specialized financial planning |
| SERVICES | Insurance planning, tax planning, estate planning, retirement planning |
| WEBSITE | https://winnipegfinancialplanning.com/ |
| ADDRESS | 177 St Mary's Rd, Winnipeg, MB R2H 1J1 |
| CONTACT DETAILS | (204) 256-5555 |
| OPERATING HOURS | Monday – Friday: 8:00 AM – 5:00 PM |
Just as its name and brand say, Winnipeg Financial Planning offers the best financial planning in town. Its services include tax, retirement, insurance, estate, and cash flow planning.
Additionally, Winnipeg Financial Planning also offers portfolio management services, which include investment management and behavioural finance coaching.
These services can thus help clients also build good financial habits, which they can practice by themselves.
Another great thing about Winnipeg Financial Planning is that it offers flat-free pricing for all its services. It even offers a 30-minute consultation to draft a plan that works best for its potential clients.
But the best thing about this company is that it has the best financial advisor in Winnipeg for very specialized needs. It has a financial advisor focused only on agriculture, another one for sports, and another one for retirement.
Additional behavioural finance coaching
Financial services specific to farmers, hockey players, and retirees
Free phone consultation
Flat-free pricing
Only two planners with certifications
Customer Reviews
Read these reviews to know what's in store for you should you choose Winnipeg Financial Planners as your financial advisor:
"Always feel that my best interests are top of mind. Enjoy being held accountable for my long term goals and always provided options on how to maximize the process."—Shawn Graydon
"I choose this firm to handle my large retirement payout. It was a great decision. They have made good investments on my behalf and my financial investor Colin, has proved himself to be completely trustworthy and absolutely available whenever I've had a concern or question. He has personally been involved with my accountant on my behalf so that I haven't had to worry about a thing! My investments have been solid during this pandemic. I have complete faith moving forward with this team"—Scarlett Williamson
6. Endeavour Wealth Management
BEST FOR
Smart Money Planning
SERVICES
Financial Planning, Investment Management, Tax Management, Business Succession, Insurance Planning, Estate & Trust Planning, Retirement Planning, Private Client Services
WEBSITE
https://www.endeavourwealth.ca/
ADDRESS
940-201 Portage Avenue Winnipeg, MB, R3B 3K6
CONTACT DETAILS
204-515-3450
1-855-315-3450


[email protected]

OPERATING HOURS
Monday – Friday: 8:30 AM – 4:30 PM
If you are looking for a financial advisor around Winnipeg to guide you on your path, then you should stop looking for one and go to Endeavour Wealth Management.
Endeavour Wealth Management focuses on their clients where they build their trusting relationships through honesty and integrity. By building these relationships, they offer financial plans, curated by their highly-qualified team. They curate specific and professional guidance based on what is your focus on.
The management has a team of highly-accomplished advisors and is supported by well-rounded staff to ensure quality financial support for your business or family. They also have an advanced planning team and external professionals and operations to ensure that you have all that you need in wealth management.
Aside from financial planning, they also provide tax planning, investment strategy, estate planning, and other related services in finance and business.
If you are interested, you may contact them via the details provided in their portals, although it would have been better if they could provide a free quote for your needs.
Overall, if you are in need of a financial advisor in Winnipeg, you might want to check Endeavour Wealth Management and secure your future, your family, and your business.
Has a well-rounded team to provide financial support
Has a wide array of services in finance and business
Has events to ensure that prospective clients are informed
No free quote as of their postings
Customer Reviews
Exceptional staff and service
"Grant is a consummate professional who will provide you with exceptional customer service and sound investing advice. Well educated in his field and an excellent source of information. My wife and I highly recommend him for your financial investing journey. Folks have a plan and follow it. At some point in life you will retire and your retirement tomorrow is based on the decisions you make today. Do yourself a favor and call Grant White and his team at Endeavour Wealth Management- your future self will thank you for it."— Michael Desgroseillier
Frequently Asked Questions
---
Now that you know where to get the best financial advisor in Winnipeg, you can start worrying less about your finances and your future. All you need to do now is to choose which financial advisor fits your needs, budget, and other personal criteria.
Did we miss any good options? If so, please leave us a note so we can look into their services and credentials, and possibly provide fellow consumers with more options.
If you're looking for other lists dealing with your personal finances, you can also check out our list of the best insurance brokers in Winnipeg. With these companies and your advisor's help, you can surely expect a bright future.