The Top 6 Air Conditioner Repair Services in Winnipeg

Summer time is right around the corner and we all know how brutal the Winnipeg heat can be!

There is no better time than right now to get ahead of it and ensure that all your air conditioning units are working efficiently. A broken air conditioner is the last thing you should deal with on a hot summer day, especially when we have some of the best air conditioner repair technicians in Winnipeg just a phone call away.
The Cost of Air Conditioner Repair in Winnipeg
The cost of repairing any air conditioning unit may vary depending on the unit & type of service or repair that is needed.

Most companies charge based on the type of service that is provided and the type of unit that is serviced – this can range anywhere from $130 to $ 2,100. On average, a household can spend $225 on air conditioner repair.
| | |
| --- | --- |
| REPAIR | ESTIMATED COST |
| Contactor Replacement | $150 to $350 |
| Thermostat Replacement | $200 to $500 |
| Capacitor Replacement | $250 to $350 |
| Window Type Maintenance & Cleaning | $100 to $200 |
| Air Conditioning Tune Up | $110 to $170 |
| Air Conditioner Duct Clean Up | $189 to $210 |
| Refrigerant Leak Detection & Repair | $150 to $500 |
The Best Air Conditioner Repair Companies in Winnipeg
Let's take a look at the best and most experienced air conditioner repair companies in Winnipeg.
The companies we have listed are well equipped and have certified technicians who will be happy to provide you with a customized price quotation once they have assessed the air conditioner.
1. Reliance Superior Heating, Air Conditioning & Plumbing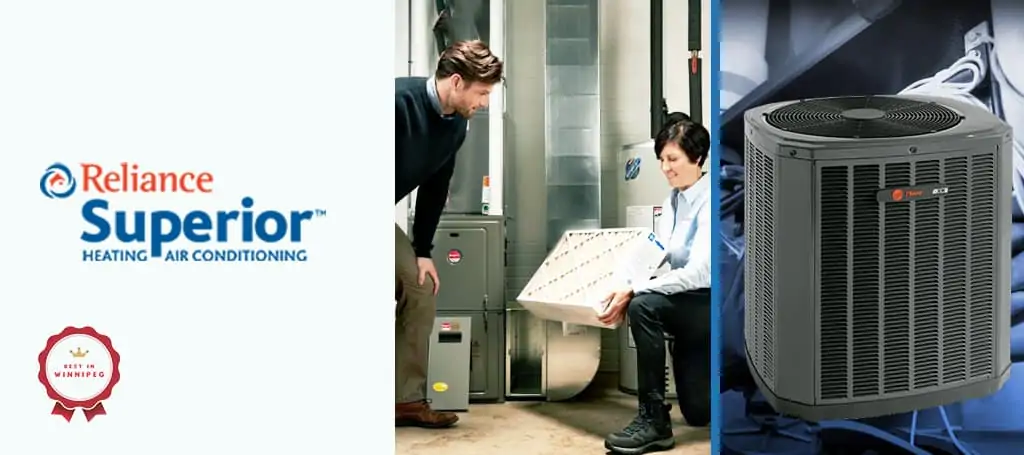 | | |
| --- | --- |
| PRODUCTS | Air Conditioner Repair, Air Conditioner Rental / Purchase, Cooling and Protection Plans, Tune up & Maintenance Plans |
| WEBSITE | https://reliancehomecomfort.com/winnipeg/ |
| ADDRESS | 96 Terracon PI Building E, Winnipeg, MB R2J 4G7 |
| CONTACT DETAILS | 204 259 2708 |
| OPERATING HOURS | 24 hours |
Reliance Superior Heating, Air Conditioning & Plumbing is your one stop provider for all of your home service needs. From furnace and air conditioner repairs to new and installations and plumbing, electrical and heat pumps, all your needs can be found under one roof.

All technicians are fully trained and licensed and able to provide service for a wide range of leading air conditioner brands and units.
You can be sure that your needs are always put first because the technicians are more than willing to take the time to explain any necessary repairs and provide tips to ensure that your air conditioning units are maintained in good condition.
There are thousands of great reviews online from happy clients that will allow you to see exactly why people prefer this trusted company – from polite technicians, to good customer service, and efficient solutions, Reliance Home Comfort has got it all.
Homestars Best of 2023
Efficient  and fair resolution to any issues encountered
No assessment fee
Buy, Rent, and Financing available
Accounting department can be slow to resolve billing issues
Customer Reviews
Reliance Home Comfort will always do its best to resolve any air conditioning issues that you may have. Take a look at the reviews below to see what customers have to say about them.
My experiences with Reliance Superior has been very good. I recently purchased a new home. During the very hot spell, our air conditioner didn't seem to be cooling correctly. I contacted the office and the gal Kathy that answered was very accommodating and set up an appointment for a tech to come out the next day. The tech John, came out in the timeline promised and was able to rectify the problem very quickly, getting us happy and cool again. Will definitely be using them for our future needs. 5/5 Stars

Had a really good experience with this company .I needed to replace my furnace and air conditioner during a hot week in July ,but they were able to install a day after my quote .The guys showed up early ,called to let me know they were on their way ,and were friendly, professional ,and treated my house with care .I'm amazed at how fast my 2 story is cooling down.The deferred payment plan was a relief, no need to live without A/C this summer! 5/5 Stars

Our new air conditioner is working beautifully. Installation and service was quick and service people were knowledgeable, friendly and efficient. We would recommend Reliance Superior to friends and family. 5/5 Stars
2. Furnasman Heating and Air Conditioning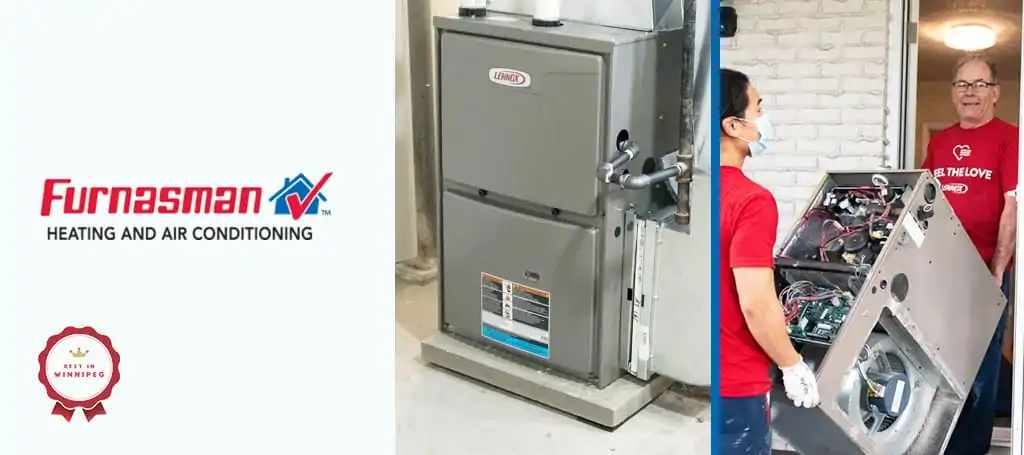 | | |
| --- | --- |
| PRODUCTS | Air Conditioning Installation, Air Conditioning Repair, Air Conditioning Maintenance, Forced Air Air Conditioning, Ductless Air Conditioning |
| WEBSITE | https://furnasmanright-time.ca/ |
| ADDRESS | 302 Keewatin St., Winnipeg, MB R2X 2R9 |
| CONTACT DETAILS | 431 – 800 – 0546 |
| OPERATING HOURS | 24 hours |
From quick and simple repairs to a full set up and installation of a brand new system, Furnasman Heating and Air Conditioning has got you covered. With more than 80 years of experience, there is nothing that these HVAC certified technicians cannot do.

All technicians are courteous, respectful and tidy. They have received extensive training, after all, and are truly professionals in their field.
Furnasman Heating and Air Conditioning technicians are emergency-ready 24/7 too and are even available outside traditional working hours and holidays at no extra charge.
Always available
HVAC certified technicians
No extra charges on holidays / after office hours
Customer Reviews
Staying true to its promise, Furnasman Heating and Air Conditioning are said to deliver on their promise for respectful and quality service from all their technicians. Here are some customer reviews:
We recently had Furnasman replace our furnace and A/C that was at the end of lifespan. The entire experience from the initial service call, to the sales, to the installation was overwhelmingly positive. We were extremely impressed with the team of Nigel and Tony who completed the installation. Their service, professionalism, knowledge, expertise and advice with the products were first class. We highly recommend choosing Furnasman to anyone looking for a furnace, A/C, and other products they sell and service. Jehan M, 5/5 Stars, 15/03/21

Shaun S. was our serviceman on Friday, Feb. 19, 2021. He arrived on time and gave us a courtesy call when he was nearby. This is really appreciated. Shaun is a very smart and talented repair guy. My husband and I bought our Goodman furnace and air conditioner from Furnasman in June 2013 and get our yearly check up on both. We have been very satisfied with both the furnace and A/C. Thanks again Shaun S. for keeping our heating and cooling systems in tip top shape. Take care and stay safe in these Covid times. – Mildred T, 5/5 Stars, 20/02/21
3. Lynn's HVAC Winnipeg: Plumbing, Heating and Cooling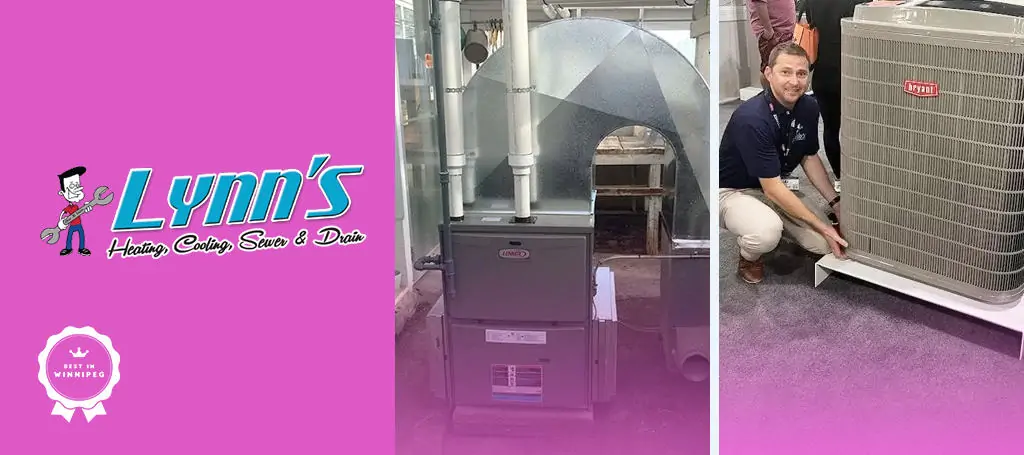 | | |
| --- | --- |
| PRODUCTS | Air Conditioner Repair and Installation |
| WEBSITE | https://lynnswinnipeg.ca/contact/ |
| ADDRESS | 885 Redonda St. Unit 7B Winnipeg, MB R2C 2Z2 |
| CONTACT DETAILS | 204 817 8698 / 204 817 1595 / 204 918 7444 |
| OPERATING HOURS | 24 hours |
At Lynn's, you will be treated like family simply because this 25 year old business is owned and run by a family. They understand how important it is to have a comfortable home, especially during the summer when the heat can be unforgiving.

Lynn's expert technicians know everything there is to know about air conditioners and pay special attention to the details before making any recommendations.
They provide top-quality air conditioner repair and maintenance as well as replacements and installations of brand new units depending on what is best for your home.

This trusted company has successfully serviced many families in Winnipeg whether it be over the phone or in person, they will never leave you without a solution.
Detail oriented
25+ years of experience
Free assessment
More knowledgeable in plumbing and heating
Longer lead time for assessment
Customer Reviews
Let's take a look at what some customers have to say about their experience with Lynn's expert technicians.

Dallas and his team at Lynns are top notch. Professional, courteous, and reliable. Excellent customer service. They have installed our furnace, AC unit, and sump pump, plus have been to our house for a few service calls. All experiences are 5 stars. I wouldn't use anyone else. – Lance M. 02/06/2020

Being a new home owner I have never had to deal with a heating and cooling company and to be honest I was scared to be taken advantage of. After dealing with Steven I have faith in this company and will only be dealing with them from now on due to the confidence and honesty I received from Steven. For such a young man he clearly knows what he is talking about and even though he works for a company he makes it feel as though he works for the customer. Best customer service I have ever experienced! Thanks Steve. – Riley R., 24/12/2019
4. Provincial Heating and Cooling Inc. – Winnipeg Air Conditioning & Furnace Repair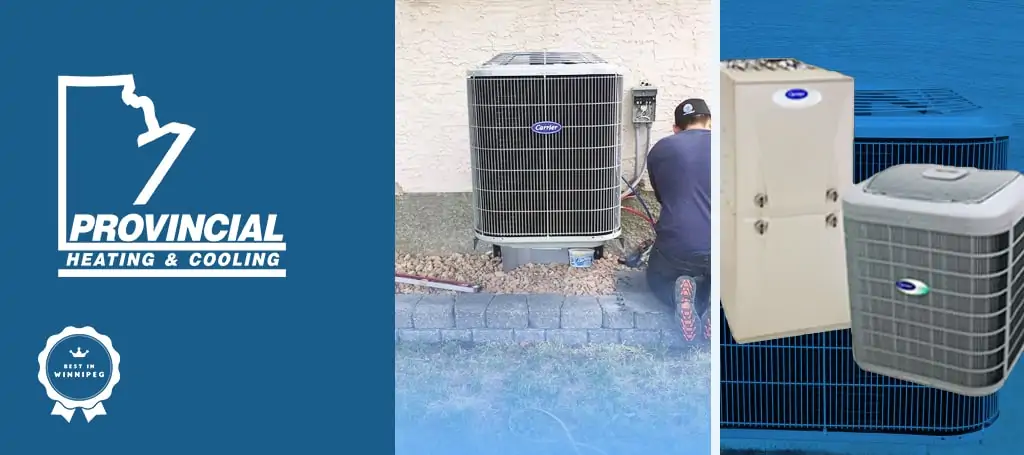 PRODUCTS
Air Conditioning Repair & Installation
WEBSITE
https://www.provincialheating.ca/
ADDRESS
324 A Keewatin Street, Winnipeg, MB R2X 2R9
CONTACT DETAILS
204 339 4328
OPERATING HOURS
Monday – Friday 7:30am – 4:00pm
24 hours emergency service available
Their technicians are all fully licensed, insured, and NATE-certified.

With more than 25 years of experience, they are able to provide a network of support you can fully rely on. Whether you are in need of flexible scheduling or Emergency Service, they will do everything they can to make sure that they leave you with a cool and comfortable home.

Provincial Heating & Cooling Inc also meets Carrier's high standards for sound business practices, customer service, and advanced technical training and has managed to become the only Carrier Factory Authorized Dealer in Manitoba.
They service both residential and commercial areas, by the way, so you can be sure that you are in safe hands.
Special offers available
Money-back guarantee
Accepts credit card payments
Based on reviews, they may sometimes need more than one appointment to completely repair the issue.
Emergency service not always available
Customer Reviews
Here is a detailed customer review that shows how customers trust in the service of Provincial Heating & Cooling Inc.
Our AC died suddenly last week during a heat wave.The thermostat in our home was between 33-35 degrees, and we just had a new AC unit installed today.( July 7/20) We were very impressed with both installers, Dan & Derek.We had a number of concerns and questions . Dan , who was working inside , patiently answered our questions and gave us lots of information. His customer service was exemplary and his attitude and demeanor were very positive.I would highly recommend him as an individual who really knew what he was doing.The other installer , Derek, worked on the unit outside so we didn't talk as much to him as we were inside.We asked him a couple of things and he responded very respectfully with a very warm, genuine smile.Both seemed to enjoy their jobs and were very good at what they do. To keep this review balanced, we did feel that having to live in a home with 33-35 degree temp for 6 days was an excessive wait.We called this company because it said it had a 24 hour emergency line so we thought that we'd have air conditioning working again much sooner.We waited 2 days to have the first service call (which was on Friday July 3rd)and the service person couldn't get it working again .We were told we needed a new AC unit ( ours was a high end model that was 11 years old).We asked if we could get one immediately but we were told that installers were not available over the weekend.So there wasn't 24 hour emergency service as we had read on their website at all unfortunately .The earliest we could have someone come to install a new unit was today – Tues, July 7th/20 when our original call from a 35 degree home was 6 days earlier( July 1st) We would rate both Dan and Derek as 5 stars .They both went the extra mile, very respectful to our family and home . We gave a 4 star rating overall due to the excessive wait to get this much needed job done ( in our opinion, it was an emergency as one of our family members has a medical condition which worsens if they overheat )We also have pets we were very concerned about . We do realize that this recent heat wave affected many other people besides us , and that heating and cooling companies have been very busy these past few weeks.We took that into our consideration with our 4 star rating â?º We will definitely recommend the services of both Dan & Derek! – Kevin & Darcy, Winnipeg 07/07/2020
5. Tradesman Mechanical Services Ltd.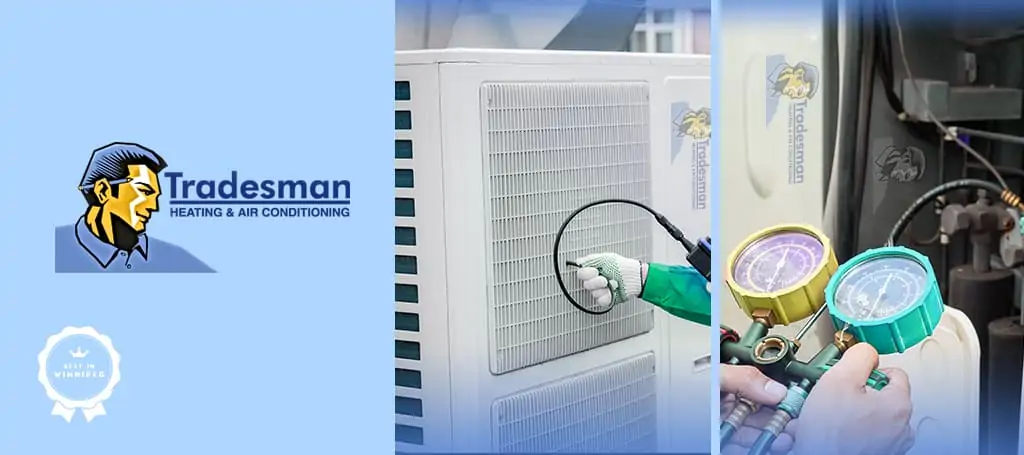 | | |
| --- | --- |
| PRODUCTS | AC Replacement Option, Daikin Ductless Air Conditioning, Air Conditioner Repair, Annual AC Maintenance, Air Conditioning Warranty, Air Conditioner Troubleshooting |
| WEBSITE | https://www.alwaysopen.ca/ |
| ADDRESS | 975 Main Street, Winnipeg, MB R2W 3P6 |
| CONTACT DETAILS | 204 888 2020 |
| OPERATING HOURS | Monday – Sunday 7:00 AM – 5:00 PM |
Having been in this industry for over 30 years, Tradesman Mechanical Services Ltd. is one of the oldest repair firms in the list. Their aim is to provide a hassle free experience and ensure that each customer receives top quality service.
It has a reputation for operating in accordance with manufacturers' operating and maintenance manuals, which provides you with the ultimate peace of mind. They are affiliated with some of the most reputed names in the industry like Daikin, Carrier, Fujitsu, Coleman, Airease and more.

Confident in their own skills and expertise, Tradesman Mechanical Services Ltd offers a warranty period of 6 years for some products and services as well as a 100% money back guarantee for any repair up to $300.00. They act quickly and try to get to the job done within 48 hours.
Monthly payments available
No hidden charges or after hours fees
Customer Reviews
Read through these customer reviews to find out more about what customers love about Tradesman Mechanical Services Ltd.

Awesome customer service, salesman and techs were extremely knowledgeable and professional. Would definitely recommend to others, – Ian L., 29/10/2020

Professional, knowledgeable, friendly, great customer service. They take the time to make sure to explain everything in detail. – George B., 28/10/2020

Everyone I have dealt with were always polite and professional. The tech's work quickly and efficiently, explaining clearly everything they did and what they found. I have dealt with tradesman for the past 5 years and have always been satisfied. – Ian S., 23/10/2020

Tradesman installed a new furnace, new AC and new hot water tank in my home yesterday. Everything about this company is amazing: the quote experience, the installation crew, the equipment installed, the respectful and professional way everyone conducted themselves, and the cleanup after. I would highly recommend Tradesman. – LeAnne P., 08/10/2020
6. Abstract Heating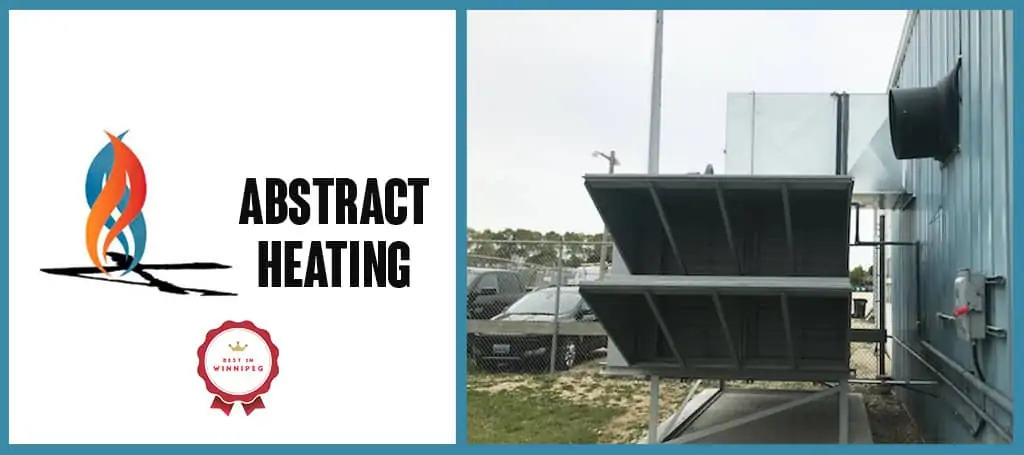 | | |
| --- | --- |
| PRODUCTS | Furnace Installation, Aircondition Installation, Repair and Maintenance, Gas Line Installation, Boilers |
| WEBSITE | https://www.abstractheating.com/ |
| ADDRESS | 69 Bibeau Bay, Winnipeg MB R2A 2J8 |
| CONTACT DETAILS | 204 612 5982 |
| OPERATING HOURS | Monday – Friday: 8am–6pm |
Abstract Heating has been providing the people of Winnipeg top notch services for HVAC Installations. Their assistance is available for both residential and commercial clients.
With over 40 years of experience in the industry, you can rest assured that they already know what works best and what's the safest for each place they work with. Their team works efficiently, while taking into consideration the quality and longevity of their works.
From design to installation, Abstract Heating will be able to serve you well with their expertise. If you're interested, make sure to take advantage of their free estimation services.
Keeps up with the latest standard and health protocols
Expert team
Great attention to details
Reasonable rates
Customer Reviews
Take a look at some of the reviews left for Abstract Heating:
"Fast and reliable service. Super honest – repair cost much less than we anticipated. Would not hesitate to contact Robert again and would highly recommend his company."
"Excellent service. Prompt, friendly, efficient and trustworthy. Highly recommend."
FAQs about Air Conditioner Repair
---
Now that you know whom you can trust when it comes to air conditioner repair and servicing, what are you waiting for? Get your home summer-ready with these experts!

Make a call to any of these licensed professionals today and get a customized quote based on your requirements. If you have air conditioner and heating repair requirements, check out this list for contractors that can service both your needs.