The 6 Best Locksmiths in Winnipeg
If you find yourself locked out of your house, car, or office, there's no need to panic because you can quickly contact the best locksmith in Winnipeg to help you out. This page can help you with that.
In this article, we'll provide you with a list of shops with the best locksmith in Winnipeg. We will also be sharing our choosing process, FAQs, and some tips on how to avoid scammers disguised as locksmiths.
What Locksmiths Can and Cannot Do
Locksmiths are tradesmen who can change or bypass locks, duplicate and cut keys, and install security systems in residential and commercial buildings.
Aside from doors and windows, locksmiths are also capable of installing, maintaining, repairing, and opening safes, car doors, and vehicle trunks and ignition caps.
With the emerging technologies, locksmiths have also learned how to deal with digital locks. Locksmiths can also work with electronic access systems, digital conversions of locks, and many more.
How to Avoid Scams
Entrusting your security systems to others can be risky, so you have to make sure you are only doing business with licensed locksmiths. Here are areas you should inquire about to avoid scams:
Pricing and added fees: Fake locksmiths may trick you with cheap and too-good-to-be-true prices during your call but will charge more on-site. It also helps to ask about additional charges such as emergency fees, mileage, and replacement costs.
Credentials: If you can't find any on their site, then there's a likely possibility that they can't troubleshoot and fix your situation.
Unlocking techniques: Most professional locksmiths can open just about any lock. If you've contacted one who insists on drilling your lock, even if it isn't a high-security lock, find someone else.
Choosing the Best Locksmith in Winnipeg
So, to avoid getting scammed, make sure you choose only the best locksmith in Winnipeg.
Look at their expertise to ensure you will get the best solution for your lock and key problems quickly and efficiently. Additionally, locksmiths with emergency services are a plus since they'll be able to help you anytime and anywhere.
Excellent communication is also vital so that they won't misunderstand the type of work, estimated time of arrival, and pricing rates. Positive reviews and ratings will also help you find the best locksmith to do the job.
Our 6 Picks of the Shops with the Best Locksmith in Winnipeg
Of course, we've considered our own criteria to find shops with the best locksmith in Winnipeg. So, you don't have to worry about any of these locksmiths on our list!
Here are the top shops with Winnipeg's best locksmiths based on reputation, pricing, communication, and expertise.
1. Dr. Locksmith Winnipeg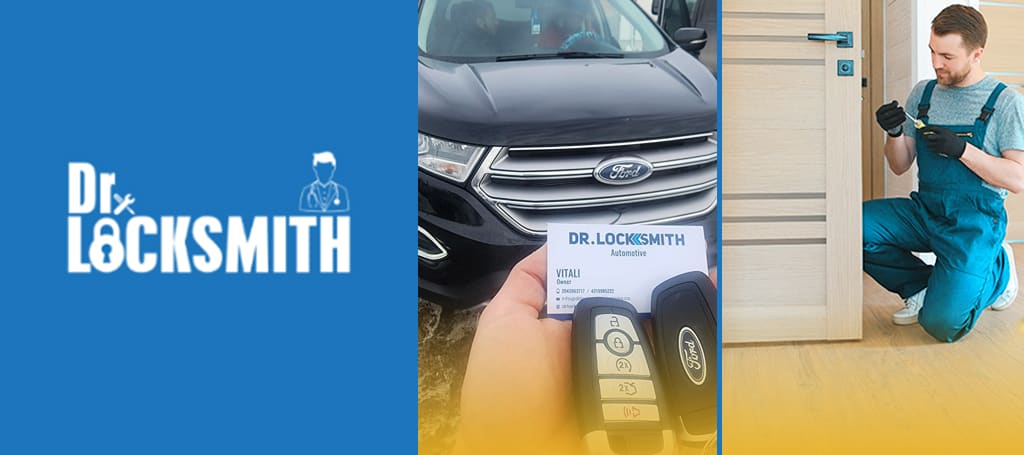 | | |
| --- | --- |
| BEST FOR | Positive reputation |
| SERVICES | Commercial, residential, automotive, and vault locksmith services |
| WEBSITE | https://www.drlocksmithwinnipeg.ca/ |
| ADDRESS | 234 PoplarWood Ave. Winnipeg, MB, R2M 1L4 |
| CONTACT DETAILS | (431) 998-5222 |
| OPERATING HOURS | 24/7 |
Dr. Locksmith Winnipeg has one of the best reputations because it has the most 5-star ratings on Google among the locksmith shops in town.
This is the best locksmith in Winnipeg not only for its 24/7 emergency services but also for its fast response. Thus, you can expect to have your issues resolved within just a few minutes.
The best thing about this locksmith service is that it offers its skilled technicians' help to both residential and commercial clients. Dr. Locksmith's technicians can also handle electronic and mechanical combination vaults.
Fast response
24/7 emergency services
Amazing reviews and ratings
Can have pricey services
ETA may not be exact
Customer Reviews
Here are testaments from customers to tell you more about how you may find the best locksmith in Winnipeg from Dr. Locksmith:
"Excellent! They showed up on time and had our door open and fixed in less than 10 minutes. Vitaly was very friendly and helpful. Very fair price. Would recommend and will use again next time!"
"I had lost my car keys and contacted Dr. Locksmith to have them cut me a new key. They were there pretty quickly and the whole process did not take very long. Their prices were good compared to some other estimates I had researched and they even cut me a spare key"
2. Lockmish Locksmith Services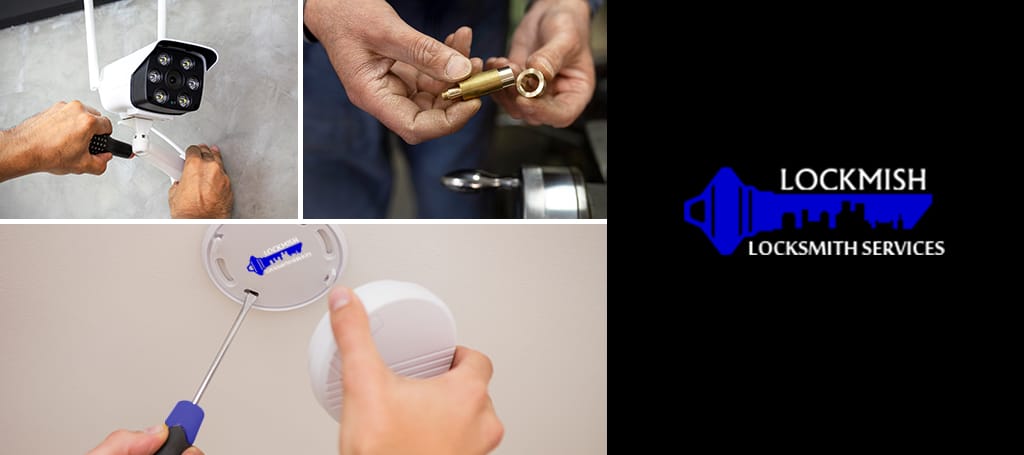 BEST FOR
No extra charges for weekend calls
SERVICES
Commercial, residential, and automotive, locksmith services, security cameras and alarms installation, repair, and maintenance
WEBSITE
https://www.lockmish.com/
ADDRESS
1462 Erin St, Winnipeg, MB R3E 2S8
CONTACT DETAILS
(204) 995-5625
OPERATING HOURS
Sunday – Thursday: 24 hours
Friday: 12:00 AM – 4:00 PM
Saturday: 8:00 AM – 11:30 PM
Lockmish Locksmith Services offers 24/6 emergency services to residential, commercial, and automobile owners. It guarantees no extra charges, even for its services during the weekends.
Besides, Lockmish also has the best locksmith in Winnipeg to install panic bars, keypad, and electric strike. You can even trust Lockmish in reprogramming your garage door systems.
Aside from lock installations and services, Lockmish is also known for other types of security systems. Thus, you can contact them for CCTV and security alarm installations and maintenance too.
No extra charges even during weekends
24-hour services for 6 days a week
Security camera and alarm services
No emergency services on Friday
Customer Reviews
Read these reviews to learn more about Lockmish Locksmith Services:
"Arrived within 45 mins — fast, friendly, efficient. Didn't try to upsell. Provided other helpful advice for maintaining my front door and lock. Thanks for your help!"
"Lockmish and their staff are good customers and use high quality products! We've had the opportunity to work together on several transactions and they are responsible in all administrative matters and knowledgeable in locksmith products & services. We look forward to continue business together!"
3. LocksmithMAN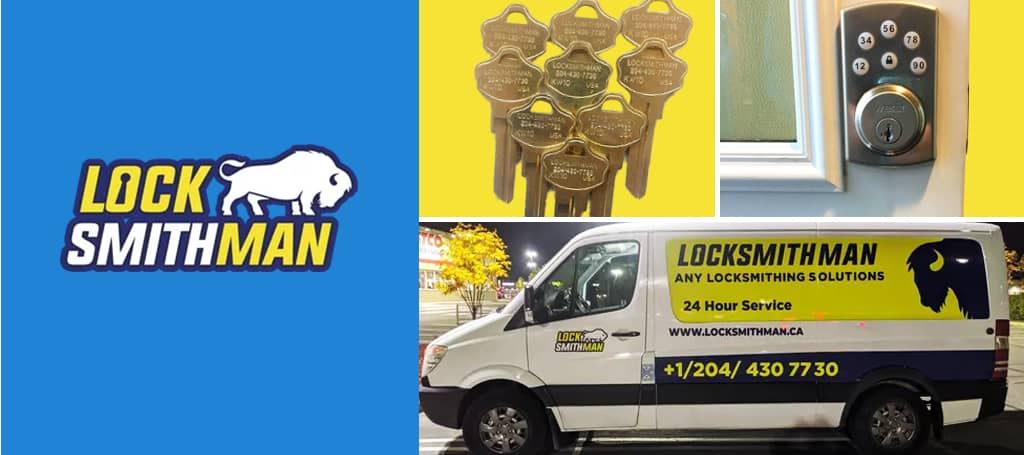 BEST FOR
Technologically-advanced locks
SERVICES
Residential, commercial, and auto locksmith services
WEBSITE
https://www.locksmithman.ca/
ADDRESS
462 Rue Aulneau, Winnipeg, MB R2H 2V2 Canada
CONTACT DETAILS
(204) 430-7730


[email protected]

OPERATING HOURS
24/7
With its 24/7 services, LocksmithMAN offers a reliable and wide range of locksmith services. This locksmith shop caters to residential and commercial buildings.
LocksmithMAN also provides roadside assistance to help those who are locked out of their car. It's technicians' expertise covers everything from old-school locks to digital biometric safes so that you can contact them for just about any lock.
Besides, LocksmithMAN can also install smart locks in your home or business. This service provider prides itself on its affordable rates, free estimates, and free consultation.
Affordable pricing and free estimates
24/7 services
Communication may not be the best
Customer Reviews
Here are some customer reviews to help you decide whether or not LocksmithMAN should be your pick of the best locksmith in Winnipeg:
"I locked my key inside the truck and I saw his number from the car wash and I called him and he came in 15 minutes. He unlocked my trunk in two seconds, a great and professional service and reasonable price on Christmas Day. Thanks a lot"
"My wife and I received prompt, professional service from LocksmithMan. Today was the second time we used his service and in both instances Michail answered our call immediately and provided excellent honest service that was reasonably priced."
4. Kildonan Lock Service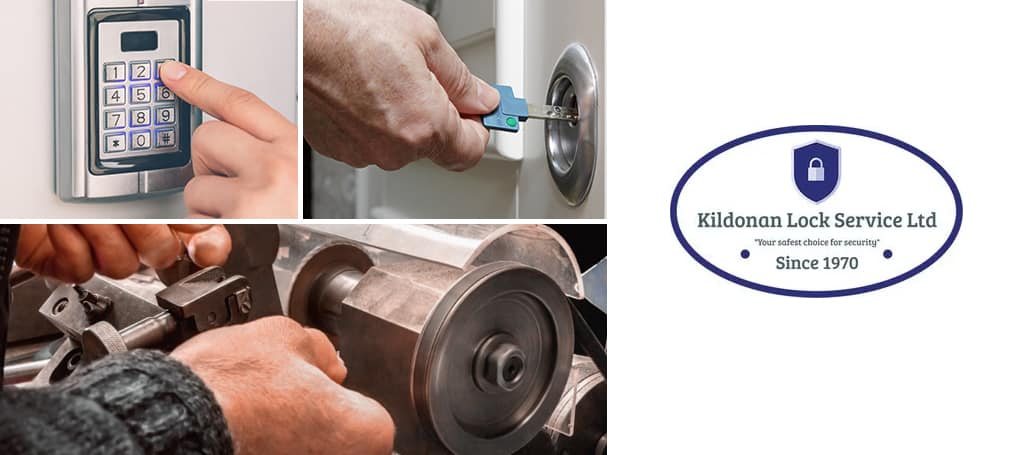 BEST FOR
All-around security systems
SERVICES
Residential, commercial, and car locksmith services, security systems
WEBSITE
https://www.kildonanlock.com/
ADDRESS
334 Union Ave W, Winnipeg, MB R2L 0C8
CONTACT DETAILS
(204) 667-0286


[email protected]

OPERATING HOURS
Monday – Friday: 7:30 AM – 5:00 PM
Kildonan Lock Service has more than 50 years providing, maintaining, and repairing locks and security systems in Winnipeg.
The shop has the best locksmiths in Winnipeg who can handle any type of techy security system. Yet despite their expertise in newer technologies, Kildonan Lock Service is still reliable for rekeying and changing antique locks.
Besides the usual locksmith services, Kildonan Lock Service also offers access control systems, high-security key systems, and security camera installations. The locksmith shop even offers a transponder key option to better secure vehicles.
Expertise in digital and techy locks
Able to do full security system installation, maintenance, and repair
50 years of locksmithing experience
Customer Reviews
Here are some reviews to tell you how customers feel about Kildonan Lock Service:
"Needed a key cut for my son's car. Old bmw. Couldn't get one any where. Took a shot in the dark with this place and they were great. Couldn't guarantee the copy would work but made us one anyways. Didn't charge us for the one key. When we got home to try it. It worked like a charm. Excellent service will go back and get more copies made!"
"Fantastic, quick, and friendly service. I walked in to see about getting a broken key removed from a lock on my car. The job was done within about 20 minutes and at an extremely fair rate. Everyone there seemed very friendly and it was an overall great experience."
5. Noble Locksmith Ltd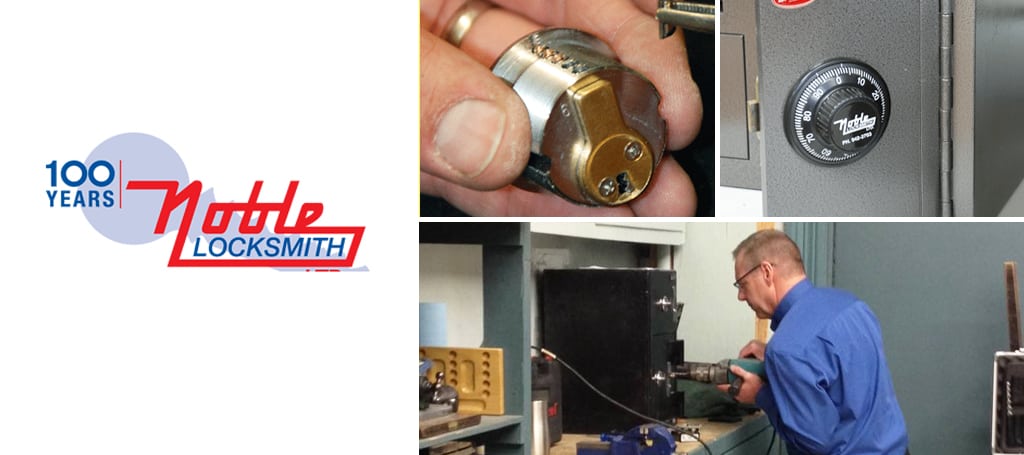 BEST FOR
Years of experience
SERVICES
Residential and commercial locksmith services
WEBSITE
http://www.noblelocksmith.ca/
ADDRESS
249 Notre Dame Ave, Winnipeg, MB R3B 1N8
CONTACT DETAILS
(204) 942-3703


[email protected]

OPERATING HOURS
Monday – Friday: 8:00 AM – 5:00 PM
With over a century of industry expertise, Noble Locksmith guarantees only the best locksmith services in Winnipeg.
It can handle high-security key control systems and even electronic and magnetic doors. Noble Locksmith also has ten mobile service units so that its technicians can respond to your concerns quickly anytime.
Its technicians are certified Medeco, Schlage, and Weiser Lock repair staff. Aside from services, Noble Locksmith also has a showroom for your security needs.
10 service units for fast response
Over 100 years of experience
Unavailable during weekends
Not the best in communication
Customer Reviews
Here are reviews from customers who believe Noble Locksmith has the best locksmith in Winnipeg:
"This company has been in business for a very long time . I've been going there to get All my locksmithing done for at least 40 years . They have always come throughfor me . I'd highly recommend this company for your needs ."—
"I had a great experience having my new locks and handles installed. Professional, friendly and easy to use! Good pricing as well, highly recommend!"
6. Winnipeg Pure Locksmith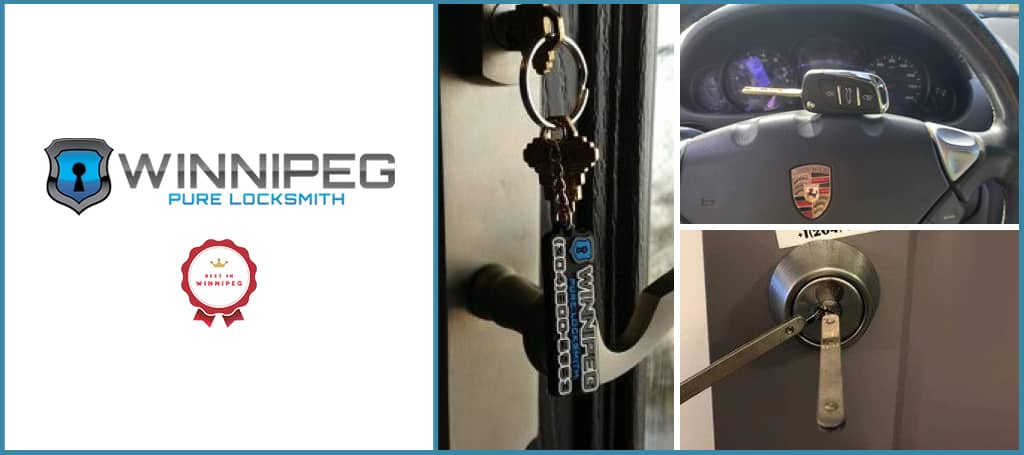 If there's one thing Winnipeg Pure Locksmith is known for, it's their guarantee of offering the lowest locksmith prices for the best service in Winnipeg. Their team of locksmiths are specifically trained for every situation that you might get into, which includes traditional deadbolts, doorknobs, high-tech burglar alarms, and digital access systems and more!
Along with their 24/7 emergency services, they have an efficient approach in booking their services which includes only 2 steps: enter your location and specifying your lock issue just through a single call or click. With these two simple steps, they'll have a locksmith on the way.
The best part is that their services are not limited to just houses. They specialize in all kinds of locks which includes new installments of safe, lockers, changing the keys to your bike, letting you back in your car or office in case of a forgotten key. And you can get all of this with an affordable price.
24 hour locksmith
Insured technicians
Flexible appointment setting
Arrival might take a few minutes
Customer Reviews
Previous clients left their review on the quality of their service on Google:
"I had to get my locks re-keyed after my apartment complex was broken into. I called this company after my neighbor recommended them to me. I called this afternoon & scheduled an appointment to have all my locks re-keyed. The man that came was very helpful & extremely knowledgeable. I highly recommend them we will use them again."
"Thank you guys so so much! We needed a quick lock change for our business and you guys were not able to accommodate but helped us out in a rush. Took less than 30 minutes to switch our keys… We didn't know much about locks but John was very patient and explained the our particular type of locks and keys. Thanks again!"
FAQs
---
And that ends our list of the best locksmith in Winnipeg. So whenever you need help opening locks in your home, office, or car, just call any of these locksmiths, and they'll be of your service in no time!
Check out our other repair service lists, by the way. For example, should you need help maintaining or repairing your devices at home, try our list of the best appliance repair technicians in Winnipeg.