9 Contractors for the Best HVAC in Winnipeg
Winnipeg is one of Canada's coldest cities, but with changing seasons and global warming, temperature and the overall atmosphere can be very unpredictable. Luckily, you can maintain ambient temperatures in your home with the best HVAC in Winnipeg.
In this article, we'll share our picks of the best HVAC contractors and reasons as to why you should hire one. Make sure to read until the end because we also have a list of FAQs about HVAC services!
HVAC Services You May Need
You should know, HVAC contractors can also do more than just install a heating and cooling system in your home. They can also maintain and repair air conditioners, furnaces, and air ducts.
Besides, you can also call an HVAC contractor to inspect and possibly improve your home's air quality. They can clean air ducts, replace equipment filters, and even conduct air purification services.
And if you're paying expensive electric bills, you can also ask your HVAC contractor to upgrade your equipment for more energy-efficient options!
Price Range for HVAC Services
Before you contact an HVAC contractor, we'll share with you how much you may spend on HVAC services to help you prepare your finances.
| | |
| --- | --- |
| Type of HVAC Services | Price Range |
| HVAC equipment and installation | $6700-$9500 |
| HVAC installation | $500-$1000 |
| AC repair | $130-$2100 |
| AC parts (thermostat, capacitor, compressor) replacement | $80-$2400 |
| Heating thermostat repairs | $120-$550 |
| Heating condenser repairs | $260-$800 |
| Duct cleaning and other services | $300-$625 |
The price range, especially for replacements, depends on how rare and expensive parts can be. You should also know that service prices may surge during busy seasons, so try to get HVAC maintenance services before winter or summer comes.
Our Picks of the Best HVAC Contractors in Winnipeg
We'd hate to keep you waiting any longer, so here's our list of the best HVAC contractors in Winnipeg to keep your home as livable and comfortable as ever! Also, don't worry because our top picks are all licensed and insured.
1. Abundant Air Inc.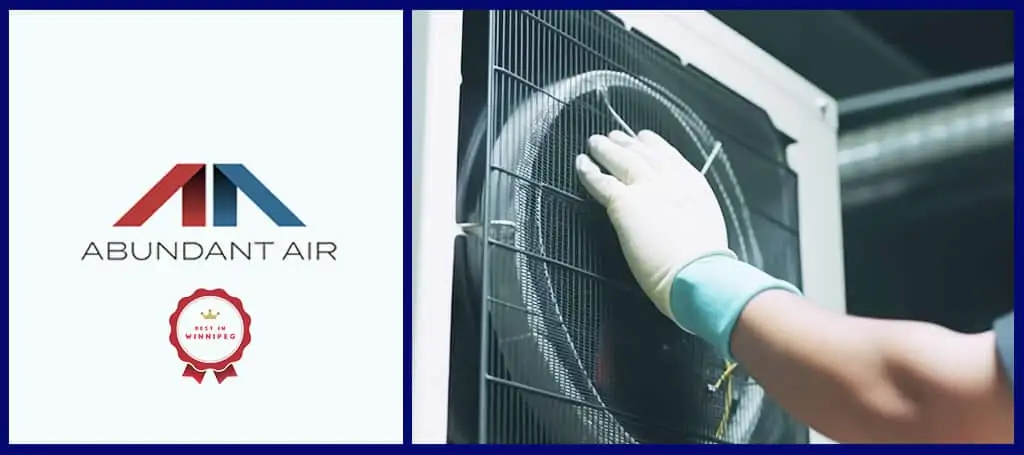 BEST FOR
NATE certified HVAC experts
SERVICES
Furnace Repair
Furnace Installation
Air Conditioner Repair
Air Conditioner Installation
WEBSITE
https://www.abundantair.ca/
ADDRESS
1041 Erin Street, Winnipeg, MB R3G 2X1
CONTACT DETAILS
(204) 674-4568


[email protected]

OPERATING HOURS
Open 24/7
At Abundant Air, we experienced HVAC services that left us both impressed and refreshed.
Their commitment to excellence is evident in every aspect of their operation, making them a standout choice for all your heating, ventilation, and air conditioning needs.
Abundant Air's range of HVAC services is nothing short of impressive. From installations to repairs, they handled every task with utmost professionalism and expertise.
Our technician, who arrived promptly, wasted no time in diagnosing and resolving our cooling issue, leaving us cool and comfortable in no time. They truly excel in their craft.
Abundant Air knows the value of your time, and they go the extra mile to ensure convenience for their customers. Scheduling an appointment was a breeze, and their team was punctual, arriving at our doorstep exactly when they promised.
The seamless process and minimal disruption to our daily routine were a breath of fresh air in the world of HVAC services.
When it comes to reputation, Abundant Air has an impeccable track record. Countless satisfied customers vouch for their exceptional service, and we now proudly join their ranks.
Their dedication to customer satisfaction and their commitment to delivering top-notch results have earned them a well-deserved reputation as the go-to HVAC experts in our area.
While quality service often comes with a hefty price tag, Abundant Air surprises with their competitive pricing. Their transparent and upfront cost estimation meant no hidden fees or surprises, and we were pleasantly surprised by their affordability.
However, they don't offer promos or discounts at the present. We suggest checking their website form time to time to find new package deals.
Exceptional service
Convenient scheduling
Stellar reputation
Competitive pricing
No promos or discounts at the present
Customer Reviews
"Abundant Air provided exceptional service for our HVAC needs. They quickly diagnosed and resolved our cooling issue, leaving us cool and comfortable. Their professionalism and expertise were truly impressive!"
"Scheduling with Abundant Air was a breeze, and their team arrived exactly on time. They provided top-notch service, and we were pleasantly surprised by their competitive pricing. Highly recommend!"
2. Whyte Ridge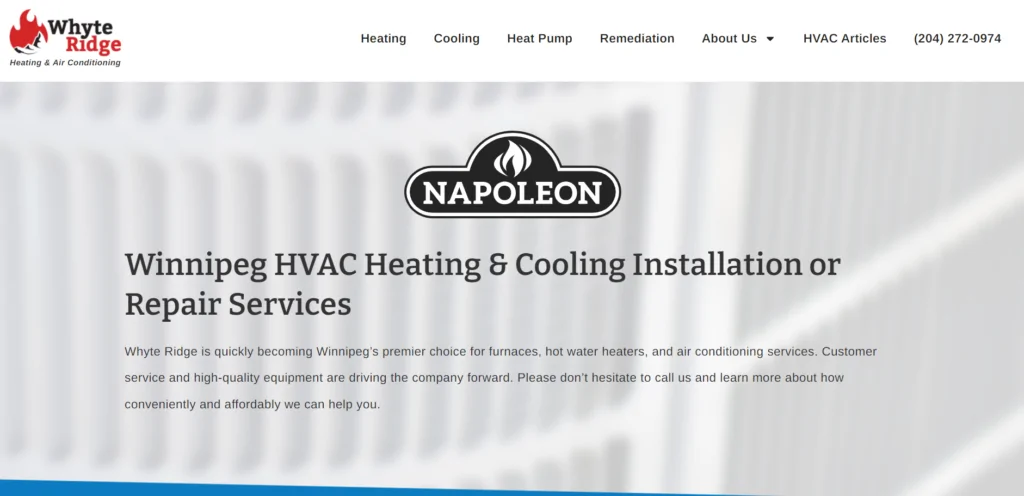 BEST FOR
Furnace, hot water heaters, and air conditioning services
SERVICES
Heating, Cooling, Heat Pump, Remediation
WEBSITE
https://whyteridgehvac.ca/
ADDRESS
62 Poplarwood Ave
CONTACT DETAILS
(204) 272-0974
OPERATING HOURS
Monday – Friday: 7:00am – 7:00pm
Weekends: 7:00am – 7:00pm
Whyte Ridge is a rapidly growing company in Winnipeg, gaining popularity as a premier choice for furnaces, hot water heaters, and air conditioning services. They stand out in the industry due to their commitment to customer service and the use of high-quality equipment.
Founded by Taylor and Katelyn Adolphe, the company was born out of their realization that many furnace issues were caused by the lack of proper maintenance. They also observed numerous instances of poor workmanship and dishonest practices from other HVAC companies, leading to misinformation and mistrust among customers.
Whyte Ridge emphasizes customer satisfaction and aims to provide excellent service to every client. Their approach is centered on understanding and meeting the specific needs of each customer.
One of the significant advantages of working with Whyte Ridge is their commitment to transparent pricing. They do not engage in shady business practices like selling services at a loss to upsell or hiding additional fees. Customers are informed about the costs upfront, avoiding surprises on the final bill.
Their positive online reviews and high ratings on platforms, like Google and BBB, also demonstrate the company's reputation for quality service and customer satisfaction. When working with them, just make sure to get in touch a few days or weeks in advance, since they're pretty busy, especially during peak seasons!
Open daily
Excellent customer service
Offers preventative services
5 star-ratings
Can be hard to book during peak seasons
Customer Reviews
"What an awesome company. We are a condo in Steinbach. We had our common areas ducts cleaned, in unit ducts cleaned, and dryer vents cleaned. Awesome work and prices. Friendly staff and the owner made all owners happy."
"Whyte Ridge Furnace & Air Duct Cleaning are very professional. Nicole and Brayden were on time, kind and very careful. Steve And Taylor responded to emails very quickly. I strongly recommend this team. I will use their services again in future."
"I highly recommend! I did a kitchen reno and my daughter was allergic to the saw dust, they came out within 24 hours and did a emergency duct cleaning. I am so grateful to them for being so accommodating! I will be using them for all my properties going forward. Thank you so much!"
3. Winnipeg Supply Service Experts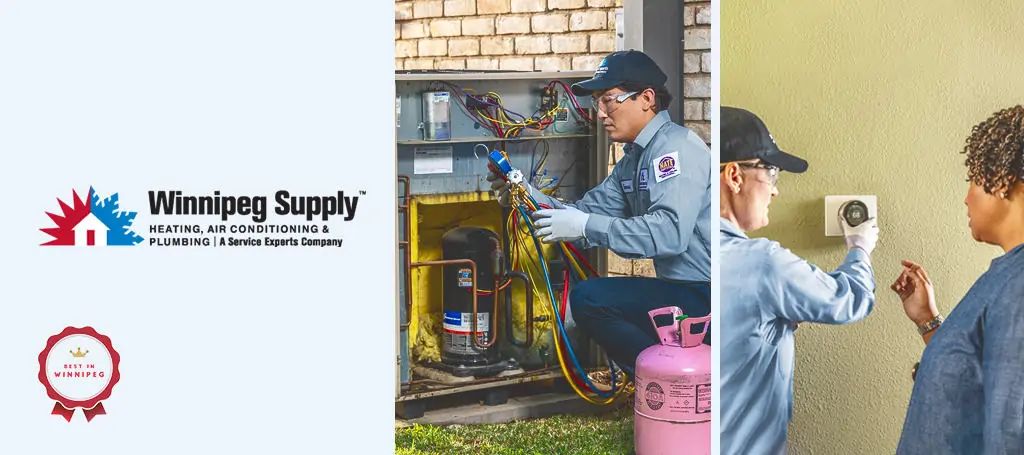 BEST FOR
NATE certified HVAC experts
SERVICES
HVAC installation, maintenance, repair, and replacement, boilers and mini-split systems
WEBSITE
https://www.winnipegsupply.com/
ADDRESS
1555 Dublin Ave Unit 1, Winnipeg, MB R3E 3M8
CONTACT DETAILS
(204) 988-4575


[email protected]

OPERATING HOURS
24/7
From air conditioning to boiler services, Winnipeg Supply guarantees 100% customer satisfaction. Since the early 1900s, the contractor has provided its services not only to Winnipeg but to surrounding areas as well.
Additionally, Winnipeg Supply also offers split-system HVAC for clients who decide against the additional installation of vents and ducts in their homes. If, on the other hand, you have air ducts at home, you can also hire this contractor to install air quality solutions.
This contractor also offers the Advantage Program, which lets customers enjoy inspections, repairs, and other perks for a low monthly fee. Winnipeg Supply experts also offer free repairs for motor and capacitor issues, which are the most common HVAC issues.
Advantage Program membership for low-cost perks
NATE-certified
Wide service area
Vague coverage of satisfaction guarantee
Customer Reviews
Winnipeg Supply promises high-quality services, from sales to repairs. Here are customer reviews vouching for this contractor:
"It was a tough job because of the way my basement is set up but these guys were 100% adamant to get the job done and get us heat again. Thanks to everyone involved, and to the general manager Karen for reassuring us that everything would work out. Really appreciate all of your help. Will definitely be recommending you guys to friends and family!"
"Trevor and Matt did a fantastic job installing our new furnace and air conditioner!! Both are true professionals that answered all of our questions. In addition, they stayed until we felt comfortable using the new thermostat to program the desired temperature in our home. Also, John's solid knowledge and expertise was greatly appreciated in assisting in our decision on which type of ac and furnace units to purchase."
4. Furnasman Heating and Air Conditioning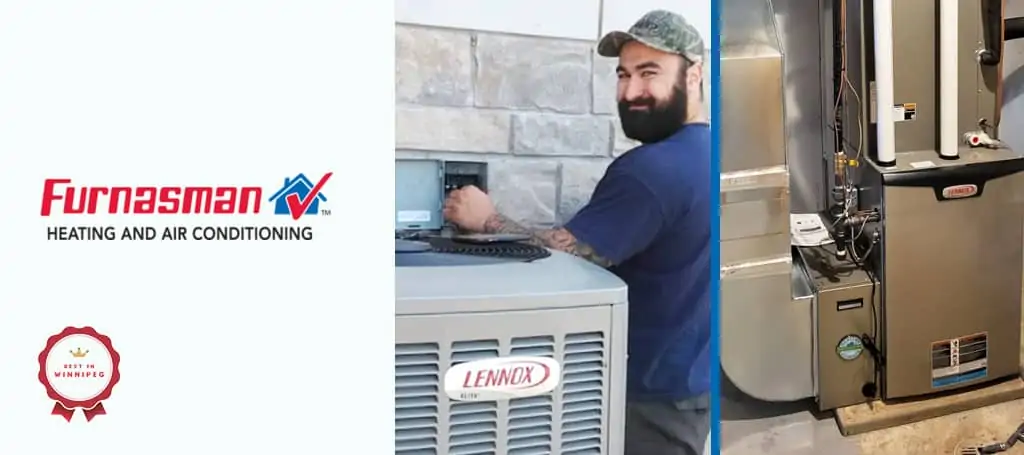 BEST FOR
No extra charges for emergencies
SERVICES
HVAC installation, maintenance, repair, conditioning, duct and vent installation and cleaning, air purifiers, humidifiers
WEBSITE
https://www.furnasmanright-time.ca/
ADDRESS
302 Keewatin St, Winnipeg, MB R2X 2R9
CONTACT DETAILS
(204) 480-1660


[email protected]

OPERATING HOURS
24/7
Furnasman provides high-quality services for furnaces, air conditioning, heat pumps, and water heaters. It offers three HVAC protection plans to residents in Winnipeg and nearby towns.
One of the best things about Furnasman is that it offers its emergency services without any extra charges. Its trucks also have all HVAC equipment and tools for faster response to calls.
Furnasman also offers ENERGY STAR products, which means that it only provides energy-efficient products to its clients. It also provides UV air purifiers and humidifiers to improve indoor air quality.
Energy-efficient products available
Wide service area
No extra fees for emergency calls
Some complaints about scheduling and technician inavailability
Customer Reviews
Read these reviews to decide whether Furnasman can give you the best HVAC in Winnipeg or not:
"Professional. Polite. Helpful with information re maintenance and what to do for upkeep. Checked everything thoroughly. Conveyed results of his testing. Along with recommendations re vent cleaning. Knowledgeable about his job. Very good service."
"Haven't met anyone from furnaceman I don't like. I had a boiler system removed and a new furnace, ductwork, water heater and central Ac installed. Top quality workmanship. Decent price. Installers worked hard but had a good time doing it. A good company has good employees and I highly recommend this company."
5. Tradesman Mechanical Services Ltd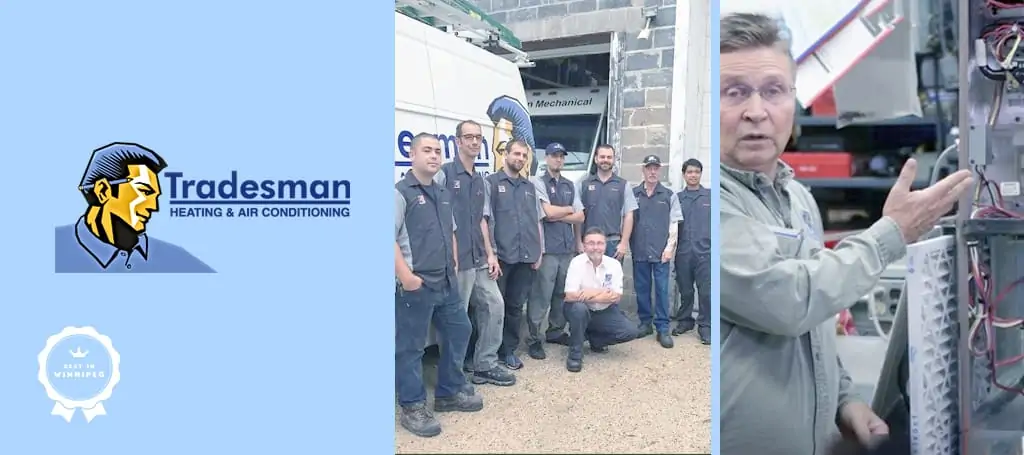 | | |
| --- | --- |
| BEST FOR | Large inventory of HVAC brands |
| SERVICES | HVAC installation, repair, and maintenance, water heater repair, electrical services, ventilation and air filtration services |
| WEBSITE | https://www.alwaysopen.ca/ |
| ADDRESS | 975 Main St, Winnipeg, MB R2W 3P6 |
| CONTACT DETAILS | (204) 888-2020 |
| OPERATING HOURS | 24/7 |
Tradesmen Mechanical Services is yet another of the best HVAC contractors in Winnipeg. It prides itself on having a large inventory for replacement parts because it has products from popular HVAC brands.
The contractor also offers iWave air purifiers, one of the leading solutions to improving indoor air quality. And if you have simultaneous HVAC and electrical issues, you can also call Tradesmen because it offers wiring, panel upgrades, and other electrical repairs.
It also has four types of guarantees applicable for its products and repair services. And although it has an after-hours fee, Tradesmen Mechanical guarantees that it will provide quotations with no hidden and surprise charges.
Original replacement parts from most common HVAC brands
Additional expertise in electrical services
Transparent quotations
Residential to light industrial applications
Expensive services
After-hours fee
Customer Reviews
Aside from being versatile, Tradesmen Mechanical also offers professionalism and efficiency, just as these reviews will tell you:
"Tradesman estimate, install and repair of my furnace and air ducts were done quickly and efficiently. The work was completed in one day and the team worked in a professional manner, reviewing the work with me throughout the day. I'm very satisfied with their service and would refer them in a heartbeat."
"100% reccomend! very professional, they did a great job on the duct work installation. My house was originally built in 1890, so the basement is mostly crawl space but they still managed to do a great job. I had my furnace installed in two days! Just in time for winter. I've called around for different prices and they were the most affordable."
6. Reliance Superior Heating, Air Conditioning & Plumbing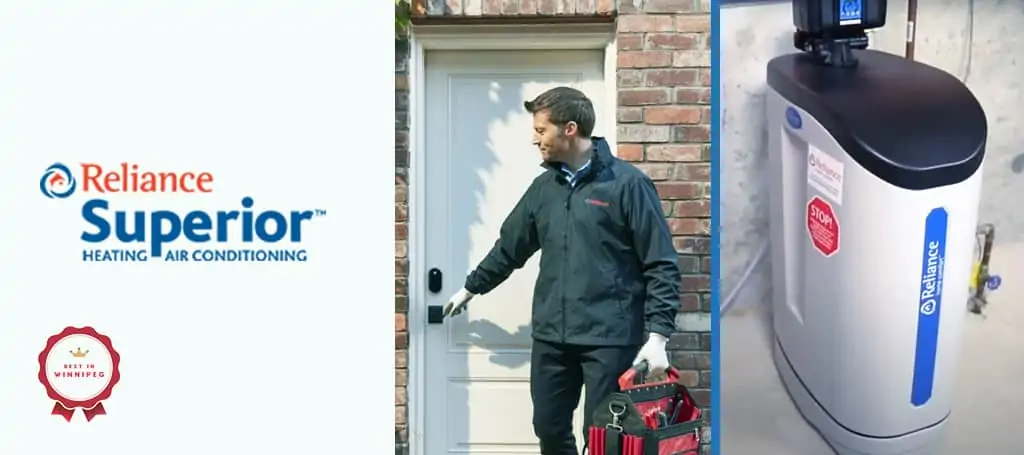 | | |
| --- | --- |
| BEST FOR | One-stop-shop for all home utility needs |
| SERVICES | HVAC installation, repair, and maintenance, plumbing and water purification services, air filtration systems, greenhome solutions, electrical services |
| WEBSITE | https://www.reliancehomecomfort.com/winnipeg/ |
| ADDRESS | 96 Terracon Pl, Winnipeg, MB R2J 4G7 |
| CONTACT DETAILS | (204) 259-2708 |
| OPERATING HOURS | 24/7 |
Reliance Superior installs and repairs HVAC equipment in new homes as well as replace and retrofit HVAC solutions to existing houses. It handles products from various international brands such as Carrie and Lennox.
Aside from usual HVAC services, Reliance Superior offers rentals for air conditioning units and furnaces. This contractor also has experts in plumbing, water purification, and electrical systems to provide you a one-stop-shop for all types of home utility services.
Since it has various home services, Reliance Superior has a bundled home protection plan. You can simply choose which systems you want to protect—should it be HVAC, plumbing, or both—and they'll handle all the maintenance and repair for you.
HVAC rentals
Home protection plans
Complete set of home technicians
Paperless billings and payment
Short warranty period for services
Expensive services
Customer Reviews
Here are some reviews from customers who got the best HVAC in Winnipeg from Reliance Superior:
"Our 11 year old HVAC system needed replacing. Within 48 hours of first call they had a new modulating furnace and higher capacity AC installed in our home. Thanks to Riaj and Brook for diagnosing and helping us choose the right system for us, and thanks for the hard work from Kenan, Jason and Dillon who installed everything on such short notice. Outstanding professional service is why we've trusted Reliance since we built our home in 2009."
"Within 24 hours of calling I have had a water heater replaced and my a/c and furnace serviced. Three technicians were involved and all three provided great service. I recommend this company!"
7. Pyramid Heating and Air Conditioning – Winnipeg
| | |
| --- | --- |
| BEST FOR | Long-term labour warranty |
| SERVICES | HVAC installation, repair, and maintenance, plumbing services |
| WEBSITE | https://www.pyramidheatingwpg.com/ |
| ADDRESS | 1600 Church Ave, Winnipeg, MB R2X 1G8 |
| CONTACT DETAILS | (204) 694-5088 |
| OPERATING HOURS | 24/7 |
Pyramid Winnipeg is a family-owned and locally-based business offering affordable services with the quality fit for households.
It specializes in HVAC installations, repairs, and maintenance for residential spaces but also extends its services to commercial establishments. Pyramid even offers scheduled maintenance check-ups for customers availing installation and upgrades.
But really, the best thing about Pyramid is that it offers a 10-year labour warranty for all the services it provides. This way, it continues to deliver high-quality services the way it did when it first began 40 years ago.
10-year labour warranty
Scheduled HVAC maintenance inspections
Affordable yet high-quality services
Some complaints about communication
Customer Reviews
Here are just some customer reviews to tell you more about what you may experience, should you choose Pyramid:
"Excellent service. This company came recommended from friends of ours and their service was fantastic. Dustin was great and he guided us through the Hydro loans easily. Install went smoothly and quickly. Everyone we dealt with was professional and understanding. Our new furnace and hot water tank look great and we are excited to get our AC installed this spring. Thanks!"
"I called in a frantic state and I was stunned beyond an immeasurable sigh of relief. Pyramid said "we'll have someone out to you right away. They said this is a priority and we'll get you help right away. A technician was at my home within 20 minutes. That's correct 20 minutes."
8. Red River Furnace & Duct Cleaning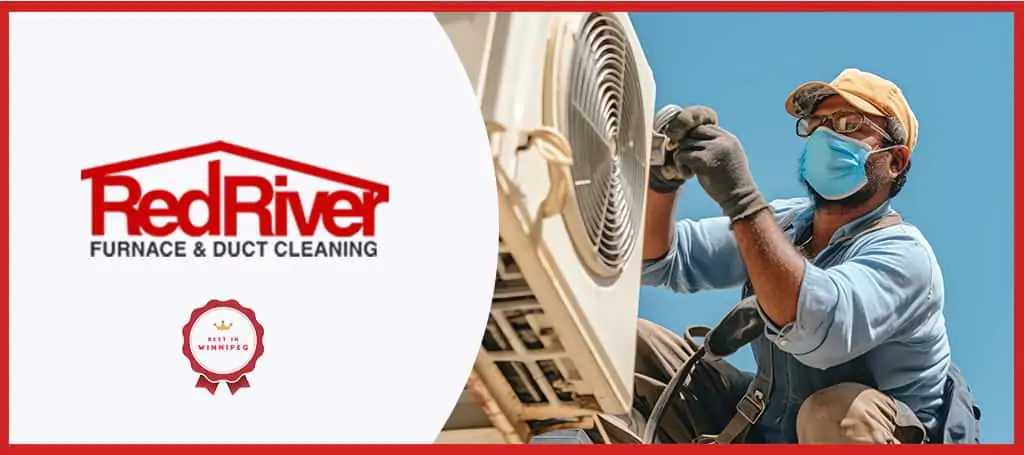 BEST FOR
Comprehensive cooling and heating services
SERVICES
COMMERCIAL DUCT CLEANING
COMMERCIAL AND INDUSTRIAL HVAC
DUCT CLEANING
FURNACES
AIR CONDITIONING
MAINTENANCE AGREEMENTS
BOILERS
HUMIDIFIERS
FURNACE FILTERS
DRYER VENT CLEANING
WEBSITE
https://www.redriverfurnace.com
ADDRESS
1477 Erin St
Winnipeg, Manitoba
R3E 2S9
CONTACT DETAILS
Phone: 204-334-4939
Text: 204-515-1655
Fax: 204-982-6935
Email:

[email protected]

OPERATING HOURS
Mondays 8:00am-9:00pm
Tuesdays 8:00am-9:00pm
Wednesdays 8:00am-9:00pm
Thursdays 8:00am-9:00pm
Fridays 8:00am-5:00pm
Saturdays 8:00am-5:00pm
Sundays & Holidays Closed
Red River Furnace & Duct Cleaning served its first client in 1985. Since then, this company has catered to over 30,000 clients in the Winnipeg area, providing quality HVAC cleaning to those who are seeking it out.
Red River stood against the test of time by continually improving their services, including the cleaning techniques and equipment they use for all jobs. Nowadays, they proudly offer the most advanced, innovative and comprehensive duct cleaning services available.
The quality and consistency of their services have resulted in many clients happy with their services. Red River Furnace & Duct Cleaning stand by what they have to offer, so they are also willing to redo any job on the off chance that clients are unhappy and dissatisfied with the outcome.
Offers a variety of indoor clean air services and products
Caters to both residential and commercial properties
Answers within 24 hours of contact
Customer Reviews
Here are just some customer reviews to tell you more about what you may experience, should you choose Red River Furnace & Duct Cleaning:
"We invited this company already twice. The first time is three years ago. Always is very knowledgeable staff, good service, good advices. We really appreciate their help. I would recommend tis company to my son."
"They were fantastic. I called initially to get quotes for my boyfriends house in Crestview. (Darrin). They were fantastic. They showed up on time and were super friendly and outgoing. They showed us pictures of how dirty it was and how clean it was after they did they work. They gave us some good recommendations. I would use them again for sure!"
9. Home Service Plus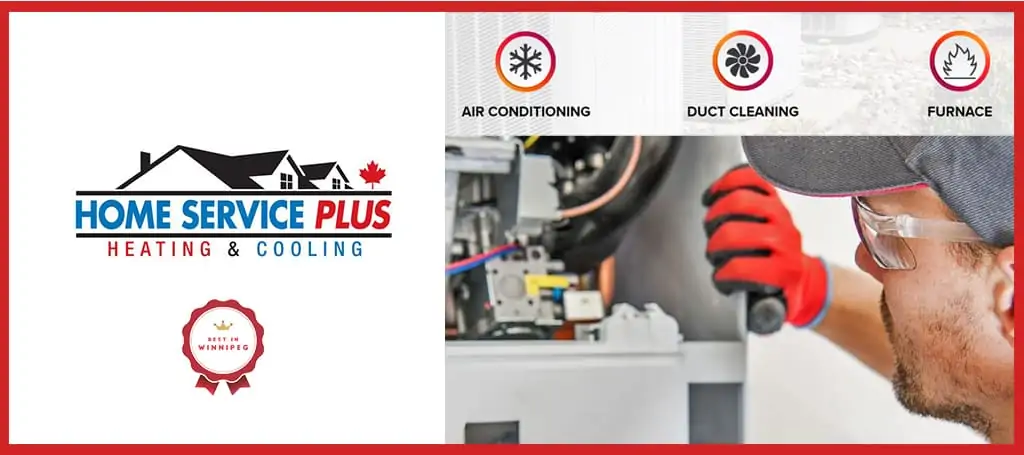 BEST FOR
Emergency service repairs
SERVICES
Air Conditioner Installations
Air Conditioner Repairs
AC Maintenance/Tune-ups
Furnace Installations
Furnace Repairs
Furnace Maintenance/Tune-ups
Air Filtration Systems
Duct Repairs
Hepa Filters
Humidifier Installs/Repairs
WEBSITE
https://www.homeserviceplus.ca/
ADDRESS
1477 Wellington Ave, Winnipeg, MB R3E 0K4, Canada
CONTACT DETAILS
(204) 505-0095


[email protected]

OPERATING HOURS
24/7
Home Service Plus is owned and managed by individuals who first worked in the HVAC field before endeavouring on their own and starting a business. Doing so has allowed them to build up the necessary skills and expertise to provide quality services to the residents of Winnipeg and Manitoba.
One thing clients can expect from Home Service Plus is honest and quality work.
Their team of technicians take great care in providing the highest quality and most energy-efficient heating and air conditioning systems available. Not only that, but their standards are also high when it comes to air quality services
Home Service Plus tries to cater to clients as quickly as possible, although there may be some delay at times considering how busy they can get. It's also worth noting that their services are fairly priced.
24/7 heating and cooling services
Licensed technicians
Caters to all furnace and AC model and makes
Sometimes slow to respond to inquiries
Frequently Asked Questions
---
And that's it for our list of where you can get the best HVAC in Winnipeg! Be sure to save their contact details for future use so you won't panic whenever you need HVAC repairs and upgrades.
If you're looking for other home service providers, you can also check our list of the best electricians in Winnipeg. These electrical contractors can surely make electricity accessible for all your home appliances, including your HVAC system.