The 7 Contractors for the Best Landscaping in Winnipeg
Featured Image Source: Pexels
Are you tired of your dry and empty yard filled with nothing but weeds and some worn-out soil? If that's the case, what you need are the contractors who can do the best landscaping in Winnipeg!
In this article, you'll find everything you need to know about hiring a landscaper in the city. We've also listed some FAQs and average costs to help you plan your landscaping project.
What Your Landscaping Contractor Can Do
But before we tell you about our top picks, you first have to know the extent of what a landscaping contractor can do. In general, landscapers can improve your yard, not only for aesthetics but also to lower temperatures and enhance air quality with plants.
Here are just some of the things you can ask your landscaper to do for you and your home:
Design or coordinate with designers and architects for the landscaping plan
Handle sprinkler systems and irrigation
Prepare the yard for landscaping
Plant trees, shrubs, grass, flowers, and bushes (softscapes)
Remove weeds and spray pesticides
Maintain plants with fertilizer and trimming
Build retaining walls, pavements, and pathways (hardscapes)
Construct outdoor living spaces
How Much Do Landscaping Services Cost in Winnipeg
We also did research on just how much consumers usually spend on landscaping services. The prices below are the results of our rigorous survey.
| | |
| --- | --- |
| Type of Expense | Average Costs |
| Landscaping design | $2,000-$15,000 |
| Softscapes (plants, flowers, shrubs, trees) | $500-$12,000 |
| Hardscapes (walls, pavements, decks, fences) | $2,500-$38,500 |
| Sprinkler systems | $3,100-$4,500 |
| Lawn care maintenance | $30-$80/hr |
If you want some hardscapes on the cheaper end, you can settle for gas pits and simple pavements or walking stones. The bigger expenses would come from retaining walls, decks, fences, and pergolas.
The 5 Best Landscaping Contractors in Winnipeg
After learning about estimated landscaping costs, we hope you can now choose from among our picks for the top Winnipeg landscapers. Of course, we only listed fully-insured contractors to give you some peace of mind.
1. North Coral Landscaping
For over 12 years, North Coral Landscaping has provided homes retaining walls and rock features, interlocking stones, and tree and plant installations. It offers a 2-year warranty for retaining walls and wood installations, and a 1-year warranty for trees.
Each member of its staff has a specialty; thus, North Coral only delivers high-quality services. Additionally, North Coral has strong ties with other types of contractors, including carpenters who may help build a fence or pergola.
North Coral also has connections with landscape designers. This way, it assures its customers that beautiful designs translate into the actual product you'll be seeing.
Highly-specialized experts
1-year warranty on softscapes
Excellent communication and customer services
Limit their plans (for the drafting stage) to 2D presentations, so a bit behind some competitors in this area
Customer Reviews
North Coral Landscape is also known for being respectful and professional. Here are first-hand experiences with North Coral and its owner, Tyler:
"Tyler was very attentive to my landscaping needs. He listened, consulted with me throughout the process and his crew was so polite and hard working. Tyler had amazing additions to the ideas I originally had and I am more than satisfied with the job he accomplished. He was a pleasure to work with. He took me and this job seriously. I love spending time in my yard, the space he helped create for me and my family."
"Tyler was very professional,explained every part of his quote so you know what you're paying for as well. His crew was awesome, we barely felt their presence around the yard. They always made sure to clean up any mess before leaving at the end of the day and it was all done in 3 days,my brother got so jealous he asked them to work on his yard as well! highly recommend these guys, we love their work."
2. Classic Landscapes
BEST FOR
All sizes of residential landscaping
SERVICES
Landscape design, softscape, hardscape installations, water features and outdoor lighting
WEBSITE
https://www.classiclandscape.ca/
CONTACT DETAILS
(204) 996-5386

[email protected]

OPERATING HOURS
Monday – Saturday: 6:00 AM – 8:00 PM
Classic Landscapes may be relatively new as a business, with only a decade in practice, but its people have nearly 20 years of experience in trading and installing trees, shrubs, and flowers.
Although its primary expertise lies in softscapes, Classic Landscapes can also build hardscapes like pathways, decks, retaining walls, and fire pits. You may even book them to construct outdoor kitchens for BBQ weekends.
This contractor also offers design services with the help of 3D design software. And to get clients excited about the upcoming project, Classic Landscapes even delivers a 3D video simulation of the desired result to its clients.
Expertise in both softscapes and hardscapes
Offers electrical features like lighting and water installations
Full-colour 3D design images and video provided
Can take on both small renovations and big design-build projects
Excellent customer services
Limited to residential services
Customer Reviews
Here are some of the customers who received not only the best landscaping in Winnipeg from Classic Landscapes but also the best customer services:
"I was very happy with Classic landscapes. They did a very nice job on my landscaping and were easy to deal with. Kevin is very personable and does the job right. I had a few items I wanted to be cleaned up the next spring after the winter and they were done right away and without any "pushback". I would definitely recommend working with Kevin and Classic Landscapes."
"We used Classic Landscapes to design & build our new yard in East St Paul. Kevin and the crew were great, offering suggestions and completing the project on time and on budget. We love our new yard and can not wait for summer nights with family and friends around our firepit."
3. B. Rocke Landscaping & Studio b
Since 2002, B. Rocke Landscaping & Studio b has delivered design and installation services for Manitoba's residential and commercial spaces. Among its competitive edges is its commitment to environmental causes and sustainable products.
From the usual gardens and driveways to elegant hot tubs and cabanas, B. Rocke has the skills to improve yards. B. Rocke can also handle commercial landscaping, catering to all types of features, including cultural monuments and public parks.
The best thing about this contractor is that it provides you with two design options after the initial consultations. It is through this feature that B. Rocke offers flexibility and customer satisfaction.
Uses sustainable products and materials
Two design options after consultation
Immediate payment during consultations
Some complaints about slow installation services
Customer Reviews
Learn more about what customers love about B. Rocke's services with the reviews below:
"B. Rocke was fantastic to deal with from start to finish. Kiersten, Jyoti, Shelley, Steve and the guys were all extraordinarily professional throughout the process from quote to final inspection. The quality was first rate and the extra details they thought of really pulled the whole concept together. The design process and 3d modelling was great."
"We have been slowly making improvements in our backyard and asked B. Rocke to build paths around our gardens. We were very impressed with the high quality work, how quickly it was completed and how great it looked! We will definitely ask them to do more work for us in the future."
4. Prelude Landscaping
BEST FOR
Award-winning services
SERVICES
Landscape design, hardscape and softscape installations, water and fire features
WEBSITE
https://www.preludelandscaping.com/
ADDRESS
50 Nicholas Ave., Winnipeg
CONTACT DETAILS
204-997-5008


[email protected]

OPERATING HOURS
Monday – Friday: 8:30 AM – 6:30 PM
Prelude Landscaping prides itself on its years of experience because it has already served Winnipeg homes and businesses for around 25 years.
From hardscapes like outdoor living spaces to softscapes and sod installations, this contractor can handle all types of exterior design and construction projects. It can also do fire and water features, as well as low voltage lighting installations.
Its creativity and quality of work have also been recently recognized by the Manitoba Nursery Landscape Association (MBNLA) Award of Excellence. This award, along with its numerous 5-star reviews online, are Prelude's selling points.
25 years of experience
Has transparent communication and good collaboration
Does not do landscape maintenance and lawn care
Customer Reviews
Customers appreciate Prelude's excellent communication skills, just as these customers have expressed through Google reviews:
"Pedro was the most responsive and reliable contractor that we dealt with – it was rare that we didn't receive a response to our various questions within 24 hours! Once the crew was on site, they were friendly and efficient in completing the work and were also able to adjust a part of our plan in progress without delaying the project."
"I hired Prelude Landscaping to build an integrated patio around a newly installed deck. Following visits from Prelude and another company Prelude's estimate was much lower and I was provided with superior advice regarding stone selection and color plus a computer 3D design and layout of what the project would look like. Prelude's crew did a fantastic job of the installation, including worksite cleanup and finishing around the patio edges where they met the grass."
5. Champagne Landscaping
BEST FOR
Hardscaping warranty
SERVICES
Hardscape and softscape installations, irrigation solutions
WEBSITE
https://www.champagnelandscapes.com/
ADDRESS
86 Bank Ave, Winnipeg, MB R2M 0N4
CONTACT DETAILS
(204) 228-8150
OPERATING HOURS
Monday – Friday: 7:00 AM – 7:00 PM
Saturday: 9:00 AM – 4:00 PM
Champagne Landscaping is very focused on producing art for exterior spaces. It claims that it can design and build perfect landscaping for homes with only a feeling or a colour suggestion from its clients.
This contractor can install plants and build walkways, among other things. As a part of its promise for customer satisfaction, Champagne Landscaping also offers a 3-year hardscape warranty and a 1-year warranty for trees and shrubs.
Champagne Landscaping even extends its services to commercial properties and even recreational spaces like golf courses. It can also do irrigation systems so clients can maintain their lush yards.
Commercial and recreational services
3-year warranty for hardscaping
1-year warranty for trees and shrubs
Handles irrigation systems
Limited design and landscaping options
Customer Reviews
Whether it be a renovation or new yard construction, Champagne Landscaping promises only the best results. Here are customers who received the best landscaping in Winnipeg from Champagne.
"I had Blake completely redo my front yard and I am very pleased with his work, his crew, the timeline, and his suggestions. We worked well together, changing things as we well along. Helpful to me with my many questions. He also came by the other day to my home because I had some questions about my backyard. Thanks Blake ! I would recommend Blake and his team for all your landscape needs."
"Great experience working with Blake and his team at Champagne Landscaping. They built us a beautiful walkway from our garage to our front step. Blake was helpful and accommodating throughout the process, answering questions and helping us to get the look we wanted. I would definitely request their services again and will be recommending them to others!"
6. The Pavingstone Pros
BEST FOR
Stone Patios
SERVICES
Landscaping, Retaining walls, Driveways, Walkways, Stone veneers, Patios
WEBSITE
https://pavingstone.pro
ADDRESS
Winnipeg, Manitoba
CONTACT DETAILS
(204) 803-6464
[email protected]
OPERATING HOURS
Contact for more information
Established in Winnipeg, Manitoba, The Pavingstone Pros is a hardscaping company with over 10 years of experience in the field.
The company is well-known in the area for generally providing professional harscaping services in a prompt manner. Adam, the founder, and his team is dedicated to always being on time, from starting to finish every project they take on.
Aside from promptness, The Pavingstone Pros also takes pride in transparency, especially in terms of finances and quality. Clients will find that the team is very detailed in their estimates, keeping in mind quality and longevity while maximising the given budget.
The Pavingstone Pros also makes use of high-quality materials from trusted partners, ensuring that clients will get the bang for their buck.
Free estimates
Warranty available for both labour and materials
Speedy and quality hardscaping services
Schedule is not available on the company website
7. Imagine Lawns & Landscaping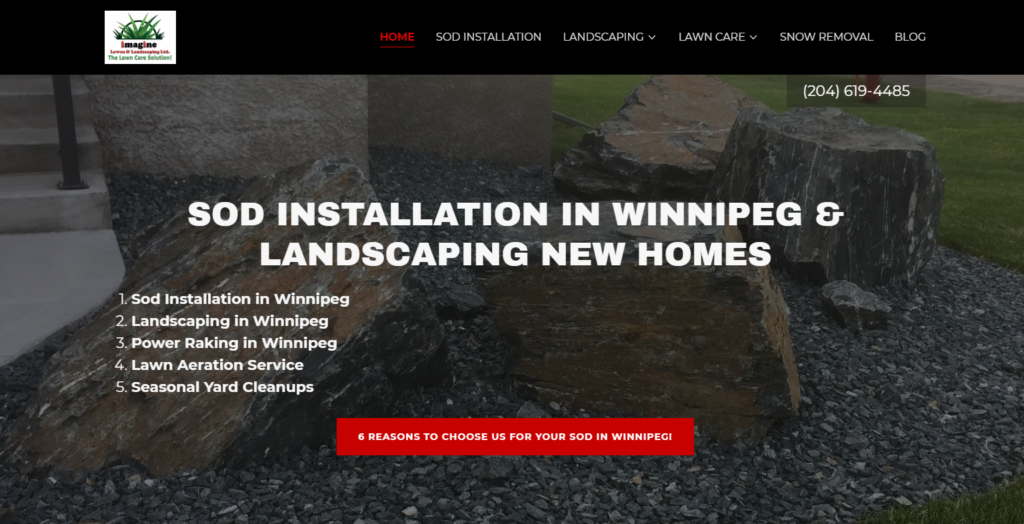 | | |
| --- | --- |
| BEST FOR | Quality Sod Installation |
| SERVICES | Sod installation, Landscaping, Lawn care, and Snow removal |
| WEBSITE | https://imaginelawns.ca |
| ADDRESS | 120 Alex Taylor Drive, Winnipeg, R2C 4R1 |
| CONTACT DETAILS | (204) 619-4485 |
| OPERATING HOURS | Monday to Sunday, 8:30 AM to 8:30 PM |
If you're looking for a simple way to add colour to your yard, then Imagine Lawns & Landscaping can help you create such picturesque view. This is the best landscaping contractor when it comes to quality sod installations.
It also does perennial landscaping to add more colour than just green. Aside from softscapes, Imagine Lawns & Landscaping also does installations of hardscapes, such as boulders and rocks, to add more texture to the yard.
Before Imagine Lawns & Landscaping does anything, it provides an in-house visit to discuss the client's plans and vision for their yard. They'll then proceed with an itemized quotation to ensure transparency.
Because it's open seven days a week, homeowners can book their landscaping session on their free time. That said, booking may still be a challenge, especially considering Imagine Lawns & Landscaping's large customer network.
Since it's also an expert in grassy knolls, Imagine Lawns & Landscaping also provides maintenance services such as aeration, power raking, and seasonal cleanups to tend to your plants and keep them blooming and refreshing.
Open seven days a week
Itemized online quotations
Hardscapes and softscapes available
Frequently Asked Questions
---
We hope our list helped you find what you're looking for, so just contact any of these contractors for the best landscaping in Winnipeg. With a better-looking yard, you can bring some color and refreshments to your otherwise dull home.
If you're looking for other ways to brighten up your house, you can also do it with the best windows and doors in Winnipeg. Our article also has a list of contractors, FAQs, and a price guide to prepare you for your home improvement.