7 Providers of the Best Lawn Care in Winnipeg
Featured Image Source: Pixabay
Do you want a more attractive front yard but can't seem to find the time to tend to it by yourself? If that's the problem you're trying to solve, then you've come to the right place!
In this article, we'll talk about where you can find the best lawn care in Winnipeg. Aside from the top lawn care technicians in the city, we also have a list of FAQs to guide you with your lawn projects – as you'll see below.
What Lawn Care Services Include
Let's start with what to expect from a lawn care service.
Mowing the lawn is one of the standard services you can expect to receive from your lawn care technician. But some service providers go beyond that.
Here are some other services they may include:
Sod installation and hydroseeding
Fertilizing
Weeding and pest control spraying
Power raking
Leaves removal
Hedge and tree trimming
Landscaping (paving stones, plant box, retaining walls)
Sprinkler installation, repair, and maintenance
All of these services will make your lawn look green and clean, so be sure to inquire about these services when calling a lawn care technician.
How Much Lawn Care Services Cost in Winnipeg
We've put together a table of the usual costs involved below. Note that we also included the cost of lawnmower rental, as most lawn care companies offer it too.
Lawnmower rental can be cheaper than mowing services, obviously. But it can also be troublesome, as you'll have to do the grunt work yourself.
Our advice on the matter is that you should only consider renting a mower yourself if you can operate it safely and properly… and have the time and strength for it.
| | |
| --- | --- |
| Type of Service | Price Range (per visit) |
| Mowing services | $30-$100 |
| Lawnmower rental | $20-$60 |
| Fertilizing | $100-$500 |
| Aeration | $90-$250 |
| Cleanups | $125-$350 |
| Winterization | $100-$450 |
| Weed control | $40-$150 |
| Edging | $800-$2,000 |
The Best Lawn Care Service Providers in Winnipeg
Now, let's get to what you came here for! Here are our picks for the providers delivering the best lawn care in Winnipeg.
1. Cleanr Property Maintenance Snow Removal & Lawn Care
BEST FOR
Any size of lawn
SERVICES
Residential and commercial lawn care, snow removal, fertilizer and weed control, landscaping, lawn aeration, power raking, seasonal cleanups
PRICING
Power rake: $119 Soil aeration: $69
WEBSITE
https://www.gocleanr.com/winnipeg/lawn-care/
ADDRESS
105 Melrose Ave W, Winnipeg, MB R2C 1N5
CONTACT DETAILS
(204) 960-0246
OPERATING HOURS
Monday – Friday: 9:00 AM – 5:00 PM
Saturday: 9:00 AM – 3:00 PM
Cleanr Property Maintenance can take care of any size of lawn, from small residential yards to large estates or industrial fields. It only uses trained lawn care technicians and the latest technologies to provide the best lawn care services in the city.
It offers three different packages for its lawn care services, with prices applicable to lawns as wide as 3,000 sq ft. This service provider is also known for its weekly lawn care packages, which run from May to September.
Cleanr also does snow removal services, making it perfect for any season. Cleanr Property Maintenance also has a 200% guarantee as a way to promise that it'll do lawn care services the right way the first time.
Weekly lawn mowing services
Lawncare for all seasons
200% customer guarantee
Handles all sizes of lawn
Cleanup services available only to year-round customers
Customer Reviews
Customers have praised Cleanr Property Maintenance for its punctuality, responsiveness, and professionalism. Here are some reviews:
"They do a great job on mowing the lawn and clean-up really great company and it feels great to have the lawn mowed by them..sorry I didnt get their services sooner"—Lainey Braun
"We use Cleanr Property Maintenance services for both Snow Removal and Lawn Care and they excel at both. They provide quality work at reasonable prices and they always comes on time. Excellent people to work with. Highly recommended!"—Gordon Lai
2. Nutri-Lawn of Winnipeg
BEST FOR
Custom evaluation for soil
SERVICES
Weed control, fertilizing, aeration, organic top dressing, overseeding, lawn renovation, power raking
PRICING
Hybrid Silver: starts at $183.53
Hybrid Gold: starts at $236.94
Hybrid Platinum: starts at $302.00
Weed Control program: Starting At $61.96
WEBSITE
http://www.nutrilawn.com/winnipeg
ADDRESS
25 Dawson Rd N, Winnipeg, MB R2J 0S6
CONTACT DETAILS
(204) 477-5296


[email protected]

OPERATING HOURS
Monday – Friday: 9:00 AM – 4:00 PM
Ever since 1986, Nutri-Lawn has provided Winnipeg homes with lawn care services. It uses only eco-friendly products and the latest equipment in doing lawn care, weed control, and fertilizing.
This company also includes a custom evaluation for the soil during all of its visits. Think of Nutri-Lawn as a nutritionist that will make a tailor-fitted meal plan for your soil.
It also has four different lawn care packages too, to give homeowners the freedom to choose whatever plan their lawn needs.
Another great thing about Nutri-Lawn is that for every $2 a customer spends, they get one Aeroplan mile!
Aeroplan miles
Eco-friendly products
Detailed soil evaluation
No basic and routine lawn mowing
Some complaints about incomplete services
Customer Reviews
Read these reviews to learn more about how Nutri-Lawn delivers its services to its valued customers:
"Nutrilawn have been providing weed control service on two of my properties for the last 4 years and I have nothing but lots and lots of complements. Always get discounts as a repeated customer, and never missed any spot on my lawn for the weed to come back! Thank you guys for the hard work and will always stick to these awesome people!"—Zhong ying Chen
"On time and very and thorough. We received the slit seeding and top dressing. Our lawn is like a golf course. Very professional we highly recommend Nutri-lawn Winnipeg."—Bryan Hiebert
3. Weed Man
| | |
| --- | --- |
| BEST FOR | Weed and pest control |
| SERVICES | Weed and pest control, fertilizing, aeration, soil revitalization, lawn mowing |
| WEBSITE | https://www.winnipeg.weedman.com/ |
| ADDRESS | 387 Gaboury Pl, Winnipeg, MB R2H 0L5 |
| CONTACT DETAILS | (204) 669-9333 |
| OPERATING HOURS | Monday – Friday: 10:00 AM – 4:00 PM |
Weed Man also prides itself on having more than 50 years of experience, making it one of the pioneer lawn care services in Winnipeg. It offers soil fertilizing, weed control, mechanical aeration, and soil revitalization.
Aside from the usual services most lawn care technicians provide, Weed Man also offers crack and crevice control to remove unwanted weeds within your pavement.
Note that it also has pest control services. Weed Man provides surface insect control and mosquito control.
Crack and crevice weed control
50 years of experience and service
Complete pest control
Local specials and referral discounts
Not the best customer services
Customer Reviews
Here are some customers who claim to have received the best lawn care in Winnipeg from Weed Man:
"Very pleased with how Weed Man was able to turn my weed ridden lawn this summer back into one that actually has grass! Especially impressed how they come back out to re-treat the yard if it rains right after. Customer service is exceptional. I'd recommend without hesitation."—Lisa M
"Timing of lawn fertilizations and weed applications are bang on: they come a number of times throughout spring, summer, fall. I never have to worry about weeds along my sidewalks from the front yard to the back lane. They listen and are responsive and knowledgeable if I call with a question or concern. Absolutely worth it."—Kathy M
4. Moweco Electric Lawn Mowing Service
BEST FOR
Prompt services
SERVICES
Lawn mowing, spring and fall clean-up
PRICING
Weekly lawn mowing: starts at $21.99
WEBSITE
https://www.moweco.ca/
ADDRESS
260 Marion St, Winnipeg, MB R2H 0T7
CONTACT DETAILS
(204) 669-3261
OPERATING HOURS
Monday – Friday: 8:00 AM – 9:00 PM
Saturday: 10:00 AM – 9:00 PM
Sunday: 10:00 AM – 7:00 PM
Just as its name suggests, Moweco offers a unique service, thanks to its electric mowing services.
It also uses high-tech Sharing Economy Software, so that its employees receive "close to home" assignments. This way, Moweco's technicians arrive for appointments promptly because they won't have to travel too far to reach their assignments.
Aside from being prompt, Moweco is also one of the few lawn care companies that are available even on weekends!
Moweco offers weekly lawn mowing services complete with special discounts for its loyal customers. Aside from its signature weekly lawn mowing, Moweco also offers spring and fall cleanups.
Electric mowing offered
Close-to-home assignments for promptness
Discounts for weekly customers
Personalized services and great customer care
Available even on weekends
Limited lawn care services
Hires summer interns
Customer Reviews
Learn more about how Moweco benefits its customers through these reviews:
"Great value for money on the spring clean-up package. Professional, responsive and efficient service. Highly recommend!"—Den Volk
"This definitely helps for people who work odd hours, and evenings. Coming home every Thursday to a lawn well kept, trimmed , and without piles of grass or leaves to blow into the neighbors yard saved (both parties) a lot of grief. I recommend this to other people especially NEIGHBORS!"—Gary Kenneth
5. Imagine Lawns & Landscaping, Inc.
| | |
| --- | --- |
| BEST FOR | Routine snow removal |
| SERVICES | Sod installation, power raking, aeration, spring cleaning, fall cleaning, landscaping |
| WEBSITE | https://imaginelawns.ca/ |
| ADDRESS | 120 Alex Taylor Dr, Winnipeg, MB R2C 4R1 |
| CONTACT DETAILS | (204) 619-4485 |
| OPERATING HOURS | Monday – Friday: 8:30 AM – 8:30 PM |
Imagine Lawns and Landscaping provides just as its name suggests. It specializes in sod installations and landscaping design, but it also offers maintenance services for lawns.
When it comes to the best lawn maintenance, Imagine has three different packages. First, it has the basic power raking which includes simple mowing, power raking, and blowing of debris and leaves in the lawn.
Next, it has the enhanced package, which simply has the same services, but for a larger service area as it also cleans up patios and decks.
Lastly, Imagine Lawns offers the complete package, where its staff will blow clean and mow the entire perimeter, from back to front and including the gutters. This package also includes aeration, fertilization, and overseeding to keep lawns revitalized and ready for the next year.
Homeowners who only want one service can also benefit from Imagine Lawns because it also offers stand-alone services. Additionally, Imagine Lawn does snow removal services, and it even has routine ice melting services and weekly property maintenance.
Three different lawncare packages
Free estimates
Stand-alone services
Routine snow removal services
Extended working hours
Relatively limited range of services
Customer Reviews
Read these customer reviews to tell you more about what you can expect from Imagine Lawns and Landscaping:
"Used them for the first time this year. Their staff work fast, incredibly detailed, friendly, and did an awesome job. Will continue to use their services every year, and would highly recommend."—Mark Laderas
"Did a great job with drainage, grading, and aesthetic features of the yard. The lot had many things to address and Aaron and his team implemented some creative and cost-effective ways of solving the issues. Really positive and professional experience!"—Steven Wood
6.   Sunshine Maintenance & Landscaping
| | |
| --- | --- |
| BEST FOR | Variety of services |
| SERVICES | Lawn mowing, spring and fall cleanup, fertilizing, water features, soil services |
| WEBSITE | https://www.sunshinelandscapingandlawnmaintenance.com/ |
| ADDRESS | 38 Leonard Shakespeare Bay, Winnipeg, MB R2J 4K9 |
| CONTACT DETAILS | (204) 453-0615 |
| OPERATING HOURS | Monday – Friday: 8:00 AM – 5:00 PM |
From the simplest lawn mowing to complex hardscape care, Sunshine Maintenance & Landscaping can do it all. It has been serving Winnipeg homes and commercial buildings for over 30 years, making it one of the oldest in this field.
Sunshine offers year-round services to help its clients maintain their lawns. Thus, homeowners can hire this company for design and planting, snow removal, weed control, and seasonal clean-ups.
As for its hardscaping services, Sunshine can handle the construction of walkways, parking lots, retaining walls, and garden centrepieces.
Wide range of lawn care and landscaping services
Weekly lawn cutting
Year-round services
Bigger focus on landscaping
Customer Reviews
Customers claim Sunshine to be the most dependable lawn care service provider as it will come to your home no matter the weather. Here are the reviews that share such sentiment:
"Sunshine does a great job! I love having the extra time to enjoy my summer instead of working in the yard! Highly recommend Sunshine!"—Jason Kilborne
"It made me feel lucky to have found Sunshine. They are reliable and friendly, if I popped out and asked them to cut a shrub back or whatever, they did it and they were brave because during the summer my dog was out a few times when they came. Labrador 120 lbs of dogie barking at the fence gate as they were coming and not once did they run away screaming. They waited to see if someone would take him inside (we did) so they could get to their work. Sunshine did a great job with cutting grass, blowing the leaves and cleaning up shrubbery. They are a perfect choice for the hard winters of Winnipeg and the way too short summers. It was a lifesaver to us. Thanks Sunshine, we can't recommend you enough!!"—Terry Smith
7. Complete Lawn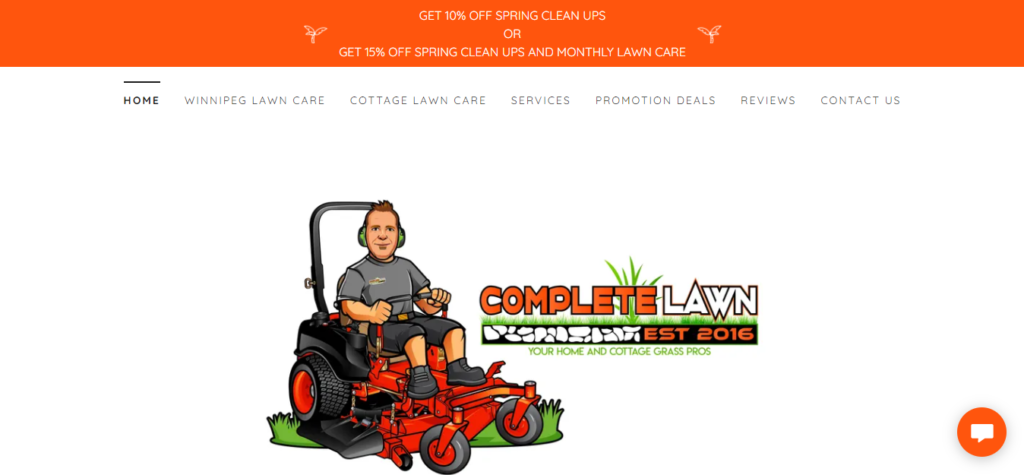 BEST FOR
Year-round package
SERVICES
Grass cutting, snow removal, aeration, power raking, fertilizing, spring cleaning, fall cleaning
WEBSITE
https://completelawn.ca/
CONTACT DETAILS
(204) 898-9756


[email protected]

OPERATING HOURS
Monday – Thursday: 7:00 AM – 6:00 PMFriday: 7:00 AM – 12:00 PM
Now if you're looking for a lawn care service provider you can rely on constantly, then Complete Lawn may be what you need. This lawn care maintenance company offers numerous packages.
It has four different lawn care packages, all with the basic weekly grass cutting service. The only differences between these packages are additions like fertilizer application, weed control, and spring/fall clean-ups.
It even has a 4-Season package, which consists of weekly grass cutting, spring/fall clean-ups, snow clearing package, and free sand and salt. The only downside to these packages is that it has a minimum of 6-months contract.
Aside from these packages, Complete Lawn also offers stand-alone services for aeration, power raking, fertilizer, weed control, and grass maintenance.
Year-round package available
Weekly grass cutting included in all packages
Aeration and power raking stand-alone services
Minimum of 6 months contract
Customer Reviews
Read these reviews to know what makes customers stay with Complete Lawn:
"I've had excellent service with this company! Chris is very professional and I've used his services several times. Never disappoints! Highly recommend! Thanks again Chris."—Daniella Soares
"Chris does a great job cutting our lawn out in the Grand Marais area. This is the 3rd year I've used his services."—Nick Rigas
Frequently Asked Questions
---
Now that you know where you can get the best lawn care in Winnipeg, you'll certainly have no more excuses for having a dead and dry lawn! After all, a lush and healthy lawn can make your estate homier and fresh.
If you're looking for other ways to improve your home's exterior, you can also read our list of the best landscaping providers in Winnipeg. These service providers will surely level up an otherwise plain yard.