The Top 3 Home Massage Services in Winnipeg
The origin of massage therapy dates back to 3,000 B.C.E. – or even earlier – in India. At that time, they were deemed as sacred methods of healing and restoring balance in the body.
While various massage methods have evolved in different places, they remain a form of wellness for anyone who wants to eliminate stress, toxins, and body pain.
If you're looking for a massage right in the comfort of your own home, then this article is for you.
We looked into home massage services available in Winnipeg and reviewed the ones that are worth trying. Read on to learn more about them.
On average, home massage services cost around $137 to $178 an hour. The rates are about $30 to $70 more than the average hourly price of getting a massage in a spa or centre.
The pricier rates are due to therapists having to bring their massage tables and oils, as well as the cost of travel.
Prices may also change, depending on how long your massage will be and the type of massage you'll get.
Take a look at these tables below for the possible rates you'll pay for your home massage service:
1. Average Prices of Massage Time Durations
| DURATION OF MASSAGE | AVERAGE COST RANGE |
| --- | --- |
| 30 minutes | $41 – $89 |
| 60 minutes | $68 – $178 |
| 90 minutes | $123 – $240 |
| 120 minutes | $164 – $273 |
2. Average Prices of Different Massage Types
| TYPE OF MASSAGE | AVERAGE PRICE RANGE PER HOUR |
| --- | --- |
| Full body | $68.40 – $123 |
| Couples | $164 – $301 |
| Deep tissue | $109 – $164 |
| Prenatal | $96 – $164 |
| Foot | $55 – $68.40 |
| Back | $55 – $68.40 |
| Head | $68.40 – $109 |
| Sports | $75 – $178 |
3. Average Prices of Different Massage Therapy Types
| TYPE OF MASSAGE THERAPY | AVERAGE PRICE RANGE PER HOUR |
| --- | --- |
| Hot stone | $116.27 – $205 |
| Swedish | $55 – $137 |
| Thai | $68.40 – $123 |
| Shiatsu | $70 – $90 |
| Javanese | $70 – $123 |
| Reiki | $96 – $104 |
| Aromatherapy (only an add-on) | $14 – $27 |
| Neuromuscular | Starts at $123 |
| Myofascial release | Starts at $180 |
What are the top home massage services in Winnipeg?
We selected the following establishments that offer home massage services in Winnipeg based on the following criteria:
1. Motio Massage Therapy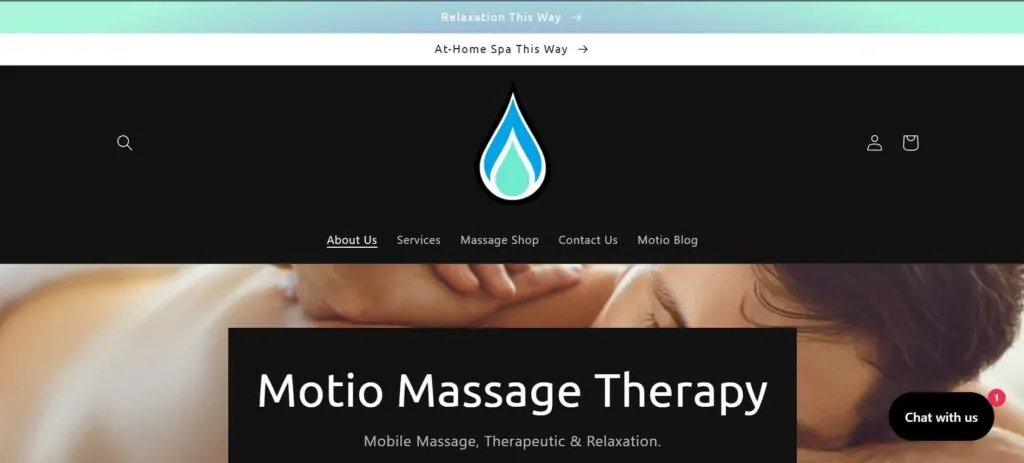 WEBSITE
http://amsterdamtearoom.com/
ADDRESS
333 St. Mary Ave. #76, Winnipeg, MB R3C 4L1, Canada
CONTACT DETAILS

Phone: +1 (204) 619-6463

EMAIL: [email protected]

OPERATING HOURS

Monday and Friday: 10:00 AM – 6:00 PM

Tuesday, Wednesday, and Thursday: 10:00 AM – 9:00 PM

Saturday: 10:00 AM – 3:00 PM

Sunday: Closed
| | |
| --- | --- |
| CRITERIA | RATING |
| MASSAGE THERAPIST | ★★★★★ 5/5 |
| ⮕Competent | ★★★★★ 5/5 |
| ⮕Punctual and respectful | ★★★★★ 5/5 |
| PRICE | ★★★★★ 5/5 |
| BOOKING EXPERIENCE | ★★★★☆ 4.25/5 |
| ⮕Easy and fast | ★★★★★ 5/5 |
| ⮕Reliable | ★★★☆☆ 3.5/5 |
| CLIENT SATISFACTION | ★★★★☆ 4.5/5 |
What we love about Motio Massage Therapy is that it has home massage services available for both individuals and groups.
In terms of duration, clients can choose sessions that last 60, 75, and 90 minutes for individual massages and 2 to 3 hours for group massages.
We also have to give it to Motio for giving clients the option to add aromatherapy to their massages. It's an ingenious way to bring the spa experience to one's home!
As for prices, individual massages cost $105 while group massages start at $200. From what we've heard, the massages are worth the money as they're refreshing and calming.
It's also a plus that the massages come with face masks, fresh towels, and a selection of massage oils. That makes for a great pampering experience, in our opinion.
The highlight of Motio's services would be its in-home therapist, Jordan Schimnowski. We looked into his profile and found that he is a registered massage therapist with over 10 years of experience.
He specialises in therapeutic massages, aromatherapy, hot stone treatments, and relaxation treatments.
Clients love his professionalism and punctuality in all of his tasks, so we think that availing of his services is a must-have for optimal relaxation.
On the downside, we're a bit bummed that he is currently Motio's only in-home massage therapist.
You'll need to book your slot fast since he has a loyal clientele eager to avail of his services on a regular basis.
That said, we're pleased that it is easy to book Jordan via Motio's website. It's also a plus that they open slots every single day of the week.
We're just a tad disappointed to hear that some clients had a hard time reaching the massage centre to make changes to their appointments.
Given that his Jordan's services seem to be in-demand, we understand that rescheduling can be a challenge. That said, make sure that you're 100% sure of your preferred schedule before booking.
Offers massage sessions for individuals and groups
Easy online booking
Therapist can be booked on Sundays
Only one mobile massage therapist
Regularly in-demand; can be difficult to reschedule appointments
Customer Reviews
Amazing mobile massage services and therapist
"I'm one of the regular client of motio. And every time I booked an appointment I always have AMAZING experience. The people there are so professional and they really care about your bodies condition. I recommended this company to my family and friends and they had great experience and they are also one of the regular client of motio. So I recommend Motio Massage Therapy to other people. God bless and more power Motio!" – John Zee
Services are worth the money
"The services at Motio are excellent, very professional and worth the money. Jordan is very skillful and knowledgeable therapist. The ambience,music and quality of therapy is extraordinary. Definitely recommend it." – Thaslim S.
2. Sage Creek Massage Therapy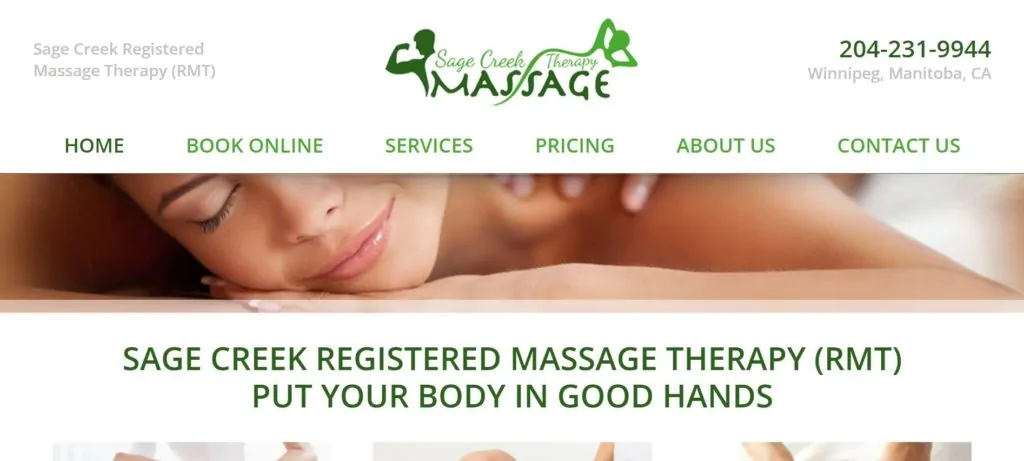 | | |
| --- | --- |
| CRITERIA | RATING |
| MASSAGE THERAPIST | ★★★★★ 5/5 |
| ⮕Competent | ★★★★★ 5/5 |
| ⮕Punctual and respectful | ★★★★★ 5/5 |
| PRICE | ★★★☆☆ 3.5/5 |
| BOOKING EXPERIENCE | ★★★★☆ 4/5 |
| ⮕Easy and fast | ★★★★★ 5/5 |
| ⮕Reliable | ★★★☆☆ 3/5 |
| CLIENT SATISFACTION | ★★★★☆ 4/5 |
A strong point of Sage Creek Massage Therapy's home massage services is that they have affordable rates.
A 60-minute session costs a reasonable $125 while a 90-minute massage costs only
$165. We think these are sweet deals since other spas will offer at least $200 for their 90-minute sessions.
We also like that it requires its therapists to practise full draping in all of their sessions. We think this shows that Sage Creek is all about respecting its clients' privacy and comfort levels.
Not all clients are willing to fully undress during massages, even in the comfort of home. So, kudos to Sage Creek for providing that kind of sensitivity and flexibility.
We also have to give it to them for providing corporate massages for those who want to book a session in their office. We tried one session and surprisingly felt relaxed after our massage even if we were fully clothed!
A slight limitation though is that Sage Creek's in-home massage services are limited to individual sessions only.
Another inconvenience we found is that booking online is limited to members of Sage Creek's patient portal. That's one additional (and for us, unnecessary) step to booking a service that should be easily accessible to all.
On the bright side, being a member of the patient portal will allow you to book your favourite therapists and check for any materials they recommend for your after-home care.
Should you decide to become a regular client of Sage Creek, then we think becoming a member of their online portal is an excellent idea.
Affordable massage rates
Therapists practise full draping
Offers corporate massages
Members can book their favourite therapists
No in-home massages for groups available
Only members can book appointments online
Customer Reviews
Thankful for the amazing massage that catered to my bodybuilding career
"First, Nicole was amazing. I am a bodybuilder and work a very physically demanding day job. As such, muscle fatigue and pain are common to me and I know what helps me and what does not. I have used other massage practitioners in the past with lack lustre results and was hesitant to give massage therapy another try. I am happy I did. There are many massage therapists, but very few that are as capable as Nicole. Nicole is simply a cut above the rest." – Stewart DK
Kudos to Nicole for giving me the best back massage ever
"I visited this location for the first time and was so happy/impressed by the professionalism of their employees. Nicole is awesome. She did a great message. My entire back and body was relaxed. Initially it might feel uncomfortable for the tense muscles but when it's about end of session it feels relaxed." – Ravi Bhatt
3. Tensegrity Wellness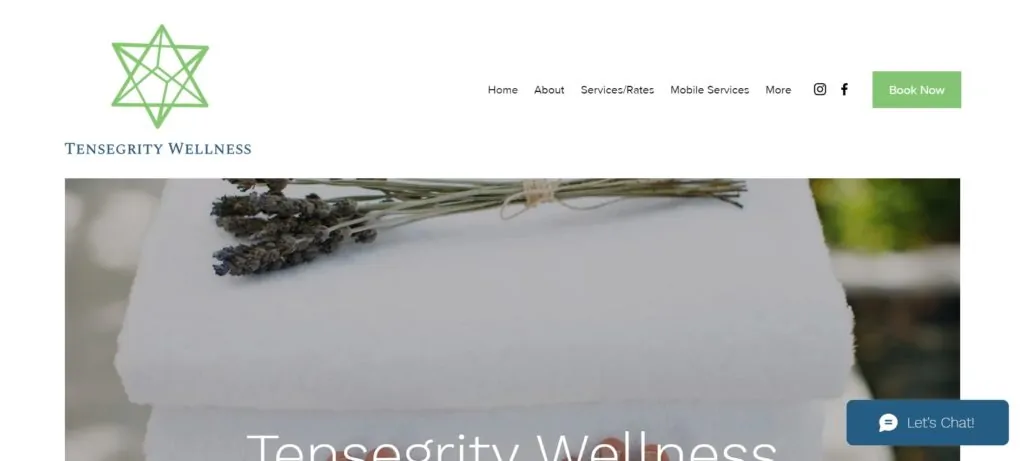 WEBSITE
https://www.tensegritywellnesswpg.com/
ADDRESS
635 Cambridge St., Winnipeg, MB R3M 3G1, Canada
CONTACT DETAILS

Phone: +1 (204) 292-5363

EMAIL: [email protected]

OPERATING HOURS

Monday: Closed

Tuesday: 12:30 PM – 8:30 PM

Wednesday and Thursday: 12:00 PM – 9:00 PM

Friday and Saturday: 9:00 AM – 5:30 PM

Sunday: Closed
| | |
| --- | --- |
| CRITERIA | RATING |
| MASSAGE THERAPIST | ★★★★★ 5/5 |
| ⮕Competent | ★★★★★ 5/5 |
| ⮕Punctual and respectful | ★★★★★ 5/5 |
| PRICE | ★★★★★ 5/5 |
| BOOKING EXPERIENCE | ★★★★☆ 4.25/5 |
| ⮕Easy and fast | ★★★☆☆ 3.5/5 |
| ⮕Reliable | ★★★★★ 5/5 |
| CLIENT SATISFACTION | ★★★★★ 5/5 |
Tensegrity Wellness is one of the unique wellness centres in Winnipeg. We looked into its services and found that it offers massages, cupping, hot stone therapy, soft tissue mobilisation treatments, breathwork, and personal training.
In terms of home massage services, Tensegrity specialises in reiki healing and myofascial release (MFR) treatments.
From what we've found, these massage treatments are perfect for alleviating chronic pain and redistributing chakra or energy throughout the body to promote balance. To use, these sound great for overworked and stressed individuals!
We were also pleasantly surprised that this place offers MFR services for $120 an hour, which is cheaper than the Winnipeg average of $180 an hour.
As for mobile reiki therapy, it is currently priced at $120 an hour, which is pricier than what other places offer.
That said, clients mentioned the massage is worth the money as they felt rejuvenated and relieved of their pain.
Another strong point of Tensegrity Wellness is its owner and therapist, Nicole Leclerc. She's been a registered massage therapist since 2017 and a certified personal trainer and reiki master.
Clients mentioned Nicole's professionalism and ability to make both in-clinic and in-home massage treatments a relaxing, calming, and healing experience.
We also have to give it to Nicole for promoting safety and comfort in her practice. She ensures that her sessions are safe spaces for members of the LGBTQA+ community and different cultures and backgrounds.
And if you're worried about having to be naked for your massage, the good news is that Nicole asks her clients to wear shorts and/or sports bras for their sessions. It just goes to show that she respects her clients' privacy and boundaries.
While we love this massage centre for its in-home massage treatments and competent therapist, we're not too pleased with the online booking experience.
It's a bummer that the booking tab for the home massage services doesn't have a calendar available. This is inconvenient as clients won't be able to see which slots are open.
We also find it a little limiting that the online booking tab isn't available for 2-hour in-home massages. You'll need to call, text, or email to avail of longer massage treatments.
Affordable MFR massage rates
Therapist specialises in reiki and myofascial release
Therapist promotes safe spaces in her practice
Booking tab doesn't have a calendar
Online booking tab isn't available for 2-hour sessions
Customer Reviews
Thankful to Nicky for her superb massage skills and dedication to her work
"Nicky is an amazing and skilled therapist. She is compassionate and dedicated to her work and making sure that I would always get the most out of my treatments with her. I have seen her for myofascial release, hot stone massage and Reiki, All of which I would highly recommend." – Blair Jensen
Always love my reiki sessions at Tensegrity Wellness
"As soon as you walk through the door of her office you can feel the calmness that Nicole exudes. I have had the pleasure of having Nicole as my massage therapist for two years and she has helped me solve several problems. Recently I have had Reiki sessions and am very pleased with the results. She is very professional and knowledgeable in all areas that she offers as services. I would and do recommend Nicole." – Debra Bruce
FAQs on Home Massage Services
---
That's the end of our unbiased review of the top home massage services in Winnipeg!
If you're looking for other forms of relaxation and wellness, take a look at the best day spas and top places to get a Facial in Winnipeg, and plan your next appointment.