The 5 Best Ice Cream Shops in Winnipeg
From classic vanilla to premium overloaded ice cream, we tried out some of the best ice cream stores in Winnipeg to tell you whether it's worth the extra scoop.
If you're looking for a dessert palace to stop by to curb that craving you've had in so long, read on to find our top ice cream store picks!
How Much Ice Cream Costs in Winnipeg
Depending on the store's menu and what type of ice cream you're getting, ice cream can be pretty cheap, or relatively expensive. Check out the table below to get a general idea how much ice cream costs in Winnipeg:
| Product | Estimated Cost |
| --- | --- |
| Soft ice cream | $2–$5 (per scoop) |
| Hard ice cream | $2–$4 (per scoop) $6–$10 (per pint) |
| Premium ice cream | $4–$6 (per scoop) $8–$12 (per pint) |
| Ice cream sandwiches | $3–$7 |
| Sundaes | $5–$9 |
The Best Ice Cream Shops in Winnipeg
We looked at the all the most popular ice cream shops in Winnipeg and rounded them up based on the following criteria:
1. Dug & Betty's Ice Creamery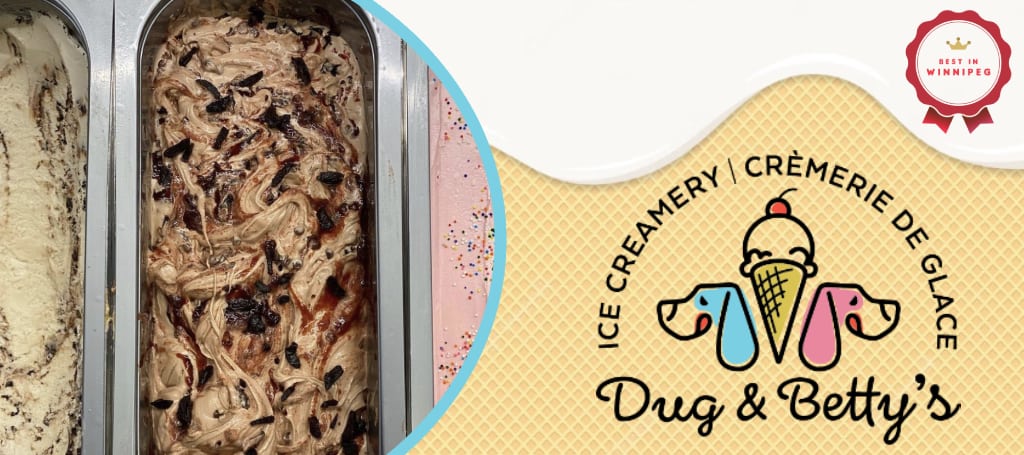 PRODUCTS
Premium ice cream and sorbettos, soft ice cream, artisan cookie sandwich, speciality sundaes, parfaits, milkshakes, twisters, sundaes, soups, salads, artisanal hotdogs, artisanal sandwiches, mains (browse their menu here)
WEBSITE
http://www.dugandbettys.com
ADDRESS
309 Des Meurons St, Winnipeg, MB R2H 0V2, Canada
CONTACT DETAILS
Phone: +1 204-417-0026
OPERATING HOURS
Monday: 11AM–3:30PM

Tuesday: 11AM–8PM

Wednesday: 11AM–8PM

Thursday: 11AM–8PM

Friday: 11AM–8:30PM

Saturday: 11AM–8:30PM

Sunday: 11AM–8PM
| | |
| --- | --- |
| Menu options | ★★★★★ (5/5) |
| Flavour selection | ★★★★★ (5/5) |
| Serving size | ★★★★★ (5/5) |
| Ambiance and cleanliness | ★★★★☆ (4/5) |
| Customer satisfaction | ★★★★☆ (4/5) |
| Product pricing | ★★★☆☆(3/5) |
Dug and Betty's is pretty new around the block, but it's become one of Winnipeg's beloved dessert places. Launched in 2019, the ice creamery has been establishing itself as one of Winnipeg's latest culinary hot spots.
What we were so excited to see at Dug & Betty was their animated range of flavours – from ube, matcha, to strawberry honey balsamic pepper, and more. It's incredible to see that all these flavours are all homemade.
We scoured their menu and found soups, salads, and mains among others. The food we got didn't disappoint either, and it's no surprise as Dug & Betty is the brainchild of Chef Kern Kirouac who also runs other restaurants nearby.
The store's inside seats about 30 people and has an al fresco area too. It gives off a Parisian-inspired vibe and makes a nice place to just chill at.
The only issue we had was their pricing. Everything just seems a bit overpriced for an ice cream store. Their premium ice creams can range from $6 to around $9.
Their service can also stagger at times, so if you ordered somewhat of a feast, you might have to wait for a while.
Overall, we still recommend Dug & Betty's as a must-try, especially for anyone with a sweet tooth.
Amazing range of ice cream flavours
Well-maintained shop
Slightly overpriced
Slow service
Customer Reviews
A true gem of Winnipeg
"Not only do they have awesome premium ice cream (not that fake tasting DQ stuff) but they're food is mind blowingly good! You don't expect it from an ice cream place.
They served me a masterpiece of a chilli dog. I did have to wait about 10 mins which was well worth the wait. Also gave me time to enjoy my ice cream. I'm a fan of dessert before dinner but don't tell my mom that.
I was happy with the food, dessert, and service! If you haven't tried this place you have it! A true gem of Winnipeg." – AJ Johnston
Cheap price makes it worth it
"Probably the best ice cream place in Winnipeg when it comes to flavour accuracy. The flight gives you four flavours to try for $10 which is plenty of ice cream for two people. Their earl grey and strawberry balsamic is my favourite but the flavours I tried were fantastic! Food is okay but the cheap price makes it worth it. Go there for ice creams!" – Luna D. K.
2. Fête Ice Cream & Coffee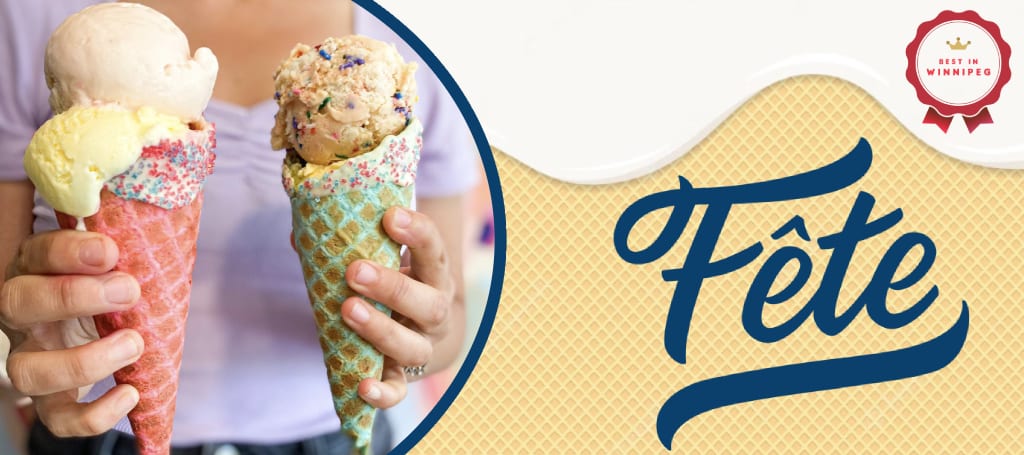 PRODUCTS
Ice cream, pastries, coffee, drinks (browse their menu here)
WEBSITE
http://feteicecreamcoffee.com
ADDRESS
300 Assiniboine Ave Unit B, Winnipeg, MB R3C 0T1, Canada
CONTACT DETAILS
Phone: +1 204-942-7087
OPERATING HOURS
Monday 10AM–8PM

Tuesday: 10AM–8PM

Wednesday: 10AM–8PM

Thursday: 10AM–8PM

Friday: 10AM–8PM

Saturday: 10AM–8PM

Sunday: 10AM–8PM
| | |
| --- | --- |
| Menu options | ★★★★☆ (4/5) |
| Flavour selection | ★★★★☆ (4/5) |
| Serving size | ★★★★☆ (4/5) |
| Ambiance and cleanliness | ★★★★☆ (4/5) |
| Customer satisfaction | ★★★★☆ (4/5) |
| Product pricing | ★★★★☆ (4/5) |
Just opening towards the end of 2019, Fête Ice Cream & Coffee is also one of the newer dessert places in downtown Winnipeg.
It was put up by co-owners Élise Page and Teri-Lynn Friesen, who have since then worked with the University of Manitoba Dairy Science Program to perfect their ice cream recipe.
Apart from the ice cream store being situated right next to a dog park, their ice creams are just irresistible, with over 20 flavours to choose from. We totally understand the hype about this one.
We love how they're located downtown, making it easier to get to their store when you need that quick dessert run.
Moreover, their flavours include dairy-free and vegan friendly, and gluten-free options, so it makes it easier for us who are lactose-intolerant. We always get too giddy about eating ice cream nonstop with no repercussions afterwards.
Stopping by Fête Ice Cream & Coffee is always a treat. The shop itself is very inviting and their employees do a great job explaining their flavours.
Maybe because it's located in the downtown area, it can get difficult to look for a parking space. And although they have a considerably unique selection of flavours, some of it can be compared to retailed supermarket ice cream.
Located next to a dog park (a bonus for all pet owners)
Serves excellent coffee
Vegan, gluten-free, dairy-free options
Customer Reviews
Richest ice cream in taste and flavour
"Fete is always an absolute delight! My all time favourite item on the menu is the Strawberry Rhubarb ice cream! Goodness, you can't go wrong with it except you have allergies/strict aversions to any of its ingredients. All across Winnipeg, I think this is the richest ice cream in taste and flavour that I've ever tried!
The picture I've included though is that of my first ever ice cream sandwich from Fete! It was delicious.
Definitely check out Fete Ice Cream and Coffee.
You will/may be glad you did." – Ebby
10/10 will go back again and again
"Calling it ice cream seems like an understatement. More of an iced delicacy, some flavours can be dairy free,vegan friendly, gluten free or all of the above OR none of the above. I've tried all sorts and they all taste great. With unique flavours, super friendly staff and a very unique location it's hard to go wrong here. Parking can be a pain but it's worth it. Grab an "ice cream" and walk on the pathway by the river or enjoy a sit in the well maintained park next door. I'd recommend a flavour but then I'd just be listing their menu. 10/10 will go back again…again." – Calvin Kirkpatrick
3. Chaeban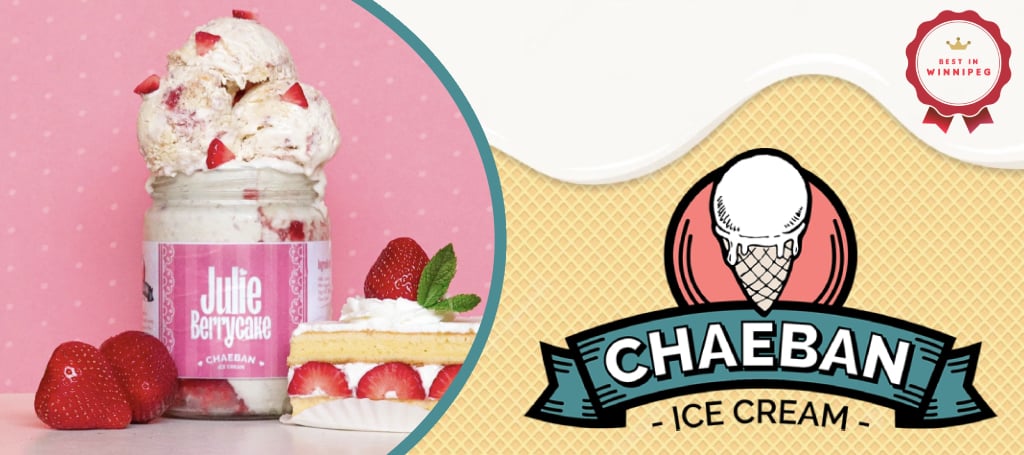 PRODUCTS
Ice cream, frozen desserts (browse their menu here
WEBSITE
https://chaebanicecream.com/
ADDRESS
390 Osborne St, Winnipeg, MB R3L 1Z9, Canada
CONTACT DETAILS
Phone: +1 204-475-6226
OPERATING HOURS
Monday 12–6PM

Tuesday 12–6PM

Wednesday 12–6PM

Thursday 12–6PM

Friday 12–6PM

Saturday 12–6PM

Sunday 12–6PM
| | |
| --- | --- |
| Menu options | ★★★★☆ (4/5) |
| Flavour selection | ★★★★★ (5/5) |
| Serving size | ★★★★☆ (4/5) |
| Ambiance and cleanliness | ★★★★☆ (4/5) |
| Customer satisfaction | ★★★★☆ (4/5) |
| Product pricing | ★★★★☆ (4/5) |
Chaeban Ice Cream was put up by two Syrian refugees. With the initial mission of helping refugees in Syria settle in South Osborn, the initiative eventually grew into a beloved ice cream business that continues to serve much of Winnipeg until this day.
What we admire most about Chaeban Ice Cream is their endless inclusivity. The store often hosts events that are highly community-oriented, and we see that this is one of the reasons why they're well-known in the area.
On top of that, their ice cream is simply top-notch. Thick, creamy, and velvety in consistency, we found ourselves enjoying a lot of their rich flavours.
Their flight of ice cream was particularly a good deal. We got to pick out 4 flavours to try. We highly recommend getting Mustang Sally, Prairie Berry, Plain Jane, and Reece Piece.
We were pleased to find dairy-free and vegan friendly options here as well. At this point it's always a must on our ice cream store checklist.
But just like the usual places that serve premium ice cream, they tend to be a bit more expensive than just regular ice cream. We still think it's a fair price for something artisanal.
Location-wise, they're situated in a nice neighbourhood where the atmosphere is relaxed and chill, so it's great for a quick ice cream stop.
Compelling founding story with community advocacy
Unique and artisanal flavour selection
More expensive than regular ice cream
Slow service during rush hour
Customer Reviews
Unique and worth experiencing
"My wife got the Reece Piece and said: 'I've never tasted anything so peanut buttery that wasn't a spoonful of peanut butter'. I got Anna Bananutella, and it tasted like the best chocolate chip banana bread I've ever had. We also tried the Abir Al Sham, a traditional Syrian ice cream that was incredibly creamy and chewy, loaded with pistachios and tasted like pure rose water. The Abir Al Sham was unique and worth experiencing, a destination flavour on its own. We went to their actual shop on Osborne, but they also sell their ice creams in jars at grocery stores around Winning and Manitoba. Wish they also sold it here in Toronto!" – Ben Bain
Super creamy and not too sweet
"WOW! What a Winnipeg gem. The ice cream is perfect. Super creamy and not too sweet. Overly sweet ice cream is sickening and the ratio to sweet and creamy in their flavours is perfect! We have tried many flavours and like them all. I typically buy them from Vita Health as they will take the jars back at the store directly and give you a $1 refund on your next jar or just a refund altogether if you aren't buying anymore ice cream." – B. M.
4. Milksmith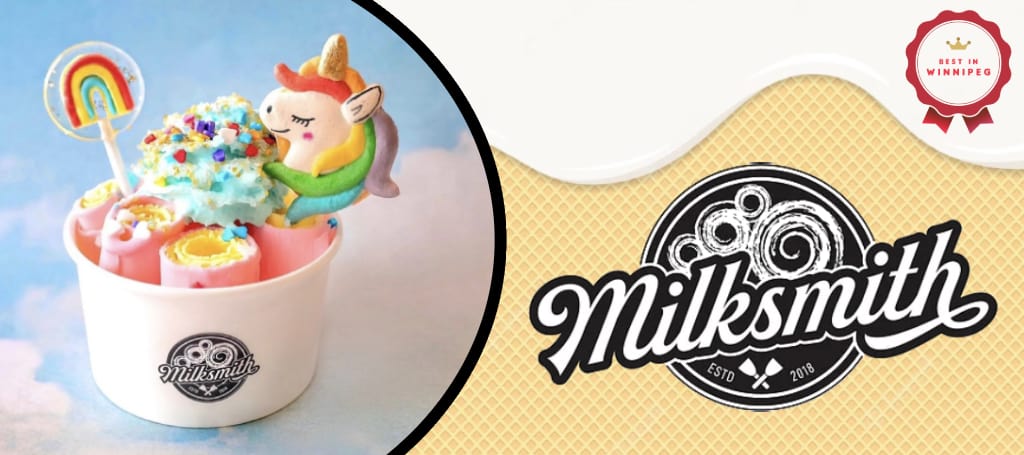 SERVICES
Rolled ice cream, waffle cone, drinks, pints, mochi bubble waffles (browse their menu here)
WEBSITE
https://www.mymilksmith.com/
ADDRESS
651 Corydon Ave, Winnipeg, MB R3M 0W4, Canada
CONTACT DETAILS
Phone: +1 204-963-7487
OPERATING HOURS
Monday Closed

Tuesday Closed

Wednesday: 5:00–9:00PM

Thursday: 5:00–10:00PM

Friday: 5:00–10:00PM

Saturday: 2:00–10:00PM

Sunday: 2:00–9:00PM
| | |
| --- | --- |
| Menu options | ★★★★☆ (4/5) |
| Flavour selection | ★★★★★ (5/5) |
| Serving size | ★★★★☆ (4/5) |
| Ambiance and cleanliness | ★★★★★ (5/5) |
| Customer satisfaction | ★★★★☆ (4/5) |
| Product pricing | ★★★★☆ (4/5) |
Milksmith is about as creative as ice cream gets. Popular for their "pink door" and strikingly garnished rolled ice cream, Milksmith has become a staple ice creamery in Winnipeg.
Before we even got to taste their ice cream, we were already dazzled by their store's flamboyant aesthetics. It's a really cute place for photos and fun dates.
They have this "local features" where they work together with other local businesses in support of each other by highlighting their products in their ice cream creations, and it's part of the characteristics that sets them apart from other ice cream stores.
One of our favourites includes their "Sushi Ice Cream", a platter of 6 pieces of artfully hand-rolled sushi ice cream. It looks like sushi, but it's a uniquely different hit on the palate.
Another one of their quirky stuff on the menu is the "Noodle Milk Tea", we think it's one item that truly emanates the uniqueness of Milksmith.
On the other hand, their menu can come off as gimmicky for a more practical consumer. But we still found their products enjoyable.
The parking is Corydon parking, so you can get a spot but it can still get difficult and busy at times. And since they're closed until after 4PM, you can't go in earlier when it's less busy on the street either.
Very Instagrammable ice cream
Instagrammable shop
Can feel gimmicky to some
Difficult parking
Customer Reviews
"This is peak millennial desert delight right here. I love that they have vegan options. Everything was over-the-top adorable, and the staff were all super friendly. It is a little pricey but you're paying for the decorative frills, so if you'd enjoy that sort of thing it's worth it. It was definitely delicious." – Emily CPY
Really cute and unique
"Really cute and unique ice cream shop in Corydon. Fun decor and menu options. 4 stars because it's very expensive (the pictured ice cream was $14 after tax) so I can only justify visiting every few months." – Madi V
5. Sargent Sundae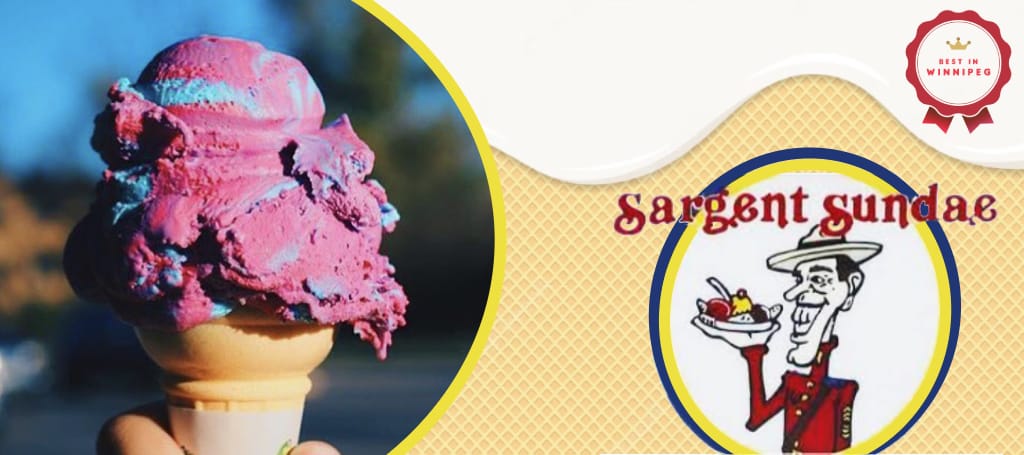 SERVICES
Cones, flurries, hard ice cream, shakes, sundaes, chocolate malts, novelties
ADDRESS
2053 Portage Ave, Winnipeg, MB R3J 0K9, Canada
CONTACT DETAILS
Phone: +1 204-832-5021
OPERATING HOURS
Monday 11AM–8PM

Tuesday 11AM–8PM

Wednesday 11AM–8PM

Thursday 11AM–8PM

Friday 11AM–8PM

Saturday 11AM–8PM

Sunday 11AM–8PM
| | |
| --- | --- |
| Menu options | ★★★★☆ (4/5) |
| Flavour selection | ★★★★☆ (4/5) |
| Serving size | ★★★★★ (5/5) |
| Ambiance and cleanliness | ★★★★☆ (4/5) |
| Customer satisfaction | ★★★★★ (5/5) |
| Product pricing | ★★★★★ (5/5) |
A classic Winnipeg site, Sargent Sundae is one of the older ice creameries that's been around ages. They're a tried-and-tested crowd favourite that has this old school charm emanating from their store and the flavours they sell.
We had to try out the renowned crowd favourite, their pumpkin pie ice cream, and we're glad to say we now know why this flavour has such a chokehold on their customers. Sargent Sundae stays true to their timeless profile.
We're even happier to say that their price is more reasonable compared to others, so you don't have to worry about burning a hole in your pocket just for some ice cream scoops.
Their location isn't so bad either, with their store nestled around Winnipeg's St. James neighbourhood. It gives off a classic 50s diner vibe.
Maybe one of the only downsides to Sargent Sundae is how they still don't have a website. We'd love to see more of their menu catalogue online, so that's one thing we'll look forward to.
Other than that, lines can get really long, but that's understandable. We were glad we stood in line for their ice cream, and it was all worth it up until the last bite.
Timeless, classic flavours
Nostalgic interior
No website
Long lines and crowded
Customer Reviews
Sargent Sundae staff extraordinaire
"I am a tried and true loyalist to soft vanilla ice cream dipped in chocolate and rolled in peanuts. I mentioned that I wish I was braver to try the seasonal pumpkin pie ice cream. The staff quickly offered to add a dollop of pumpkin ice cream to the top of my cone. Delicious! Glad I didn't miss this exquisite taste of pumpkin! Thank you to Sargent Sundae staff extraordinaire!" – Debbie Smith
Good outdoor sitting
"I tried chocolate fudge brownie and peanut butter chocolate ice cream on a waffle cone. Both are awesome and tasty. I like the cone as well. It's very crispy. They have good outdoor sitting. You can enjoy it with your friends and family. They are usually very busy in the evenings and nights but it's absolutely worth it to wait in line and enjoy the ice cream. Great experience." – Zaheer Maknojia
FAQs about Ice Cream Shops in Winnipeg
---
That's it for our list of the best ice cream stores in Winnipeg. If you find yourself still unable to beat the heat, check out our list of air conditioning repair shops here.