A Roundup of the Top Kids' Dentists in Winnipeg
If you are worried about your kid's first visit to the dentist, you're in luck: we've rounded up the best kids' dentists in Winnipeg in this list for you. These dentists are among the top options if you want your child's first experiences with dentists to be positive.
But before we proceed with our list, let's talk about the things you should consider in finding a good dentist and the average cost of dental services in Winnipeg.
Average Cost of Dental Services in Winnipeg
It's essential to invest in your kid's oral care, but it shouldn't hurt your pocket. The cost of dental care differs significantly per person, so we've included estimates of the different treatment costs for your reference.
| Procedure | Average Cost |
| --- | --- |
| Large Tooth Filling | $325 |
| Small Tooth Filling | $80 (Silver Filling), or $200 (White Filling) |
| Root Canal | $800 |
| Dental Crown | $1425 (Gold), or $1625 (Porcelain) |
| Dental Bonding | $450 |
| Invisalign Braces | $7, 249 |
| Veneer | $1, 750 |
| Child Dental Exam | $67 |
| Tooth Extraction | $136 (starting at) |
| Age Range | Average cost per checkup | Average cost per treatment |
| --- | --- | --- |
| 6 to 12 months | $65 to $100 per child(1-2 checkups per year) | - |
| 12 to 24 months | $65 to $100 per child (1-2 checkups per year) | fluoride treatments $30-$35 - 2 x per year |
| 2 to 6 years | $65 to $100 per child (1-2 checkups per year) | sealant treatment 35-$40 per tooth treated (sealants last ten or more years) |
| 6 to 12 years | $65 to $100 per child (1-2 checkups per year) | Phase 1 orthodontics Typical cost for phase 1: $4000+ |
| 12 years and older | $65 to $100 per child(1-2 checkups per year) | Orthodontic treatment Typical cost of orthodontic treatment: $3,000 to $7,000+ |
*average costs in Canadian dollars
The Best Kids' Dentists in Winnipeg
Here are the factors we considered when selecting dentists for our list:
So, with that in mind, here is a rundown of the best kids' dentists in Winnipeg.
1. Dr. Dean Meier of Children's Dental Centre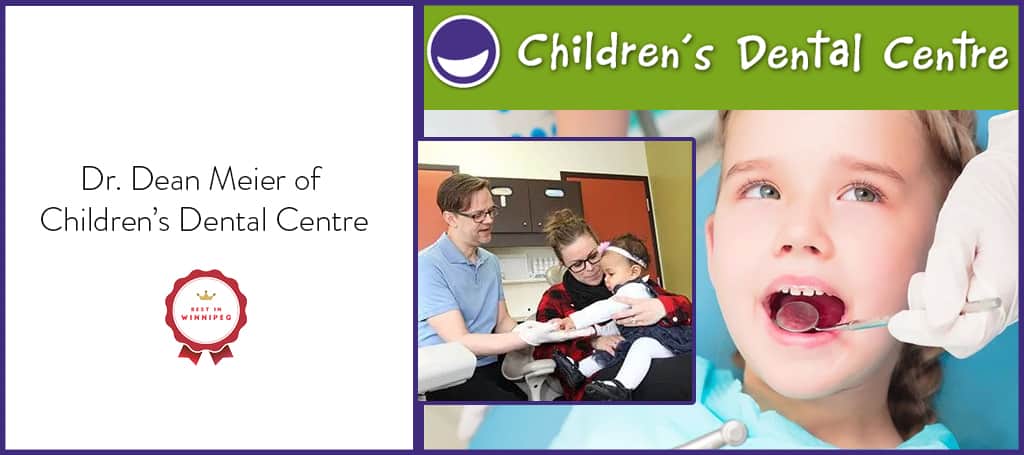 Test
Info
SERVICES
• Complete pediatric dental care

• In-office sedation

• Dental care under general anesthesia

• Preventative orthodontic treatments

• Custom mouthguards

WEBSITE
https://www.mykidsdentist.ca/
ADDRESS
240-1630 Ness Ave, Winnipeg, MB, R3J 3X1
CONTACT DETAILS
204-668-5437
OPERATING HOURS
Monday – Friday: 8:30 AM – 4:30 PM
| | |
| --- | --- |
| Criteria | Rating |
| Experience and Specialization | ⭐⭐⭐⭐⭐(5/5) |
| Cost | ⭐⭐⭐⭐⭐(5/5) |
| Treatment Offered | ⭐⭐⭐⭐⭐(5/5) |
Many people will tell you that Children's Dental Centre provides a comfortable environment for kids. Dr. Dean Meier, a board-certified pediatric dentist, has been at the forefront of providing dental care to children here for over 20 years.
Dr. Meier and his staff specialize in treating infants, children, and teens, including patients with special needs. He is known as one of the best kids' dentists in Winnipeg, with clients who have trusted him for more than a decade.
Now, we mentioned that Children's Dental Centre provides an excellent environment for kids – their patients' parents told us this is largely because of the friendly and welcoming staff. This is a point for them in our book, because it helps reduce their patients' anxiety during appointments.
We ourselves saw Dr. Meier's gentleness with kids and his ability to make them comfortable during checkups. It certainly explained why so many people recommended him to us.
Add to this the fact that Dr. Meier's rates are well within the average for dental services in Winnipeg. Common praise about Children's Dental Centre and Dr. Meier is their treatment quotes that are way cheaper than other clinics.
Moreover, the staff explain treatment and procedures to the parent and the kids in detail before making payment arrangements. We always appreciate that, as it helps patients and their guardians get a better sense of what's happening or about to happen.
Finally, note that they accept Blue Cross / Blue Shield insurance at the clinic. You have to check with them if you're using some other form of insurance first, though.
Comfortable environment for kids
Specialized dentist and staff 
Comprehensive preventive care treatment
Complaints about some staff members' attitude
Occasional issues with waiting times
Often busy, so it may be hard to book appointments
Customer Reviews
Competent and Reliable Staff
"Dr. Meier is excellent. Great with the kids – they love him. We've been going to him for over 12 years. I can't say enough about him and his practice. Keep up the great work! "- Ross Ross, Google Reviews
Comfortable Environment for Kids
"I was referred to Dr. Meier by a friend, and he has provided such great care for my child. He is gentle and made my child comfortable- finally not afraid to see a dentist! I highly recommend it. "- Janice Headley, Google Reviews
Reasonable Dental Fees
I went to see Dr. Meier for a second opinion and was really happy that I did. My daughter felt very comfortable at his office.
He took the time to clearly explain what treatment needed to be completed. When I received the quote for the work that needed to be done in the operating room, it was $400.00 less than the quote I got from the other children's dentist.
I am very pleased with Dr. Meier and his staff.- Anon, RateMDs
2. Dr. Mel McManus of Toddlers to Teens Dental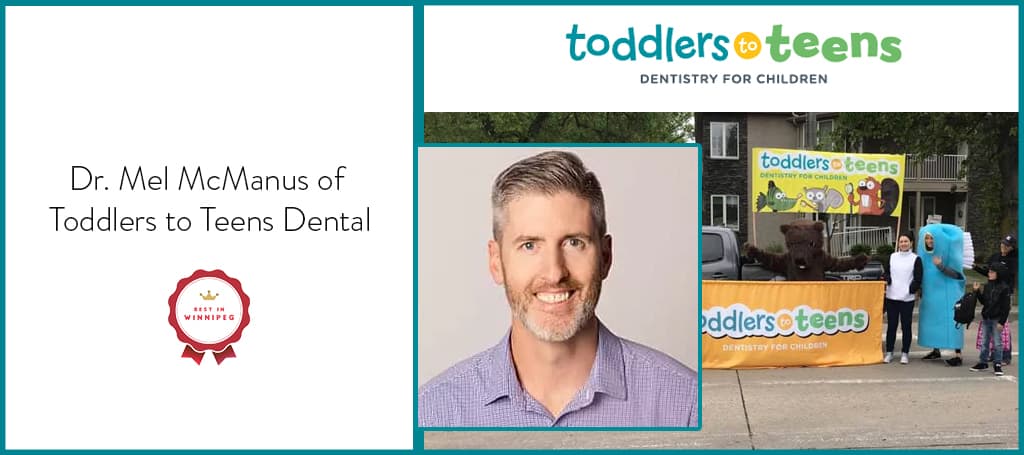 Test
Info
SERVICES
• Preventive services

• Restorative Services

• Sports Injury Prevention

• Special Needs

• Dental Emergencies

• Healthy Start Program

WEBSITE
https://www.toddlerstoteensdental.ca/
ADDRESS
1-1150 Nairn Ave, Winnipeg, MB R2L 0Y5
CONTACT DETAILS
(204) 202-2962
OPERATING HOURS
Monday: 8:00am to 4:30pm

Tuesday: 8:00am to 5:00pm

Wednesday: 8:00am to 4:00pm

Thursday: 9:00am to 7:00pm

Friday: 8:00am to 2:00pm

Saturday: 9:00am to 3:00pm
| | |
| --- | --- |
| Criteria | Rating |
| Experience and Specialization | ⭐⭐⭐⭐⭐ (5/5) |
| Cost | ⭐⭐⭐⭐ (4/5) |
| Treatment Offered | ⭐⭐⭐⭐⭐(5/5) |
The Toddlers to Teens Dental clinic in Winnipeg and Steinback provides extensive services for children's oral health. Of them, we chose Dr. Mel McManus, a homegrown Winnipegger.
Dr. McManus has worked with children as a certified specialist in pediatric dentistry for more than 15 years. He is a member of the Manitoba Dental Association and the Winnipeg Dental Society and a Fellow of the Royal College of Dentists of Canada.
We love Dr. MacManus and his team because they have served the Winnipeg community for a long time. A lot of patients attested to having been in their care for years.
Dr. McManus is also known for patiently explaining procedures to both parents and patients. Polled patients also agreed that the dentists and nurses at the clinic are very accommodating and friendly to the kids.
Another plus for this clinic is the play area for kids in the waiting room. The play area and the friendly staff help kids ease their anxiety for their first dental checkup.
It is also convenient for customers that Toddlers to Teens Dental accept insurance payments. If you are insured with Blue Cross / Blue Shield, for instance, you can cut costs on your dental fees.
However, some customers complained about being made to pay in full and having insurance reimburse the dental cost (instead of the clinic accepting insurance payments upfront).
To avoid issues with this, we recommend giving your insurance company or agent a call before setting your appointment for your kid's dental checkup.
Sizeable team of dentists, anesthesiologists, and nurses
Friendly and accommodating environment with play area
Comprehensive preventive care treatment
Complaints about some of the staff's behavior 
Needs upfront payment
Customer Reviews
Friendly and Accommodating Staff
"First time here today, and we were very happy. The staff was able to keep my kiddo calm and comfortable, and they did a thorough checkup and cleaning. We also were referred to the sleep clinic for a consultation for the Health Start Program.
That is yet to come, but I appreciate their focus on preventing future dental issues instead of just acting later. We will refer family and friends here. Thanks so much! "- Krista Rae, Google Reviews
The front desk staff and all assistants have always been very friendly and welcoming. 5 STARS for this office… would never go anywhere else!"- Lise Alcock, Google Reviews
Staff are Trained to Work with Kids
"The front desk staff have always been upbeat, friendly, and understanding. My son is 4.5 years old and went in last week to have a procedure. Berlin was our nurse, and she was very friendly and put him (and me!) at ease.
Dr. McManus explained what would happen, spoke to my son using age-appropriate language, and was patient with him. I recommend Toddlers to Teens and Dr. McManus. "- Lauren S, Google Review
3. Dr. Fadi Kass of Children's Dental World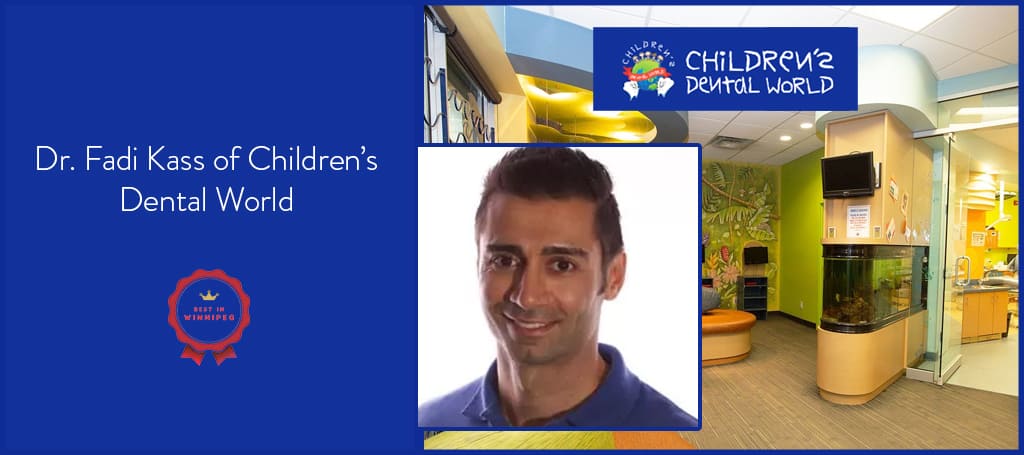 Test
Info
SERVICES
• Pediatric dentistry treatment

• Invisalign

• Orthodontics

• Surgery

• Virtual Care

WEBSITE
http://childrensdentalworld.ca/
ADDRESS
2107 Pembina Hwy, Winnipeg, MB R3T 5L1, Canada
CONTACT DETAILS
204-888-5437
OPERATING HOURS
Monday: 8:30am – 4pm

Tuesday: 8:30am – 4pm

Wednesday: 8:30am – 4pm

Thursday: 8:30am – 4pm

Friday: 8:30am – 4pm

Saturday: 9am – 3pm*

Closed on Saturdays June – September

*New Patients Only
| | |
| --- | --- |
| Criteria | Rating |
| Experience and Specialization | ⭐⭐⭐⭐⭐ (5/5) |
| Cost | ⭐⭐⭐(3/5) |
| Treatment Offered | ⭐⭐⭐⭐⭐(5/5) |
Children's Dental World is one of Winnipeg's most prominent dental clinics for infants, children, adolescents, and persons with special needs. They can provide preventive, restorative, and orthodontic dental care for patients.
Dr. Fadi Kass, the leading children's dentist in Children's Dental World, has a master's degree in pediatric dentistry. He also specializes in handling all kinds of kids, including children with special needs.
Dr. Kass is considered one of the best kids' dentists in Winnipeg partly because he has a strong reputation of being compassionate with children. Clients also attest that Dr. Kass strives to understand each patient's situation, which encourages both parents and kids to be comfortable during their appointment.
We love this clinic because the dentists and staff work together to provide a nurturing environment for their patients by guiding them in the process.
From what we've learned in our surveys of their patients too, kids love to visit Children's Dental World because of its fun office. The clinic has TVs above every chair, video games in the waiting area, and a saltwater fish tank for every kid to play with.
However, we should note that we did find a few complaints about some treatments being done repeatedly without clear reason, which adds more expenses for patients, of course. Information about insurance coverage is also not readily available on their site, so it's helpful to clarify everything when setting an appointment.
On a brighter note, Children's Dental World offers virtual consultations, which is definitely convenient for customers at the moment. That's actually another of the reasons it caught our attention, as not all dentists offer this today.
Trained team of dentists, hygienists, and clinic staff
Fun and child-friendly environment
Virtual consultations available
Hard to book at times
Complaints on long waiting times
Customer Reviews
Amazing Dentists and Staff
" Absolutely amazing staff!! I cannot say enough about how comfortable you all make my daughter from the second she walks in the door. Being able to see Dr. Sam and join her at her new office is such a blessing.
Since day 1, seeing Dr. Kass and now with Dr. Sam makes visits to the office relaxing for my girl. The office staff, hygienists, and assistants are so welcoming and explain every step of the process to her and me, so there are no surprises. Thank you all!! " – Andrew Brewster, Google Reviews
" I went there today to check my 6.5-year-old daughter, and she got a really bad infection! The Dentist asked me a few questions and did not charge us for the diagnose.
Then I made an appointment for a week later to fix it. These people are wonderful; they have a good heart that considers your situation. They do a really good job, very clean and friendly.
Thanks a bunch for being here to help us, I can not be more thankful for what you have done for us as a family! " – Jihad Kamal, Google Reviews
Excellent Service
" Dr. Fadi Kass is my son's, Dentist and he is kind, knowledgeable, and compassionate. I give him a 10/10. If you are looking for someone who knows what they are doing and is kind and compassionate. Ask for Dr. Kass at the Children's Dental World. " – Oyin Ogunlana, Google Reviews
4. Dr. Katie Davidson of Kids Dental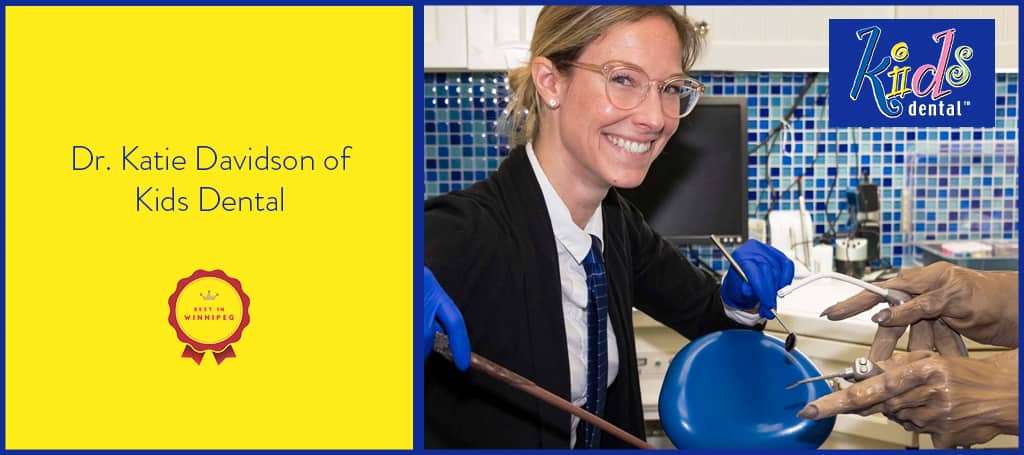 Test
Info
SERVICES
• Dental Services for Kids

• Orthodontics

• Invisalign

• Healthy Start System

WEBSITE
https://www.kidsdental.ca/
ADDRESS
Tuxedo Park Shopping Centre

128-2025 Corydon Ave.

Winnipeg, MB R3P 0N5

CONTACT DETAILS
204-222-KIDS (5437)
OPERATING HOURS
Monday: 8am - 8pm

Tuesday: 8am - 8pm

Wednesday: 8am - 8pm

Thursday: 8am - 5pm

Friday: 8am - 2pm
| | |
| --- | --- |
| Criteria | Rating |
| Experience and Specialization | ⭐⭐⭐⭐⭐ (5/5) |
| Cost | ⭐⭐⭐(3/5) |
| Treatment Offered | ⭐⭐⭐⭐⭐(5/5) |
Kids Dental has been a fixture for Winnipeggers seeking kids' dental care for 12 years. Over that time, it's developed a warm atmosphere that definitely reflects how long it's been catering to kids and their worried guardians.
Clients we talked to agreed that people here tend to make the children feel at home instead of anxious during dentist visits. It's also a plus that the staff members are said to be good at working with kids with different personalities and needs.
Kids Dental's lead dentist, Dr. Katie Davidson, is also an award-winning practitioner with multiple distinctions in the field. Parents attest that she is phenomenal when dealing with kids, especially children with sensory issues.
She graduated with honors and received her DMD and B.Sc.(Dentistry) degrees from the University of Manitoba. The American Academy of Pediatric Dentistry (AAPD) awarded her the Predoctoral Student Award and the Martin Neville Award for outstanding work in dentistry for children.
Even more importantly, Dr. Davidson continues to get involved with the latest advancements in clinical dentistry. She is part of the dental research team with the Manitoba Institute of Child Health (MICH) while being an active member of the AAPD.
This is something that definitely caught our eyes. To further provide up-to-date and quality treatment for patients, doctors have to continue training and learning in their fields, so Dr. Davidson's research activities are likely to benefit her patients.
Kids Dental also has a newly renovated discovery area to help kids get more comfortable before their appointments: Grinich Village School of Magical Dentistry.
The Grinich Village School of Magical Dentistry features gaming areas, movies, a play kitchen, a photo booth, and more! Who says trips to the dentist can't be fun, right?
Overall, it's hard to find something to dislike here… although we did see some complaints about the 20% upfront payments despite their insurance covering 100% of dental fees. We recommend contacting your insurance company or agent beforehand to avoid problems with payment for your kid's dental fees.
Multi-awarded lead dentist who still participates in dental research 
State-of-the-art facilities 
Dedicated, renovated magical-themed play area for kids
Clinic requires 20% of payments upfront (even when insurance covers 100% of dental fees)
Customer Reviews
Child-friendly Atmosphere
" I've been going to Cholakis Dental since I was a kid, and now I get to take my children to Kids Dental. They see Dr. Katie Davidson, and she is absolutely amazing with kids! The staff is extremely friendly and helpful! Always a great experience 🙂 " – Brenna Miller, Google Reviews
Highly Recommended Dental Service
" Dr. Katie Davidson is phenomenal with little kids, and she takes the time to explain and answer all the questions my sons may have. Highly recommend. " – Javier Schwersensky, Google Reviews
" Dr. Katie is always awesome with my kids who are very anxious and have sensory issues. She helps them with ideas to help them relax and keeps the appts upbeat! " – Cheryl Pengelly, Google Reviews
5. Dr. Tom Colina of Integral Dental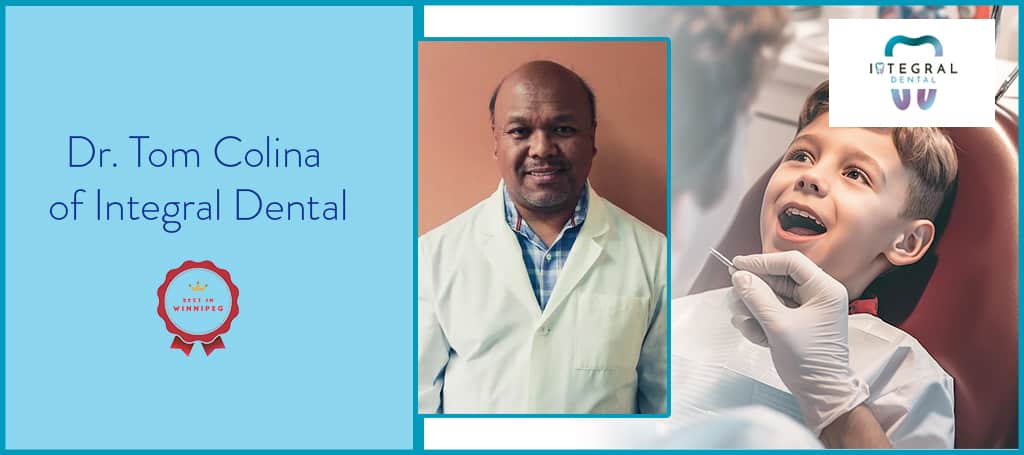 Test
Info
SERVICES
• Teeth cleaning

• Children's dentistry

• Root canals

• Sleep apnea therapy

• Facial pain treatment

• Oral surgery

• Cosmetic dentistry

WEBSITE
https://www.integraldental.ca/
ADDRESS
200-1721 Portage Ave, Winnipeg, MB R3J 0E4
CONTACT DETAILS
(204) 560-0011
OPERATING HOURS
Monday: 8am - 5pm

Tues, Wed & Thurs: 8 am - 8pm

Fri: 8am - 4pm

Sat: 8am - 3pm
| | |
| --- | --- |
| Criteria | Rating |
| Experience and Specialization | ⭐⭐⭐⭐⭐ (5/5) |
| Cost | ⭐⭐⭐⭐(4/5) |
| Treatment Offered | ⭐⭐⭐⭐⭐(5/5) |
Integral Dental has three locations in Winnipeg and offers a patient-centered and family-friendly environment. A team of experienced dentists specializing in family dental care also leads it: Dr. Tom Colina.
Dr. Colina is a pioneer and a multi-awarded dentist in Winnipeg. He co-established Ellice Dental in Winnipeg in 1993.
He was the first general Dentist in Manitoba who was certified to provide Invisalign® in 2002. He completed a Master of Science Degree in Orofacial Pain and Oral Medicine from the University of Southern California.
His patients say that Dr. Colina provides expert treatment both comfortably and ethically, especially with kids. He is also very detailed and thorough in explaining the whole process to his patients.
Aside from Dr. Colina's expertise and quality service, the Integral Dentist is also said to have a team of competent dental assistants. Moreover, the patients told us that the staff always keep the clinic clean and sterile, which is obviously a point in their favor.
The clinic also opens on Saturdays and evenings, which means it can accommodate more patients than most. For convenience, they even offer free parking in all locations.
Moreover, Integral Dentist ensures that they offer inclusive service to their patients by providing multilingual communication. They use English, Filipino, Chinese, Korean, and Vietnamese to cater to different customers.
However, there are complaints about canceled bookings due to the number of clients they have. There is a cancellation fee, by the way, which is an additional expense for the customers.
On a lighter note, all treatment options are explained in detail beforehand. This way, customers can assess their options and make informed decisions about their dental treatment.
Highly professional staff who also keep a clean and sterile clinic
Multi-lingual dentist office
Accessible on Saturdays and evenings
Often booked up
Cancellation fee applied
Customer Reviews
Excellent Service
" Every time, efficient, patient, and expert treatment in a friendly setting. I would recommend Dr. Colina to any family seeking a wonderful and ethical dentist. He has been fantastic with my children. They love him. " – Lisette Ramcharan, Google Reviews
" My recent two dental experiences with Dr. Colina were excellent. The clinic itself is very sterile and well maintained.
Both Dr. Colina and the wonderful dental assistants were amazing! I have had a lot of anxiety going to the dentist in the past and felt very relaxed and calm. I enjoyed how Dr.Colina confidently talks you through everything, helping you feel cared for and at ease.
They certainly know what they are doing. This is exactly the experience that I have been looking for ❤️ " – Tara Nault, Google Reviews
Accommodating Staff
" The staff are very friendly and accommodating. The facility is clean and well kept. They always ensure that you are feeling good and okay all throughout the appointment. I highly recommend this place for your dental needs!" – Angelica Tuazon, Google Reviews
6. Greenwoods Pediatric Dentistry Centre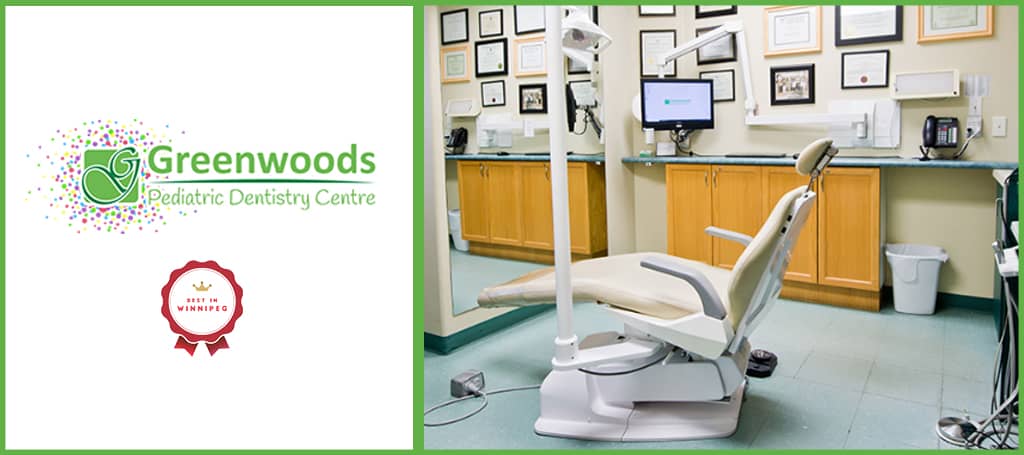 SERVICES
Cleaning and Check-Up
Composite Fillings
Dental Crowns
Dental Sealants
Dental X-rays
Early Orthodontics
Fluoride Treatment
Tooth Extractions
WEBSITE
https://www.greenwoodspediatricdentist.com/
ADDRESS
693 McPhillips St Unit B, Winnipeg, MB R2X 2H6, Canada
CONTACT DETAILS
(204) 633-3698


[email protected]

OPERATING HOURS
Monday – Friday, 7 AM – 8 PM
Saturday, 7 AM – 5 PM
Sunday, 9 AM – 4 PM
| | |
| --- | --- |
| Criteria | Rating |
| Experience and Specialization | ⭐⭐⭐⭐⭐(5/5) |
| Cost | ⭐⭐⭐⭐⭐(5/5) |
| Treatment Offered | ⭐⭐⭐⭐(4/5) |
Greenwoods Pediatric Dentistry Centre is a clinic that specializes in delivering quality dental care to children and offering family-friendlyF dental practices. Able to accommodate various dental treatments such as dental fillings, preventive dentistry, and fluoride treatment among many others they remain to be among the trusted dentists in the area.
We like that their team is very accommodating and is also fluent in various languages such as Farsi, Korean, Tagalog, and Punjabi among many others so that their patients can easily understand them.
Furthermore, they employ an educational dental approach to help ease the anxieties and concerns of their patients and better equip them with information that can help take care of their dental condition.
Though it is important to take note that they do not have upfront pricing and package rates readily available on their website and clients may have to request an appointment with them.
Overall, with adequate facilities and highly certified dentists at the helm, we find them highly ideal for parents looking for dental care facilities that especially accommodate their child.
Multilinggual staff
Educational approach
Family friendly facilities
Specialized services for children only
No upfront pricing available
FAQs About Kids' Dentists in Winnipeg
---
And that concludes our rundown of the best children's dentists in Winnipeg. If you have experience with these dentists, you can share them with us!
If you want to schedule your own next visit to the dentist as well, check out this list of the best dentists in Winnipeg.