6 Best Magicians in Winnipeg
When hiring for your event's entertainment, you can never go wrong with a magician. Whether it's for a kid's birthday party or a fancy corporate event, they can offer different types of magic tricks to fit the mood.
So, here's a list of the best magicians in Winnipeg to guide you in finding the perfect illusionist, mentalist, or whatever type of magician you need!
How much do magicians cost in Winnipeg?
There are different types of magicians, thus rates may also vary depending on their service and the event.
With that, here is a short list of the prices of the most common services that magicians offer to help you in planning your budget before the celebration.
| Types of Service | Range of Cost |
| --- | --- |
| Sleight of Hand | $250 – $390 |
| Comedy Magician | $350 – $600 |
| Escapist | $500 – $800 |
| Illusionist | $300 – $700 |
| Children's Magician | $160 – $270 |
| Mentalist | $450 – $700 |
Best Magicians in Winnipeg
The entertainer at your event can make or break the whole mood and enjoyment of your guests, that's why we made sure to screen the best magicians in Winnipeg in terms of:
1. The Comedy Illusions of Greg Wood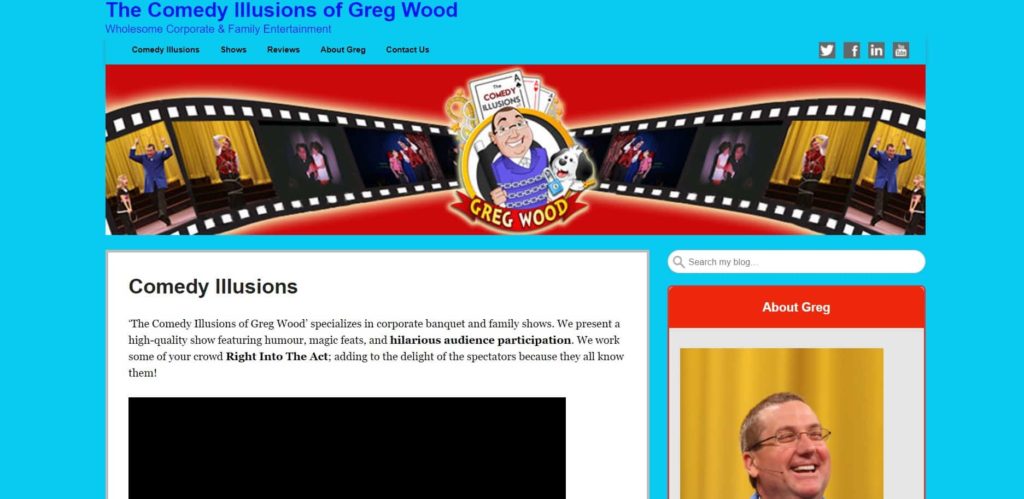 | | |
| --- | --- |
| Criteria | Ratings |
| Professionalism | ★★★★★ (5/5) |
| Rates | ★★★★☆ (4/5) |
| Skills and talents | ★★★★★ (5/5) |
| Scope of expertise | ★★★★☆ (4/5) |
Comedy Illusions of Greg Wood is an enterprise that specializes in providing clients with wholesome entertainment and magic acts ideal for both corporate and family events. From comedic illusions to magic tricks, each act will ensure that the audience will not only remain engaged but also entertained at the same time.
Past clients that have experienced his acts have commended the versatility of his services wherein he can easily incorporate the needed tricks and dialogues to make the audience laugh and have an overall good time.
Furthermore, by customizing each show, clients can be sure that each one held will cater especially to the expectations and interests of the audience and age group the said show is for as well.
They usually don't do regular children's birthday parties and are more ideal for larger, adult events. You can consider them if you're hosting family parties and events, company get-togethers, barbecues, and annual meetings.
Despite this, however, the content he delivers is clean and wholesome. This means they don't stoop to using swear words and other similar vocabularies to deliver a punch line.
Note though that rates of his services aren't readily available on the website to which interested clients may need to inquire further for more information on this and the offered packages.
Overall, with his accommodating and pleasant personality and clientele rapport, versatile and equally entertaining services, along with highly participative shows, we highly recommend that clients check him out.
Flexible and highly customizable shows
Ideal for both family and corporate events
Educational presentations are also available
Three-time winner of Winnipeg's Best of Variety Act
Rates of services unavailable
Slight limitations on the slots
Customer Reviews
Here are some reviews from his clients:
"If you're looking for a show that the whole family will enjoy, illusionist Greg Wood is your go-to guy. He opens his show inviting parents to have their camera phones at the ready, promising "a lot of cuteness on stage" and immediately delivers on that promise."
"Polished and professional, Wood has a delightful rapport with his audience and keeps the crowd laughing and smiling right to the end" – Winnipeg Free Press
2. Mr. Ken
| | |
| --- | --- |
| SERVICES | Comedic Magic Shows, Company Event Entertainment, School/Daycare Shows, Festival Magic Shows, Birthday Party Magic Shows, Family Shows |
| WEBSITE | https://mrkenmagic.com/ |
| CONTACT DETAILS | Phone: +1 (204) 795-8888 |
| OPERATING HOURS | Open 24 Hours |
| | |
| --- | --- |
| Criteria | Ratings |
| Professionalism | ★★★★★ (5/5) |
| Rates | ★★★★☆ (4/5) |
| Skills and talents | ★★★★★ (5/5) |
| Scope of expertise | ★★★★☆ (4/5) |
A crowd favorite with a perfect star rating online, Mr. Ken makes it to our list of best magicians in Winnipeg.
He is highly popular for being completely immersive with the crowd. His ability to make children and adults alike actively participate in his performances is the greatest factor for his clients in recommending him.
Mr. Ken's expertise is mainly in performing comedic and magic shows for children.
His international tour is one indicator that his services are sought not only in Winnipeg but also in children's parties and family shows in Germany, Paraguay, Canada, Mexico, and the U.S.A.
He is also a multilingual performer fluent in German, Spanish, Plautdietsch, and English. So, you won't have to worry about the potential miscellaneous costs for a translator since he can simply offer services in your chosen language.
Just note that since he's on tour for performances, his availability might be a bit tight. This is a huge issue if you're planning to host an immediate party since you'll have to check in with his schedule first.
Even so, his service price range is undisclosed at the moment, so you would have to send a message to his website for your inquiries.
There's no need to worry, though, for we applaud Mr. Ken for being well-accommodating to customer requests. He is also known for not just performing his magic, but also building a great rapport with his clients.
Just one shortcoming of his services is that he is quite unresponsive to negative customer reviews.
Although this could be seen as dismissing the issue for its irrelevance, it still adds to a performer's professionalism given that all concerns are solved and fulfilled at the end of the day.
Highly entertaining
Well-engaging
Well known for professionalism
Award-winning magician
Extremely friendly
Loved by the crowd
Accommodating to customer requests
Highly recommended
Passionate with his work
Builds great rapport
Speaks four different languages
Undisclosed pricing bracket
No availability information
Unresponsive to negative customer feedback
Customer Reviews
Wowed us all
"Mr. Ken came and performed at my son's 7th birthday party. He is very entertaining. The kids and the adults had a great time. He made us laugh and wowed us all. He made my son the star of the show and included my other son too. They loved it. All the kids had a blast. I would recommend him for sure. The kids are still talking about him to their friends. Thank you Mr. Ken for making my son's birthday party awesome. :)" — CR
Very age appropriate
"Mr. Ken performed a kids birthday party over Zoom for my girls this weekend. All of the kids loved it. Very age appropriate, there were lots of giggles and oohs and aahhs. Thank you so much for a great show Mr. Ken!" — Sharmelle Best
3. Mr. Patrick Gregoire the Astonisher
| | |
| --- | --- |
| Criteria | Ratings |
| Professionalism | ★★★★★ (5/5) |
| Rates | ★★★☆☆ (3/5) |
| Skills and talents | ★★★★★ (5/5) |
| Scope of expertise | ★★★★☆ (4/5) |
If you're looking for a magician for corporate and private event entertainment just around Winnipeg, look no further!
We listed Patrick Gregoire, a.k.a. "Gregoire" or "The Astonisher", not only for his popularity as a social media magician but because of his highly recommended performances over more than two decades in the industry.
What we loved most about his performances is his ability to leave the guests wondering and astonished with his magic tricks.
Interest is one thing about his performances, the other is piqued curiosity that drives the audience wanting for more.
His ability to entice people with his mind-reading activities and comedic shows could highly change the atmosphere of your event, making it even livelier.
Gregoire also performs through online platforms like Zoom where magic enthusiasts can watch him perform. However, just note that it might be a bit pricey considering that it isn't a physical experience.
Plus, the tickets to these shows are limited. So, you might need to keep updated with the ticket availability as there is the risk of it running out.
Although, you don't have to worry that much. If you want to avail of his services, you can simply request a quote through his website or Facebook page to see him live in action.
We also liked the responsiveness rate that Gregoire has. We have observed how his responses to customer requests are usually received within a 24-hour time window.
So, no need to wait in long queues just to get your questions attended to.
Multiple magic awardee 
More than two decades of experience 
Greatly entertaining 
Easy to negotiate with
Highly professional 
Provides an interactive atmosphere 
Open for public performances 
Keeps good communication with clients 
Prompt responses
Limited tickets to public performances 
A bit pricey
Customer Reviews
Left us speechless
"We hired Patrick to perform at a holiday party with friends. We were incredibly pleased with his show! He managed to entertain and impress a group of skeptical 30-40 year olds. His entire routine left us speechless, not one boring or predictable trick! We would definitely recommend him to friends and family! Thanks again Patrick!" — Jagpreet Kaler
So entertaining and inventive
"Astonishing is an understatement to describe what Patrick does! I had the pleasure of being in his audience and am still amazed by what I saw (and wondering if I actually saw what I think I saw). SO entertaining and inventive! If you have the opportunity to watch this man work, DO IT!!" — Bronson Picket
4. Mr. Ryan Price
| | |
| --- | --- |
| Criteria | Ratings |
| Professionalism | ★★★★★ (5/5) |
| Rates | ★★★★☆ (4/5) |
| Skills and talents | ★★★★★ (5/5) |
| Scope of expertise | ★★★★☆ (4/5) |
This list of the best magicians in Winnipeg can't go on without Mr. Ryan Price, who we applaud for his ability to leave every child in his party feeling a lot more special.
With a large area of service spanning all throughout Western Canada, Mr. Ryan Price is known for being another crowd favorite because of his high values of politeness and professionalism.
His expertise is children's parties, where he makes sure that everyone in the show, regardless of age, feels included and entertained.
We approve of his crowd techniques more than those who tend to pick on the audience and embarrass them to stir humor. In fact, he is known to make the kids and adults alike laugh with light hearts in all the performances he pulls.
It is common knowledge that dealing with children aged four to nine is one of the hardest tasks for entertainers.
This age group tends to be so focused on just playing around. So, having them seated and fully involved in the show is the hardest task.
Fortunately, Mr. Ryan Price is an expert in this field. His easy-to-deal-with nature is what puts him in a better position than other magicians.
We also loved that he is informative enough in answering customer inquiries. This trait is highly important because it shows just how knowledgeable and professional a person is.
Lastly, he's also a recipient of tons of positive regard for his time management from set-up to cleanup.
The only thing that we felt he lacked on is responsiveness.
Although he provides responses to some customer feedback, we think that consistency is still the key to keeping his clients satisfied. Moreover, he only replies through a generic structure that limits his personal connection with the clients.
Wide area of service 
Different magic show offers 
Crowd favorite 
Encourages high engagement 
Audience inclusive 
Greatly polite and professional 
Easy to deal with 
Highly informative 
Time efficient 
High expertise 
Communicative 
Low response rate to customer feedback 
Generic customer responses 
Customer Reviews
Professional and easy to deal with
"Wasn't too sure at first about having a magician at my daughters 6th birthday but she wanted one and asked for him specifically because he performed at her daycare. I was really amazed on how great the show was. Ryan was really engaged with the kids and the kids that he brought up to help him out were so happy! I would highly recommend him. Very professional and easy to deal with. Worth every penny!" — Chris
Very polite and very professional
"Ryan was able to mesmerize and hold the attention of 12 kindergarten aged children. We hired him for our 6 year old's birthday party and we are so glad we did. The children laughed and laughed and the adults did too. He made sure to include the children throughout the magic act and made our son feel extra special. We booked the deluxe package which included the balloon show….it is well worth it as each child gets to take home a really neat animal balloon. Ryan was very polite and very professional. We highly recommend him! Thank-you Ryan. You made this birthday for our little guy so special and memorable." — Elena
5. Mr. Alex Jay Hamm
| | |
| --- | --- |
| Criteria | Ratings |
| Professionalism | ★★★★★ (5/5) |
| Rates | ★★★★☆ (4/5) |
| Skills and talents | ★★★★★ (5/5) |
| Scope of expertise | ★★★★★ (5/5) |
A host of TLC show "Say Yes to the Dress" and a performer at a magic show for the Mayor of Winnipeg, the family of Johnny Cash, and many Fortune 500 companies, Mr. Alex Jay Hamm is one of the most renowned magicians across Canada.
He is known for being requested for different events and occasions. Whether it be corporate stage shows, close magic, wedding entertainment, trade show captivator, and many more!
His friendly nature and engaging performances easily make him a highly requested performer by audiences of all ages.
What we liked most about Mr. Hamm is that he is great at managing crowds.
One of the things that parties can't avoid is a busy crowd that could get chaotic, especially during children's parties. But we learned that he can easily swoon the public to stay with him all throughout his performance.
Even more, he maintains good communication and responsiveness with his clients. Keeping clients in the loop and well updated about the schedule and organization of events is a really important factor for your overall enjoyment.
It is always a plus if the service provider is well-organized and time efficient. Fortunately, we can vouch that Mr. Hamm definitely has those traits.
Just one caveat though, if you choose to avail his services — he often performs with limited availability.
So, if you're keen on watching him perform and be left intrigued by the wonders of magic, it would be best to check his schedule first.
It might be a bit challenging to be in the loop with his performances, though, because he's got a comparatively low social media presence as opposed to other magicians.
We think that it would be a better idea to directly send him a message through his website or Facebook page.
High values of professionalism
Loved by all ages
Organized and efficient
Greatly entertaining
Wide scope of service
Trained by seasoned magicians
Highly recommended
Interactive and engaging
Responsive to client feedback
Excellent crowd management
Friendly and maintains good communication
Limited availability
Low social media presence
Customer Reviews
Very organized and professional
"Alex has been fantastic to work with. Very organized and professional. His magic show keeps everyone from the younger children to the adults entertained. We are looking forward to having him back for another show in the future.
Like" — Susan Tierney
Highly talented and entertaining
"Alex is an experienced entertainer/magician who is able to mesmerize his audience (both young and old) and keep their attention from beginning to the end. He recently levitated a child during one of his shows – incredible! He is HIGHLY recommended, HIGHLY talented and entertaining."" — Leigh-Ann Sanness
6. Mr. Richard of Magic Shows for Kids
| | |
| --- | --- |
| Criteria | Ratings |
| Professionalism | ★★★★★ (5/5) |
| Rates | ★★★★★ (5/5) |
| Skills and talents | ★★★★☆ (4/5) |
| Scope of expertise | ★★★★★ (5/5) |
Canada's Got Talent performer, Mr. Richard of Magic Shows for Kids, is not like any other magicians.
He is not only known for his mind-boggling magic tricks, but is also a reputed musician, comedian, ventriloquist, and balloon sculptor.
His expansive set of expertise sets him apart from other performers you can find around Winnipeg.
What we love most about Mr. Richard is his very kind and respectful nature. It might be a lot easier to find a multitalented magician than a highly dutiful one.
So, it is vital that when you choose a performer for your company or children's party, you choose the one that works best with you through their commendable work ethic.
We also commend him because of his capability to get the attention of the crowd regardless of age group.
Adults and children are all included in his show. Usually, birthday celebrants are the center of most children's entertainment events, often leaving other audiences disengaged and even bored.
Fortunately, this isn't the case with Mr. Richard as he makes sure that no audience is left behind during his show. Even more, he is also loved by his clients for being extremely professional in terms of punctuality and after-event service.
While others usually pass on the cleanup duty to the event organizers, he doesn't. In fact, he makes sure that all materials included in his show are properly sorted and disposed of.
However, one thing that he can improve on is his target audience.
While we previously stated that he can involve adults in his performances, his primary service remains to be children's entertainment. That's why he is widely popular among youngsters.
Another issue that we have is his early booking requirement. If you want to launch an event on a tight schedule, his services might not be instantly available.
Because of high demand, Mr. Richard ensures that clients are not overlapping in the schedule to provide the best service without having to deal with time pressure.
Should you wish to cancel your early booking, there's no need to worry because booking cancellations aren't charged.
So, you can cancel anytime you want. Just make sure that you do it responsibly and within reason to avoid causing hassle to the performer.
Plus, he is also known to extend affordable services!
If you are intrigued about his schedule, you can simply send him a message since his website and Facebook page are open for inquiry and concerns 24/7.
Greatly entertaining
Established ground of professionalism
No cancellation fees for bookings
Approachable and personable
Very kind and respectful
Prompt service
Widely recommended
Reasonable service rate
Large scope of expertise
Great response rate
Open 24/7
Limited to children's entertainment
Requires early booking
Customer Reviews
Captured everybody's attention
"I was very impressed with the way he did his magic show. He captured everybody's attention, everyone (even the adults) were very entertained. He was on time, did his own set up, and very professional to deal with. He was also great with the kids!" — Jean Gabay
Memorable and full of fun
"I was skeptical at first to hire magic show because of some tricks seems like it's predictable but surprisingly I never expected how the kids party turned out to be spectacular and the kids were all engaged through the entire show, it was breathtaking how happy the kids, it's priceless and all parents attended the party was incredibly amazed. It's the best magic show ever!!! 🙂 Thanks Rick and company for making our party so memorable and full of fun, see you again next year. 👍" — Gloria Manlapaz
FAQs about Magicians in WinnHipeg
---
We hope that our list of the best magicians in Winnipeg opened your eyes and helped you in narrowing down your choices for your next event's entertainment.
If you are also interested to open your eyes but more about your own future and fate, you can check our list of the best psychics in Winnipeg to get a reading of the life ahead of you.