7 Best Naturopathic Clinics in Winnipeg
Featured Image Source: Nipan Lifestyle via Pexels
Familiar with alternative medicine? We've heard good things about it too, and have rounded up our picks for the best naturopaths in Winnipeg.
For this list, we've taken a look at clinics with different specialties in natural healing. Our selection is based on the professional standing of their practitioners, client satisfaction, and quality of service.
Down the line, we'll also answer some common questions about naturopathy. But first―let's talk about rates.
How much do naturopathic services cost in Winnipeg?
Because we all combat diseases in different ways, naturopathy can be a very personal experience. However, the main goal stays the same, and that's to condition the body for self-healing.
To help you get there, naturopathic doctors (NDs) will often administer non-invasive treatments and even prescribe botanical medicine.
Here are some of the common services in this field, along with how much they cost on average:
| | |
| --- | --- |
| SERVICE | ESTIMATED COST |
| Initial Consultation (Oncology or Lyme Disease) | $300 |
| Initial Consultation (General Naturopathy) | $260 |
| Initial Consultation (Nutrition) | $110 |
| Acupuncture | $100 |
| Follow-ups | $50 – $220 per session |
| Pediatric Consultation | Less 30% |
| Phone Consultation | $3 per 5 minutes |
| Remedial and Prenatal Massage Therapy | $80 – $100 per hour |
| IV Therapy | $90 – $100 per IV drip |
| Lymphatic Drainage Therapy | $90 per hour |
| Herbal Medicine | $30 – $50 per month's worth of supply |
| GST | %5 |
Usually, initial appointments take up to 90 minutes, while follow-up sessions can range from 15-75 minutes depending on your treatment plan.
As of now, naturopathic treatments aren't covered by Manitoba Healthcare. However, it's becoming more popular as a package extension with private insurance providers.
Best Naturopathic Clinics in Winnipeg
Now that we've browsed the general price list, here are our picks for the best naturopaths in Winnipeg.
1. The Nature Doctors Inc.
BEST FOR
Holistic wellness
SERVICES
Naturopathic Medicine, Nurse Practitioner, Acupuncture, Homeopathy, Registered Massage Therapy, Counselling
WEBSITE
www.thenaturedoctors.ca
ADDRESS
1200 Waverly St. #7, Winnipeg MB R3T 0P4, Canada
CONTACT DETAILS
Phone: 204-943-6079
OPERATING HOURS
Monday, Thursday, Friday: 9:00 AM – 5:00 PM
Tuesdays: 9:00 AM – 7:00 PM
Wednesdays: 9:00 AM – 8:00 PM
Saturdays: by appointment only
As the name suggests, The Nature Doctors isn't just one ND but a group. They're all available for appointments full-time, making them the largest naturopathic clinic in Manitoba.
A full staff and long hours make scheduling a breeze. They're open all week and even allow Saturday appointments if needed.
Their integrated healthcare team is composed of 14 naturopaths. So, whether you're healing from an illness or seeking preventative care, they're likely to have someone who can come up with a treatment plan for you.
Their services support the treatment of cancer, infectious diseases, digestive complaints, and more. They also offer to test you for a wide range of health concerns such as bacterial overgrowth, allergies, and heavy metals, to name just a few.
If you want to rid yourself of physical stress, they have registered massage therapists and acupuncturists in-house. Meanwhile, scheduling a sit-down with their clinical social worker can help get those burdens off your chest.
We like their holistic approach to wellness and think you will, too. While their full range of services can be overwhelming to some, it's one of the most complete ones we've seen so far.
Large staff and long hours
Saturday appointments available
Wide range of tests and treatments
Upfront pricing
Holistic approach to health and wellness
Closed on weekends
So many services that it can be difficult to choose one
Customer Reviews
Here's some positive feedback from patients who loved being under the care of The Nature Doctors:
"Nature Doctors was the first clinic I went to that really listened and did everything they could to diagnose my situation. I've worked with a number of doctors there and they show a great amount of care for your well-being."―Melissa Mcalister
"This was exactly what I was hoping for. I appreciated the time that Dr. Wiebe spent really getting to know the challenges and personal goals. A stark contrast to my experience with traditional medical appointments. Her partnership with the patient is very genuine. I learned a lot of things that no one had spent time explaining to me and she offered some immediate solutions that completely made sense."―Christa Walkden
2. Dr. Sean Ceaser, ND
| | |
| --- | --- |
| BEST FOR | Pain relief |
| SERVICES | IV Treatments, Ozone Injection Therapy, Prolotherapy Injections, PRP Therapy, EDTA Chelation Therapy, Hyperthermia Cancer Treatment, Mistletoe Therapy, Neural Therapy |
| WEBSITE | www.drceaser.com |
| ADDRESS | 578 Broadway, Winnipeg MB R3C 0W5, Canada |
| CONTACT DETAILS | Phone: 204-808-1878 |
| OPERATING HOURS | Monday to Friday, 9:00 AM – 6:00PM |
One of the first things you'll notice about Dr. Ceaser is that some of his treatments are more exotic than most.
Dr. Ceaser is a licensed naturopath in Manitoba and BC. He's been practicing for over 20 years, and currently treats patients at the Centre for Natural Pain Solutions in Broadway.
One of the many offerings they have is bee venom treatment, which is a chronic pain solution that the clinic specialises in. Other treatments that you can avail at the clinic include special diets, IV vitamin and mineral therapy, detoxification, natural anti-viral medication, and more.
An all-natural approach is also used to support the treatment of allergies, high blood pressure, pain, fibromyalgia, fatigue, neurological diseases and other chronic conditions and even cancer.
Depending on your condition, Dr. Ceaser can zone in on your personal needs and form a treatment plan as early as the first consultation. You'll get a full workup and an in-depth assessment, so it's worth booking with him.
The initial consultation starts at $300, but you'll need to make a full deposit via credit card before the session. While that's plenty of motivation to adhere to the schedule, no one wants to lose that kind of money to a missed appointment.
20 years of experience

Specialises in pain management
Wide range of natural treatments
International cancer treatment centre that works with patients with all cancer types and stages
Offers PEMF therapy
Pricing unavailable online

Booking requires a credit card deposit
Customer Reviews
Here's what patients have to say about their experience with Dr. Ceaser, and it's all good things:
"Great people, great healing. Prolotherapy worked wonderfully to relieve my sore legs. My legs were sore constantly and I never felt relief until prolo. After a few treatments I noticed my sleep get better and I got my energy back that I felt I never had. A+ and definitely recommended!"―Kevin Hiebert
"Dr.Ceaser is a man that truly cares about helping his patients and takes time to really listen and hone in on your specific needs. He has provided me relief from a list of injuries too long to name. I haven't had relief from my pain in 5 years and now can see light at the end of the tunnel."―Aaron Kachan
3. Wolseley Wellness Centre
BEST FOR
Physical therapy
SERVICES
Chiropractic Services, Counselling, Lymphatic Drainage Therapy, Massage Therapy, Naturopathic Medicine, Nutrition, Prenatal Massage
WEBSITE
www.wolseleywellness.ca
ADDRESS
1062 Portage Avenue, Winnipeg MB R3G 0S3, Canada

104-897 Corydon Avenue Winnipeg MB R3M 0W7, Canada
CONTACT DETAILS
Phone: 204-774-5521
Email:

[email protected]

OPERATING HOURS
Tuesday to Friday, 9:00 AM – 8:00 PM
Saturdays, 10:00 AM – 4:00 PM
Sundays, 10:00 AM – 2:00 PM
If your desk job has cursed you with bad posture, you can opt to have it corrected at Wolseley Wellness. In addition to naturopathic medicine, they offer chiropractic services and massage therapy.
It's also a good option for you if you have a baby on the way. That's because they also offer pregnancy massages as part of their prenatal care and we've heard good things about those.
If you're feeling a bit stagnant (due to said desk job), consider their lymphatic drainage therapy as well. The service starts at $90 an hour and aims to regulate circulation and the flow of lymphatic fluid.
For naturopathic medicine, you'll be dealing with board-certified ND, Dr. Jill Kazuk. Chronic diseases are her particular areas of interest, making her an ideal choice if you're suffering from gastrointestinal, neurological, or autoimmune deficiencies.
While the clinic has two locations in Winnipeg, it's important to note that Dr. Kazuk can be found in the one along Corydon Avenue. If you prefer to stay home, you can opt to book a virtual appointment instead, which is a nice convenience we wish more NDs offered.
We're also fans of the fact that they provide discounts for students and seniors. That being said, it's worth noting that their standard rates are already priced reasonably, typically right at the city average.
Combine that with the range of services you can get here, and it's a pretty good option for those who want holistic healing. We do wish they had more than one ND, though, as it can get pretty hard to book with Dr. Kazuk at times.
Open on weekends
Upfront pricing
Special rates for students and senior citizens
Available for counselling with a social worker
In-house nutritionist
Digital gift cards available
Closed on Mondays
Only one naturopath available
Customer Reviews
Here's some feedback on Wolseley Wellness Centre.
"I highly recommend this place. If you're looking for a chiropractor, Dr. Terry Michalyshyn is an excellent choice; friendly, kind and very knowledgeable at his craft. And if you're looking for a massage therapist, you cannot go wrong with Kristofer Penner. He is tremendous, the best! Glad I found them both. They're my go-to physical treatment providers. This said, everyone here is fantastic! Can't go wrong visiting Wolseley Wellness!"―Derek Pang
"Clean, friendly and is easy to get too and are not as expensive as other spots. Has many services available for one stop shop"―Julie Sheeshka
4. Dr. Ashley Cassan Naturopathic Medicine
BEST FOR
Skin and overall health
SERVICES
Cosmetic Acupuncture, IV Therapy, Acupuncture
WEBSITE
www.drcassan.com
ADDRESS
1108 Corydon Ave, Unit 4, Winnipeg MB R3K 0Y9, Canada
CONTACT DETAILS
Phone: 204-500-1611 or 204-898-3130
OPERATING HOURS
Thursdays, 4:00 PM – 9:00 PM
Fridays, 9:30 AM – 7:00 PM
Saturdays, 9:00 AM – 5:00 PM
Creams and chemicals are more likely to cause allergic reactions to sensitive skin. If you're looking to improve your complexion without all that, we recommend Dr. Cassan's cosmetic acupuncture.
This form of treatment stimulates blood flow and collagen production in certain areas of the skin. Without applying harsh chemicals, cosmetic acupuncture helps you achieve supple skin and a noticeable reduction in wrinkles and fine lines.
She does standard acupuncture too for pain relief, hormonal rebalancing, treating headaches, and more. It's also used to treat digestive issues and relieve anxiety.
To support this mode of self-healing, she offers IV nutrient drips. Not only is IV therapy aimed at healthy skin, it also promotes better overall health―especially if you lack nutrition.
Her available hours might seem sparse at first glance, but she tends to open extra time slots throughout the week. Conveniently, her online booking app has a calendar view of all the available times you can schedule a specific treatment.
That means no more playing battleship with your doctor over who's available when! She also includes her rates there and, frankly, we wish all doctors could schedule like this.
As you may have noticed, all of her treatments involve needles. That said, you may want to look elsewhere if you experience discomfort with needles or exhibit serious signs of trypanophobia.
Open on Saturdays
Cosmetic acupuncture available
Focused set of services
Calendar booking available through their online app
Upfront pricing
No herbal medicine in-stock
No alternatives for people with trypanophobia
Customer Reviews
If you're wondering what Dr. Cassan is like in action, feel free to check out these patient reviews:
"With careful consideration and thorough practice, Dr.Cassan has helped me greatly with my concerns. She's kind and takes the time to really understand what you are struggling with and finds the best possible solution for you. She's kind and overall such an amazing experience"―Mariah Brezden
"I had a great experience with Dr. Cassan. She's very easy to take to. I loved how comfortable she made me feel while talking about my own personal health concerns. My husband and I participated in Dr. Cassan's Reset Program back in January 2021. I thought it was great how she uses online accessible platforms like apps, which made it user friendly, especially during COVID-19. I recommend Dr. Cassan to family and friends. Overall she's so great if you want to dive deeper with your personal health and well-being."―Cassandra Kiernicki
5. Via Natural Medicine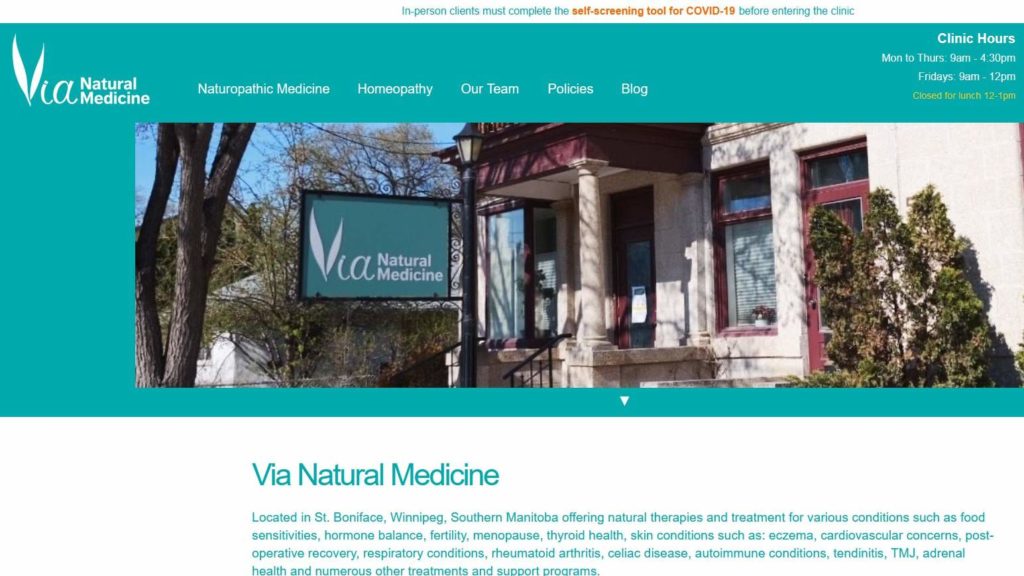 BEST FOR
Herbal Medicine
SERVICES
IV VitaminTherapy, Neural Prolo injection therapy, Vitamin Injections (B12), Botanical Injections (Mistletoe)
WEBSITE
www.vianatural.ca
ADDRESS
554 Des Meurons St., Unit A, Winnipeg MB Canada R2H 2P8, Canada
CONTACT DETAILS
Phone: 204-615-5225
Fax: 204-615-5201
Email:

[email protected]

OPERATING HOURS
Monday to Thursday, 9:00 AM – 4:30 PM (Closed for lunch 12-1pm)
Fridays, 9:00 AM – 12:00 PM
Via Natural Medicine is another practice that specialises in IV therapy. They offer a full range of IV treatments, from Vitamin C to EDTA, botanicals, and more.
Speaking of botanicals, we like their provisions for herbal medicine. They have a homeopathic doctor in their team who's in charge of natural remedies, tinctures, and minerals.
This is good news for you if you take a special interest in herbal medicine. Before or after your appointment, you can visit their apothecary at your leisure.
Apart from IV therapy, Naturopaths in Via Natural Medicine are trained to administer vitamin injections, traditional Chinese medicine, and more. These methods are used to treat ailments such as acid reflux, heartburn, and high blood pressure.
If you need to cancel, the cut-off point for advanced notice is 2:00 PM the day before your appointment. Keep in mind that cancelling last minute will incur a penalty worth 50% of your booked session.
Available for virtual appointments
In-house apothecary
Massage and hypnotherapy available
Practice traditional Chinese medicine
Detailed cancellation policy
Closed on weekends
Pricing unavailable online
Customer Reviews
Here are some reviews praising the service and amenities at Via Natural Medicine:
"This clinic is phenomenal and so are the staff. I've been coming here for a while to see André MacNair, RMT. André is one of the best Massage Therapists around. His approach is more methodical and calculated, he has a therapeutic style which assesses you before and after the massage to gauge improvement and leave you not only feeling better but physically improved. He tracks your ailments and reassesses at every visit. I've been coming to see André for 6 years and I couldn't engage in fitness and the career I have without his professional care backing me. Thanks André!"―Kelsey H
"The space is beautiful, the staff are wonderful and they have a great supply of remedies, herbs and locally made products in the apothecary."―Ashley Pharazyn
6. Dr. Deirdre Jasper, ND
BEST FOR
Wide Range of Naturopathic Treatments
SERVICES
Clinical Nutrition, Lifestyle Counselling, Botanical Medicine, Homeopathic Medicine, Acupuncture, Bowen Treatments
WEBSITE
https://www.winnipegnaturopathicdoctor.ca
ADDRESS
5-414 Westmount Drive
Winnipeg, Manitoba, Canada R2J 1P2
CONTACT DETAILS
E: [email protected]
T: 204-256-2273
F: 204-257-2449
OPERATING HOURS
Monday CLOSED
Tuesday 9:00 AM – 7:00 PM
Wednesday 9:00 AM – 5:00 PM
Thursday 9:00 AM – 7:00 PM
Friday 9:00 AM – 5:00 PM
Saturday 9:30 AM – 4:00 PM
Dr. Deirdre Jasper is a naturopathic doctor that offers a wide range of services to her patients. Many praise her for providing unbiased holistic treatments that is comprehensive and uses science-based diagnostic testing.
Her skills are backed by a wealth of knowledge and experience from her naturopathic doctorate and clinical practices. She also underwent training to become a certified Bowen therapist.
She strives to offer holistic healing not only through medicine, but also by positively influencing other extraneous factors in her patient's lives. This includes lifestyle counselling and clinical nutrition, both of which have significant effects towards an individual's everyday life.
Dr. Jasper also offers various laboratory testing methods in order to provide her clients with the best personalized wellness program. The only downside to her services is her clinic's inconsistent operating hours.
Most importantly, all these services are available at cost-effective prices, giving you the most value for your money. Given her top-notch services and reasonable rates, we highly recommend availing her services.
Extensive naturopathic treatments
Phone or video consultations available
Certified Bowen therapist
Free 15 minute Meet & Greet for New Patients
Inconsistent operating hours
Closed on Sundays and Mondays
7. Jasmine Bray-Mak
Dr. Jasmine Bray-Mak runs her own home-based practice that specializes in various naturopathic treatments and services that will ensure that you will greatly benefit in the treatment. She possess great knowledge on the field and understand the dynamic system of your body in which each is interconnected with other functions.
We prefer her over others because she makes it to a point to present you with a warm and welcoming environment that will greatly help in consulting for a treatment with them. She makes sure to go the extra mile so that you can feel involved and safe with them and that all your concerns will be properly heard at all times.
What we love about Dr. Bray-Mak is that she employs a holistic approach on their treatments to ensure that it will have a lasting effect on you and the different aspects of your life. Furthermore, she fuse a clinical nutrition, lifestyle counselling, and natural health products among many others to aid you have a excellent long lasting results.
However, her clinic is only open three days a week, and her operating hours are also fairly short.
We recommend Dr. Jasmine Bray-Mak for your naturopathic needs due to their adequate facilities which can lead you a better life.
Offers free consultation
Fuses multi-disciplinary fields
Accommodating and welcoming environment
Closed on Mondays, Fridays, and Weekends
Customer Reviews
Here are some reviews from their clients:
"Jasmine is an incredibly compassionate and knowledgeable doctor on naturopathy and wellness. She really takes time to listen to me to figure out the root cause of my ailments and issues. I highly recommend her for anyone who needs a doctor who will actually care about them!" – Tiana Turnbull
"Dr.Jasmine has helped me out more than I ever could have asked for. She goes above and beyond the call of duty and treats and actually cares about your improvement.
You are not just another number to her.
I really dont know what kind of dark hole physically and mentally I'd still be in if she didn't help me out.
I'm beyond grateful for all that u do and have done for me as I know that no other regular doctor would have cared this much!
Highly recommended and honestly I just can't say enough good things about her from the compassion, the caring, the treatments, the followups, etc etc etc 💓💓" – Tracey Kjernisted Sicotte
FAQs About Naturopathy
---
And there you have it―the best naturopaths in Winnipeg! In case you have questions or suggestions for this list, our lines are open for you anytime.
Also, we think it's great that you're looking for ways to improve your health! If you'd like to pay specific attention to skincare, we've also written a review on the best dermatologists in Winnipeg, so check that out too!