The 4 Best Pet Health Insurance Options in Winnipeg
Featured Image Source: Insurance Business Canada
Considering getting your furry loved ones health insurance coverage? Given how costly veterinary care is, it's only common sense to do this now.
Fortunately, there are pet insurance providers now that can help pet owners to plan their pet's healthcare. Today, we'll go over the best pet insurance providers in Winnipeg.
How much does comprehensive pet health insurance cost in Winnipeg?
Let's talk about this first, as it's likely to be one of the first questions you'll ask.
To better visualize the costs of pet insurance, the list below provides the prices of the programs available in the market today. The price ranges depending on the policyholder's preferred plan and the pet's age and breed.
Pet insurance plans have the same structure as our health insurance plans, for the most part. The table below shows the average monthly cost of pet insurance offered by the service providers.
| | |
| --- | --- |
| Service Provider | Average Monthly Cost |
| Trupanion | $59 |
| Petplan | $29-$39 |
| 24PetWatch | $49-$70.51 |
| OVMA Pet Health Insurance | $33.06-$75.55 |
The Best Pet Health Insurance Providers in Winnipeg
With all the options out there, it could become a tedious process to find the pet insurance program best suited for you and your pet. We gathered the information on the top options to help you determine which is the most apt pet insurance for you and your loved one.
1. Trupanion
PRODUCTS
Life Insurance, Exam Fee Cover, Unexpected Illness and Injury Cover, Surgery Cover, Veterinarian Fee Cover, Wellness Care Cover
WEBSITE
https://trupanion.com
ADDRESS
201 – 185 Forester StreetNorth Vancouver, BC V7H 0A6
CONTACT DETAILS
888-615-8318


[email protected]

OPERATING HOURS
24 hours a day, 7 times a week
Trupanion has gained traction for having a single, simple, and easy-to-understand plan that is notable for the comprehensive coverage it is able to offer. The plan is able to cover not just hereditary and unidentified issues, but also any unexpected illness or injury (90% coverage for all treatments and injuries).
The coverage doesn't stop there. It also includes immediate coverage of hospital fees, approved medical procedures and hospital stays, and prescription foods and supplements.
We also like that policyholders have the liberty to choose the hospital and veterinarian they prefer to have treat their pet. This is a feature that we think a lot of pet owners will appreciate, as locked service providers may not always offer what they prefer.
Another thing that can be handy for especially accident-prone pets is that their office hours are 24/7, so they're available any time to address your insurance concerns or needs.
That comprehensive coverage has its limits, though. Trupanion's offered plan is not able to cover pre-existing conditions, preventative care treatments, and examination fees.
To add, another downside to this one is that it includes sales tax and incurs monthly increases on fees over time.
Immediate coverage of hospital fees
Has 90% coverage for all treatments and injuries
No financial limits
Covers approved medical procedures and hospital stays
Covers prescription foods and supplements
Freedom to choose whichever hospital and veterinarian
Customer care is available at any time
Does not cover pre-existing conditions
Does not cover preventative care treatments
Does not cover exam fees
Includes sales tax
Monthly fee increases over time
Customer Reviews
Great coverage and customer service
"Amazing coverage and customer service! Cooper has been with Trupanion since I adopted him four years ago. Dealing with Trupanion has been the easiest part of any vet visit. Cooper required bilateral knee surgery at only 5 years of age and it was an easy decision knowing that financial considerations were covered by Trupanion. It was the best decision and he is back to climbing mountains and living his best life. Every experience talking to Trupanion was easy and the customer service was so helpful!"
Is able to cultivate long-lasting relationships with clients
"We have used Trupanion for over 14 years now. We have had coverage on 2 dogs, 2 cats and now we are adding to our fur family. We highly recommend using Trupanion as they have always been extremely respectful and efficient when we have had to use their services. The Trupanion's staff have always been extremely professional and it is obvious that they are all pet lovers."
Able to support specialized care
"I could not be more happy with Trupanion! As long as you understand the concept of insurance, you won't be disappointed. Of course, they can't cover anything that even had a hint of existence prior to enrollment, which is completely understandable. One of our dogs has chronic health issues, which we never could have predicted. Because we enrolled her as just a puppy, Trupanion has been able to support all of her specialized care. We are incredibly grateful and I'm not sure what we would have done with Trupanion. I'm such an advocate!"
2. Petplan
PRODUCTS
Life Insurance, Exam Fee Cover, Unexpected Illness and Injury Cover, Surgery Cover, Veterinarian Fee Cover, Wellness Care Cover
WEBSITE
https://www.gopetplan.com
ADDRESS
777 Portage Ave
Winnipeg, MB R3G 0N3, Canada
CONTACT DETAILS
+1 204-943-9777


[email protected]

OPERATING HOURS
24 hours a day, 7 times a week
Petplan presents itself with having the best pet insurance by offering customizable plans fit for the pet's needs. It does this by offering comprehensive coverage while fitting the owner's budget – in fact, it's actually the cheapest of the insurers we checked out.
They're also pretty straightforward with their deals. They do not have any of the signup fees or add-ons other providers would usually sneak in the transaction.
If accessibility is one of things that's on top of your checklist, another plus is that Petplan is widely available at any licensed veterinary clinic and hospital in Canada. No need to worry about your vet not being able to accommodate it.
And if you're still on the fence, they also have a 30-day risk-free money back guarantee that assures a smooth cancellation should the need arise.
A downside to Petplan, though, is that its plans are not able to cover routine or preventive care and does not cover pre-existing conditions. It also doesn't offer any other cheaper coverage options tailored for accidents and illness only.
Relatively cheaper
Plan covers many services that other providers charge extra for
Offers customizable plans that would fit their pet's needs and owner's budget
Does not have any signup fees nor add-ons
Is available at any licensed veterinary clinic and hospital in Canada
30-day money back guarantee
Does not cover routine and preventive care
No available cheaper coverage options tailored for accidents or illnesses only
Does not cover pre-existing conditions
Customer Reviews
Trustworthy and reliable provider
"Insurance you can trust, can't recommend highly enough. Unfortunately one of our horses has had quite a few traumas and I've never had any bother claiming for various vet bills and treatments he's had over the years. Staff always very helpful and caring."
Hassle-free process
"Very easy to claim with [an] online form. Quick and hassle free payment of claim. Excellent communication and updates. Sympathetic and understanding during an anxious time. Very professional but with a personal touch. I would highly recommend Petplan to any pet owner."
Quick and easy online transactions
"Great. Cannot complain at all. Managed to claim back for dental work for my cats, which I understand can be difficult with insurance companies. Easy to use, all online then they contact your vets directly. Very quick and easy."
3. 24PetWatch
PRODUCTS
Life Insurance, Exam Fee Cover, Unexpected Illness and Injury Cover, Surgery Cover, Veterinarian Fee Cover, Wellness Care Cover
WEBSITE
https://www.24petwatch.com
ADDRESS
PTZ Insurance Services Ltd.
710 Dorval Drive, Suite 700
Oakville, ON L6K 3V7
CONTACT DETAILS
1-866-375-7387
OPERATING HOURS
Mondays to Thursdays, 8:00AM to 9:00PM
Fridays, 8:00AM to 7:00PM
24PetWatch is most known for its lost pet services that are open 24/7 but it has since expanded its services to provide flexible pet insurance. Compared to other providers, 24PetWatch has illnesses and accidents only in their coverage, though.
They also offer wellness coverage as an add-on to most of the plans, fortunately. This would ensure reimbursements for various routine and preventative care expenses that will continue to keep pets healthy.
The continuity of the coverage is one big plus for 24PetWatch. In addition to the wellness coverage, it also offers pet protection services and provides allowance for euthanasia, cremation, and even for accidental death.
Policyholders we talked to also noted the smooth claims process they experienced with the provider. That's another point for them in our book!
But it should be noted that just like the other providers, 24PetWatch does not cover expenses for pre-existing conditions.
Another downside is that basic levels of coverage can only amount up to $3,000 and cannot cover a pet's truly serious illnesses or accidents.
Coverage includes illnesses and accidents only
Covers lost pet recovery costs
Covers routine and preventative care
Offers pet protection services
Provides allowance for euthanasia, cremation, and even for accidental death
Smooth claims process
Basic levels of coverage can only amount up to $3,000 – that could not cover a pet's serious illnesses or accidents
Does not cover pre-existing conditions
Customer Reviews
Smooth claims process, but still could be improved
"They pay as agreed according to the policy. Navigating the claims process has been improved, but could be slightly better. I have insured 3 dogs with them over the last 12 years. If I wasn't satisfied I would not have been a client for all these years."
Highly recommended
"My English bulldog is 11. I have had this insurance for him since 3 months old when I got him. I HIGHLY recommend this insurance. It has definitely helped me especially recently, when he needed a major surgery and now presently getting diagnosed with cancer. His earlier years I didn't have many claims but now I do and they understand this is a family member. My dog is my baby and he gets the best possible treatment I can give him. Claims are simple to upload and submit. Highly highly recommend."
Quick approval and process
"Scout was attacked by a pit bull and I thought we had lost him. There was no question that we wanted the best veterinary services for him, but that comes at a steep price. It was assuring to know that at least a portion of the cost was being covered by insurance. We got an approval in less than two weeks from submitting the claim. A MUST for all pet owners!"
4. Ontario Veterinary Medical Association Pet Health Insurance
PRODUCT
Life Insurance, Exam Fee Cover, Unexpected Illness and Injury Cover, Surgery Cover, Veterinarian Fee Cover, Wellness Care Cover
WEBSITE
https://www.ovmapetinsurance.com
ADDRESS
301-600 Empress StreetWinnipeg, MBR3G 0R5
CONTACT DETAILS
1-844-744-6862
OPERATING HOURS
Mondays to Fridays, 8:00AM to 8:00PM
Saturdays, 9:00AM to 2:00PM
OVMA offers 3 plans: Unlimited, Comprehensive, and Extensive. All three plans ensure 80% coverage and fast payouts that cover illnesses, injuries, and even dental needs.
The Unlimited and Comprehensive plan will be able to cover a $200 deductible on expenses, while the Extensive plan can cover a $300 deductible.
Another plus is that examination fees and taxes are included in the coverage.
OVMA also does not consider age when they price their premiums. Unlike other providers, they have standard packages that are available to young and old pets, which we think is really attractive if you have an older pet.
Furthermore, talking to their clients told us that they tend to have exceptional customer care. Nearly all the policyholders we talked to were very pleased with their service.
Again, however, like the ones mentioned above, their coverage does not span pre-existing conditions among pets. This seems to be a universal weakness among pet insurance plans, but it's still too big an issue for us to avoid mentioning it entirely.
Unlimited and Comprehensive plans cover a $200 deductible
Extensive plan covers a ˆ$300 deductible
Covers exam fees and taxes
Premiums do not change based on age
Widely praised customer care
Does not cover pre-existing conditions
Customer Reviews
Great customer service
"Insurance advisors are extremely friendly and are willing to go above and beyond their duties! You can tell they really care for my dog Baxter and I'm glad I chose this insurance company over others."
Caring employees
"We've always had caring employees on the other end of the phone to talk to, which helps when you're going through emotional situations with your best friend's health".
Easy transaction and quick turnaround
"This company is a blessing. It allows you to look after your pets completely! Thanks so much! Very easy to deal with and quick turnaround!"
BONUS Resource for Pet Insurance Research: Insurdinary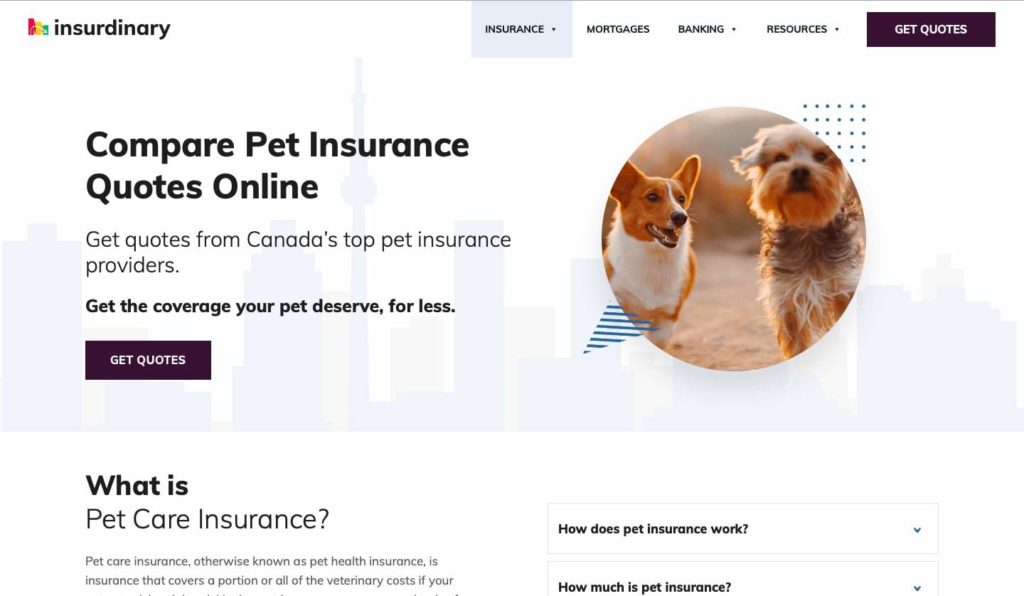 Insurdinary isn't an insurer, which is why we're only listing it here as a bonus resource. It's actually a comparison site that gives you a long list of plans and quotes from many different providers.
It's a great tool if you want to compare quotes from different insurers. Their service is free and enables you to get access to the top pet insurance providers.
So this is really just a middleman service, bear in mind. It's best used for research, because we still do advise going straight to the insurers themselves to purchase a policy.
FAQs about Pet Health Insurance
---
Got any suggestions for other stock brokers in Dubai? Reach out to us and we'll be glad to add them to our list!
With that, we conclude our list of the best places to check out for pet insurance in Winnipeg? If you've decided, are still undecided, or feel that there's something missing on the list, please do not hesitate to reach out to us!
If you're in the process of trying to plan out insurance for the whole family, by the way, you can check out our list of best insurance brokers in Winnipeg too.