The 5 Best Propane Suppliers in Winnipeg
Propane is a safe, efficient, and affordable choice for most families. It is also an excellent way to get greener by reducing your carbon footprint.
If you are wondering where you can find good propane stores in Winnipeg—you're in luck! We've rounded up the best propane refilling stations in Winnipeg for you.
But before we proceed with our list, let's discuss the things that you should consider in finding a good propane refilling company and the average cost of propane refilling in Winnipeg.
Average Cost of Propane Refilling in Winnipeg
The rate you pay is usually $3 – $4 per gallon. Usually, people purchase a 4.7 gallons (20 lb) propane tank for their homes, costing around $14 to $20.
The average cost of exchanging a propane tank varies from $5.00 to $6.00 a gallon. Usually, you will be spending $1.76 less per gallon by refilling your propane tank rather than exchanging it.
The monthly prices for Propane and natural gas are computed by averaging weekly price data by fuel for each month. The weekly price data is based on prices during Tuesdays only.
You should note that propane and natural gas calculation is not perfect for monthly prices. Hence, you should be updated with the possible changes in price.
Each propane service company has different prices. But for your reference, here's an overview of the average propane prices per month for Canada and Winnipeg.
| | Canada | | Winnipeg | |
| --- | --- | --- | --- | --- |
| January | 0.88225 | 0.16225 | 0.969 | 0.115 |
| February | 0.883 | 0.163 | 0.969 | 0.115 |
| March | 0.8894 | 0.163 | 0.969 | 0.115 |
| April | 0.901 | 0.176 | 0.969 | 0.138 |
| May | 0.898 | 0.176 | 0.969 | 0.138 |
| June | 0.8962 | 0.176 | 0.901 | 0.1348 |
| July | 0.89675 | 0.176 | 0.884 | 0.134 |
| August | 0.8998 | 0.176 | 0.884 | 0.134 |
| September | 0.92675 | 0.182 | 0.9565 | 0.1375 |
| October | 1.03475 | 0.1905 | 1.029 | 0.141 |
| November | 1.08 | 0.1948 | 1.147 | 0.1464 |
| December | 1.088 | 0.195 | 1.144 | 0.146 |
The Best Propane in Winnipeg
We have rated our top picks before rounding up this list to give you an easy guide in finding the best propane suppliers in Winnipeg. Here are the different aspects that we considered:
1. Metro Propane on St. James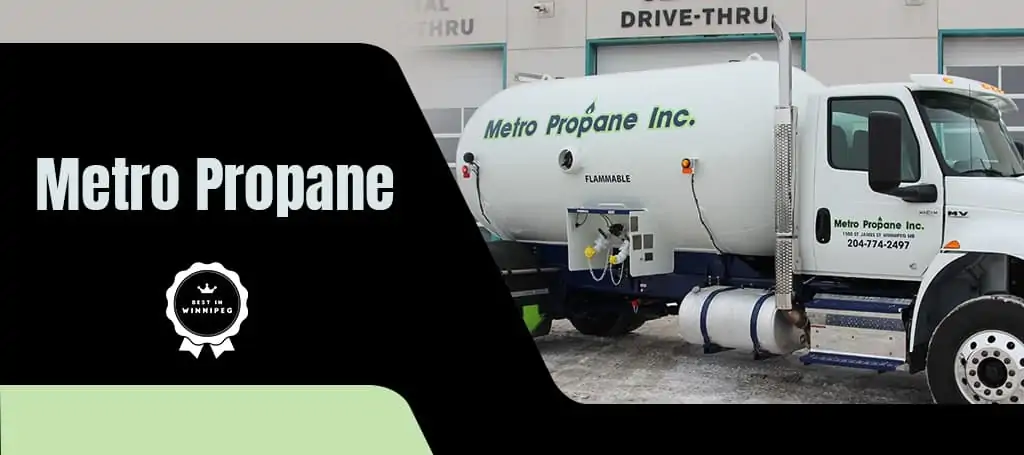 SERVICES
Cylinder service Forklift delivery service Bulk tank rentals and sales Propane appliances Gas barbecues Selling of replacement parts Large inventory of related propane equipment
LOCATION
1500 St James St, Winnipeg, MB R3H 0L2, Canada
CONTACT INFO
Phone: 204-774-2497

Email: [email protected]

OPERATING HOURS
Mon-Fri 8 AM – 5 PM
DELIVERY OPTIONS
Automatic degree day delivery system
PRICES
100lb cylinder new - 199.00

100lb Recertification - $49.95 plus tax

100lb fill - $55.00 plus tax

30lb cylinder new - $69.95

30lb Recertification - $32.95 plus tax

30lb fill - $18.75 plus tax

20lb cylinder new - $39.95

20lb Recertification - $22.95 plus tax

20lb fill - $12.50 plus tax
| | |
| --- | --- |
| Criteria | Rating |
| Fair prices | ★★★★★ (5/5) |
| Service hours | ★★★★☆ (4/5) |
| Delivery options | ★★★☆☆ (3/5) |
Metro Propane, a family-owned business, has been serving the community of Winnipeg and the eastern half of Manitoba for 45 years. It is a one-stop specialty shop with a full-service propane center and showroom.
We love Metro Propane's wide range of services: forklift delivery service, bulk tank rentals and sales, installation, propane appliances, gas barbecues, replacement parts, and a large inventory of related propane equipment.
They provide domestic and cottage services, such as in rural areas where people rely on propane to heat their homes. They also offer propane services for commercial and industrial use for industrial processing, roofing kettles and torches, and temporary winter construction heat.
For farmers in Manitoba, Metro Propane also provides services for shop heating, hog and poultry barn heating, grain drying, and greenhouses.
As one of the best propane suppliers in Winnipeg, they also provide for restaurants, hotels, and resorts across Manitoba.
Another offering of theirs that we like is their cylinder exchange program or on-site refueling dispensers. They supply clean-burning and high-fuel efficiency forklift fuel used in factories and warehouses.
On top of that, they have a wide range of propane products and equipment that are environmentally friendly. Metro Propane offers cylinder service for cylinder refill, repair, or recertification.
However, there are complaints when it comes to customized orders. Customers attest that their team has difficulty communicating the process correctly with them.
Customers also complain about the lack of orientation when it comes to their safety. In our opinion, customer support especially on safety should be given utmost priority.
Full-service propane center 
Has showroom 
Wide selection of services
Environmentally friendly propane appliances and equipment
Propane products and cylinder services are available
Automatic delivery system
Complaints on customized orders
Complaints on lack of orientation about safety
Customer Reviews
Great pricing for products and services
" Recertified my 30-pound tank for fraction of cost of the new tank ($65) " – Ryan Cormack ⭐⭐⭐⭐⭐
" They will re-certify your 20 lb propane tank (good for 10 years) within a day for $25 and fill it for $11. Great service from the friendly, helpful staff. " – Barry McKay ⭐⭐⭐⭐⭐
" I just want to send a huge shout out to the dock staff people at Metro Propane. Thanks so much for the service I received the other day and for making me laugh in these difficult pandemic times. You guys are the best! Repeat customer forever! " – Rob Zemlak ⭐⭐⭐⭐⭐
" Patrick and his staff are the most knowledgeable people in the propane industry. If you are seeking information in regards to anything propane related this is the company to contact. Great pricing and above and beyond service. Thank you Metro! " – Nick Holden ⭐⭐⭐⭐⭐
2. Canadian Tire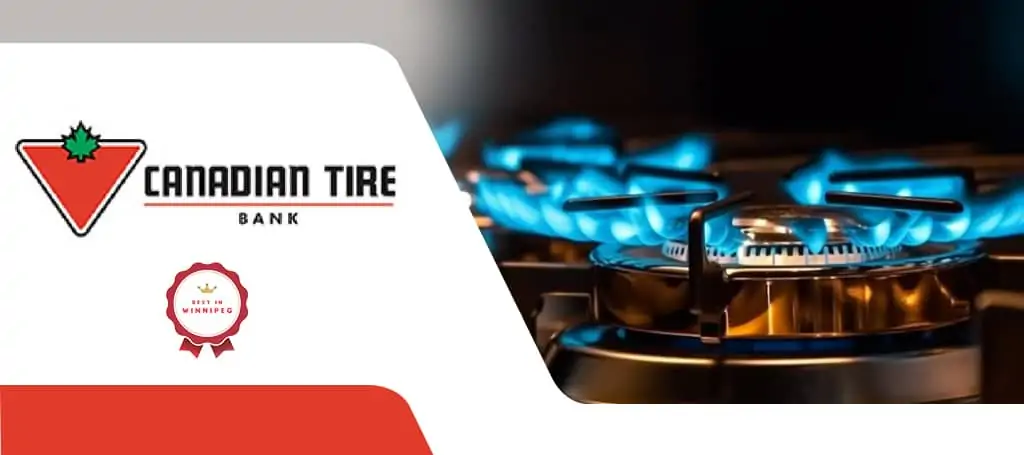 SERVICES
Selling of propane tanks Propane tank exchange Propane tank refill
LOCATION
1711 Kenaston Blvd, Winnipeg, MB R3Y 1V5, Canada
CONTACT INFO
Phone: +1 204-269-9630
OPERATING HOURS
Monday - Saturday 8AM–9PM

Sunday 9AM–9PM

DELIVERY OPTIONS
Pick-up from the store
PRICES
60 CAD for a new 20 lb tank

27.5 CAD for tank exchange
| | |
| --- | --- |
| Criteria | Rating |
| Fair prices | ★★★★☆ (4/5) |
| Service hours | ★★★★☆ (4/5) |
| Delivery options | ★★★☆☆ (3/5) |
Canadian Tire offers to refill, exchange, and purchase large and small propane tanks. They also provide isobutane fuel that is good for camping.
They also specialize in cars, outdoor equipment, sports, and housewares. Their automotive department specializes in propane tank refills and exchanges.
We love Canadian Tire's availability of different brands, including Flame King and Coleman. If you are looking for a good propane supplier that gives you many options, Canadian Tire can be your go-to place.
In general, propane refilling in Winnipeg costs between 3 and 4 dollars per gallon of propane. Canadian Tire refills cost within that range.
The price of propane tank exchanges depends on the size of the propane tank. You might pay between 5 to 6 dollars per gallon for this service.
However, there are several complaints about the waiting time for exchanging tanks. Customers are also disappointed about the reimbursement process.
Canadian Tire only reimburses as credit for the next tank that customers will purchase. Hence, it can be expensive for customers who bought an extra tank beforehand.
Available during weekends
Simple tank exchange procedure
Best price for exchanging tanks
Rewards program for members 
Complaints about waiting time
Relatively expensive propane tanks
Customer Reviews
Efficient tank exchange
" Easy exchange and best price. Tanks always in excellent shape " – M Elliot ⭐⭐⭐⭐⭐
" Very easy to exchange empty propane tank for a full one." – Kevin ⭐⭐⭐⭐⭐
" The two staff I met were quick , efficient and friendly. Everything you want in a simple purchase." – David ⭐⭐⭐⭐⭐
3. Red River Co-op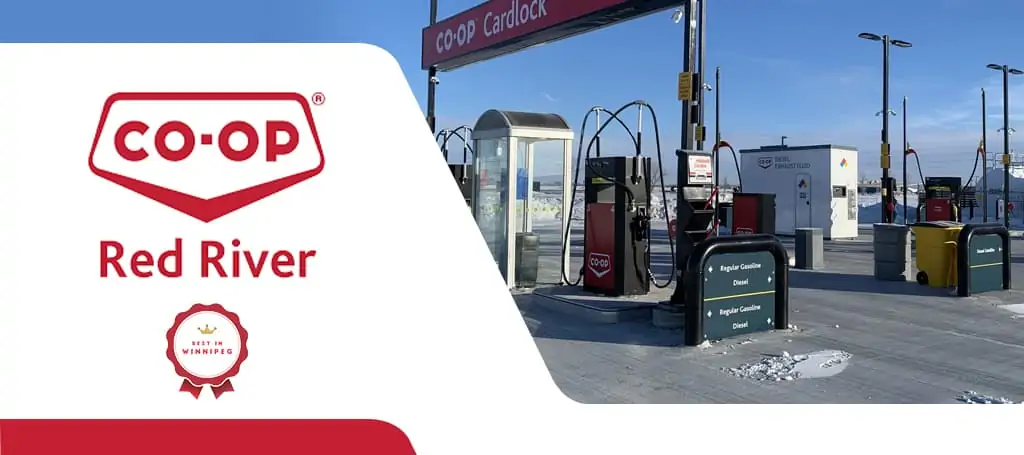 SERVICES
Selling of propane cylinders in a range of sizes Cylinder refilling (pay by the pound) Propane deliveries and automated tank monitoring
LOCATION
2535 Main St, Winnipeg, MB R2V 4T6, Canada
CONTACT INFO
Phone: +1 204-334-0265
OPERATING HOURS
Monday 6AM–11PM

Tuesday 6AM–11PM

Wednesday 6AM–11PM

Thursday 6AM–11PM

Friday 6AM–11PM

Saturday 7AM–11PM

Sunday 8AM–10PM

DELIVERY OPTIONS
Regular delivery Automated tank-monitoring system
PRICES
Minimum charge of 10 CAD for tank refills
| | |
| --- | --- |
| Criteria | Rating |
| Fair prices | ★★★★☆ (4/5) |
| Service hours | ★★★★☆ (4/5) |
| Delivery options | ★★★★☆ (4/5) |
Red River Co-op has offered a wide range of propane products and services since 1967. Now, they have over 35 Gas Bars in Manitoba, and 22 branches spread throughout Western Canada.
We love the fact that this is a one-stop-shop since—aside from providing propane tank refills and exchanges—they also offer fuel, food, beverages, and washrooms for travellers. They also offer quick-fixes to keep your vehicle in tip-top condition.
Co-op offers various-sized products if you want to purchase or refill propane cylinders or tanks. By refilling your cylinders at Co-op, you can pay by the pound, allowing you to only pay for what you need.
Another thing we like about their service is that they offer competitive pricing on their supplies and services, which is economical for customers. For deliveries, Co-op offers regular deliveries and automated tank-monitoring systems that track inventory levels.
Their Fuel Team is also on standby to help assist customers in safely installing equipment. They also have a team ready 24/7 for any propane-related emergencies.
However, there are several complaints about their minimum charge of $10.00. It is a downside for customers who only need to purchase 5 pounds of Propane and customers who buy several tanks.
In our opinion, the $10.00 top-up for each purchase is a costly option for customers. Moreover, you need to have a membership to take advantage of their service, which is also an additional cost.
Money-back program for Co-op members
Automated tank monitoring system 
24/7 emergency hotline available
Offers propane autogas (green fuel)
Minimum charge of 10 CAD for tank refills
Costly membership service
Customer Reviews
Full-service benefits
" Large gas station with lots of pumps. Full and self-serve. They sell snacks and miscellaneous items and lottery tickets. Car wash attached. Become a co-op member and receive a cheque once a year based on your gas purchases " – Gerald Thom ⭐⭐⭐⭐⭐
" Friendly full-service gasoline station. Attendants provide full service at no extra charge, and as a Co-op member, you earn dividends on all fuel purchases " – Matt B ⭐⭐⭐⭐⭐
" If you're heading out on a road trip this is a great place to stop as it has practically everything you need all in one location. Fully stocked convenience store, automatic car wash, vacuum cleaner, air pump, propane as well as gasoline & diesel can all be had here. Huge number of pumps available offering both full and self service. Although it can be hectic at times, the staff is usually quite friendly. " – Len Kutchma ⭐⭐⭐⭐⭐
Complaints on minimum charge
" Not very good. Propane staff haven't a clue. They are enforcing a minimum charge of $10.00 on tanks when this was said to have been done away with years ago. Only used this location out of convenience. Henderson and Mcphillips are just as convenient with no minimum charged " – Sam Schaefer ⭐⭐
4. Costco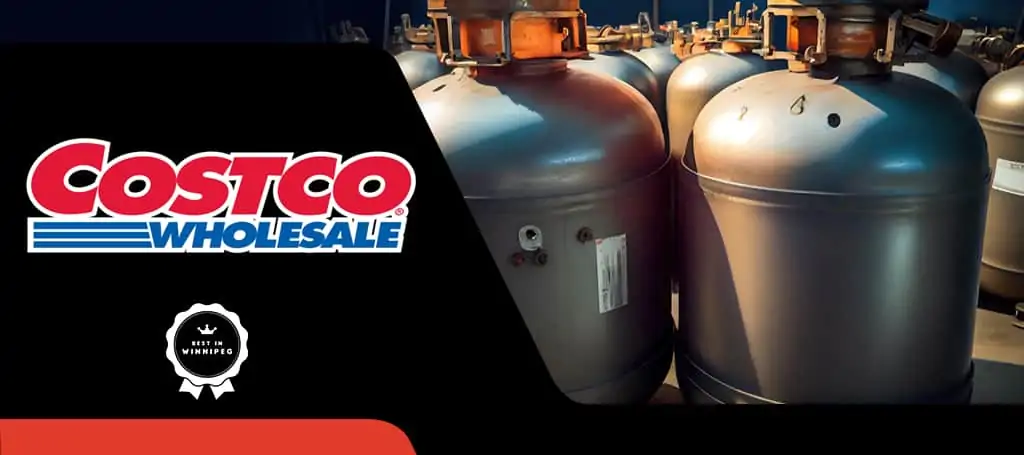 SERVICES
Selling of propane tanks Propane tank refill
LOCATION
1315 St James St, Winnipeg, MB R3H 0K9
CONTACT INFO
(204) 788-4415
OPERATING HOURS
Monday 9 a.m.–8:30p.m.

Tuesday 9 a.m.–8:30p.m.

Wednesday 9 a.m.–8:30p.m.

Thursday 9 a.m.–8:30p.m.

Friday 8 a.m.–5p.m.

Saturday Closed

Sunday 9 a.m.–6p.m.

DELIVERY OPTIONS
Pick-up from the store
PRICES
84.99 CAD for a new 30 lb tank

0.56 CAD/ litre for tank refills
| | |
| --- | --- |
| Criteria | Rating |
| Fair prices | ★★★★☆ (4/5) |
| Service hours | ★★★★☆ (4/5) |
| Delivery options | ★★★☆☆ (3/5) |
Costco Wholesale Corporation, the fifth largest retailer globally, operates as a big box membership-only retail store. But what some might not know is that they also provide tank refill services at a flat rate.
Costco's price per gallon is around $2.73, though, keep in mind that propane costs rise and fall depending on the location.
Costco members can get their propane tanks refilled for $ 9.99 on average, which is cheaper than propane tank exchange.
Refilling your propane is also quite convenient in Costco. You can add propane refills at check out, and you can wait for them to fill your tank after you present your receipt.
Standard shipping via shipping is included in the quoted price when you checkout. You should wait for 7-10 business days to deliver your orders.
As of 2022, Costco refills 20lb, 30lb, and 100lb propane tanks at locations with a Tire Service Center. You can find the 3 Tire Service Centers in Winnipeg located at Regent Avenue W, McGillivray Boulevard, and St. James Street.
Unfortunately, Costco doesn't exchange propane tanks, unlike other stores. There are also several complaints about wrong pricing which is inconvenient for customers.
Great prices for tank refills
Allows members to return products
Offers delivery service
Long waiting time
Expensive for tank purchase
Refill service is for members only
Customer Reviews
Equitable deal for propane
" Nice staff. Very equitable deal on propane. Beats the heck out paying a full price flat fee even for a quick top up." – Fred Coad ⭐⭐⭐⭐⭐
" Great products and prices. Lots of new stuff every week. Best price on propane in the city. Also best price for bread as well. Thanks Costco. " – Doug M ⭐⭐⭐⭐⭐
" Love Costco so much! Got my propane tanks filled quickly and with a smile and kindness. Everyone was pleasant and nice. Cashier was great too. Wonderful service and great prices. Thank you all at Costco. Well done!! " – Brigita Barkowksi ⭐⭐⭐⭐⭐
5. Superior Propane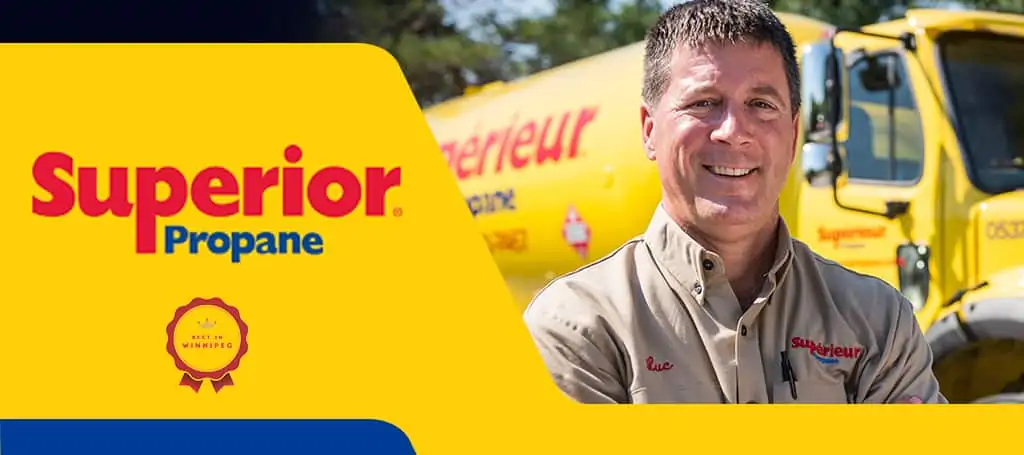 SERVICES
Selling of propane tanks Tank refill Multiple delivery options SMART tank monitoring
LOCATION
1248 Wilkes Ave. Winnipeg, Manitoba R3P 1C2 Canada
CONTACT INFO
Phone: 1-877-873-7467
OPERATING HOURS
24/7
DELIVERY OPTIONS
Automatic propane delivery Periodic propane delivery Will call delivery program Winter delivery
PRICES
Equal payment option (installment for 12 months)

Fixed-price plans (same price for each delivery during the lock-in period)

Variable price plans (prices changes based on supply and demand)
| | |
| --- | --- |
| Criteria | Rating |
| Fair prices | ★★★☆☆ (3/5) |
| Service hours | ★★★★★ (5/5) |
| Delivery options | ★★★★★ (5/5) |
Superior Propane has been providing propane services throughout Canada for 70 years. We love Superior Propane because of its flexible delivery system, distributing for approximately 200 locations.
Superior Propane offers automatic delivery, periodic delivery, will-call delivery program, and winter delivery. Its automatic delivery is ideal for customers with multiple annual deliveries and unrestricted access to their property.
On the other hand, periodic delivery is suitable for customers who don't use Propane, such as seasonal businesses. Its "will call" delivery program is ideal for customers who have controlled access to their property or use backup generators.
Another thing that we love about Superior Propane is its customer-focused digital solution. They feature the mySUPERIOR™ CUSTOMER PORTAL, which can schedule your delivery, monitor your tank levels, and make payments online.
On top of that, they can secure a stable propane supply for customers through the Energy Distribution division of Superior Plus LP. Their pricing plan is convenient as it allows you to manage your budget based on your needs and situation.
Superior Propane's utmost priority for safety is also a plus. There is ongoing specialized training for the staff and regular equipment inspection to ensure safety.
However, there are complaints about their fees, especially for outgoing customers who want to switch providers. There are also complaints about sudden price increases that customers are unaware of.
500L of Propane free when switching to them
Winter delivery available
Online customer portal available
Wireless monitoring available
No live agents available
Administration fee for contract cancellation 
Customer Reviews
Efficient service
" Dillion provided me with fantastic service. He was very efficient & was able to complete the removal of my old tank & install the new one in less than 1 hr. He also arrived exactly on time. A very valuable employee. " – Brigita Barkowksi ⭐⭐⭐⭐⭐
" We have had nothing but the best service from Ann Marie and all the drivers, techs and customer service. Truly an amazing company, service and response on emergencies " – Yamileth E. ⭐⭐⭐⭐⭐
"I have never had a propane tank before. I like that I get the tank level updates on my phone and that [Superior] automatically comes to fill it up. Very simple. Love it!" —Lee
FAQs
---
And that concludes our rundown of the top propane suppliers in Winnipeg. If you have availed of their service, tell us your experience!
Now, if you're looking to replace your home's water heater, you may want to check out our recommendations for the best water heaters in Winnipeg.