The 5 Best Companies for Sandblasting in Winnipeg
Grime and corrosion are the bane of car parts, railings, and industrial structures. That all needs to go if you want a smooth new finish, and abrasive blasting is where to start.
From commercial to industrial sandblasters, we're zoning in on the best companies in Winnipeg to meet your sandblasting needs. As a bonus, we'll also talk about the cost of this service and answer some FAQs down the line. 
How much does sandblasting cost in Winnipeg?
It takes special gear and a lot of skill to carry out a sandblasting job effectively. This is why you want to shell out money to hire a pro.
There are a handful of blasting methods to choose from. We've arranged them by price in this table, which you can refer to as a general benchmark:
| | |
| --- | --- |
| SERVICE | ESTIMATED COST |
| Wet sandblasting | $1.60 – $4.50 per square foot |
| Dry sandblasting | $2.50 – $5.50 per square foot |
| Dry ice sandblasting | $4.50 – $6.00 per square foot |
You can also pair wet or dry methods with different kinds of blast media. Common abrasives include corn cobs, walnut hulls, silica, steel grit, glass beads, and more.
Blast media are usually priced per pound (from $1 – $6 /lb), contributing to the square-foot cost of the service.
Lastly, intricate surfaces are more expensive to sandblast. Here are common surfaces that need sandblasting, especially before painting:
| | |
| --- | --- |
| SERVICE | ESTIMATED COST (CAD) |
| Cars (for new paint job) | $680 – $1,300 per car shell |
| Rims | $25.00 – $90.00 per wheel |
| Bullbars | $110.00 – $220.00 |
| Wrought iron | $8.50 – $12.00 per linear foot |
| Concrete paint removal | $3.00 – $4.25 per square foot |
| Driveways | $2.50 – $6.00 per square foot |
Best Companies for Sandblasting in Winnipeg
Now that we've cleared the subject of cost, let's head into our list of the best sandblasters in Winnipeg. These companies stood out to us in terms of the following criteria:
Flexible blasting methods, to suit different needs and surfaces. We give points for versatility.
Having coating options isn't a total deal-breaker but more of a nice-to-have. It's common in most cases to have this done after a sandblasting job.
Customer service, for which we'll look at how people in the business quote, communicate, and deal with hiccups.
Note: We also considered companies that do dry ice blasting, because they achieve similar results without producing secondary waste.
1. Central Sandblasting & Specialty Coatings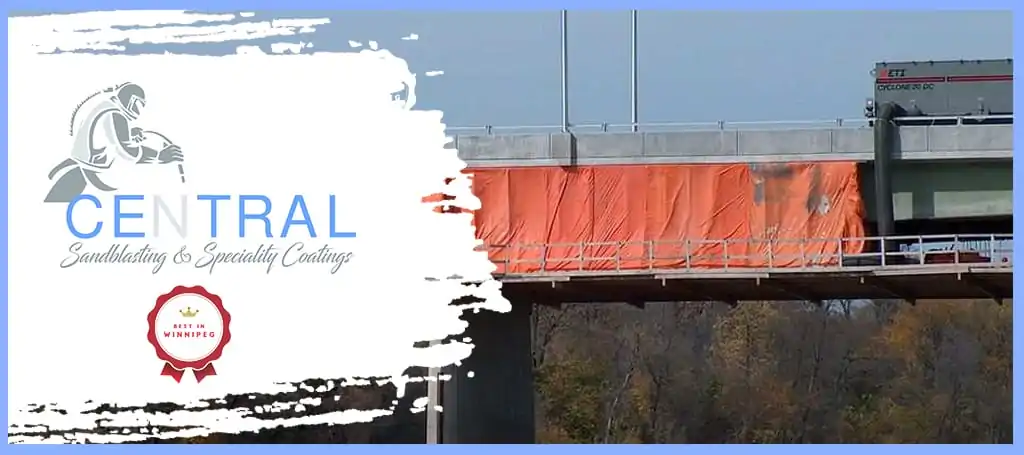 SERVICES
Abrasive Blasting & Cleaning (High-pressure Washing, Chemical Cleaning, Lead Paint Removal, Power Tool Cleaning), Industrial Painting, Powder Coating,
WEBSITE
www.centralsandblasting.ca
ADDRESS
600 Gunn Rd, Winnipeg, MB R2C 5R8, Canada
CONTACT DETAILS
Phone: (204) 222 3829 | Fax: (204) 222 0309
Email:

[email protected]

OPERATING HOURS
Monday to Friday, 8:00 am – 5:00 pm
Central is one of Winnipeg's leading providers in surface maintenance. In fact, they have been for the past 25 years and it shows.
For one, their service portfolio is extensive, to say the least. They've cleaned and treated a boatload of things―from rims and car shells, to bridges, pipelines, and production plants.
Some of those projects are made possible through their mobile service, which not every shop has. It's also nice to see that they deal with a wide range of blast media including walnut, sand, grit, glass bead, aluminum oxide, and more.
As for coating options, you have a tonne. They even have all their colour charts available online.
This lets you plan ahead and not waste time deciding on a colour on-site. On top of that, the process is made even easier with the expert communication that customers have told us about.
Unfortunately, all these pros lead to a minor con: the service is in demand (and for good reason). They do reach out if they can fit you in for an earlier time slot though, which we appreciate.
Over 25 years in the business 
Extensive service portfolio
Mobile service available
Provides colour charts online
Free consultation and estimates
In-demand
Closed on weekends
Customer Reviews
Had old rims sandblasted and powder coated in two days, worth the price
"I bought new snow tires, but my old steel rims looked awful, I couldn't bring myself to put the new rubber on them. Had them sandblasted and powder coated in two days, worth the price."―Phil McCracken
Arranging an appointment time was easy with good communication
"I was happy dealing with Central Sandblasting from the initial contact. Arranging an appointment time was easy and good communication by Mike meant that when an opportunity arose to possibly come in earlier to sand blast my project he reached out. The crew was professional and their work met my expectations. Thank you to Mike and the crew for a job done well."―Derrick Denby
2. Western Industrial Services, Ltd. (WISL)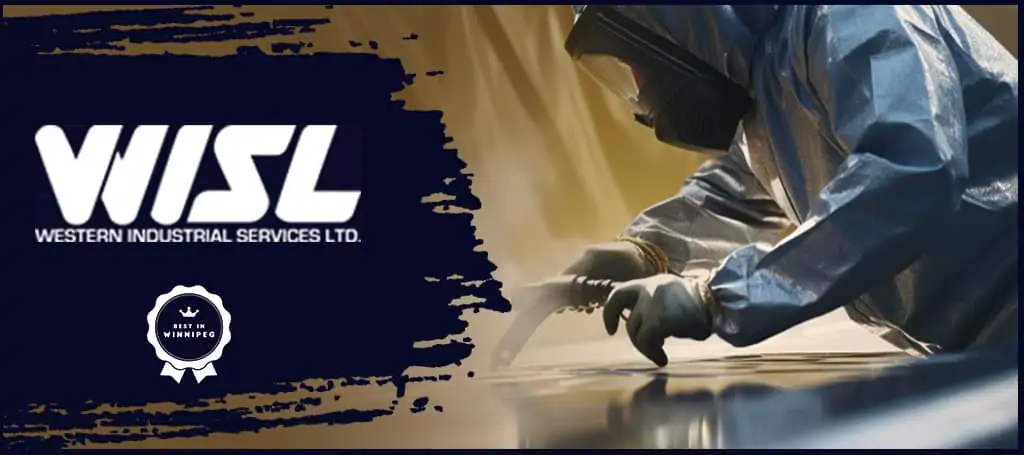 SERVICES
Industrial Coatings & Linings, Surface Preparation & Industrial Cleaning, Lead Abatement, Firestop Services, Mechanical Insulation
WEBSITE
www.wisl.ca
ADDRESS
WISL Main Office
300 Dawson Rd. N, Winnipeg, MB R2J 0S7, Canada

WISL Service Shop
302 Dawson Rd. N, Winnipeg, MB R2J 0S7, Canada
CONTACT DETAILS
Phone: (204) 956 9475 | Fax: (204) 956 9470
Email:

[email protected]

OPERATING HOURS
Office hours: 8:00 am – 4:30 pm
Shop hours: 7:30 am – 4:00 pm
WISL is an excellent choice for full-on industrial maintenance. Apart from abrasive blasting, they also specialise in large scale coatings, insulation, and fire prevention.
WISL has a large team of professionals and over half a century of trade experience to meet that tall order. They've also achieved national COR status, which means their safety protocols are up there with the best.
Their blasting methods are tailored to suit a wide range of surface treatment, from routine maintenance to a full strip down of industrial-grade coatings. That's not an easy feat either, as these coatings can get pretty tough even when they're past their prime.
This makes them ideal for sandblasting bridges, railways, and large holding tanks―something we've come to expect from a company servicing large-capital operations.
With testimonials to back it up, WISL has established itself as a top-performing sandblasting service, but not without exclusions.
This high-calibre scope isn't for everyone (or every budget). Things can get pretty pricey considering the amount of training, paperwork, and safety inspections that go into their work.
That's not to say that you don't get what you pay for. You may just want to consider another service for cleaning up your tire rims.
Over 50 years of industry experience 
COR-certified safety standards 
Scaled for industrial projects 
Variable blast methods 
Equipped for large scale coating 
Quite expensive 
Not recommended for small personal projects 
Customer Reviews
Very professional and take care and pride in their work
"I'd like to recognize the outstanding job your employees performed on the K+S Project. Between the QC and supervision along with the painters they performed an outstanding job. It is clear with the walk downs and sign off of the painting that all are very professional and take care and pride in their work."―Debora Orcutt, Quality Assurance Coordinator at AMEC Mining & Metals
3. Advanced Environmental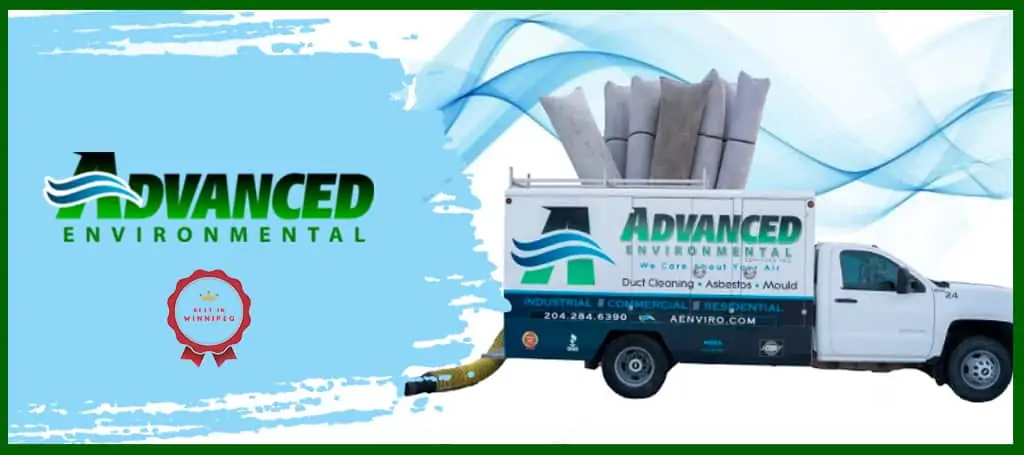 SERVICES
Dry Ice Blasting, Duct Cleaning, Mould & Asbestos Removal
WEBSITE
www.aenviro.com
ADDRESS
341 Stanley St, Winnipeg, MB R3A 1S7, Canada
CONTACT DETAILS
Phone: (204) 284 6390
Email:

[email protected]

OPERATING HOURS
Monday to Friday, 8:00 am – 4:30 pm
Advanced Environmental specialises in hazard management and deep cleaning. Instead of using abrasive blast media, they do dry ice blasting (which you might prefer in some cases).
The main advantage of using dry ice is that particles turn to gas on impact. This is a plus because it's safer in public spaces, produces less waste, and saves you clean-up time.
Because it's non-abrasive, it's also ideal for surfaces that need a little more care and attention. We recommend this service for restoring historic buildings, monuments, and even antiques.
Customers of Advance Environmental praise their quality work and professionalism. We also like that they don't just clean and leave, but also give tips on preventive maintenance.
There is a fair catch and it's the cost. You pay for the perks that come with using dry ice, making it a tad pricier than standard sandblasting.
Luckily, Advanced Environmental is known for rolling out monthly specials and promo codes. Not all of them apply to dry ice blasting but if you catch one that does, we say grab it.
Occasional coupons 
Offers tips on maintenance and hazard prevention
Mobile service available 
More expensive than abrasive blasting
No coating options 
Closed on weekends 
Customer Reviews
Showed up early and were very professional
"Hexter and Rick were fantastic, showed up early, very professional and I even got to see the before and after pics!! So worth it ! Thanks so much"―Jennifer Derrett
Great moral compass and will educate you on the process
"Great locally owned company that truly cares for their customers. The Owner, management and employees have a great moral compass and will educate you on the process. Great new brand…. Advanced Environmental Services, encompasses all their services. Good job."―Stan Lobchuk
4. RPJ Blasting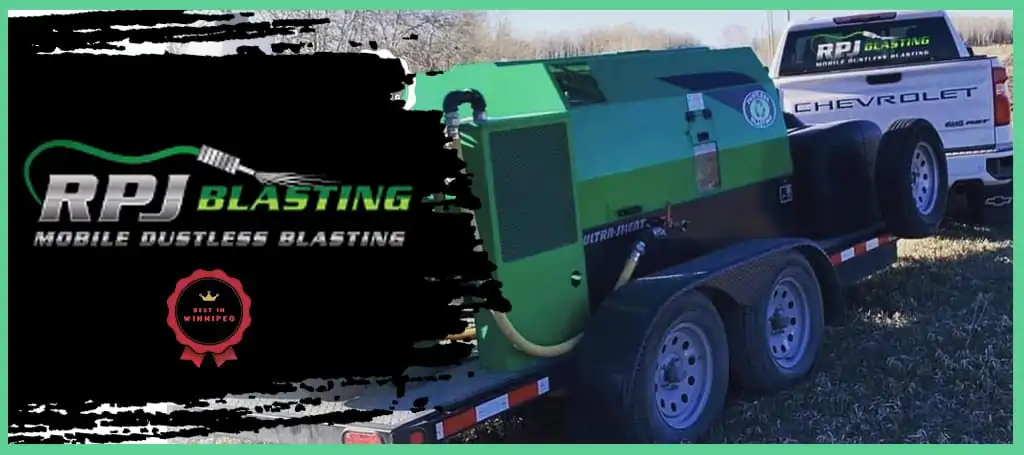 SERVICES
Surface Cleaning, Wood Restoration, Graffiti Removal
WEBSITE
www.rpjblasting.ca
CONTACT DETAILS
Phone: (204) 793 7953
Email:

[email protected]

OPERATING HOURS
On-call / by appointment
If you want abrasive blasting without all the harmful dust, RPJ Blasting might pique your interest. They offer mobile sandblasting with a twist.
RPJ uses the DB500 Dustless Blaster, which is fairly silent and dispenses aggregates with streams of water to contain accelerated particles. The kicker is that the machine uses up to 80% less abrasive material than standard sandblasters.
Interestingly, less doesn't mean less effective in this case. With the right mix, the system can strip off unwanted layers from cars, walls, patio decks, and even hard industrial coatings.
Cutting down on aggregates also makes it more affordable, which is what you want for mid-range to fairly large projects. We're also pleased to note that they use recycled crushed glass as a more eco-friendly option.
Last May, the company announced their expansion to painting services and we're glad to see it. They're not equipped for powder coating though, but we get it since they're a purely mobile service.
In terms of customer service, they typically respond to online enquiries within a few hours. We also appreciate the fairly quick turnarounds, and their clients agree.
Mobile service
Silent dustless blasting 
Cost effective 
Painting services available 
Quick response times and turnarounds
Does not offer specialty coatings
Only offers blasting services on Spring, Summer, and Fall
Customer Reviews
"RPJ Blasting did some old wrought iron chairs for my mom. They did an excellent job in both the blasting and painting of the chairs. Great service and turnaround time. I would recommend RPJ Blasting for your next project!"Corbin Libbrecht
5. Anyblast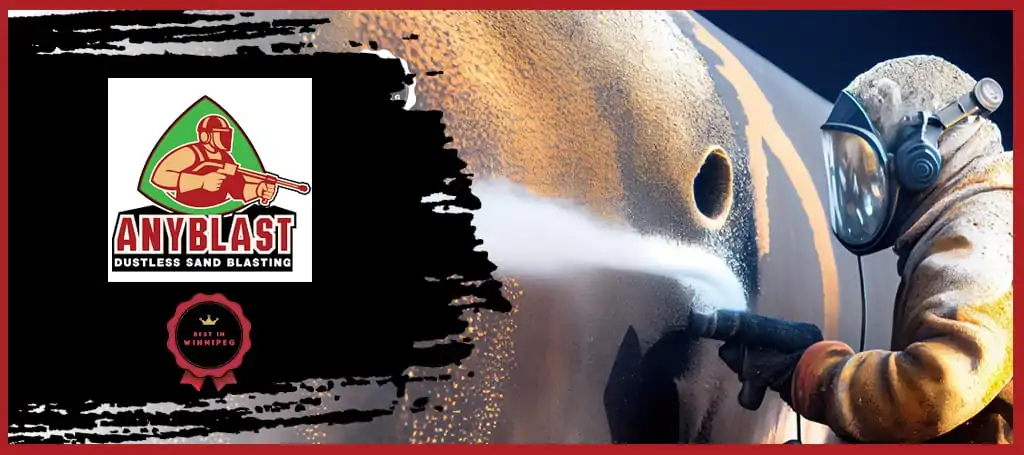 SERVICES
Surface Preparation, Blast Cleaning, Paint & Graffiti Removal, Powder Coat Removal, Line Stripe Removal, Rust Removal
WEBSITE
www.anyblast.com
ADDRESS
38 Parks Creek Dr, West Saint Paul, MB R4A 3A5, Canada
CONTACT DETAILS
Phone: (204) 510 8668
Email:

[email protected]

OPERATING HOURS
On-call / by appointment
Another dry ice blasting service on this list is Anyblast. They made it here because of their comprehensive approach to surface maintenance.
Their suite of services are designed to meet resurfacing needs at multiple stages, from paint and graffiti removal to blast cleaning. They even do powder coat removal and other high-intensity strip-offs―good for when you need something with a little extra grit.
We also like that they offer site decontamination. As their response to the community's growing health concerns, they use CDC-approved disinfectants to literally blast germs and contaminants away.
All of these services are customisable and can be paired with one another to suit your needs. That's why we think it makes sense to call them in as a prep team for your next renovation.
We say prep team because you'll have to call a separate one for coatings and refinishing―which sadly, they don't offer at this time. You do get all the benefits of dry ice blasting but not without its premium price tag.
Nevertheless, they have some loyal customers around the city who like what they're paying for.
No aggregate waste and environmentally friendly 
Non-abrasive blasting suits sensitive surfaces 
Offers site decontamination
Customisable services 
Dry ice blasting is pricier than abrasive blasting 
Located outside the city
No coating options
Customer Reviews
Cleaned our oil distributors to almost brand new without the mess or damage
"New non-destructive dry ice blasting service. We tried them out on our maximizer oil distributors and they cleaned them to almost brand new without the mess or damage of regular blasting. They're our go to people for this type of service and we're highly recommending them to all our customers"―Gord Moodie
FAQs About Sandblasting
---
And there you have it―our favourite sandblasters in town.
If you know another thing or two about any of these companies, consider shooting us a message and we'll get back to you in a jiffy. We'd love to hear your thoughts, qualms, or recommendations!
Also, while you're here, you may be interested in painting services too. For that we've rounded up a list of the best painters in Winnipeg as well, so do check that out!