A Guide to the 8 Best Dentists in Winnipeg
Your smile may just be your most valuable natural asset. If you want to truly take care of it, you should visit the best dentists in Winnipeg routinely.
In this article, we'll share with you our list of the best dentists in Winnipeg, as well as how we chose them.
And if you still have more questions about the best dentists in the area after that, don't worry: we also compiled FAQs for your benefit!
How to Choose the Best Dentist in Winnipeg
We chose our dentists with several factors in mind, including the area of expertise, credibility, facilities and clinic, financial aid, and of course, customer reviews.
The credibility and facilities of a dentist are essential because they define the quality of the dental services you'll get.
Financial aid and insurance acceptance are also essential because these will help you stay within your budget while still receiving the best dental services.
Last but certainly not the least are customer reviews. We considered this aspect to ensure you'll be visiting a dentist who's professional yet approachable and friendly so that you won't feel uncomfortable or unsafe during your dental appointments.
8 Options for the Best Dentist in Winnipeg
With these criteria, we were able to find our preferred options for the title of best dentist in Winnipeg. Each dentist listed here is certified and licensed too.
1. Dr. Bryan DiMarco – Renew Dental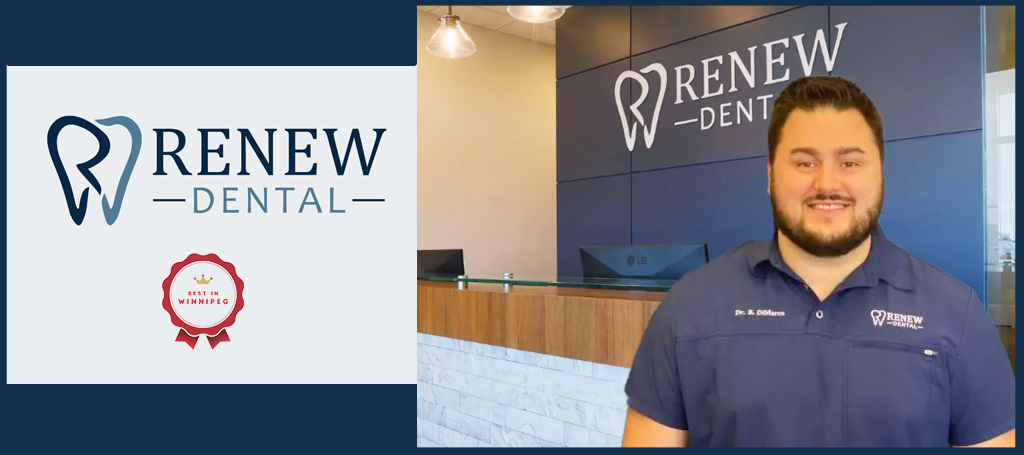 BEST FOR
Family Dentistry
SERVICES
Children's Dentistry
Dental Fillings
Teeth Whitening
Veneers
Dentures
Nitrous Oxide
WEBSITE
https://www.renewdentalwpg.ca/
ADDRESS
405 Centre St #1, Winnipeg, MB R3Y 2C7, Canada
CONTACT DETAILS
204- 259-3804
OPERATING HOURS
Monday: 11:30 am-7:30 pm
Tuesday: 11:30 am-7:30 pm
Wednesday: 8:30 am-4:30 pm
Thursday: 8:30 am-4:30 pm
Friday: 8:30 am-3:30 pm
Saturday-Sunday: Closed
Renew Dental is a clinic that provides complete and full-service dental procedures for clients residing in areas such as Bridgewater and Winnipeg. With their practice patient-centered, their procedures are ideal for families and individuals with specific dental needs.
Operated and led by none other than Dr. Bryan DiMarco himself, their services are all-encompassing and cover all areas of concern that clients may have issues with may it be preventative or terms of aesthetic preferences.
He is also a local in the area and has completed his course in dentistry in 2015 and has since then been continuously updating himself on the latest procedures in the area to better help his patients have a pleasant dental experience.
Another thing we find commendable is their fully equipped facility that hosts state-of-the-art machinery and technology to better accommodate the specific conditions that their patients have.
Clients can also easily book their appointments online and confirm their schedules instantly with less hassle and stress when it comes to fitting the said bookings into their busy schedules.
Experienced and certified
Accommodating staff
Makes use of quality equipment
Customer Reviews
Here are some reviews from their clients:
"Truly a great experience, the staff is amazing. Truly are a modern professional and caring facility."
"So happy I picked Renew Dental as my new dentist. Dr. DiMarco and his assistant Amy are so friendly and knowledgeable. I'm impressed by the state of the art equipment they have also. This was the first time I've every had scaling done without it hurting. Great job! Excellent service overall by everyone there."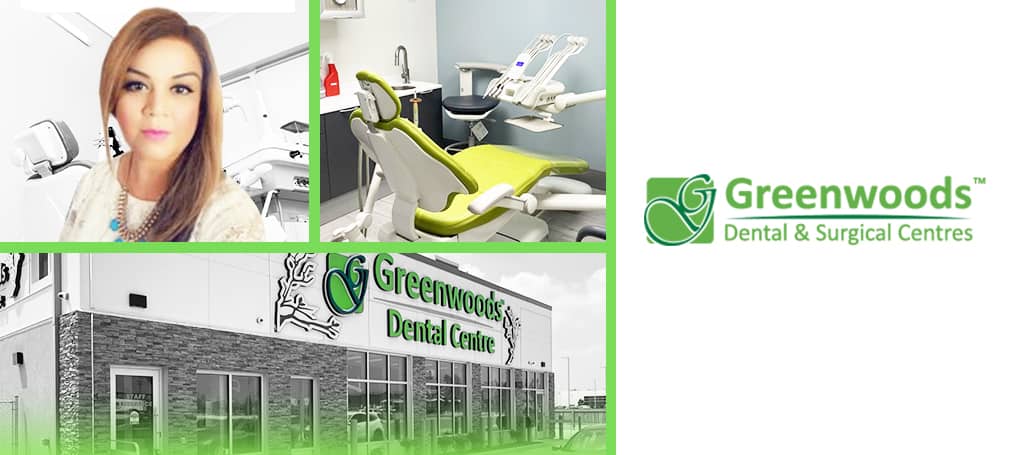 BEST FOR
Extractions
SERVICES
General dentistry
WEBSITE
https://www.greenwoodsdental.com/winnipeg/
ADDRESS
693 McPhillips St. Winnipeg, MB R2X 2H6 Phone Number: Hours:
CONTACT DETAILS
(204) 774-7774
OPERATING HOURS
Monday – Thursday: 7:00 AM – 8:00 PM
Friday: 7:00 AM – 7:00 PM
Saturday: 7:00 AM – 5:00 PM
Sunday: 9:15 AM – 4:00 PM
Among these areas of expertise, Dr. Navneet Sandhu specializes in crowns, prosthetic bridge rehabilitation, and tooth extractions. She finished her dental surgery studies at Baba Farid University of Health Sciences in India before moving to become a certified general dentist in Winnipeg.
With Dr. Sandhu's expertise, you'll receive fast and almost painless tooth extractions. She can also communicate in three languages, namely English, Punjab, and Hindi.
As part of the Greenwoods Dental & Surgical Centres, she has access to various technologies, including laser dentistry and Invisalign.
Expertise in tooth extractions makes her fast at extractions
Speaks three languages
Available during weekends
Customer Reviews
Here are some reviews to tell you more about why her clients think her the best dentist in Winnipeg:
"Quick painless extraction by Dr. Sandhu Excellence assistance by assistant daya. Really appreciate and the service provided was very good. . It was so quick extraction can't believe had wonderful experience.
"Dr Navneet Sandhu, team members- Yuki and Malou helped me today when I went to Green wood clinic. Dr. Navneet was so knowledgeable, treated me well and answered all of my questions calmy. I ended up getting treatment for tooth filling and cleaning of teeth. Great work all of you specially Dr Naveneet Sandhu"
3. Dr. Sheldon Glow – Downtown Dental Group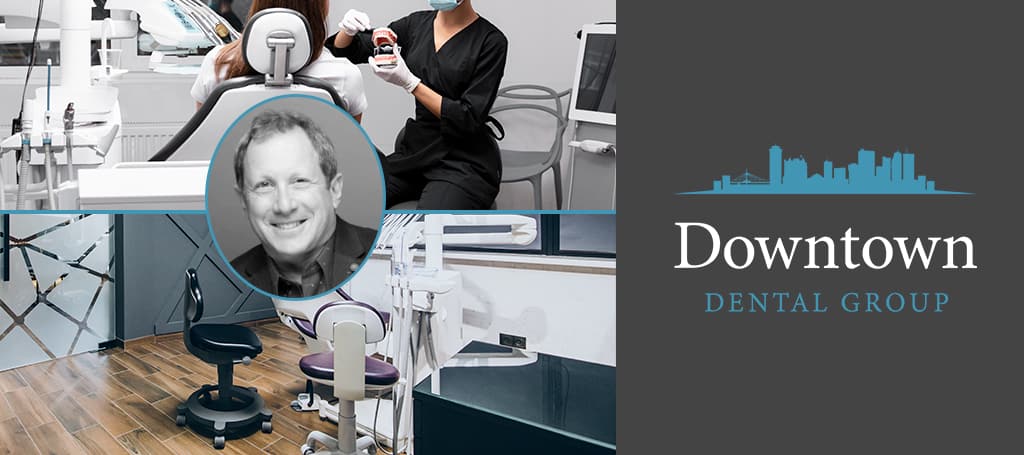 | | |
| --- | --- |
| BEST FOR | Warm and welcoming personality |
| SERVICES | General dentistry, preventive measures, cosmetic dental procedures, orthodontics, dental implants |
| WEBSITE | https://www.downtowndentalgroup.ca/site/home |
| ADDRESS | 500 Portage Ave Suite #370, Winnipeg, MB R3C 3X1 |
| CONTACT DETAILS | (204) 786-5949 |
| OPERATING HOURS | Monday – Friday: 8:00 AM – 4:00 PM |
Serving Winnipeg for over 30 years is Dr. Sheldon Glow from Downtown Dental Group. He graduated from the University of Manitoba's Faculty of Dentistry in 1983.
He is well-known for his compassionate care and approachable personality and can thus be the perfect choice for your family's dental needs. He also has knowledgeable and welcoming staff to provide you with a positive dental experience.
With the clinic's convenient location Downtown, you can easily visit it during your free time for quick routine checkups and dental procedures.
Flexible payment options
Convenient location and booking procedures
Well-known for friendly services
Benefits for University of Winnipeg students
Unavailable during weekends
Customer Reviews
Read these comments from Dr. Glow's loyal clients who find him to be the best dentist in Winnipeg:
"Doctor Glow and his staff are friendly and knowledgeable, professional and good spirited. I've been attending his office for over 20 years, and that's because of the trust I have in him and his whole team. He recommends what can be done and doesn't pressure clients to do unnecessary work. Thanks Doc."
"I just returned as a patient of Dr. Glow's after being in BC for four years. He's as lovely as ever, patient and pleasant. He puts the time in to notice personal details so you feel like you truly matter, and was goofy and relaxed with my toddler who was visiting the dentist for the first time. Very helpful with his knowledge, takes time to make sure he answers any questions."
4. Dr. Leon Stein – Markham Dental Centre – Winnipeg Dentist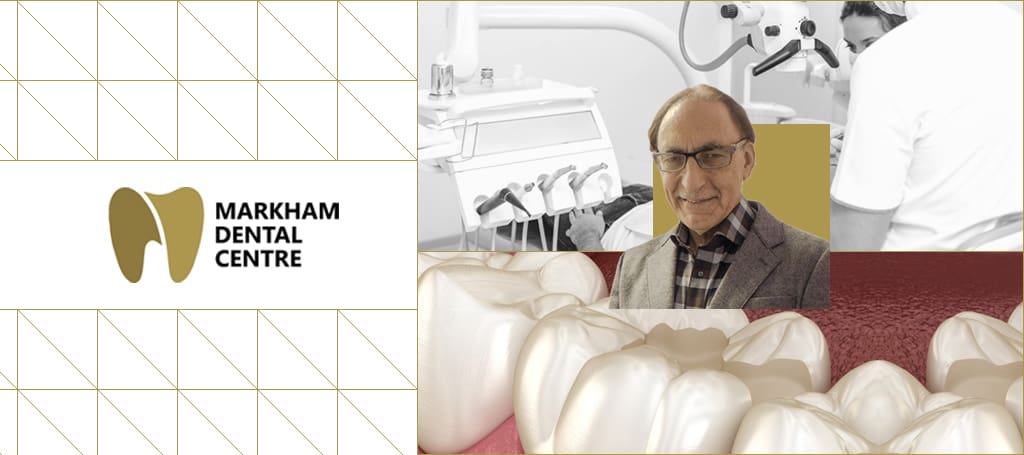 BEST FOR
Years of experience
SERVICES
General and emergency dentistry, cosmetic dentistry, orthodontics, family dentistry
WEBSITE
https://www.markhamdentalcentre.ca/
ADDRESS
2265 Pembina Hwy #100, Winnipeg, MB R3T 5J3
CONTACT DETAILS
(204) 269-1144
OPERATING HOURS
Monday – Thursday: 8:00 AM – 6:00 PM
Friday: 8:00 AM – 1:00 PM
Dr. Leon Stein has also been in Winnipeg's dental scene since 1985. He specializes in reconstructive and cosmetic dentistry.
As part of the Markham Dental Clinic, he offers root canals, dental crowns, teeth whitening, veneers, and other general and cosmetic dentistry services. His clinic is also an Invisalign-preferred clinic, it's worth noting.
He has also been the president of the Winnipeg Dental Society and Manitoba Dental Association. Additionally, Dr. Stein is also known for being one of the best dentists in Winning if you want one who goes the extra mile to ensure patient comfort and satisfaction.
Accepts insurance from most companies
Over 35 years of experience
Emergency services
Some unwelcoming members of staff
Can be unpunctual at times
Customer Reviews
Learn more about Dr. Stein's dental services through these customer reviews:
"This is no standard dental office. The work performed here is by far superior to other dentists I have visited. Dr. Stein and his team take great care in their work. My children even enjoy their visits! The support staff are always polite and friendly. They go the extra mile to ensure you get what you need. If you are in need of a dentist, this is the place to come."
"Dr. Stein for years. Recently I had two veneers replaced on my front teeth. He did amazing work and they look so natural. He is always conscious of the patient's comfort level and the support staff are so, so friendly. I recommend him highly!"
5. Dr. Bobby Goldberg – Windsor Park Dental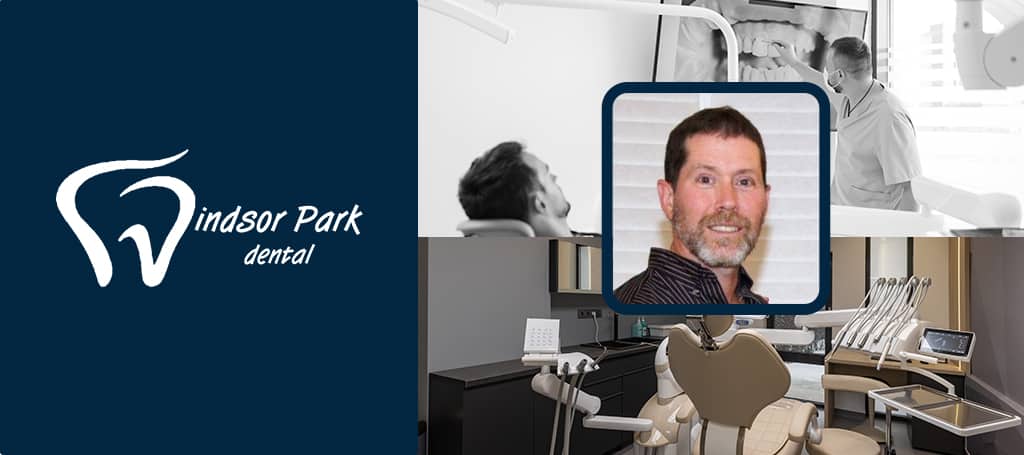 | | |
| --- | --- |
| BEST FOR | Latest dental technologies |
| SERVICES | Preventive dental procedures, cosmetic dentistry, restorations, orthodontics, dental implants, |
| WEBSITE | https://www.windsorparkdental.com/ |
| ADDRESS | 648 Elizabeth Rd, Winnipeg, MB R2J 1A4 |
| CONTACT DETAILS | (204) 253-2691 |
| OPERATING HOURS | Monday – Thursday: 10:00 AM – 2:00 PM |
Dr. Bobby Goldberg is yet another veteran because he's been practicing dentistry since 1988. He is an active member of the Manitoba Dental Association and Alpha Omega Dental Fraternity.
He and his team at Windsor Park Dental can carry out cleanings and preventive procedures, cosmetic dentistry, restorations, orthodontics, dental implants, and whitening services.
What makes him unique is that he is the best dentist in Winnipeg for emergency dental services. Even if his opening hours are only during the weekday, Dr. Goldberg can still make time to provide you high-quality services.
Available for emergency services
Free consultation and other promotions
Insurance coverage and other flexible payment options
Latest technologies in each of the 8 operatories
Unavailable during weekends except for emergencies
Customer Reviews
Here are some reviews to tell you more about Dr. Goldberg and Windsor Park Dental's services:
"Had a tooth emergency on a Sunday. He answered the call Immediately and met me at the office. Fixed me up. Had some laughs. He even went out of his way to text me later in the evening to see how I was doing. Best dental visit. Highly recommend."
"Was very happy with Dr Goldberg and his assistant replacing old fillings with new ones! They were telling me what they were always going to be doing never once did I not know! The assistant was chatty and friendly and the time just flew by! Thank you for everything and making it a pleasant experience!"
6. Dr. Don Santos – Garden City Dental Centre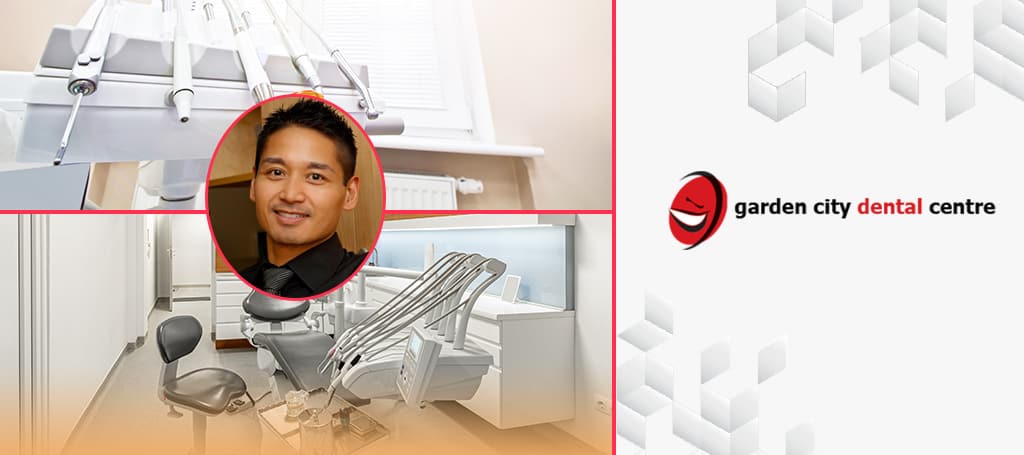 BEST FOR
Late evening and saturday appointments
SERVICES
Preventive and cosmetic dentistry, family dentistry
WEBSITE
https://www.gardencitydental.com/
ADDRESS
1295 Leila Ave, Winnipeg, MB R2P 2Z3
CONTACT DETAILS
(204) 694-2042
OPERATING HOURS
Monday – Tuesday, Thursday: 8:00 AM – 9:00 PM
Wednesday: 8:00 AM – 6:00 PM
Friday – Saturday: 9:00 AM – 3:00 PM
Dr. Don Santos specializes in family and cosmetic dentistry, as he studied these at the University of Manitoba. He was raised in Winnipeg but can also talk in Filipino.
He is one of the six experienced dentists in Garden City Dental. Thus, he also has access to technologies such as digital x-rays, sleep dentistry, and intra-oral cameras.
As part of Garden City Dental, he also has access to their onsite laboratory for fast diagnostics. Dr. Santos is also the best dentist in Winnipeg to visit during Saturdays and late weekday evenings.
Access to x-ray and onsite laboratory resources
Available during late evenings and Saturdays
Speaks English and Filipino
Expertise in cosmetic dentistry
Unavailable on Sundays
Can have painful treatments for some cases
Customer Reviews
Read these reviews to learn more about Dr. Santos' dental services:
"I have been a patient of Garden City Dental Centre for many many years. Dr. Santos is friendly. professional and a perfectionist. I damaged and had to have a very visible front tooth replaced, the care and attention they gave it was remarkable, they took the time and effort to ensure that my smile was perfect."
"First time going to the dentist since Covid & Amanda was my hygienist today she did an amazing job my teeth feel so clean . Dr.Santos has been my dentist for years now and he is always very personable but also consistent with his work. The environment is always Very clean.. 10/10. Overall just an amazing experience every time !"
7. Dr. Sundeep Patel – Cor Dent Dental Centre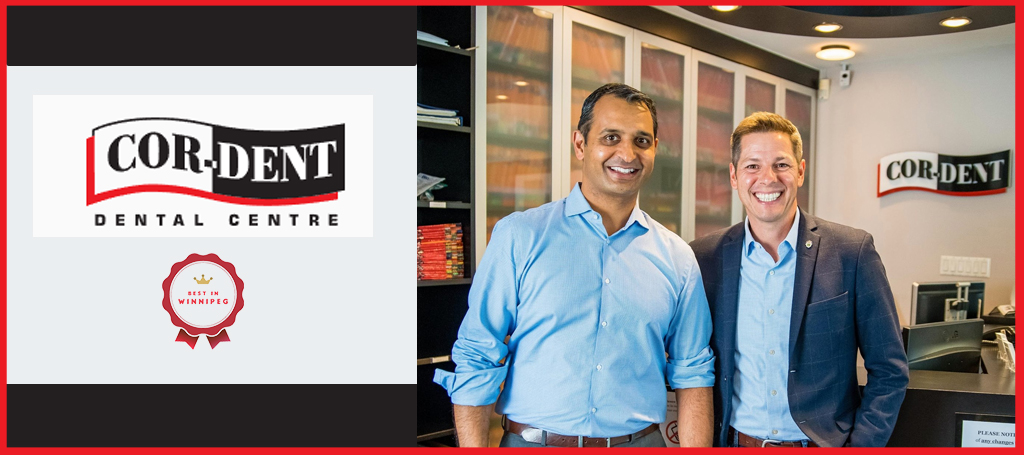 BEST FOR
Family Dentistry
SERVICES
Family Dentistry, Children's Dental Services, Cosmetic and Restorative Dentistry
WEBSITE
http://www.cor-dent.com/
ADDRESS
Cor-Dent Dental Centre 929 Corydon Ave. Winnipeg, MB R3M 0W8
CONTACT DETAILS
Phone: (204) 452-7000 | Email:

[email protected]

OPERATING HOURS
Mon, Tue, Thu, Fri: 7:15am-6:00pm
Wed: 7:15am-7:30pm
Sat: 8:30am-4:00pm
Dr. Sundeep Patel is an experienced dentist at Cor Dent Dental Centre, and since 1999 has also offered his services as a part-time clinical instructor at the Pediatric Dentistry Clinic at the University of Manitoba. He enjoys sharing his experiences and talents with his dental students.
He and his team at Cor-Dent are dedicated to providing you with the utmost in friendly, professional care. They recognize that all patients are unique, and deserve to receive dental care that reflects their individual needs.
This is why they proudly offer a full range of professional dental services. From basic cleanings and checkups, to fillings and crowns and root canals, denture work, and dental implants.
They are able to take care of the dental needs of your entire family – all ages are welcome! All dental plans are accepted and new patients and emergency patients are always welcome.
Book an appointment online
You can choose your preferred dentist
Provides Dental Videos and other resources
8. Dr. Sarah Keating Sangalang — Sharpe Dental Care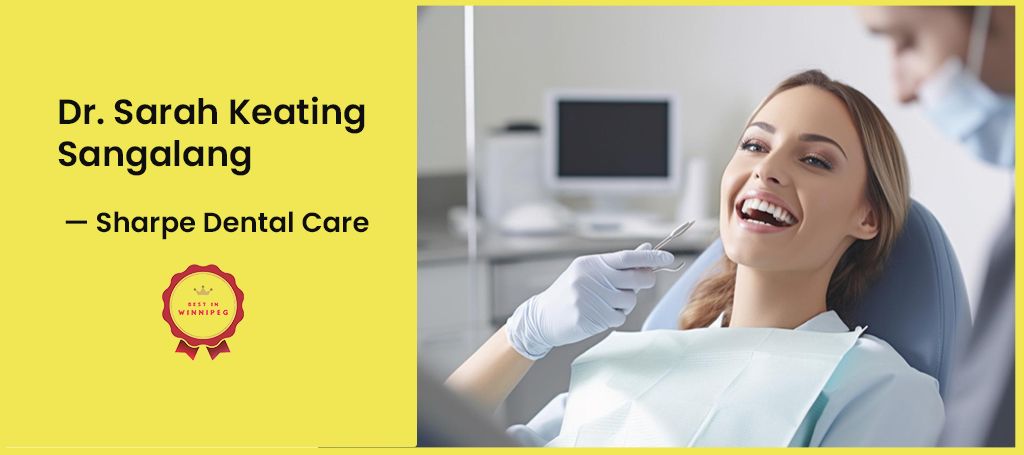 BEST FOR
General Dentistry
SERVICES
General Dentistry, Family Dentistry
WEBSITE
https://sharpedentalcentre.com/
ADDRESS
2163 Portage Avenue, Winnipeg, MB R3J 0L7
CONTACT DETAILS
Phone: 204-832-6766
Email:

[email protected]

OPERATING HOURS
Monday: 8:30am-5pm
Tuesday: 8:30am-7pm
Wednesday: 8:30am-5pm
Thursday: 8:30am-6:30pm
Friday: 8:30am-12pm
Saturday: Closed
Sunday: Closed
Dr. Sarah Keating Sangalang is a family dentist who graduated from the University of Manitoba, Faculty of Dentistry in the year 2013. Above her Dentistry degree, she also completed a Bachelor of Science in Biochemistry and Psychology.
She enjoys everything about General Dentistry, and deals with patients of all ages. So, whether young or old and no matter the concern, she can surely do something for you.
What's more is that because she likes being able to connect with and help others, she always works to be able to create an environment that's comfortable for all her patients.
As one of the three dentists at Sharpe, she also accepts walk-ins and emergencies since Sharpe Dental Care is an emergency and walk-in dental clinic.
All of these reasons make her one of our recommended dentists in the area.
Available for walk-in and emergency patients
Practices general dentistry and accommodates patients of all ages
FAQs
---
We hope we answered your questions of how and where to find the best dentist in Winnipeg. So, just pick any of these dental practitioners, enjoy your set of teeth, and flash your brightest smile.
To preserve your perfect teeth, some dentists may suggest rinsing or even drinking tap water as it contains calcium and other beneficial minerals. If your dentist recommends this tip, make sure you have clean and functional utility water with the help of the best plumbers in Winnipeg!