Top 5 Shops that Offer Medical Equipment in Winnipeg
Need to purchase medical equipment for home use or your small clinic? Then this article is right for you as we review the top shops in Winnipeg offering all sorts of medical equipment.
How much does medical equipment cost on average in Winnipeg?
Take a look at these two tables below for an idea of the average costs of some of the most common medical equipment:
1: Average Price of the Some of the Most Common Medical Equipment
| EQUIPMENT | AVERAGE PRICE |
| --- | --- |
| Tapes | $5.09 |
| Bandages | $5.18 |
| Gauze rolls | $37.99 |
| Gloves | $8.47 |
| Syringes | $2.60/syringe |
| Sphygmomanometers | $52 – $97 |
| Hand-held oximeters | $50 |
| Nebulizers | $45.43 |
| Splints | $13 – $390 |
| Scalpel and blades | $35.04 |
| Lab gowns | $32 |
| Scrubs | $26 |
2: Average Price of Medical Instruments of Different Fields
| MEDICAL FIELD | AVERAGE COST |
| --- | --- |
| Dental | $9,736.90 |
| Ophthalmology | $10,400.22 |
| Surgery | $7,915.69 |
| Anesthesia | $4,274.58 |
| Emergency medicine | $4,387.51 |
| Obstetrics/gynecology | $3,882.56 |
Note that the prices of medical equipment vary depending on their type and brand. Prices also change based on the medical field they're used for.
How did we select the top medical equipment shops in Winnipeg?
We considered the following factors in choosing the best shops that offer medical equipment in Winnipeg:
1: Innovative Medical Supplies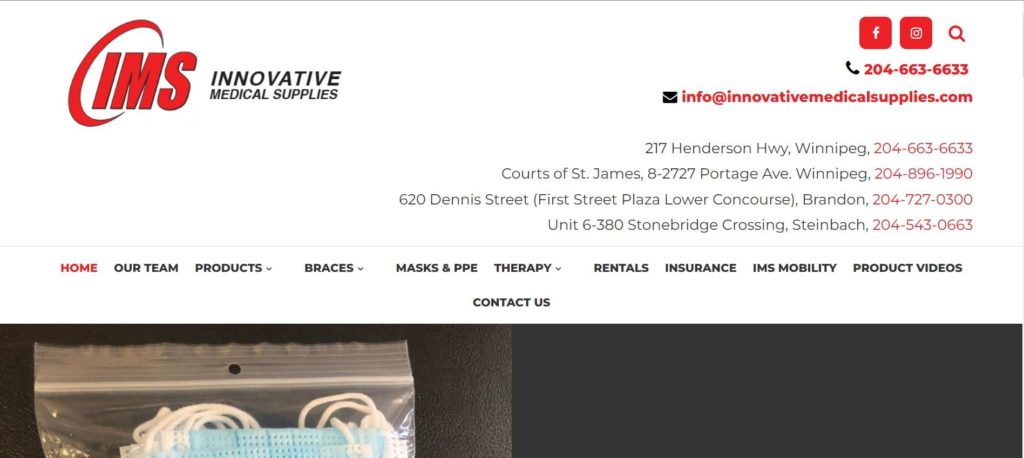 WEBSITE
https://www.innovativemedicalsupplies.org/
CONTACT DETAILS
Phone:

Henderson Highway:

Phone: +1 (204) 663-6633

Assiniboine:

Phone: +1 (204) 896-1990

Email:

Henderson Highway:

Email: [email protected]

Assiniboine:

Email: [email protected]

ADDRESS
Henderson Highway: 217 Henderson Hwy., Winnipeg, MB, R2L 1M1, Canada Assiniboine: Courts of St. James, 8-2727 Portage Ave., Winnipeg, MB, R3J 0R2, Canada
OPERATING HOURS
Henderson Highway:

Monday to Friday: 9:00 AM – 5:30 PM

Saturday: 10:00 AM – 3:00 PM

Sunday: Closed

Assiniboine:

Monday to Thursday: 9:00 AM – 5:30 PM

Friday: 9:00 AM – 5:00 PM

Saturday and Sunday: Closed
| | |
| --- | --- |
| CRITERIA | RATING |
| ARRAY OF MEDICAL EQUIPMENT | ★★★★★ 5/5 |
| STORE AMBIANCE | ★★★★★ 5/5 |
| ⮕Clean and organised | ★★★★★ 5/5 |
| ⮕Easy to navigate | ★★★★★ 5/5 |
| PRICE RANGE | ★★★★★ 5/5 |
| CUSTOMER SERVICE | ★★★★☆ 4/5 |
| ⮕Accommodating | ★★★☆☆ 3/5 |
| ⮕Competent | ★★★★★ 5/5 |
What we love about Innovative Medical Supplies is that it hosts quite a selection of medical equipment, from single-use to long-lasting devices.
Upon checking, we found that the store hosts medical devices and supplies of all shapes and sizes. It also has an array of larger medical machinery suitable for household and clinic use.
Some of the unique medical equipment we found in its inventory include cold therapy kits, portable CPR masks, wedged pillows, and back supports.
Besides medical equipment for sale, the company also offers braces and support devices for rent. People undergoing physiotherapy may rent braces, crutches, canes, and other support equipment to boost their recovery.
We also checked the store and we're happy to report that the space is clean, well-lit, and organised. Despite the huge assortment of medical supplies, the place is easy to navigate, so you won't have to stress about getting lost or not finding what you need.
In any case, we hear that the staff are quite knowledgeable about the items they're selling, which makes shopping more convenient.
We also found that rental terms are set at a minimum of three weeks. So, even if you only need the device for a week or two, you'll have to pay for the full three weeks to qualify for its rental services.
Offers portable hospital equipment
Offers support devices for sleeping and better posture
Two branches in Winnipeg
Some reports of unprofessional staff 
Rental equipment need to be leased for at least three week
Customer Reviews
Love their selection of medical equipment
"After being in hospital for over a month, it was great to be able to set up all of the equipment I would need for going home with just one phone call. Very polite, helpful and friendly. And decent parking, which comes in handy when you have a broken leg and are picking up walking aides." – Mark Elliott
Both branches were helpful
"I attended at both the Courts of St. James and Henderson stores. What a delight to park at no cost with ample parking! The athletic therapist who helped me find the correct brace for my carpel tunnel was very knowledgeable and courteous (thanks Bert). Staff at both locations were very knowledgeable, friendly and helpful. The Biofreeze I purchased at Henderson is a life saver for arthritic pain! I would certainly recommend IMS as a go-to- place for any medical supplies you may require as their selection is impressive!" – Louise Remillard
2: HomEquip
| | |
| --- | --- |
| CRITERIA | RATING |
| ARRAY OF MEDICAL EQUIPMENT | ★★★★★ 5/5 |
| STORE AMBIANCE | ★★★★☆ 4/5 |
| ⮕Clean and organised | ★★★★☆ 4/5 |
| ⮕Easy to navigate | ★★★★★ 5/5 |
| PRICE RANGE | ★★★★★ 5/5 |
| CUSTOMER SERVICE | ★★★★★ 5/5 |
| ⮕Accommodating | ★★★★★ 5/5 |
| ⮕Competent | ★★★★★ 5/5 |
If you're after medical equipment designed for elderly and disabled loved ones, then HomEquip is the best shop for you. We explored its inventory and noticed that most of its items are intended for mobility and accessibility.
What we love about HomeEquip is that it creates customised equipment for customers. Tailor-fit devices will be more comfortable to use and may promote better and faster healing.
Another thing we love about this store is that it offers rentals for various medical equipment suitable for moving around the home or transporting patients around the hospital efficiently.
We appreciate the shop for taking good care of its rental items so that the next users will have well-functioning and sanitised support devices.
We're also pleased with the friendliness of HomEquip's staff. They're ready to assist shoppers and interested clients enquiring via phone or email.
What we didn't appreciate, though, is that some of the employees don't seem to practice safety protocols while in the store. Some reportedly don't wear their masks or adhere to physical distancing, which may put off extra-cautious customers.
Another slight drawback about the rental equipment is they charge a restocking fee for ill-fitting equipment that needs to be replaced. To avoid this, customers must absolutely be certain that they're getting the correct size for the patient.
Impressive collection of support equipment for mobility and accessibility
Offers equipment for rent
Company only charges customers after using the rental equipment
Does customised support and mobility devices
Staff reportedly do not wear masks while inside the store
Has a restocking fee for returned items
Customer Reviews
Excellent rental service
"I had to rent crutches for the first time and had no idea what to do. Shantal from HomEquip was absolutely amazing! She went above and beyond helping me understand my options and also managed to squeeze me in for delivery so I had them right away. Thank you, Shantal for your great customer service!" – Charlene Nagy
I love my brand new scooter
"I have only good things to say about HomEquip and my brand new scooter.
The service was great and the staff very courteous and helpful. I can now go further afield and enjoy the park near me. I am thrilled with my Golden Buzz-Around Ex Extreme scooter and intend using it every day of the rest of the summer and into the fall. I gave her a name "Lady" and she certainly is."– Kathryn Guilford
3: Liberty Athletic + Medical Supplies
| | |
| --- | --- |
| CRITERIA | RATING |
| ARRAY OF MEDICAL EQUIPMENT | ★★★★★ 5/5 |
| STORE AMBIANCE | ★★★★★ 5/5 |
| ⮕Clean and organised | ★★★★★ 5/5 |
| ⮕Easy to navigate | ★★★★★ 5/5 |
| PRICE RANGE | ★★★★★ 5/5 |
| CUSTOMER SERVICE | ★★★★★ 5/5 |
| ⮕Accommodating | ★★★★★ 5/5 |
| ⮕Competent | ★★★★★ 5/5 |
Another medical equipment store specialising in support and accessibility is Liberty Athletic + Medical Supplies. Upon checking, most of its support devices are for disabled and injured persons, although the shop also features equipment designed for the elderly.
What we love about this shop is that its website is easy to browse as the items are organised in their respective categories. Pictures and detailed information about the products are also posted, making shopping more efficient.
Among its inventory that we found to be noteworthy are APAP machines, nasal pillow masks, support insoles, and portable physiotherapy pulse devices.
We checked out its physical store and were equally impressed that it is well-lit and tidy. The store's aisles and shelves are also organized, making it convenient for shoppers to look around and get the items they need.
Besides the impressive array of medical support devices with investment-worthy prices, we also like Liberty's team of friendly, helpful, and punctual employees.
Of course, they have their fair share of customer criticisms. We've heard that they sometimes aren't as attentive to customers as they should be, whether in terms of entertaining queries or checking the stockroom for specific items.
What we think they should also look into some reported instances of non-deliveries. While delayed deliveries can happen once in a while, it's unacceptable for a client not to receive an item that's needed and been fully paid for.
Offers a great selection of mobility and accessibility medical devices
Has equipment for patients with sleeping problems
Both online and physical stores are well-organised
Complaints on delayed responses
Some reports on staff needing to be more attentive to client concerns
Some instances of non-deliveries
Customer Reviews
Got a brace that fits me perfectly
"Excellent customer service. The therapist took the time to patiently fit me for a brace after trying various options. Made sure it was comfortable and useful for my condition and didn't rush me in trying it out. Feeling much better already!" – Candace Penner
A hub of athletic support and medical supplies
"Awesome service from knowledgeable staff for all my athletic and medical supply needs for personal and business. I personally like referring my clients to Liberty Athletic + Medical Supplies because they are reliable with their prompt response in regards to insurance coverage. I highly recommend Liberty Athletic + Medical Supplies. They are knowledgeable and professionals." – Melanie Talastas
4: Diamond Athletic Medical Supplies, Inc.
| | |
| --- | --- |
| CRITERIA | RATING |
| ARRAY OF MEDICAL EQUIPMENT | ★★★★★ 5/5 |
| STORE AMBIANCE | ★★★★★ 5/5 |
| ⮕Clean and organised | ★★★★★ 5/5 |
| ⮕Easy to navigate | ★★★★★ 5/5 |
| PRICE RANGE | ★★★★★ 5/5 |
| CUSTOMER SERVICE | ★★★★☆ 4/5 |
| ⮕Accommodating | ★★★★★ 5/5 |
| ⮕Competent | ★★★★☆ 4/5 |
If you're after a shop that offers protective medical equipment and disinfectants, among other supplies and devices, then Diamond Athletic Medical Supplies is the ideal place for you.
It specialises in all sorts of sports medicine supplies and athletic support equipment, but it also offers protective medical equipment and disinfectants.
Some of the notable products you can find in this store are braces, walking splints, lumbar roll pillows, padded toilet seats, kettlebells, and various pre- and post-natal care supplies.
Most protective products are offered in bulk, so purchasing them will be more cost-efficient than buying singular units at a time.
As of now, Diamond Athletic Medical Supplies doesn't have any online store yet. However, we love how they're willing to accommodate orders via phone or email and ship them right to their doorsteps.
In-store staff members are also said to be helpful and friendly to buyers. They're also compliant with physical distancing and disinfection to keep the store as sanitised and safe as possible.
We're just a bit disappointed to find out that ordering via phone or email does not offer the stellar service we expect. We hear that there have been instances where customers received the wrong items – or worse, didn't receive their orders at all.
We also caution you that following up may also be a bit tricky. Apparently, the shop doesn't always maintain a complete inventory of items purchased remotely.
Given this, we would strongly suggest that you opt to head to the physical stores to purchase the items yourself as much as possible.
Great for buying protective and disinfecting gear
Accommodates customers' orders via phone/email
No online store available as of now
Some instances of wrong deliveries and non-deliveries when ordering off-site
Customer Reviews
Awesome staff and great products
"Had surgery on my foot and needed an Iwalk 2.0 crutch and the staff at Diamond were awesome, very helpful, very friendly. Staff are waiting for you when you come in to serve your needs. Highly recommend if you need any medical device to assist you through an injury." – John McDonald
Great consultants and customer service
"Went there to get a prescribed wrist brace this morning, got help right away – was shown the brace options they have by the consultant and it was easy to choose the right one. Most part of the cost was covered by Manitoba Health and I paid the small rest part. Great experience with Diamond Athletic." – Oleg Yadroshnikov
5. Unimor Healthwear
| | |
| --- | --- |
| CRITERIA | RATING |
| ARRAY OF MEDICAL EQUIPMENT | ★★★★☆ 4/5 |
| STORE AMBIANCE | ★★★★★ 5/5 |
| ⮕Clean and organised | ★★★★★ 5/5 |
| ⮕Easy to navigate | ★★★★★ 5/5 |
| PRICE RANGE | ★★★★☆ 4/5 |
| CUSTOMER SERVICE | ★★★★☆ 4/5 |
| ⮕Accommodating | ★★★☆☆ 3/5 |
| ⮕Competent | ★★★★★ 5/5 |
Professionals looking for an assortment of scrubs, lab gowns, and other medical wear should visit Unimor Healthwear. This shop's main products are uniforms and protective wear for different healthcare professionals.
What we love about this store is that it has products of different colours and sizes suitable for various body types. You'll find medical uniforms, accessories, and footwear that look chic and stylish.
They also offer antimicrobial uniforms and footwear for people working in the food industry, which is a valuable, necessary, and thoughtful addition to their clothing selections.
Should you prefer custom outfits, you can opt to get tailor-fitted scrubs, lab gowns, and other uniforms. In-store staff will take measurements for a more comfortable and better fit of the medical outfits, which is a welcome convenience.
Besides uniforms, Unimor Healthwear also offers basic medical equipment, such as stethoscopes, penlights, doctor's shears, and blood pressure cuffs.
Unimor Healthwear's physical store is also neat and organised, which customers say makes their shopping more efficient and stress-free.
Now, what we found alarming is hearing about a member of staff giving unsolicited opinions on customers' body sizes. While it may have been an attempt to engage the customer in a conversation, it's a sensitive topic that staff should know well not to touch.
Has an impressive collection of scrubs, caps, lab gowns, and other accessories
Offers antimicrobial uniforms for food service professionals
Can tailor-fit uniforms
Some reports of staff offering unsolicited opinions about customers' appearance
Inventory is limited to medical uniforms and basic supplies
Customer Reviews
Excellent service and array of uniforms
"As soon as I walked in, someone greeted me and asked what I was looking for. When I told her, she led me through the entire store showing me every item that may pertain to me and had a very good idea of what size would be appropriate for me." – Dayna Evans
The best place to buy medical uniforms
"Went here for specific uniforms required for a travel nursing contract I am leaving for tomorrow.
Let me tell you this is the BEST service I've ever received in any store probably ever.
The owner of the store greeted me at the door and knew exactly what my needs were once I told her. She grabbed me tons of styles that were suited to my body. The other employee also helped out with fitting me and finding me new styles that fit my body type. The price was quite reasonable at the end of it all. They have an amazing selection of scrubs and I am excited to return here once my contract is done so I can get more cute scrubs!!" – Vikki Pink
FAQs About Medical Equipment
---
And there you have it, our unbiased take on the top providers of medical equipment in Winnipeg!
If you're interested in the use of these equipment for professional medical services, check out our reviews of the best chiropractors and best physiotherapy centres in Winnipeg, for a start.