5 Best Short Term Rentals in Winnipeg
Short-term rentals are excellent options for travelers or those needing a temporary place to stay. It has a lot of benefits, including more amenities for less money compared to staying in expensive hotels.
If you're looking for Winnipeg's best short-term rentals, we're here to help! We've compiled a list of the best short-term rentals in the metro.
But before we delve into our list, here are the criteria for an excellent short-term rental and the average cost of this service in Winnipeg.
Average Cost of Short Term Rentals in Winnipeg
Here are the average costs of short-term rentals in Winnipeg.
| Unit type | Average Cost |
| --- | --- |
| Studio | 700 - 800 CAD |
| 1 Bedroom Apartment | 1000 - 1200 CAD |
| 2 Bedroom Apartment | 1300 - 1500 CAD |
Best Short Term Rentals in Winnipeg
Here are the factors we considered in rounding up our list of the best short-term rentals in Winnipeg:
So, without further ado, here's a list of the best short-term rentals in Winnipeg.
1. Nest Host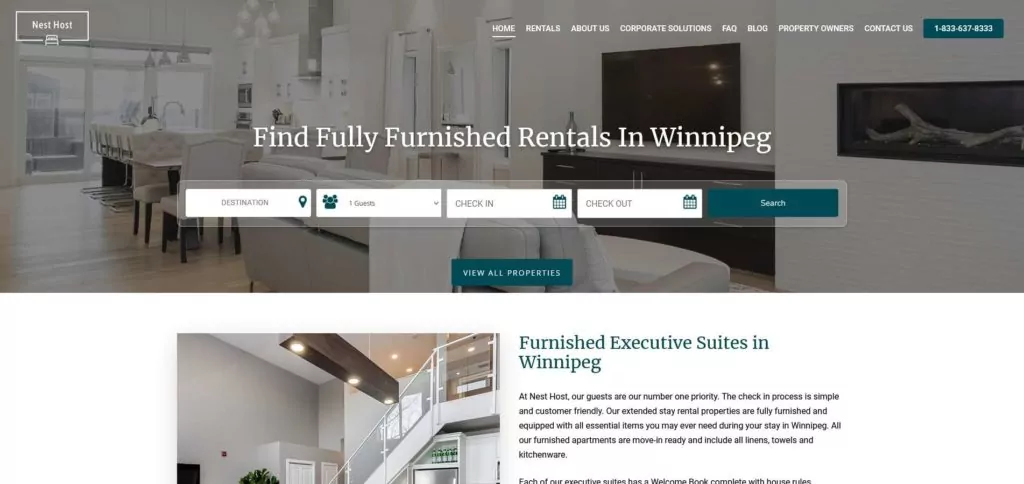 Test
Info
SERVICES
Corporate Stay Apartments

Corporate Relocation

Insurance Claim Housing

TV & Film Industry Housing

Short-term Rentals

WEBSITE
https://nesthost.ca/
ADDRESS
279 Rougeau Ave, Winnipeg, MB R2C 4A1, Canada
CONTACT DETAILS
+1 833-637-8333
OPERATING HOURS
24/7
| | |
| --- | --- |
| Criteria | Rating |
| Location | ★★★★★(5/5) |
| Amenities | ★★★★★(5/5) |
| Cost | ★★★★☆(4/5) |
| Convenience | ★★★★★(5/5) |
If you're looking for fully-furnished apartments with over 30 amenities for your short-term rental, then Nest Host is ideal.
For the past three years, it has provided excellent service to employees, touring guests, and production crews.
This company is a member of organizations and associations, including the Corporate Housing Providers Association, Manitoba Real Estate Association, and On Screen Manitoba.
It wants its short-term rentals to feel like a home away from home. So, its rentals offer fully-furnished units and many amenities that you can enjoy.
We love how it prioritizes comfort and safety for its guests. You can choose from its luxury suites that fit your needs, ranging from one-bedroom to five-bedroom suites.
It also offers a hassle-free process as it has a direct booking feature, as well as free consultation and chat support, which is another pro.
Moreover, most of its suites allow pets, which is a plus for fur parents. However, there's an additional cleaning fee if you wish to take your pets with you.
Fortunately, it offers discounts for more extended stays depending on the duration. Its payment method accepts cheques or credit cards, which is convenient.
However, there are additional fees that you should take into account. For instance, all reservations require an exit cleaning fee, while some properties require a daily parking fee.
Also, you should be at least 25 years old if you wish to book your stay. So, if you're a minor, book with your guardian or family member.
Fully-furnished units
Excellent amenities
Member of housing associations
Offers calendar booking
Has chat support
Opens 24/7
Provides free consultation
Discounts for a more extended stay
Accepts multiple payment methods
Minimum age requirements for booking
No refunds for early departure
Additional fees 
Customer Reviews
Professional and responsive
Wonderful company – Very professional, responsive and polite! Cam has a wonderful team to work with. I would highly recommend this company to anyone looking for luxurious short term rentals! " – Danielle Chobotar, Google Reviews
Clean and modern accommodation
" I've used Nest Host multiple times with the same positive experience. The accommodations were exactly as advertised. Clean and modern, boasting high end furnishings and finishes, as well as ideal locations.
Communication and scheduling was simple and on point with all inquiries replied to promptly. I highly recommend this group of professionals. They offer way more value, comfort and convenience. " – Ryan Jobin, Google Reviews
2. Corporate Stays Winnipeg – Furnished Executive Apartments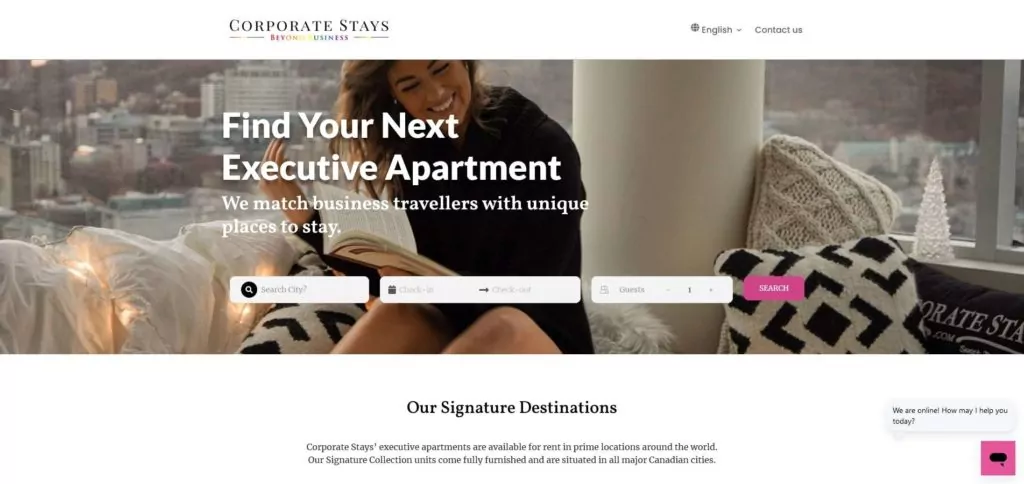 Test
Info
SERVICES
Scholars and Professors

Employee Relocation

Government Travelers

Film and Television Relocation Apartments

Entertainment Industry

Insurance Adjusters

Projects & Consulting Teams

Embassies and Consulates

Corporate Retreats

WEBSITE
https://corporatestays.com/en/
ADDRESS
835 Sterling Lyon Pkwy Unit # 206, Winnipeg, MB R3P 2V5, Canada
CONTACT DETAILS
+1 514-277-6464
COST
Starts at 100 CAD per night
| | |
| --- | --- |
| Criteria | Rating |
| Location | ★★★★★(5/5) |
| Amenities | ★★★★★(5/5) |
| Cost | ★★★★☆(4/5) |
| Convenience | ★★★★☆(4/5) |
Next on our list is a company that has over 13 years of experience in the housing sector.
Corporate Stays offers executive apartments for business travelers. Its apartment units come full-furnished and are located in all major Canadian cities, including Winnipeg.
What sets this building apart from other short-term rentals is that it offers corporate housing and business solutions to guests working in various industries.
It offers short-term and long-term rentals for companies, government officials, professors, insurance adjusters, and many more.
Its full-serviced apartments have equipped kitchens, in-site laundry, and high-speed wifi. There are also pet-friendly units that you can rent.
On top of that, this company gives back a portion of its sales to the community. Its Reforestation and Protection programs support destroyed and impoverished communities across Central and South America.
We think that not most short-term rentals give back to the community this way, so this is a point for Corporate Stays in our book.
It is also a member of several housing organizations, including the Association of Serviced Apartment Providers and many more.
One downside is some of its fees and refund policies. There are several additional fees, including insurance, pet fees, and fees for access to several amenities.
If you reserve for less than 30 days, your rent is also non-refundable in case you cancel. Add the fact that its administration fee is also non-refundable.
With over 13 years in the housing sector
Provides corporating housing to various industries
Member of housing organizations
Full-serviced apartments
Offers calendar booking
Has chat support
Has social responsibility projects
Accepts multiple payment methods
Additional fees
Early checkout requires a 14-day notice
Reservations less than 30 nights are non-refundable
Non-refundable administration fee
Customer Reviews
Professional service
" Thank you so much, Hakim Filali. I am enjoying my stay and would like to let you know that I appreciated your help with my reservations.
You are an extremely reliable and efficient reservations specialist and I highly commend your work. Simply put, you are excellent and the best at your job! " – George Sterling, Google Reviews
Convenient experience
" I stayed at The Spot, southwest downtown. It was such a great experience.
Apartment was perfect, building amenities as described and I loved the customer service with the company, the booking process was fast and check in was super easy. If you are traveling to Winnipeg, you need to stay with Corporate Stays! " – Carolina A., Google Reviews
3. Executive Suites by Roseman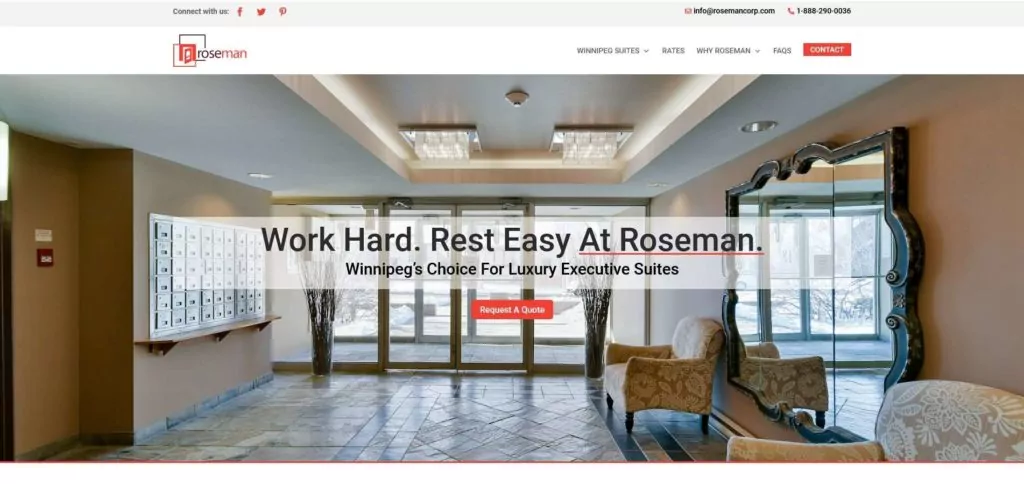 Test
Info
SERVICES
Employee Relocation

Extended Stay

Furnished Apartments

Insurance Claims & Displaced Families

Month to Month Rentals

Temporary Housing

Film, Television & Movie Production Housing

WEBSITE
https://www.rosemancorp.com/
ADDRESS
243 Queen St, Winnipeg, MB R3J 3V4, Canada
CONTACT DETAILS
+1 403-290-0036
OPERATING HOURS
24/7
COST
Starts at 95 CAD per night
| | |
| --- | --- |
| Criteria | Rating |
| Location | ★★★★★(5/5) |
| Amenities | ★★★★★(5/5) |
| Cost | ★★★★★(5/5) |
| Convenience | ★★★★☆(4/5) |
Roseman's Executive Suite is ideal for you if you're looking for luxury and comfort for your stay.
We love this rental because its luxury executive suites don't require additional fees aside from your rent. Amenities are all-inclusive, which we love.
Most short-term rentals in Winnipeg have additional fees for several amenities. So, having access to them without paying more is this company's advantage over others.
However, you must pay a fee if you wish to bring your pets. You should contact its office beforehand to check the pet-friendly suite's availability.
Another great thing is that it offers a homey vibe and is perfect if you're traveling for work.
Its suites have full kitchens with a complete appliance set that you can use. They also have fully-stocked pantries, which are not usually offered in short-term rentals.
The suites also have dedicated workspaces if you wish to be productive during your stay. Whether you're an entrepreneur or a student, you have a comfortable place to work.
On top of that, the building has a housekeeping service and onsite laundry facility, which will help you save money.
However, there's a minimum booking of 14 days for its rentals. Fortunately, it doesn't require any reservation fee and offers a satisfaction guarantee.
If you're not satisfied within 72 hours of checking in, and the issue doesn't get resolved, you can claim a 100% refund.
Luxury executive suites
Fully-furnished apartments
State-of-the-art amenities
Full kitchen with complete appliances
No extra charges
Convenient location
Offers free quote
Has a satisfaction guarantee
No reservation fee
Minimum booking of 14 days
Requires pet fee
Customer Reviews
Excellent service at a fair price
" Stayed here for work for 4 months. Staff are an absolute delight and made me feel welcome. Little welcome package complete with milk in the fridge is miles above what other properties offer.
They understand what being away from home can be like and the service mirrors that. Reasonably priced, clean and well maintained apartments. Would recommend (and stay again) in a heart beat. " – Alex Kinsey, Google Reviews
Convenient location
" Easily one of the best places to stay in this part of Winnipeg. Close walk to Assiniboine Park, Polo Park, bus stops, and many types of restaurants. Very close to a Safeway.
Parking lot is currently getting repaved and will surely be amazing when completed. Huge balconies with great views on both sides. Lovely decor in the rooms.
Rooms are cleaned for you and are cleaned to perfection. Great management. " – Natasha J., Google Reviews
4. Towers Realty Group Ltd.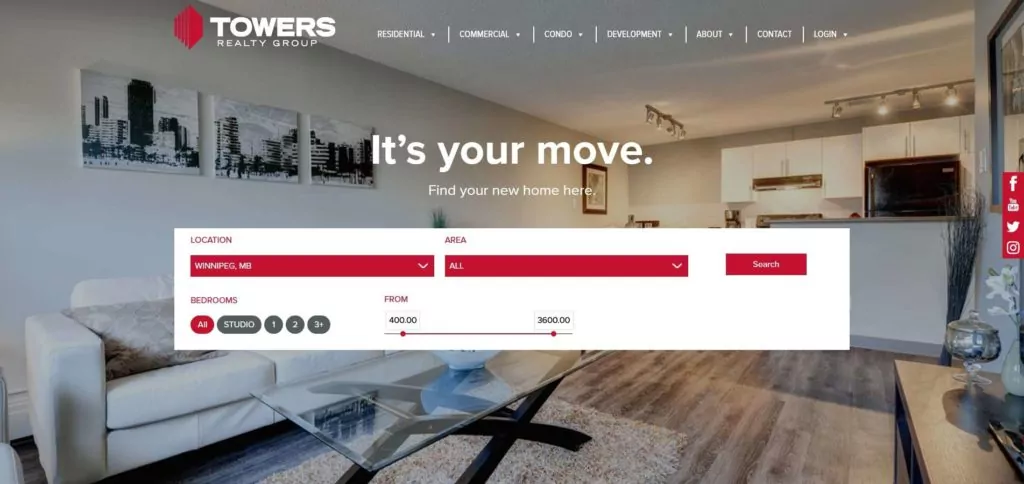 Test
Info
SERVICES
Studio

1 Bedroom Apartments

2 Bedroom Apartments

3 Bedroom Apartments

WEBSITE
https://www.towersrealty.ca/
ADDRESS
1420 Taylor Ave #100, Winnipeg, MB R3N 1Y6, Canada
CONTACT DETAILS
+1 204-956-2739
OPERATING HOURS
Monday - Thursday: 8:30AM–4:30PM

Friday - Sunday: Closed

COST
Starts at 950 CAD per month
| | |
| --- | --- |
| Criteria | Rating |
| Location | ★★★★★(5/5) |
| Amenities | ★★★★★(5/5) |
| Cost | ★★★★★(5/5) |
| Convenience | ★★★★☆(4/5) |
Towers Realty Group offers residential and commercial units for all tenants. It has a diversified portfolio of quality properties and an excellent industry reputation.
Its short-term rentals are family and community-oriented with its full-serviced units. Its properties are located in different locations in Winnipeg, which offers more accessibility.
The building also has many pet-friendly units, which guests love, along with its clean facilities. Customers tell us that the hallways are always clean and the caretakers are responsive.
We also love how it developed its discount card program. Anyone living or working in a Towers Realty Group building may receive an exclusive Towers Benefits card.
This card entitles you to several discounts from its retail partners. For instance, you can get deals from Anago Cleaning Systems, AVEDA Institute, Winnipeg Home Services, and much more.
When it comes to convenience, this company has a lot to offer. For instance, it has a 24-hour emergency line, which you can access in case you need assistance.
It also offers online and in-person applications if you wish to book an apartment or unit. However, it would be best if you visited for in-person consultation from Mondays to Thursdays since its office is only available during that time.
It also accepts multiple payment methods, which is easier since you can also pay online. Plus, there are referral bonuses for all its properties.
You are eligible for a $250 referral bonus if you have a good standing. This bonus is equivalent to rent credit for every successful referral you make.
However, we don't quite like the inflated security deposit required upon application as this can be expensive for some.
Residential and commercial use
Offers online and in-person applications
Partnership with various service providers
Discount card program
Has a 24-hour emergency line
Accepts multiple payment methods
Pet-friendly apartments
Offers referral bonus
Available for four days only
Required security deposit upon application
Customer Reviews
Clean facilities
" The new caretaker at 21 Mayfair has been such a great addition. Our old ones were great and we were upset to lose them, but Jim has been fantastic.
Building is always clean, he's always working on something, and very quick to respond to any requests, calls, or concerns. Great hire! " – David Beakley, Google Reviews
Professional caretakers
"Lived in Oakton Manor for 5 years. Great buildings, great apartments but the real stars were our caretakers Michael and Angela.
Never experienced caretakers so friendly, welcoming, helpful and just all around great people. If you are looking at one of the properties from Towers, Oakton Manor should be the number one choice, if for them alone.
Thank you so much for the time spent here! " – Jakub Dudek, Google Reviews
5. Edgewood Estates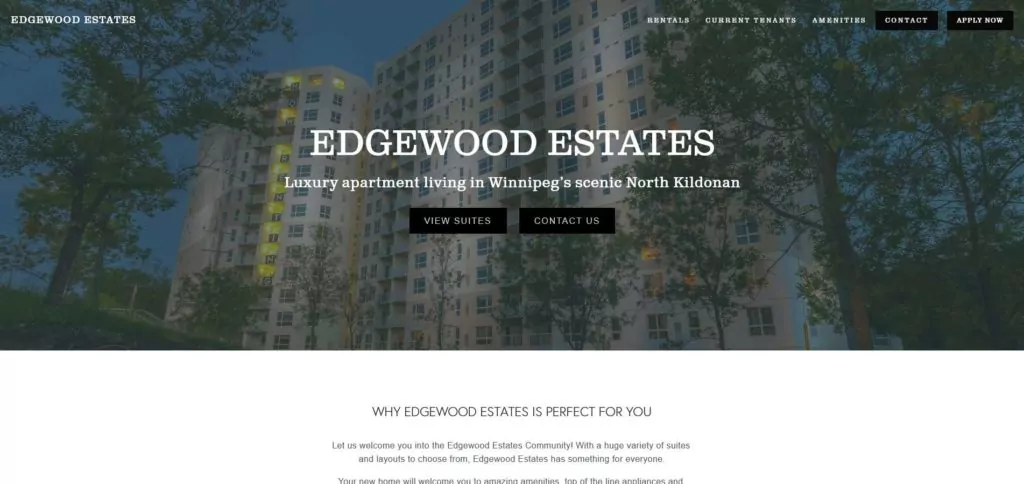 Test
Info
SERVICES
1 Bedroom Apartments
WEBSITE
https://www.edgewood-estates.ca/
ADDRESS
60 Whellams Ln, Winnipeg, MB R2G 2G7, Canada
CONTACT DETAILS
+1 204-339-9286
OPERATING HOURS
Monday - Thursday: 9AM–6PM

Friday: Closed

Saturday: 10AM–4PM

Sunday: Closed

COST
Starting at 1100 CAD
| | |
| --- | --- |
| Criteria | Rating |
| Location | ★★★★★(5/5) |
| Amenities | ★★★★★(5/5) |
| Cost | ★★★★★(5/5) |
| Convenience | ★★★★☆(4/5) |
Edgewood Estates is located in Winnipeg's scenic North Kildonan. So, if you're looking for a luxury apartment with a beautiful river view, you should book your next stay here.
Aside from its strategic location, it also offers full amenities, which we love. Its units are equipped with top-of-the-line appliances, while select suites have granite countertops, luxury vinyl, carpet flooring, and ceramic cooktop stove.
On top of that, the suites also have an in-suite dishwasher and side-by-side washing machine and dryer for convenience.
The building even has its onsite hair salon and pickup & drop-off drycleaning services. If you like socializing, it also has daily scheduled activities, outings, and health & wellness programs.
On the other hand, if you're more fond of indoor activities, you can also access its indoor walking track, reading lounge, and multi-purpose rooms.
The building engages a 25-person shuttle bus that can take you around town for your appointments, group outings, or even grocery store trips.
When it comes to security, all buildings have a security guard patrolling around the clock. The building entrance and amenities are also secured with an updated remote fob system, which is another plus.
However, the office is only available four days a week. It also doesn't have chat support, but you can send a message or inquiry through its website.
While this is not necessarily a deal-breaker, we wish it could offer more flexibility in its office hours and booking options.
Luxury apartments
Scenic location
Offers full amenities
Has onsite events and community socials
Outdoor spaces for health and wellness
Has an in-house shuttle bus service
Available for four days only
No chat support
Customer Reviews
Professional service
" I lived at Edgewood Estates for a year and loved it! Shelly and Michelle in the leasing office were fantastic and were so helpful when I tried to sublet my apartment.
Amanda in the office was so friendly and helpful whenever I needed something fixed or had questions. Any repairs in my apartment were dealt with so quickly.
Honestly… I have nothing bad to say about this place! " – Karen Shibley, Google Reviews
Offers an amazing view
" Shelley and Michelle are absolutely wonderful and helpful, and they genuinely care about the tenants. As a first time renter, I had a lot of questions while choosing my suite and after moving in.
Shelley has gone above and beyond to answer my questions, ensure I was comfortable, and address any concerns I had. Not only this, but the building itself is beautiful, clean, with great appliances, and absolutely amazing views! " – Danielle Cherpako, Google Reviews
FAQs about Short Term Rentals in Winnipeg
---
And that concludes our list of the best short-term rentals in Winnipeg! If you have experience with any of these rentals, you can share them with us.