The Top 5 Travel Agencies in Winnipeg
Anyone who's had a stressful couple of days from their job knows the value of a good vacation. It's an opportunity so many people desire, but most lack the time or energy to prepare for their dream trip.
Travel agencies are there to relieve you from the stresses of planning your dream vacation. Their job is to handle the hard parts of your trip such as the booking, accommodations, travel requirements, and your itinerary.
The top travel agencies in Winnipeg are here to help you skip all the grunt work so all you have to do is worry about is how you will enjoy your much-deserved vacation.
To help you get started embarking on your trip, we've reviewed some of the best travel agencies operating in the Winnipeg area. Your dream adventure awaits, so let's not waste a second more!
The Top Travel Agencies in Winnipeg
Each travel agency is judged on the following criteria:
It's essential, therefore, for travel agencies to promise excellent customer service to get them out of any and all potential issues.
1. The Great Canadian Travel Group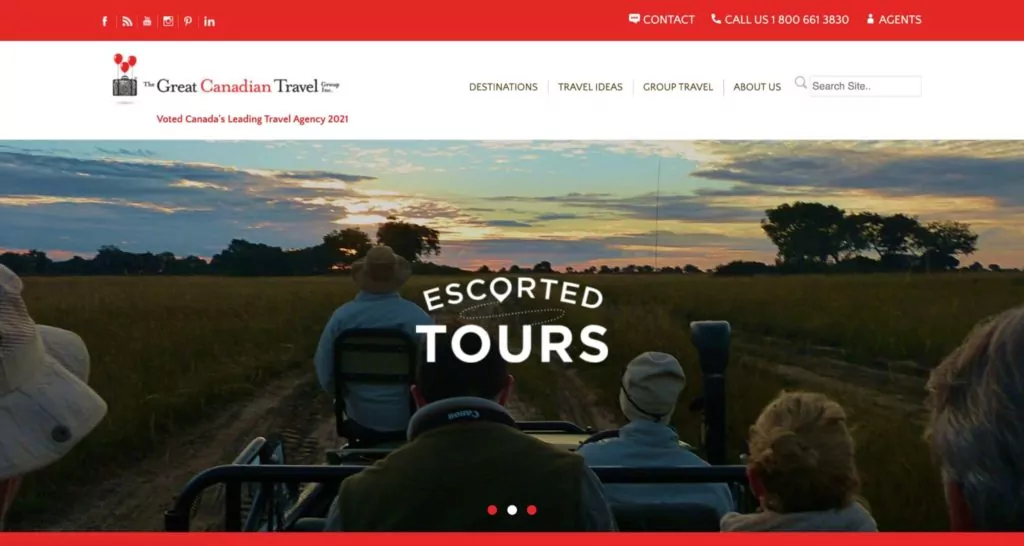 | | |
| --- | --- |
| Criteria | Rating |
| Destinations | ★★★★★ (5/5) |
| Experience | ★★★★★ (5/5) |
| Value for Money | ★★★★☆ (4/5) |
| Customer Service | ★★★★★ (5/5) |
The Great Canadian Travel Group is a well-known travel agency in Winnipeg that has been in operation since the 1970s. They are most known for designing highly experiential and life-changing travel experiences for their clients.
The agency's claim to fame and its reason for success is its immersive polar bear and beluga experience in Churchill, Manitoba. Since its inception, the agency's offers have expanded to wildlife safari experiences in Africa and other unique travel experiences.
Their website is an absolute treat to browse. You are greeted with an easy-to-navigate interface that shows you a collection of their valuable resources and different packages.
It's all very convenient. They give you what you need to be well-informed about their services and your travel destinations and even give you some travel ideas for your next trip.
Their selection of offers on their website is also very transparent. They indicate the full price of each package, the itinerary, flight details, and what's included in each package.
The Great Canadian Travel Group also offers travel insurance from reputable insurance firms such as Trips Travel Insurance and Manulife.
They also give clients the privilege of crafting their own fully personalized plan.This means travelers can get exactly what they want, free from the pain of planning it themselves.
The agency prides itself on having a trusted team of experts in travel and planning. They have experts from each region they offer so clients are never left in the dark on what to expect.
These experts are also key in providing you with expert suggestions on the best things to do on each trip. It's this attention to detail that sets The Great Canadian Travel Group apart from other travel agencies in the region.
All this comfort, convenience, and expertise, however, comes with a hefty price. Their prices are above average compared to other entries on this list, though they do offer sizable discounts as well.
The firm was also recognized as Canada's leading travel agency in 2021. With that recognition, many clients can be assured that they will keep their promise of "creating your best days ever."
Composed of a highly experienced, well-traveled staff
Helps clients compose their preferred itinerary
All agents are Certified Travel Consultants (CTC)
Highly personalized programs
Packages are quite expensive
Packages non-inclusive of insurance
Customer Reviews
Superb ability to plan a vacation
Your extremely meticulous planning in my long and highly complex journey around the world resulted in a smooth and very enjoyable learning experience that I shall always treasure.
During the planning, you faithfully communicated with me frequently, answering all my many questions, and handling a myriad of details. I enjoyed working with you and I look forward to doing so again. I highly recommend your superb company to all your clients.
I've had an excellent response from many readers who purchased my eBook "Around the World in Thin Slices," published by Kindle*, based on that fantastic journey. – Jim Hendrickson
A friendly and personable team to address your travel issues
We have booked our last two trips with Karen Pearson at The Great Canadian Travel Group Inc. and, on both occasions, I have been extremely impressed with her excellent service, provided in a friendly and personable manner. I am a highly anxious traveller and have a million questions and Karen responds quickly to emails with thoughtful and HELPFUL information, is extremely willing to tackle each one of my many questions and has put my mind at ease many a time. My husband and I have to relocate for work during the present COVID reality, and travel is (understandably) more challenging. However, Karen has made the process so much more manageable, keeping us up to date with flight options, and changes and notifying us of concerns when relevant. I feel well prepared to safely face the realities of our trip this weekend knowing that she has provided us with extensive information. Not to diminish her professionalism and extensive knowledge, what impresses me deeply about Karen's service is her friendly and supportive demeanor. She remembered me from one booking to another, which made me feel like more than a valued customer. I highly recommend booking your next trip with Karen! – Allison Pauls
2. Sarbit Travel & Insurance Agencies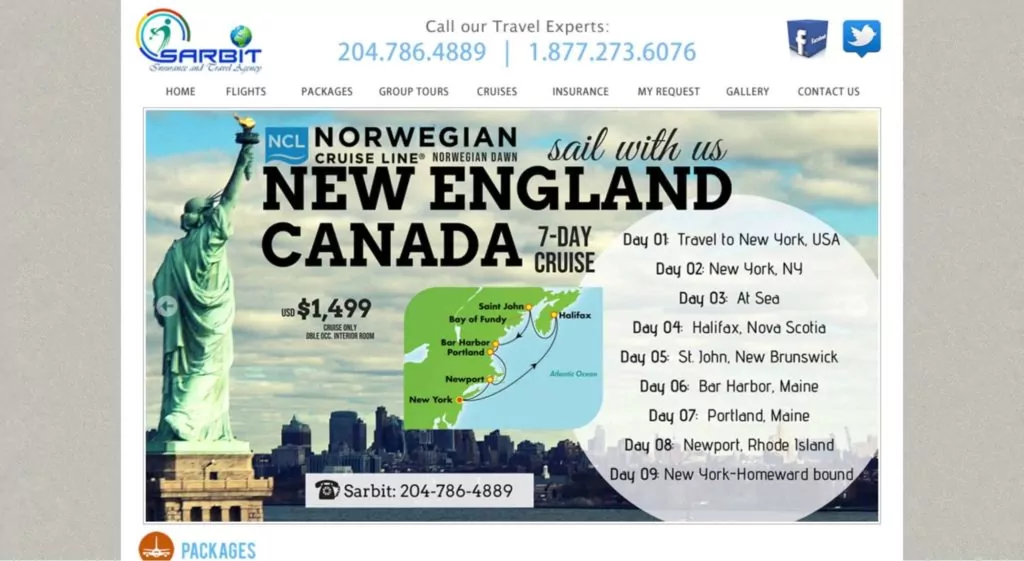 | | |
| --- | --- |
| Criteria | Rating |
| Destinations | ★★★☆☆ (3/5) |
| Experience | ★★★★☆ (4/5) |
| Value for Money | ★★★★★ (5/5) |
| Customer Service | ★★★★★ (5/5) |
Sarbit Travel and Insurance Agency is another well-known travel agent in the Winnipeg area. They are composed of a team of Filipino professionals well-seasoned in both travel and insurance policies.
The firm's Filipino heritage has given them a reputation for designing excellent and affordable trips to the Philippines. They offer several trips to the country's many regions.
Their offers are not limited to vacations in the Philippines. They also offer trips and packages to other countries in the Americas, Europe, and parts of Asia.
Compared to other agencies on this list, however, they have a rather small selection of destinations. Fortunately, they make up for it with relatively affordable and customizable packages.
Sarbit also offers several types of vacations, including group tours, pilgrimages, and even cruises. They also give clients the privilege of detailing a personalized plan for a trip that they will happily materialize for you.
Sarbit's website is filled with banners advertising their many travel packages. Unfortunately, the price and inclusions of each package are not explicitly stated. Aspiring travelers need to peruse a separate document or request more information from their customer representative.
Travelers need to note that their packages are non-inclusive of insurance. To add to that, their policies from Blue Cross and GMS insurance can also be quite expensive.
Offers personalized itineraries
Composed of an expert team of travel and insurance agents
Offers relatively cheap travel packages
Packages non-inclusive of insurance
Expensive insurance packages
Limited travel destinations
Customer Reviews
Very responsive and accommodating
My mom needed to go back to Germany after visiting us. But suddenly she missed her flight, so she needed another one right away. It was already too late to buy something at the airport. We just drove out of the airport and I put the closest travel agencies on my GPS. Sarbit Travel showed up but it was 15 min away it also was 15 min until agencies closing time. I explained my situation to the lady on the phone named Rebecca. She said she will wait for us and after we came she just found the best and cheapest ticket with Air Canada. She also was willing to check us in online. So Rebecca made our day and my mom's way back. – Andreas Huebert
Bends over backward for customer satisfaction
Rupinder from the autopac agent side is phenomenal! She went over and beyond I think what another agent would do, she understood the situation/scenario and went out of her way and time to correct and complete the process to get me going with my vehicle.
I have been going to this place for the past few years, yes there is a bit of a wait and let me tell you these agents that work here understand the needs of the people they deal with whether home or autopac insurance. – Joe
3. Transat Travel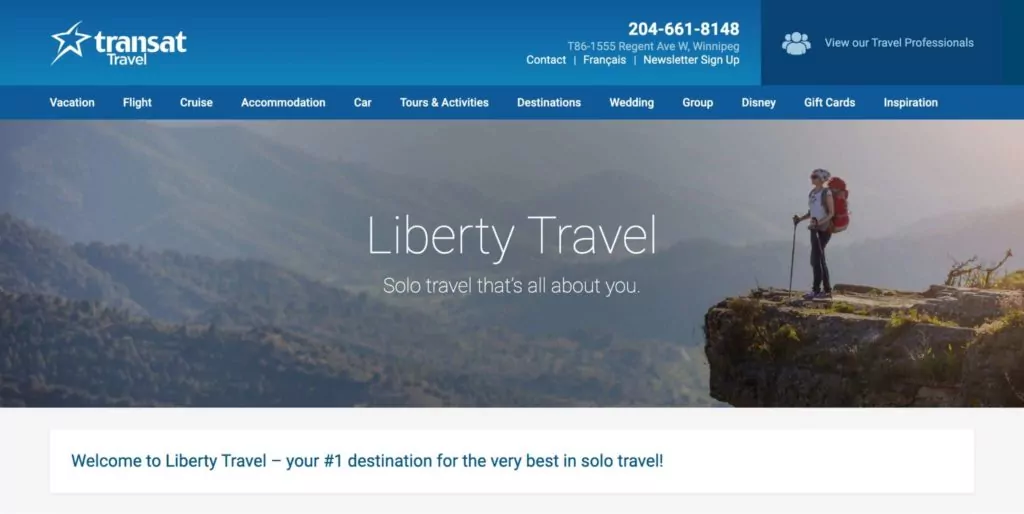 | | |
| --- | --- |
| Criteria | Rating |
| Destinations | ★★★★★ (5/5) |
| Experience | ★★★☆☆ (3/5) |
| Value for Money | ★★★★★ (5/5) |
| Customer Service | ★★★★☆ (4/5) |
Transat Travel sets itself apart as a network of Travel Agencies, not just a singular entity. As such, it has connections with other reliable travel agencies around the country for the best possible deals.
Adding to that, they have several brick-and-mortar branches around the country, making them quite appealing for travelers who want a personal touch when booking with a travel agent.
Having a large network of agencies and partners grants them access to a multitude of flight, cruise, and travel packages available to aspiring travelers. It also gives them access to great deals and cheap flights to offer their clients.
Among Transat Travel's special offers include personalized destination weddings. Transat, therefore, is a reliable choice if you have any plans of tying the knot for a romantic getaway.
Though who says you need to be with others to enjoy a vacation? Transat's Liberty Travel Plans allow travelers to fly and discover the world solo, on their terms.
Transat also offers its clients several possible insurance packages. Though these are sold separately from the agency's travels and tours packages.
If ever you change your mind and decide against a vacation, Transat graciously offers its clients a free 24-hour cancellation with a full refund. So clients need not worry too much financially and are gifted with the comfort that they don't have to commit to a difficult deal.
Transat Travels has much to offer, though it takes quite a bit of effort to navigate through all their services. Their website can be a bit hard to navigate and forces you to shift from branch to branch to seek out the best travel deals for you.
Travelers may expect varying experiences when dealing with an agency with a large network. The credentials of staff members vary from site to site and the quality of service may be highly dependent on the specific branch you're dealing with.
Several branches around Canada
Wide selection of tours, flights and packages
Offers personalized destination weddings
Offers free 24-hour cancellation and refunds
Website can be confusing to navigate
Unclear staff credentials and experience
Packages non-inclusive of insurance
Customer Reviews
A reputation for high client retention
We have been dealing with Michelle Fischer at Transat Travel in Kildonan Place for many years. Michelle is very professional and always gets back to us as soon as possible. She is very friendly and easy to deal with. Michelle will find us the best prices on flights and has gone beyond our expectations this past winter when we needed to get home due to the pandemic and new government restrictions. – Della Markham
A very personal and professional travel experience
I've been on a few trips to Cuba, and Great Britain and always had excellent service given through this Agency. I was planning on a trip to Ireland when the pandemic came along and took that away. If you are looking for professional and personal services, visit Michelle in the office and she will work hard to get you what you need. – Vickie Emms
4. Canada One Travel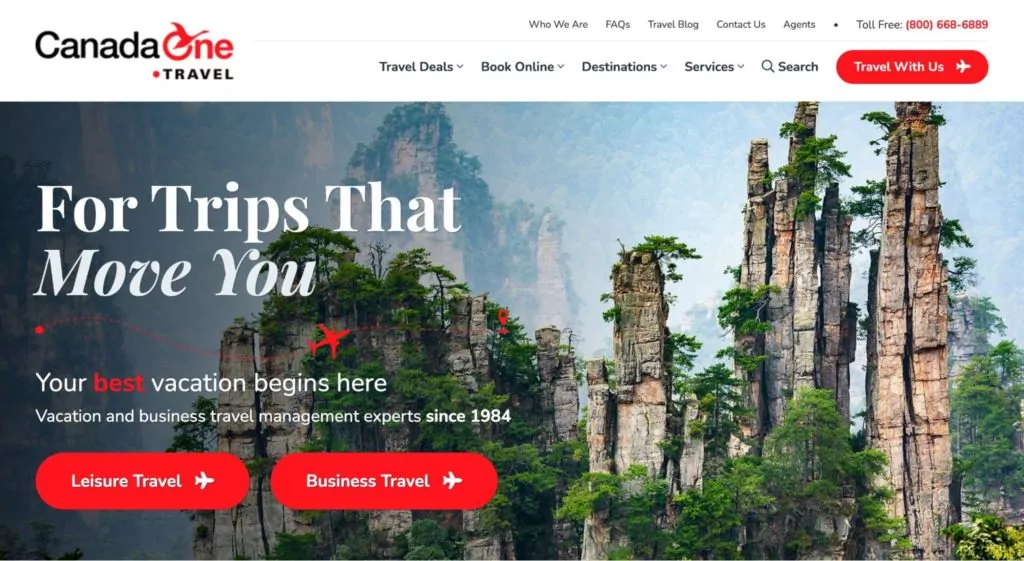 | | |
| --- | --- |
| SERVICES | Travel Management, Business Travel Management, Religious Pilgrimages, Group Tours, Solo Tours, Cruise Packages, Adventure Packages, Women's Travel Packages, Travel Insurance |
| WEBSITE | https://canadaone.travel/ |
| ADDRESS | Head Office 1365 Pembina Hwy Winnipeg, MB, Canada R3T 2B7 |
| CONTACT DETAILS | Phone: (204) 287-8228 |
| | |
| --- | --- |
| Criteria | Rating |
| Destinations | ★★★★★ (5/5) |
| Experience | ★★★★☆ (4/5) |
| Value for Money | ★★★★★ (5/5) |
| Customer Service | ★★★★★ (5/5) |
Canada One Travel is an award-winning travel agency that has been in operation since 1984. In its tenure, it has secured itself as one of the top travel agencies in the country for business trips and leisure travels.
The agency in its time of operations has also built itself a reliable network of hotels, airlines, and travel agency communities. These connections help the agency provide its clients with premium deals and experiences at very competitive prices.
Canada One Travel is most known for its ability to execute business trips effectively, with little stress on companies. The agency boasts a set of tools that free businesses from the inconvenience of recording travel expenses for reimbursements so companies can simply focus on more important activities for their employees.
The agency also has a surprisingly large variety of tours and travels. They offer religious pilgrimages, adventures, rail tours, discovery tours, and cruises.
Among the agencies listed here, Canada One Travel is also the only agency that offers tour packages exclusively for female travelers.
The agency also offers unique Sun Packages that give travelers a place under the sun. They guarantee travelers a constant supply of sunshine by giving them access to lovely beach getaways and tours to warm and tropical climates.
Canada one Travel also offers insurance plans from several, reputable insurance firms. Its partners include Manulife, Allianz, GMS, and AIG Travel Guard. Unfortunately, the agency's flight, tours, and vacation packages are non-inclusive of travel insurance.
If you're interested in looking further into their deals, Canada One Travel's website is also a breeze to use. Trips, flights, tours, and packages are well-explained and detailed, and each package comes with a brochure describing the trip itinerary, attractions, trip inclusions as well as excluded products and services.
Effective management system for business trips
Wide selection of travels and tours
Easy to navigate website
Competitive pricing
Packages non-inclusive of insurance
Customer Reviews
A knowledgeable and thoughtful staff
This is the second time I was lucky to have Sheila Weeks as my travel agent and I am thankful. She comes with a wealth of experience and she gives advice freely and will go out of her way to find the best flights and medical form information. She takes my wishes and needs seriously and helps me to find the best seats for my bad knee. I will be so happy to have Sheila book all my flights and travel arrangements in the future. – Rosemarie Finlay
Very personal and responsive team
My aunt needed to book her ticket to Toronto. She contacted one of the guys over here. I don't know his name but I was so impressed by their customer service when my aunt told me that she was unable to get her ticket because she had no one to drive her to their shop, that guy dropped the ticket off himself. Sometimes little things can make a big effect on someone's life! – Harkirat Kaur
5. SellOffVacations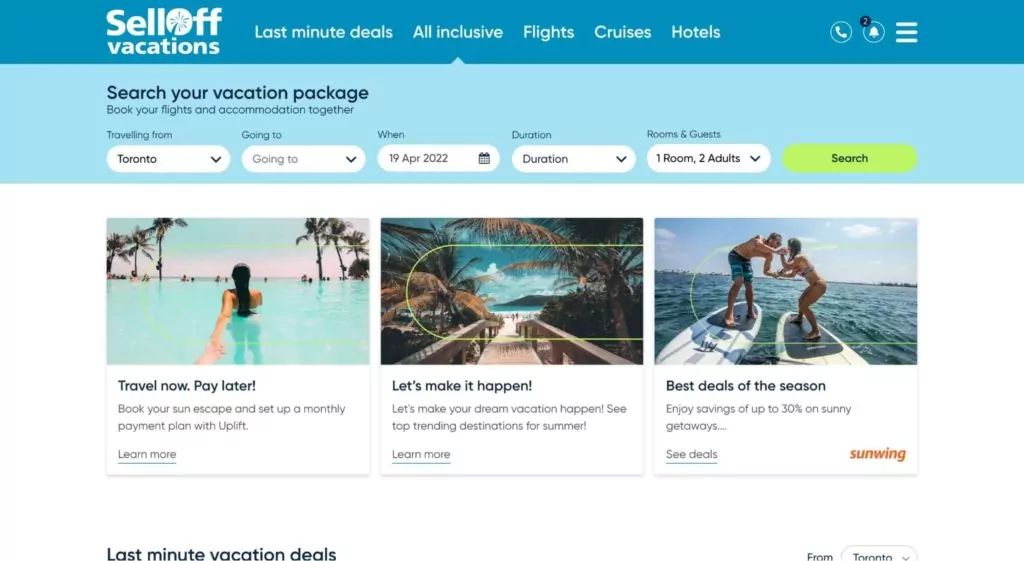 | | |
| --- | --- |
| SERVICES | Travel Management, Group Vacations, Solo Vacations, Travel Insurance, Short Break Vacations, Long Vacations, Seasonal Travel Packages |
| WEBSITE | https://www.selloffvacations.com/en/ |
| ADDRESS | 726 St. Anne's Road (Southglen Shopping Centre), R2N 0A2 |
| CONTACT DETAILS | Phone: (204) 571-4570 |
| | |
| --- | --- |
| Criteria | Rating |
| Destinations | ★★★☆☆ (3/5) |
| Experience | ★★★★☆ (4/5) |
| Value for Money | ★★★★★ (5/5) |
| Customer Service | ★★★★☆ (4/5) |
SellOffVacations has been actively serving Canadian travel needs since 1978. It has since then grown into a multi-faceted travel agency that offers affordable flights and vacation packages.
True to their word, they have an extensive list of discounted flight packages and vacation bundles for travelers to choose from. These include wildly discounted last-minute deals and all-inclusive getaways to top hotels and resorts around the globe.
SellOffVacations also offers a special "travel now, pay later" offer to its clients, allowing them to embark on their dream vacation. This relieves them of the pressure of having to deal with large upfront costs.
Their offers mostly include resort, beach, and hotel vacations that are perfect for destination weddings and relaxing getaways. However, travelers who would like to invest in a more immersive and experiential travel experience better look elsewhere for their travel needs since SellOffVacations do not offer escorted tours or adventure deals.
If you're looking for a relaxing getaway with friends, SellOffVacations is a fine option. They offer exclusive perks and discounts for accommodations in their group vacation deals.
SellOffVacation packages unfortunately don't come with insurance. Insurance is purchased separately from their partner merchant, Manulife.
Browsing through their websites, you're greeted with tons of deals and offers, reminiscent of an online retail store. However, it's disappointing to see a lack of resources about their travel destinations and packages.
It would have been beneficial for travelers to at least be given a list of travel ideas or more information about their dream destination aside from basic information about their flight and hotel accommodations.
Offers last minute vacation deals
Offers many discounts on vacations
Allows installment payment policies
Packages non-inclusive of insurance
Limited offerings and lack escorted tours
Customer Reviews
Travel partners for over seven years
Jenny has booked all my vacations for the last seven or eight years. I find her to be knowledgeable, accommodating, and very friendly. She knows what I typically want and like and can book. Last year my luggage did not make it to my destination. I was able to contact her from Jamaica and she was able to search on her end and give me advice. I would highly recommend her services. – Margaret Lupyrypa
Flawlessly smooth and meticulously planned vacations
Holly in Winnipeg is extremely knowledgeable and will provide you with great service. We just returned from our third trip booked through Holly. She was attentive, detailed, and followed through on everything from the start to after we returned from our trip. Her organization and the level of service she offers give me the assurance and confidence I need to know my vacations are flawlessly smooth allowing us all to enjoy them that much more! Thanks again, Holly! – Crystal Seman
What to Consider When Selecting a Travel Agency
FAQs about Travel Agencies
---
There you have it! Our top picks for the best travel agencies in Winnipeg.
So if you find yourself craving a much-needed break, these agencies are here to give you the best deals on unforgettable getaways and adventures.
Now that you're set with a travel plan, you might want to know more about how you can protect yourself while you're out in foreign land. You can check out our list of the top insurance brokers in Winnipeg to help you find the best policy for you.