The 5 Best Water Heaters in Winnipeg
Hot showers are probably among the essentials for living in this city given how far our temperatures drop sometimes. If you want a reliable source for them right at home, you're in luck – we're discussing the best water heaters in Winnipeg today!
What's more, we've put together a buyer's guide here. It'll tell you the factors to consider to help you make the wisest purchase for your water heater once you get to our list of top choices.
How to Pick the Right Water Heater for Your Household
Let's start with how to assess your options. Here are the things you should consider when buying a water heater.
1. Water Heater Type
There are many types of water heaters out there but the two main ones are storage tanks and tankless water heaters.
Storage tanks work by heating water and storing it for a time before the exact time of usage. These water heaters are bulky, for obvious reasons.
Most storage tanks use up gas or electricity as fuel for heating the water. However, some units like solar and heat pump water heaters use other sources.
Heat pumps use up the hot air from the surroundings to warm the incoming water, so they need to be in an environment that's always warmer than the atmospheric temperature. With this smart energy use, heat pumps are known to use 60% less energy than their counterparts.
As for the solar water tanks, they obviously use solar energy, and will thus constantly need sunny days to be efficient.
There is also a condensing water heater type. With this type, the excess flue gases from the initial water heating are recycled back into the tank for heating.
Those are pretty much your options for storage water heaters. On the other hand, the newer tankless water heaters use heating coils to heat a cold inflow stream and produce warm water as an outflow.
Gas and electricity also power these water heaters. Overall, tankless water heaters are better for efficiency and compactness.
2. Fuel
Gas water heaters are convenient if you already have a gas line in your home. Installation may be more costly since you'll need exhaust pipes but repairs and maintenance will be less of a hassle.
On the other hand, electric water heaters are more efficient and easier to install. These are also cheaper upfront but they will be more costly for repairs and maintenance.
Additionally, electric-powered heaters also tend to be slower in heating. That's why a fair number of people still choose gas – but it's up to you.
3. Capacity
If you'd prefer water heaters with storage tanks, you need to know your daily consumption during peak hours. Most families use at most 150 litres during peak hours – when everyone is taking showers doing dishes and laundry.
On the other hand, if you choose a tankless water heater, you should know how much you'll be spending per minute as tankless water heater capacities are measured in litres per minute.
On average, you'll be using 5 litres of water per minute of showering, so a typical household may need a water heater with a 20-litres-per-minute capacity for showering, dishwashing, and laundry.
4. Material
You should also look at the material of your water heater as it will affect the longevity of your unit.
You can opt for water heaters with brass instead of plastic drains for durability. And if your budget permits, get a glass-lined storage tank to reduce the risks of corrosion.
5. Warranty
Most water heaters have a warranty of up to 10 years, so be sure to buy a unit that has a warranty close to a decade. You should also ensure that the warranty covers both parts and labour.
6. Cost
Of course, the cost is also one of the major factors you should consider because after all, water heaters are a decade-long investment. Some units may be cheaper from the get-go, but require more maintenance and energy consumption.
You should also look for the efficiency rating of the water heaters. The more efficient they are, the less energy they'll consume, and the lower your utility bills.
The Best Water Heaters in Winnipeg
Now that you know what to look at when evaluating heaters, it's time you learned about our picks. Note that we made sure to list one per type of water heater, in case you have a preference!
1. EcoSmart ECO 36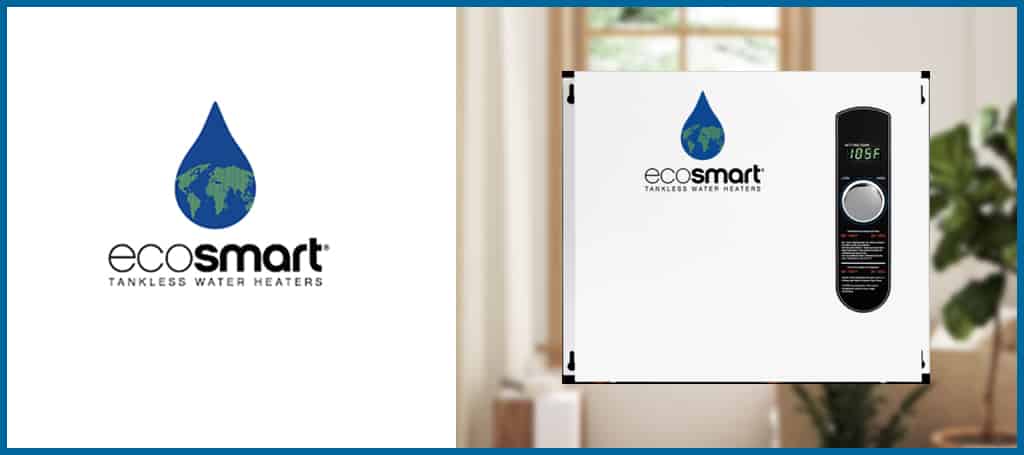 | | |
| --- | --- |
| Type | Tankless |
| Fuel | Electric |
| Capacity | 13.2 litres per minute |
| Warranty | Limited lifetime warranty |
| Price | $578.76 |
EcoSmart ECO 36 is a tankless water heater that uses 27 kW of energy to deliver up to 30 litres per minute, depending on the inlet temperature.
It also has a flow sensor technology, so it can use only the amount of energy needed to heat the water. EcoSmart also markets it as a water heater with 99.8% efficiency.
With Canadian tap water temperatures, this water tank heater is expected to deliver 13.2 litres per minute, enough to run two bathroom showers at a time. It can even heat colder waters that have temperatures as low as 2°C!
Another thing we like about it is that it's made from brass and steel parts for easy customization and durability.
Aside from its durable materials, EcoSmart ECO 36 also has a limited lifetime warranty. Thus, EcoSmart guarantees only long-lasting products to its clients.
Durable steel and brass materials
Limited lifetime warranty
Can heat water as cold as 2°C
High level of efficiency
Materials can be prone to corrosion
Outlet flowrate is dependent on inflow temperature
2. Rheem Condensing Tankless Gas Water Heaters with Built-in Recirculation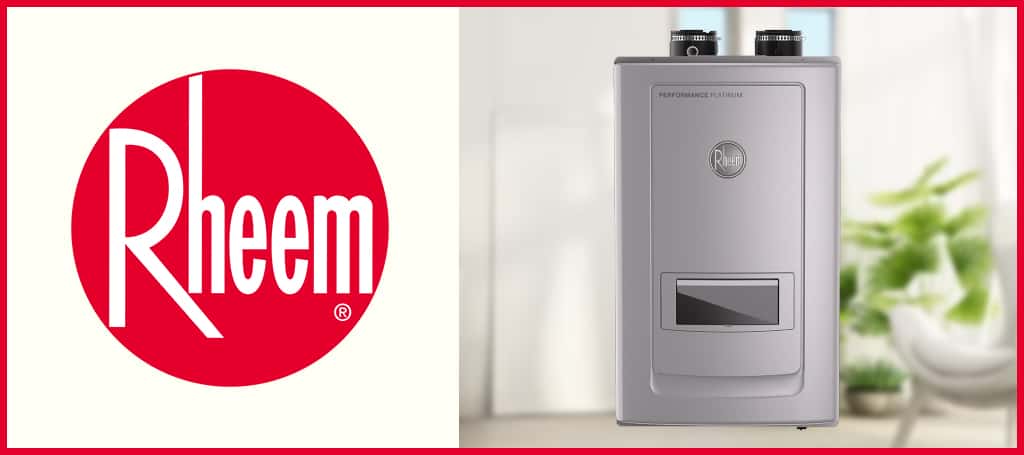 | | |
| --- | --- |
| Type | Tankless |
| Fuel | Gas |
| Capacity | 40 litres per minute |
| Warranty | 12-year heat exchanger warranty 5-year pump and parts warranty 1-year labour warranty |
| Price | $1,450.00 |
Rheem's condensing tankless gas water heater is a part of the prestige series that has high efficiencies. This water heater runs on gas and requires a ½" gas line for its fuel sources.
Despite using gas as fuel, Rheem's tankless water heater promises the lowest emissions, making it a great option even for environmental users. With its recirculation technology and built-in temperature sensor, the Rheem water heater supplies warm water steadily and consistently.
This tankless water heater can deliver up to 40 litres of water per minute. With this capacity, the Rheem Condensing Tankless Water Heater is perfect for bigger and busier households.
It also has a programmable time-based activation so you don't have to worry about always setting it on before your daily shower. Additionally, it has gas and water leak detectors to ensure safety.
Rheem provides a 12-year warranty for the heat exchanger, a 5-year warranty for the pump and other parts, and a 1-year warranty for labour. It's also reported to be suitable even for cold and elevated places.
All in all, we like it due to its ease of use, solid features, and sound warranty. That's how it made our list!
Self-timer built in
Sensor and recirculation system for consistent water temperature
Usable even at high elevation
Good 40-litres-per-minute capacity
Fast and easy installations
Energy-star certification
PVC drains can be less durable
Customer Reviews
Read what a customer has to say about this product:
"Great tankless water heater from Rheem. Got continuous hot water and it pumps out plenty. I installed it myself and was up and running in a few hours. Works with 1/2 inch gas line if need be. The internal recirculation pump is an added bonus especially if you don't want to pipe in to your furthest faucet which may be difficult in a lot of cases. I'm using stainless braided water hoses in a small run for now but will eventually hard pipe it all in."—Mic
3. A.O. Smith XCG-50 ProMax Water HeaterA.O Smith Signature Premier 50-Gallon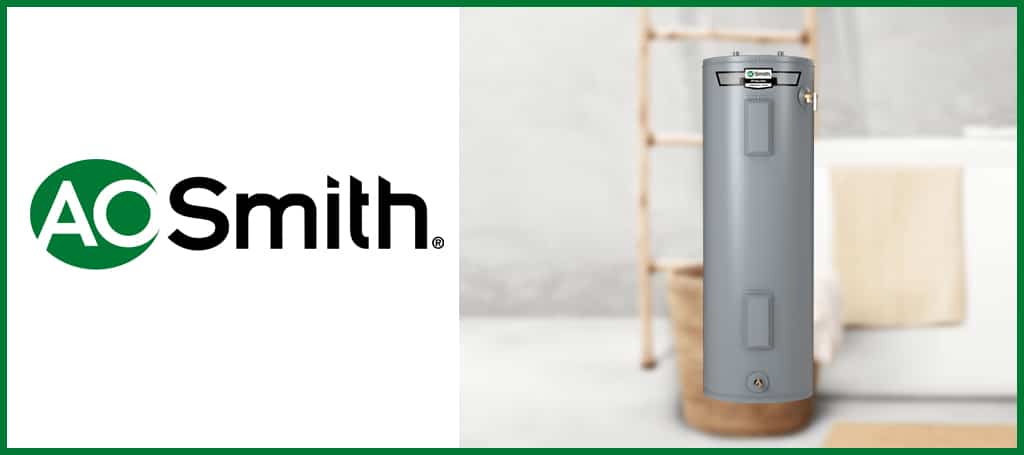 | | |
| --- | --- |
| Type | Storage tank |
| Fuel | Gas |
| Capacity | 190 litres |
| Warranty | 12-year limited warranty 3-year labour warranty |
| Price | $649.00 |
Now if you're looking for storage tank water heaters to replace an old one, then maybe A.O. Smith's signature water tank is the best water heater in Winnipeg for you. This 1.5-meter storage-tank water heater is sufficient for a big family of five.
A.O. Smith Signature Premier is a 190-litre natural gas-powered tank water heater that can help you use up only $220-worth of energy every year. It also has low NOx emissions to reduce environmental impact.
It has the standard temperature and pressure relief valves to avoid any accidental ignition. The water tank also has its very own safety system to avoid leaks of flammable vapours.
The A.O. Smith Signature Tank Water Heater also has a simplified startup process, thanks to an intuitive push-button. To add to its versatile features, this model is also usable in locations as high as 10,100 ft above sea level!
To assure homeowners of this water tank's durability, A.O Smith offers a 12-year limited warranty for the tank and parts while labour has a 3-year warranty.
Can support a family of five
Suitable even at elevated homes
3-year labour warranty
Temperature and pressure relief valves and safety system
No wifi-compatibility
No Energy-Star rating
Customer Reviews
Learn more about how the product can benefit you with these reviews:
"Replaced a failing on demand Bosch with this A.O.Smith. No more fussy water heater. Install was very straightforward an easy. Always have plenty of hot water in the whole house and very fast recovery."—Marc
"This has just been installed, but it looks like a very good quality water heater. The specifications match up with the top line of regular AOS models. I like the thermopile, which keeps the electronics working w/o external power. The 12-year warranty is great! I do wish I could have gotten an Energy Star model."—Shuler
4. HydroSolar Pressurized closed-loop solar water heater (30T-2C-300L-PST-SSA)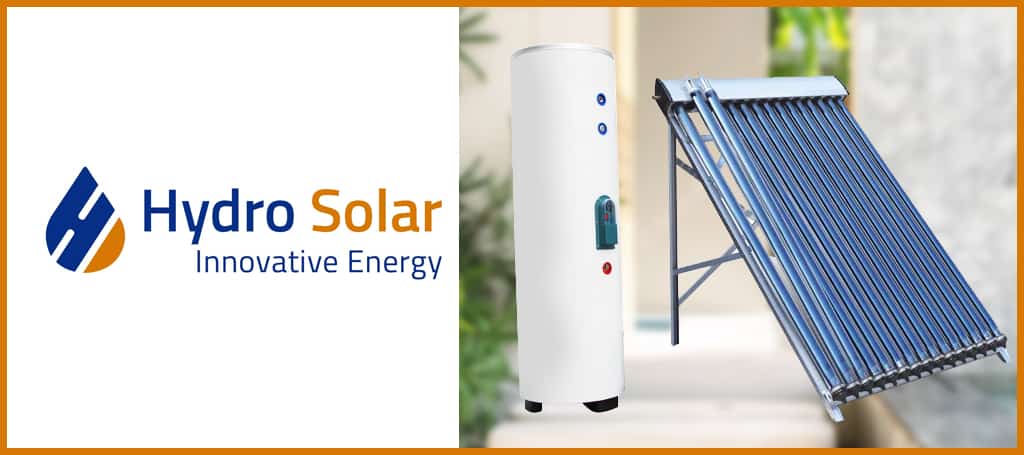 | | |
| --- | --- |
| Type | Tank |
| Fuel | Solar |
| Capacity | 300-litre |
| Warranty | 12-year warranty |
| Price | $5,346.97 |
HydroSolar's pressurized closed-loop solar water heater is a complete kit with a 300-litre storage tank, two solar collectors, pipes, fittings, and a pumping station.
It has ¾" stainless steel pipes that are also highly-insulated, making it protected to up to 175C of heat. Its materials are also UV-resistant and thus have good anti-ageing performance.
This solar water heater kit even has an operating and maintenance manual so that homeowners who love DIY projects can easily install it.
Although it may be on the expensive side of things, this solar-powered water heater will save you some utility bills. So as long as you position your solar collectors the right way, then you can harvest all the solar energy you need for your home's needs!
If you're looking for alternate ways to use this product, the manufacturer also markets this product as a good space heater or pool water heater.
UV-protected materials
Flexible yet durable steel pipes
300-litre storage tank
Versatile use
Suitable for DIY installations
Expensive upfront costs
Dependent on weather
5. AeroTherm® Series Heat Pump (RE)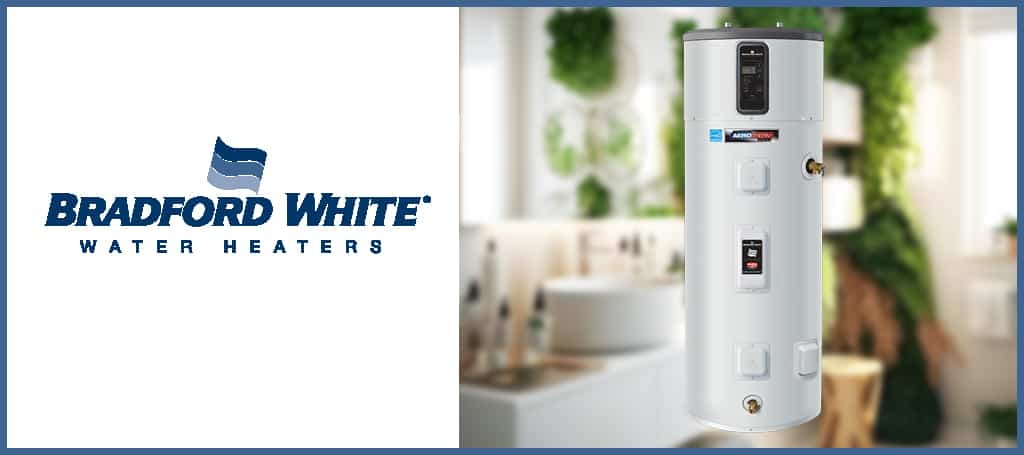 | | |
| --- | --- |
| Type | Tank |
| Fuel | Electric, atmospheric air |
| Capacity | Choice of 190 litres and 300 litres |
| Warranty | 10-year warranty |
| Price | Depending on contractor |
AeroTherm Series Heat Pump comes in 190-300 litre storage tanks with up to 10 years of warranty. With this sort of capacity, even the largest families and shared residential spaces can be happy with this model.
Its design is perfect for indoor installations so it can fit basements, garages, and even small utility closets. Additionally, this heat pump water heater also has pretty quiet operation.
Water connection pipes are also at ¾", which is just the same as standard water heaters. This is good: it means users won't have to worry about their pipe fittings.
What makes this the best water heater in Winnipeg is that it has four modes, namely heat-pump, electric, hybrid, and vacation mode. With these modes, homeowners can choose freely depending on whether they prefer energy efficiency or fast recovery.
Units from the Aerotherm series also have smart controls, which means you can change temperatures and do diagnostics easily. The control panel is also user-friendly with an easy-to-read LED display.
Quiet operations
Four different modes
Smart and user-friendly controls
Large storage tanks
Customer Reviews
Learn why some people think the AeroTherm Series unit may be the best water heater in Winnipeg:
"Love this water heater.. I enjoy using the hybrid mode.. I had it out in the garage and when in heat pump mode during the summer it kept my garage nice and cool."
"Our Bradford White gas water heater was installed in 2002 when we had the house re-piped. Our house is a 50s-vintage mid-century modern style. The water sits in the garage (semi-attached) and serves the dishwasher, clothes washer, and sink. There is another heater for the other end of the house that serves the two bathrooms. The garage unit started leaking yesterday and will have to be replaced ASAP. But from 2002 to yesterday, no problems, leaks, or anything. Good stuff."
Frequently Asked Questions
---
And that's it for our picks of the best water heaters not only in the city but also in the whole country. With the best water heater in Winnipeg, you'll be able to enjoy your hot showers, no matter the season!
Once you receive your water heater, the only thing standing between you and your long hot shower is the installation part. If you're not the DIY-type of person to do it yourself, then you'll certainly need the best plumbers in Winnipeg to help you out.