6 Contractors for the Best Windows and Doors in Winnipeg
Looking for the best windows and doors in Winnipeg? Well, we've compiled a list of contractors who can give you just that!
You'll also find a list of FAQs as well as a price range for the different types of windows and doors you might find from these suppliers. But before we proceed to our lists, let us first tell you about the various product types you might be looking for.
Types of Doors and Windows According to Material
Doors
Probably the most popular type of doors is the wooden door because you can design and colour it freely. However, wooden doors are susceptible to warping and peeling, and you may thus need replacements after some years.
On the other hand, steel and fiberglass doors are much more durable, and they can even be low-maintenance and energy-efficient. Steel is also the perfect type for security and entry doors because of its strength.
But of course, there's always a catch to these things. As you know, steel is prone to rusting while fiberglass doors are subject to fading.
Windows
On the other hand, windows come in aluminum, metal, vinyl, fiberglass, and wood options. Wood also offers customizability and elegance, but is also very vulnerable to weather damages.
Aluminum windows are great for their durability and flexibility, but they aren't exactly the best when it comes to moisture and heat control.
So, vinyl and fiberglass may be the better options thanks to their durability and energy efficiency. The downside with these is that you have limited choices for design.
Price Range for Windows and Doors in Winnipeg
Different types of doors and windows also result in varying costs, of course. So, we've also listed prices to help you make a wiser choice regarding windows and doors.
| | |
| --- | --- |
| Expenses | Price Range |
| Door Installation | $600-$2600 |
| Fiberglass doors | $200-$4000 |
| Steel doors | $200-$700 |
| Wooden doors | $300-$6500 |
| Window Installation | $900-$4500 |
| Metal | $100-$650 |
| Fiberglass | $650-$1900 |
| Vinyl | $130-$760 |
| Wood | $1020-$1650 |
Note that doors and windows with higher prices tend to have special features such as decoration, energy-efficiency, and locks.
The Best Window and Door Contractors in Winnipeg
Now, we hope you've decided on what type of doors and windows you'd want for your Home! All you have to do now is choose a contractor from our top picks listed below.
1. Hi-Tech Energy Windows & Doors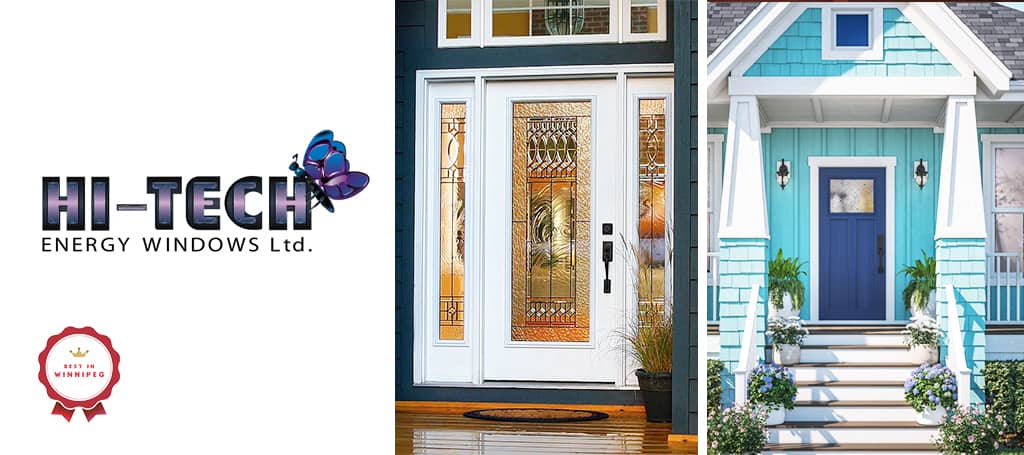 BEST FOR
Durable SuperCORE material
SERVICES
Door and window design, production, installation, maintenance, and replacement
WEBSITE
http://www.hitechwindows.ca/
ADDRESS
1530 Erin St, Winnipeg, MB R3E 2T1
CONTACT DETAILS
(204) 783-9945


[email protected]

OPERATING HOURS
Monday – Friday: 9:00 AM – 5:00 PM
High-Tech Energy Windows & Doors prides itself on designing and manufacturing doors and windows locally, right here in Winnipeg. With 35 years of experience, it has already won multiple awards, including Winnipeg's Consumer Choice Award.
As its name suggests, High-Tech Energy installs weather-resistant and energy-efficient windows. With its products, clients enjoy lower electricity bills while still feeling warm and cozy in their homes.
High-tech also means enhanced security as this contractor also uses high-end security door systems to keep you and your family safe at home.
Another great thing about this contractor is that it offers a lifetime transferable warranty for both doors and windows. But the best part is that it uses SuperCORE, a durable and thermally superior material compared to PVC or wood.
Custom windows and doors for personalization
High-security and energy-efficient products
Lifetime transferable warranty
Durable material better than PVC or wood
Products limited only to the SuperCORE material
Allegedly not the best customer services
Customer Reviews
Here are some customer reviews for more information about the contractor:
"My family has been using Hi-Tech Windows for a long time and we all love their products! We have used other windows and doors from other big name companies and weren't always so satisfied with the workmanship. Customer service is fantastic. Service Manager, I think Sherri, always goes out of her way to make everybody happy with their experience! Before signing the dotted line anywhere else, be sure to check these guys out."
"My husband and I chose Hi-tech windows, when we upgraded our addition. Our overall experience with this company, from communication, quality and savings was fantastic. What we loved the most, was that the final bill was exactly what we were quoted. This sure helps when your on a tough budget! We would highly recommend Hi-tech and have, to all our family and friends."
2. J & M Window & Door Co Ltd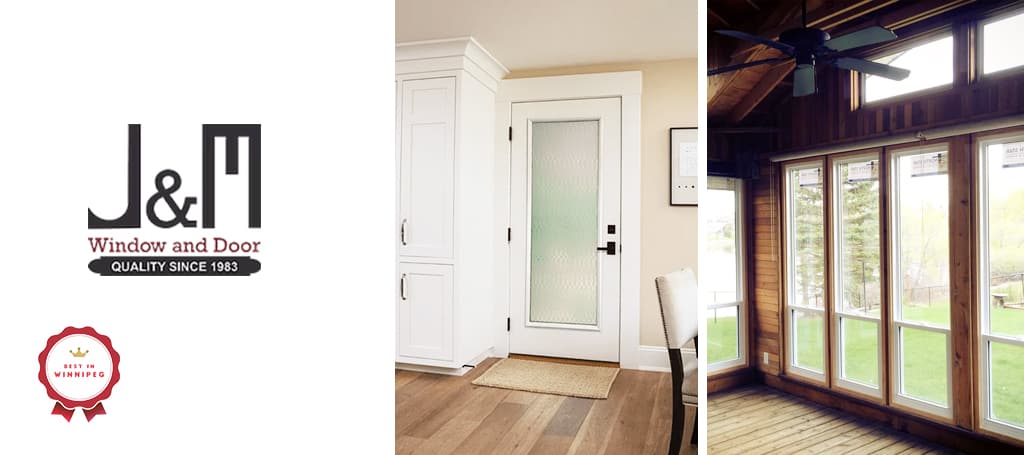 BEST FOR
Variety of options
SERVICES
Door and window installation, repair, and replacement
WEBSITE
https://www.jmwindows.ca/
ADDRESS
550 Century St #355, Winnipeg, MB R3H 0Y1
CONTACT DETAILS
(204) 477-6298


[email protected]

OPERATING HOURS
Monday – Friday: 8:00 AM – 4:00 PM
J&M Window and Door specializes in providing the best doors and windows for renovation projects. Even though it promises the use of only the finest materials and technologies, it still offers affordable and honest pricing.
It may have only opened in Winnipeg in 2004, but J&M has been delivering the best services in other Manitoban towns since 1983. With its 40 years of experience, it guarantees that it will provide only hassle-free installations.
To ensure its clients have the freedom to choose products, J&M has various partner vendors like Northstar Windows and Simpson Doors. Thus, should you choose this provider, you'll have a wide assortment of glass, steel, wood, and PVC choices.
Besides variety, J&M Windows and Doors also provides a lifetime warranty that's transferable to future owners.
Total of over 40 years' experience
Wide assortment of window and door choices
Up-front and transparent pricing
Lifetime transferable warranty for windows
Custom doors and windows subject to their vendor's availability
Customer Reviews
Read more about how J&M can give you the best windows and doors in Winnipeg through these reviews:
"J&M Window and Door just installed my new upstairs windows and front door .The experience could not have been better . Not only was I pleased with the whole project , specifically George Penner and his sons workmanship on the job is second to none . The follow up and detail in installation showed these people really care about customer service."
"We had all the windows and a patio door replaced by J & M. We have been so impressed with the quality of the windows, and the attention to detail that Seth and Sam demonstrated installing them. From start to finish, they were respectful of our home, and did a thorough job cleaning up. We would have no hesitation recommending this company."
3. Green Brand Solutions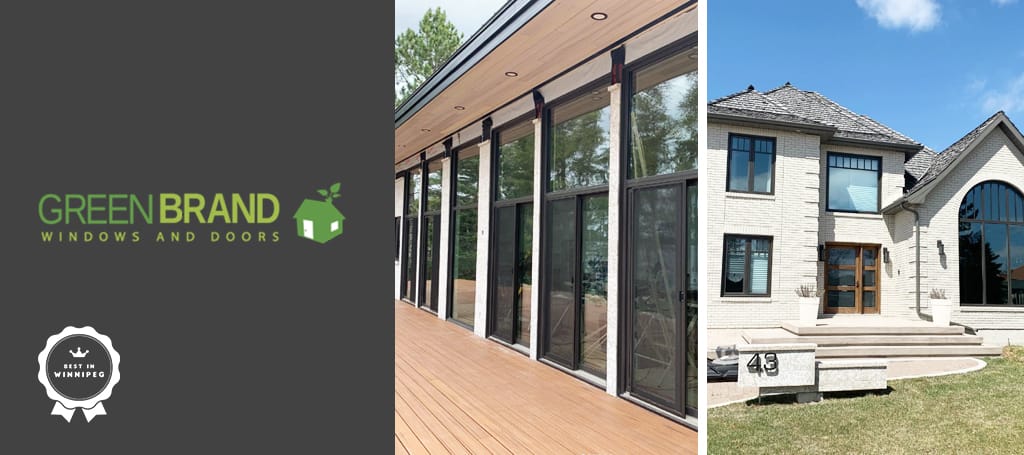 BEST FOR
All-around exterior furnishing services
SERVICES
Door and window installations, repair, and replacement
WEBSITE
https://www.greenbrandsolutions.com/
ADDRESS
1235 Corydon Ave, Winnipeg, MB R3M 0X6
CONTACT DETAILS
(204) 414-9444


[email protected]

OPERATING HOURS
Monday – Saturday: 8:00 AM – 5:00 PM
Green Brand Solutions aims to provide every Winnipegger with energy-efficient windows and doors. It has over eight partner vendors and manufacturers to provide clients with as many options as possible.
It offers the option of fiberglass or PVC windows, and is known for helping its clients choose the best windows for their budget, quality, and other personal preferences.
As for doors, Green Brand Solutions offers various designs, such as patio, storm, exterior, and custom PVC doors. This company also does local designing and manufacturing of its very own windows and doors.
And for clients who want to improve their curbside appeal further, Green Brand Solutions also offers furnishings like eaves and sidings.
Numerous partner vendors and manufacturers
All-around exterior furnishing services
Referral program with discounts
Lifetime warranty
Non-transferable warranties
Some issues about booking an appointment
Customer Reviews
Here are some of Green Brand Solutions' customer reviews to tell you more about its quality of service:
"Not only did the windows arrive and installation happen in the time promised but their customer service was excellent. They responded in a very timely manner each time contact was made and were also respectful, professional and friendly throughout the entire process. They provided their expertise and guidance during the decision making process which gave us a finished product better than we could have ever imagined!"
"The company is well organized and the crew is always on time, efficient and detail oriented. We have used them for several projects and they always complete the job with impeccable precision. They are always able to assist with repairs if needed and adjustments no matter how small."
4. Voyageur Door & Window Ltd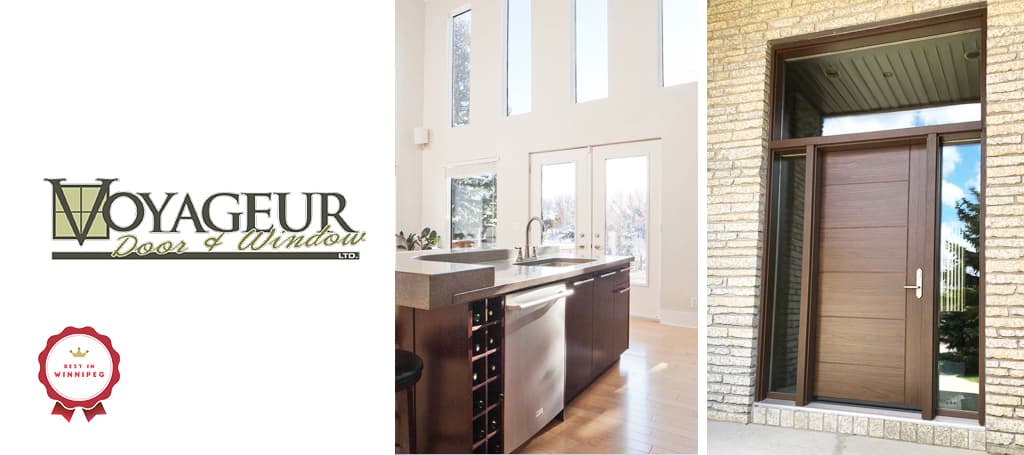 | | |
| --- | --- |
| BEST FOR | Composite materials and innovative products |
| SERVICES | Door and window design, manufacturing, installation, repair, and replacement |
| WEBSITE | http://www.voyageurdoorandwindow.com/ |
| ADDRESS | 450 Rue Deschambault, Winnipeg, MB R2H 0K1 |
| CONTACT DETAILS | (204) 233-7607 |
| OPERATING HOURS | Monday – Friday: 8:00 AM – 5:00 PM |
Voyageur Door & Windows is yet another contractor manufacturing and installing the best windows and doors in Winnipeg. Since 1990, this locally-owned company has paved the way for innovative products to appear in local homes.
The company uses a unique material, the Entrymax Composite, to provide its customers durable, energy-efficient, and stylish doors and windows. This material combines fiberglass and composite materials, and can even be customized with decorative glass.
Besides that, Voyageur Door & Windows also offers other innovative products like Wizard's RetractaView doors.
Clients also get to enjoy Voyageur's one-year labour warranty and up to 25 years of warranty for individual door and window parts.
Innovative windows and doors
Locally-manufactured products fit for Manitoba weather
Other door and window types aside from own products
Free in-home consultation
Limited warranty period
Not the best relationship with door manufacturers
Customer Reviews
Read these customer reviews to know just how Voyageur can be of service:
"True professionals from start to finish. The window and door selection are just awesome as well! You will find what you are looking for 100%. Chris is top notch and a very creative mind and always delivers amazing designs that are works of art. Always on time and budget! I highly recommend Voyageur Door And Window Ltd."
"I have been using the Voyageur Door and Window services for quite some time now. They have replaced all my doors and windows over the years. The product is high quality and service is amazing. I would highly recommend this company."
5. Silex Fiberglass Windows & Doors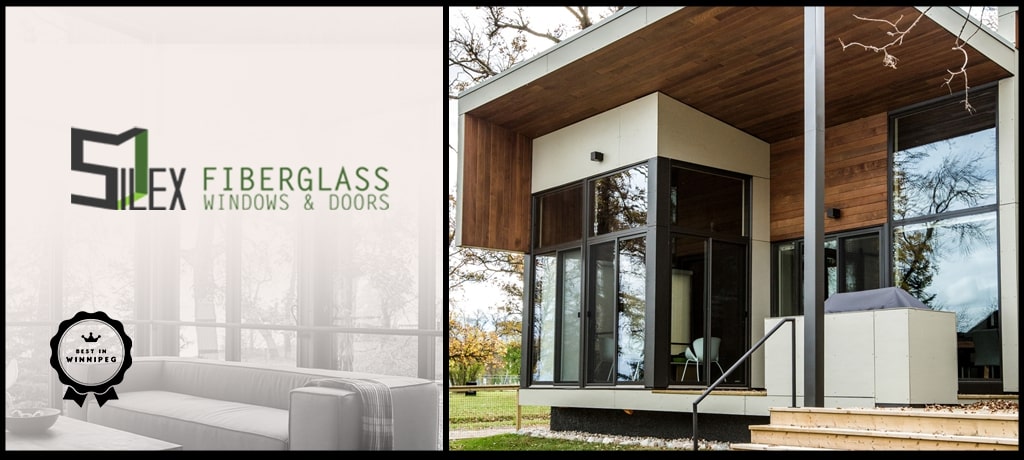 BEST FOR
Pultruded fiberglass windows and doors
SERVICES
Fiberglass windows and doors
WEBSITE
https://silexfiberglass.com
ADDRESS
1266 Border Street
Winnipeg, MB
R3H 0M6 Canada
CONTACT DETAILS
Phone: (204) 788 – 0648


[email protected]

OPERATING HOURS
Monday – Friday: 9:00 AM – 5:00 PM
Saturday: 10:00 AM – 2:00 PM
Silex Fiberglass Windows & Doors is a privately owned firm that specialises in the creation and installation of fiberglass windows and doors.
Since fiberglass is mostly made from silica sand, Silex's windows and doors are some of the most environment-friendly on this list. Not only that, but they're also very stable and durable, and come in a wide array of colors for easy customisation.
We should also mention that Silex isn't remarkable just for the fiberglass material they use to create windows and doors. No, clients have also commended them for the aesthetic options they offer.
These options include several window and door styles, exterior and interior material color options, types of insulation, and even various jamb extension choices. Hardware can also be modified based on the client's interests.
Environment-friendly
Low maintenance
Energy efficient
Expert and professional team
Limited to fiberglass windows and doors
6. EnviroTech Windows & Doors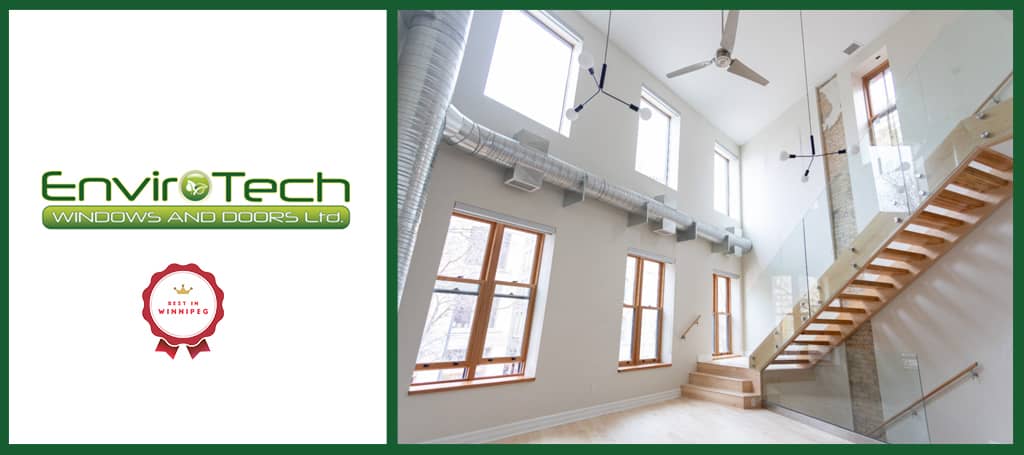 Envirotech was founded with one simple goal in mind: to provide the people of Winnipeg with quality window and door services. Ever since it first opened until now, the company has consistently done so by combining excellent workmanship and quality materials.
If we're talking about residential properties, Envirotech offers installations of PVC doors and windows, awning windows, casement windows, single entrance and double entrance doors, storm doors, custom windows and doors, and many more. That's just for residential properties, there are plenty more to consider if you're looking to revamp a commercial or luxury property.
In terms of materials, Envirotech isn't limited to one material alone, having acknowledged that items have unique features that suit certain builds. So, clients can expect the use of aluminium, PVC, fiberglass, wood, and many more.
It's worth noting that Envirotech's portfolio isn't the only reason why the company is on this list. We also commend the fact that the company is very customer-centric, always taking into consideration the needs, wants, and requests of the clients regardless of the job they take on.
Their contractors and other team members have all been vouched for by the firm. So, when working with Envirotech, you can expect highly communicative individuals who are experts at their chosen fields.
Caters to residential, commercial, and luxury project requests
Wide array of material used for windows and doors
Excellent workmanship and customer service
Frequently Asked Questions
---
And that's it for our list of where you can get the best windows and doors in Winnipeg. We hope we helped you find the perfect contractor to make your house as secure as it is alluring.
If you're looking for window and door contractors for home improvement, then you may also be looking for the best Winnipeg painters, and we also have a list for that! Just make sure you don't schedule your door and window installation with the painting job to avoid messy projects.