6 Best Junk Removal Services in Winnipeg
Having a space full of junk can leave you feeling a mess yourself. If you want to just point and forget, junk removal services can deal with the disposal for you!
In this article, we're listing the best junk removal services in Winnipeg. We'll also run you through the cost of this service, along with some common questions concerning junk removal.
How Much Does Junk Removal Cost in Winnipeg?
How expensive can junk disposal be? Well, you'll have to consider what you're paying for.
The cost of junk removal is tied to transportation costs, disposal fees, and labour. There will be a lot of heavy lifting on their part so you don't break a sweat.
Normally, junk removal services assess your quote by volume. Here are the usual rates:
| | |
| --- | --- |
| SERVICE | ESTIMATED COST |
| 60-90 cubic feet | $80 to $105 |
| 120 cubic Feet | $140 to $160 |
| 240 cubic feet | $280 to $300 |
| 300 cubic feet | $340 to $360 |
| Large electronics | $60 to $90 |
| Curbside sofa pickup | $60 to $80 |
| Curbside mattress pickup | $60 to $80 |
While some services are only concerned about volume, others may consider weight as well. For example, it's normal for services to charge extra for heavy materials such as concrete and marble.
The Best Junk Removal Services in Winnipeg
Now that we've cleared the topic of price, let's dig through the best junk removal services in Winnipeg! Here are the ones we like best right now.
1. Just Junk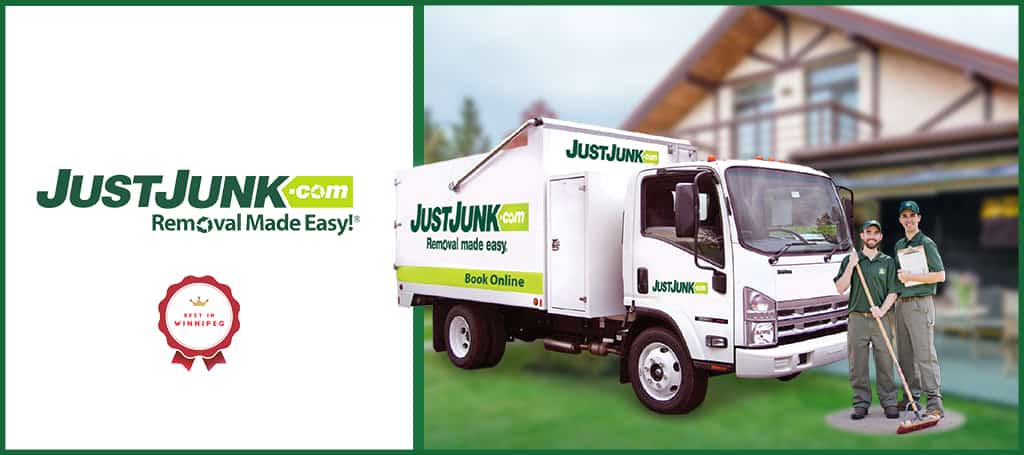 Just Junk is a Canadian junk removal franchise with a unit stationed in Winnipeg. They offer same or next-day service for anyone looking to rid themselves of home or office clutter.
If you're throwing out a bunch of things that can still be used, they donate these items to charity. The rest goes to landfill after all the recyclables are filtered out.
Just Junk happens to be one of the pricier entries on this list. Apart from that, the rough quote you get online is only finalised on-site―which is fine, because some materials are circumstantial.
What people do like about the service is their responsiveness and efficiency. They give courtesy calls, show up on time, and do swift yet thorough clean ups.
30-minute courtesy calls
Charity donations
Efficient cleanup
Pricey
Not licensed to carry hazardous waste
Customer Reviews
If you're curious to know what it's like having Just Junk pick up your trash, hear from people who have used the service before:
"We hired Just Junk to do a very large job of removing carpet from a two story home, in addition to two appliances, furniture, items in a shed and outdoor furniture / BBQ's.The people I dealt with were always professional and upfront with what they could not remove (old batteries and paint) but did give suggestions on where I could discard them.The two gentlemen that provided the removal service worked very hard and the home had no air conditioning but they were courteous to the end. I would highly recommend Just Junk."―Deb Regehr
"Needed a mattress and box spring removed. Same day service, very quick, professional, friendly, reasonably priced and an overall great experience. No headache and now I can enjoy my Saturday without worrying about disposing of a bulky mattress. Highly recommended." ―Sierra Noble
2. Chuck It! Junk Removal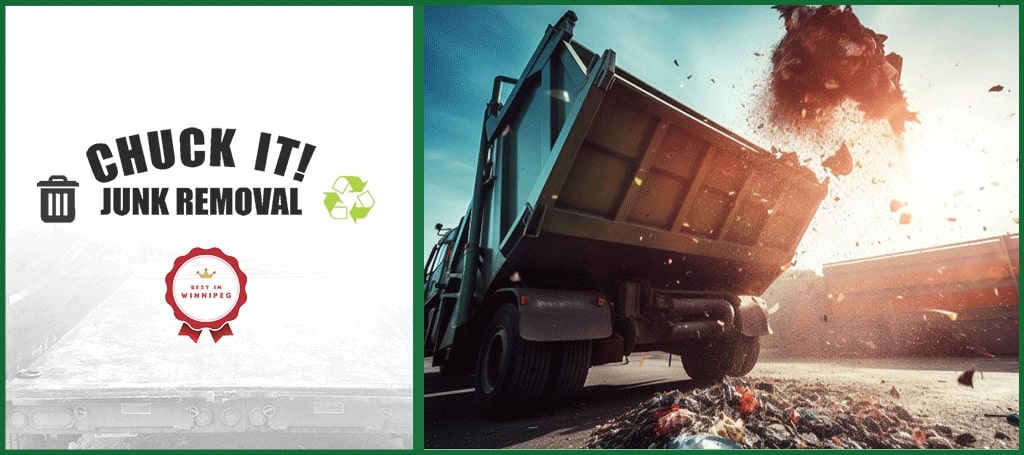 SERVICES
Household and office junk removal, yard and garage waste removal, storage office clean out, jobsite cleanup
WEBSITE
https://www.junkremovalwpg.ca/
CONTACT DETAILS
Phone: 204-461-5865
Email:

[email protected]

OPERATING HOURS
Monday to Friday, 9:00 AM to 9:00 PM
Saturday to Sunday, 10:00 AM to 2:00 PM
Owner and founder of Chuck It! Junk Removal, Nicholas Stratuliak, has a background in environmental studies. He started the business in an effort to reclaim recyclables and minimise landfill.
Chuck It! offers recycling and junk removal from a wide range of spaces. Their pricing starts in tiers based on volume and specifies materials that will cost you extra.
Once they arrive, they clean up spaces like attics, basements, and storage units so you won't have to rummage in the dust. All you need to do is tell them where the junk is.
In terms of cost, their fees are quite competitive. Customers appreciate that their quotes don't stray too far from the ones mentioned on their site.
All in all, Chuck It! is a great local junk remover with hardworking staff and good motivation behind their work.
Affordable
Prompt and efficient service
Slightly pricey single-item pickup
Customer Reviews
Chuck It! has a tonne of recommendations from the local scene and these are just a few:
"They came when they said they would, they worked fast and kept within their quote. It was such a relief to have our junk pile removed. If we ever need a service like this again, we will definitely contact Chuck It! Great people, Thank you so much."―Janelle Thompson
"Used Chuck It for a home renovation project. Although the project itself was a long and draining process, Chuck It bin rentals made it a lot easier!! Nick was professional, reliable and always quick to answer any questions we had. His price was affordable and he was very knowledgeable. Would definitely recommend!"―Nicollette Saucier
3. Reliable Removal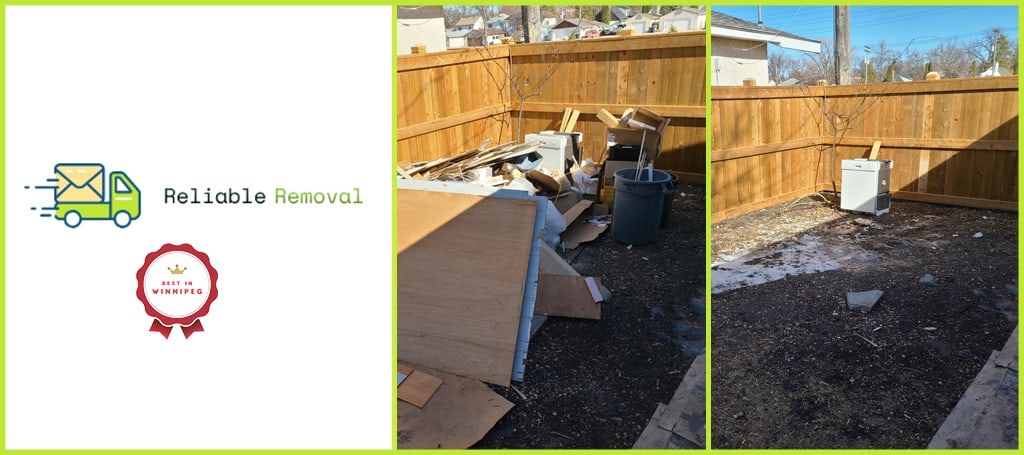 | | |
| --- | --- |
| SERVICES | Removal of appliances, construction and renovation debris Office, home, and yard clean up |
| WEBSITE | www.reliableremoval.ca |
| CONTACT DETAILS | [email protected] |
| OPERATING HOURS | Monday to Sunday, 7:00 AM to 6:00 PM |
Reliable Removals is a well-established junk removal service in Downtown Winnipeg. They've been around since 1990 and their experience is quite apparent.
Word around town is that their people work well and accommodate scheduling kindly. They're also consistent with their hours, which makes availability predictable.
Another thing we like is that Reliable Removal is keen on getting your space as clear as you want it for a reasonable price. They're pretty indiscriminate about what they can take with them too, which is a good thing.
While they don't do a lot of big marketing, what they lack in flair they make up for in quality service. There's a reason they're the go-to guys for many loyal customers over at the Exchange district.
Quick response
Reasonably priced
Discounts for senior citizens
Limited to Downtown Winnipeg
Customer Reviews
If you're in the area, there is a whole host of people who'd refer you to Reliable Removals:
"All I can say is amazing! I needed some stuff removed from an apartment I just moved out of and I made the mistake of calling another company and they didn't show. So I was left scrambling at the last minute looking for someone. Lee made the time to haul my stuff away. I am so grateful. Will definitely use this company again!"―Jennifer P
"I've used Reliable Removal several times now, for myself, my folks and relatives. Lee is our go to guy for any sort of household removal – it doesn't matter what we've asked of him, he's taken care of it. Bar none, he provides the best service I have yet to use in the city. Always on time, extremely personable, works hard to get the job done as requested and has without a doubt the best prices on the market. You won't be disappointed."―Nick Vlahos
4. Mr. Garbage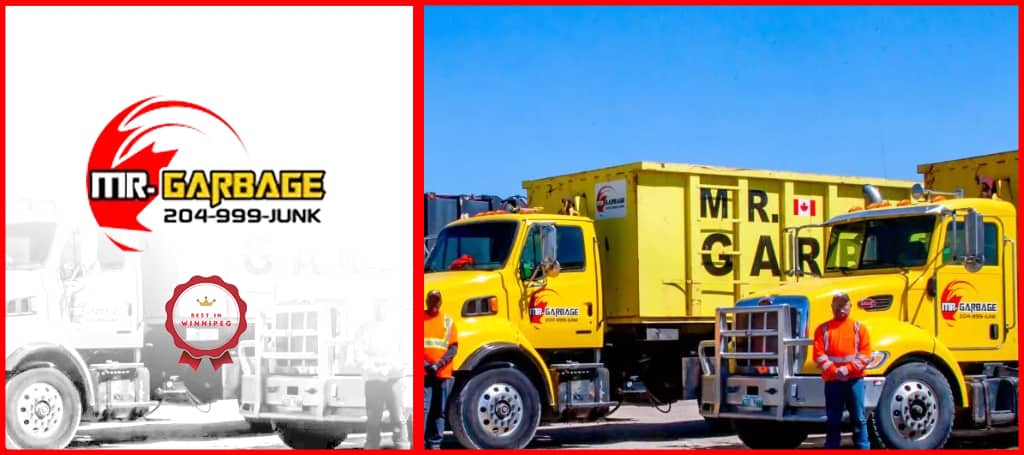 Mr. Garbage has been clearing out home and commercial spaces since 2002. They're also huge on recycling and reusing items that would otherwise end up in a dumpsite.
Something that sets them apart: they offer same day pickups for your unwanted junk, 24/7. That's pretty generous, considering that none of their competitors are making that stretch.
For residential cleanups, Mr. Garbage has pricings for both in-home removal and curbside pickup. For smaller jobs, they even give you the option to pay by the pound or cubic foot.
On the other end of the spectrum, they offer cleanups for commercial sites. This may come in handy if you're migrating your business or clearing out a warehouse.
Overall, Mr.Garbage has great scope and flexibility.
Available 24/7
Flexible and affordable pricing
Equipped to remove bedbug-ridden furniture
Prices for commercial cleanups need further enquiry
Customer Reviews
Mr. Garbage has no shortage of positive feedback from their customers. Here's what they have to say:
"This is the second time my family has used their service for cleaning out a house to get ready to sell. They were so accommodating and wonderful given some extenuating circumstances! Great business, very caring, and honest. Very reasonably priced as well! A pleasure to work with and will continue to work with them in the future whenever we need it! This is definitely the company you want to use if you are trying to get rid of a large amount of things – best bang for your buck!"―Kristyn Barnes
"Great service! We've used Mr. Garbage 3 times now, and every time our phone call was answered by a person, they showed up the same day, their prices were reasonable, and they always did a great job. A very hard-working group. Thanks!"―Kevin & Linda
5. Junk to Go Removal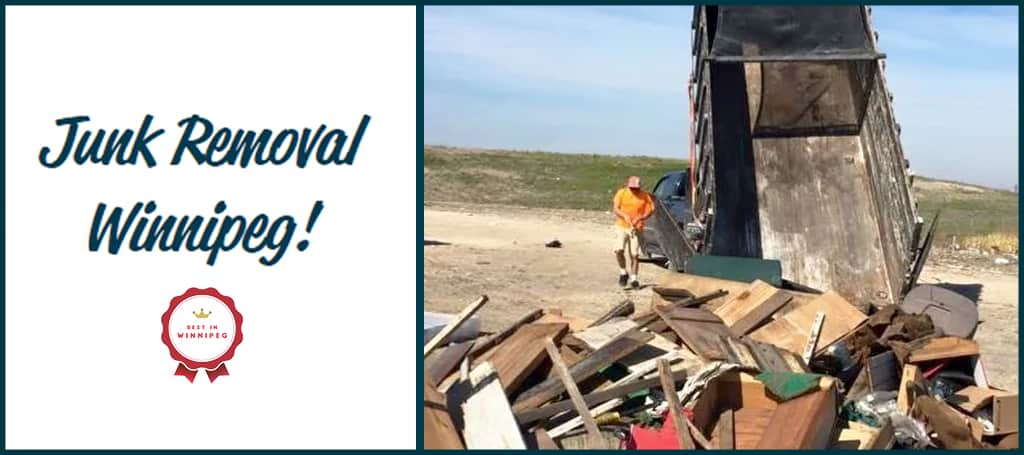 When it comes to junk removal services in Winnipeg, Junk to Go Removal is definitely one of the best.
Junk to Go Removal was established in 2008 with one simple goal in mind: To provide the people of Winnipeg with quality junk removal services. The owner and operator, Brendon, amassed the necessary skills, expertise, and equipment to accomplish such a feat.
Currently, Junk to Go Removal accommodates requests from residential, commercial, and industrial clients.
Some of the services the company has to offer are furniture removal, mattress removal, shipping/packing material disposal, pallet recycling, automotive parts recycling, chemical recycling, bin service, skid steer service, mud, gravel, and concrete hauling, and towing.
If we had to nitpick about them, perhaps the only thing we can say is that they don't provide any information as to whether they collect toxic waste, which is an important service for most industrial clients.
If you are interested in learning more about Junk to Go Removal's or would like to book their services, you can reach the company through phone or email.
Caters to residential, commercial, and industrial clients
Offers recycling services
Accommodates clients from all over Winnipeg
No information regarding collection of toxic waste
FAQs About Junk Removal
---
And that's the last of it loaded in! We hope this guide has informed you on whom to call for the next disposal run.
If you want to know about other cleanup services in the area, by the way, take a look at our other lists. For example, if you're a business owner looking for a cleanup service for your establishment, check out our list of the best janitorial services in Winnipeg.