Bring Your Furry Friend to Winnipeg: The 5 Best Pet-Friendly Hotels
When I planned a trip to my hometown with a friend and our beloved cat, Whiskers, we faced a challenge: finding a hotel that warmly welcomed our feline companion.
After hours of research and phone calls, we stumbled upon the five best pet-friendly hotels in Winnipeg. These hidden gems not only welcomed Whiskers with open arms but also went above and beyond to ensure his comfort.
Now, we can't wait to share our discoveries with you, fellow pet lovers!
Join me as I unveil the purr-fect havens for you and your furry friends in Winnipeg. Get ready for a tail-wagging adventure that will leave you with unforgettable memories.
The Fairmont Winnipeg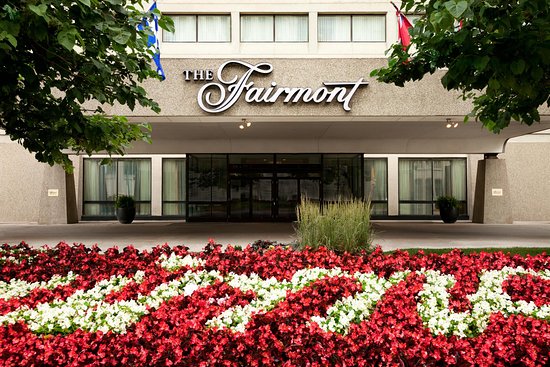 Address: 100 Carlton Street, Winnipeg, MB R3C 3P7, Canada
Contact number: 204-946-2000
Website: https://www.fairmont.com/winnipeg/
Situated in the heart of downtown, this luxurious hotel not only provides a welcoming haven for travelers but also extends its hospitality to four-legged friends.
One of the things that set The Fairmont Winnipeg apart is its pet-friendly policy, which allows pets of any size to join their owners during their stay.
As a pet owner myself, I understand the joy and comfort that come from having your loyal friend by your side, especially when exploring a new place. This policy truly caters to our desire to have our pets be part of our travel experiences.
Upon arriving at The Fairmont Winnipeg, your furry friend will be greeted with the same warmth and care as any other guest. You'll find a cozy pet bed waiting for them, ensuring a comfortable night's sleep after a day of adventure.
To make your pet feel right at home, the hotel also provides food and water bowls, as well as some delicious treats to savor. It's little details like these that make The Fairmont Winnipeg stand out as a pet-friendly haven.
However, it's important to note that leaving your pet unattended in the room may have some restrictions. This policy is in place to ensure the safety and well-being of both your pet and other guests.
It's always a good idea to inquire about specific guidelines and arrangements when making your reservation, so you can plan your activities accordingly.
Beyond the pet-friendly amenities, The Fairmont Winnipeg offers an array of facilities and services to make your stay truly memorable.
From luxurious accommodations to exquisite dining options, you'll find everything you need for a comfortable and enjoyable visit.
And when it comes to exploring Winnipeg, you'll be delighted to know that the hotel's central location puts you in close proximity to many pet-friendly parks and attractions (is Winnipeg dog friendly?).
The Inn at The Forks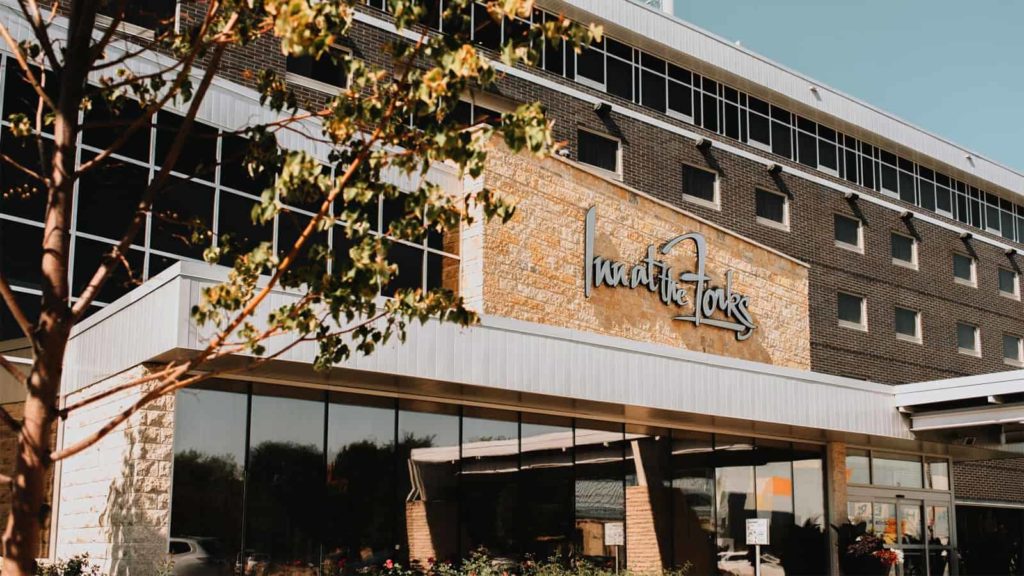 Address: 1 Forks Market Rd, Winnipeg, MB R3C 1K1, Canada
Contact number: 204-943-6600
Website: https://www.innattheforks.com/
From the moment I stepped into the inviting lobby of The Inn at The Forks, I could sense the genuine love it has for pets. The staff greeted me with a friendly smile and an immediate acknowledgment of my furry friend by my side.
It's such a relief to find a place that not only tolerates pets but genuinely embraces them as part of the family.
As we made our way to our pet-friendly room, I couldn't help but admire the attention to detail. The room was impeccably clean and tastefully decorated, creating a cozy and relaxing atmosphere for both me and my furry companion.
The comfortable bed and ample space made it easy for us to unwind after a day of exploring the city.
One of the standout features of this pet-friendly oasis is the easy access to outdoor areas. As someone who loves taking long walks with my pet, I was delighted to find a vibrant waterfront just steps away from the hotel.
The scenic trails and picturesque views of the river provided the perfect backdrop for memorable adventures together.
Whether it was strolling along the riverbanks or playing fetch in the open spaces, my furry friend was in his element, wagging his tail with pure joy.
What truly sets The Inn at The Forks apart is its understanding of the unique needs of pet owners. It offers a range of pet-friendly amenities, ensuring that every member of your family feels pampered.
From dog bowls and cozy beds to special treats and toys, it goes above and beyond to make our furry friends feel welcomed and cherished.
I was initially concerned about any extra charges associated with bringing my pet along, but the hotel's transparency and fairness put my worries to rest.
While there may be additional fees for bringing your furry friend, they were reasonable and well worth the peace of mind of knowing that my pet could join me on my adventure.
The Alt Hotel Winnipeg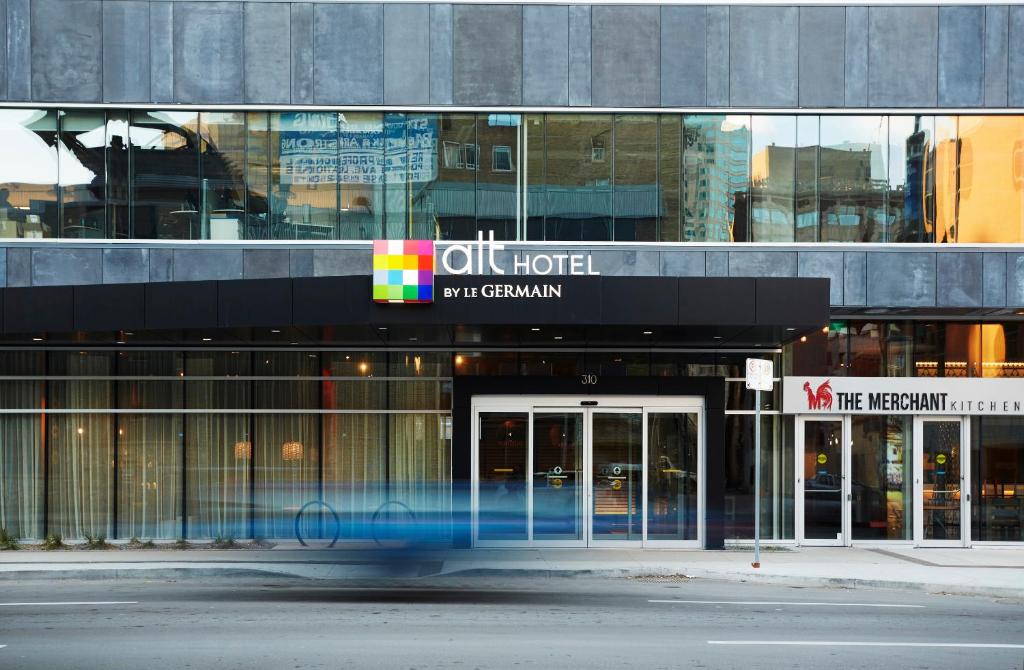 Address: 310 Donald Street, Winnipeg, Manitoba, R3B 2H3
Contact number: 1-844-946-6258 (toll free) or 431-800-4279 (local)
Website: https://www.germainhotels.com/en/alt-hotel/winnipeg
One of the first things that struck me about the Alt Hotel Winnipeg is its unwavering acceptance of pets, regardless of their size.
It's a relief to know that this modern hotel recognizes that our furry friends come in all shapes and sizes, making it a perfect choice for anyone with a small pup or a larger four-legged companion.
And the best part? There's no need to leave your beloved pet behind when planning your next adventure!
Upon entering the hotel, I was immediately greeted by a friendly and accommodating staff who made sure to acknowledge not only me but also my furry sidekick.
They seemed genuinely excited to welcome pets into their establishment, which instantly put my mind at ease.
It's refreshing to encounter a place that understands the bond between humans and their pets, treating them as valued guests rather than inconveniences.
The Alt Hotel Winnipeg provides a truly comfortable and pet-friendly environment that made my stay unforgettable. The well-appointed rooms are not only stylish and modern but also equipped with amenities that cater to both humans and pets.
From cozy beds for your furry friend to complimentary water bowls and treats, they've thought of everything to ensure a delightful experience for all.
I particularly appreciated the hotel's attention to detail when it came to pet care. It understands that our pets are part of the family, which is why it encourages guests to notify it in advance about their furry companions.
This thoughtful gesture ensures that the staff can prepare the room accordingly, ensuring maximum comfort for both you and your pet.
Best Western Plus Winnipeg Airport Hotel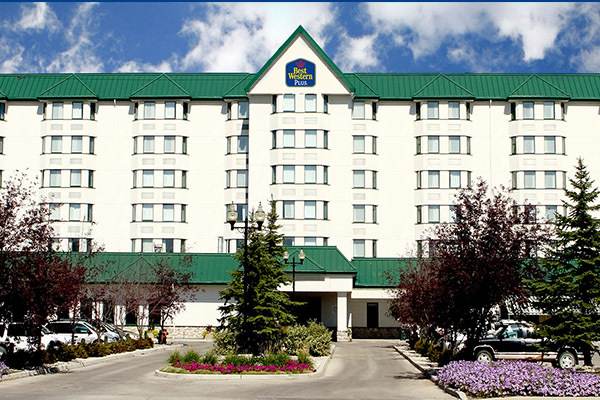 Address: 1111 Wellington Crescent, Winnipeg, MB R3M 0R8, Canada
Contact number: 204-988-6500
Website: https://www.bestwestern.com/en_US/book/hotels-in-winnipeg/best-western-plus-winnipeg-airport-hotel/propertyCode.63017.html
Nestled conveniently close to the airport, this charming hotel offers a cozy and inviting atmosphere for both humans and their four-legged friends.
From the moment you step through the doors, you'll be greeted by a staff that understands the importance of including your pet in your travel plans.
The Best Western Plus Winnipeg Airport Hotel goes above and beyond by providing designated pet-friendly rooms, ensuring that your beloved pet has a comfortable and safe space to relax.
It's a relief to know that you don't have to compromise on quality or convenience when traveling with your furry family member.
Speaking of convenience, the hotel's location near the airport makes it an ideal choice for those seeking a seamless travel experience.
Whether you're visiting Winnipeg for a quick weekend getaway or embarking on a longer journey, the proximity to the airport allows for easy access and stress-free transitions.
When it comes to pet policies, the Best Western Plus Winnipeg Airport Hotel understands that each furry guest is unique. It encourages you to reach out to it directly to confirm the specific guidelines and any additional fees that may apply.
This level of personalized service ensures that you and your pet are well taken care of throughout your stay.
Beyond the exceptional pet-friendly accommodations, this hotel offers a range of amenities that cater to both you and your pet.
Take advantage of its well-equipped fitness center to squeeze in a workout, or perhaps unwind in the indoor pool after a day of exploring the city.
Your pet will appreciate the nearby green spaces where you can enjoy leisurely walks together and create lasting memories.
Canad Inns Destination Centre Polo Park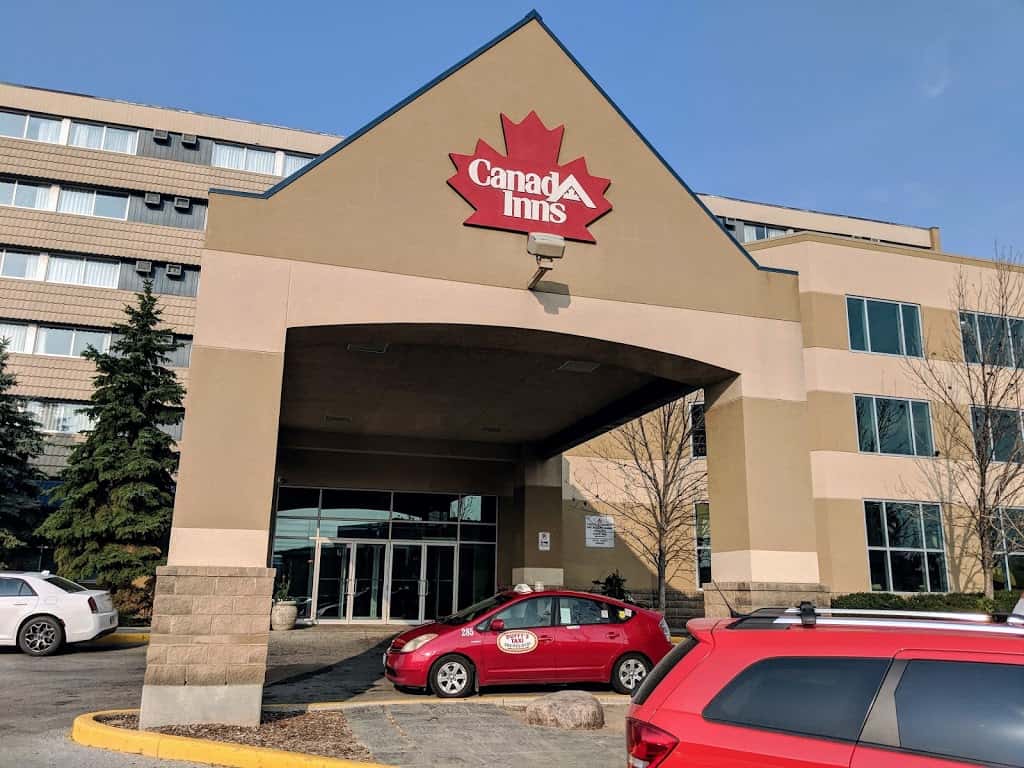 Address: 1881 Pembina Highway, Winnipeg, MB R3T 2B2, Canada
Contact number: 204-233-4500
Website: https://www.canadinns.com/stay/polo-park/
Located in the heart of Winnipeg, Canad Inns Destination Center Polo Park stands out not only for its convenient location but also for its commitment to accommodating pets.
As a pet owner myself, I understand the challenges of finding suitable accommodations that embrace our furry family members, and that's why I'm thrilled to recommend this hotel.
Canad Inns Destination Center Polo Park offers a range of pet-friendly rooms designed to cater to your specific needs.
Whether you have a small, medium, or large pet, you'll find suitable options that provide comfort and convenience for both you and your furry companion.
From cozy single rooms to spacious suites, the hotel strives to ensure that your stay is enjoyable for everyone involved.
While the hotel welcomes pets, it's important to note that there may be specific restrictions and limitations in place to ensure the comfort and safety of all guests.
It's always a good idea to contact the hotel in advance and inquire about its pet policy. It will be more than happy to provide you with all the necessary information, including any associated fees.
One of the reasons I personally appreciate Canad Inn's Destination Center Polo Park is its proximity to various pet-friendly attractions and amenities.
Within a short distance from the hotel, you'll find lovely parks and green spaces where you and your furry friend can take leisurely strolls and enjoy the fresh Winnipeg air.
Our city is known for its pet-friendly parks, and you'll find that the locals are often out and about with their dogs, creating a warm and welcoming environment for pet owners.
When it comes to dining, Winnipeg offers a diverse culinary scene, and luckily, many restaurants and cafes are pet-friendly, allowing you to indulge in delicious meals while still being in the company of your furry friend.
Some establishments even offer outdoor seating options, perfect for enjoying a sunny day with your pet by your side.