Top 3 Clinics for Cataract Surgery in Winnipeg
Cloudy vision can be inconvenient and limiting for everyday tasks. While special glasses may help you see better, large blurry specs will require professional treatments, like surgery.
If you're looking for the best clinics in Winnipeg for cataract surgery, then this article is for you. We looked into some of the clinics that offer this procedure and reviewed the top ones.
So, look no further, and let's dive right into them!
How much does cataract surgery cost?
On average, cataract surgery can cost anywhere from $2,101 to $ 3,414. Medicare beneficiaries may pay as little as $415 for their procedure.
Without Medicare or private insurance claims, cataract surgery can be as hefty as $3,940 up to $9,200.
That said, we recommend checking if your current health card or insurance plan covers cataract surgery so you'll save money while enjoying clear vision.
How did we choose the best clinics for cataract surgery?
To select the top clinics that offer cataract surgery, we considered the following criteria:
1. Image Plus Laser Eye Centre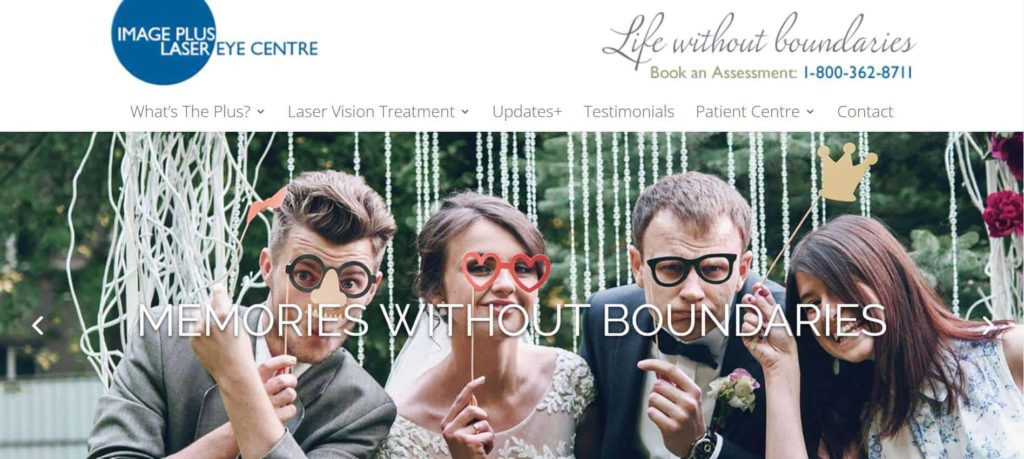 KNOWN EYE DOCTOR
Dr. James Wiens
WEBSITE
https://www.imageplus.ca/
CONTACT DETAILS
Phone: +1 (204) 943-6287

Email: [email protected]

ADDRESS
306-400 St Mary Ave., Winnipeg, MB, R3C 4K5, Canada
OPERATING HOURS
Monday to Friday: 8:00 AM – 5:00 PM

Saturday and Sunday: Closed
| | |
| --- | --- |
| CRITERIA | RATING |
| QUALITY OF SURGERY AND TREATMENT | ★★★★★ 5/5 |
| EYE DOCTOR | ★★★★★ 5/5 |
| Competent | ★★★★★ 5/5 |
| Assuring | ★★★★★ 5/5 |
| CLINIC | ★★★★★ 5/5 |
| Neat and organised | ★★★★★ 5/5 |
| Calming and comforting | ★★★★★ 5/5 |
| PATIENTS' EXPERIENCE | ★★★★☆ 4/5 |
Image Plus Laser Eye Centre is well-known and reliable when it comes to laser eye surgery. But on top of that, it also does non-laser procedures which are done as initial steps to removing cataracts.
Upon checking, surgical ultrasound is used at the beginning of cataract surgery before any laser techniques are used. This procedure is less invasive than lasers and is effective in breaking down cataracts.
What we love about this clinic is that it offers three different lenses suitable for activities such as driving, reading, watching television, using the computer, or playing golf.
Some lens types also help reduce astigmatism and help patients see clearly without the aid of glasses or contact lenses.
Another thing we love about this eye clinic is that it has Dr. James Wiens, a renowned ophthalmologist who has been specialising in laser vision correction since 1994.
From what we've heard, he is quite adept in his field and has helped many patients in Winnipeg get clearer and better vision with the quickest and most painless methods.
In case you're after Dr. Wiens' expertise, we recommend booking the clinic's consultation and assessment services.
We think that these help clients understand their conditions better and whether they'll need cataract surgery as soon as possible.
We took the liberty of visiting the clinic and are pleased that it is clean and organised, as well as promotes a calming environment.
In our view, such an ambience will help first-time surgery patients feel less tense before and during their procedure.
But while this clinic accommodates financing by Credit Medical, it doesn't cover cataract surgery. Patients will need to depend on their insurance to be able to save money on their surgery.
We're also slightly bummed that patients need to apply for and pass the clinic's intensive eye assessment to have their cataracts removed.
Uses minimally-invasive procedures
Offers different lens types
Ophthalmologist specialises in laser vision correction with nearly 30 years of experience
Cataracts aren't covered by Credit Medical claims
Slightly inconvenient application for surgery
Customer Reviews
Painless and affordable.
"The staff is very professional and friendly. The surgery was quick and painless. The surgery is affordable with the payment plans that they provide. It has been two months since the procedure and I can see perfectly now. I am very happy with the results and definitely recommend this laser eye centre." – Jessica Stanley
Doctor and staff were nice and friendly
"Dr. Wiens and staff are amazing. Kind, courteous and compassionate. Clinic is modern, bright and clean. Everything is explained in plain language and everyone is always ready to answer any questions. They go above and beyond. Don't trust your eyesight to anyone else!" – Amber Wiebe
2. TLC Laser Eye Centres

KNOWN EYE DOCTOR
Dr. Guillermo Rocha
WEBSITE
https://www.tlcvision.ca/
CONTACT DETAILS
Phone: +1 (204) 259-0286

Email: [email protected]

ADDRESS
220 Portage Ave., Winnipeg, MB, R3C 0A5, Canada
OPERATING HOURS
Monday to Friday: 8:00 AM – 5:00 PM

Saturday and Sunday: Closed
| | |
| --- | --- |
| CRITERIA | RATING |
| QUALITY OF SURGERY AND TREATMENT | ★★★★☆ 4.5/5 |
| EYE DOCTOR | ★★★★★ 5/5 |
| Competent | ★★★★★ 5/5 |
| Assuring | ★★★★★ 5/5 |
| CLINIC | ★★★★★ 5/5 |
| Neat and organised | ★★★★★ 5/5 |
| Calming and comforting | ★★★★★ 5/5 |
| PATIENTS' EXPERIENCE | ★★★★☆ 4.5/5 |
TLC Laser Eye Centres specialises in laser technology in performing all sorts of procedures that correct vision.
In terms of cataract surgery, TLC takes pride in having noteworthy eye surgeons in its team to perform state-of-the-art cataract surgery with the latest laser-assisted technology.
What we love about this clinic is that it also offers three different intraocular lenses (IOLs) that suit various patients' needs.
A strong point to these lenses is that they're befitting for young and elder people who prefer seeing things clearly without depending too much on their eyeglasses or contact lenses.
Another highlight of TLC's services is that its laser-assisted cataract surgery is also convenient for correcting other refractive errors such as nearsightedness, farsightedness, astigmatism, and presbyopia.
That said, we think it's wise and safe to consult TLC's doctors first to see if you can have your cataracts removed and have other eye impairments corrected in one surgery.
We also appreciate this clinic for offering free consultations. Patients will be able to have their eyes assessed for cataract surgery and the most appropriate IOL type.
TLC's services are also obligation-free, which means patients can always find another clinic for cataract surgery or book their appointment once they're ready to have their cataracts removed.
Just be warned that TLC's laser-assisted surgery methods are costlier than traditional cataract surgery. While TLC offers financing plans, we're bummed that it is currently limited to LASIK eye surgery.
Given that most insurances in Canada don't cover laser-assisted surgeries, you may save money by using another health card that this clinic accommodates, paying the full surgery price, or using a health spending account.
Offers free consultation services
Offers three different types of lenses
Laser-assisted cataract surgery can correct other refractive errors
Currently only uses laser-assisted methods
Financing is limited to LASIK procedures
Customer Reviews
Consultant helped me feel calm before my surgery
"Staff is incredibly friendly and knowing TLC had such a strong and dedicated care team made me feel very confident in having my procedure. During my first visit I had a panic attack and the consultant was helpful and well trained to deal with it! On surgery day they were so wonderful and it went well. They were thorough on making sure I understood post op procedures AND the receptionist knew my name at the 24 hour follow up." – Sarah Whorpole
Painless methods by competent professionals
"My experience with TLC Vision Centre was a positive one. All the staff were considerate and willing to answer any questions I had. My procedure (implanted lens) was painless and well explained. The recovery process was clearly described and I had multiple options for reaching out with questions." – Kelsey B
3. Aqua i Laser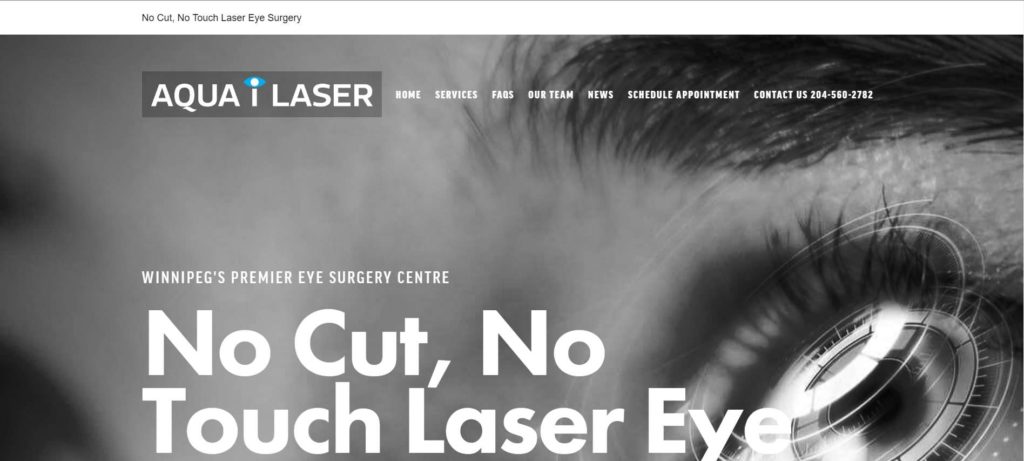 KNOWN EYE DOCTOR
Dr. Gdih Gdih
WEBSITE
https://www.aquailaser.ca/
CONTACT DETAILS
Phone: +1 (204) 560-2782

Facebook: Aqua i Laser

ADDRESS
1770 Taylor Ave., Winnipeg, MB R3N 0N8, Canada
OPERATING HOURS
Monday to Friday: 8:30 AM – 4:30 PM

Saturday: 10:00 AM – 4:00 PM (by appointment only)

Sunday: Closed
| | |
| --- | --- |
| CRITERIA | RATING |
| QUALITY OF SURGERY AND TREATMENT | ★★★★★ 5/5 |
| EYE DOCTOR | ★★★★★ 5/5 |
| Competent | ★★★★★ 5/5 |
| Assuring | ★★★★★ 5/5 |
| CLINIC | ★★★★★ 5/5 |
| Neat and organised | ★★★★★ 5/5 |
| Calming and comforting | ★★★★★ 5/5 |
| PATIENTS' EXPERIENCE | ★★★☆☆ 3.5/5 |
Aqua i Laser is another clinic that specialises in laser-assisted procedures in correcting vision. We're also pleased that it also offers non-laser surgery alternatives to patients who are not qualified for the clinic's laser treatments.
The clinic currently has Dr. Gdih on its team. He is one of Winnipeg's most well-known ophthalmologists and is adept with LASIK and non-laser surgeries, such as Refractive Lens Exchange (RLE).
Upon checking, the RLE procedure is the best non-laser alternative for fixing the blur caused by cataracts.
It differs from traditional cataract surgery in the sense that instead of just taking cataracts out, surgeons will replace the natural lens with a specific kind of IOL.
Having this surgery means that patients won't have to wear different glasses or contact lenses for quite a long time.
What we love about Aqua i Laser is that it also does IOL replacement surgery and is, in fact, currently the only clinic in Winnipeg that offers such a procedure.
Should patients experience problems with their lenses after cataract surgery, they can go here to have their IOL replaced safely and as painlessly as possible.
It is worth noting that the RLE procedure is costlier than traditional cataract surgery. Upon checking, the procedure is also not always covered by insurance and health cards.
Despite the hefty price tag, we think RLE is worth investing in as it reduces the need for glasses in the future.
What we found a bit disappointing about this clinic is that getting a confirmed schedule can be tricky as slots get booked up quite fast.
Open slots are also limited and vary every day, which means you may get a confirmed schedule three to four months from when you open the appointment calendar.
That said, we think it's wise to attend to your chosen appointment date as it will be inconvenient and limiting to delay your eye consultation and surgery.
Offers non-laser surgery alternatives
Does IOL replacement surgery
Caters to patients experiencing problems after cataract surgery from other clinics
RLE is pricier than traditional cataract surgery
Appointments are tricky to book
Customer Reviews
Impressed with my surgery results
"I had undergone cataract surgery in early 2021 through Dr. Gdih's clinic and was very impressed with the results. Dr. Gdih is an exceptional surgeon who listens to your concerns and address them in a professional manner. Having seen several Ophthalmologists in the past due to my eye condition that includes Glaucoma and Uveitis, Dr. Gdih immediately made me feel comfortable and confident that I had chosen one of the best, if not the best, surgeon for my surgery. I highly recommend going to Aqua i Laser for any eye surgical procedures and would like to thank Dr. Gdih and his friendly staff for giving me the results I was hoping for." – Rich Sison
Thankful to Dr. Gdih for giving my 20/20 vision back
"I went here for intraocular lens replacement surgery. Not even knowing this was a thing outside of cataract surgery, I found that this is the only place in the city that does it. Dr. Gdih was courteous, talented (the surgery and recovery was quick) and took interest in my extremely terrible eyesight (I had glasses with a-18.00 prescription and non-dilating pupils). Now I have 20/20 vision and my quality of life has improved dramatically. After years of having other doctors shrug their shoulders at my situation, it was a huge relief to find someone who took an interest in my eye condition! The staff at Aqua was excellent as well, very helpful and accommodating. Checkups never took more than half an hour from stepping in the door. Would highly recommend him and this office for any eye surgery or procedure they offer." – Joshua Weston
FAQs About Cataract Surgery
---
And that concludes our unbiased review of the top clinics to get cataract surgery in Winnipeg.
We hoped we helped you find the best doctors that can correct your vision and remove blur and cloudiness.
In the meantime, we also recommend looking into the best ophthalmologists in Winnipeg to know which experts can help treat other known eye-related problems!