Sip Your Worries Away at Winnipeg's Top 12 Country Pubs
A country pub is the most welcoming place on Earth, with calm music, a safe and homey atmosphere, and comforting comfort food. Next to our own homes, these are our favorite places to unwind.
There are tons of country pubs in Winnipeg, especially on the outskirts of the city. The 12 on our list are our favorites, and we're sure they'll be yours too.
1. The High and Lonesome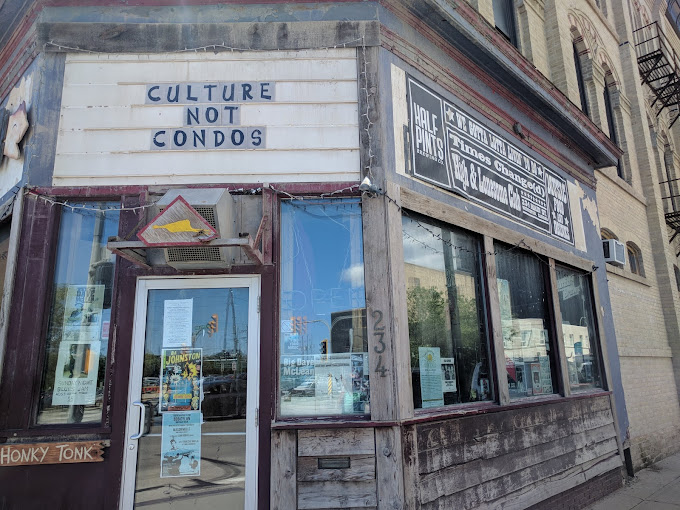 The High and Lonesome is known for its soulful live music and welcoming atmosphere. This is where the city vibe merges with the friendly charm of country pubs, captivating the hearts and ears of everyone who walks in.
As you enter the club, you'll be greeted by dim lighting, exposed brick walls, and a stage that almost always has someone on it. You can do almost anything with your friends here, but the place is best suited for chill night outs.
We suggest you go on Sundays since it's Blues Night! You can either sit and relax with your pals or go slow dancing on the dancefloor.
Address
234 Main St, Winnipeg, MB R3C 1A8, Canada
Contact Details
+1 204-957-0982
Hours
7:30 PM to 1:00 AM (Sunday, Thursday)

8:30 PM to 2:00 AM (Friday, Saturday)

Closed (Monday to Wednesday)
2. The Toad in the Hole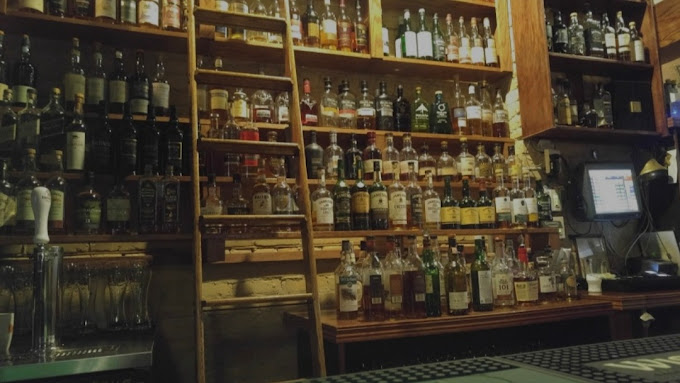 All your stress will melt away the moment you walk through the Toad in the Hole's doors. The rustic wooden beams, dim lighting, and authentic British decor create an ambiance that's both nostalgic and welcoming.
This bar is the perfect place for good company. We came here to meet with old friends and the venue couldn't have been more perfect.
Chill music plays all through the night and there're usually zero drunk creeps, making this the perfect safe space!
Our favorite part though, is the food. The place serves classic British cuisine, all of which taste authentic and are very filling.
The alcohol doesn't disappoint either! You can find an impressive selection of British ales, lagers, and ciders at the bar that will leave you a happy drunk.
Address
155 Osborne St, Winnipeg, MB R3L 1Y7, Canada
Contact Details
+1 204-284-7201
Hours
3:00 PM to 2:00 AM (Monday to Thursday)

12:00 PM to 2:00 AM (Friday to Sunday)
3. 4th Line Pub & Grill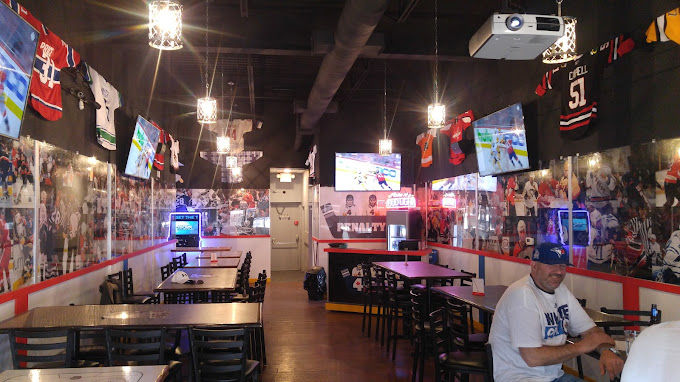 The 4th Line is the embodiment of welcoming, as laughter will be the first thing you'll hear when you enter. This pub is both kid and adult-friendly, meaning the ambiance is nothing but uplifting—especially if you're a hockey fan!
The pub serves some of the most satisfying comfort food, featuring classics like burgers and fish n' chips. The beer is great too, and most of it's locally made, giving the place that extra layer of authenticity.
If you're with someone you love being around, get a beer and a burger and watch a game. It's easy to lose track of time from the rambling and laughing that this pub influences you to do.
Address
3025 Ness Ave, Winnipeg, MB R2Y 2J2, Canada
Contact Details
+1 204-896-9815
Hours
11:00 AM to 10:00 PM (Monday to Wednesday)

11:00 AM to 2:00 AM (Thursday to Saturday)

12:00 PM to 6:00 PM (Sunday)
4. Thirsty Lion Tavern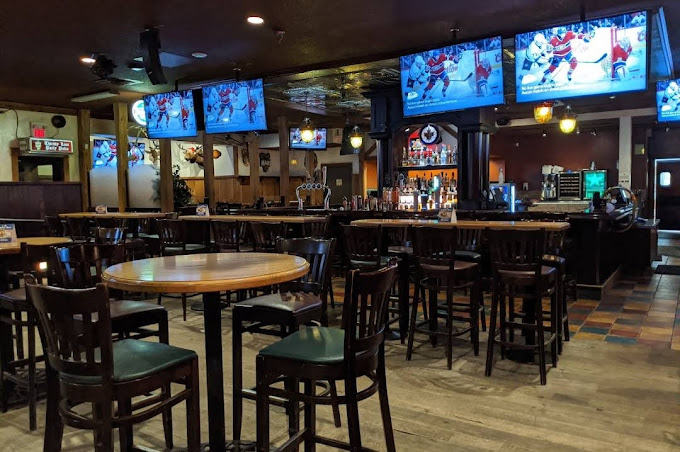 The Thirsty Lion Tavern has everything you could ever want in a country pub: a cozy atmosphere, comfort food with large servings, and tasty craft beers. The beating heart of this place though, is the music.
The live singers and bands are usually nobodies, but they're some of the best we've seen. In the countless times we've visited the place, the entertainers have never disappointed.
Thirsty Lion really gets tied together by the music, and it makes catching up with friends a lot easier. If you're having trouble breaking some bad news, we recommend doing it here since it's hard to feel anything negative while inside.
Address
525 Dale Blvd, Winnipeg, MB R3R 2J8, Canada
Contact Details
+1 204-895-8200
Hours
11:00 AM to 1:00 AM (Monday, Tuesday)

11:00 AM to 2:00 AM (Wednesday to Saturday)

12:00 PM to 12:00 AM (Sunday)
5. Joe's Pandora Inn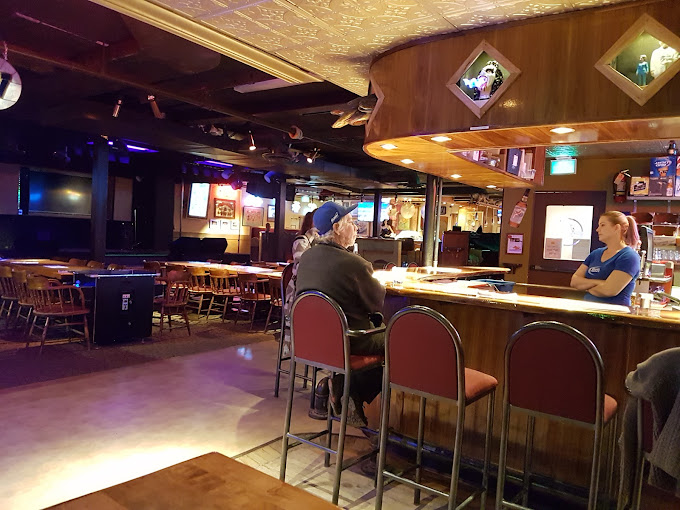 Joe's Pandora Inn demonstrates Winnipeg hospitality best, making this the best country pub for tourists.
Both the community and the staff are welcoming to outsiders. We even saw someone take the time to order for some Japanese visitors all through the night!
Most of the bar's patrons are old, and we don't know if it's just us, but old people can make any place feel homey. It's fun drinking while listening to their stories and advice.
Speaking of drinking, Joe's sells some great British beer and Guinness that go well with its fish n chips. Try not to eat too much though or you could end up overdrinking.
If you do get yourself drunk though, the place is also an inn! Just head to one of the rooms before you get knocked out.
Address
103 Bond St, Winnipeg, MB R2C 2L1, Canada
Contact Details
+1 204-222-0571
Hours
11:00 AM to 11:00 PM (Monday to Wednesday)

11:00 AM to 2:00 AM (Thursday to Saturday)

12:00 PM to 7:00 PM (Sunday)
6. King's Head Pub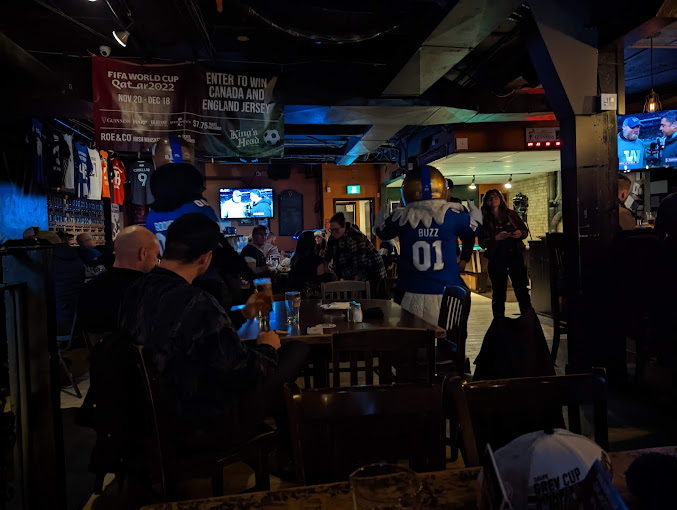 The King's Head Pub offers a cozy rural-esque escape while being right in the heart of downtown Winnipeg.
The friendly patrons and staff, chill atmosphere, British comfort food, and Guinness on tap are very conducive for heart-to-heart conversations.
If we were to pick, we'd say that this pub's strength is in the variety of craft beer it offers. This pub has long been a number one testing spot for Winnipeg's local breweries, meaning you get to enjoy new formulas before everyone else!
Mix the craft beer with the relaxing sound of laughter, and you've got the perfect venue for unwinding.
Address
120 King St, Winnipeg, MB R3B 1H9, Canada
Contact Details
+1 204-957-7710
Hours
11:00 AM to 2:00 AM (Monday to Saturday)

12:00 PM to 2:00 AM (Sunday)
7. Hat Tricks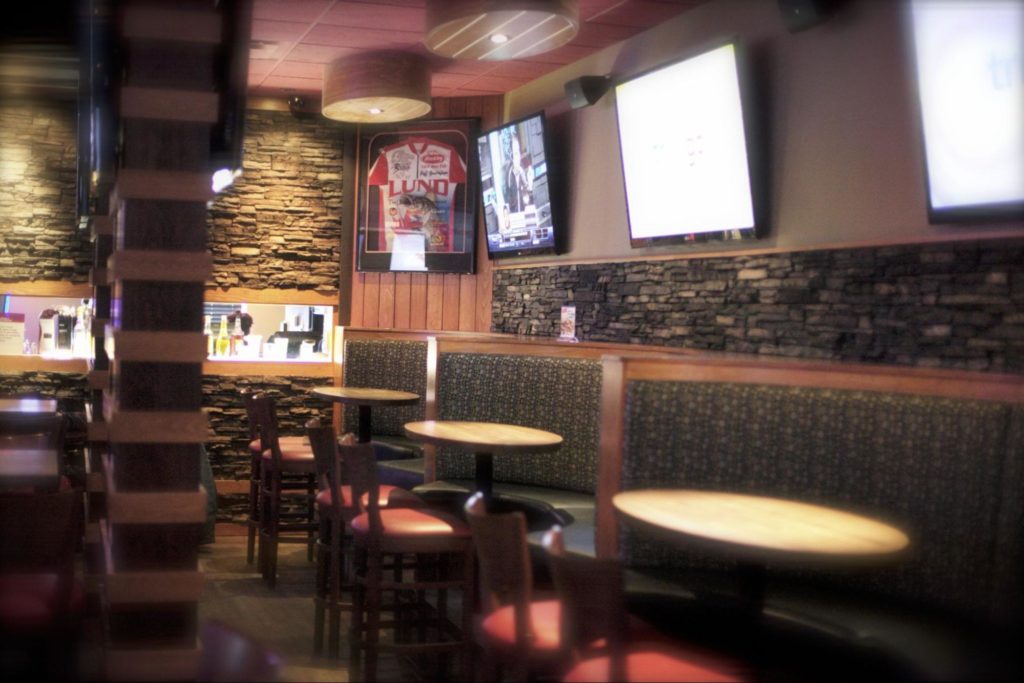 Hat Tricks sits right by Winnipeg's countryside, making it a natural destination for anyone wanting a break from city life.
You just can't help but feel warm and fuzzy the moment you step inside since you're instantly embraced by an atmosphere of smiles. Even the most uptight among you will find it easy to let your hair down once you see what the patrons are like.
Food and drinks at Hat Tricks are nothing short of a slam dunk. It's got the greasiest, most filling American and British comfort food in the city that goes very well with some craft beer.
There's not much live music here, but there's always a game playing on-screen.
Address
3740 Portage Ave, Winnipeg, MB R3K 1A1, Canada
Contact Details
+1 204-837-5831
Hours
9:00 AM to 2:00 PM (Monday to Saturday)

12:00 PM to 12:00 AM (Sunday)
8. Leopold's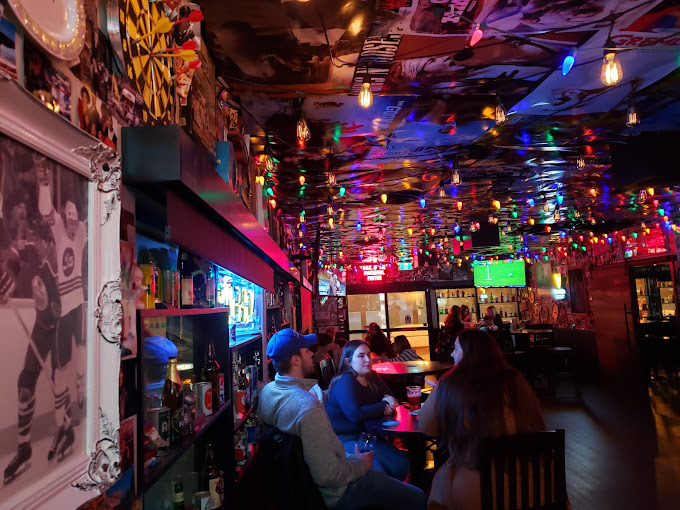 Leopold's can be found everywhere in Winnipeg, but the Henderson branch best embodies the country vibe. It's found right in outer Winnipeg, meaning all the food and drinks are as fresh as you can expect from a country pub.
Live music occasionally fills the air at Leopold's and the acts usually play acoustic, blues, and jazz stuff. They can be a hit or miss though, but when they hit, you'll spend hours Googling their releases!
Our favorite part about this pub is it's large enough that each section has its own vibe, though they're all relaxing in their own ways. One is for sports fans, the other for quiet lovers, and the last has the typical bar vibe with live music!
| | |
| --- | --- |
| Address | 1347 Henderson Hwy, Winnipeg, MB R2G 1M5, Canada |
| Contact Details | +1 855-522-5367 |
| Hours | 11:00 AM to 2:00 AM (Everyday) |
9. Cowboy's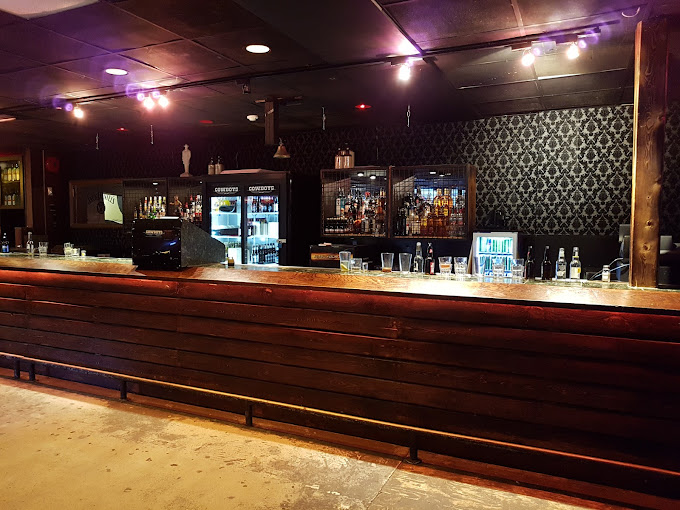 Cowboy's is the place for some American country relaxation, complete with American beer, whisky, and even some (decorative) spittoons! It's located by the abandoned stockyards, so you'll get nothing but peace and quiet.
The food at Cowboy's pays homage to Southern American cuisine, consisting mostly of BBQ and other savory comfort food. The servings aren't that great, but the prices are cheap enough to make up for it!
Unlike other Winnipeg cowboy-themed pubs, this one plays slow country music instead of the usual upbeat honky-tonk dance tunes.
The only downside we saw was that the place can get a bit too packed on some nights, which made some of us feel a bit claustrophobic.
Address
1034 Elizabeth Rd, Winnipeg, MB R2J 1B3, Canada
Contact Details
+1 204-253-2641
Hours
8:00 PM to 2:00 AM (Friday)

9:00 PM to 2:00 AM (Saturday)

Closed (Sunday to Thursday)
10. The Riverside: Tap & Table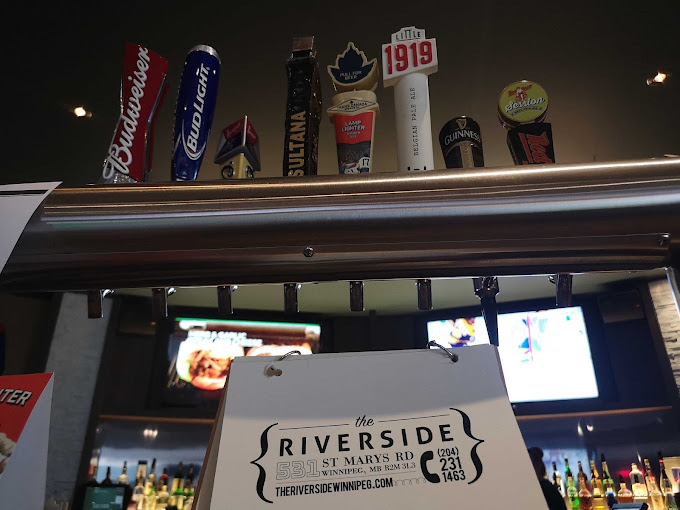 The Riverside has some of the best beer selections in Winnipeg, plus you can even mix some of the draft beers together to make something disgusting or tasty! We suggest mixing Budweiser with Guinness for a weird but unique experience.
It's set in a quiet corner by the Red River, so you can relax through the sound of flowing water. For an extra touch of calmness, check out the cannabis shop down the street!
You're greeted by a clean and modern aesthetic when you walk in, giving the pub a very homey atmosphere, especially for those of you with OCD. Even simple comfort food like poutine and fish n chips are plated with care!
If you're looking for the type of country pub that puts a lot of care into the smallest details, this is definitely for you.
Address
531 St Mary's Rd, Winnipeg, MB R2M 3L3, Canada
Contact Details
+1 204-231-1463
Hours
3:00 PM to 11:00 PM (Monday, Tuesday)

12:00 PM to 12:00 AM (Wednesday)

12:00 PM to 2:00 AM (Thursday)

11:00 AM to 2:00 AM (Friday, Saturday)

11:00 AM to 12:00 AM (Sunday)
11. Fionn MacCool's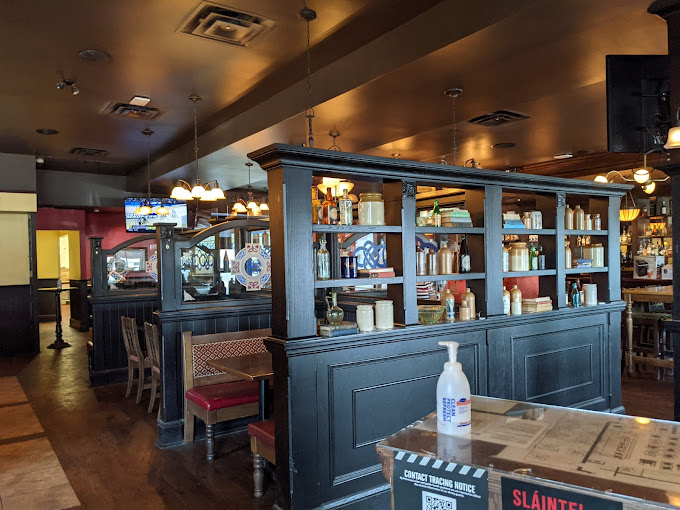 Fionn MacCool's is a famous Irish-themed country pub, that's as chill as it gets. It's located near the countryside, so you can usually see farmers and the like coming in with their muddy boots and bright smiles.
In true Irish fashion, the beer here is stronger than anywhere else, and it'll take a real Irishman to not get drunk. Although there are the normal, weaker versions for those who just want to relax.
Since getting drunk is pretty easy here, we also found it easy to strike up a friendly conversation with any of the patrons. We suggest getting the weaker beers so you're sober enough to enjoy the drunken ramblings of the people you approach.
Address
1582 Regent Ave W, Winnipeg, MB R2C 3B4, Canada
Contact Details
+1 204-669-9783
Hours
11:30 AM to 10:00 PM (Sunday to Thursday)

11:30 AM to 12:00 AM (Friday, Saturday)
12. Wobbly Prop – All Ranks Mess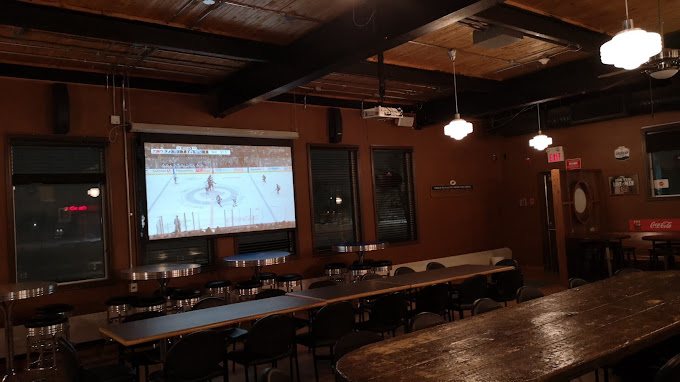 Wobbly Prop is the go-to country pub for men and women in uniform since it's located right beside the airbase. That's not the only reason they go there though, since there's a lot to love about this pub.
This place is the most lax pub in the city, with no dress codes or any other strict rules that prevent you from letting your hair down. The food and drinks are also dirt cheap, so you don't have to stress about that either!
The only downside to this place is it's only open for three hours a day on weekdays. Other than that, this is one of our favorite places to chill and grab quick drinks.
Address
715 Wihuri Rd, Winnipeg, MB R3J 2M8, Canada
Contact Details
+1 204-833-2500
Hours
3:00 PM to 6:00 PM (Weekdays)

Closed (Weekends)