12 Best Playgrounds in Winnipeg to Enjoy with Kids
As a longtime resident of Winnipeg, I've grown to appreciate the variety of playgrounds our city offers.

Winnipeg boasts some truly vibrant play spaces that cater to children of all ages, and they've become a go-to recommendation whenever friends and family visit with their young ones.
If your little one has explored all the kids' activities in our city and is now in search of something new and thrilling, allow me to introduce you to the standout playgrounds that Winnipeg has to offer.
So, let's dive into the playground adventures that await right here in Winnipeg. After all, few things are more enjoyable than watching children have the time of their lives on a sunny afternoon!
1. Assiniboine Park Nature Playground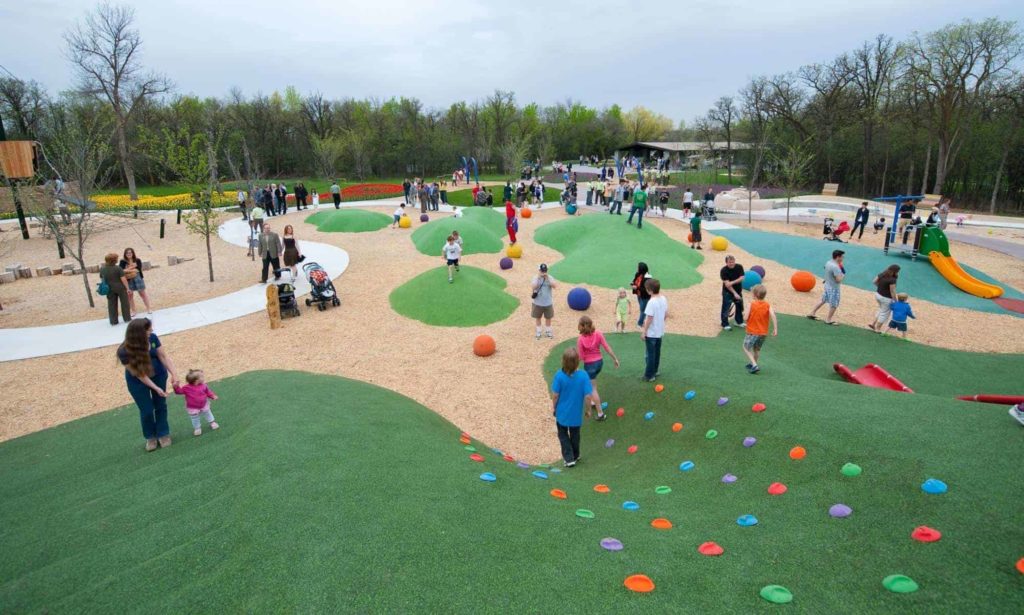 | | |
| --- | --- |
| Address | 55 Pavilion Crescent, Winnipeg, MB R3P 2N6, Canada |
| Contact Number | +1 204-927-6000 |
| Operating Hours | Everyday: 8 AM–8 PM |
Assiniboine Park Nature Playground is a top-rated spot for family fun, positioned within one of Winnipeg's largest and most picturesque parks. It stands out due to its exceptional, nature-inspired design that encourages unstructured play and exploration.
Kids can climb tree stumps, scramble up netted towers, and even make music on wooden xylophones. The park uniquely melds its equipment with the natural environment, creating an immersive experience that's hard to match.
For the little ones, there's a tot lot with smaller, age-appropriate structures; for the older, more adventurous kids, there's an assortment of slides and climbing options.
The location is special not only for its playground but also because it houses the Assiniboine Park Zoo, the Pavilion Gallery Museum, and a beautiful English garden.
Parents and caregivers visiting should remember that the playground is mainly in the open, with lots of sun exposure. It's advisable to bring sun hats, sunscreen, and plenty of water, especially on hotter days.
Given the many attractions and large area of the park, it's also a great idea to plan for a day-long outing. You won't want to miss out on this park's numerous gems!
2. Harbourview Park & Recreation Complex
| | |
| --- | --- |
| Address | 1867 Springfield Rd, Winnipeg, MB R2G 2K7, Canada |
| Contact Number | +1 204-222-2751 |
| Operating Hours | Everyday: 9 AM–9 PM |
Harbourview Park & Recreation Complex, located in northeastern Winnipeg, is a classic playground wonderland.
The primary attraction is its expansive playground that boasts a unique pirate-themed play area. It draws kids into an exciting world of maritime adventure.
Additionally, the complex ensures entertainment for all ages. It features an area specially designed for toddlers and a splash pad perfect for those hot summer days.
One highlight of Harbourview is the scenic lake setting. The surrounding walking trails and golf course offer additional activities to enjoy.
The park is also home to a seasonal sculpture garden, adding a touch of artistic flair to your visit.
However, parents taking their kids should know that Harbourview can get busy, particularly during peak hours. An early morning or late afternoon visit might offer a more relaxed experience.
Having some swimwear on hand for the kids could be helpful to take full advantage of the splash pad. Similarly, bringing a picnic blanket might add to the relaxation if you decide to unwind by the lake.
While the children have their pirate adventures or splash around, parents can enjoy the serenity of the lake and the natural beauty of Harbourview Park.
3. Kildonan Park
| | |
| --- | --- |
| Address | 2015 Main St, Winnipeg, MB R2V 2B9, Canada |
| Contact Number | +1 877-311-4974 |
| Operating Hours | Open 24 hours |
Kildonan Park is a sprawling oasis nestled in North Winnipeg. It offers an enchanting playground experience that stands among the best.
Its large play area caters to children of various ages with various play structures, slides, and splash pads.
The star attraction is the enchanting witch's hut, inspired by the story of Hansel and Gretel. And it sparks the imagination and brings fairytales to life.
In addition to the playground, the park has an outdoor theater known as the Rainbow Stage. Here, families can enjoy a variety of performances.
Also noteworthy is the park's restaurant, Prairie's Edge, perfect for a family meal with a scenic view.
For parents and caregivers visiting Kildonan Park, a picnic is essential. The park has many picturesque spots, making it an ideal place for a family meal outdoors.
Also, sunscreen and hats must be at hand to protect your kids from the sun during their playtime.
From the expansive green spaces to the intriguing play structures and charming witch's hut, Kildonan Park offers a magical and memorable outdoor adventure for the entire family.
4. St. Vital Park
| | |
| --- | --- |
| Address | 190 River Rd, Winnipeg, MB R2M 5C4, Canada |
| Contact Number | +1 877-311-4974 |
| Operating Hours | Everyday: 7 AM–10 PM |
Situated in southern Winnipeg, St. Vital Park is home to a grand playground that is nothing short of a child's paradise. This playground is one of the city's finest, as it showcases an array of play structures and equipment that cater to all ages.
The play area features a captivating climbing frame designed to inspire imaginative play. There are exciting slides of varying sizes, swings that generate squeals of delight, and even interactive elements that stimulate children's sensory and cognitive skills.
This vast playground is surrounded by ample open space, providing room for games of tag or impromptu ball games. Not to mention the gentle hum of nature that provides a peaceful yet engaging backdrop to the playground's energetic atmosphere.
There's also an adorable mini train ride, which is a delightful treat for kids that adds to the park's charm. And as always, sunscreen and hats are needed for sun protection during outdoor playtime.
With so much to offer, St. Vital Park provides a fantastic setting for a fun-filled day out with kids. Its beautiful, serene environment, mixed with the joyous laughter of children at play, makes it one of Winnipeg's top playground destinations.
5. Fort Rouge Park
| | |
| --- | --- |
| Address | 252 River Ave, Winnipeg, MB R3L 0B4, Canada |
| Operating Hours | Everyday: 8 AM–11 PM |
Fort Rouge Park is a hidden gem among the city's playgrounds. The park features an all-ages-accessible play structure that is inclusive and allows children of all abilities to engage in play.
Moreover, the playground encourages creativity, motor skill development, and social interaction with swings, slides, climbing frames, and sensory play equipment.
Fort Rouge Park stands out for its community-oriented setting. Located in a tranquil residential area, it provides families with a safe and relaxed environment.
The park also features a wading pool for kids to cool down during the summer months and picnic tables for families to enjoy an outdoor meal together.
Parents planning to visit Fort Rouge Park should note that despite its residential location, the park can still get sunny. So, sun hats, sunscreen, and plenty of water for the kids are always a must-bring.
Given its friendly environment, this park is an ideal location for playdates or small birthday parties.
So, next time you are looking for a fun, inclusive, and relaxed place to spend a day, consider Fort Rouge Park — a true favorite among Winnipeg's playgrounds.
6. Variety Heritage Adventure Park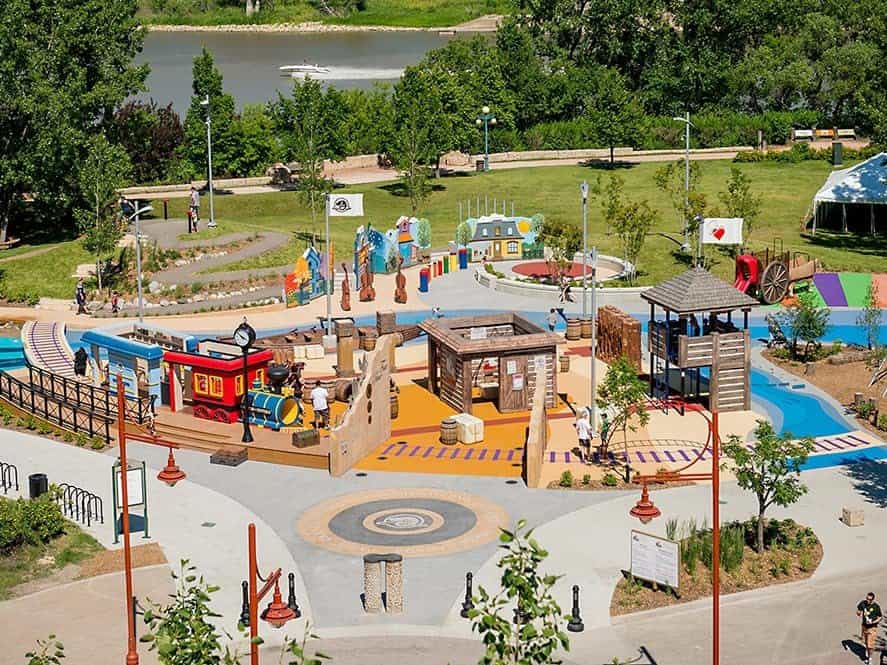 | | |
| --- | --- |
| Address | 75 Forks Market Rd, Winnipeg, MB R3C 4Y3, Canada |
| Contact Number | +1 204-983-6757 |
| Operating Hours | Everyday: 11 AM–5 PM |
Situated within The Forks, one of Winnipeg's most historical sites, the Variety Heritage Adventure Park blends play and learning in a unique and stimulating way.
This park is not your average playground. Instead, it's a meticulously crafted interactive space designed to engage children's curiosity about the history and geography of Manitoba.
The park features several miniaturized historical landmarks, including a fur trading fort and a prairie sod house. Children can have fun navigating the waterway in a paddleboat, climbing the lookout tower, or enjoying a simulated voyageur canoe trip.
Each activity in the park is an opportunity for children to learn through play.
Given its location at The Forks, there's plenty more for families to explore in the vicinity, including the public market, restaurants, and the beautiful riverwalk.
And taking some time to explain the park's historical aspects can enrich your children's experience. You can turn a day of fun into an educational adventure.
With its creative blend of play and learning, this park definitely stands among Winnipeg's top playgrounds.
7. Jumpstart Playground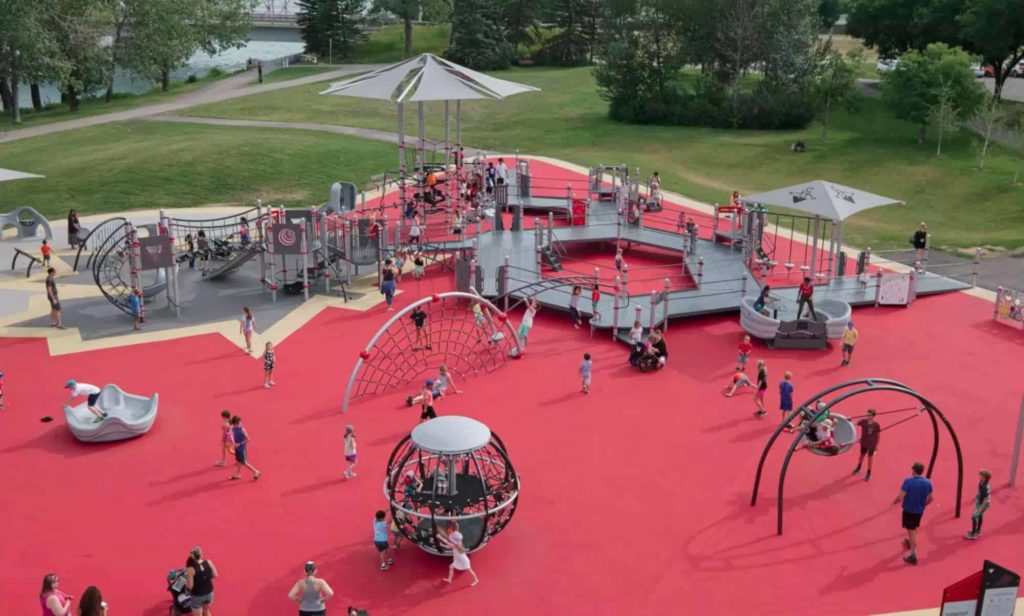 | | |
| --- | --- |
| Address | 25 Poseidon Bay, Winnipeg, MB R3M 3E4, Canada |
| Contact Number | +1 204-986-5890 |
| Operating Hours | Open 24 hours |
The Jumpstart Playground, located in the bustling Pan Am Pool, is a marvel of inclusive design and accessibility.
Purpose-built to be an all-inclusive playground, it allows children of all abilities to participate in play. This makes it a standout choice among Winnipeg's playgrounds for parents.
The playground's equipment has been designed to ensure maximum accessibility.
From wheelchair-accessible swings and merry-go-rounds to sensory play panels and a soft, cushioned ground surface for safety, it ensures that every child can play without barriers.
The location itself is also a draw. Pan Am Pool is home to several sports and recreation facilities, making it a hub of activity and a great spot for a day out with the family.
Visits to Jumpstart Playground offer an excellent opportunity for parents to discuss with their children the principles of inclusive play and respect for everyone enjoying the playground.
With its commitment to inclusive play and its vibrant location, Jumpstart Playground is a prime spot for children to learn, play, and grow.
8. Waterside Estates Playground
| | |
| --- | --- |
| Address | 225 Shady Shores Drive West, Winnipeg, MB R2C 3C2, Canada |
| Operating Hours | Open 24 hours |
Situated in the heart of the peaceful and picturesque Waterside Estates, the Waterside Estates Playground is an impressive fun and physical activity space for kids.
This modern playground boasts an assortment of innovative equipment, including a rope-climbing sphere, multiple slides of various sizes, and unique swings, offering children an exciting variety of play options.
In addition to that, the park is set against a backdrop of the beautiful Waterside Estates neighborhood with its charming ponds and paths. This provides a peaceful and inviting setting for a family outing.
When considering a visit to Waterside Estates Playground, including a picnic blanket and some outdoor games in your kit could add to the day's enjoyment.
The ample green space next to the playground is perfect for a family picnic or a spontaneous round of frisbee or soccer.
The Waterside Estates Playground, with its modern play structures and serene environment, offers children an exciting and dynamic place to play.
9. Bunn's Creek Centennial Park
| | |
| --- | --- |
| Address | 365 McIvor Ave, Winnipeg, MB R2G 1A1, Canada |
| Operating Hours | Everyday: 7 AM–10 PM |
Bunn's Creek Centennial Park provides a magical fusion of play and nature. The playground within this park boasts a comprehensive array of play structures that cater to various age groups.
From slides and swings to balance beams and climbing apparatus, this playground offers endless opportunities for fun and exploration.
The location is what truly sets Bunn's Creek Centennial Park apart. It is beautifully enclosed by the winding Bunn's Creek, with walking trails and abundant green space surrounding the playground.
It's the perfect place to introduce kids to the wonders of nature as they play.
A visit to Bunn's Creek Centennial Park could be more delightful by packing a picnic. The park offers a charming setting for outdoor meals that can add to your fond memories of the day.
Additionally, the serene beauty of the creek and walking trails might inspire you to explore further, so having comfortable shoes handy for everyone could enhance this adventure.
Bunn's Creek Centennial Park, with its inviting playground and captivating natural surroundings, is more than just a play area — it's a wonderful outdoor adventure for the whole family, making it a top pick among Winnipeg's playgrounds.
10. Happyland Park
Address
425 Marion St, Winnipeg, MB R2H 0V6, Canada
Operating Hours
Weekdays: 8:30 AM–4:30 PM

Weekends: Closed
Happyland Park is a delightful space for children's play near East Kildonan.
The playground is an energetic child's paradise, offering diverse equipment, such as slides, climbing structures, and swings, that can cater to different age groups and interests.
One key attraction of Happyland Park is its location adjacent to the Red River. The lovely riverside setting provides a picturesque backdrop to the play area while also offering opportunities for riverside walks and nature exploration.
Visitors to Happyland Park might want to bring along a picnic, as there are plenty of picnic tables and grassy areas to lay a blanket.
With its proximity to the river, parents are reminded to keep a watchful eye on their kids. And it's also a good idea to pack bug spray to ensure a comfortable visit.
A trip to Happyland Park brings together play, nature, and beautiful views, offering families a comprehensive outdoor experience.
11. Central Park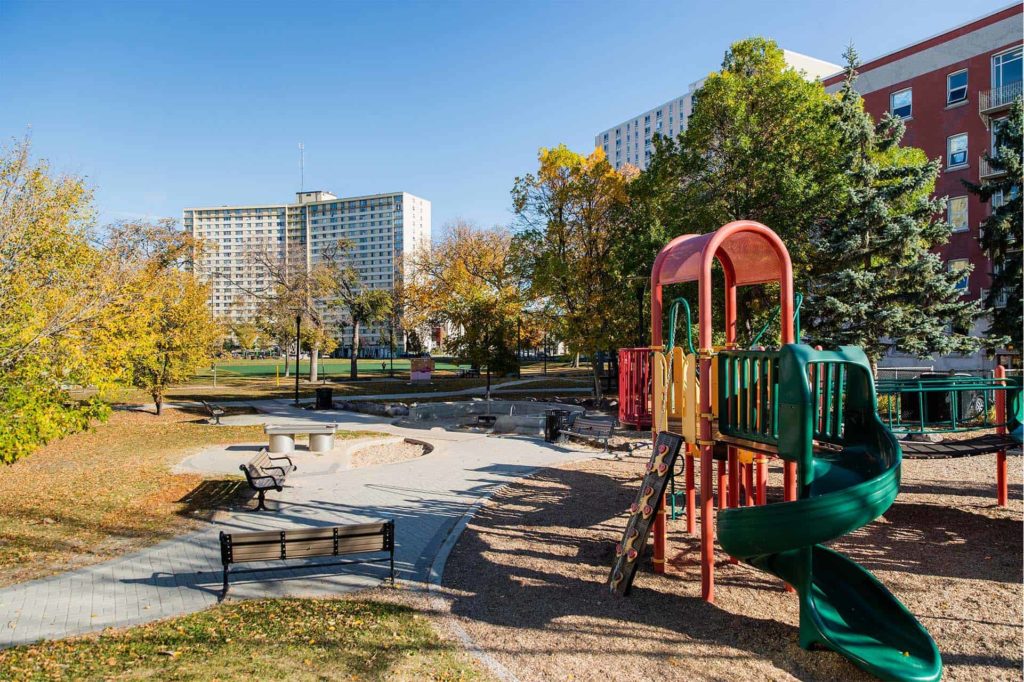 | | |
| --- | --- |
| Address | 400 Cumberland Ave, Winnipeg, MB R3B 1Y1, Canada |
| Operating Hours | Open 24 hours |
Central Park, located in the heart of Winnipeg, is a lively and vibrant playground that has undergone significant revitalization in recent years. It features an assortment of play structures that keep children entertained for hours.
From large, colorful climbing nets and slides to various swings, spinners, and even splash pads, kids have many fun options to choose from.
Central Park holds a unique position in Winnipeg's dynamic city center. Amidst the hustle and bustle, this park provides a much-appreciated green space for residents and visitors alike.
For those planning a summertime visit, it may be worthwhile to consider an early arrival to secure an optimal spot due to the park's popularity.
Including swimsuits and towels in your pack are helpful, especially if the splash pad or wading pool is on your agenda for the day.
With its wide variety of play structures, Central Park truly stands out among the city's play areas. Its unique location in the midst of urban Winnipeg adds a distinctive charm to the play experience.
12. Corydon Community Center River Heights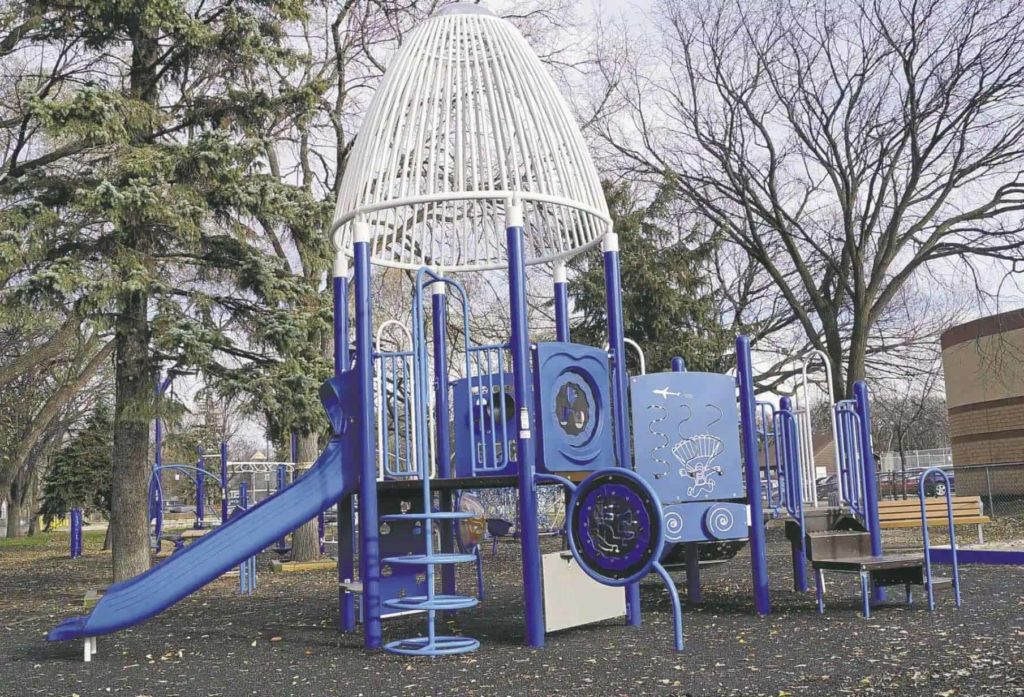 | | |
| --- | --- |
| Address | 428 Ash St, Winnipeg, MB R3N 0R2, Canada |
| Operating Hours | Open 24 hours |
Corydon Community Center River Heights is a bustling hub of community activity that hosts a fantastic playground for children.
The playground is well-stocked with tons of play options. It can cater to children of varying ages and interests, from swings and slides to climbing structures and seesaws.
The location, in the heart of the River Heights community, adds to its charm. It's not just the well-equipped playground that's the draw, but also the sense of community spirit and connection that fills the air.
Parents may want to check the community center's schedule when planning a visit to Corydon Community Center River Heights. The center frequently hosts community events, making your visit even more enjoyable.
In summary, Corydon Community Center River Heights, with its well-equipped playground, sense of community, and host of events, provides a delightful and engaging environment for kids.