Top 5 Yoga Classes in Winnipeg
In a world where everything and everyone moves at a fast pace, people tend to forget the importance of rest and relaxation.
While the "hustle culture" is seen as the epitome of productivity and success, it is crucial to make time for one's well-being through having fun and engaging in wellness activities like yoga.
So if you're a hustler looking for the best yoga classes near you, you're in luck because, in this article, we will talk about the top five yoga classes in Winnipeg.
For this list, we looked into the average cost of private and group yoga classes, both on-site and online. FAQs are also available below after the list to give you more information on Winnipeg's yoga classes
What is the average cost of yoga classes in Winnipeg?
The average price of yoga classes in Winnipeg depends on whether they're sessions for groups or solo students, the length of the classes, and if the classes come in premium packages.
We looked into some of the most common subscription plans offered by the best yoga classes in Winnipeg and compared their prices. Take a look at the table below to have a rough idea of how much you'll need to pay.
Note: These values are just base prices and are subject to changes.
| DURATION | AVG. COST/INDIVIDUAL | AVG. COST/GROUP |
| --- | --- | --- |
| 30-minute class | $25 | $12.5 |
| 1 month (unlimited**) | $95/mo. | $95/mo. (5 members) $120/mo. (10 members) $280/mo. (20 members) |
| 3 to 4 months (unlimited) | $115/mo. | N/A |
| 1 year | $99/mo. | N/A |
**Most yoga studios in Winnipeg offer clients who will subscribe for at least a month unlimited access to many, if not all, of their yoga classes.
The prices mentioned above may also be affected by the reputation of the yoga class and teachers.
So if you're after sessions by esteemed yoga coaches or instructors, be ready to pay for premium prices and book reservations early to get a sure slot.
The Best Yoga Classes in Winnipeg
Now that you've learned about how much it will cost to avail of yoga classes in Winnipeg, it's time to know which classes may accommodate your wellness and fitness goals.
We chose these five yoga classes based on the top-rated yoga studios that are known for these sessions.
We also based on how customers assessed the atmospheres of the classes' studio environment, the attitude of the teachers/trainers, class quality, and prices.
Use these criteria to select which of these five yoga classes in Winnipeg you'll get for your fitness goals.
1. Modo Yoga Winnipeg's Modo Yoga
WHAT DOES THE CLASS DO?
Stretches and relaxes muscles, reduces stress and anxiety, and promotes cardiovascular health.
WEBSITE
https://modoyoga.com/winnipeg/
OTHER YOGA CLASSES
Yin Yoga, Modo Flow, Ashtanga, Hatha Restorative, Hot Core, Prana Flow, Community Yoga, Karma Yoga
ADDRESS
Donald branch: 7-2 Donald St., Winnipeg, Manitoba, R3L 0K5, CanadaWaverley branch: 1090 Waverley St., Suite 100, Winnipeg, MB R3T 0P4, Canada
CONTACT DETAILS
Phone: +1 (204)-452-5535 (Donald)

Phone: +1 (204)-415-6804 (Waverley)

Email: [email protected]

OPERATING HOURS
Donald branch:

Monday to Friday: 6:30 AM – 9:00 PM

Saturday: 8:00 AM – 7:00 PM

Sunday: 9:00 PM – 5:00 PM

Waverley branch:

Monday to Friday: 6:00 AM – 10:00 PM

Saturday and Sunday: 8:00 Am – 7:00 PM
| | |
| --- | --- |
| STUDIO ATMOSPHERE | ★★★★☆ 4/5 |
| TEACHER/TRAINER ATTITUDE | ★★★★☆ 4/5 |
| ⮕Friendly | ★★★★☆ 4/5 |
| ⮕Professional | ★★★★★ 5/5 |
| YOGA CLASS QUALITY | ★★★★☆ 4/5 |
| ⮕Easy to follow for beginners | ★★★★★ 5/5 |
| ⮕Promotes warmth and belongingness | ★★★★☆ 4/5 |
| PRICE | ★★★★★ 5/5 |
Yoga is mostly known for relaxing poses that promote a more balanced flow of energy throughout one's body.
While it also encompasses fitness, yoga is generally for achieving peace and harmony while unlocking any tense muscles and tendons.
So if you're looking for a yoga class that is suitable for strengthening your body and boosting your health, Modo Yoga Winnipeg's Modo Yoga class is the right one for you.
Modo Yoga is comprised of 40 yoga poses. These are a combination of precise therapeutic and traditional yoga poses done in a heated room (40℃).
The yoga poses loosen and strengthen stiff muscles, joints, and tendons while also enhancing balance and calmness to spread all over your body.
On the other hand, the heat promotes a safe environment for stretching and detoxification through sweating.
That said, we believe that Modo Yoga classes are excellent for cleansing your body of stressors, stiffness, and potential anxiety triggers. Plus, you'll also have a healthier cardiovascular system that allows better blood and oxygen flow.
But because this yoga class uses a 40℃ room, the class might be too intense for those who faint often or have never tried hot rooms before.
We recommend staying hydrated to prevent lightheadedness and fainting while doing Modo Yoga. It may also be wise to get a doctor's note allowing you to do yoga and fitness poses in heated rooms.
Another downside to this class is Modo Yoga is one of the most popular and in-demand yoga studios in Winnipeg. That means booking a Modo Yoga slot might be challenging.
Check their website for available classes. That way, you'll book for your chosen class schedule early and get yourself hot Modo Yoga classes to help you achieve zen and fitness.
Another cause of concern may be that you'll have many classmates during Modo Yoga sessions. That said, it may be hard to meet the trainers in person and strike up a conversation or take selfies with them
It may seem disheartening to be not given undivided attention by the yoga instructors. Still, with the many classes they teach, we think you'll still have a chance to thank your yoga teachers for being patient and professional during sessions.
If you're new to doing yoga and want to try this class, we suggest availing of Modo Yoga Winnipeg's Intro for Two Weeks class package.
For $50 dollars, you'll get 14 days of unlimited yoga and barre classes! Take advantage of this to get the most of Modo Yoga's heated rooms and poses.
And should you want to enjoy more yoga classes by Modo Yoga Winnipeg, check its other available subscription plans and purchase the ones you'll want to commit to.
Besides unlimited Modo Yoga and other classes, you'll also get free yoga mat rentals if you come to the studio via bus, bike, or foot!
Available in two different branches within Winnipeg
Suitable for relaxing and working out
Yoga studio promotes sustainable practices
Newbies can take the intro class package to see if Modo Yoga is for them
Best to book classes early, as slots get filled up quite fast
Hot rooms might not be suitable for those prone to fainting spells
Customer reviews
Modo is the best! I've been coming for 13 years and have never looked back. During pandemic they've had virtual options to keep up my practice, and gone over and above to keep everyone safe when in person has been possible. –Erin Joy
Very friendly staff, clean studio and their classes offer a lot of variation. I'm inexperienced at yoga and I always feel welcome at this Studio. The instructors will give you options for each pose so that you can adjust it to fit your comfort level. I highly recommend trying it out! –Local Guide
2. Yoga Public's Mysore Yoga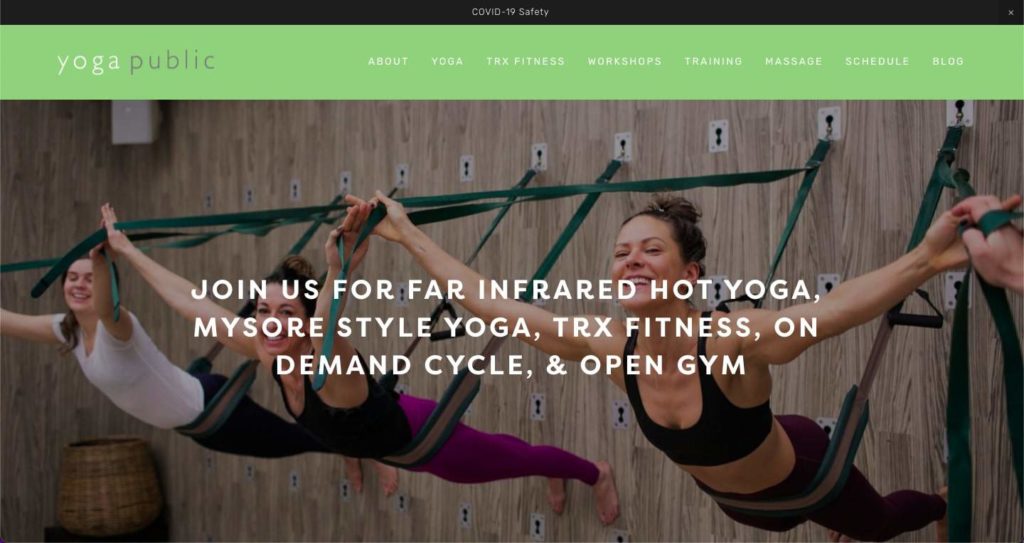 WHAT DOES THE CLASS DO?
Develops flexibility, strength, breathing and chanting techniques while achieving relaxation and fitness.
WEBSITE
https://www.yogapublic.com/
OTHER YOGA CLASSES
Hot Yoga, Regular Temperature Yoga, Private Yoga, and Thai Massage
ADDRESS
280 Fort St, Winnipeg, MB R3C 1E5, Canada
CONTACT DETAILS
Phone: +1 (204)-947-9642

Email: [email protected]

OPERATING HOURS
Fort Branch:

Monday and Wednesday: 6:00 AM – 8:45 PM

Tuesday and Thursday: 9:30 AM – 8:45 PM

Friday: 6:00 AM – 7:15 PM

Saturday: 8:45 AM – 5:00 PM

Sunday: 9:30 AM – 3:45 PM
| | |
| --- | --- |
| STUDIO ATMOSPHERE | ★★★★★ 5/5 |
| TEACHER/TRAINER ATTITUDE | ★★★★☆ 4/5 |
| ⮕Friendly | ★★★★★ 5/5 |
| ⮕Professional | ★★★★☆ 4/5 |
| YOGA CLASS QUALITY | ★★★★★ 5/5 |
| ⮕Easy to follow for beginners | ★★★★★ 5/5 |
| ⮕Promotes warmth and belongingness | ★★★★★ 5/5 |
| PRICE | ★★★★☆ 4/5 |
The Mysore-style yoga originates from Ashtanga Vinyasa. It is a type of yoga where students memorize and practise movements together without a teacher.
Of course, nowadays, yoga classes that offer Mysore Yoga, like Yoga Public, have trained professionals to guide students on the right poses.
If you're after a relaxing yoga class that promotes better breathing and chanting techniques, then this Mysore yoga class is the right one for you.
Mysore Yoga utilizes a self-practicing technique that enables students to learn about Ashtanga Vinyasa yoga at their own pace and understanding.
The class helps you develop harmony between your mind, body, and soul. That way, you'll awaken each morning feeling happier and more energized to enjoy what life has in store for you.
Plus, you'll learn breathing techniques to help you keep calm and stay focused amidst stressful or anxiety-triggering situations.
At Yoga Public, you can avail of its Mysore Yoga classes through different subscription plans, namely:
The Drop – a drop-in pass, suitable for those who are new to yoga. Priced at $24, you can try infrared hot yoga and Mysore yoga (regular temperature yoga) for one day.
Hot Trio – For $50 dollars, you'll get to try infrared hot yoga and Mysore yoga classes within one week. You'll also get up to two hours of daily parking.
The Unlimited – a monthly subscription that costs $114 and grants you unlimited access to infrared hot yoga, Mysore yoga, cycle and gym, and TRX fitness. You'll also get daily free parking for up to two hours maximum (space permitting).
When choosing a plan, it's best to go for long-term subscriptions to experience the most of Yoga Public's Mysore Yoga classes.
And while other customers think that the prices are a little hefty, we honestly think your investment will benefit your overall well-being in the future.
For one, Yoga Public has high-end amenities that establish a conducive and comfortable yoga class environment.
From the air quality to the flooring and spa facilities, Yoga Public maintains a fine standard. Availing of The Unlimited package to enjoy the Mysore Yoga class will surely be a worthwhile investment, both money-wise and health-wise.
Perhaps another downside is that some of the yoga trainers might still be inexperienced in their field. We recommend asking Yoga Public via phone or email about its best teachers so you can book a Mysore Yoga class and experience the best sessions.
Suitable for beginners and high-level practitioners
Available through short-term subscription plans
Free parking is available
Parking space is limited
Getting unlimited access can be pricey
Some trainers might not be as skilled as others
Customer reviews
I had been intimidated by Yoga my whole life and actually paced back in forth out front before I could force myself to cross the threshold that first time. It has been two months now and the depth of programming & workshops has kept me coming back every couple days. The three instructors I have worked with so far (Serena, Adrienne, & Shivaun) are each uniquely gifted and skilled at providing me what I specifically needed during each session. The facility itself is beautiful and feels more like a spa to me than a studio. Close parking is easy to find, and it turns out that members get free parking in the lot along the north wall of the building.
I just love this place, feels like home. –Fahlman Computing
Yoga Public is an exceptionally clean and calm haven. The facility is more luxurious then other yoga studios and provides a spa like experience; I can feel my shoulders release the minute I walk through the door. They have complementary hot tea (that is actually hot:)), plus complementary towel and mat service. I regularly attend Ashtanga and I enjoy the variety of the different teachers throughout the week – they each bring their own special influence to the class even when guiding a very regimented style of yoga. This studio has so many class options, including meditations, special interest classes plus TRX, open gym and cycle, there really is something for everyone. –Desiree Alarie
3. Studio 26 Yoga and Wellness' Yin Yoga
WHAT DOES THE CLASS DO?
Cools the body, deepens the breath, and targets the connective tissues of the hips, pelvis, and lower spine.
WEBSITE
https://studio26hotyoga.com/
OTHER YOGA CLASSES
Intro 26 Yoga, 26 Restorative Yoga, Unheated Core 26 Yoga, and Kids' Yoga
ADDRESS
1763 Pembina Highway, Unit 1, Winnipeg, MB R3G 2T6, Canada
CONTACT DETAILS
Phone: +1 (204)-275-1185

Email: [email protected]

OPERATING HOURS
Pembina Highway Branch:

Monday, Wednesday, and Friday: 9:00 AM – 9:30 PM

Tuesday and Thursday: 9:00 AM – 10:00 PM

Saturday: 8:00 AM – 6:00 PM

Sunday: 8:00 AM – 8:00 PM
| | |
| --- | --- |
| STUDIO ATMOSPHERE | ★★★★★ 5/5 |
| TEACHER/TRAINER ATTITUDE | ★★★★☆ 4/5 |
| ⮕Friendly | ★★★☆☆ 3/5 |
| ⮕Professional | ★★★★★ 5/5 |
| YOGA CLASS QUALITY | ★★★★★ 5/5 |
| ⮕Easy to follow for beginners | ★★★★★ 5/5 |
| ⮕Promotes warmth and belongingness | ★★★★★ 5/5 |
| PRICE | ★★★★★ 5/5 |
Yoga may be relaxing, but it can still make you sweat and feel thirsty. So if you're looking for meditative poses that let you cool your body, Studio 26 Hot Yoga's Yin Yoga class is right for you.
A little contrary to the yoga studio's name and speciality, Yin Yoga helps cool and relax the body through gentle poses. It's a suitable alternative for those who can't take hot yoga classes.
Yin Yoga uses poses from Hatha Yoga, a school of yoga that uses passive and gentle moves to attain spiritual perfection.
And while a Yin Yoga class is softer than its Yang counterpart, it takes great discipline to master its different poses due to each lasting long durations.
But with highly-skilled trainers at Studio 26, you'll gradually learn better posture and breathing techniques at your Yin yoga class.
However, some clients have noted that some trainers might not be as friendly as one could hope for.
They may be prompt and strict about punctuality and studio etiquette, but we honestly think clients will get what they've paid for and be disciplined to master Yin Yoga.
If you want to explore Yin Yoga, and perhaps other yoga classes by Studio 26 Hot Yoga, we suggest getting the Intro One Month Unlimited pass.
With the price of $50, you will get unlimited access to a variety of yoga classes for one month.
Now, should you decide to upgrade your membership to attend more Yin Yoga classes, then The Unlimited Pass options are great for you. Here are what these plans offer:
The Unlimited 4 Months – priced at $120/mo. You'll be required to commit for four months to get unlimited access to a wide array of yoga classes
The Unlimited One Year – priced at $99/mo., a one-year commitment will give you access to Studio 26's classes and facilities. You'll also be given a free suspension of classes but only for one to two months.
We recommend getting the Unlimited One Year pass if you're planning to upgrade your studio membership and go for the longer-term benefits of attending Yin Yoga class consistently.
Besides great yoga classes and facilities, Studio 26 Hot Yoga also offers affordable rentals to clients. You may get refreshments such as bottled water, Gatorade Zero, coconut water, and fresh fruit popsicles for $1 to $2.
Towel and yoga mat rentals are also available, although we suggest bringing your own mats and towels for sanitation and health purposes.
Poses are gentler and more passive
Cools the body
Intro pass is longer than what other yoga studios offer
Refreshments are available in the studio cafe
Poses take longer durations
Some teachers might not be friendly
Yoga mat rentals are not available as of now due to the pandemic
Customer reviews:
Wonderful place to practice yoga! The staff are friendly and helpful during class. They offer classes in both hot and room temperature and it can be done by anyone at all levels! I feel refreshed within 24 hours of doing a Core 26 class. Highly recommended. Also have other non-yoga classes available in their new second studio. Very clean atmosphere as well. –Sam Davidson
Best yoga studio in Winnipeg. Classes for restorative if injured, 90 mins hot 🔥 room if wanting a challenge, 60 min if needing a quick fix. Friendly, safe environment with a huge bathroom and reception area for safe social distancing. Stop using covid as an excuse not to do the right thing for your achy body! Try the one month deal for first timers! –Tammy Jensen
4. Awesome Hot Yoga's Thai Touch
WHAT DOES THE CLASS DO?
Relieves muscular tension, boosts the immune system, promotes better blood circulation, and balances the energy in your body.
WEBSITE
https://www.awesomehotyoga.ca/index.html
OTHER YOGA CLASSES
Foundation Practice, Non-heated Yin Yoga, Hatha Restorative Yoga, Barre, Community Yoga, Yin Flow Yoga, and Hot Yin Yoga
ADDRESS
677 Stafford St, Winnipeg, MB R3M 2X7, Canada
CONTACT DETAILS
Phone: +1 (204)-474-2711

Instagram: https://www.instagram.com/awesomehotyoga/

OPERATING HOURS
Stafford Branch:

Monday to Friday: 5:30 AM – 9:00 PM

Saturday: 7:30 AM – 1:00 PM

Sunday 9:00 AM – 1:00 PM
| | |
| --- | --- |
| ATMOSPHERE | ★★★★★ 5/5 |
| TEACHER/TRAINER ATTITUDE | ★★★★★ 5/5 |
| ⮕Friendly | ★★★★★ 5/5 |
| ⮕Professional | ★★★★★ 5/5 |
| YOGA CLASS QUALITY | ★★★★★ 5/5 |
| ⮕Easy to follow for beginners | ★★★★★ 5/5 |
| ⮕Promotes warmth and belongingness | ★★★★★ 5/5 |
| PRICE | ★★★★☆ 4/5 |
Looking for a yoga class and spa treatment in one? Awesome Hot Yoga's version of Thai Yoga Massage called Thai Touch might just be the right yoga class for you.
For starters, Thai Yoga Massage utilizes a mix of assisted stretching yoga poses and physical pressure lines formed from Chinese acupuncture and Ayurveda, which is a form of alternative medicine in India.
That said, Awesome Hot Yoga's Thai Touch is excellent for relieving muscle tension, encouraging healthier blood flow, strengthening your immune system, and promoting a balanced flow of energy in your body.
With the pandemic still at large, we believe that being healthy inside and out is vital to enjoying living every day without fearing too much about health scares.
The therapeutic effects of Thai Touch also give clients the feeling of a full body massage. With spa-like treatments and health benefits, it's no wonder customers gave Awesome Hot Yoga a seemingly perfect rating.
Of course, Thai Touch yoga won't be as serene and robust as it is without the high-end facilities of Awesome Hot Yoga.
Inside, you'll find spacious studios and classrooms that can accommodate perhaps up to 30 students each class. Locker rooms are also available where you can keep your belongings safe and secure.
Awesome Hot Yoga also has yoga mat and equipment rentals available for guests and members. But since the studio promotes strict COVID-19 safety protocols, we highly suggest bringing your own mat to reduce the risk of catching the virus.
Awesome Hot Yoga also has shower rooms with hairdryers inside. You'll have clean and comfortable amenities to let you freshen up after your sweaty yoga sessions.
With well-crafted amenities, it's no wonder people deem Awesome Hot Yoga a top-rated studio for practising Thai Touch and other yoga classes within Winnipeg
Now when it comes to prices, Awesome Hot Yoga's plans are pricier than the previous three studios. So if you want to commit to Thai Touch, you'll have to pay at least $100 a month to get unlimited access all year round.
On the other hand, Awesome Hot Yoga boasts of their professional, well-trained, and friendly teachers. So even with a heftier price, we think that availing of Thai Touch classes will be a worthy investment in the long run.
Can be used to alleviate sore muscles while practising safer stretching poses
Has healing effects like a massage
Class prices are more expensive than other studios
Customer reviews
Great experience, awesome instructors. Encouraging to all levels. Clean and well kept facilities. Will be returning soon and often. Great job to the staff and owners! –Cassandra H
This place is truly a wonderful experience. It's family run, the staff are geniune, kind, talented and professional! From the owners to the instructors, everyone is awesome (pun intended), inclusive and caring. Try out their $10 drop in hot yoga on Fridays! Register online through the MindBody app. Every race, sex, age and shape welcome! Thank you for being a safe space for so many! –Les
5. The Yoga Barre's Yoga Elements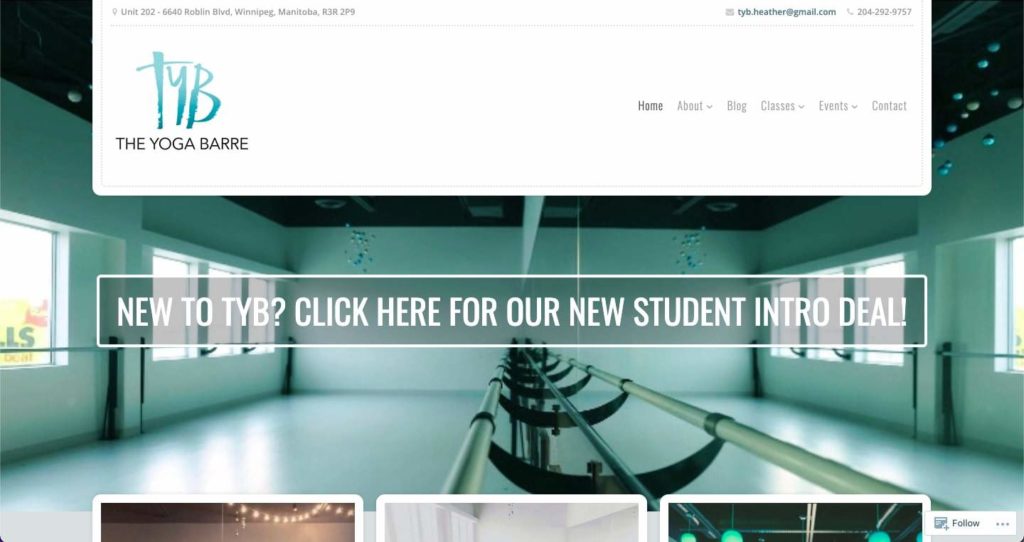 WHAT DOES THE CLASS DO?
Teachers beginners to develop the right postures to do yoga poses correctly.
WEBSITE
https://theyogabarrewpg.com/
OTHER YOGA CLASSES
Private Yoga, Rock Barre, Yoga Flow, Yoga Stretch, Yin Yoga, Yoga Restore, and Yoga Barre
ADDRESS
Unit 202, 6640 Roblin Blvd, Winnipeg, MB, R3R 2P9, Canada
CONTACT DETAILS
Phone: +1 (​​204)-292-9757

Email: [email protected]

OPERATING HOURS
Roblin branch:

Monday and Wednesday: 9:00 AM – 11:00 AM, 4:15 PM – 8:30 PM

Tuesday and Thursday: 9:00 AM – 12:00 PM, 5:00 PM – 7:30 PM

Friday: 9:00 AM – 12:00 PM, 4:15 PM – 6:00 PM

Saturday and Sunday: 8:00 AM – 12:00 PM
| | |
| --- | --- |
| ATMOSPHERE | ★★★★★ 5/5 |
| TEACHER/TRAINER ATTITUDE | ★★★★★ 5/5 |
| ⮕Friendly | ★★★★★ 5/5 |
| ⮕Professional | ★★★★★ 5/5 |
| YOGA CLASS QUALITY | ★★★★★ 5/5 |
| ⮕Easy to follow for beginners | ★★★★★ 5/5 |
| ⮕Promotes warmth and belongingness | ★★★★★ 5/5 |
| PRICE | ★★★★★ 5/5 |
The previous four yoga classes mentioned in this list may be beginner-friendly. But they still require students to be disciplined and flexible to accomplish the classes and be well-equipped for more advanced yoga sessions.
Fortunately, The Yoga Barre's Yoga Elements classes are there to teach novices the correct postures for yoga without overwhelming them with daunting stretching or bending routines.
Each Yoga Elements class lasts 60 minutes. Lessons promote flexibility, relaxation, strength, and cardiovascular health.
Yoga Elements also incorporates barre and spin exercise moves with fundamental yoga poses, which is why this class covers many aspects of your wellness.
It may seem surprising that The Yoga Barre has a perfect five-star rating despite being only in the yoga business for five years.
But with top-tier facilities within an 8,500-square-foot unit, The Yoga Barre's rating will surely reflect the quality of your future Yoga Elements classes.
The studio's yoga rooms also have heaters and cushioned floors, features that enhance your Yoga Elements experience. We believe you'll be relaxed and pampered while getting closer to your health and fitness goals.
Regular customers also noted that The Yoga Barre employs the best teachers for its different fitness lessons. That's said, you'll get top-rated lessons, teachers, and studios that will be worth every penny you'll shell out.
If there will be a downside to this yoga studio, it's that it isn't fully open every day. It will close by lunchtime and only reopen by late afternoon.
However, this schedule ensures staff gets to rest properly before and after lessons. We also think the schedule encourages students to come to class early as a courtesy to those who commit to their class times.
Class is beginner-friendly
Promotes relaxation, strengthening of the muscles, and flexibility
Studios are heated to encourage safer stretching
Studio is not open the whole day
Customer reviews
You must try classes at The Yoga Barre! When I started my first unlimited month almost a year ago I kept saying "this is my favourite class", and then I'd try another and say again "this is my favourite class"….12 months later I am still saying "this is my favourite class" after each and every class I take. I feel stronger physically and mentally and spiritually. They have it all at The Yoga Barre…each instructor will help you to calm your mind, challenge your body and do things you never thought possible. –K. Lalonde
So…I haven't experienced Yoga in over 30 years, back then Yoga was kinda freaky (no offense) but it worked on fixing a nagging back injury. Jumping to today; I'm not kind to my body and with 1 total knee replacement 1 hip replacement I feel that my flexibility has diminished greatly. Since I shop at No Frills next to The Yoga Barre I thought I should check it out to see what they offer. The best way to describe Yoga Barre is "more than just yoga" the underlying discipline is yoga but the foundation of this local institution is holistic health and fitness. Yoga along with stretching, strengthening, breathing techniques, cardio (spin classes) and more! The owner and staff are great hard working professionals with their clients health and fitness an obvious prioriy.
I whole heartedly endorse the Yoga Barre. Please help yourself by at least checking it out. You deserve Yoga Barre! –Michael Sparks
FAQs on Winnipeg's Best Yoga Classes
---
And there you have it, our top five yoga classes in Winnipeg! Choose which classes you want to try and contact their corresponding yoga studio to reserve slots.
Are there any yoga classes you recommend but aren't here on this list? Leave a comment and we'll get back to you as soon as we can!
Looking for other forms of relief and healing similar to yoga? Check out the best chiropractors and the best naturopathic clinics in Winnipeg.