Top 5 Art Supplies Stores in Winnipeg
There is an artist inside everyone. And whether you use that inner creativity as a therapeutic hobby or profession, it is crucial to channel that imagination through different art forms.
Fortunately, art supplies are now readily available in on-site and online shops. The better news? You'll find some of the top-rated art supplies stores in Winnipeg!
In this article, we will talk about the best art supplies stores in Winnipeg and look into the different art supplies and tiers available for sale.
But first, let's discuss how much you'll have to pay on average when shopping for different art supplies sold in Winnipeg.
How much do art supplies cost on average?
The prices of art supplies anchor on their brand and grade. For example, student-grade supplies are more affordable than professional-quality supplies.
Besides catering to students who are on a budget, student-grade art supplies are also cheaper due to the ingredients they're made of. These supplies are designed for practice and not intended for professional work.
On the other hand, professional-grade art supplies can be quite expensive because they're made of ingredients that are archival. They're intended for professional work that could last hundreds of years up to a lifetime!
But to get a rough idea of how much you'll pay for your art supplies, here is a table of the average cost of the most popular art supplies you can find in Winnipeg.
| ART SUPPLY | AVERAGE COST RANGE |
| --- | --- |
| Pencils | $3.82 – $24.21 |
| Color pencils | $9 – $233 |
| Charcoal | $6.36 – $8.91 |
| Paintbrushes | $8.92 – $300.66 |
| Watercolor | $4.85 – $182.18 |
| Acrylic paint | $4.40 – $59.88 |
| Oil-based paint | $6.37 – $17.84 |
| Gouache paint | $42.04 – $233.14 |
| Canvas | $9.30 – $25.48 |
| Sketchbook | $3.30 – $32.00 |
| Modeling clay | $14.01 – $45.86 |
Besides the brand and tier, prices may also change depending on how many art supplies you'll buy.
For example, buying a set may be more cost-efficient than buying one or two units. This works for sets of colour pencils, charcoal, oil paints, and watercolour palettes.
What are the best art supplies stores in Winnipeg?
Now, that you know how much art supplies cost on average, let's discuss the best art supplies stores in Winnipeg!
For this list, we've chosen stores based on the array of art supplies, store ambience, customer service, and price.
1. Michaels – St. James Street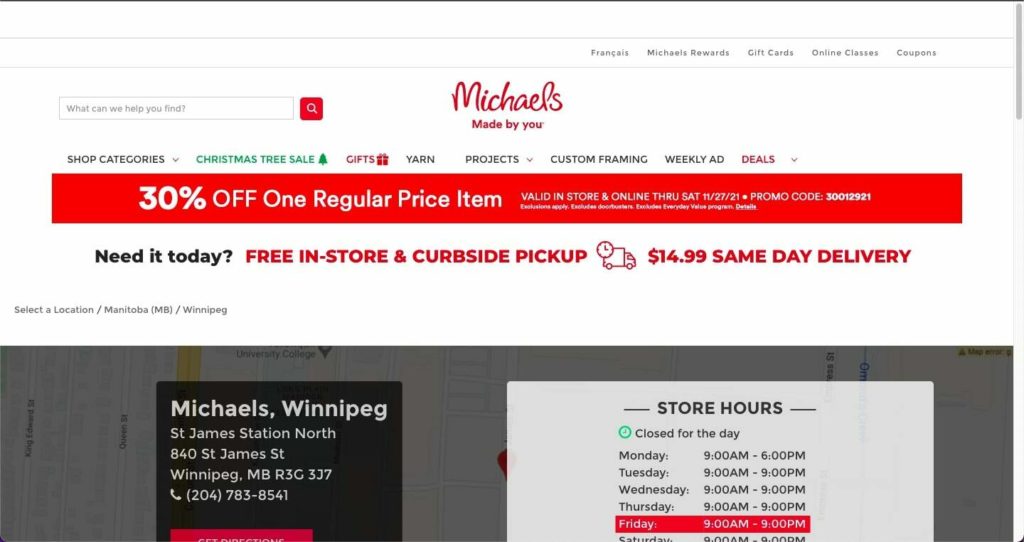 WEBSITE
https://canada.michaels.com/en/Home-Show
CONTACT DETAILS
Phone: +1 (204) 783-8541

Email: [email protected]

ADDRESS
840 St. James Street, Winnipeg, MB R3G 3J7, Canada
OPERATING HOURS
Monday: 9:00 AM – 6:00 PM

Tuesday to Saturday: 9:00 AM – 9:00 PM

Sunday: 10:00 AM – 7:00 PM

DELIVERY/CURBSIDE PICK-UP
Yes
| | |
| --- | --- |
| CRITERIA | RATING |
| ARRAY OF ART SUPPLIES | ★★★★★ 5/5 |
| STORE AMBIANCE | ★★★☆☆ 3/5 |
| Clean and organized | ★★★★☆ 4/5 |
| Easy to navigate | ★★★☆☆ 3/5 |
| PRICE | ★★★☆☆ 3/5 |
| Reasonable | ★★☆☆☆ 2/5 |
| Worth the quality | ★★★★☆ 4/5 |
| CUSTOMER SERVICE | ★★★☆☆ 3/5 |
Michaels is one of the most popular art supplies stores in North America. In fact, it is the go-to shopping spot for artists and crafters due to it having a vast selection of art supplies.
Michaels hosts art supplies from various brands, ranging from the budget-friendliest to the most expensive. Artists of all grades will surely find whatever they need in this creativity wonderland.
Inside, you'll see wide aisles and tall, large shelves housing paintbrushes, paints, pencils, and drawing surfaces. Additionally, Michaels also has quite a selection of supplies for knitting, crocheting, scrapbooking, and photography.
Think of it as a depot of art supplies; you'll have more than enough elbow room to explore the different aisles and pick which ones to take home with you and add to your arts and crafts collection.
Now, some downsides we were told of is that Michaels may be huge, but it isn't always as organized as it should be.
Likewise, some customers noted that a handful of Michaels' staff aren't that helpful when asked where a certain art supply is located.
Others even said that some of the staff were rude, in the sense that customers were brushed off instead of being assisted.
That said, we honestly think Michaels' management should make an effort to keep the art supplies store clean and organized.
Sure, it might be big and intimidating to keep tidy. However, a tidy store means customers will be able to find items more easily.
Plus, taking inventory will also be more efficient and easier for the staff.
In addition, we also think the staff needs to be friendly and accommodating to customers, especially if it is their first time shopping at Michaels.
In terms of price, some customers said that Michaels has every art supply known out there, but they're pricier compared to what other stores have to offer.
But the good news is that Michaels runs coupons all the time, which means you can get huge discounts on your purchases. We suggest using coupons for art supply brands you've been eyeing to save some coins.
Huge, spacious, and has lots of elbow room
Offers art supplies from several known brands
Offers coupons and deals most of the time
Quite expensive compared to other art supplies
Items need to be more organized
Customer Reviews
I'd give more than five stars if I could.
Love this store. The manager, Kim along with her staff, are always quick to help me find what I'm looking for. They offer excellent suggestions if they don't have what I want including which store to find it. Where do you get service like that?! 5/5 I'd give more if I could. – Terry Poole
Always offers coupons and discounts.
Good selection of art supplies, online coupon available on their web page, items go on sale often, not too crowded, sanitizer available, masks required, plexiglass at cash register. Staff helpful and friendly. – Betty La
2. Artists Emporium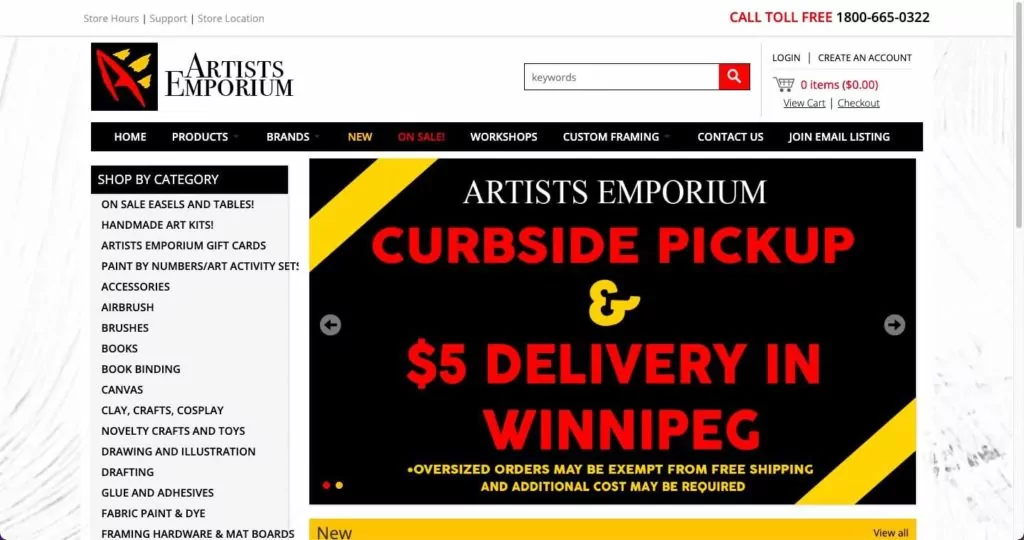 | | |
| --- | --- |
| CRITERIA | RATING |
| ARRAY OF ART SUPPLIES | ★★★★★ 5/5 |
| STORE AMBIANCE | ★★★★☆ 4/5 |
| Clean and organized | ★★★★★ 5/5 |
| Easy to navigate | ★★★☆☆ 3/5 |
| PRICE | ★★★★★ 5/5 |
| Reasonable | ★★★★★ 5/5 |
| Worth the quality | ★★★★★ 5/5 |
| CUSTOMER SERVICE | ★★★☆☆ 3/5 |
In the previous entry, we've discussed how Michaels' selling prices are quite expensive. And from what shoppers told us, Artists Emporium in Roseberry Street is a more affordable art store alternative.
Artists Emporium has a wider selection of art supplies from the budget-friendliest to the most expensive brands. The store also seems to have extra stocks on hand whenever a certain item has run out.

Inside, you'll see well-organized shelves and aisles of all the creative supplies you can think of! New shoppers might be overwhelmed with the sea of paints, pencils, brushes, canvases, and papers.
Still, Artists Emporium's tidiness makes the place more fun to navigate. We also think that customers will likely return to a shop that is this clean and organized.
Despite having a wide selection of art supplies categorized properly, Artists Emporium somehow lacks in the staff friendliness department.
A few previous customers said they were disappointed with how some of the staff brushed them off when they had problems looking for certain items. Other unhappy customers also said the staff didn't know what the shop was selling!
Now, of course, we understand that even employees can have bad days and that customers also need to be a little more considerate with them before filing complaints.
However, we also believe that it is vital for staff to know what the shop is selling and where to find them. Since the art supplies store is already vast and can be confusing to navigate, having someone to guide you through the sea of creative tools makes shopping more convenient.
But don't worry! Artists Emporium still has a handful of friendly and accommodating staff willing to help customers with their concerns.
You might even run into those who can give you advice about the best colours, drawing surfaces, or frames for your artwork.
Offers cheaper prices for many art brands
Has a custom-framing section for those who want to frame their artworks
Customer service needs improvement
Coupons aren't always offered
Customer Reviews
Professional art supplies offered for cheaper prices.
This place gets you professional art supplied at a fraction of the price. It is a warehouse so don't expect something fancy. You get a good deal! Their helpful staff will help you find what you are looking for. Also teachers get 20% off personal supplies and 40% of classroom supplies. They also give you little vouchers after each shopping trip to redeem next visit! – Melissa Mangiacotti
Great framing department staff!
I recently brought in an antique pastel painting I wanted rematted. I really was overwhelmed by the selection of colours and had no idea how to choose. Sara from the framing department offered to help and was *amazing* pulling a colours selection that complemented and helped to focus aspects the piece. I'm so grateful for her assistance! We even went with a double matte, and the finished look is amazing, exactly what was needed. 100% recommend! – Amanda Corp
3. Lizzy B's Needle Art Supplies & Custom Picture Framing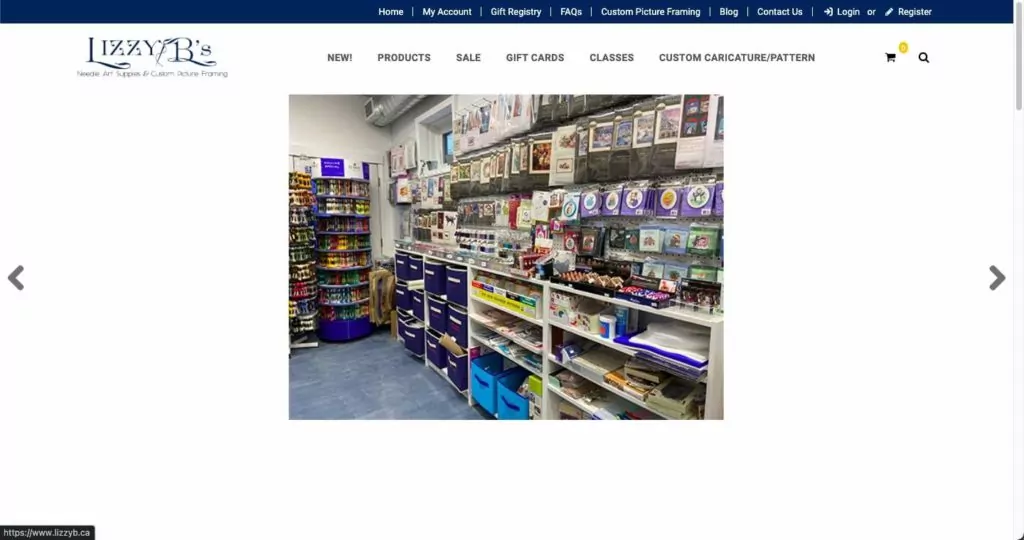 WEBSITE
https://www.lizzyb.ca/
CONTACT DETAILS
Phone: +1(204) 255-3534

Email: [email protected]

ADDRESS
39 St. Anne's Rd., Winnipeg, MB R2M 2Y2, Canada
OPERATING HOURS
Monday, Tuesday, Thursday, Friday, and Saturday: 10:00 AM – 5:30 PM

Wednesday: 10:00 AM – 7:00 AM

Sunday: 12:00 PM – 4:30 PM

DELIVERY/CURBSIDE PICK-UP
Yes
| | |
| --- | --- |
| CRITERIA | RATING |
| ARRAY OF ART SUPPLIES | ★★★★☆ 4/5 |
| STORE AMBIANCE | ★★★★☆ 4/5 |
| Clean and organized | ★★★★★ 5/5 |
| Easy to navigate | ★★★★☆ 4/5 |
| PRICE | ★★★★★ 5/5 |
| Reasonable | ★★★★★ 5/5 |
| Worth the quality | ★★★★★ 5/5 |
| CUSTOMER SERVICE | ★★★★★ 5/5 |
Lizzy B's Needle Art Supplies & Custom Picture Framing is the right place for you to put your beautiful paintings in frames.
The store offers quite a selection of frames made of different materials, with some gilded and carved with small details. At Lizzy B's, you'll have framed, archival works of art that are worth putting in a gallery.
Now, art supplies aren't limited to painting and drawing. Other forms of art use needles, thread, and beads to create stunning still lifes or personal interpretations of reality.
So for the embroiders and cross-stitchers out there, we recommend Lizzy B's as the go-to place to get needlework, bead, and diamond art supplies.
Before you fret about the high but not perfect rating we gave Lizzy B's regarding its array of art supplies, note that this isn't because the store doesn't make an effort to expand its products.
From what we were told, Lizzy B's used to be Sheena's Gallery. When the new owner bought the shop, it lacked new patterns, metallic threads, and other needlework kits.
She also said that Lizzy B's is still in the process of expanding its inventory to cater to more needlework artists.
Likewise, the shop is also undergoing reorganization so in-store shoppers will have no problem navigating through the items.
That said, we honestly think this is excellent customer service. Lizzy B's isn't just expanding to earn more, but also to present new patterns and kits to embroiders and cross-stitchers of all ages.
Compared to painting and drawing supplies, we noticed that art supplies for sewing, cross-stitching, knitting and embroidery are cheaper.
In fact, you can purchase a cross-stitch or diamond painting kit for just $10! You'll have all the supplies you need to create a piece without breaking your bank.
So, if you're looking for a creative hobby that won't cost you an arm or leg, why not explore the world of needles, threads, beads, yarn, and hoops?
And if you're lost on where to start, Lizzy B's offers classes on different needlework crafts. Choose which one you want to learn and enrol in!
However, note that classes aren't always available all year round. That said, we suggest looking into Lizzy B's website to see what workshops it is currently offering.
Art supplies are more affordable
Offers workshops
Does custom framing services
Supply inventory is still in the process of expansion and improvement
Customer Reviews
Excellent transaction and array of cross-stitch supplies!
Love coming here for all my super-demanding cross stitch needs. Smooth ownership transition. I'm SO happy this place is still open & offering hard-to-find accessories for my needy self! – Vicky Enns
Will definitely go back and shop again!
I went to Lizzy B's for picture framing! Excellent work, knowledgeable, friendly, staff. Quick turnaround. Good location, lots of parking. It was a pleasure to go there! I will definitely go back and have referred friends! – Cynthia
4. The Sounding Stone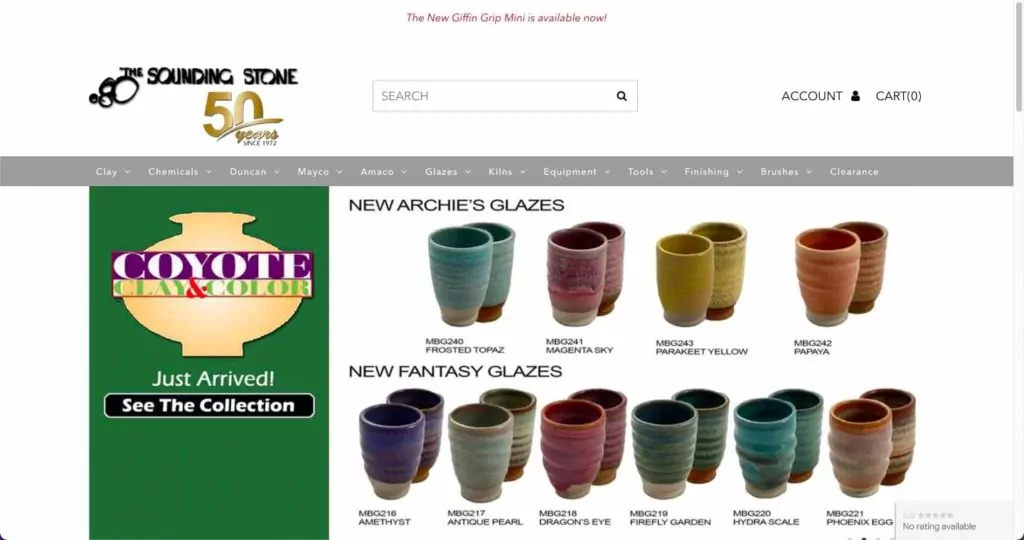 WEBSITE
https://www.soundingstone.com/
CONTACT DETAILS
Phone: +1 (204) 284-2964

Email: [email protected]

ADDRESS
104 Trottier Bay, Winnipeg, MB R3T 3Y5, Canada
OPERATING HOURS
Monday to Friday: 10:00 AM – 5:30 PM

Saturday: 10:00 AM – 2:00 PM

Sunday: Closed

DELIVERY/CURBSIDE PICK-UP
Yes
| | |
| --- | --- |
| CRITERIA | RATING |
| ARRAY OF ART SUPPLIES | ★★★★★ 5/5 |
| STORE AMBIANCE | ★★★★☆ 4/5 |
| Clean and organized | ★★★★★ 5/5 |
| Easy to navigate | ★★★☆☆ 3/5 |
| PRICE | ★★★★☆ 4/5 |
| Reasonable | ★★★☆☆ 3/5 |
| Worth the quality | ★★★★☆ 4/5 |
| CUSTOMER SERVICE | ★★★☆☆ 3/5 |
Potters and clay artists, rejoice! The Sounding Stone is a prime hotspot in Winnipeg for you to find different types of clay, moulds, and sculpting tools for your craft.
For over 50 years, The Sounding Stone has provided supplies for beginner and expert potters to hone their skills.
And if you don't believe us, check out the store's online shop. You'll see various types of clay, pottery paint, glazing mediums, brushes, metal leaf, pottery wheels, kilns, and kiln parts.
We suggest looking into The Sounding Stone's online shop first to see what products it has. That way, you'll know which items to purchase on your in-store visit.
When it comes to price, it is sensible to say that pottery-related machinery, such as the wheel and kilns, are on the more expensive side.
However, a few customers mentioned that opting for delivery might not always be the most cost-efficient option — not because pottery tools are pricey, but because the delivery fee costs at least $10 even for small and light items.
That said, we recommend that you opt for delivery if you're ordering in bulk or purchasing heavier items, such as wheels and kiln parts. And if you'll purchase only one or two smaller items, it might be better to buy them on-site.
In terms of customer service, we were told that The Sounding Stone has friendly staff, while a few are quite snobbish and rude.
Management may have to fine-tune its staff to ensure quality and accommodating customer service.
After all, The Sounding Stone remains the prime pottery and clay supplies store in Winnipeg. Excellent customer service is crucial to keeping it a go-to place for potters and clay crafters.
Presents tons of clay-related tools for beginners and experts
Has replacement parts for kilns
Shipping fee for small items can be quite expensive
Closed during holidays
Customer Reviews
Great selection of tools and overall service.
I enjoy doing business with Sounding Stone. Their service is helpful, they're constantly updating their stock, they offer multiple cross-provincial shipping options, and they pack their shipments with care. Great service all around. Thanks, Team! – Demi
Friendly and professional staff
Really nice place to find everything you need for pottery and fun! People at there are friendly and professional. For a beginner like me , here is the best place to start. I've bought different type of clay and fantastic glaces for making my projects. These are some of the nice ones. Having fun with pottery 🙂 – Li Tian
5. Winnipeg Trading Post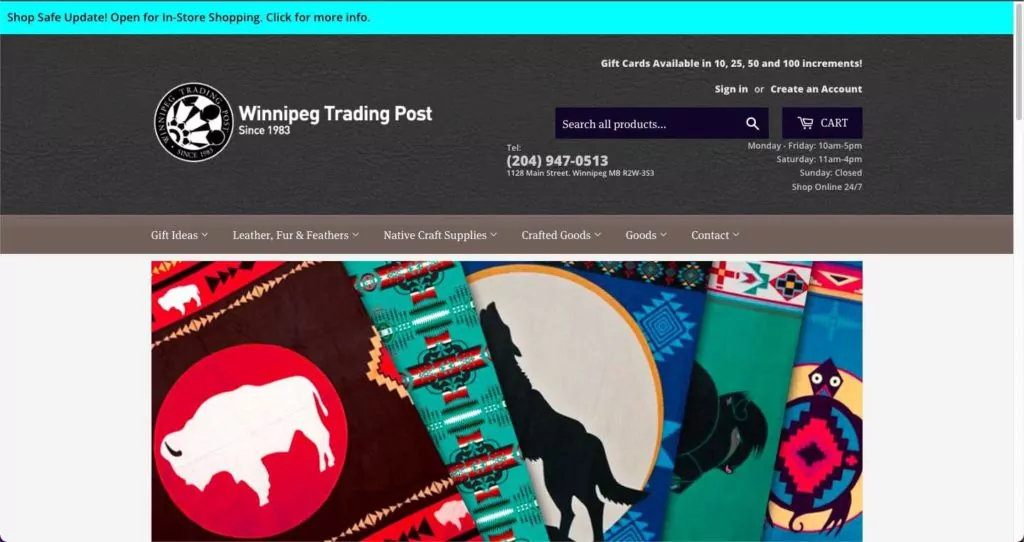 WEBSITE
https://winnipegtradingpost.com/
CONTACT DETAILS
Phone: +1 (204) 947-0513

Email: [email protected]

ADDRESS
1128 Main St., Winnipeg, MB R2W 3S3, Canada
OPERATING HOURS
Monday to Friday: 10:00 AM – 5:00 PM

Saturday: 11:00 AM – 4:00 PM

Sunday: Closed

DELIVERY/CURBSIDE PICK-UP
Yes
| | |
| --- | --- |
| CRITERIA | RATING |
| ARRAY OF ART SUPPLIES | ★★★★★ 5/5 |
| STORE AMBIANCE | ★★★★★ 5/5 |
| Clean and organized | ★★★★★ 5/5 |
| Easy to navigate | ★★★★★ 5/5 |
| PRICE | ★★★★☆ 4/5 |
| Reasonable | ★★★★★ 5/5 |
| Worth the quality | ★★★☆☆ 3/5 |
| CUSTOMER SERVICE | ★★★☆☆ 3/5 |
Part of making art is being aware of your supplies' impact on the environment. It is also vital to learn where supplies come from and which communities they affect when they're purchased.
So, if you're looking for sustainable and local art and crafting supplies, then the Winnipeg Trading Post is the right place for you.
Winnipeg Trading Post specializes in native craft supplies. Most of the stuff offered by the store is for sewing, embroidery, making dolls, and creating jewellery and accessories.
And if you're looking for a supplier of leather, fur, and feathers for your mixed-media works, Winnipeg Trading Post has an array of these items for you to choose from.
We honestly think shopping here is one way to promote indigenous culture. For one, you'll be purchasing locally-sourced items and helping the native staff working in the shop.
Second, shopping at Winnipeg Trading Post also boosts the local economy and introduces native crafting materials to the mainstream. Talk about creativity and inclusivity!
On the downside, some customers were unhappy about how some of the non-native staff didn't know that much about the shop's products.
Because of this, navigating through the store wasn't that convenient for those new to indigenous art supplies because they didn't know where to start!
In any store, we think that staff should know at least basic information about the products they're selling. That way, customers who need assistance won't have any inconveniences navigating through it.
Additionally, we think that staff being aware of what they sell also reflects their commitment to providing the best service to regular and future customers.
In terms of price, we think that Winnipeg Trading Post's native products are reasonably priced, but other customers say they're a little more expensive than other shops selling indigenous products.
We honestly think that the prices may be due to import fees, duties, taxes, and staff salary. If the shop will lower its price for the sake of customers, the store might not be able to sustain itself and its staff in the long run.
Plus, Winnipeg Trading Post sells high-quality products that make every penny you spend worth it.
Offers a big selection of native art and craft supplies
Shopping here supports local indigenous arts and communities
Staff needs to know what they're selling
Customer Reviews
The bead store in Winnipeg!
This is an amazing craft. Everything you could possibly need to make Indigenous art… beads… feather…leather.. everything. A nice selection of all ready made crafts as well.
And as for the beads…. I have never seen so many beads in my life. So many colours… so many sizes.. Mainstream box stores don't even have a tenth of what WTP has.
Friendly and helpful staff. And on a major bus route. Bus right in front of their shop brings you right downtown in minutes
Best. Bead store. EVER – Anthony Boudreau
Sells high-quality handmade native items.
The staff are always incredibly welcoming, helpful and kind. The quality of their handmade items is amazing. The bead selection will make me go broke. Love this store and go back often. Thank you for being awesome – Alicia Thwaites
FAQs about Art Supplies 
---
And that wraps up our list of the best art supplies stores in Winnipeg! Overall, we believe that exploring your creativity and imagination is vital to your well-being.
Creating art is also one way to share your craft and make a living. If you're looking for a way to pursue an artistic career, take a look at the best web design agencies in Winnipeg to help you build your website and kickstart your creative business.