The 8 Clinics with the Best Chiropractors in Winnipeg
Suffering back, neck, or other spine-related complaints? You need the best chiropractor in Winnipeg to help you out, and that's what we're here to guide you through today.
In this article, we'll be talking about the clinics with the best chiropractic experts. We also have a list of FAQs to clear up any concerns you have that may be stopping you from getting the treatment your spine needs and deserves.
What Do Chiropractors Do?
Here are just a few of the chiropractic services you can receive at a chiropractic clinic:
Ultrasound
Shockwave therapy
Hydrotherapy
Laser treatment
Myofascial release
Electrical muscular stimulator
Massage
Acupuncture
With these medical practices, chiropractors can treat more than just back and neck pain. For example, here are some more conditions a chiropractor can help you with:
Whiplash
Tension and migraine headaches
Myofascial pain syndrome and other chronic musculoskeletal conditions
Shoulder, knee, and other joint pains
How Much Do Chiropractic Services in Winnipeg Cost
We put together a list of possible prices for common chiropractic services below, but bear in mind that they're estimates. Different clinics have different rates.
| | |
| --- | --- |
| Type of Service | Price Range |
| Initial chiropractic assessment | $45-$260 |
| Chiropractic treatment sessions | $30-$85 |
| Ultrasound (additional) | $25-$35 |
| Laser Treatment | $70-$255 |
| Massage therapy | $80-$150 |
| Acupuncture | $60-$120 |
| Thermography | $250-$635 |
Our Top Picks for the Best Winnipeg Chiropractic Clinics
Now let's take a look at what you really came here for: the best clinics for chiropractic care here in Winnipeg! We listed only those clinics with licensed chiropractors and positive customer reviews, as you'll see below.
1. Maples Chiropractic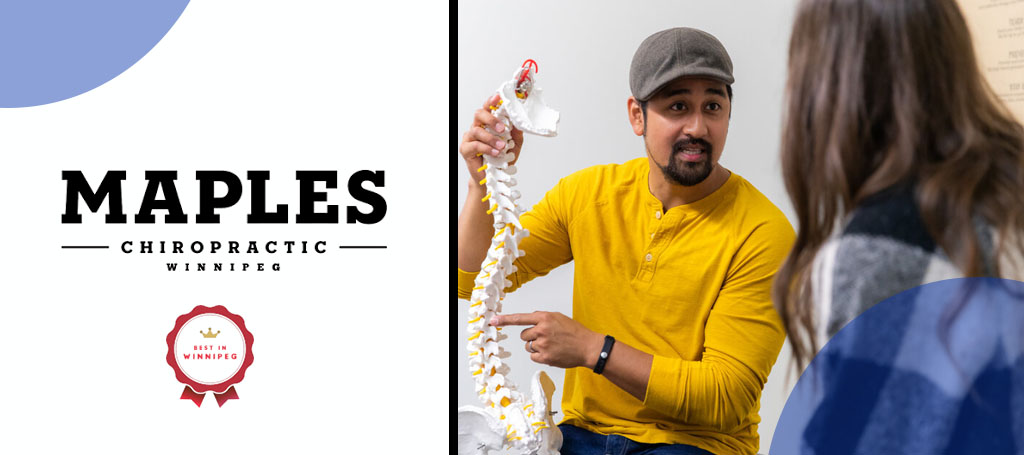 BEST FOR
Getting you out of pain naturally. Getting healthy. Staying healthy.
SERVICES
Chiropractic, Massage, Acupuncture, Athletic Therapy and Medical
WEBSITE
https://mapleschiropractic.ca/
ADDRESS
1297 Jefferson Avenue
Winnipeg, MB. R2P 1S7
CONTACT DETAILS
(204) 632-4080


[email protected]

OPERATING HOURS
Monday/ Wednesday/ Thursday: 8:30-7pm
Tuesday/ Friday: 3-7pm
Saturday/ Sunday: 10-4pm
Maples Chiropractic is a clinic with chiropractors, massage therapists and medical doctors who work together to keep their clients healthy.
What we like about them is how they incorporate educating the community alongside helping them heal. This way, they believe that everybody can become healthy.
Their chiropractic services can work for kids, those in pain, pregnant women, those who have been in a work/car accident, individuals looking for a natural approach, and even those who simply want to be proactive in taking care of their health.
We think it's great that once you walk through their doors you'll be met with genuine compassion from their caring team.
They will listen to all your concerns and goals attentively and will meet you where you're at. We like this because not all clinics take the time to fully understand their patients.
Before doing anything they will start off a thorough one on one history, with a detailed exam and X-rays to find out what is causing your pain and health problems. Then tell you exactly what is causing your pains and what you need to do to be pain free and healthy.
They make getting healthy straightforward, simple and affordable.
Their team is so helpful and keep to their promise of helping their patients feel better.
We've even asked their other clients about their experience and we've heard nothing but the most positive feedback. We highly recommend!
Team of chiropractors, massage therapists and medical doctors
Excellent customer service
Caring and compassionate team
Personalized approach based on exam results
Customer Reviews
"My experience so far was great. The adjustment and 10-min massage was very relaxing and relieve end-of-day soreness. All staff was kind and made me feel very comfortable. You could see they really care about their patients. There are no words to thank them enough."
"I was referred to maples chiropractic by a co-worker after complaining of back and neck pain. The staff is all very welcoming and know your face as soon as you walk in. After discussing where my problems were coming from we began to work on the issues. Less than 2 weeks later and I could already see the positive change from regular adjustments. Back pain is much more manageable with stretching exercises provided and neck pain is almost non-existent. Would definitely recommend to anyone who is in pain and would like to feel better about their health."
"Wonderful staff and care. Dr Gil is fantastic, always feel great after an adjustment or massage. Highly recommend if you're not feeling 100% they will get you in and get you back to 110% or better!"
"Well folks, number 1 skeptic here and let me tell you I was wrong about chiropractors. I came to this place out of last resort as I tried everything for my back pain, they welcomed me in like a family and took very good care of my issues. I went from not being able to walk myself into the establishment, to being able to go to work the next day. The pain was still there but it was noticeably different after my first visit. 3 years later I have more energy and aside from growing old pains the chronic back issues have disappeared and I am no longer afraid of throwing my back out everyday. The staff and doctors are extremely friendly and knowledgeable (just do not be afraid to ask questions). Thanks to all the doctors that helped me!!!" – Joe
"Very thorough, very friendly, and last but not least, very professional. The Health Profession should standardize and obligate all Physio/Chiropractor Clinics to operate in such a competent, skillful and brilliant structure.
Dr. Gill, you are a Master of your profession. Keep up the exceptional services you provide your clients.
Thank you for everything!" – Attilio
2. N8 Chiropractic & Massage Therapy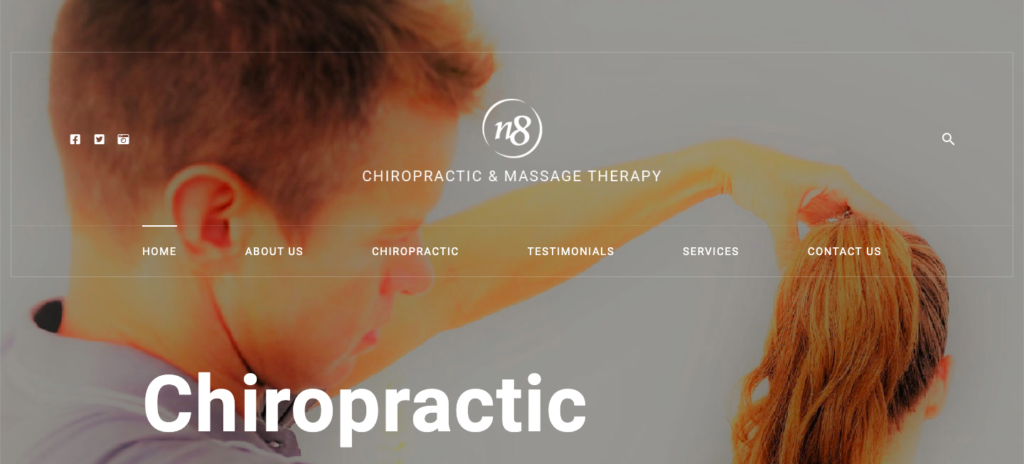 N8 Chiropractic & Massage Therapy offers some of the best chiropractic services in the area.
Besides their chiropractic services, they have services that compliment such, like a full posture evaluation, comprehensive autonomic nerve system and paraspinal neuromuscular evaluation, and static and biochemical foot evaluation.
We like that they make use of state of the art technology and advanced Chiropractic techniques in order to provide high quality care for their patients.
What's more is we think it's great that before they employ Chiropractic techniques, any corrective care or wellness care plan, they make sure to take a very thorough health and wellness evaluation including history of each patient.
They've helped many of their patients heal, improve and feel much better, and we've only heard the most positive feedback about them!
Everyone in the clinic is friendly and accommodating, so each patient feels cared for and welcomed in their amazing clinic.
Uses state of the art technology
Provides high quality care
Friendly and accommodating staff
Customer Reviews
"Doctor Darrin is amazing. He not only welcomes you with a smile at every visit but takes the time to address any questions or concerns you have. The staff are always friendly and welcoming the minute you walk through the door."
"Highly recommend n8 Chiropractic & Massage. Dr. D is the best chiropractor & they have the friendliest staff. Tempest is a great massage therapist as well. Very relaxing atmosphere."
3. Lindenwoods Chiropractic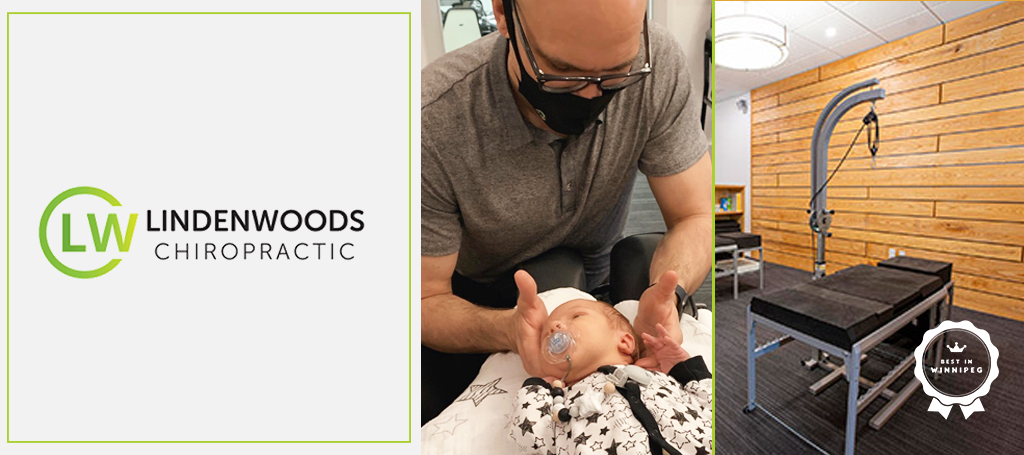 BEST FOR
Scoliosis and sciatica care
SERVICES
Chiropractic adjustments, corrective exercises, nutritional assessment, wellness workshops
WEBSITE
https://www.lindenwoodschiropractic.com/
ADDRESS
1080 Waverley St #9, Winnipeg, MB R3T 5S4
CONTACT DETAILS
(204) 474-1159
OPERATING HOURS
Monday, Wednesday: 7:00 AM – 11:00 AM, 3:00 PM – 6:00 PM
Tuesday, Thursday: 2:00 PM – 5:00 PM
Friday: 7:00 AM – 11:00 AM
Lindenwoods Chiropractic provides patient-centered services. This clinic will even request an x-ray every three months to inspect progress in your spinal health.
To guide patients through the healing process, Lindenwoods also offers various resources, including short podcast episodes, workshop videos, and weekly home corrective exercises.
Both of the clinic's doctors are skilled and experienced in Thompson and Arthrotomy procedures. Additionally, one of the chiropractors, Dr. Pascal, is also trained for Chiropractic BioPhysics (CBP) and certified in scoliosis bracing.
Free online and at-home resources
Evidence-based treatments with pre and post measurement
Expertise in CBP and scoliosis treatments
Additional nutritional assessments
Customer Reviews
Read these reviews from customers who think Dr. Pascal is the best chiropractor in Winnipeg:
"Dr. Pascal set me up on a 3 month plan to correct a number of issues including scoliosis. I have been seeing him 3 times a week for adjustments, doing traction once a week, and doing my home exercises diligently. I am nearing the 2 month mark and I am amazed with the results! My pain level has decreased considerably! Thank you to Dr. Pascal and the staff at Lindenwoods Chiropractic! 10/10!"
"Pascal is very knowledgeable and takes the time to clearly explain things to ensure you understand and feel comfortable. He truly cares about your health. I have seen great progress and improvement since starting to see Pascal and I couldn't be happier with his services. His staff are very friendly and welcoming."
4. Norwood Chiropractic Centre Winnipeg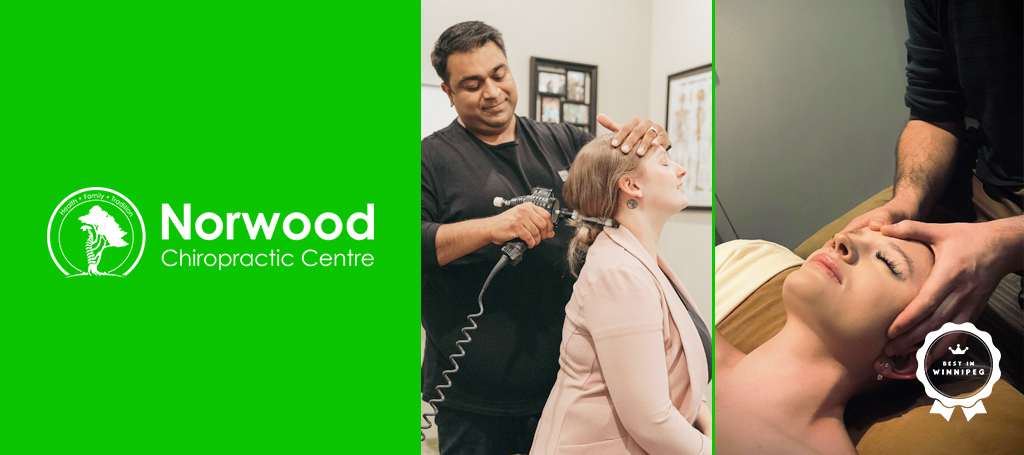 BEST FOR
Injuries and trauma
SERVICES
Chiropractic adjustments, pediatric and prenatal care, massage therapy, keto coaching
WEBSITE
https://www.norwoodchiropracticcentre.com/
ADDRESS
2-3 St Mary's Rd, Winnipeg, MB R2H 1H2
CONTACT DETAILS
(204) 231-5666
OPERATING HOURS
Monday, Wednesday: 7:30 AM – 11:00 AM, 3:00 AM – 6:00 PM
Tuesday: 10:00 AM – 1:00 PM, 3:00 PM – 6:00 PM
Thursday: 3:00 – 6:00 PM
Friday: 7:30 AM – 11:00 AM
Saturday: 8:30 AM – 10:00 AM
Norwood Chiropractic prides itself on providing specialized care by getting to know patients and providing adjustments, in-office rehabilitation, and home exercises. Additionally, Norwood has a health store to bring wellness products to its clients.
This clinic also does direct billing for six insurance companies, including Blue Cross. The owner of this clinic, Dr. Vishal, has a science degree, which he uses to back up his chiropractic and pediatric care practice.
He is skilled in various techniques, including activator, diversified, and torque release. To ensure he stays on top of the newest practices, Dr. Vishal also attends various seminars, workshops, and even medical missions.
Expertise in pediatric and chiropractic care
Accepts private and group plans complete with direct billing
Also has an in-office health store
Services can be too expensive
Customer Reviews
Here are some client experiences to tell you more about Norwood Chiropractic's services:
"Dr. Vishal has been absolutely amazing and I've already seen great results in such a short amount of time. The ladies at the front desk are the cherry on top as they are always so friendly and upbeat (even at 7:30 in the morning). The atmosphere at Norwood Chiropractic is unlike any other, they make you feel very comfortable and at home."
"The girls are amazing and will help you anyway they can. Always nice. Dr Vishal have made me actually take less than 3 headache medication a week. When I took like 3 a day in less than a month!!! I am so grateful to Norwood giving me so much less pain and headaches."
5. Dr Zsolt Egey-Samu – Focus Chiropractic Centre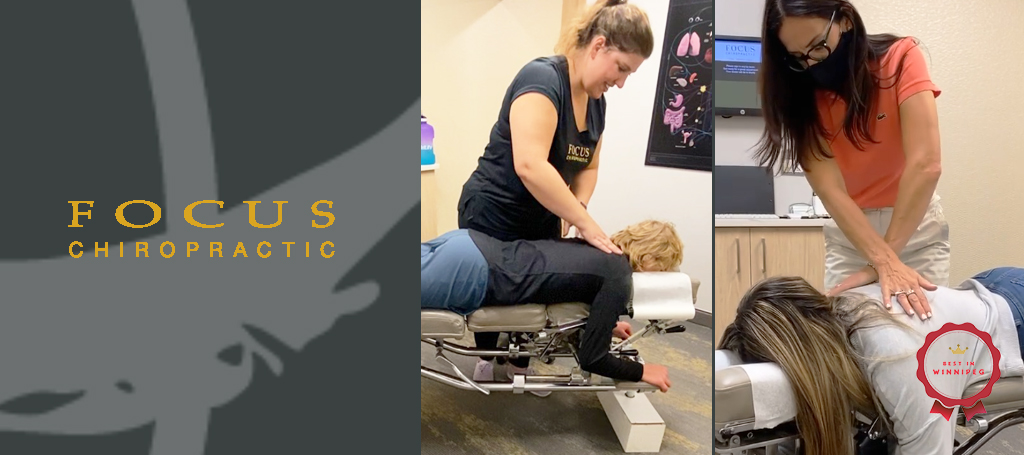 BEST FOR
Emergency weekend care
SERVICES
Chiropractic adjustment, massage therapy, wellness classes
WEBSITE
https://www.focuschiro.com/
ADDRESS
B-236 Osborne St South, Winnipeg, MB R3L 1Z5
CONTACT DETAILS
(204) 475-1876


[email protected]

OPERATING HOURS
Monday, Wednesday: 7:30 AM – 11:00 AM, 3:00 PM – 6:00 PM
Tuesday, Thursday: 3:00 PM – 6:00 PM
Friday: 7:30 AM – 11:00 AM
Focus Chiropractic has three service categories, namely relief, corrective, and wellness care. With these multiple approaches, Focus accepts all types of patients – from healthy ones who want to improve posture to those suffering from chronic pain.
It also offers premium plans wherein patients can enjoy monthly wellness classes and free access to its advanced rehab area. Probably the best thing about this clinic is that it also offers emergency services, especially on weekends!
Note that couple chiropractors Dr. Robyn and Dr. Zsolt manage this clinic and offer over 20 years of chiropractic experience. Another chiropractor, Dr. Sarah, specializes in various methods such as chiropractic acupuncture and Kinesio taping to add to their services.
Expertise in chiropractic acupuncture, Kinesio, and rock taping
Premium wellness plans for free access to rehab area
Three different chiropractic plans
Emergency weekend services
Limited chiropractic types
Customer Reviews
Read these customer reviews to know more about how the doctors and staff at Focus Chiropractic Centre offer customer care:
"The staff at Focus Chiropractic Centre are very welcoming. I received a detailed explanation of the process and how everything would work. Dr. Zsolt was amazing with his knowledge and overview of what was happening with my spine. They have a staff who are enthusiastic and care about their patients."
"I have been going to Focus Chiropractic for over 10 years. Doctors Zsolt and Robyn lead by example, care about people, health and wellness. The team is professional, friendly, welcoming and aim to go beyond with respect to the patient experience each and every day. Focus is very progressive in that even though they are the best doctor's office I've been to, they strive to continually improve – they are truly incredible!"
6. Arora Family Chiropractic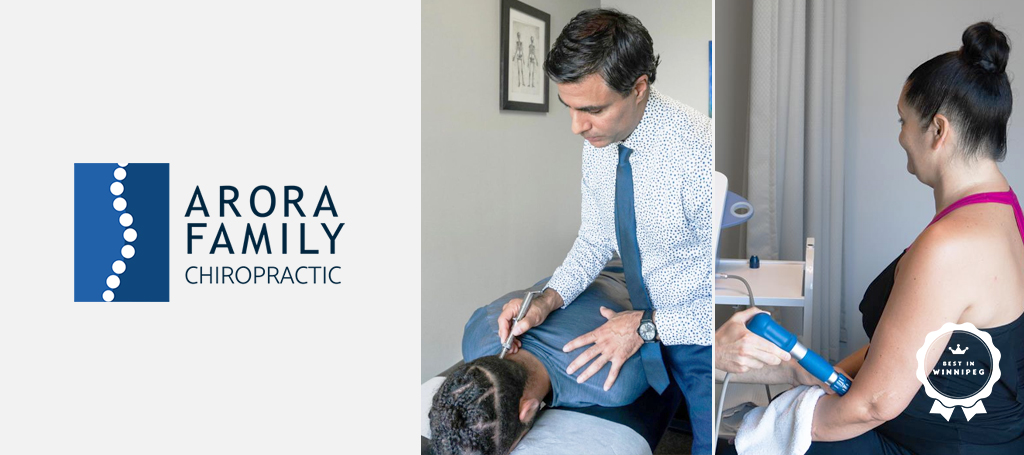 BEST FOR
Low-force chiropractic technique and holistic services
SERVICES
Chiropractic care, shockwave therapy, spinal decompression, athletic therapy, physiotherapy, massage, acupuncture, registered dieticians, mindfulness/meditation
WEBSITE
https://www.arorafamilychiropractic.ca/
ADDRESS
1200 Waverley St Unit 8, Winnipeg, MB R3T 0P4
CONTACT DETAILS
(204) 951-6887
OPERATING HOURS
Monday, Wednesday: 8:30 AM – 6:00 PM
Tuesday, Thursday: 9:00 AM – 3:00 PM
Friday: 8:30 AM – 6:00 PM
Saturday: 9:00 AM – 2:00 PM
Arora Family Chiropractic offers a wide variety of wellness services, from chiropractic to nutritional care. When it comes to chiropractic care in particular, it is among the pioneers in Winnipeg because it was the first clinic to provide shockwave therapy and spinal decompression.
Dr. Arora uses the Torque Release Technique to guarantee a low-impact and comfortable yet precise and effective chiropractic treatment. He is also certified in the Webster technique to cater to patients with hip conditions.
Patients here don't typically worry about payment details either because Arora Family Chiropractic accepts public and private health insurance providers like Blue Cross and Sun life. That's another plus in our book!
Specialty in Torque Release and Webster techniques
A complete team of chiropractor, dietitian, physiotherapist, massage therapist, athletic therapist, mindfulness coach
Accepts most public and private insurance
Holistic treatments and wellness services
Only one chiropractor on-site
Customer Reviews
Here are some customer reviews to tell you more of how Dr. Arora may be the best chiropractor in Winnipeg for you:
"After trying what seemed like every other modality, Dr. Arora's philosophy on chiropractic care has exceeded my expectations by far! We have started a thorough treatment plan and by adjustment #2 I could already feel a difference in places where I've had chronic pain for years. If you're on the fence about chiropractic treatment I HIGHLY suggest a consult with Dr. Arora :)"
"Highly recommended! The whole staff are very nice, professional and accommodating. Finally found a clinic that provides a holistic approach to overall health and wellness! The treatment plans by Dr. Arora is really tailored to meet each patient's needs and has been really working well for me. A big thank you to Jacob as well for his meditation and mindfulness coaching!"
7. Verä Chiropractic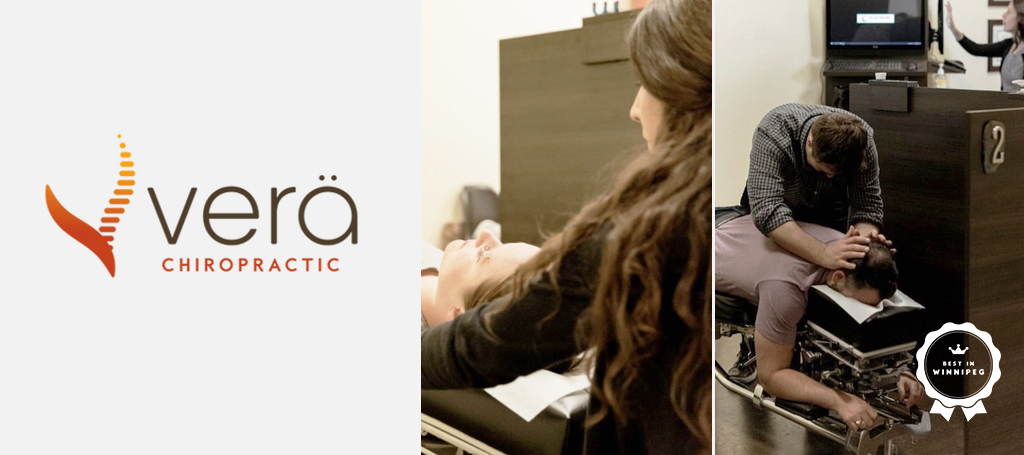 BEST FOR
Neurologically based services
SERVICES
Geriatric, pediatric, and prenatal chiropractic
WEBSITE
https://www.discoververa.com/
ADDRESS
2080 Ness Ave A102, Winnipeg, MB R3J 0Z3
CONTACT DETAILS
(204) 815-4343
OPERATING HOURS
Monday, Wednesday: 10:00 AM – 12:30 PM, 3:00 PM – 6:00 PM
Tuesday, Thursday: 3:00 PM – 6:00 PM
Verä Chiropractic offers affordable neurologically based chiropractic care to its clients. This clinic uses paraspinal thermography to monitor your nervous system and videofluoroscopy to find the root causes of your condition.
In addition to the updated technologies, Verä Chiropractic prides itself on its experienced chiropractors. The clinic also follows gentle and specific spinal adjustments, making its services suitable for all patients.
One of the chiropractors, Dr. Natalie, can also provide prenatal and pediatric chiropractic services. Another chiropractor, Dr. Marc, even provides nutritional services.
Paraspinal thermography and videofluoroscopy technologies
Gentle chiropractic services
Applicable even to old, very young, and pregnant patients
Affordable chiropractic services
No weekend services
May not accept some insurance
Customer Reviews
You can learn more about Verä Chiropractic through these customer reviews:
"Dr. Natalie and Dr. Marc are incredible at their jobs. My back pain as decreased significantly, and my therapy with them has improved all areas of my life. They are so sweet and caring about their patients!"
"Dr. Marc and Dr. Natalie are the most friendly and caring chiropractors I ever met here in the city. I have tried couple of clinics around but Vera is so far the best! The office feels homey and their equipment looks very high-end.. They are knowledgeable and helpful if I have questions and monitor my progress regularly. I do feel drastic improvement on my health issue! The staffs are absolutely amazing, friendly and accommodating! I will definitely come back to this clinic and recommend it to family and friends!"
8. Goulet Chiropractic Centre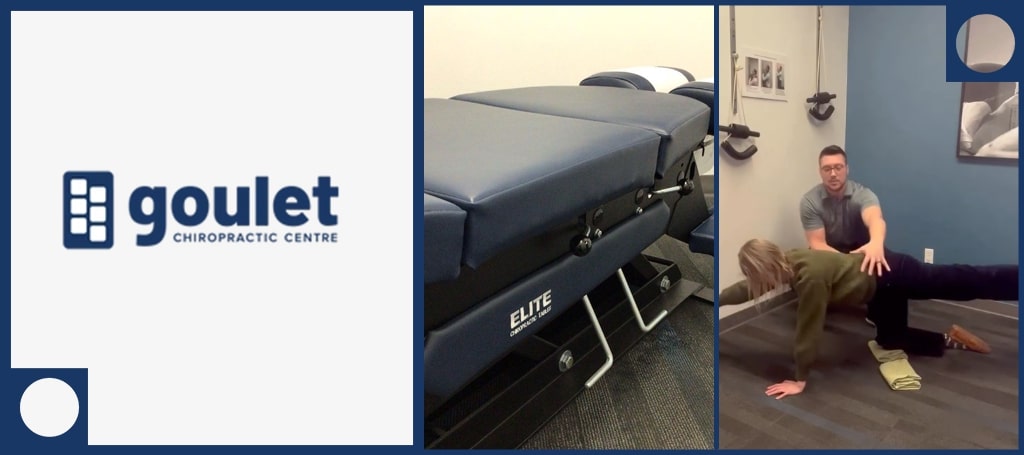 BEST FOR
Relieving discomfort
SERVICES
Chiropractor
WEBSITE
gouletchiropractic.com
ADDRESS
Unit 3, 150 Goulet Street, Winnipeg, Manitoba R2H 2T1, Canada
CONTACT DETAILS
Ph: (204) 233-7894
Fax: (204) 421-9319
OPERATING HOURS
Monday 7:30AM – 10:30AM / 2:30PM – 6:00PM
Tuesday 2:30PM – 6:00PM
Wednesday 7:30AM – 10:30 AM / 2:30PM – 6:30 PM
Thursday 2:30PM – 6:00 PM
Friday 7:30AM – 10:30 AM
Goulet Chiropractic Centre has one of the best chiropractors in Winnipeg. Their aim is to assist Winnipeg residents in achieving an optimal and natural state of health through optimizing nervous system function and boosting the body's ability to operate and repair.
Chiropractic therapy is one of the most effective methods for achieving optimal bodily function and assisting the body in healing itself. The treatment is solidly established in science, having been shown to safely alleviate common complaints such as headaches, neck and back pain, and to help in the treatment of a variety of more serious disorders.
Despite having a small team, they have years of knowledge and are devoted to improving the health of you and your family, allowing you to live the best life possible while reducing discomfort and symptoms.
Years of experience
Calm and reassuring atmosphere
Reasonable prices
Closed on Sundays
Website needs to be updated
Customer Reviews
Dr. Randy and his staff are amazing!
"Dr. Randy and his staff are amazing! I started coming recently for back pain and I already can feel the difference. Highly recommend! I can't believe I never received chiropractic care before now." – Melissa Suggitt
The most amazing environment
"The most amazing environment. It always lifts me up! Dr. Randy is gifted at adjustment. I have seen many chiropractors… they don't compare! It's overall healing here. My spine is moving more like it should now. I had a lot of health issues before I became a regular here. It feels great to focus on spinal health and more! There is also a lot more to learn, that is associated, if you're interested." – Bonnie Reimer
Frequently Asked Questions
---
That's it for our list of clinics with the best chiropractor in Winnipeg! All you need to do now is find one that's suitable for your condition, preferences, and insurance policy.
If you're looking for other health professionals that can help you ease your pain and improve your movement, you can check out our list of best physiotherapy clinics in Winnipeg too. As opposed to chiropractors, physiotherapists offer medical services to relieve muscle and bone pains.