The 7 Best Movers in Winnipeg for Your Relocations
Featured Image Source: Pexels
Moving to a new place? If you have fragile items like vases or bulky things like pianos – or would just rather leave the worst of the job to the pros – you definitely need the help of the best movers in Winnipeg!
Luckily for you, we've listed the top movers in the city right here. We also listed some tips and price estimates to help you prepare for your move.
And, should you still have questions after, we also have FAQs at the end of this article!
How to Prepare for a Move
If you're thinking that moving will be fuss-free once you've hired a professional mover, then think again. Even with a moving service helping you, moving preparation takes weeks, and most movers don't cover the packing process.
So, here are just some of the ways you can prepare for an efficient and smooth move:
Take measurements of your old home and new home so you'll know what to tell your movers. You should also take note of constraints such as narrow hallways or hard-to-reach areas.
Contact an appraiser to evaluate your property and belongings, so you'll know how much to spend on insurance. There are also some online tools for valuation.
Label your boxes, so they don't get lost or misplaced. Make sure you label boxes of fragile items to avoid any breakage.
Plan your move by communicating effectively with your mover. You should disclose your budget, property value, and house measurements so they can price their services accordingly.
List down all expenses so you can adequately prepare a budget for your move. If you still don't know how much a move will likely cost, check out our estimated price guide for Winnipeg moves.
Price Range for Moving Services in Winnipeg
Moving costs also fluctuate depending on the moving schedule. So, if you want the cheapest prices, you should schedule your move in the middle of the week and month, or during winter.
| | |
| --- | --- |
| Moving Expenses | Price Range |
| Small apartments (2-bedroom) | $300-$800 |
| Full-house | $1,600-$2,300 |
| Valuation costs | $310-$600 |
| Insurance | 1% of the property valuation |
| Tips | $25-$50 per mover |
| Moving trucks | $19-$120 |
The Best Movers in Winnipeg
Now it's time for our list of the best movers in town. Here you go!
1. Ti-Yende Movers
BEST FOR
Additional packing and assembly services
SERVICES
Commercial and residential moving, delivery, pick-up, assembly and disassembly of appliances, storage, supplies sales
PRICING
Truck fees: https://www.tiyende.ca/price
WEBSITE
https://www.tiyende.ca/
ADDRESS
151 Scammel Rd, Winnipeg, MB R2N 0G8
CONTACT DETAILS
(204) 295-7004

[email protected]

OPERATING HOURS
Monday – Friday: 9:00 AM – 8:00 PM Saturday: 9:00 AM – 5:00 PM
Ti-Yende Movers aims to provide Winnipeggers with affordable and stress-free moving services. This company also helps with the packing and unpacking process to make everything as smooth-sailing as possible.
Its movers can also do assembly and disassembly of complex and large appliances or furniture. And for clients still looking for a way to pack their materials, Ti-Yende also offers packing material sales.
Ti-Yende even has connections with two personal storage facilities. So, if you have one too many boxes that won't fit in your new place, you can also place them in storage.
Help with assembly and disassembly of large appliances
Packing and unpacking added services
Affordable and stress-free moving services
Connections with 2 storage facilities
Moving reaches only up to Northwest Ontario
Some complaints about minor scratches to items (from a few past customers)
Customer Reviews
Ti-Yende's movers are also very efficient and friendly, just as these customers have experienced:
"Had a wonderful experience with Ti-Yende Movers and Transportation. I had to do a move on short notice between apartments. Ti-Yende were able to fit me in on a quick turn around between placing the call and the move. I had two excellent movers who were very knowledgeable and effective when it came to orientating large furniture out of small spaces. The moving team worked hard during a very hot July day with no complaints but smiles."
"Timely, efficient and caring are some words I can use to describe this company. They were respectful, hard working and fun team to move with. Ti- Yende Movers went above and beyond to help with my specific situation. I strongly recommend hiring this company for your moving needs!"
2. AMJ Campbell Winnipeg
AMJ Campbell Winnipeg is a national company that already has more than two decades of experience in moving. This company can thus handle both local and long-distance moves, catering even to international relocations.
Aside from moving, AMJ Campbell also offers storage spaces for residential and even commercial clients. Clients also rely on this company for crating services.
And if you need help arranging things, you can also inquire about this company's packing services. AMJ Campbell also has exclusive offers for CAA and Aeroplan members.
Local, coast-to-coast, and international moves
Special offers for CAA and Aeroplan members
Packing and crating services
Award-winning services
Not the best compensation for its staff
Prices are on the expensive end
Customer Reviews
The best movers in Winnipeg from AMJ Campbell are known for being professional while still being easy to work with. Here are the reviews that'll tell you the same thing:
"I highly recommend the moving services of AMJ Campbell. Their office had great communication, the movers were friendly, efficient and did an excellent job, even with the piano and treadmill that needed to be moved. The cost of moving was excellent value for the highly professional service they provided."
"Excellent customer service by all teams. Pam was amazing and went above and beyond! The packing crew was excellent, the team on our move day were awesome and the team that moved us in our home we're also fantastic. Couldn't have asked for better service during a stressful time. Thank you!"
3. Calculated Moving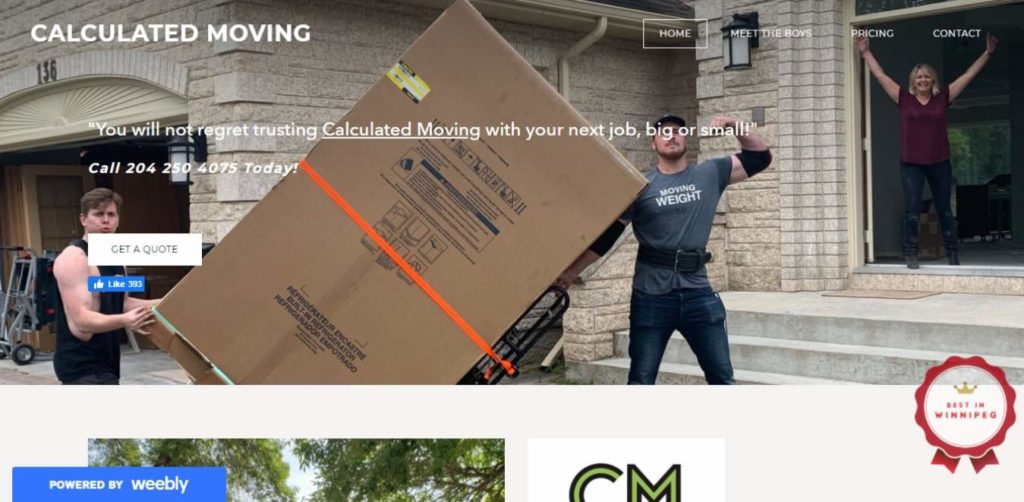 Calculated Moving may be a relatively young moving company, but what it lacks in age, it makes up for in high-energy service and commitment.
This moving company specializes in homes, handling everything from small to large relocations. Although it usually delivers relocations within the city, it can also travel out to Manitoban nearby towns.
What makes Calculated Moving unique is that it is a group of young movers with diverse degrees that can help make your move efficient and smooth. And the best thing about this company is that it's available anytime for moves!
Reasonable and affordable prices
Flexible availability
Handles all sizes of home relocations
Relocations within Manitoba only
Limited to residential moves
Customer Reviews
With their 24/7 services, Calculated Moving is also known for being timely and reliable, even for unprecedented relocations. Read these reviews to learn more:
"We used calculated moving for moving from one apartment to another. They were on time, professional, quick and careful with our furniture. Both apartments did not have very accessible loading areas, but they worked around it without any trouble. Their rates are very reasonable, especially considering the quality of their work. We will definitely be using their services when we move to a home in a few years!"
"Best moving company ever. They are so polite and hardworking. They stick to timing,they are so careful and they handled all my properties as if it were theirs. No scratches and certainly no damages. All my properties were intact. I gave them such a short notice and yet they showed up at the exact day and time they said they would come They did such a great job yesterday. Thank you so much calculated moving."
4. Two Small Men with Big Hearts
With over 30 years of experience, Two Small Men with Big Hearts offers commercial and residential moving services. Its commercial services also include freight services because it has various regional and national freight partners.
Its prices depend on accessibility, volume, and preparedness. So, as long as clients pack efficiently, Two Small Men guarantees reasonable prices.
But if you're the type who needs all the help you can get to pack, you may also benefit from Two Small Men's packing services and supplies.
Another thing we commend about Two Small Men is that it has multiple locations across the country. Thus, it can also cater to long-distance relocations.
Strong, useful relationship with freight companies
Multiple locations in the country for long-distance transfers
Over 30 years of experience
Some complaints about poor punctuality
Customer Reviews
With over three decades of experience, Two Small Men has also gained many long-time customers over the years. Read these reviews to know more:
"I have used this moving service twice in 10 years and both times they were great. The booking process was efficient and the actual move was on time and 100% quality service. Billy and Eldon moved my things quickly and carefully. They took extra precautions to make sure that surfaces were protected and the items were set up properly. I highly recommend them! Thank you. (both moves were in December!)"
"Candace and Grey were amazing! Great communications. They worked so hard and handled all our furniture as if it was their own. Two young people who made me feel so good about the future of our country. I was so impressed and would definitely ask for them again. Thank you TSMWBH. A shout out to Sam too! The dispatcher who made the promises that his people fulfilled."
5. The Seniors Moving Company
BEST FOR
Senior citizens
SERVICES
Moving, estate coordination, packing and unpacking
WEBSITE
https://www.seniorsmovingco.com/
ADDRESS
200-421 Mulvey Ave E, Winnipeg, MB R3L 0R6
CONTACT DETAILS
(204) 415-4444

[email protected]

OPERATING HOURS
Monday – Friday: 9:00 AM – 4:30 PM
The Seniors Moving Company specializes in moving senior citizens into new, comfortable homes. This company can reach anywhere in Western Canada when it comes to relocations.
It helps seniors in many ways, from packing and downsizing to the inevitable handling of estates. But really, The Seniors Moving Company's edge is its understanding of the needs and ins and outs of being a senior citizen.
The owner of this company, Lisa, has over 25 years of experience in senior housing, you see. With such credibility, The Seniors Moving Company guarantees only honest and compassionate moving services.
Expertise in senior housing
Complete services, from packing to transportation and even unpacking
Handles estate coordination
Free resources about moving
Customer Reviews
The Seniors Moving Company also has compassionate client care to truly provide seniors with high-quality services. Here are reviews that also share the same sentiments:
"My experience with Seniors Moving Company began with a polite and helpful discussion on the phone as to how I might best move a small amount of furniture from Winnipeg to Calgary. They quoted a price which didn't change. Everything was well packed, moved on time and delivered to Calgary without any damage . The whole process was stress free. I can highly recommend this company."
"The Seniors moving company moved my mom safely during Covid. They packed her entire place, coordinated the move the following day and unpacked and set up her new suite beautifully. She arrived home to a ready apartment with zero stress of doing any of the work. Thank you! Highly recommend!"
6. GoGetter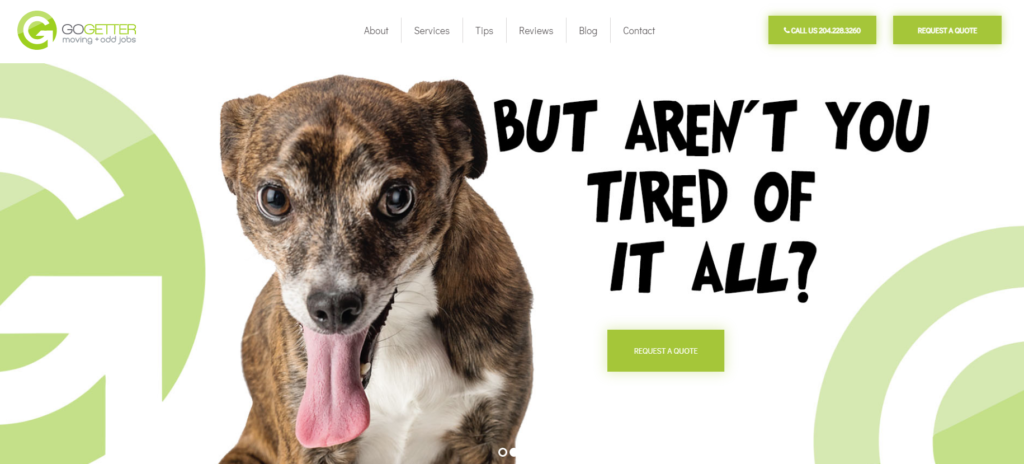 BEST FOR
Local moves
SERVICES
Residential and office moving, Assembly, Delivery, and Junk Removal
WEBSITE
https://www.gogetter.ca/
ADDRESS
165 Ryan Street
Winnipeg, MB R2R 0N9
CONTACT DETAILS
Phone: 204.228.3260
Email: [email protected]
OPERATING HOURS
Monday – Saturday: 8:00 AM – 5:00 PM
GoGetter is one of the leading locally-owned Winnipeg moving companies, having served the area since 2000.
Clients will be happy to know that GoGetter's services don't simply stop with moving items. No, the moving company also offers assembly, delivery, and even junk removal for those who are in need of it.
While the company doesn't operate every day of the week, they more than make up for it by being prompt, quick, and efficient in every job they take on. Plus, their rates are competitive and accurately priced.
Transparent rates
Efficient moving services
Friendly and professional movers
6. ShortLine Moving Solutions
BEST FOR
Full Service Moving
SERVICES
Residential Moving
Office Moving
Full Service Moving
Storage
Piano Moving
Local Moving
PRICING
Contact for more information
WEBSITE
https://shortlinemoving.ca
ADDRESS
862 Dufferin Ave, Winnipeg, MB R2X 0A3
CONTACT DETAILS
204-582-9824
[email protected]
OPERATING HOURS
24/7
ShortLine Moving Solutions is a locally owned and operated moving company known for catering to clients in need of help for residential and office spaces. Not only that, but it also offers full service moving, piano moving, and local moving.
We especially like ShortLine for its dedication to providing high-quality services. Clients will be happy to know that the ShortLine team comprises trained professionals who will go above and beyond to move items without cause messes or breakages.
For clients who are looking for extra storage while in the midst of a move, there's no reason to look beyond ShortLine Moving Solutions. Aside from its exemplary moving services, the moving company also offers storage slots to their clients for a small fee.
Lastly, ShortLine Moving Solutions has a 24/7 service hotline, which allows the company to get back to clients as soon as possible.
Full-service moving option available
Moves residential and office properties
Capable of successfully moving large, fragile objects
Prompt and professional movers
Not a lot of information regarding pricing online
7. Total Moving
Total Moving is a company that accommodates both storing and moving services to help clients with both residential and commercial moves in a convenient manner. With a complete and multi-disciplinary team at the helm, clients can get access to expertise and knowledge practices in the field.
We find their approach to be affordable and transparent wherein they can assure what was priorly negotiated with the client will remain the same until the very end of the transaction unless there happens to be requested additional services.
From organizing the items to its assembly after the move itself, their staff are professionals and are more than certified and trained for the job.
There lacks an online consultation or booking feature on their website which could have been better for clients looking for contactless scheduling.
On another note, their clients commend their services to be very convenient and hassle-free throughout the whole experience with careful attention to detail with the process as well.
Multi-disciplinary team
Able to assemble furniture after use
Accommodates storage services
Online booking unavailable
Operating hours not stated
Customer Reviews
Here are some reviews from their clients:
"Total Moving was amazing for my move- The guys were super nice, communicative and personable. They were efficient and cruised through the 2-stops including moving a piano. I had thought I would need to hire a special company to move it however they took care of everything for me and took great care in ensuring that it was done safely and efficiently. I would recommend these guys for any move, big or small, and will definitely be using them again in the future!"
"Great experience with Total Moving. Colby was super responsive and his moving crew were friendly, helpful and pleasant. Move went faster than anticipated and bill was reduced accordingly, no questions asked. You can't go wrong with this company!"
Frequently Asked Questions
---
Now that you've finished our list, we hope you're no longer thinking of moving all your belongings all by yourself. Just make sure you contact these movers at least a month before your moving date for a smooth and hassle-free moving process.
If you're moving into a brand new house and want to personalize it to make it feel homier, you should try changing its walls with the best painters in Winnipeg. And should you want more complex designs for your walls, you can also hire those that do wallpaper services.