The 8 Best Electricians in Winnipeg
Image Source: Pixabay
Nowadays, we're always using electricity from the moment we wake up and snooze our alarms to when we turn off the lights and tuck ourselves in bed. As an essential utility, electrical fixtures are thus prone to wear and tear.
And should you need any electrical work done, you'd surely need the help of the best electrician in Winnipeg. In this article, we'll tell you just how and where to find the best tradesmen for your electrical needs.
The Limits of DIY Electrical Work
There are many consequences of doing DIY electrical work, from property damages to serious health risks. To avoid any of these risks, you should simply hire Winnipeg's best electricians to do the work for you.
Sure, there are some simple tasks you can do by yourself, such as changing a bulb. But bigger projects, such as rewiring or installing electrical fixtures, will need an electrician's experience and tools.
How to Choose the Best Electrician in Winnipeg
Hiring electricians is no easy feat because you have to find someone who offers great value for their work.
Electrical fixtures are a matter of safety, so make sure you hire someone who has a positive reputation for their work. Before anything, you first have to find licensed, experienced, and insured electricians.
Next, you also need to find an electrician who offers services within your budget. You should ask them for a detailed quotation, complete with additional fees, so you won't be shocked once they bill you.
Lastly, you should only hire electricians with who you can communicate effectively and transparently. A great electrician will also respect and listen to your concerns and ideas because after all, it's your house that they'll be working on.
The 5 Best Electricians in Winnipeg
Now that you know how you can choose an electrician, it's time you browse through the best of the best. If you still have questions afterwards, don't worry because we also have a list of FAQs.
1. Endeavour Electric – Residential Electrician Winnipeg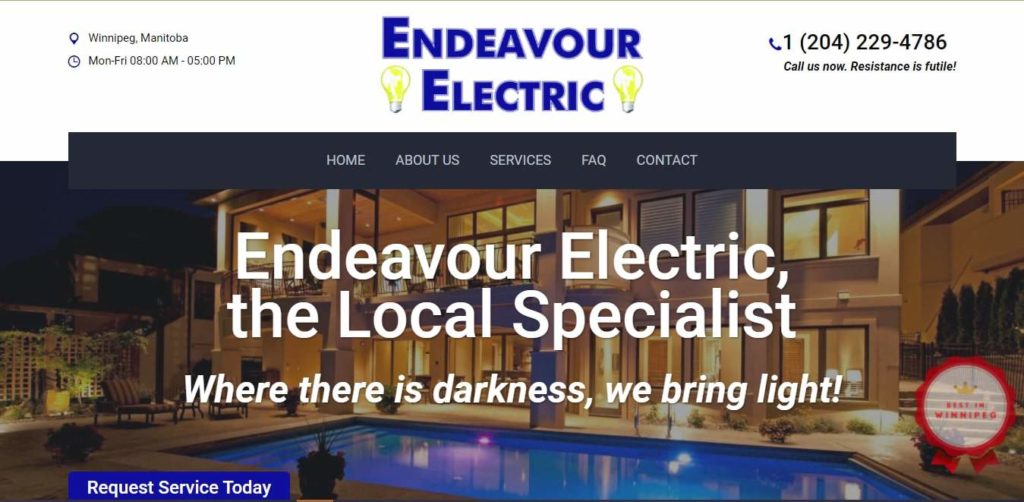 Endeavor Electric brands itself as the friendly neighborhood electrician that can handle panel upgrades and installations for thermostats, motion lighting fixtures, and fans.
If you want to protect your home against natural causes even further, you can ask Endeavor Electric to install surge protection devices.
Aside from the usual electrical services, Endeavor Electric also offers its expertise in heating and air conditioning units. The best thing about this electrician is that its services are available anytime and anywhere in Winnipeg and surrounding areas.
24/7 electrical services
Expertise in light fixture installations
Free in-home consultation
Focus more on residential services
No mention of warranty
Customer Reviews
Read these reviews, so you can better decide if Endeavor Electric can provide the best electrician in Winnipeg for you:
"Don did a fantastic job finding a hidden faulty arc fault outlet in our walls and repairing it on site to get all our outlets working again. He was patient and careful with the work and was able to help us with very short notice. His professionalism and kindness make him the best electrician we have dealt with in the city. We are looking forward to having him out to fix some faulty kitchen lights next!"
"Thank you, Don, so much for your help! My wife and I were freaking out about our shorted circuits in our living room and he helped us right away! We highly recommend his service, he is top notch! Many thanks once again!"
2. Knight Electric LTD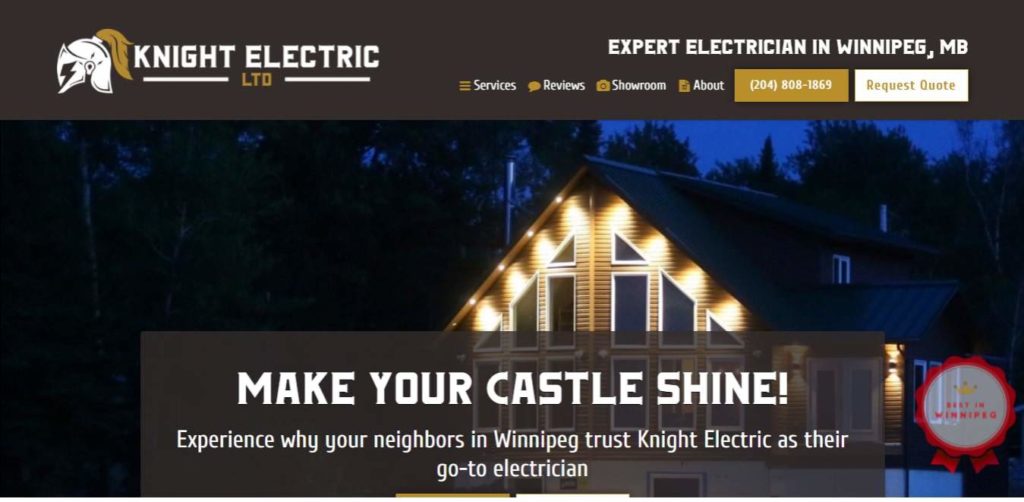 Knight Electric is well-known for its installation of home automation and safety detectors. With over 10 years of experience, Knight Electric's owner Jacob Dombek has been offering his electrical expertise to Winnipeg households.
This Winnipeg electrician can also do complex wiring and installations for pools and hot tubs. And if you have electric cars, you can even ask Knight Electric to charge them up.
What makes Knight Electric reliable is that it also offers a lifetime warranty for its labor and 1-year warranty for parts. This way, you won't have to worry about whenever something goes wrong in your home.
Lifetime warranty for labor
1-year warranty for replacement parts
Customer Reviews
Here are some feedback comments from those who've already tried Knight Electric's services:
"Had them install a new outdoor outlet which required a difficult run through the foundation. They were very cautious to follow the regulations and provided an installation very well sealed from the outside elements. They did a fantastic job keeping the home clean despite lots of drilling and movement of ceiling panels. Fast and efficient."
"Knight Electric completed a variety of repairs around the house including switches and sockets, and replaced several outdated wall and ceiling light fixtures, plus brought a couple of items up to code. They did a great job, were prompt, tidy and all at a competitive price! Definitely would recommend them"
3. Expert Electric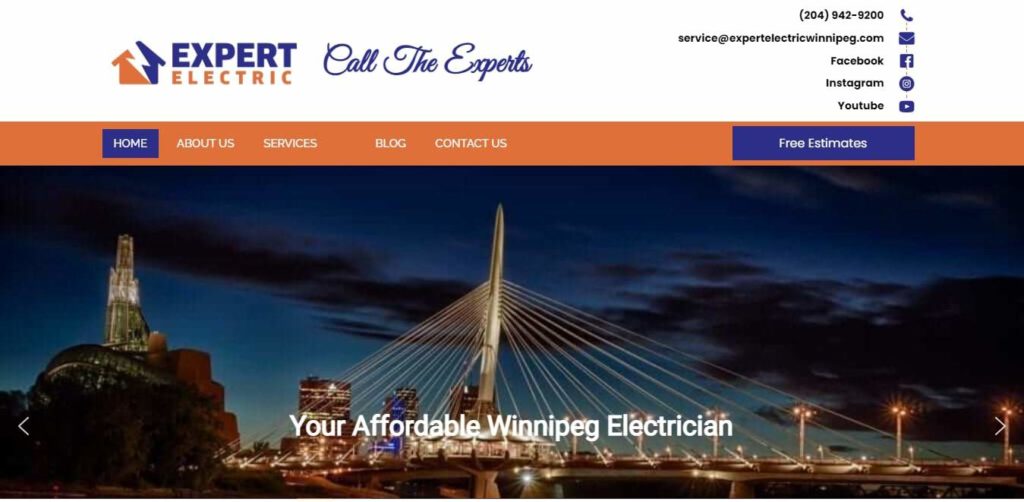 Expert Electric may just be the best electrician in Winnipeg for anyone because it serves residential homes, commercial establishments, and industrial facilities. Besides being available to a variety of consumers, Expert Electric also prides itself on its affordability.
To provide high-quality electrical work, Expert Electric's technicians use modern equipment and the latest technologies. Thus, you can expect that they can also install, maintain, and fix energy-saving systems.
If you're looking for electrical security, you can also contact this business for generator services. Expert Electric can even help keep your home secure with its motion sensor and timed lighting installations.
Uses the latest technologies and equipment
Residential, commercial, and industrial buildings
Short 1-year warranty for labor
Customer Reviews
Read these testimonials to have an idea of how Expert Electric treats its customers:
"The electricians showed up on time and were very pleasant to deal with. They listened to our concerns and were very accommodating to our requests while the work was being done. I appreciate the work they did and will definitely call on them again for future needs."
"Chuck and his company provided great advice, great products, and better value than the other two companies I got quotes from. Chris and his coworkers performed high quality work and ensured we were happy with everything before they left and even provided advice on future upgrades. Will definitely hire this company again."
4. Camco Electric LTD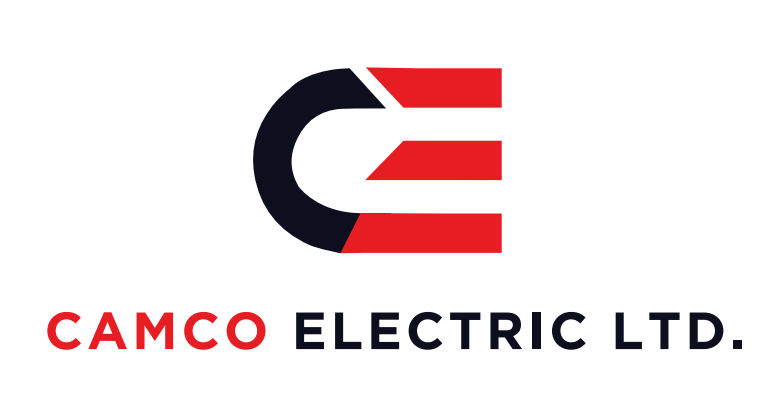 From custom design builds to simple retrofits, Camco Electric is pleased to offer services for residential, commercial and industrial settings. They consist of a team of insured, qualified and certified red seal electricians.
Whether you are looking to do simple home upgrades or more detailed commercial installations, the Camco team can help you from start to finish. They offer a wide range of services from a simple lighting layout to a fully designed project.
In the end, Camco Electric's main goal is to meet project deadlines within the client's budget and most importantly, achieve customer satisfaction. For this team, each project is treated with the same respect and focus, whether big or small.
TV, phone, and internet installations
Expertise in complex installations such as hot tubs
Services residential and commercial clients
Free consultation
Customer Reviews
Know more about Camco Electric through the reviews below:
"Camco electric has been doing the electrical for my basement renovations and whole home renovations for years. I use them for everything. They are able to come quick, they show up when they tell you they will, the prices are always very reasonable, the work is done very efficient. I would highly recommend Camco electric to anyone looking to hire a trustworthy reliable electrician!"
"Camco Electric has been the saving grace at the company I work for MANY times. Their technicians always arrive with a smile and good sense of humor, they're incredibly efficient, and the pricing is more than fair. I would highly recommend using Camco Electric!"
5. Powertec Electric Inc. – Winnipeg Electricians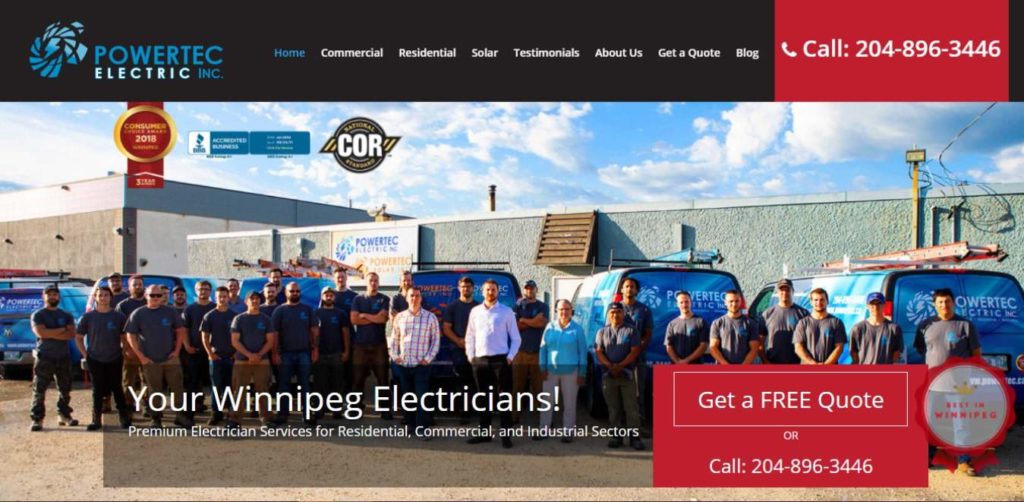 Powertec Electric specializes in knob and tube replacements and has a significant background in lean construction. Thus, the company has the best electricians for electrical installations for new structures.
Having over 40 electricians, Powertec Electric can handle any project size. Because of this, it can serve industrial, commercial, and residential buildings.
Aside from installing and repairing electrical fixtures, Powertec is also known for its installation of solar panels. This added service benefits not only large industries but also indigenous peoples looking for sustainable energy sources.
Serves commercial, industrial, and residential clients
Numerous electricians for big projects
Customer Reviews
Here are customer reviews to tell you more about Powertec Electric's quality of services:
"Everything was great, from the original quote to the completion of work. Alex was our electrician, he was friendly and efficient. He didn't mind the dogs and made an effort to keep our house functional while getting all of our wiring replaced. Friendly service, best quoted price of the half a dozen we got quotes from, definitely recommend!!"
"Great Company! Got charged what was quoted, the team cleaned up after the job was done and the work completed was done right! Powertec installed motion detectors and Alarm System for our business and we will continue to use them! Thank you Daniel and team!"
6. Cobo Electric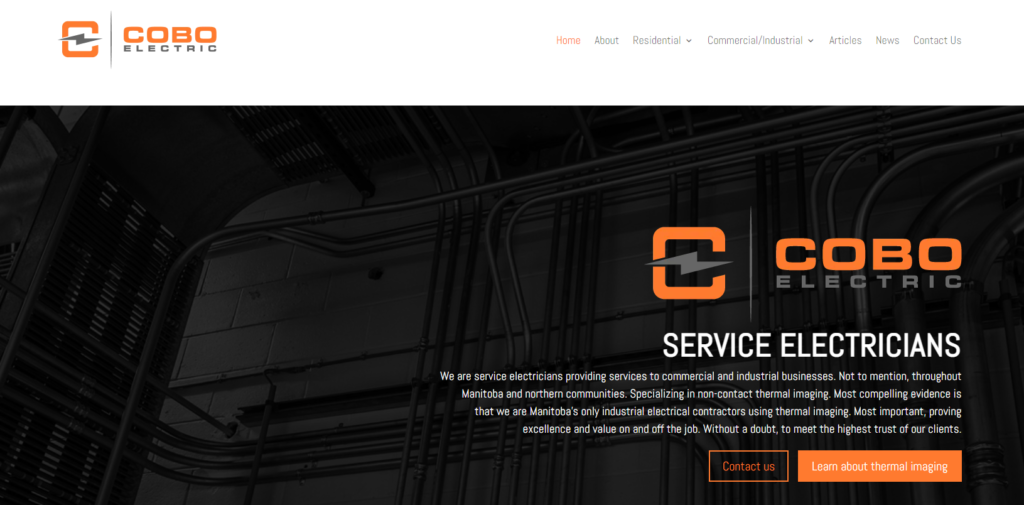 | | |
| --- | --- |
| BEST FOR | Residential, Commercial/Industrial Electrical Services and Installations |
| SERVICES | Distribution installs, Panel/Subpanel, Fire alarm system, Intrusion gate system, Refrigeration power and controls, HVAC power and controls, Variable Frequency Drives, Loading dock controls, Repair, Improvements, Additions, Industrial lighting, Electrical maintenance, Thermal imaging inspections, Arc flash analysis, Motor controls install and troubleshoot, Troubleshoot power/voltage issues |
| WEBSITE | https://coboelectric.ca/ |
| ADDRESS | 5 Erie Bay, Winnipeg, MB R2J 1Z9, Canada |
| CONTACT DETAILS | (204) 918-2297 | [email protected] |
| OPERATING HOURS | Mon-Fri: 7:00am – 6:00pm |
Cobo Electric is a team of electricians who provide services to commercial and industrial business as well as residential builds. They specialize in Specializing in non-contact thermal imaging.
But besides Thermal Imaging, they also offer services in distribution installations, fire alarm systems, intrusion gate systems, loading dock controls, industrial lighting, arc flash analysis and more! To add to this, not only is their company HAACP Certified, but they also work with top-quality supplies and equipment to ensure the best installations and services.
Another great quality of Cobo Electric is that they provide maintenance shifts and replacements because they are ready to take over any kind of project to prevent your business from stopping production at any time. Cobo Electric will be there to provide you with the best service for your time and money.
24-hour service
Thermal imagine available
HAACP-Certified
Customer Reviews
Previous clients left their review on the quality of their service on google:
"We recently purchased a house built in the early 70's. Not to our knowledge or getting a disclosure, we found out the house was wired with aluminum. I contacted Cobo Electric, and they made the required changes up to code for a now safer home. Every connection & fixture needed to be inspected and altered, and they did this rapidly, and cost efficient. Thank you Cobo!"
"Paul D from Cobo was in our store today! Was great to see him again! Without a doubt we can always trust that Paul is going to get the job done! He's relentless in figuring things out and making it work. Thanks Paul for all your help this year! You know how to save the day and we really do appreciate you! Take care."
7. Connco Electric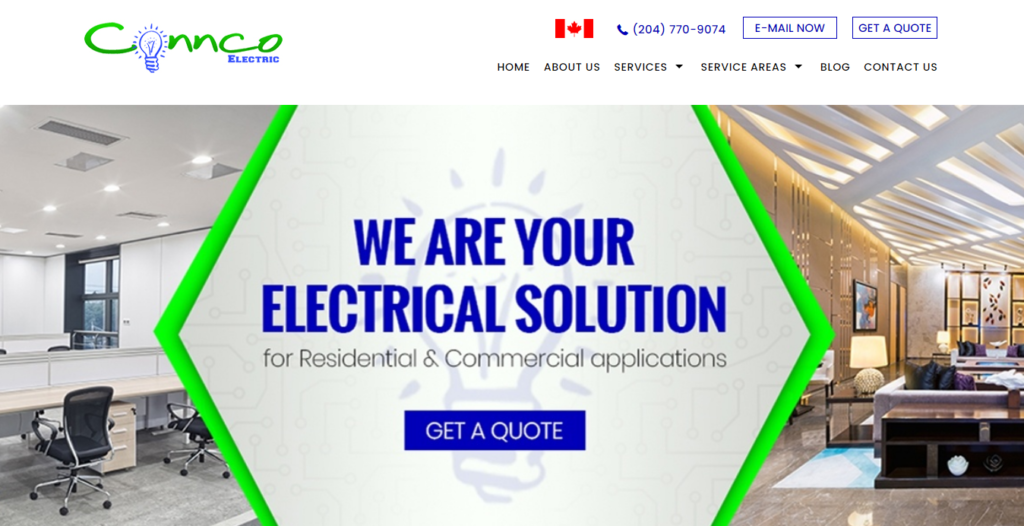 23 years of experience in the electrical field has allowed the team at Connco Electric to acquire the necessary skills, expertise, and equipment to provide electrical services of the highest caliber.
The company is known to cater to both commercial and residential properties, offering quick and efficient responses to clients after a thorough check of the location. Aside from the quality work, Connco Electric also has built up a reputation for giving the best rates for the jobs they do.
Connco Electric's range of services include security lighting, electrical panel upgrades, data and communication wiring, electrical contracting, and many more. Once contacted, they'll try their best to get back to customers at the earliest date and time possible.
24-hour service
Licensed and insured services

Services Winnipeg and surrounding Manitoba regions

Competitive rates
Customer Reviews
Satisfied with Connco Electric's work, previous client left reviews on Google, all of which average to 5 stars. One wrote:
"If you are looking for a professional and honest company then look no further. Stan and the crew that have done work for us numerous times have been nothing short of outstanding. I would highly recommend Connco and you will too!!"
Another commented:
"I highly recommend Connco. Not only did Stan answer the phone when I called, but he came same day to assess our situation, and came back again later that day with parts to try to address our problem, and again the next day. He came when he said he would and gave us honest advice even when it meant less work and money for him. Excellent experience. Update – I had Connco do some further electrical work for me, and again was very pleased with the experience. Prompt, knowledgable, and responsible service. Highly recommend!"
8.   SouthCan Electric
BEST FOR
Commercial and residential installations
SERVICES
Home and Property Inspector in Winnipeg
MB Hydro LED Rebate Program and Smart Homes
Winnipeg Knob & Tube Wiring Replacement
Pool & Spa Electrical Installation & Repairs in Winnipeg
Energy Efficient Home with Renewable Energy Solutions
WEBSITE
https://www.southcan.ca
ADDRESS
Southcan Electric Ltd., PO Box 53016, R2N 1Z3, Winnipeg, MB
CONTACT DETAILS
204.230.3217
204.918.1003


[email protected]

OPERATING HOURS
Mon-Fri: 8:00am – 5:00pm
The next company on our list may be younger compared to the other entries, but their contribution to the field are no less significant. SouthCan Electric has been operating for over three years, and in that short amount of time has made a name for itself for its service excellence.
SouthCan Electric is made up of a team of authorized Winnipeg electricians and insured professionals who offer a wide range of electrical assistance, technologies, and techniques. They're also capable of dealing with various electrical problems, especially those that concern general electric, electrical wiring, switches and sources, and generator services to warming and cooling, cooling administrations, thermostat repair, and insulation installation
Aside from their range of expertise and service, SouthCan Electric also comes highly recommended because of their dedication to customer service. The team makes it a point to get in touch with clients as soon as possible, and are typically on time for field jobs.
Moreover, they offer free quotes and estimates so that clients have a better grasp on the electrical process and how much it would cost.
Offers free quote and estimate
Wide range of electrical services
Insured electricians
FAQs
---
We hope our list provided you with an electrician worthy of doing your job at hand. So whenever the need arises, call these electricians up for your rewiring, installations, and renovation work.
When renovating your house, you would need all types of tradespeople, from the best electricians to Winnipeg's best plumbers. Check our list to know who to call should you need help with your pipes and water fixtures at home.