6 Best Fruit Basket Services in Winnipeg
Whether it's for the holidays or for simply congratulating a friend, you can never go wrong with a gift basket!
That's why one of the best ways to send the message of love and gratitude is through beautifully arranged fresh fruits delivered right to their doorstep.
In this article, we have listed the best fruit basket services in Winnipeg.
How much do fruit basket services cost in Winnipeg?
Fruit baskets have a bunch of content varieties that also come in different sizes. However, if you need an idea of the costs of the most common fruit basket combinations as well as the delivery service, you can refer to the list below:
| Types of Service | Range of Cost |
| --- | --- |
| Basic Fruit Basket Arrangement (Small) | $20 – $90 |
| Premium Fruit Basket Arrangement (Large) | $90 – $150 |
| Luxury Fruit Basket Arrangement | $150 – $300 |
| Chocolate-covered Fruit Arrangement | $40 – $120 |
| Fruit Platter | $50 – $100 |
| Gourmet Fruit Basket | $150 – $400 |
| Fruit & Chocolate Arrangement | $70 – $150 |
| Fruit & Pastries Arrangement | $80 – $150 |
| Standard Delivery | $15 – $20 |
| Same-day Delivery | $25 – $35 |
Best Fruit Basket Services in Winnipeg
To ensure that your present is all perfectly arranged before delivering it to your loved one's doorstep, we chose the best fruit basket services in terms of:
1. Frootables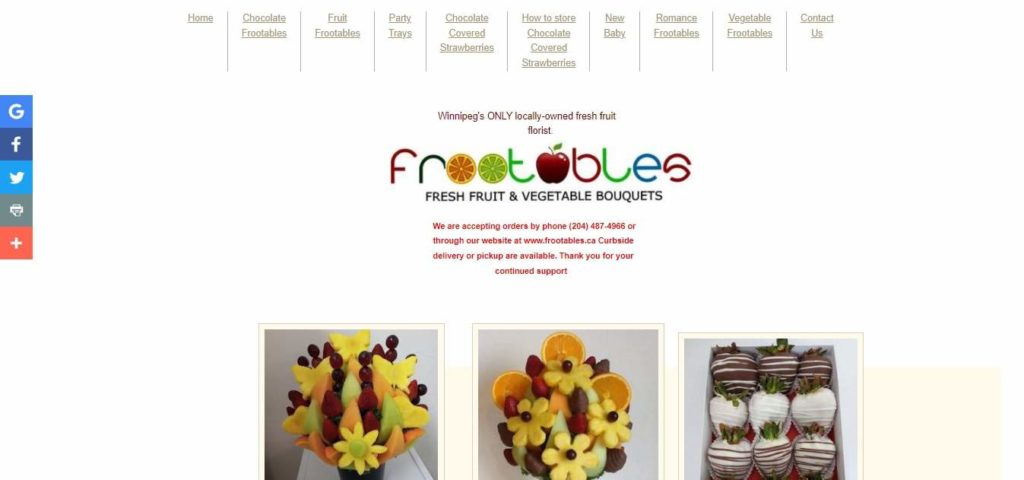 | | |
| --- | --- |
| PRODUCTS | Fruit Flower Bouquet, Chocolate-covered Fruit Arrangements, Party Trays, Fruit Platters, Romantic Fruit Arrangements, Vegetable Arrangements |
| WEBSITE | http://www.frootables.ca/home.html |
| ADDRESS | 510 Airlies St, Winnipeg, MB R2X 2B2, Canada |
| CONTACT DETAILS | Phone: +1 (204) 487-4966 |
| OPERATING HOURS | Monday to Friday: 10:00 AM – 5:00 PM |
| | |
| --- | --- |
| Criteria | Ratings |
| Customer service | ★★★★★ (5/5) |
| Fruit freshness and quality | ★★★★★ (5/5) |
| Arrangement | ★★★★★ (5/5) |
| Affordability | ★★★★★ (5/5) |
| Delivery service efficiency | ★★★★★ (5/5) |
If you haven't heard of the only locally owned fresh fruit florist in Winnipeg, then we are more than happy to introduce Frootables!
This store is known for its unique arrangement designs that will surely put a smile on your face, for its team intricately carves fruits into the shape of floral bouquets.
The amount of time and effort that it takes to perfect those designs already amazes us, and to combine it with amazing customer service is truly incredible.
The shop also offers a wide selection of products such as chocolate-covered strawberries and vegetable bouquets that are surely fresh, delicious, and really budget-friendly.
In fact, the chocolate-covered apples are a hit because of their mellow sweet and sour combination. So, we are sure that you are not only getting a beautifully designed bouquet but also a tasty one!
We also commend how Robin, the owner, positively displays such a friendly personality despite having to accommodate rush orders. She goes out of her way to deliver the most special requests even outside working hours.
She also helps her customers decide on what arrangement to order that would be perfect for the occasion or the personality of the recipient. She makes this possible by communicating well with them and making sure that she responds quickly.
We also love that this store offers same-day deliveries in and outside Winnipeg. Moreover, it is well-known for having a perfect rating for its successful deliveries with no reported delays and hassle.
However, what we think it could improve more on is its website. Although it clearly displays all its products and prices, the web design itself is a little bit outdated.
We also think that it would justify the beauty of its products more if photos were updated and taken in better lighting and higher resolution.
Nonetheless, this doesn't really affect the great service that it provides plus the quality of the fruits and other treats that it offers.
If you want to taste and see what the hype is all about, it's time to order a basket to enjoy with your friends and family!
Friendly attitude
Extremely responsive and helpful
Great customer service
Delicious and fresh fruits
Fast and reliable delivery service
Available same-day delivery
Affordable delicacies
Delivers outside Winnipeg
Beautiful and intricate fruit bouquets 
Website design is a little outdated
Customer Reviews
The fruit is so fresh and delicious
"Wonderful experience from initial inquiry, to chat with Robin, right through to delivery (on a slick Saturday!) … And I am hearing reports that the fruit is so fresh & delicious – especially the chocolate covered apple slices. Thanks for creating this birthday surprise. You made my friend's day. I'd definitely recommend Frootables." — Melanie Last
Taste amazing
"I've ordered a fruit bouquet as a gift on two different occasions. Both were spectacular and the recipients were really impressed! Robyn is very talented. It's a bonus that the bouquets taste amazing as well." — Rox Bee
2. Petals by S&A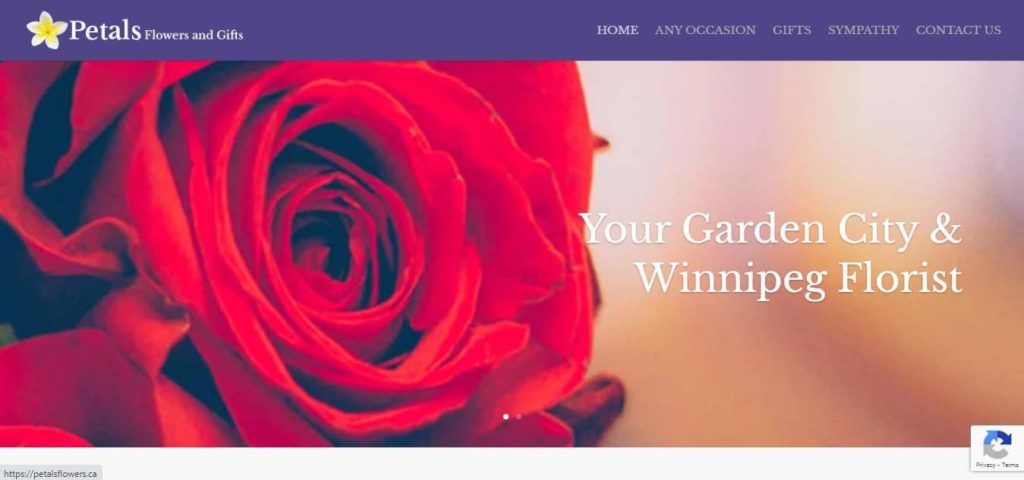 PRODUCTS
Flower Bowls, Eucalyptus Bundles, Flower Bouquets, Rose Petals, Chocolate Boxes, Custom Fruit & Gift Baskets, Balloons
WEBSITE
https://petalsflowers.ca/
ADDRESS
640 Leila Ave, Winnipeg, MB R2V 3N7, Canada
CONTACT DETAILS
Phone: +1 (204) 338-7673

Email: [email protected]

OPERATING HOURS
Monday to Saturday: 9:00 AM – 5:00 PM

Sunday: 11:00 AM – 3:00 PM
| | |
| --- | --- |
| Criteria | Ratings |
| Customer service | ★★★★☆ (4/5) |
| Fruit freshness and quality | ★★★★★ (5/5) |
| Arrangement | ★★★★★ (5/5) |
| Affordability | ★★★★★ (5/5) |
| Delivery service efficiency | ★★★★★ (5/5) |
If you are looking for a more flexible gift service that not only focuses on fruit and gourmet baskets, then maybe Petals by S&A is the one for you!
Known for its talented bouquet designers and trusted delivery service with an almost perfect rating, you'll find not only the perfect fruit basket but also the best floral gifts in this store.
Customers all over the city commend its beautifully crafted bouquets for every occasion. Its stylists actually don't just make their arrangements pretty, but extremely unique too.
This is because they confidently apply their knowledge and expertise to every product while making sure that each personal request is met.
Plus, the staff is known to provide such prompt service that they are even able to attend to last-minute orders. So, if you are worried about rushing your order, you will surely be accommodated here.
They are also highly responsive, especially if there are concerns or last-minute changes. In addition to that, their delivery services are also impeccable.
The delivery team is not only friendly but also reliable in making sure that you get your orders on time while keeping the beauty and quality of the arrangements intact.
We are definitely a fan of the team's work, especially since you can get all of these services and products at a reasonable price!
Just take note that because this store specializes in wedding floral arrangements, there isn't much detail about its fruit baskets. However, no need to worry because it accepts custom orders, so you'll still get the chance to elaborate on your wants.
Its experience in multiple services is actually an advantage because you'll also be presented with other gift options that will go well with your fruit basket.
Another thing that we noticed though, are the few reports of an unwelcoming attitude by some of the staff. These reviews claimed the feeling of being a burden and inconvenience to them after purchasing, which, of course, is not a pleasant experience.
However, the management has extended its apology and offered to consult with these unsatisfied customers to further improve its services.
We just hope that the team leaves more personalized replies to their online reviews to show more genuine concern or gratitude towards their customers.
Nevertheless, we guarantee you that all the positive reviews outweigh those two negative reports and availing this store's services will still be worth your money and time.
Knowledgeable and friendly staff
Beautiful and unique arrangements
Fast and reliable delivery service
Wide variety of products and services
Reasonable prices
Trusted same-day delivery
Responsive and helpful staff
Prompt service
Talented bouquet designers
Long opening hours
Doesn't exclusively specialize in fruit baskets
Generic replies to negative reviews
Some instances of unwelcoming attitude
Customer Reviews
Customer service is awesome
"Thanks for the beautiful arrangement last week. The prices are always great and the customer service is awesome." — Davis Simpkins
Fast, efficient, and pleasant
"First time customer. Placed a last minute online order Fathers Day morning. The two staff members working were fast, efficient and pleasant despite how busy they were. Within 30 minutes they had a beautiful full bouquet ready for me. Well worth the price." — Maria Jay
3. Bloomex Winnipeg Flowers & Gift Baskets
| | |
| --- | --- |
| PRODUCTS | Flowers, Gourmet Collection, Corporate Gift Baskets, Beer & Wine Baskets, Holiday Tradition Collection, Fruit Baskets, Luxury Gift Boxes, Sweets Gift Baskets, Cheese Gift Baskets, Chocolate Gift Baskets, Snack Gift Baskets, Gift Baskets for Men, Coffee & Tea Baskets |
| WEBSITE | https://bloomex.ca/ |
| ADDRESS | 1100 Main St, Winnipeg, MB R2W 3S2, Canada |
| CONTACT DETAILS | Phone: +1 (204) 272-3784 |
| OPERATING HOURS | Open 24 Hours |
| | |
| --- | --- |
| Criteria | Ratings |
| Customer service | ★★★☆☆ (3/5) |
| Fruit freshness and quality | ★★★★★ (5/5) |
| Arrangement | ★★★★★ (5/5) |
| Affordability | ★★★★★ (5/5) |
| Delivery service efficiency | ★★★★☆ (4/5) |
If you are looking for a full-service gift store that has been tested and proven by almost a thousand customers, then we introduce to you Bloomex Winnipeg Flowers & Gift Baskets!
This store is one of the most well-known providers of floral and gift services in the country — that's why it's undeniable that it has already gained a lot of patrons both locally and internationally.
In fact, most of its customers have been with it for quite some time, continuously admiring and purchasing its products from flowers to gift baskets.
The shop offers a wide range of services that are fit for every occasion, both for personal and corporate orders.
We honestly admire the wide selection of gift and fruit baskets that this store has to offer because you can choose from a bunch of delicacy combinations that would still fit your budget.
You can also easily access and browse through the website to see all the available products, their prices, as well as their ratings. We highly approve of how convenient it is to shop and place an order online.
The discount coupons are also a crowd favorite because even though they already offer such reasonable prices, you are still given the chance to save more money!
However, it is evident that Bloomex has also gained several unsatisfied customers. This is mainly because of its inconsistency with its floral services.
We have found that there have been some negative encounters with a few rude staff, especially when a delayed or unsuccessful delivery is reported.
This brings us to our second point, efficient and reliable delivery service is not Bloomex's strongest suit. Unfortunately, this is quite the issue in most negative reviews, and the fact that the management doesn't offer immediate solutions is also one of our concerns.
However, even though some orders don't get delivered on time, the delivery team has been consistently friendly and accommodating to the customers.
These are some of the things that we hope can be improved soon, because even though there haven't been reports about the store's gift basket services, the inconsistency of its performance affects the totality of the company.
With that said, we still do believe that the amazing fruit baskets are worth checking out. You can just head onto the store's website or try calling the provided contact number because it is also conveniently open 24/7.
Open 24 hours
Reasonable prices
Wide range of services
Beautifully arranged gift baskets
User-friendly website
Provides discount coupons
Friendly delivery staff
Has gained a large number of loyal customers
Inconsistent quality customer service in the floral department
Some issues with delayed or unsuccessful deliveries
Generic replies to negative reviews
Inconsistent responsiveness rate
Customer Reviews
Order was sent on time and beautifully done
"I have order from this place a few times and never been disappointed. The bouquets I have order were sent on time and were beautifully done. People who saw the bouquets rave on how beautiful they were done and sent me pictures. Yes I highly recommend them." — Maryalla Evans
Arrangement was gorgeous
"I ordered flowers yesterday and they were delivered today. It was for a friend who had a baby. She told me the arrangement was gorgeous. Fast delivery and nice options. A few more 20-dollar bundles might be nice though 🙂 would use again." — Rhea Bell
4. Edible Arrangements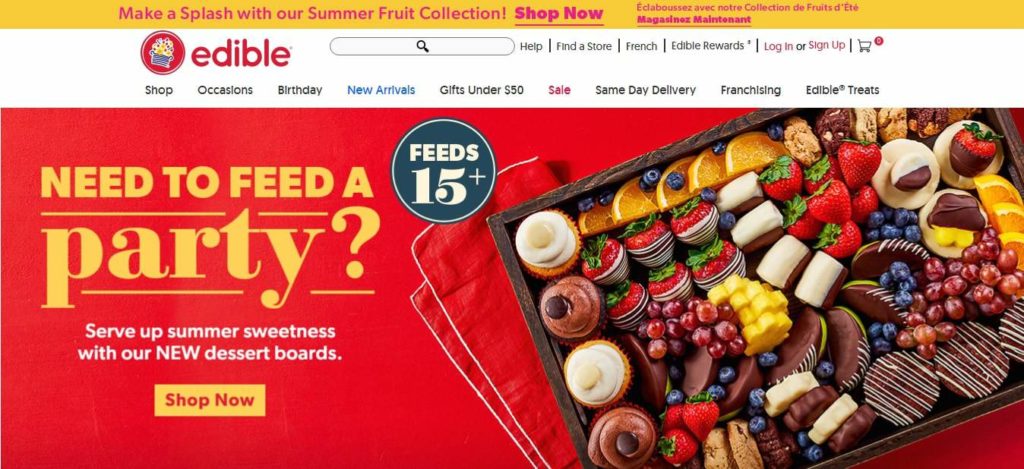 | | |
| --- | --- |
| PRODUCTS | Birthday Treats, Fresh Fruit Arrangements, Fresh Fruit Arrangements with Chocolates, Chocolate Covered Strawberries, Dessert Platters, Fruit & Cheesecake Platter, Chocolate Gift Boxes |
| WEBSITE | https://www.ediblearrangements.ca/ |
| ADDRESS | 3 Reenders Dr #35B, Winnipeg, MB R2C 5K5, Canada |
| CONTACT DETAILS | Phone: +1 (204) 669-6662 |
| OPERATING HOURS | Monday to Saturday: 9:00 AM – 5:00 PM |
| | |
| --- | --- |
| Criteria | Ratings |
| Customer service | ★★★★☆ (4/5) |
| Fruit freshness and quality | ★★★★★ (5/5) |
| Arrangement | ★★★★★ (5/5) |
| Affordability | ★★★★★ (5/5) |
| Delivery service efficiency | ★★★★☆ (4/5) |
A well-known store that crafts beautiful and delicious delicacies but also has immense passion and dedication in giving back to its community? Now, that's definitely a gift store worth mentioning on this list.
Edible Arrangements has been one of the most trusted companies in this industry, serving local and international communities since 2001.
Its great selection of fruits, chocolates, and pastries truly does not disappoint, whether you wish to order for a birthday celebration, an anniversary, or just to make someone smile. You'll surely find the perfect treat here!
We love how its items are beautifully displayed on the website and how you can even filter it out according to your budget. Not that it'll be much of an issue, though, because Edible truly provides quality delicacies at reasonable prices.
Its fruit bouquet stylists are also undeniably talented, giving us unique arrangements that fit specific occasions and themes.
We appreciate how its team promptly handles rush orders and confirmations, which is such a great plus in terms of their customer service.
We also love how the company supports the National Breast Cancer Foundation and the Breast Cancer Society Canada every October, which is also the celebration of Breast Cancer Awareness Month.
However, even if we highly approve of the intentions of Edible Arrangements, there are still a few things that we think need immediate improvement.
Firstly, it would greatly benefit the company if the delivery services were given more attention. This is because there have been some reports of unsuccessful or delayed deliveries.
There were also instances where the quality of the fruit baskets isn't properly preserved because of such delays, and when they are delivered on time, different issues arise such as problems with incorrect orders.
Secondly, when complaints are raised, the company doesn't really offer any reimbursement. We actually didn't find any replies to these negative reviews, which is, of course, something that we wish the management can be better at.
We understand that negative reviews will sometimes be inevitable, but how the store responds and offer solutions is what will benefit both the company and its customers.
Although these may be quite big concerns, we still added Edible Arrangements to the list because we cannot deny that the good reviews outweigh the bad ones.
Of course, we guarantee that the store has been constantly improving ever since, and we also support its good cause.
Delicious delicacies
Beautiful and unique arrangements
Wide selection of products
Fresh fruits and treats
Accommodates rush orders
Quick order confirmations
Available same-day delivery
Affordable products
Gives back to the community
Some instances of unsuccessful or delayed deliveries
Issues with incorrect orders
Unresponsive to customer complaints
Doesn't offer reimbursements
Customer Reviews
Beyond expectation
"I ordered for Mother days for the May 11th since May 10th is all booked but they still made a way to deliver on the 10th with no issues. Service, presentation and the fresh fruits is beyond expectation." — Rei Narciso
Beautifully done
"Ordered a basic fruit arrangement for my wife's birthday and can honestly say it was bigger than I expected. Beautifully done. Excellent job by everyone involved" — Terry Sweezie
5. Lakewood Florist & Gifts Ltd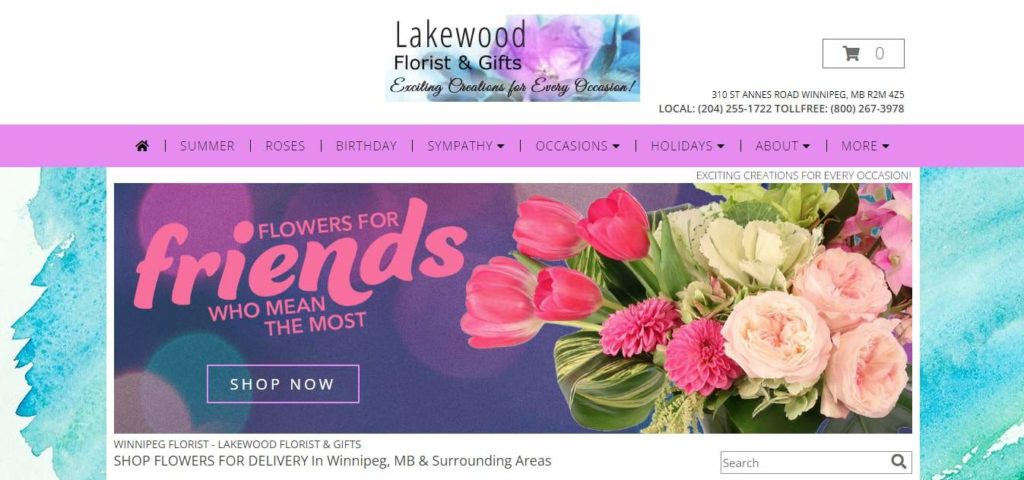 PRODUCTS
Classic Fruit Basket, Mixed Fruit Basket, Candy Bouquet, Snacks Basket, Chocolate Baskets, Junk Food Basket, Gourmet Basket, Flower Arrangements, Plants
WEBSITE
https://www.lakewoodfloristmb.com/
ADDRESS
310 St Anne's Rd, Winnipeg, MB R2M 4Z5, Canada
CONTACT DETAILS
Phone: +1 (800) 267-3978

Phone: +1 (204) 255-1722

OPERATING HOURS
Monday to Friday: 9:30 AM – 7:00 PM

Saturday: 10:00 AM – 6:00 PM

Sunday: 12:00 PM – 5:00 PM
| | |
| --- | --- |
| Criteria | Ratings |
| Customer service | ★★★★☆ (4/5) |
| Fruit freshness and quality | ★★★★★ (5/5) |
| Arrangement | ★★★★★ (5/5) |
| Affordability | ★★★★☆ (4/5) |
| Delivery service efficiency | ★★★★☆ (4/5) |
Serving the citizens of Winnipeg and its surrounding areas for more than 20 years, Lakewood Florist & Gifts Ltd makes it to our list!
This store, although it specializes in floral services, is still a crowd favorite because of its sweet delicacies and beautifully arranged fruit baskets.
We appreciate how its staff goes out of their way just to grant their customers' requests. We also commend their knowledge and expertise in delivering quality arrangements even those orders that are rushed.
In fact, there has been an incident where one customer ordered an arrangement that was currently out of stock, but the team did an amazing job providing them with an even better one.
Their beautiful presentations truly reflect their skills and attentiveness to detail. This is because they make it a habit to communicate with their customers well for a clear layout of their expectations.
It is also highly convenient that this store offers a wide range of services to make sure that you get all the gifts that you plan to order in just one place. Plus, you can easily reach it and avail of its services because of its long open hours.
However, it is important to keep in mind that deliveries are not available on Sundays. So, better to plan out the date of delivery before placing an order.
If you are working with a limited budget, then you should know that Lakewood Florist is actually a bit pricier than other stores.
It will be a great idea to check out if you can get any coupons before placing an order to maximize your savings.
If you do get your hands on a discount coupon, make sure that the shop will honor it willingly and rightfully. This is to avoid another case of an unfriendly staff who did not accept a coupon from a customer even though it was still valid.
Helpful and knowledgeable staff
Accommodates urgent requests
Great attention to detail
Wide selection of products
Delivers outside Winnipeg
Long opening hours
Provides discount coupons
Delicious and well-crafted fruits and treats
Beautiful product presentation
Fresh fruits
No deliveries on Sundays
A bit pricey 
Some cases of unfriendly staff
Customer Reviews
Top-notch professional service
"Very happy to have found Dan and Tanice this week. I needed an urgent request and they graciously accommodated me. Top notch professional service.
They asked the right questions, attentive to details. I will be back!" — Paul Guimond
Has a lot of gift options
"Service was friendly and the flowers were beautiful. They have a lot of gift options (many locally sourced if that's important to you) to go with you flowers as well." — Lance VanderVegte
6. Perfect Sentiments Gift Baskets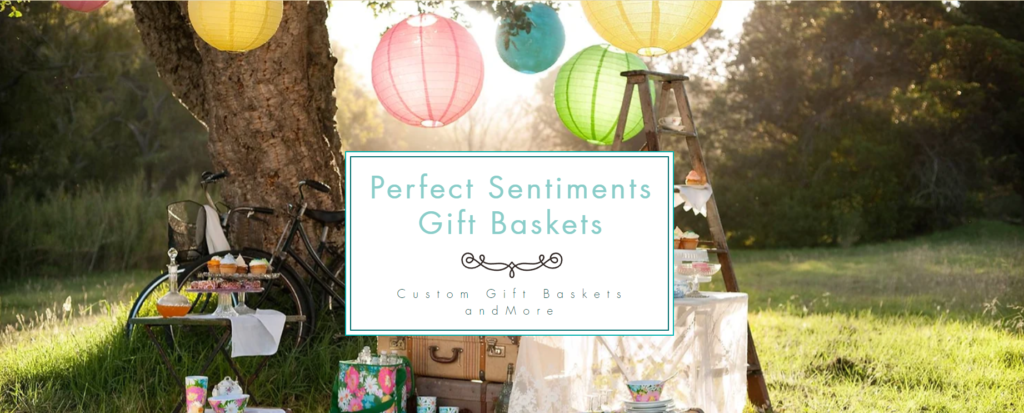 | | |
| --- | --- |
| Criteria | Ratings |
| Customer service | ★★★★★ (5/5) |
| Fruit freshness and quality | ★★★★★ (5/5) |
| Arrangement | ★★★★★ (5/5) |
| Affordability | ★★★★☆ (4/5) |
| Delivery service efficiency | ★★★★☆ (4/5) |
A gift basket is only as good as the quality of its contents—and Perfect Sentiments Gift Baskets delivers on that account. Their collection features diverse gift baskets, each containing top-notch goods in line with the theme of the basket.
Many of the basket selections contain quality sweets, like chocolates. They also have fruit baskets with fresh fruit such as apples, oranges, and grapes. And for those looking for a more unconventional basket full of goodies, there's the Deluxe Delights Basket which has an assorted selection of snacks like chips and popcorn.
No matter what type of gift basket you're searching for, Perfect Sentiments Gift Baskets have something to suit every occasion or need. You can be sure that when buying from them, your recipient will be delighted by their thoughtful gifts!
Extensive range of gift basket designs
Custom design consultations available
Handmade specialty gifts custom made upon request
FAQs about Fruit Basket Services in Winnipeg