5 of the Best Bookstores in Winnipeg
Bookstores are prime hangout places for avid readers and people who love solitude and silence. They may be stores, but some offer the quiet and comfort of libraries, which is why they remain essential institutions in towns and cities.
The good news is Winnipeg is home to several bookstores, and in this article, we've rounded up our top picks.
How much do books cost on average?
Despite many forms of content moving into the digital realm due to efficiency and the advocacy for going paperless, books remain in demand for students, educators, and bookworms.
That said, prices of books also change depending on their demand, version, and the materials of their covers. The authors' reputations may also contribute to the price of their books.
But if you want to know how much books cost on average in Winnipeg's stores, take a look at this table below:
| TYPE OF BOOK | COVER TYPE | AVERAGE PRICE |
| --- | --- | --- |
| Children's books (fiction) | Hardcover | $19.40 |
| Children's books (fiction) | Paperback | $11.74 |
| Children's books (non-fiction) | Hardcover | $25.71 |
| Children's books (non-fiction) | Paperback | $14.07 |
| Graphic novel | N/A | $27.86 |
| Young adult fiction | Hardcover | $24.60 |
| Young adult fiction | Paperback | $15.78 |
| Young adult non-fiction | Hardcover | $46.12 |
| Young adult non-fiction | Paperback | $27.49 |
| Adult fiction | Hardcover | $34.94 |
| Adult fiction | Paperback | $21.78 |
| Adult non-fiction | Hardcover | $40.70 |
| Adult non-fiction | Paperback | $26.47 |
How did we choose the best bookstores in Winnipeg?
For this list, we selected bookstores based on the following factors:
1: McNally Robinson Booksellers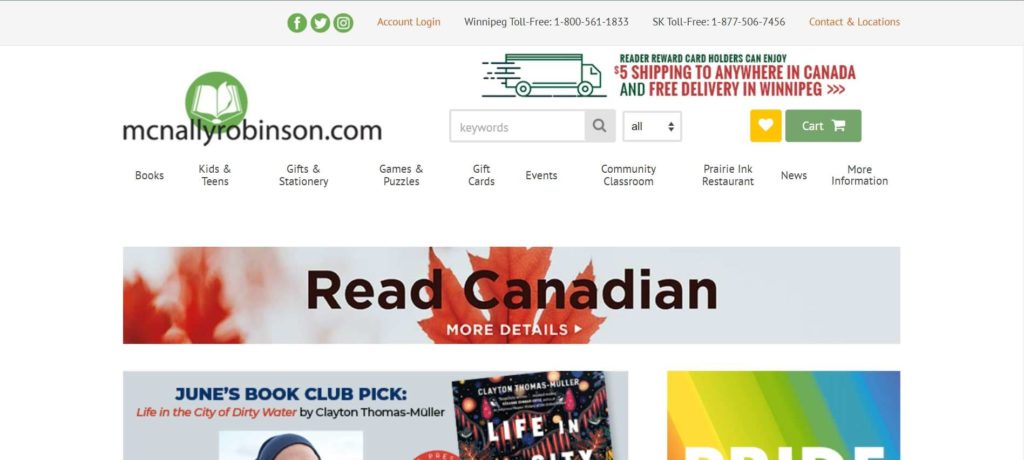 DELIVERY/IN STORE PICK UP
Yes
WEBSITE
https://www.mcnallyrobinson.com/home
CONTACT DETAILS

Phone:

+1 (204) 615-7868 (The Forks Market branch);

Phone: +1 (204) 475-0483 (Grant Park Mall branch)

Email: [email protected]

ADDRESS
The Forks Market: 213-1 Forks Market Road, Winnipeg, MB, R3C 4L9, Canada Grant Park Mall: 1120 Grant Avenue, Unit 4000, Winnipeg, MB, R3M 2A6, Canada
OPERATING HOURS

The Forks Market:

Monday to Wednesday: 10:00 AM – 8:00 PM

Thursday to Saturday: 10:00 AM – 9:00 PM

Sunday: 10:00 AM – 6:00 PM

Grant Park Mall

Monday to Wednesday: 10:00 AM – 8:00 PM

Thursday to Saturday: 10:00 AM – 9:00 PM

Sunday: 10:00 AM – 6:00 PM
| | |
| --- | --- |
| CRITERIA | RATING |
| SELECTION | ★★★★★ (5/5) |
| AMBIANCE | ★★★★☆ (4/5) |
| ⮕Tidiness | ★★★★★ (5/5) |
| ⮕Comfort | ★★★★☆ (4/5) |
| STAFF | ★★★☆☆ (3/5) |
| ⮕Friendly | ★★★☆☆ (3/5) |
| ⮕Helpful | ★★★☆☆ (3/5) |
| COMPLEMENTARY PRODUCTS | ★★★★★ (5/5) |
McNally Robinson is one of the most popular bookstores in Winnipeg, with two branches in the locale.
It carries an impressive library of titles of every genre and subject – from cooking, arts, and photography to medicine, religion, and gardening. It also holds several works of fiction and non-fiction by classical and contemporary writers.
With the wide array of books available at McNally Robinson, it is the perfect spot for various types of readers to find books that resonate with their personality, reflections, and preferences.
What we love about this bookstore is that it has a Read Canadian section on its website, which will lead you to a list of works by Canadian authors. Not only does this support local authors, but it also brings Canadian literature to more readers.
After book shopping, we recommend trying McNally Robinson's cafe. We were told that this quiet and rustic nook is the perfect spot to open your books and get lost in the pages.
Unfortunately, since this bookstore is a prime hangout spot, it can be quite busy, especially during the weekends–which means less relaxation and silence for reading.
Based on feedback we've received, the store can close an hour earlier on Sundays for inventory work. While this is understandable, we wish they would inform customers in advance.
Promotes local literature through its Read Canadian recommendations
Has an indoor cafe
Some reports on needing to improve communication on store hours
Customer Reviews
Great local bookstore
"The staff are passionate and always helpful. Their membership program is great if you frequent the store, they always curate amazing books and feature local creators, and the community classroom space is a wonderful addition." – Aiden Christopher Kahanovitch
My favorite bookstore for a long time.
"McNally's has been my favourite book shop in Winnipeg for years. The staff is always friendly and helpful. I love that I can trust them to bring in beautiful and authentic product that supports craftspeople globally. I also love how they support local writers and writing communities. Lastly, I want to thank the staff for their diligence in keeping our community safe. Yesterday I witnessed a customer being rude and belligerent to staff as they were reminded of the mask policy. The staff member remained kind and firm throughout the whole exchange. Retail can be a thankless job so I want to say thank you and I appreciate you." – Nichole Forbes
2: Red River Book Store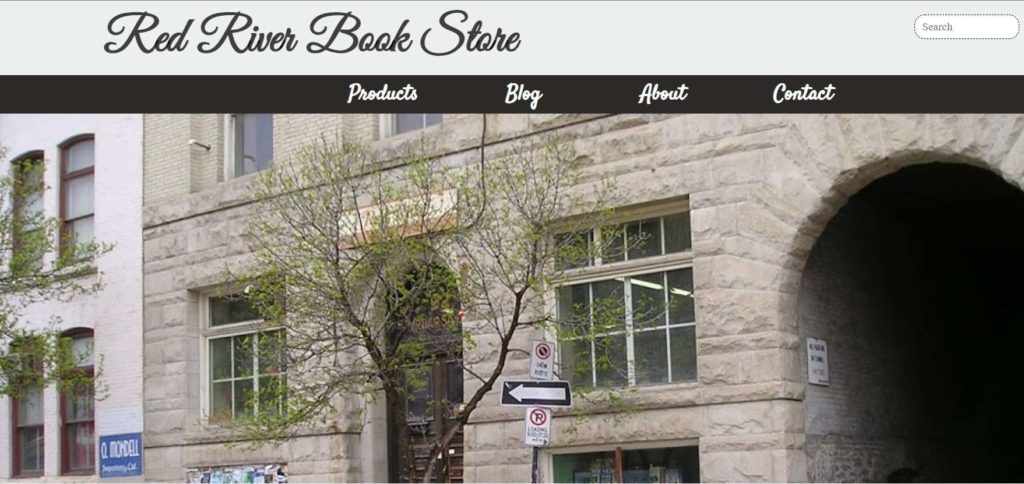 | | |
| --- | --- |
| CRITERIA | RATING |
| SELECTION | ★★★★★ (5/5) |
| AMBIANCE | ★★★★☆ (4/5) |
| ⮕Tidiness | ★★★☆☆ (3/5) |
| ⮕Comfort | ★★★★☆ (4/5) |
| STAFF | ★★★☆☆ (3/5) |
| ⮕Friendly | ★★★★☆ (4/5) |
| ⮕Helpful | ★★★☆☆ (3/5) |
| COMPLEMENTARY PRODUCTS | ★★★★★ (5/5) |
If you're looking for a treasure trove of vintage book titles and other fun trinkets, then the Red River Book Store might be the right place for you.
Situated in an old building at Arthur Street, the bookstore gives off that rustic, slightly-messy, but beautiful ambiance.
While some customers may be put off by the lack of organisation in the store, readers who love searching for one-of-a-kind book versions and other amazing trinkets would probably see it more as a fun treasure hunt for rare finds.
For those who prefer books with pictures, Red River Book Store also has a selection of comic books for sale. Comic collectors should check the store's website to see which comic titles and volumes they may take home and add to their collections.
Apart from hard-to-find books, the shop also sells puzzles and video games, making it the perfect destination for hobbyists and enthusiasts. It's also a great entry point for the uninitiated as discovering something interesting in the shop is an experience in itself.
Regrettably, we've heard reports of unprofessional and untidy staff. While the organised mess is part of this store's charm, we believe its employees should be presentable and accommodating as much as possible – it's still a place for selling, after all.
A paradise for those who like to treasure hunt for books and other goods
Also sells comics, puzzles, and video games
Space is not well-organised
Some reports on unprofessional and untidy staff

Customer Reviews
A treasure trove in Winnipeg
"I've shopped at Red River Books for 35 yrs. Dennis and his staff are very friendly and knowledgeable with everyone, across the board. Their genuine caring for your interests makes it a pleasure to browse. They have a calming, peaceful format that works. So diverse, you'll want to visit over and over to find your treasure." – R.E. Bell
A paradise of many gems other than books
"This place is a unique and strange type of store, not a place for those who like everything to be neat and orderly. It's a kind of treasure hunters' paradise where you can find things you normally wouldn't find anywhere else, plus it's in the exchange district where just walking down Arthur St. brings you back to the turn of the century. It's more than just a bookstore. Highly recommend visiting and seeing for yourself." – Jonathan Lockhart
3: Whodunit New And Used Mystery Bookstore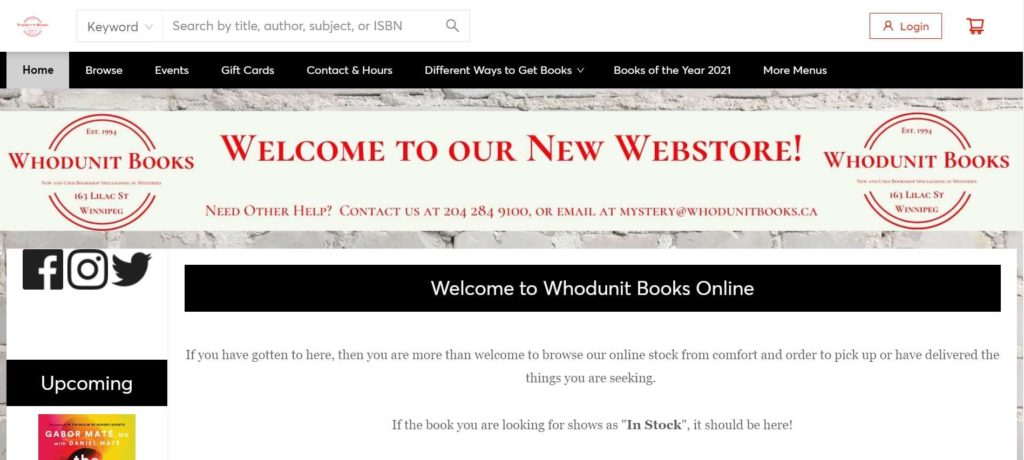 DELIVERY/IN STORE PICK UP
Yes
WEBSITE
https://whodunitbooks.ca/
CONTACT DETAILS
Phone: +1 (204) 284-9100

Email: [email protected]

ADDRESS
163 Lilac Street, Winnipeg, MB R3M 2S1, Canada
OPERATING HOURS
Monday to Wednesday: 10:00 AM – 6:00 PM

Thursday to Friday: 10:00 AM – 7:00 PM

Saturday: 10:00 AM – 5:00 PM

Sunday: 12:00 PM – 5:00 PM
| | |
| --- | --- |
| CRITERIA | RATING |
| SELECTION | ★★★★★ (5/5) |
| AMBIANCE | ★★★★★ (5/5) |
| ⮕Tidiness | ★★★★★ (5/5) |
| ⮕Comfort | ★★★★★ (5/5) |
| STAFF | ★★★★★ (5/5) |
| ⮕Friendly | ★★★★★ (5/5) |
| ⮕Helpful | ★★★★★ (5/5) |
| COMPLEMENTARY PRODUCTS | ★★★★★ (5/5) |
True crime fans, rejoice! Whodunit New And Used Mystery Bookstore is the perfect treasure trove for you to explore mystery, detective, suspense, and horror novels.
The store also offers used books, which means you can purchase many titles for cheaper prices. For us, this also means saving precious books from getting thrown away and reducing the trash that may further cause harm to the planet.
And true to its name, Whodunit also has a selection of mystery-themed books for children, as well as puzzles and board games. Parents looking for educational materials or fun bonding activities with their kids should definitely visit this store.
Even better, Whodunit isn't limited to mystery novels. We've heard that it also carries other works of fiction and non-fiction from different genres.
But because Whodunit specialises in secrecy and riddles, it has a "blind date" section where books are wrapped like presents. Buyers will only know what book they bought after opening the parcel., which we think is a creative way to start a book without judging its cover.
Now, one minor downside we've heard of is that the store's shelves might not always be well-stocked with popular titles. But the good news is that you may place orders for titles you want, then the store will ship them right to your doorstep once they procure new stocks.
A great place for mystery fiction fans
Blind date section
Some reports of low stocks on popular book titles

Customer Reviews
Carries an impressive selection of books
"Our favourite indie bookstore in Winnipeg. Don't be fooled by the name – so much more than mysteries! A wide selection of new and used books including a well-curated children's section. If you don't see what you're looking for simply place an order." – Lauren H
Love the mystery book theme
"Came across this bookstore while Randonauting with my daughter. In keeping with the random theme of the day, they have a "blind date" section of books you can choose from. Really cool concept to pick a mystery book and unwrap it like a present. We'll definitely be back." – Vicladyingreen
4: Bison Books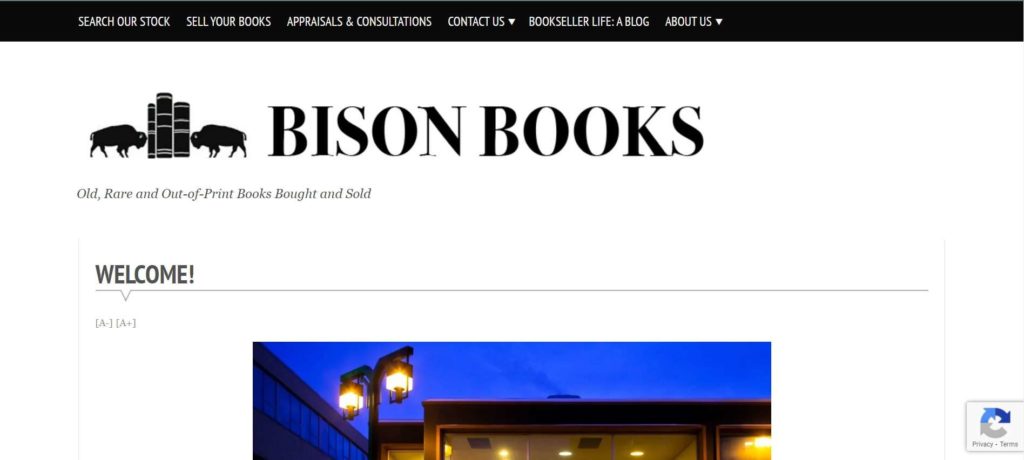 | | |
| --- | --- |
| CRITERIA | RATING |
| SELECTION | ★★★★☆ (4/5) |
| AMBIANCE | ★★★★★ (5/5) |
| ⮕Tidiness | ★★★★★ (5/5) |
| ⮕Comfort | ★★★★★ (5/5) |
| STAFF | ★★★★★ (5/5) |
| ⮕Friendly | ★★★★☆ (4/5) |
| ⮕Helpful | ★★★★★ (5/5) |
| COMPLEMENTARY PRODUCTS | ★★★★☆ (4/5) |
If you're after rare, vintage, or out-of-print book editions, Bison Books is a prime stop for antique titles. And since it specialises in rare books, it's understandable that it has a more limited selection compared to the other entries here.
However, we still think that this shop is worth a visit as it might have that one book you've been waiting to get your hands on. From what we've learned, it currently has stocks of books on different subjects and genres.
That said, we suggest calling the shop first to ask if they have the titles you're looking for. We've received positive feedback that the staff pulls up books that fit your search, and may even hold them for a while until you see and select which ones you'll get.
We love that some of the staff are willing to check the shop inventory upon request. Prices are also said to be worth paying for, considering you'll be buying limited-edition copies.
Besides books, we've learned that this store also offers movie rentals, book appraisals, and mail order services. And if you're planning to get rid of some of your old books, take them to Bison Books as it buys used books, then sells them in its shops.
One drawback though, is that some employees apparently aren't as enthusiastic or helpful as others. However, we're glad to hear that management has already addressed this concern and apologised for their staff's behaviour.
A great place to find vintage copies of cookbooks, art books, and biographies
Also services areas outside of Canada
Some reports concerning unprofessional staff

Customer Reviews
Truly a hidden gem in Winnipeg
"One of my longtime favourite local shops. It's the dreamiest home for rare and used books. It's filled my bookshelf with poetry, fiction and cookbooks by my favourite people. I always look forward to browsing this beautifully curated shop. The owner is the sweetest and so knowledgeable. This place is definitely a gem of Winnipeg!" – Jessica Cupples
Staff was prompt and accommodating
"Love this spot. After being lucky enough to see "Imagine Van Gogh" in Oct 2020 I messaged Aimee to see if she had any Van Gogh books for my boys for Christmas. She whipped up a selection and held them for me for the week till I could make it in to peruse them. Ditto for multiple other requests over the years. Love supporting this fantastic local biz!!" – Jennifer Chan
5: Chapters Indigo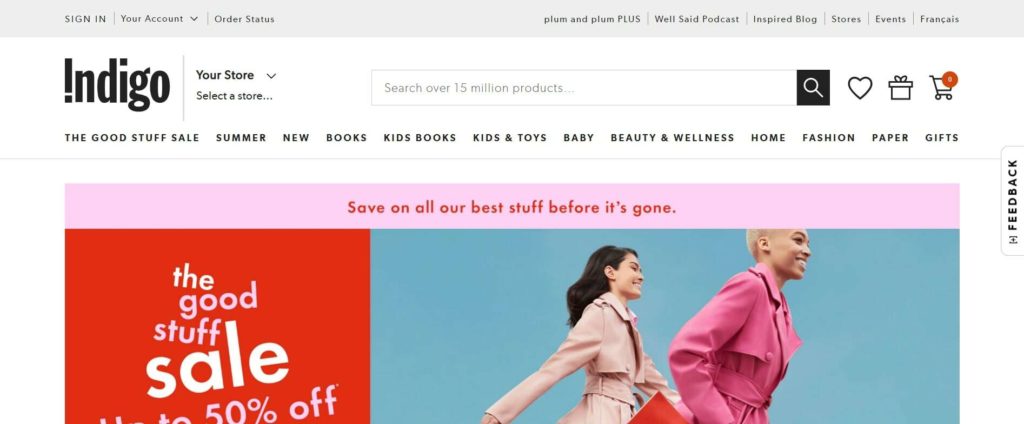 | | |
| --- | --- |
| CRITERIA | RATING |
| SELECTION | ★★★★★ (5/5) |
| AMBIANCE | ★★★★★ (5/5) |
| ⮕Tidiness | ★★★★★ (5/5) |
| ⮕Comfort | ★★★★★ (5/5) |
| STAFF | ★★★☆☆ (3/5) |
| ⮕Friendly | ★★★☆☆ (3/5) |
| ⮕Helpful | ★★★☆☆ (3/5) |
| COMPLEMENTARY PRODUCTS | ★★★★★ (5/5) |
Readers and shoppers alike will surely love Chapters Indigo as it is a book shop and department store in one. Upon checking, the shop carries various books of different genres and other items such as bags, clothes, toys, and furniture sets.
Shopping in this store is an efficient and convenient experience, as you can find a coffee table and chair set that matches your private library. You'll also come across cups and tumblers to hold your favorite drink while you dive deep into the book you're currently reading.
And speaking of coffee, we've heard that Chapters Indigo has partnered with the neighbouring Starbucks! You'll get to have a quiet place to sit and have coffee while enjoying your new book.
Since bookstores can be "black holes" for some readers, you'll be glad to know that this store has a relaxing atmosphere. Immersing in the sea of books will be a fun and soothing activity for those who want to take time looking at the ocean of lore, literature, and knowledge.
However, we were disappointed to hear reports of customers repeatedly returning to the store to pick up their orders, only to hear that there were no more stocks available. Some staff allegedly hoard some of the titles, which is quite unprofessional.
We are in high hopes that management is taking urgent steps to address this matter, as this has implications on their customer service.
Bookstore and department store in one
Quiet and calming ambiance
Feedback on some staff hoarding books, leading to stock shortage
Customer Reviews
Great store with lots of books and friendly staff
"The biggest bookstore in Manitoba and it didn't disappoint me! I've found lots of great books there and bought some of them. The vibe is also very peaceful and the staffs were very helpful and friendly!" – Quan Phan
Appreciate the helpful staff
"Came in to get 2 books for my daughter for Christmas. I, unfortunately, can't remember the name of the young lady that helped me, but she was great!!! She noticed me taking in the store in awe (first time at this location) and asked if I needed help. She happily showed me the way to the teen section where I was able to find both books with ease. The young lady at check out was also friendly. Had a great first impression of this location." – Julie Nadeau
FAQs About Bookstores
---
And there you have it, our unbiased take on the best bookstores you can find in Winnipeg! Do take it easy as you do a bookstore crawl, lest you'd need the services of the best movers in Winnipeg to transport your new stash.
Kidding? Maybe. Maybe not.