The 5 Best Insurance Brokers in Winnipeg
Featured Image Source: Pexels
Every day, we face risks concerning our lives, properties, assets, and finances. You can take many actions to secure your future, and one of these is insuring yourself and your properties.
There are many types of insurance, but it's recommended to have the following: life, health, auto, and home insurance. Rate shopping for all of these may take much of your time and energy, so why not just find the best insurance brokers in Winnipeg to do it for you?
In this article, we'll be talking about how you can choose the best insurance broker. We also listed down the average insurance premiums and a list of FAQs to help you because your life and properties literally depend on your choices.
How to Choose the Best Insurance Brokerage
Before we tell you of the top firms for insurance brokerage, you should first know how to choose the perfect one for you.
First, you should find an insurance broker who has enough experience in the kind of insurance you'd like to get. For example, if you're looking for auto insurance, you have to find a broker with numerous connections with insurance providers offering auto policies.
Next, you should also find an insurance broker who has excellent communication skills. They should be reliable and responsive as you'll be communicating with them when it comes to payments, policy updates, and of course, insurance claims.
Lastly, you should find an insurance broker with positive reviews to ensure you're getting high-quality customer services. This criterion will also help you get an insurance broker who'll listen to what you really want and need.
Average Costs for Insurance Policies
Insurance brokerages get a commission based on your premiums so before you seal the deal with one, make sure you'll be paying more for your premium than for their commission. Here are the average prices for each type of insurance policy.
| | |
| --- | --- |
| Type of Insurance | Average Monthly Cost |
| Home | $89 |
| Condo | $37 |
| Renter | $23 |
| Auto | $95 |
| Life (based on preferred health status) | $30 (males) $25 (females) |
| Health | $45 (males) $80 (females) |
You should also know that life insurance policies depend on your gender, lifestyle and hobbies, medical history, and age. Males, older applicants, and those with dangerous hobbies may get a higher rate for life insurance.
The Best Insurance Brokerage Firms in Winnipeg
Now that you know what to find in an insurance brokerage firm, you can now choose your broker with our list of the best insurance brokers in town.
1.   Wyatt Dowling Insurance Brokers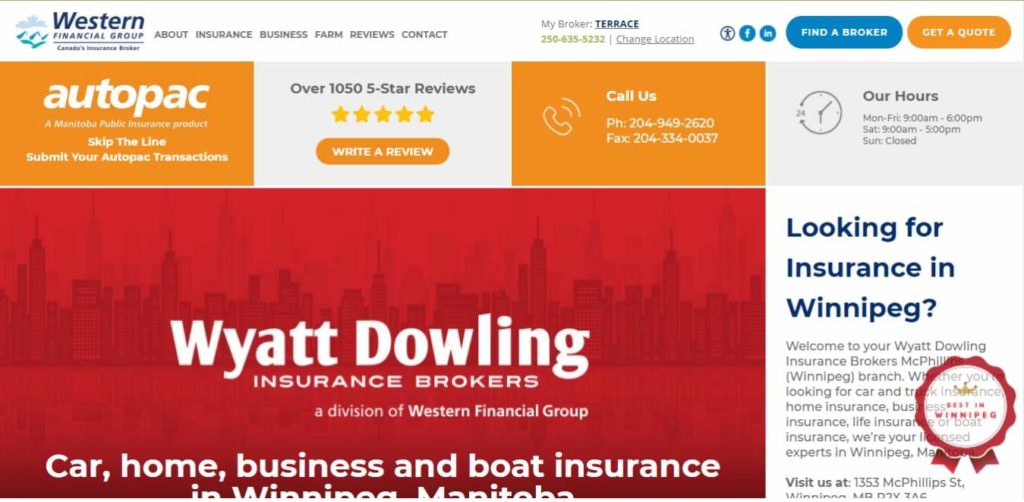 BEST FOR
Accessibility
SERVICES
Auto, motorcycle, business, home, life, marine, travel, and farm insurance plans
WEBSITE
https://www.wyattdowling.ca/
ADDRESS
1353 McPhillips St, Winnipeg, MB R2X 3A6
CONTACT DETAILS
(204) 949-2620

[email protected]

OPERATING HOURS
Monday – Tuesday: 9:00 AM – 7:00 PM
Wednesday – Friday: 9:00 AM – 6:00 PM
Saturday: 9:00 AM – 5:00 PM
Wyatt Dowling is one of the biggest insurance brokerage firms in Winnipeg. It is also a part of the bigger firm, Western Financial Group, which has ties to Wawanesa insurance.
This firm offers all types of plans, from auto to recreational plans. One of the best things about Wyatt Dowling is that it strives to build long-term client relationships so that you won't have any problems with communication.
This firm is also active in local charity efforts through its charity, Western Communities Foundation. Since 2002, this charity has spent $3.6 million funding housing, education, and public health projects all over the country.
Builds long-term client relations
Active in local and national charity efforts
Wide range of insurance plans
11 locations in Winnipeg
Limited to Wawanesa and Western Financial's insurance plans
Customer Reviews
As one of Winnipeg's top insurance brokerages, Wyatt Dowling continues to be responsive and reliable, just as these reviews will tell you:
"Kierra provided us with amazing service. We needed home insurance in 2 days and she worked so hard to get it to us in time. She was so quick and handled everything like a pro (well, not LIKE a pro, she is one). Thank you!!"
"11/10 Great customer service I just want to give a big thank you to Preeti Kashyap for her amazing customer service she's been helping me out for the past 2 years answering all my questions and calls and continuing to do so , if you have any questions regards to insurance she will gladly help you!"
2.   Nation West Insurance Brokerage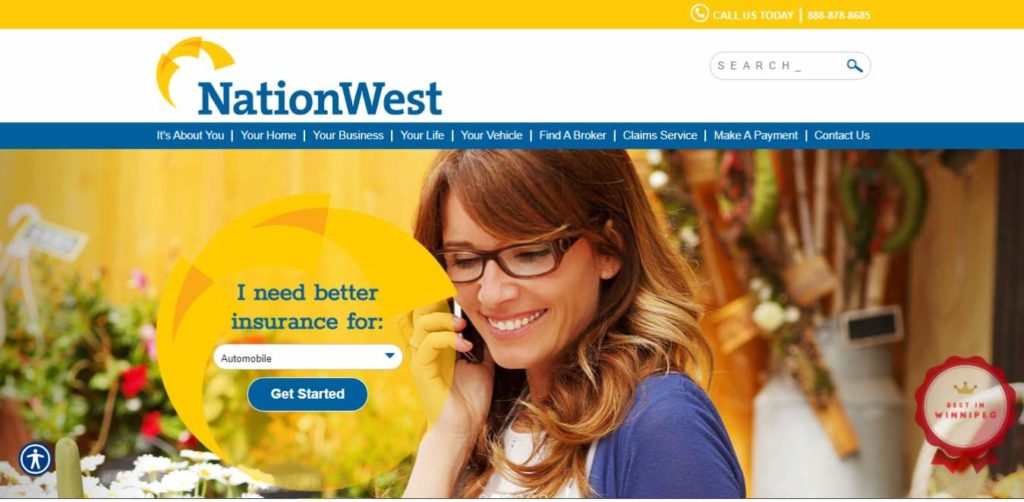 BEST FOR
24/7 claims hotline
SERVICES
Auto, home, life, business, travel, and boat insurances
WEBSITE
https://www.nationwest.ca/
ADDRESS
1610 Kenaston Blvd #100, Winnipeg, MB R3P 0Y4
CONTACT DETAILS
(204) 453-8888
OPERATING HOURS
Monday – Thursday: 9:00 AM – 7:00 PM
Friday: 9:00 AM – 6:00 PM
Saturday: 9:00 AM – 5:00 PM
Sunday: 12:00 PM – 5:00 PM
Nation West Insurance Brokerage can help you find the most competitive prices for auto, home, life, and even business insurance plans. It prides itself on finding smart solutions for all its clients' needs.
What this firm guarantees is a wide range of choices because it has ties with 25 insurance providers. These choices include insurance giants such as CAA, Intact, SMI, and Wynward.
With its online forms, you can also quickly pay your premiums. Besides, Nation West also has a responsive 24/7 line for emergency insurance claims.
Focus on commercial, home, and auto insurances
Convenient online payments
24/7 claims hotline
Customer Reviews
Customers appreciate Nation West's approachable yet professional services. Here are some reviews to tell you more about how Nation West impresses its customers:
"Best insurance brokerage I ever went. No more rate shopping to do by myself. Not only provide me the best rate, but also the best service I ever get. Staffs are friendly, especially the guy Frank or Freddy( sorry, I'm bad on remembering names). He is super nice. He is very patient to hear what my needs are, and provide the best insurance meet my needs."
"We called this (only opened) location 15 minutes before closing, they gave us instructions over the phone, waited for us to arrive with all the documents then they helped us with all our insurance needs. Both representatives are super passionate and friendly. We will definitely come back with all our future endeavors. Thanks you!"
3.   Reider Insurance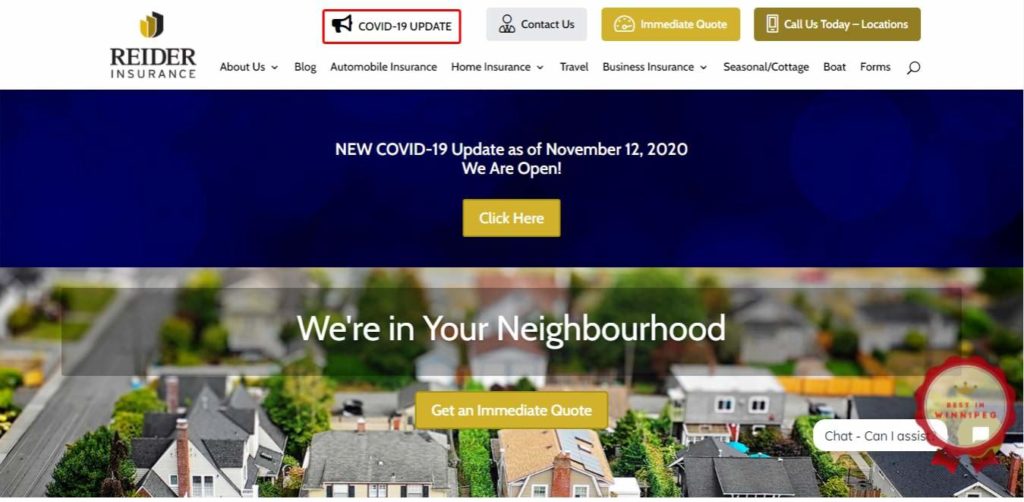 BEST FOR
Connections with international financiers
SERVICES
Auto, home, boat, travel, and business insurance
WEBSITE
https://www.reider.ca/
ADDRESS
925 Leila Ave, Winnipeg, MB R2V 3J7
Other locations
CONTACT DETAILS
(204) 338-3888
OPERATING HOURS
Monday – Friday: 9:30 AM – 8:00 PM
Saturday: 9:30 AM – 5:30 PM
Reider Insurance is a family-owned business with six locations in the city alone. It represents a variety of insurance providers, from local to international finance groups.
With its various connections, it manages over $20 million per year for both personal and business clients. For business insurance plans, Reider caters to small to large-sized businesses.
And even if Reider Insurance is a locally-based insurance brokerage, it can still offer its services to residents in other western provinces, including Saskatchewan, Alberta, and British Columbia.
Business insurance for small to large-sized companies
Connections with local to international insurance providers
Wide reach of services
Limited types of insurance plans
Not the best for Autopac
Customer Reviews
As a family-business, Reider Insurance knows what you and your household need. Here are reviews that share how welcoming Reider Insurance can be:
"The staff was very receptive to my needs and friendly as family!!! I feel professional buisness could use this company as a model to serve the public in a manner that one should expect to be served…. would I use them again? Exclusively!!!"
"Received some of the best service I've ever had at an insurance brokerage! The staff there were so polite and knowledgeable helped make my move back to Manitoba nice and smooth! If you are looking for a new broker I highly recommend reider insurance in particular Justine! She was fabulous!"
4.   Coughlin Insurance Brokers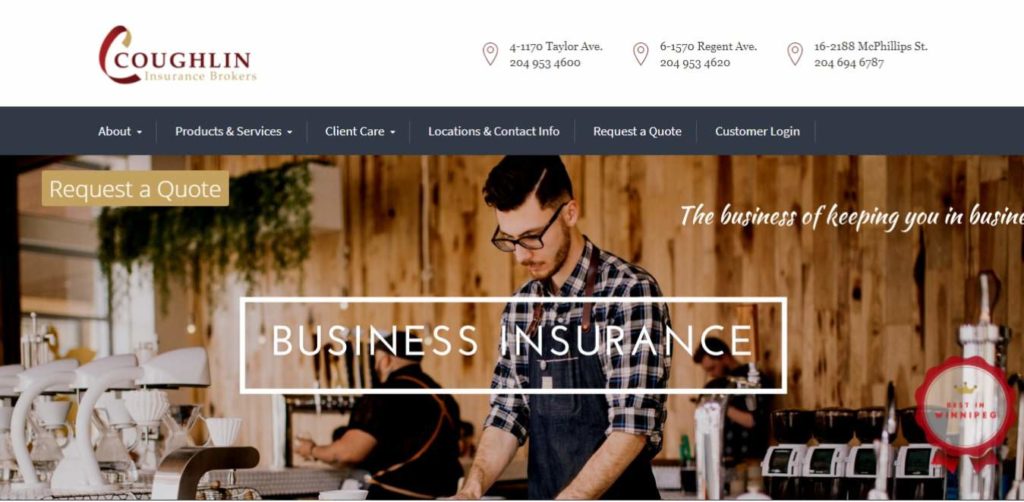 BEST FOR
Variety of insurance choices
SERVICES
Auto, home, life, business, group, travel, and boat insurance
WEBSITE
https://www.coughlin.com/
ADDRESS
1570 Regent Ave W #6, Winnipeg, MB R2C 3B4
Other locations
CONTACT DETAILS
(204) 953-4620
OPERATING HOURS
Monday – Tuesday: 9:00 AM – 9:00 PM
Wednesday – Friday: 9:00 AM – 8:00 PM
Saturday: 9:00 AM – 5:00 PM
Established in 1971, Coughlin Insurance Brokers has been providing only the best insurance plans to Manitobans. It stays true to its promise for unparalleled services by providing 24/7 response through its website and hotline.
Besides, Coughlin is also accessible because it has three locations in the city. The best insurance brokers in Winnipeg's Coughlin also take time to really listen to your needs so you can get an insurance plan that matches your budget and lifestyle.
Coughlin's services span from Manitoba and Ontario to the Northwest Territories, so it also has numerous insurance partners. Thus, you can choose among 32 insurance providers with Coughlin Insurance Brokers.
Offers all types of insurance plans
24-hour response via website and hotline
32 insurance partners
Proficient in English, Hindi, and Punjabi
Limited office locations in Winnipeg
Customer Reviews
Read these customer reviews to know more about what you may experience, too, should you choose Coughlin Insurance Brokers:
"Coughlin insurance has been a fantastic experience in insuring my house! One of the brokers went above and beyond in finding me the perfect rate and really personalizing the experience of getting my first home insured. I would recommend Coughlin to any friend, especially first-time home buyers!"
"Very friendly front desk staff. He answered ask our questions and gave very sound advice. Betty engaging and have us ask the time we needed to think thin has over before making a decision."
5.   King Insurance Brokers Agency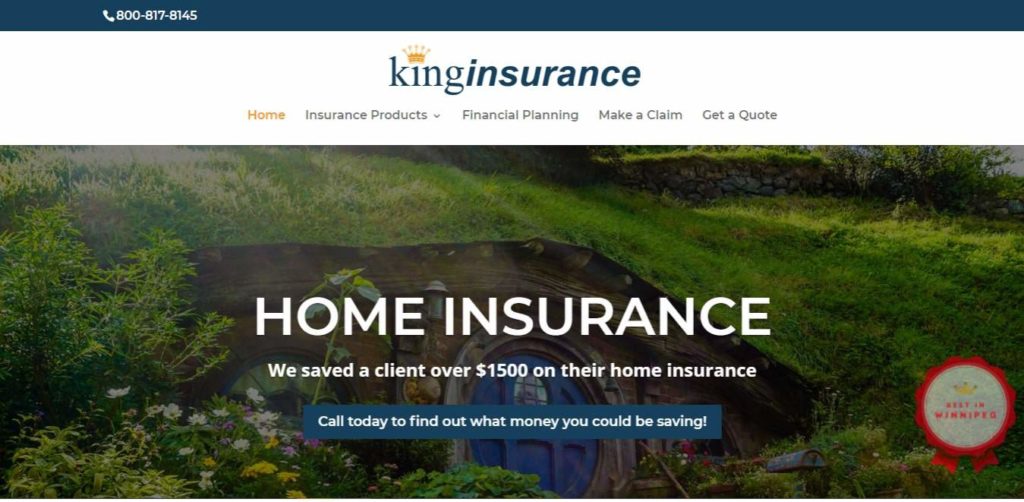 With over 60 years of services, King Insurance has found ways for its clients to save up while still getting the best-valued insurance premiums. As a family business, it will also treat you with much respect and consideration.
King Insurance also has an online form on its website for timely filing of claims. Furthermore, they have a 24/7 hotline so you can contact them for claims and updates during emergencies.
Aside from insurance services, King Insurance can also help you manage your finances with its financial planning services. This additional service can surely help you budget your money and prioritize necessities.
Online forms for claims
24/7 hotline for claims
Additional financial planning services
Only one location in Winnipeg
Customer Reviews
King Insurance offers one of the best customer services in Winnipeg, which is why it has amassed various 5-star reviews from its clients such as these:
"One time I needed to renew my auto insurance and I came a few minutes after they had closed. The owners were in the parking lot and they saw me, opened their office and renewed my insurance …. Above and beyond!!!"
"Extremely satisfied with their customer service and the way they handle there customers needs they go above and beyond when they can. THANK YOU Kim"
FAQs About the Best Insurance Brokers in Winnipeg
---
We hope we answered your questions about finding the best insurance brokers in Winnipeg. Just make sure you communicate your needs and limitations with your chosen insurance broker so you can arrive with an insurance policy of great value.
While insurances are useful safety nets, there are also other ways of protecting your assets. If you're looking for different ways to protect your properties, you can also check out our list of the best locksmiths in Winnipeg that'll keep your safes and house locks updated and secure.