9 Providers Offering the Best Catering in Winnipeg
Featured Image Source: Pixabay
Celebrating with your loved ones is always a happy occasion, what with all the activities and fun stories shared. But let's be real – a celebration isn't half as fun if you don't have the best catering in Winnipeg!
In this article, we'll provide you with a list of the best caterers in town and FAQs about the topic to help you out. We also prepared a cost guide to help you find a caterer that serves great food at reasonable prices.
Things You Need to Do Before Booking a Caterer
Before you hire a caterer, you first have to set all the details for your gathering. The venue, guest count, and schedule are all important details your caterer will need.
To ensure you don't have too many leftovers, you should deduct at most 5 from your headcount. You should also ask your guests for any allergies or diet restrictions to avoid health concerns during your party.
Your headcount will also dictate how many catering staff members you'll need. Usually, you'll need one server for every 15 people in a buffet setting or one server per two tables for sit-down catering.
You should also schedule your catering service perfectly so you and your guests can consume all the food before it goes to waste.
Here are some of the other things you should do before booking a caterer:
Check for their certifications
Read their customer reviews and ratings
Attend the tasting session
Inquire about their preparation methods
Ask what type of on-site warming/cooling equipment they'll bring
Verify that their rates are within your budget
How Much Do Catering Services Cost
Here are some of the common expenses you'll have should you choose to get the best catering in Winnipeg. These prices are already inclusive of food, service, and other catering costs.
| | |
| --- | --- |
| Type of catering service | Price range per person |
| Sit-down service | $80-$110 |
| Buffet-type/self-service | $25-75 |
| Cocktail-style | $30-$200 |
| Food trucks | $25-$50 |
The Best Caterers in Winnipeg
Now, let's go through our list of the best catering services in Winnipeg to get you ready for your party!
1. Good Buds Catering
BEST FOR
Savoury dishes
MENU
Download catering menu here
WEBSITE
https://www.goodbudsbakery.com/
CONTACT DETAILS
(204) 260-9338
OPERATING HOURS
Monday – Friday: 8:00 AM – 6:30 PM
Saturday: 10:00 AM – 4:00 PM
Good Buds Catering is an e-commerce type of business that sells baked goods and offers catering services. Although it doesn't have a specific cuisine, this family-business draws inspiration from its Indian roots and Caribbean and Latin American experiences.
It only uses the freshest seasonal ingredients to provide its customers with a tasty menu for weddings, anniversaries, fundraisers, and corporate events.
This caterer also includes disposable napkins and set-up services along with catering orders at no additional costs. Additionally, Good Buds Catering also offers subscriptions so customers can receive updates on discounts and special events.
Adjustable menu
Fresh and seasonal ingredients
Free disposable napkins and set-up
Also has baking expertise
No staff and clean up after the event
Customer Reviews
Read these testimonials from its happy customers to know more about why Good Buds Catering may be a good choice for you:
"Good Buds Catering is an amazing company! The owners take pride in what they do, providing high class service and an unforgettable experience for all of their clients. Would recommend this company for weddings, corporate events, private events, etc. They are a 10 out of 10!"—Carlton Froese
"Good Buds has the best dinners, their food, is absolutely fantastic I highly recommend using Good Buds for a family dinner or as your catering for larger events. Jeremy is always smiling and puts in the extra effort to make sure everything is perfect. This family owned business is extremely cool, one of the owners was on Master Chef Canada!!!"—Laura Woodman
2. Lewis Kitchen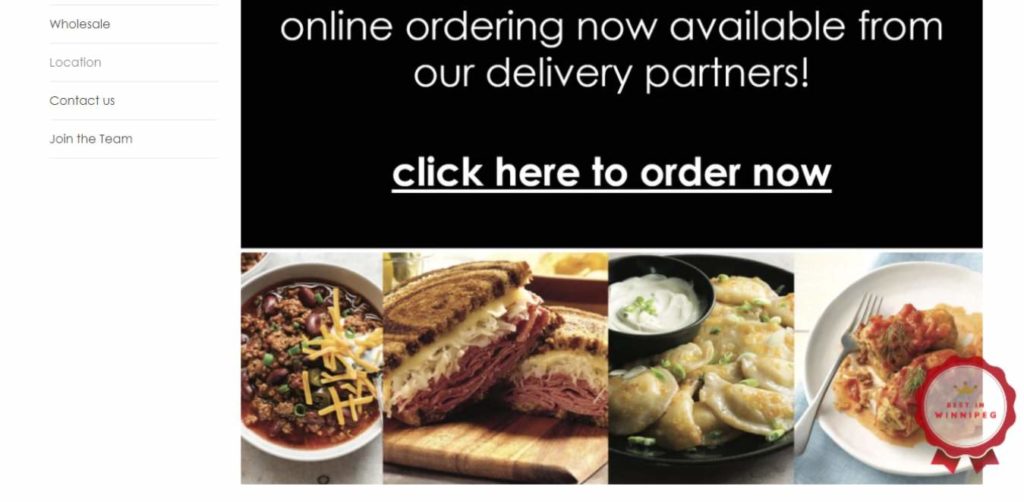 BEST FOR
Wide assortment of food
MENU
Browse through its menu here
WEBSITE
https://www.lewiskitchen.ca/
ADDRESS
988 Elgin Ave, Winnipeg, MB R3E 1B
CONTACT DETAILS
(204) 586-7789

[email protected]

OPERATING HOURS
Monday – Friday: 9:00 AM – 8:30 PM
Saturday: 10:30 AM – 8:30 PM
Lewis Kitchen provides the best catering in Winnipeg for an assortment of cuisines. Its food choices are perfect for all occasions, whether it be for fancy dinners or small group coffee breaks.
Some of its meals also have gluten-intolerance, plant-based, and vegan options so clients can order food for all their guests, no matter the diet. It has solo meals and an a la carte menu good for up to 50 people.
This caterer also accepts smaller orders for home and business deliveries. Lewis Kitchen even offers wholesale products, like meat, cheese, vegetables, and other fresh items.
Vegan and low-gluten options
Accepts next-day orders
Delicious finger foods
Wholesale food availability
Staffed events may be harder to book
Customer Reviews
Customers find Lewis Kitchen one of the go-to restaurants and caterers in the city. Here are some words from locals who feel this way:
"SOOOOOO YUMMY! This restaurant is now my favourite restaurant in the whole city. Their perogies and cabbage rolls are so expertly made, the salad too. I have ordered from them twice in the past two days. I briefly had to call them because I forgot to mention the salad dressing I wanted and they are so friendly and lovely to deal with. The quality of the food, the presentation, the cost…. everything is perfect. I will be back again and again and again. BEST IN WINNIPEG"—Anthony Boudreau
"I have used Lewis Catering about 6 times now. Each time it has been a pleasure to work with them. The food is top notch and all of my guests get a quality meal with great taste and tremendous amount of variety. I strongly recommend using Lewis for your next event. The staff is great!"—Dino Busceti
3. Naleway Caterers LTD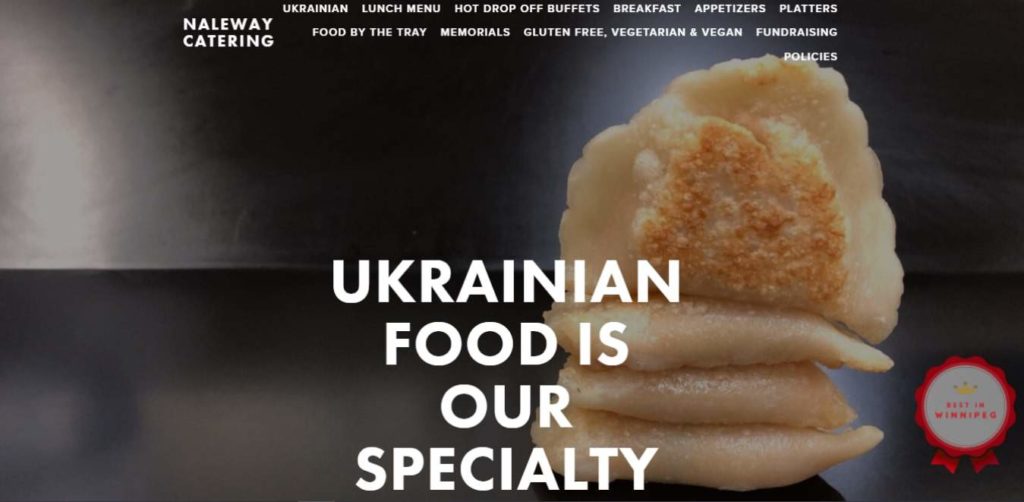 BEST FOR
Ukranian cuisine and platters
MENU
Check out their menu options here
WEBSITE
https://www.nalewaycatering.com/
ADDRESS
1411 Main St, Winnipeg, MB R2W 3V3
CONTACT DETAILS
(204) 633-6533


[email protected]

OPERATING HOURS
Monday – Friday: 8:00 AM – 6:00 PM
Saturday: 9:00 AM – 4:00 PM
Ever since 1942, Naleway Caterers have been the best at delivering pierogies, potato salads, and all other foodstuff that's Ukrainian. It offers over eight menus too!
Aside from its signature dishes, Naleway Caterers also has cheese and biscuit platters as well as buffet meals like roast beef. This way, customers can enjoy its food even if they don't want traditional Ukrainian cuisine.
Its prices are even inclusive of disposable tableware sets. All of its foods are also made from scratch so health-conscious customers can truly stay away from any processed foods with Naleway Caterers.
Over 80 years of experience
Gluten-free and vegan options
Rates inclusive of tableware
Excellent service
Customer Reviews
Customers have praised Naleway Caterers not only for its hearty meals but also for its excellent customer service. Here are a few reviews:
"Fantastic food and service! Buffet dinner was a real treat. Everything was fresh, hot, and tasted just like my baba used to make! Very happy. Can't wait to buy some of their food from Perogy Planet this week! :D"—Alex Lastiwka
"Usually get our work Christmas dinner catered its always good."—Tony Fast
"Really good, home made catering that goes way beyond their ridiculous selection of Perogy types (that's right, I spell Perogy with a capital "P"). We've used Naleway for a number of years now, and service is always awesome and super accommodating. Recently heard that Naleway was catering a wedding that we'd be attending and found myself looking forward to the meal!!
4. Bergmann's on Lombard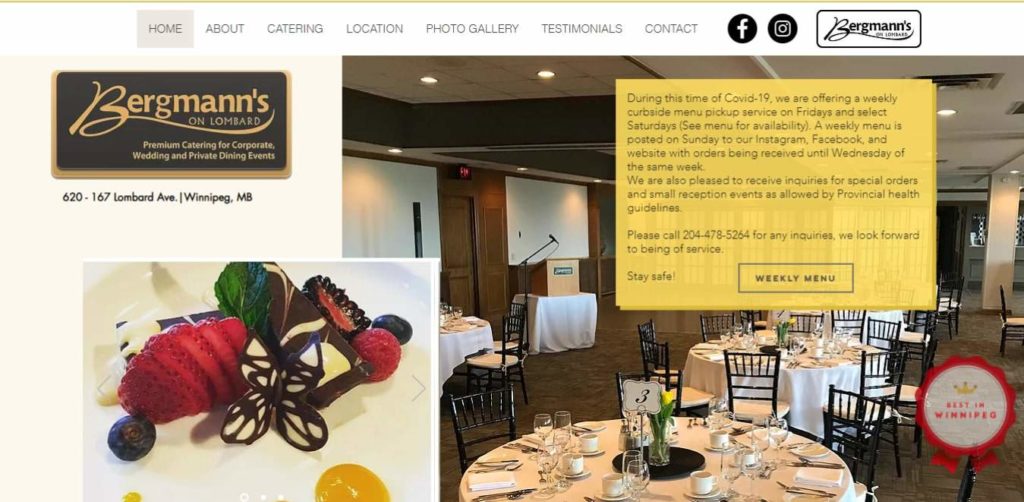 BEST FOR
Customizable fine dining menu
MENU
Check out its menu here
WEBSITE
https://www.bergmannsonlombard.com/
ADDRESS
620-167 Lombard Ave, Winnipeg, MB R3B 0V3
CONTACT DETAILS
(204) 478-5264
OPERATING HOURS
Monday – Friday: 9:00 AM – 7:00 PM
Saturday: 10:00 AM – 7:00 PM
Bergmann's on Lombard provides both catering and event planning services. What makes this catering service special is that it lets its customers customize the menu or choose from its selection of buffet, deli-style, or breakfast options.
It has five venues available for any occasion, may it be a fundraiser, reunion, or birthday party. Customers can even request a dancing area, DJ services, and a live band because Bergmann's on Lombard has all audio-visual equipment for events.
But even if this caterer already has its own venue, it still offers out-of-house catering. This service covers meal preparation and delivery, bar selection and bartending, dining set-up, and clean-up.
Customizable menu
Five rental venues complete with audio-visual equipment
Caters to both in-house and out-of-house events
Some issues on venue accessibility
Customer Reviews
Read these reviews to know why many customers claim that Bergmann's on Lombarg offers the best catering in Winnipeg:
"Between the lunch buffet and the catering experience, the offering from Bergmann's is always top notch. If you want a catered meal that will truly impress your group, from the variety and depth of flavours to the engaging presentation, look no further. But make sure you save room for dessert."—Vithras Tuba
"Great atmosphere, large selection of salads, mains were well prepared and unlimited. Super deserts. Staff very pleasant and professional. Hidden gem for lunch downtown. I understand they are experts in the catering business as well."—Terry Halligan
5. Food for Thought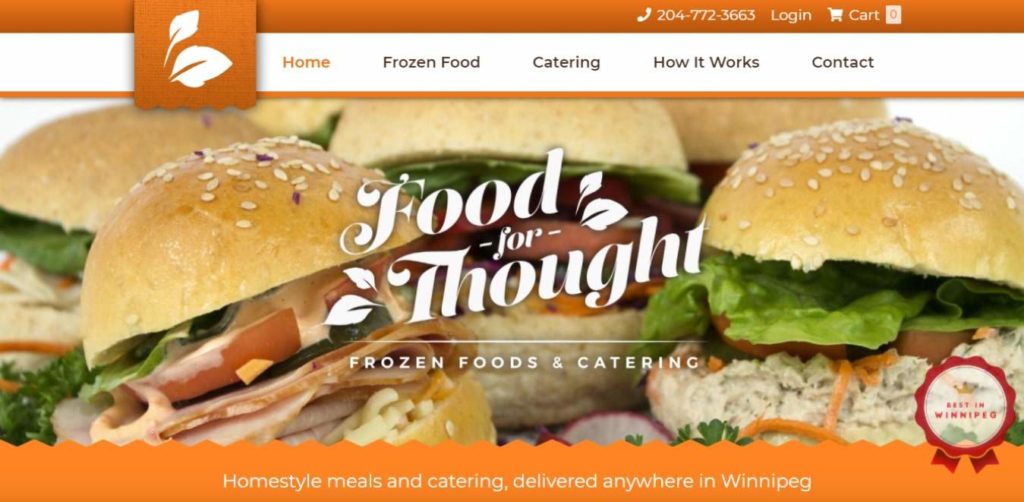 | | |
| --- | --- |
| BEST FOR | All sizes of catering |
| MENU | Browse its menu here |
| WEBSITE | https://www.foodforthoughtcatering.ca/ |
| ADDRESS | 840 Erin St, Winnipeg, MB R3G 2W5 |
| CONTACT DETAILS | (204) 772-3663 |
| OPERATING HOURS | Monday – Friday: 8:00 AM – 5:30 PM |
Food For Thought offers affordable and fresh catering services that are good for 5-500 people. It serves everything from sandwiches, to salads to bagged lunches, perfect for meetings!
Its menu selection is also applicable to all types of diets because it has gluten-free, vegan, and dairy-free options.
This caterer also has an online portal so anyone from anywhere can order food to be delivered in Winnipeg. And if you're feeling too lazy to cook your meals at night, Food For Thought can also help with its frozen food deliveries.
Frozen food deliveries
Large capacity catering
Gluten -free, vegan, and dairy-free options
Easy online confirmation
Customer Reviews
Customers love how Food For Thought delivers its food right on schedule to avoid any food spoilage. Here are other things customers like about the caterer:
"Used them for a catered lunch at work several times over the course of the last couple weeks. You can order online the night before and have it delivered right on time the next day, hot and ready to eat. They have everything from sandwich/wrap platters to hot lunches, to salads and cheese/veggie/fruit trays. This is such a great idea I can't believe more companies aren't doing it. Very convenient! 1"—Jody Wood
"Highly recommended!! Excellent food & service – they go above and beyond, and quality of food is top notch. Fresh, customized orders and always on time and packaged well. We use them for corporate meetings and luncheons as well as personal. Favourites are – their salads, soups (especially borscht), quiches and wraps and sandwich platters. They cater to food allergies also! Their flour-free peanut butter cookies are always a hit too. Truly a gem of Winnipeg!!"—T & C
6. Nick's on Broadway

Nick's On Broadway is one of the most unique restaurant and catering businesses in all of Winnipeg. To understand why, we must first understand Nick's On Broadway's goal.
That is, to make the best sandwiches while providing a show in an open kitchen environment. For those who haven't tried out Nicks', this may lead to more confusion.
To simplify this extraordinary goal, it's best to say that something as simple as a sandwich is made magical by the Nick's On Broadway team. They accomplish such a feat by only using the freshest and finest ingredients on the market, this includes the meat, bread, vegetables, and any other ingredient they use to make their sauces.
Another aspect about Nick's on Broadway that makes them stand out is the structure of the restaurant. Nick's offers its food in pick-up, takeout, and of course, catering forms. Should the situation permit it, they're also welcome for sit-in customers.
It's worth noting, however, that their catering services isn't for the uptight, formal parties. No, this catering menu is perfect for events where people can let loose and use their fingers to pick up sandwiches, various cheeses, and even dill pickles.
If that sounds like your type of party, contact Nick's on Broadways today.
Easy online booking
Wide array of per-person menu items
Variety of breads, meats, and cheeses used
No operating hours available
7. Pita Pit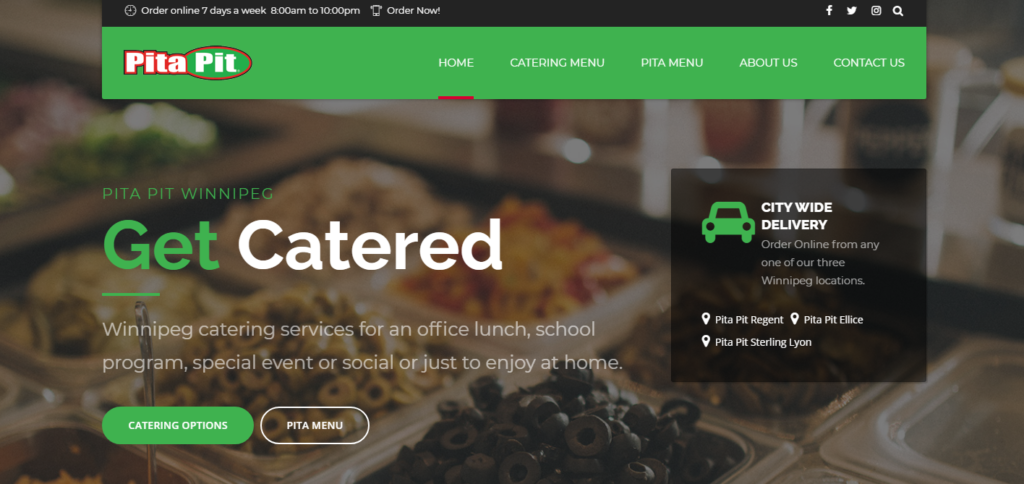 If we're taking into consideration customisable foods that pack taste and nutrition into one big bite, then pita meals rank high on the list. Those who are looking for a catering company that specialises in pita dishes need not look further than Pita Pit.
Pita Pit has three locations scattered across Winnipeg, making the restaurant one of the most accessible on this list. We also like the fact that Pita Pit offers regular menu options for customers who don't need such a big batch of pita orders.
But for those that do, the catering menu has a wide array of options to choose from, including gluten-free as well as vegetarian options. Every platter is made to order, and only features the finest ingredients, ensuring quality is delivered to the customers.
Vegetarian and gluten-free options available
Offers salads and other accompaniments to pita
Has three locations in Winnipeg
Open daily
Covid-friendly wrapping
8. Modern Plate Catering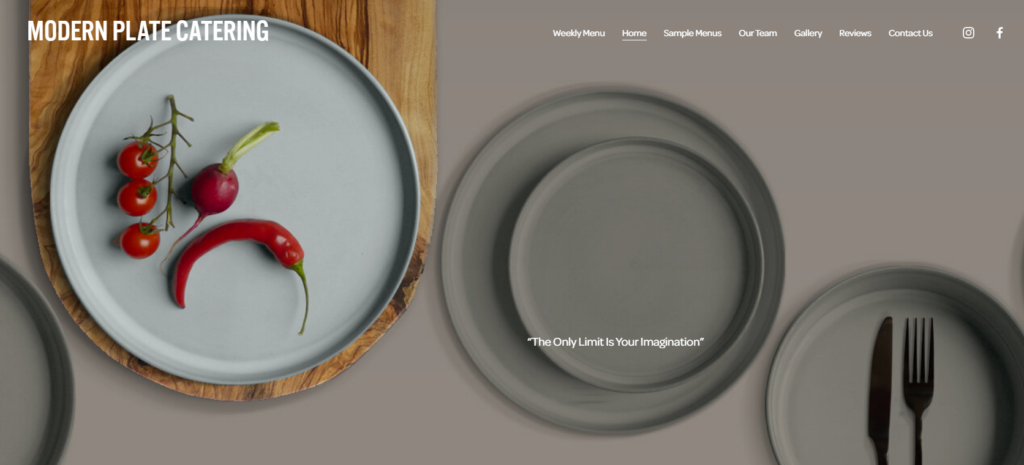 Modern Plate Catering operates by one simple motto: "The Only Limit is Your Imagination." While vague, this motto perfectly describes the kind of catering style the company offers, which is personalised and one-of-a-kind.
After all, no two person can have the same exact idea.
Given this, clients of Modern Plate Catering can expect the company to take stock of what the clients want out of the catering. This means learning about the events, the guests of honor if there are any, and even the casualness or formalness of the party.
Aside from that, Modern Plate Catering also takes into consideration food requests as well as food allergies. These information make it possible for Modern Plate Catering to curate a catering menu that the host and guests will never forget.
With that being said, it's also worth bringing up that Modern Plate Catering specialises in Corporate and Weddding events. However, the company is open to accepting other requests as well.
Caters for weddings and corporate events
Personalised, made-to-order menu
Various catering styles available
No rate information online
9. Diversity Food Services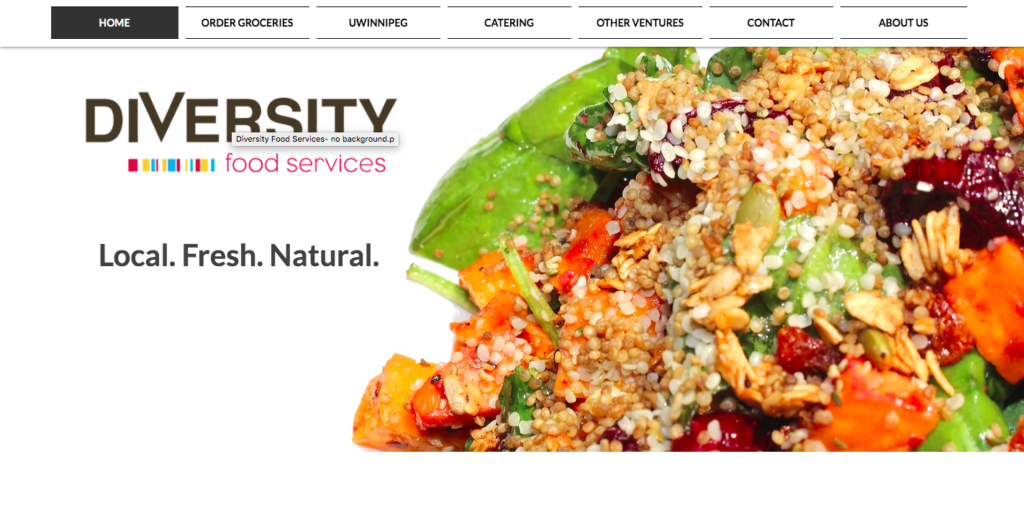 What makes Diversity Food Services stand out is that a majority of their recipes come straight from their staff's own family. This gives their menu dishes that "taste like home" and has earned them quite the following in Winnipeg.
Each dish they create is prepared with both quality and nutrition in mind. All stocks, sauces and dressings are made in-house from scratch to ensure they adhere to the highest standards.
Diversity Food Services is a second-level certified business with LEAF (Leaders in Environmentally Accountable Foodservice). This means that all of their products are natural and sustainably sourced.
This multi-awarded company has also received the LEAF Award for Greenest Restaurant in 2018 for their niche and the Most Sustainable Food Operation for colleges and universities in Canada and the USA in 2017.
So whether its farm to table service, reducing their carbon footprint, choosing in-season products or supporting local artisan vendors, Diversity Food Services makes it a point to embody these values in their operation.
They can cater for meetings, conferences, weddings, banquets and other large events whether it's a 4-person gathering or you have 55,000 mouths to feed. Diversity's catering will provide you a flexible menu to make your experience a memorable one.
Only uses sustainable products

Can cater up to 55,000 guests

Can customize dishes and menus for events
Multi-awarded company
At least one month's notice for large banquets
Frequently Asked Questions
---
And that concludes our list of where you can find the best catering in Winnipeg. So, go on and finalize your venue and guest list so you can lay down all the details for your potential caterer.
If you're planning to host your event at your own home, then you have to make sure there aren't any unwanted guests to contaminate your food and frighten other guests. Check out our list of the best pest control services in Winnipeg to maintain a sanitary living space for you and your guests.