The Top 5 Clinics for Wisdom Tooth Removal in Winnipeg
Swollen gums, sensitivity, facial pain―these are all signs that you might need to have some wisdom teeth removed. The question is where to book your appointment.
So you won't have to bear with prolonged pain, we've compiled a list of the best clinics in Winnipeg for wisdom tooth removal. Later on, we'll answer some questions about this common oral procedure―but first, you might want to know about the fees.
How much does wisdom tooth removal cost in Winnipeg?
The pain associated with poorly emerging wisdom teeth can be symptoms of other dental issues. With that in mind, a clear diagnosis is the first order of battle.
That's right―before you can say goodbye to the pain in your mouth, you'll need to know what's causing it. Here are the average fees for consultation and testing:
| | |
| --- | --- |
| DIAGNOSTIC TEST | ESTIMATED COST |
| Initial consultation | $100 – $400 |
| Bitewing X-ray | $35 – $50 |
| Periapical X-ray | $15 – $30 |
After that initial consultation, you may find that you'll need one of the following oral surgeries (including sedation options). Here are the average costs for single tooth and set extractions:
| | | |
| --- | --- | --- |
| PROCEDURE | AVE. COST PER TOOTH | AVE. COST / SET OF FOUR |
| Simple extraction | $90 – $250 | $380 – $2,300 |
| Complex case: impaction in soft tissue | $280 – $760 | $1,000 – $2,300 |
| Complex case: impaction in bone | $315 – $630 | $1,300 – $2,900 |
| | |
| --- | --- |
| SEDATION TYPE | ESTIMATED COST |
| Inhalation sedation | $35 – $180 |
| IV sedation | $250 – $375 |
| General anesthesia | $100 – $300 |
If you have dental insurance that covers wisdom tooth removal, you can file a claim to help you with 25-60% of the bill depending on your benefits plan and dental issue. Additionally, some clinics offer financing options so you won't have to settle all of the costs upfront.
The Best Clinics for Wisdom Tooth Removal in Winnipeg
Now that we've talked about fees, here are the best clinics to consider for wisdom tooth removal, at least based on our survey. Find out what we think of each one:
1. Assiniboine Dental Group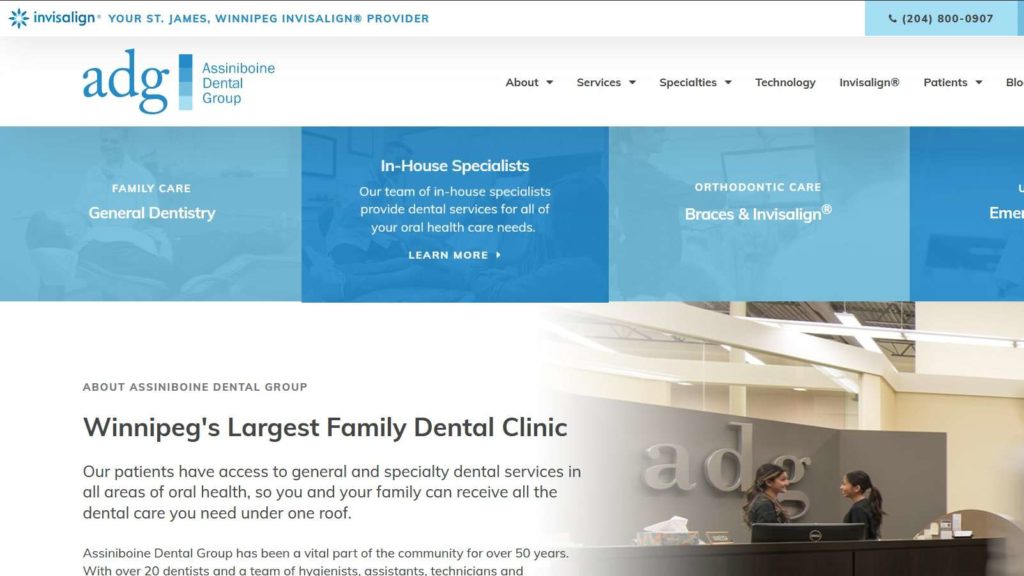 SERVICES
Oral Surgery: Dental Implants, Extractions & Wisdom Teeth, Bone Grafting & Sinus Lifts, Gum Grafting
WEBSITE
www.assiniboinedentalgroup.com
ADDRESS
3278 Portage Avenue, Winnipeg, MB R3K 0Z1, Canada
CONTACT DETAILS
Phone: 204-800-0907
Fax: 204-888-4726
OPERATING HOURS
Monday to Thursday, 7:30 am – 8:00 pm
Friday, 7:30 am – 5:00 pm
Saturday, 8:00 am – 4:00 pm
With over 400 sparkling reviews on Google, Assiniboine is one of the foremost dental health providers in the city. As a family-oriented company, they offer services in various fields of dentistry including wisdom tooth removal.
Appointments with them can suit most schedules because they're only closed on Sundays. It also helps that they're open at night so you have lots of leeway to book a session outside of work.
We like Assiniboine because they're convenient for people who're not only busy with work, but also with kids. As an added feature, they have a play area to entertain children who are tagging along for the appointment.
The initial consultation takes 90 minutes, which is pretty extensive and is best for patients who want the full workup. This can feel dragging if you're in dire need of pain relief, which is why you can hop straight into their emergency care (even if you're not a registered patient).
As part of their family-friendly service, they offer complimentary parking and wheelchair access. You'll also be pleased to know that they provide financing options and offer to bill your insurance directly for the amount that you're covered.
While they extract wisdom teeth regularly, they don't have a dedicated oral surgeon for complex cases. For that, they may need to call in a specialist or refer you to a separate clinic―and that can take extra time.
Long hours and open on Saturdays
Emergency service available
Complimentary parking and wheelchair access
Children's play area
Financing options available
Bills dental insurance directly
Prices unavailable online
May refer you to a specialist for advanced cases
Customer Reviews
Here are some testimonials from patients and guardians who've tried out Assiniboine Dental Group:
"Their examinations are thorough (Dental Photography) – to some individuals it may feel like it would be overwhelming but I personally appreciate it. A very clean and safe facility, especially with the ongoing pandemic."―Vivian Bautista
"Nicole and the team are amazing! We weren't even patients of the office and they went above and beyond to get my son in with an oral surgeon to get his wisdom tooth removed. If we lived in Winnipeg we'd have a new dental office. Thank you!"―Shelley Penner
2. Dr Blight Oral & Maxillofacial Surgeon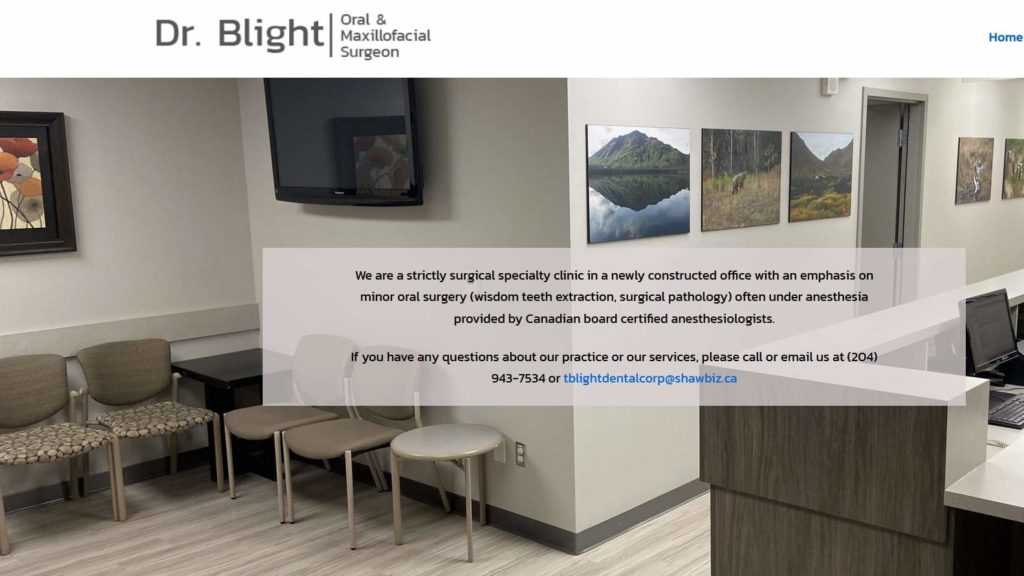 SERVICES
Wisdom Teeth Extraction, Surgical Pathology
WEBSITE
www.drblight.com
ADDRESS
Suite 250 – 233 Kennedy St, Winnipeg, MB R3C 3J5, Canada
CONTACT DETAILS
Phone : 204-943-7534
Fax : 204-943-4615
Email:

[email protected]

OPERATING HOURS
Monday to Wednesday, 8:00 am – 5:00 pm
Thursday & Friday, 7:30 am – 4:30 pm
If you've put off getting your wisdom teeth sorted, Dr. Blight is a good option for advanced cases. The clinic is equipped for surgical complications like infections, severe impaction, and more.
Dr. Tim Blight is a popular choice for referring dentists. Because his clinic specialises in surgical pathology, they're also familiar with tumours and cysts caused by impacted wisdom teeth.
The things we like most about Dr. Blight are his surgical technique and excellent bedside manner. Patients attest to less post-op pain compared to other practices and praise his kind and comforting demeanor.
The relaxing atmosphere is also owed to their board-certified anesthesiologists. In their care, patients have come to expect comfortable and pain-free procedures with little to no grogginess afterward.
A waiting area with television is a thoughtful addition to the clinic, as they've accounted for their patients' companions. They also make it easy for companions to assist patients home through accessible parking.
Since this is a specialist clinic, their procedures are understandably pricier than what you'll get from a general dentist. The upside is that you're paying for solutions to high-level problems, which not every dentist can offer.
Oral surgeon is a specialist on wisdom teeth
Board-certified anesthesiologists
Clean modern facility
Accessible pay parking
Closed on weekends
Pricier compared to standard practices
No financing options
Customer Reviews
If you're curious about what it's like being Dr. Blight's patient, here are some firsthand accounts from people he treated:
"I just had wisdom tooth surgery one hour ago and I woke up and didn't feel loopy! Dr Tim Blight is amazing and I highly recommend him to anyone. The anesthesiologist was joking around with me and then I passed out and woke up in another chair. My mouth is really numb though but I feel amazing. The staff is amazing and I felt very nervous before the surgery but now I feel very happy and have four less teeth yay :)"
"If I could give Dr. Blight 10 stars I would. And this is hours after my procedure. I had two wisdom teeth removed by another doctor and the whole experience was so traumatic. Two months later I was still in pain. Dr. Blight not only fixed the mess that was done, but he took out the remaining two. It has been about 12 hours after my procedure, I haven't taken any pain relievers! The process went smoothly, he has the best bedside manners I have seen in a doctor and his staff were amazing! I am so glad I went to him! Dr. Blight if you read these reviews….Thank you!"―Glarys Mwenje
3. Lakewood Dental Centre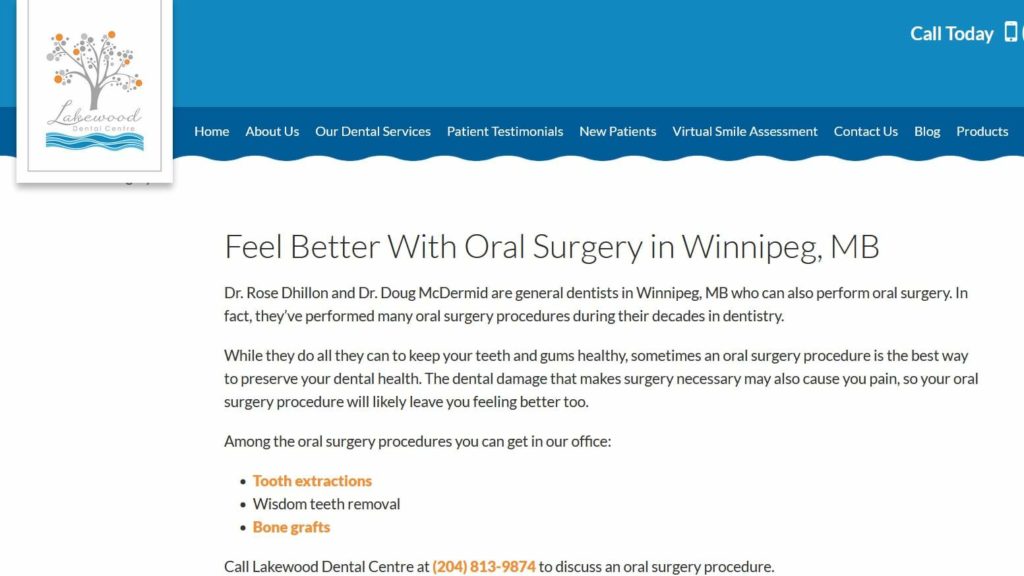 SERVICES
Tooth Extractions, Wisdom Teeth Removal, Bone Grafts
WEBSITE
www.lakewooddentalcentre.com
ADDRESS
120-40 Lakewood Blvd, Winnipeg, MB R2J 2M6, Canada
CONTACT DETAILS
Phone: 204-813-9874
OPERATING HOURS
Monday, 8:00 am – 6:00 pm
Tuesday & Thursday, 7:00 am – 6:00 pm
Wednesday, 9:00 am – 6:00 pm
Friday, 7:00 am – 2:00 pm
Another local favourite in the central east side of town is Lakewood Dental Centre. They've been around for more than 40 years, and yet still offer up-to-date methods of extracting wisdom teeth.
When you set foot on their premises, you'll be met with a clean and well-designed facility with comfortable lounge areas and gaming stations for kids. For accompanying adults, they offer free-flow coffee and cable TV.
We appreciate the amenities they've included to keep companions and family members happy. It keeps long waits pleasant and makes short ones feel like no time has passed.
On most days of the week, they open early and close late―perfect for setting appointments before or after work. For the actual procedure though, we recommend an afternoon or evening schedule to allow time for your sedation to wear off.
Wisdom tooth procedures at Lakewood are headed by general dentists with decades of combined experience. While they're a good bet for standard removals, severe cases may still be better in the hands of a specialist.
If you find that your case fits within their wheelhouse, paying for it is made easy with financing via Medicard. They're also flexible in terms of payment options, as they accept cash, card, and electronically bill your insurance directly.
Dental exam uses intraoral camera
Online booking available
Financing available through medicard
Direct e-billing with dental insurance
Lots of free parking
Closed on weekends
Hard to get to from West Winnipeg
Customer Reviews
If you'd like an inside perspective of Lakewood's services, here are some reviews from their patients:
"First time patient. Both my children are patients of Lakewood and they told me how good they are.Had a broken wisdom tooth called them in the morning and had an appointment the same day. They had the tooth out by early that evening. Great staff, very professional."―Duane Beischer
"Lakewood Dental is truly exceptional. With all the added protocols and measures they have put in place, recently, the experience was truly seamless. The team is extremely professional and it felt like they have definitely taken all the necessary precautions to make sure my visit was safe and clean. My visits have always been on time with no surprises. I would highly recommend Lakewood Dental for your entire family. My family has been coming to Lakewood for the past 43 years and we have always felt cared for, no matter what need for the visit has been!"―Lisa Cefali
4. Maxillo Winnipeg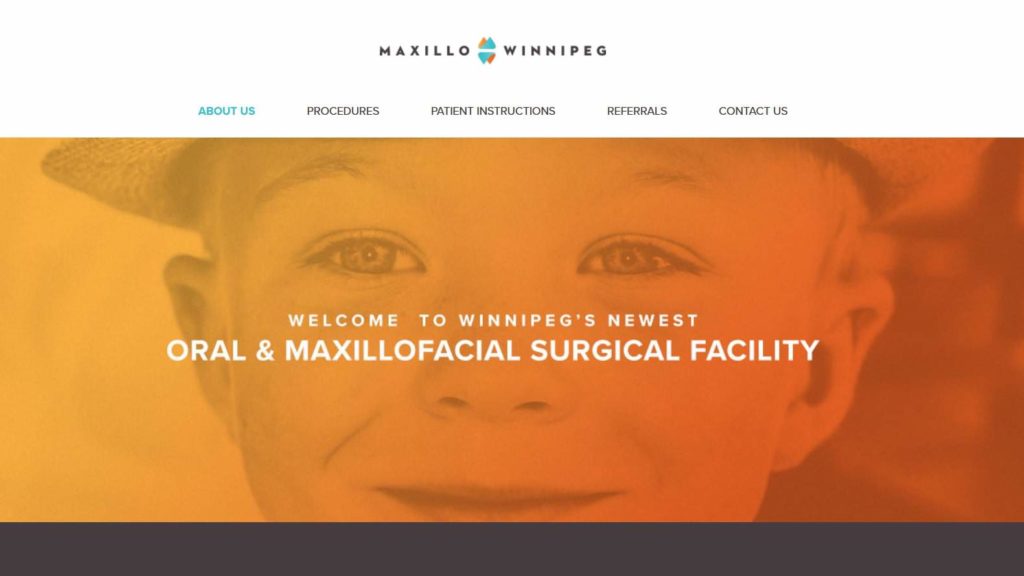 | | |
| --- | --- |
| SERVICES | Wisdom Teeth Removal, Dental Implants, Bone Grafting, Oral Pathology, Facial Trauma, Jaw Surgery, 3D Imaging |
| WEBSITE | www.maxillowinnipeg.ca |
| ADDRESS | 755 Henderson Hwy, Suite 303, Winnipeg, MB R2K 2K5, Canada |
| CONTACT DETAILS | Phone: 204-615-8434 Fax: 204-615-8438 Email:[email protected] |
| OPERATING HOURS | Monday to Thursday, 8:00 am – 4:00 pm Friday, 7:30 am – 3:30 pm |
Another entry along Henderson highway, Maxillo Winnipeg is a focused practice that specialises in oral and maxillofacial surgery. Wisdom tooth removal is just the beginning―with the option to avail of dental implants, jaw reconstruction, and more.
Wisdom tooth removal at Maxillo is a straightforward outpatient procedure. Upon your initial consultation, they'll run new x-rays or discuss recent ones if you're coming from a referring doctor.
Patients enjoy the benefit of flexible sedation options, from localised freezing to IV or general sedation. We also like that they give patients ample control over the management of their own pain and anxieties.
Despite surgeries being performed on an outpatient basis, Maxillo facilitates a recovery phase before discharge. After suturing up, they transfer patients to a large, comfortable recovery space under the care of a registered nurse.
It's that extra-mile type of service that we think you'll appreciate, especially if you want to see your doctor off when you're in a more stable state. When you and your companion decide to pack up, it's an easy walk to the multi-space parking lot right next to the building.
Specialists are experts in oral surgery
Flexible sedation options
Recovery monitored by registered nurse 
Plentiful free parking
Closed on weekends
Harder to get to from South Winnipeg
No financing options
Customer Reviews
For a more in-depth view of their services, here are some patients recounting their experience at Maxillo Winnipeg:
"I'd never had any kind of surgery before, so I was terrified and kept delaying the inevitability of having my wisdom teeth removed. Finally, at 35, I couldn't deal with the pain anymore and decided to just get it over with. My experience at Maxillo Winnipeg was nothing short of excellent. The surgeon and anesthesiologist dealt with my anxiety with humour and compassion, and I was in and out of surgery within 30 minutes. It was the best oral surgery experience I could have asked for."―Ashley Boutin
"I had all 4 of my wisdom teeth removed by Kevin Vint just over 3 weeks ago. I was really nervous but it went better than I expected, with pretty minimal pain. Dr Vint was very friendly and informative when I called back to ask questions about healing afterwards. I recommend going here."―Angel Marie
5. Dr Gerald Niznick College of Dentistry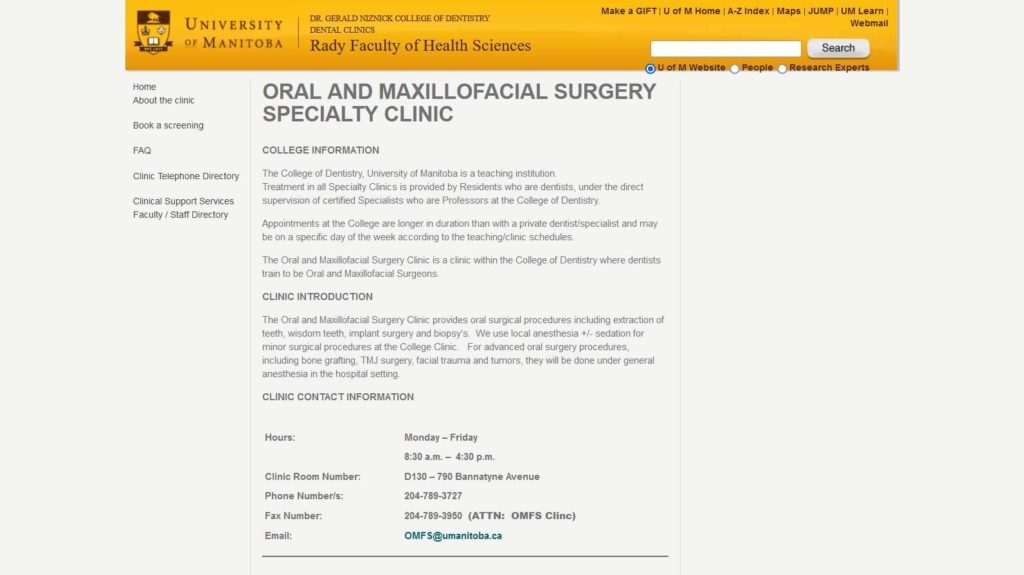 If you want a procedure that can save you money while supporting a good cause, the University of Manitoba has a great option for you. Residents need practice somehow, and they get it by offering low-cost procedures under expert supervision.
As a wisdom tooth patient of the Niznick College of Dentistry, you'll only pay 50% of what you normally would elsewhere. And that's before you invoke dental insurance.
It's an enticing offer, but not without its quirks.
For one, you'll have to warm up to the idea of being a practice patient. Rest assured, the procedure is strictly controlled by a professional instructor with extensive clinical experience.
Secondly, not everyone gets accepted as a patient. To apply, you'll need to go through a screening assessment to determine if you're a proper fit for study―as it is a teaching clinic afterall.
That said, the selection process is very circumstantial, so we don't recommend this service for emergency situations. There's some waiting involved and your viability as a patient depends on how your dental needs align with the progression of their curriculum.
Should you qualify, know that it's normal for these types of procedures to take longer than usual. That's because students need to take their time to maximise the learning experience and ensure your safety.
If you're good with all these terms, then this budget-friendly option could well be worth your time. You'll be paying for wisdom tooth removal that's guided by a specialist at half the standard price.
That's already huge value even if you don't have insurance. If you do, the staff at the office will complete insurance forms for you so you have one less thing to worry about.
Most affordable option
Procedures are supervised by specialists
Supports quality education
Office completes insurance forms for you
Selective of patients
Procedures take longer than usual
Not recommended for sensitive or emergent cases
Customer Reviews
Here what people have to say about the dental procedures they've had done at U of M:
"Great place to have your dental work done if you are on a tight budget, have lots of time and a great desire to support students in their dental journey"―Lj Barquilla
"Wicked experience. They got the job done and saved me so much money. I suggest going here for any of your needs"―Chris McKin
"Very thorough and reasonable prices. Great if you don't have benefits"―Brenda Ealing
FAQs About Wisdom Tooth Removal
---
And that's the end of the list for now. If you know a practice that's a good fit for this line-up, do leave us a message and we'll get back to you promptly.
Meanwhile, we have other reviews about dental care in the city. For example, we've compiled our picks for the best endodontists in Winnipeg, so do check it out if you're due for a root canal.