The 5 Best Office Chairs in Winnipeg
If you work in an office all day, you're probably familiar with the aches and pains associated with sitting for too long. Back pain, neck strain, and leg fatigue are among the common problems office workers experience, hampering their productivity and getting in the way of their work.
Getting the best office chair in Winnipeg is critical to your productivity and pain-free working experience. Here, we round up the most comfortable, supportive, and ergonomic chairs available in the metro so you can find the right addition to your office.
The Best Office Chairs in Winnipeg
We assessed the chairs on this list based on the following criteria: 
1. Herman Miller Embody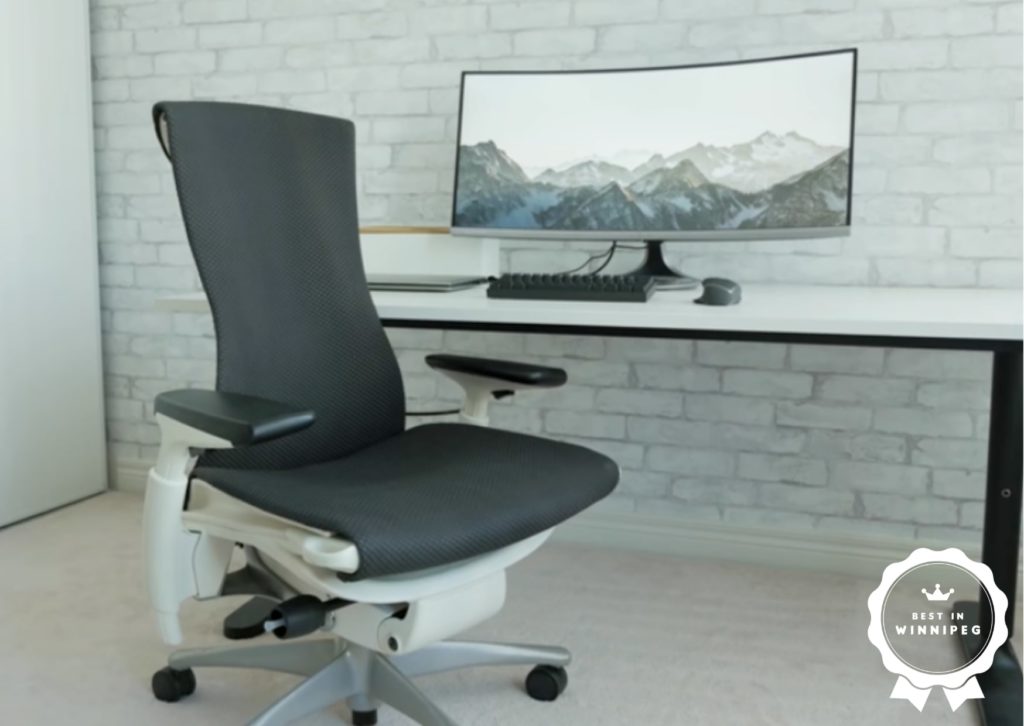 | | |
| --- | --- |
| DIMENSIONS | 28x 27 x 38.25 in. |
| WEIGHT | 51 lb. |
| MATERIAL | Polyester fabric |
| PRICE | $2,871 |
| WHERE TO BUY | |
| | |
| --- | --- |
| Comfort | ★★★★★ (5/5) |
| Support | ★★★★★ (5/5) |
| Adjustability | ★★★★☆ (4/5) |
| Design | ★★★★★ (5/5) |
Herman Miller is one of the most reputable manufacturers of ergonomic office chairs. Its Embody model is a cult favourite, thanks to its ability to provide comfort even after ten full hours of sitting.
Its main selling point is its upholstered seat, which is soft enough to provide long-lasting comfort but also supportive enough to prevent lower back pain. The seat cushion is complemented by a backrest with lumbar support and adjustable curvature.
While you will be able to adjust the Embody's curvature, reclining tilt limiters, seat height and depth, and armrests, we're quite disappointed that it doesn't support height adjustability on its backrest.
That means taller users may have some problems taking advantage of this chair's lumbar support.
Nevertheless, you can still optimise the chair to become more ergonomic by setting the seat height, recline, and armrest positioning to your preference.
But before you can enjoy the comfort and support that the Embody can provide, you need to get through an hour or two assembling it. We think that Herman Miller could improve its quality control, as we did spot some deformed threads during assembly.
With everything that the Embody office chair has to offer, it's expected that it's priced a little higher than other lower-end counterparts. But we think its price is a little steep at over $2,800. 
Superior comfort when fully adjusted
Provides lumbar support 
Adjustable parts 
Backrest is not adjustable 
Difficult assembly
Steep price point 
Customer Reviews
Worth the price
I paired the embody chair with an ergonomic foot rest and it has been a lifesaver! I am very active and outdoorsy in my time off, but it wasn't enough to counteract sitting at my desk for 50 hours/week. With the embody chair and footrest, my posture has improved and I no longer get stiffness in my back, legs, or neck from a day of work. It's a huge investment for sure but worth every penny if you want to avoid longterm health issues from sedentary work. – Brooklyn D.
Comfortable and supportive
This is the best office chair I have ever sat in so comfortable and supportive. I needed something that was going to be better for my back and this is it for sure! Worth every penny. – Cindy M.
2. Herman Miller Sayl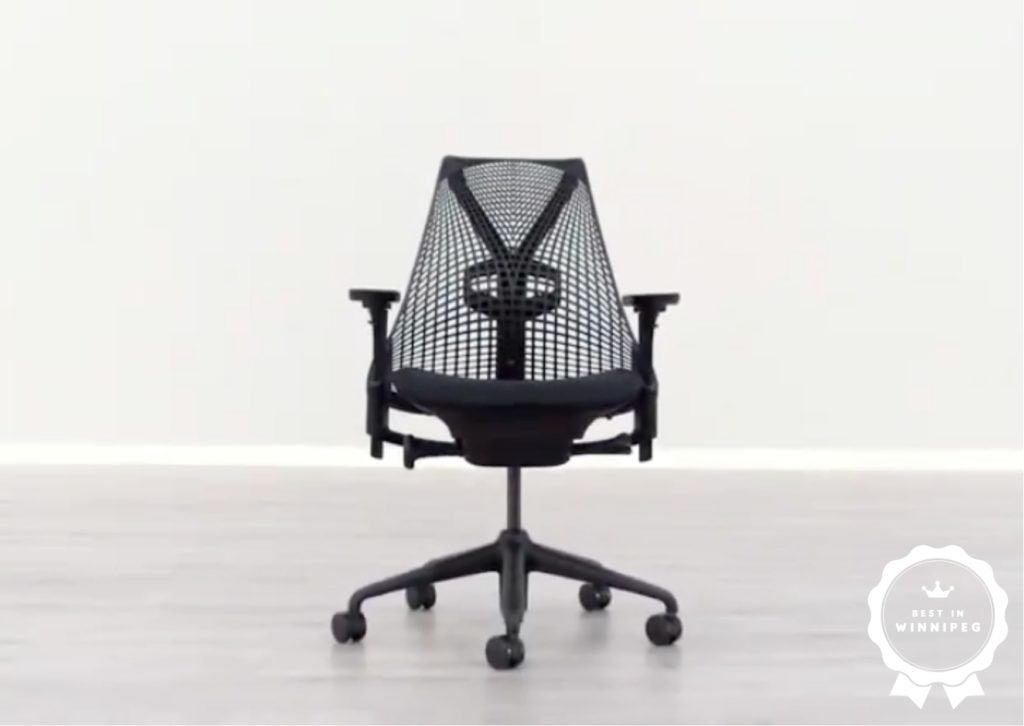 | | |
| --- | --- |
| DIMENSIONS | 26 x 24.5 x 37 in. |
| WEIGHT | 38 lb. |
| MATERIAL | Recycled polyester |
| PRICE | $870 |
| WHERE TO BUY | |
| | |
| --- | --- |
| Comfort | ★★★★☆ (4/5) |
| Support | ★★★★★ (5/5) |
| Adjustability | ★★★★☆ (4/5) |
| Design | ★★★★★ (5/5) |
Yet another offering from Herman Miller, the Sayl chair makes the list as one of the best office chairs in Winnipeg for its unique design and desirable features.
At first glance, the Sayl ergonomic office chair has a striking appearance that we don't conventionally see, which is what sparks initial interest in the model.
Probing a little deeper, we uncover features that make it a good option, as well as some factors that may or may not be up to our standards.
From appearance alone, you'd think that the Sayl chair does not look cosy because it abandons the usual fabric upholstery for an elastomer back. And that's exactly right — comfort is not the Sayl's strongest suit.
Its backrest is not the tallest we've seen, which makes it short on the upper back support, especially for taller users. Its unconventional rubberized mesh design, although body-hugging, is not exactly the softest and most comfortable especially after sitting for more than four hours.
A category it does well on is adjustability, with lumbar support that can be moved up or down, armrests that can be adjusted in all angles, and a seat that can be tailored in height and depth.
But these adjustable features are not available for all models and come at an extra cost. The base model provides the bare minimum in terms of adjustability — something we're not too happy about.
If you don't mind paying a little extra for better features or you're fine with what the base model has to offer, then the Sayl is a good enough option. It looks good, feels okay, and provides satisfactory lumbar support. 
Unique and striking appearance 
Adjustable parts 
Good lumbar support 
Base model does not offer enough adjustability 
Not very comfortable after four hours of sitting 
Steep price point 
Customer Reviews
Various adjustability features
Love my new chair. Spending lots of time at my desk and this chair has so many adjustments. Very happy with it. – Maye C.
Comfortable and great quality
Perfect choice in the sub-$1000 price range. Distinctive aesthetic, great quality, and very comfortable. Adjustment features are very good too, including the lowest height setting which is perfect for my low table with a drawer. Highly recommend. – Red L.
3. Ikea Markus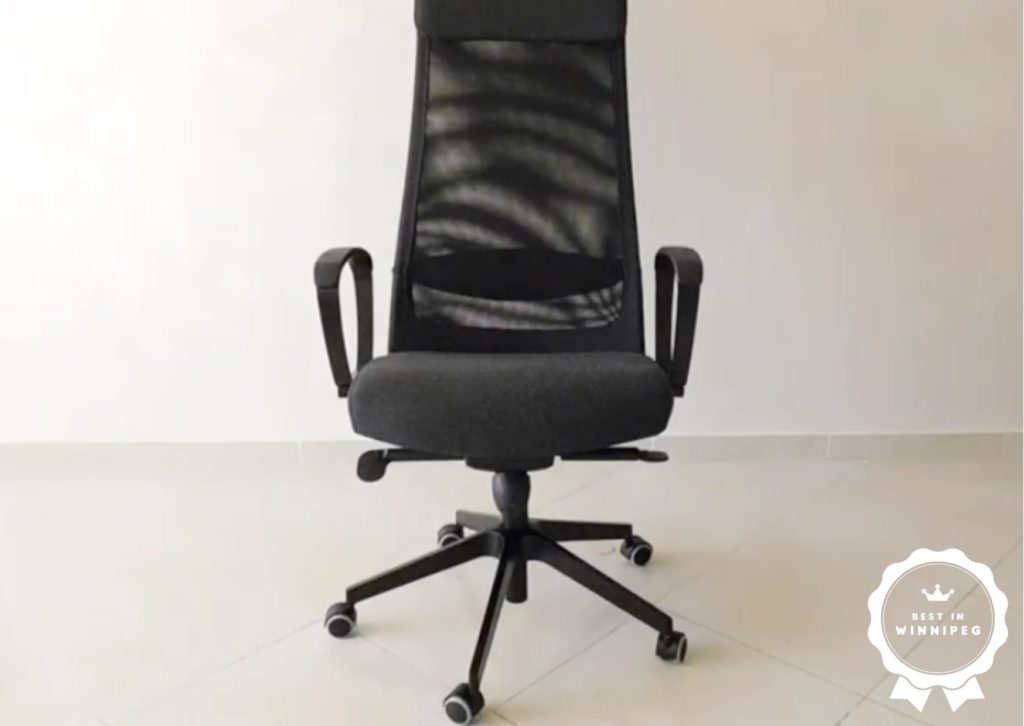 | | |
| --- | --- |
| DIMENSIONS | 24 x 23 x 50 in. |
| WEIGHT | 48.4 lb. |
| MATERIAL | Polyurethane |
| PRICE | $684.49 |
| WHERE TO BUY | |
| | |
| --- | --- |
| Comfort | ★★★★★ (5/5) |
| Support | ★★★★☆ (4/5) |
| Adjustability | ★★★★☆ (4/5) |
| Design | ★★★★★ (5/5) |
Ikea is a go-to manufacturer for all things home and living, but they also have a collection of furniture for office use. Among its lineup of office chairs is the Markus.
This office chair is priced just right for its features, boasting pretty much everything you would expect in an ergonomic chair. Its seat cushion, made of padded leather, is comfortable to sit on for hours and supportive enough to prevent lower back pain.
What we really love about the Markus is its breathable mesh backing. It keeps you cool while working by maintaining proper airflow, so you don't have to worry about a sweaty back during Zoom calls.
The best thing about the backrest is its height. When seated, the backrest reaches all the way up to your head, which eliminates the need for a headrest.
This is a really great feature for tall users, guaranteeing that you have support from your lumbar to your neck while working.
Although the Markus can also be a good option for shorter users, we don't recommend it because of its lack of adjustable features. Aside from height and tilt adjustability, you can't really move and position the backrest, armrest, and seat depth to suit your height and working position.
The backrest's height can also pose problems with the lumbar support. Unless you're 6 feet in height or are sitting upright, the absence of lumbar support adjustability can cause it to feel misplaced. 
Affordable price 
Comfortable padded leather seats 
High backrest that provides full back support 
Not suitable for shorter users 
Lack of adjustable features 
Customer Reviews
Comfortable and has a wide seat depth
It's comfortable and wide enough to fold my legs or at least one. The chair helps keep back straight and the arms rest fit under the desk. Plus the height of back covers hold back plus head. And the legs height adjustment works great. I like my chair. – Gloria
Optimal support for neck and back
I love this chair, it supports my neck and back while I'm working 8 hours in the computer, it looks very nice and it feels comfortable, I highly recommend it. – Lisset
4. Steelcase Series 1
| | |
| --- | --- |
| DIMENSIONS | 23.75 x 27 x 41.25 in. |
| WEIGHT | 29 lb. |
| MATERIAL | Polyester |
| PRICE | $1,104.44 |
| WHERE TO BUY | |
| | |
| --- | --- |
| Comfort | ★★★★☆ (4/5) |
| Support | ★★★★☆ (4/5) |
| Adjustability | ★★★★☆ (4/5) |
| Design | ★★★★★ (5/5) |
We rate the Steelcase Series 1 as a decent ergonomic chair you can get in Winnipeg. At a mid-range price and above-average features, it has the ability to provide support and comfort while working.
Because the Series 1 chair is not a higher-end option, however, you should align your expectations. While it's good enough for mild to moderate use, there are better options in the market if you're one who sits on your office chair for more than 40 hours a week.
We say that because while the chair has good padding, the comfort that cushioning can provide can only last for so long. After a couple of hours, you'll start feeling a bit of discomfort in your lower back and legs.
The Series 1 chair's seats are angled a little too forward to support the legs optimally and the backrest is too short to provide upper back support. It doesn't have as many reclining options either, and from experience, sitting in an upright position for too long will take a toll on your lower back.
While we appreciate the addition of armrests, we wish they had more padding to prevent elbow pain. We ended up having to constantly adjust the armrests to get more comfortable.
We stress that the Series 1 chair is best for moderate use. While it's durable enough to last years, comfort becomes an issue after four hours of sitting on it. 
Durable build 
Affordable price 
Good seat padding 
Limited adjustability 
Lacks padding on armrests 
Seat is angled forward too much 
Customer Reviews
Firm and comfortable seat
It has a nice firm seat that is comfortable and has helped immensely with my hip pain. And while the lumbar support isn't quite as strong as I like, it does give support and I really like the shape of the back of the chair. It feels molded to my back and the mesh is very breathable. – Sheebley
Comfortable and durable
I got the version of this chair (purple) that was much cheaper than other colors and it looks great and is extremely comfortable. My back pain is almost all gone after using this chair for only a couple of weeks. I'm actually buying another one I like it so much. I'm a bigger guy and I feel like I have a decent amount of room even though the chair is fairly compact. Arm rests pop out nicely and are very adjustable and are made from durable but soft material. Do yourself a favor and get this chair. – BooZeR
5. Staples Hyken Technical Mesh Task Chair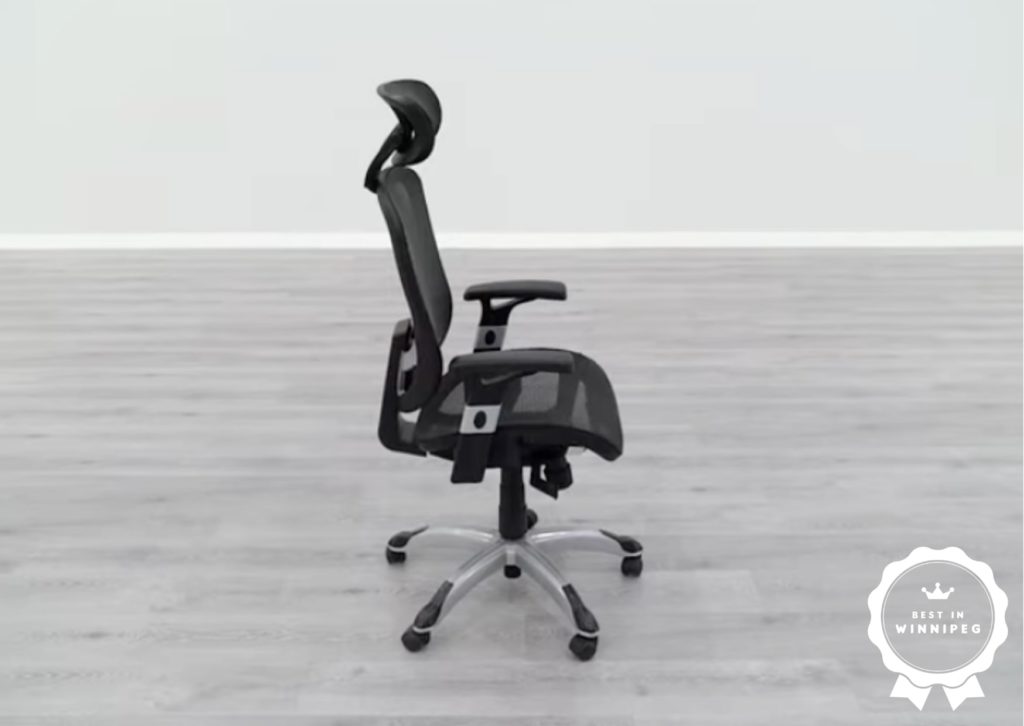 | | |
| --- | --- |
| DIMENSIONS | 27 x 24 x 46 in. |
| WEIGHT | 28.2 lb. |
| MATERIAL | Mesh |
| PRICE | $487.74 |
| WHERE TO BUY | |
| | |
| --- | --- |
| Comfort | ★★★★☆ (4/5) |
| Support | ★★★★☆ (4/5) |
| Adjustability | ★★★★☆ (4/5) |
| Design | ★★★★☆ (5/5) |
If you're looking for a more basic and affordable chair in Winnipeg, the Staples Hyken Chair is a good option. It looks like a regular office chair but has a chock full of ergonomic features that make working on a desk more comfortable.
Despite its rather compact build, it has a sizable frame and wide seat that can accommodate users of any height and stature. It has no shortage of adjustability features, allowing you to optimise the chair to fit your body.
We like that the Hyken chair doesn't only allow you to adjust its tilt and height, but also gives you the freedom to set the position of the armrests and seamlessly recline the chair when you need to take a break.
We will say, however, that the armrests are rather uncomfortable. The padding is made of basic foam, which has the tendency to flatten over time.
We also think that the lumbar support could be better. The lower back brace is a little too hard to comfortably lean on, which makes it prone to causing the exact sort of pain it should be trying to prevent.
While you can remedy that by purchasing a separate lumbar support cushion, this kind of defeats the purpose of buying an ergonomic chair in the first place.
Its drawbacks aside, the Hyken chair is still a good option for day-to-day use. But if comfort and support are big factors for you and you're willing to splurge a little more, there are plenty of better chairs in Winnipeg you can choose from. 
Affordable price 
Plenty of adjustable features 
Wide seat 
Padding can be better 
Hard lumbar support brace 
Requires separate accessories to be more comfortable 
Customer Reviews
Breathable and cooling
This chair keeps me cool with all the air holes in it. I'm having hot flashes and love this chair. I'm short and it fits me great. – Peggy S.
Comfortable and adjustable
I love this chair. Not only is it comfortable, but it is also utilitarian. The adjustable headrest and lumbar support are just what I needed. – Louis F.
FAQs about Office Chairs
---
If you're finding yourself unmotivated to work, a change of scenery might help. Consider working in a coffee shop or coworking space in Winnipeg for a change of environment that can boost your productivity.