7 Best Wedding Photographers in Winnipeg
When one of the biggest days of your life is getting nearer, it's just a matter of time to start deciding who the best person for the job is to capture the most awaited precious moments.
It's important to find someone who will not only take photos on and before your wedding day but mainly capture your love and memories while creating a story through photographs.
That's why we give you the best wedding photographers in Winnipeg who have acquired perfect ratings all over the internet because of their skills, talents, and dedication to ensuring that your big day is beautifully kept and treasured.
How much do wedding photographers cost in Winnipeg?
Wedding photography services usually come in packages; however, they depend on the inclusions and the photographer's rates. It can start from $1000, while some high-end pre-wedding shots can cost up to $25,000, including the travel, venues, and setups.
However, in this table, we only broke down some of the common services that most wedding photographers provide to give you an idea of how much to prepare before picking up the phone and starting a consultation.
| Types of Service | Range of Cost |
| --- | --- |
| Wedding Photography | $2000 – $8000 |
| Wedding Videography | $3000 – $9000 |
| Engagement Photography | $500 – $1500 |
| Couples Session | $300 – $2000 |
| Elopement Photography | $4000 – $10,000 |
| Photo & Video Editing | $100 – $500 |
| Consultations & Planning Assistance | $1000 – $2000 |
| Wedding Albums | $50 – $1000 |
Best Wedding Photographers in Winnipeg
Planning a wedding is no joke. It can be extremely overwhelming and stressful, especially if you are not working with the right people.
So, to make sure that we could at least cover the best people to work with in the photography department, we aligned our reviews to the criteria below:
It's time to get to know the photographers that will one day capture the greatest memories on your wedding day!
1. Winnipeg Wedding Photographers Collective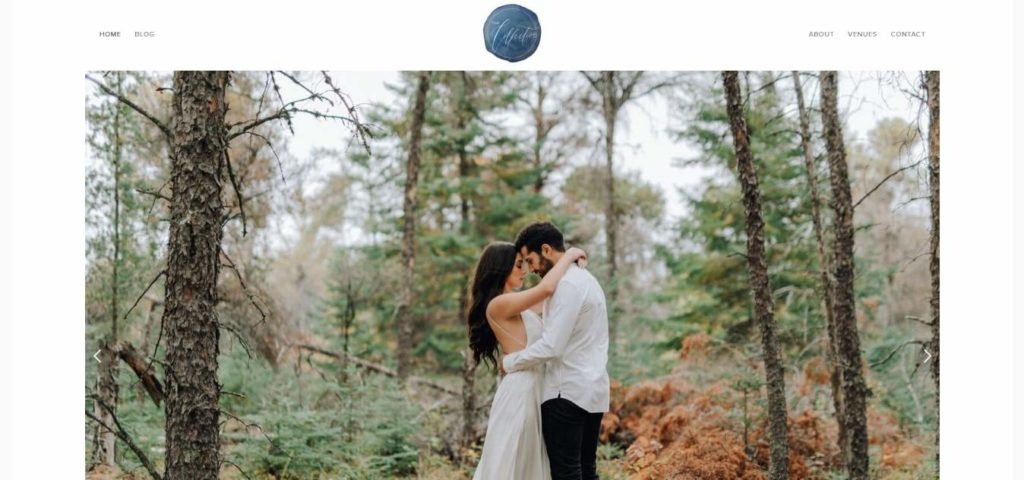 SERVICES
Wedding & Engagement Photography, Headshots & Portraits, Individual Photography, Maternity & Newborn Photography, Styled Shoot, Photo & Video Editing, Videography
WEBSITE
https://www.wpgwpc.com
CONTACT DETAILS
Phone: +1 (204) 899-6904

Email: [email protected]

OPERATING HOURS
Monday to Friday: 9:00 AM – 7:00 PM

Saturday: 9:00 AM – 10:00 PM

Sunday: 12:00 AM – 7:00 PM
| | |
| --- | --- |
| Criteria | Ratings |
| Quality of portfolio | ★★★★★ (5/5) |
| Personality | ★★★★★ (5/5) |
| Professionalism | ★★★★★ (5/5) |
| Affordability | ★★★★★ (5/5) |
In 50 years, the only things that will completely remind you of your wedding day are the photographs. Investing in a wedding photographer that will capture every moment of this precious event is one of the best decisions that you'll ever make.
Established in 2014, The Collective is a group of highly experienced wedding photographers and videographers based in Winnipeg.
They take pride in their work, which is evident in their high-quality portfolios. Even though each photographer has their own unique touch, the editing and shooting style remains consistent and top-notch.
During photoshoots, they go out of their way to take the best photos, even if they have to climb trees to do so. We truly admire their dedication and enthusiasm, which are reflected in the quality of their outputs.
Plus, rest assured that you won't have to wait for a long time for the results because they have a quick turnaround time for both photos and videos. We actually found out that their video turnaround time is among the fastest in Canada!
Aside from their expertise, the photographers are also extremely friendly and easy-going, which makes the whole experience more fun and comfortable for everyone.
Moreover, their professionalism makes them so easy to work with. They make an effort to get to know each client, offer helpful suggestions, and take their ideas into consideration.
The photographers are punctual and willing to adjust to any changes to ensure that their clients will have a worry-free experience.
What's even better, they offer affordable services without compromising the quality and artistry. They also offer discounts, and they don't charge travel fees for any location within 2 hours away from Winnipeg.
However, the only thing that we noticed is that their website has limited information about their packages. This can be a bit time-consuming since you have to contact them first and wait for their response if you have any inquiries.
Also, there's a payment of $1000 required to secure your booking, so make sure to have enough money before scheduling with them.
Most of all, since The Collective is a well-known team of wedding photographers in Winnipeg, their slots get easily filled. Not that you have to worry that much because they have multiple photographers that can accommodate you right away.
Nonetheless, we still highly encourage you to book in advance just in case.
High-quality portfolios
Friendly and easy-going
Extremely professional
Willing to adjust to any changes
Quick turnaround time
No travel fee for nearby locations
Multiple photographers and videographers
Offers discounts
Fair prices
Limited website information
Payment required to secure booking
Slots get easily filled
Customer Reviews
Exceeded our expectations in all aspects
"Peggy exceeded our expectations in all aspects; with our engagement photos, her communication leading up to the day, her adaptability and commitment the day of, and finally, with the wedding photos she delivered to us! From the moment we met her we knew she would make us feel comfortable in front of the camera and would capture our day perfectly. In addition to getting tons of photos of us, she got SO many beautiful candid shots of our guests which was important to us. Cheryl was her second shooter for our wedding and they made an amazing team and worked so hard to make the day fun and get so many wonderful photos. We would definitely recommend booking Peggy as your photographer!" — Cassie
Photos are truly breathtaking
"AMAZING! is really the only word i can summarize our experience with Tony. just amazing. from engagement photos, to the wedding day. everything fell so flawlessly. the most down to earth guy, whom really captures the vibe of your big day (or really any occasion) Tony, our photos are truly breathtaking, thank you from the bottom of our hearts, for your time, your attention to detail, and the most stunning photos we could ask for." — Kailee Tougas-Pope
2. Caitlyn Louisa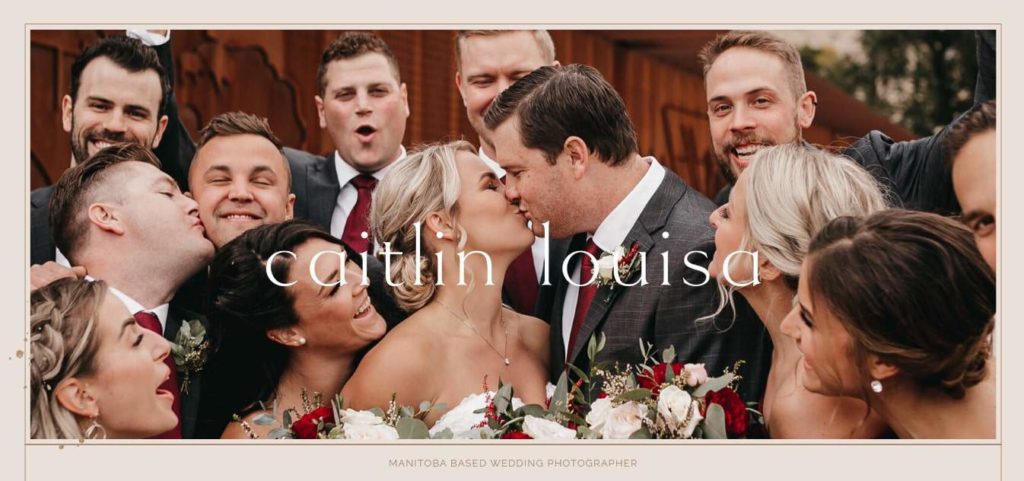 | | |
| --- | --- |
| SERVICES | Commercial Photography, Family & Group Session, Individual Photography, Portrait Photography, Wedding & Engagement Photography, Couple Photography, Couples Session, Elopement Photography, Intimate Weddings |
| WEBSITE | https://caitlinlouisa.com/ |
| ADDRESS | 30 El Tassi Dr, Winnipeg, MB R3W 0N8, Canada |
| CONTACT DETAILS | Phone: https://caitlinlouisa.com/ |
| OPERATING HOURS | Monday to Thursday: 9:00 AM – 2:00 PM |
| | |
| --- | --- |
| Criteria | Ratings |
| Quality of portfolio | ★★★★★ (5/5) |
| Personality | ★★★★★ (5/5) |
| Professionalism | ★★★★★ (5/5) |
| Affordability | ★★★★★ (5/5) |
Caitlin Louisa is an outdoor enthusiast, a dog-lover, and a full-time photographer who's passionate about taking photos of breath-taking, candid moments through the lens of her camera.
She has an eye for capturing beautiful and authentic moments between couples, and it's shown on her portfolio how she can pull at your heartstrings. We can say that the photos definitely speak for themselves.
She's flexible and adept at doing different kinds of styles, which we honestly think is one of the most important qualities that you should look for in a photographer.
Aside from her exceptional talent, Caitlin's warm and lovely personality is also one of the reasons she's the clients' go-to photographer at every event.
We learned from some of her loyal clients that "she makes the most awkward of humans look like pros in her photos" thanks to her dedication and enthusiasm during photoshoots.
She always makes sure that the clients feel comfortable and natural in front of the camera by constantly giving support and boosting their confidence.
Moreover, she's extremely professional and organized in managing her business despite doing everything all by herself.
She's quick to respond to emails, provides a guide on what to expect, and even gives out a questionnaire to get to know the clients better.
And of course, the quality of photos and services are definitely worth every penny, especially with Caitlin's reasonable prices.
Just a few reminders: keep in mind that this is a one-woman business. Hence, office hours are limited, and she may not be available at certain times, especially if there are a lot of clients.
However, she tries her best to respond to inquiries within 24 hours as much as possible, so some patience and understanding may be required.
Flexible styles
Extremely professional
Very responsive
Provides a guide of what to expect
Builds a good relationship with clients
Has great personality
Fair prices
Customer Reviews
Incredible photographer
"Caitlin is the MOST incredible photographer & human! So honored to have her capturing our life in photos! From our engagement/maternity photos, making me feel like the most beautiful mamma to be, capturing our little man & furbaby! Making us laugh & feel so comfortable getting our photos taken! She will make you feel so great about yourself, especially when you awkward dance for her💃" — Alycia Dettman
Felt like a friend
"Caitlin was absolutely incredible! My fiancé and I had never taken professional photos after 9 years of being together. We were a little nervous at first but after the first few minutes of being with Caitlin we were completely at ease. She captured our love perfectly and had us laughing the whole time. She truly felt like a friend, we can't recommend her enough! The entire experience from the photo session, to sneak peeks, to looking at the gallery was phenomenal!" — Shae Lynne Klym
3. Cojo Photo Wedding Photography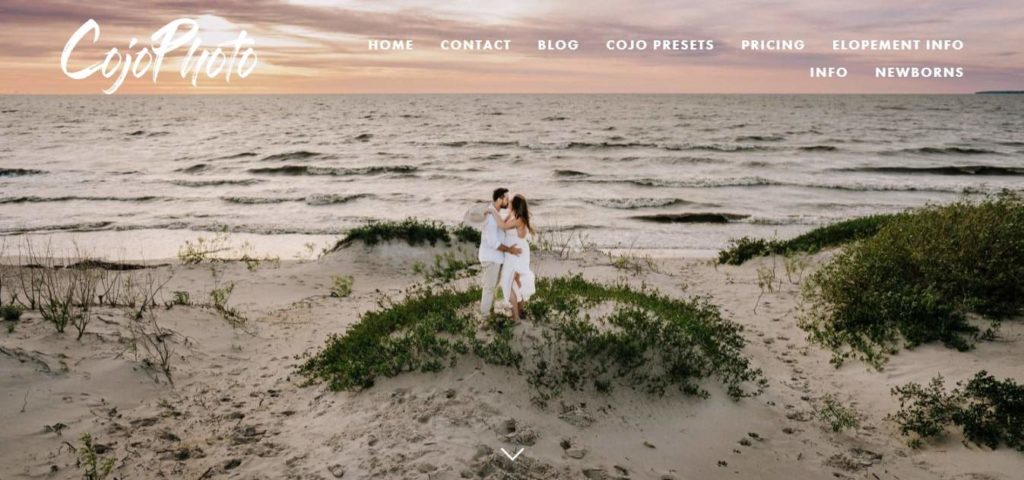 | | |
| --- | --- |
| SERVICES | Wedding Photography, Consultations & Planning Assistance, Fully Edited & Full Resolution Photos, Custom Online Gallery, Engagement Shoot, Custom Slide Shows, Albums, Newborn Photography, Elopement Photography Services |
| WEBSITE | https://www.cojophoto.com/ |
| ADDRESS | 198 Audette Dr, Winnipeg, MB R2C 5E6, Canada |
| CONTACT DETAILS | Email: [email protected] |
| OPERATING HOURS | Daily: 9:00 AM – 9:00 PM |
| | |
| --- | --- |
| Criteria | Ratings |
| Quality of portfolio | ★★★★★ (5/5) |
| Personality | ★★★★★ (5/5) |
| Professionalism | ★★★★★ (5/5) |
| Affordability | ★★★★☆ (4/5) |
Looking for a wedding photographer that you can fully relate to or even ask for advice about married life? Then Cojo photo is exactly what you're looking for!
The company is a wedding photography team consisting of Amanda and Corey, who have been married for almost 10 years.
Their portfolio is a rich collection of solemn photos with stunning sceneries, which only proves how much they love traveling for photoshoots.
Plus, the editing is top-notch, especially with their signature pre-sets that are also available for purchase.
They go above and beyond to provide the clients with photos of the highest quality. What's more, they can give you fully edited and high-resolution outputs in just a few days or weeks.
Photoshoots are always a fun experience with this couple because they are very friendly, professional, and easy to work with. They will guide you all throughout, so there's no need to worry even if you have no idea how to pose.
We love how they are absolutely open to adventures, and they even have a "bucket list" of countries that they are willing to travel to for the sake of capturing the most striking photos.
Moreover, working with them is a stress-free experience because they communicate well with the clients. They are quick to respond to questions, and they take the time to consider the clients' preferences and ideas.
What we truly admire about them is that they strongly believe in "community over competition" That's why they also offer one-on-one mentor sessions for their fellow photographers who aspire to learn and improve their craft.
So, if you were suddenly inspired to learn photography after seeing how Amanda and Corey work, then you might want to sign up for their mentor sessions.
Just a few things to consider:
There's no initial price list provided on the website, so you'll have to contact them first if you want to find out their rates. This can be quite a hassle, especially for those who don't have spare time for inquiries.
Moreover, getting in touch with them can be a bit difficult since they don't have a contact number provided, and you'll need to have access to the internet if you want to send inquiries through email or their website's contact form.
But the good thing is they quickly respond to emails and if you provide them with your contact number, they will send you a text message as soon as possible.
Top-notch editing and portfolio
Willing to travel outside the country
Highly professional
Friendly and easy-going
Patient with client inquiries
Very responsive
Pre-sets available for purchase
Quick turnaround time
Offers mentor sessions
No available contact numbers
No initial price list provided
Customer Reviews
Professional, fun, friendly, and truly an artist
"We were so blessed to have Cory as our photographer for our wedding and engagement photos! There is an endless amount of wonderful things I could say about working with him. Cory is professional, fun, friendly and truly an artist with an eye for capturing precious moments that you will treasure forever. We were blown away with the photo gallery we received and will definitely be using COJO Photo in the future! I would 1000% recommend him EVERY TIME! He's the best in the biz!!" — Whitney Olinyk
Responds to emails very quickly
"Corey and Amanda were absolutely AMAZING to work with! The photos are gorgeous! Corey always responds to emails very quickly and got my engagement and wedding photos back to me within two weeks! This is something that can't be said about many photographers. Corey and Amanda were also extremely easy to work with and many of my wedding guests commented on how much they enjoyed him! You can tell that they truly love what they do! I will definitely be using this photography company again!" — Teagan Pasichnyk
4. Chris Jensen Studios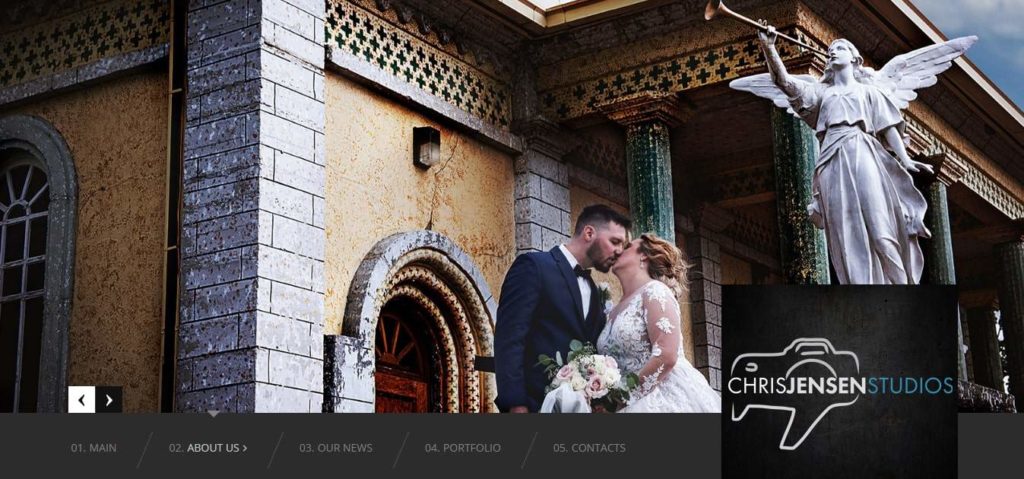 SERVICES
Wedding & Engagement Photography, Canvas, Metal Panels, Wedding Albums, Acrylics, Amalfi Panel, Bar Mitzvahs Photography, High School Senior Photography, Corporate Photography, Fashion Photography
WEBSITE
http://www.chrisjensenstudios.com/
ADDRESS
Winnipeg, MB R2J 3Z4, Canada
CONTACT DETAILS
Phone: +1 (204) 990-7395

Email: [email protected]

OPERATING HOURS
Open 24 hours
| | |
| --- | --- |
| Criteria | Ratings |
| Quality of portfolio | ★★★★★ (5/5) |
| Personality | ★★★★★ (5/5) |
| Professionalism | ★★★★☆ (4/5) |
| Affordability | ★★★★★ (5/5) |
Chris Jensen is a multi-award-winning wedding photographer that has been capturing timeless photos since 2011. His work has been featured in various publications, such as magazines and major wedding blogs.
We find his portfolio extremely impressive as it showcases various styles and unique editing that really demonstrates his creativity and expertise.
According to some clients, he absolutely exceeded their expectations because aside from the high-quality photos, he can also perfectly carry out all their editing requests.
Most importantly, you can get your hands on fully edited and high-resolution photos a few weeks after the event, which is definitely a huge plus.
But these are not the only things that make him such a good wedding photographer.
Chris' friendly and easy-going personality makes the people around him feel comfortable. He can fit in perfectly with the other guests during weddings and that's what we love most about him.
Moreover, he gives helpful suggestions and considers the clients' ideas and unique personalities to make them look more natural in front of the camera.
We were actually impressed by his versatility when we found out that he also helps in wedding planning and coordination.
He's completely hands-on during the events and he's willing to stay until 1 AM just to get full coverage of the day.
We also appreciate the fact that he's so easy to work with because he's very responsive and on-call 24/7.
What's even better, you can get these services for budget-friendly prices. There are also special discounts if you're getting married at a local venue where he's a preferred vendor.
However, the only thing that we noticed is he gives generic responses to client reviews, which make it seem like they only had little connection.
We honestly think that he should give more personalized replies to online reviews to show his meaningful experiences as well as genuine concern for clients.
Lastly, Chris Jensen Studios is highly in-demand, so we suggest that you make an early booking in case the slots run out.
Extensive portfolio
Top-notch editing skills
Flexible styles
Very responsive
Listens to the clients' ideas
Extremely professional
Friendly and easy-going
Helps in wedding planning/coordination
Quick turnaround time
Full-day coverage
Long open hours
Budget-friendly
Generic replies on online reviews
Slots get easily filled
Customer Reviews
Truly amazing
"I don't think I could leave a higher review for Chris and his team! They helped take our whole day of wedding photos and helped with our wedding when there was a issue that had nothing to do with photography! This team is truly amazing and I cannot rate them higher! Thank you so much for making our day amazing." — MediKitten
Extremely professional and accommodating
"We couldn't have been happier that we chose Chris as our wedding photographer! He was a pleasure to be around, was extremely professional and was extremely accommodating when plans changed at the last minute. Most of all his incredible pictures speak for themselves! We would highly recommend Chris for your next set of photos." — Mark Misir
5. Marissa Naylor Photography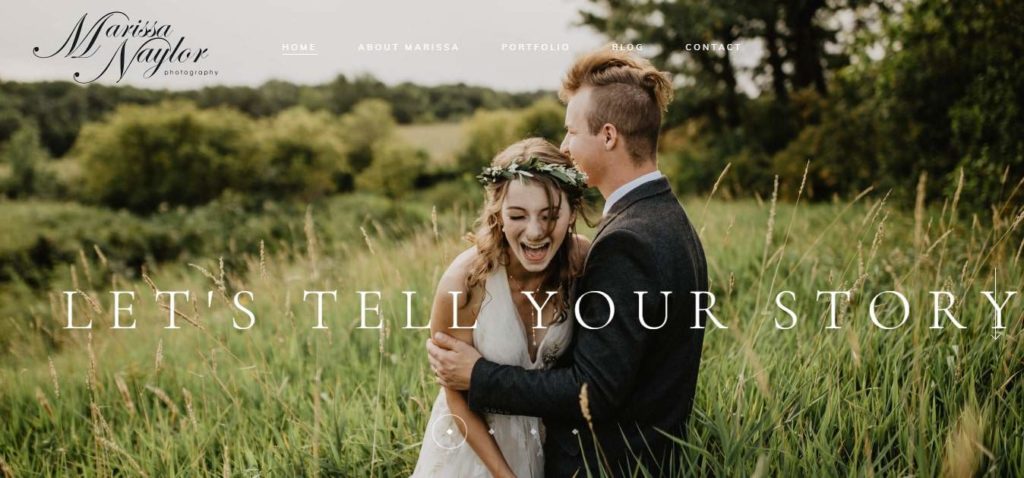 SERVICES
Wedding Photography, Couples Photography, Family & Group Photography, Pre-wedding Photo Shoots, Wedding Ceremony Photography, Couples Session, Family Session, Lifestyle Portrait & Session, Wedding Consultations
WEBSITE
https://marissanaylorphoto.ca/
ADDRESS
Winnipeg, MB R2V 3X3, Canada
CONTACT DETAILS
Phone: +1 (204) 470-8058

Email: [email protected]

OPERATING HOURS
Monday to Friday: 9:00 AM – 7:00 PM

Saturday & Sunday: 10:00 AM – 6:00 PM
| | |
| --- | --- |
| Criteria | Ratings |
| Quality of portfolio | ★★★★★ (5/5) |
| Personality | ★★★★★ (5/5) |
| Professionalism | ★★★★★ (5/5) |
| Affordability | ★★★★☆ (4/5) |
Of course, this list will not be complete without the most loved Marissa Naylor Photography.
Throughout the years, Marissa was able to build a reputation as both an extremely talented photographer and a great friend to all her clients.
We truly love how she makes an effort to get to know her clients and build lasting relationships with them.
She's known for her bubbly and outgoing personality, which puts even the most anxious person at ease. She has the ability to create a safe environment that will make the clients feel comfortable being their natural selves.
We also appreciate how supportive she is during photoshoots. She will guide you all throughout, give directions, and suggest unique poses to make the photos more memorable.
Plus, she's always open to new ideas and locations, which makes her such a flexible wedding photographer.
Above all, she's incredibly talented in her craft and she can capture strikingly beautiful photos that highlight the uniqueness of each couple.
Her portfolio is a lovely collection of photos that truly shows the delight of each couple. We also adore their elegant simplicity and how they can capture stunning photos even in the simplest locations.
You can clearly see how natural and comfortable the couples look in front of the camera and it says a lot about the person behind it.
And of course, working with her will surely be a fun and smooth experience because she's professional and communicative.
She takes the time to answer every question, provides previews, and delivers the results as soon as possible. Moreover, she's flexible to changes and extremely considerate when it comes to the client's requests.
However, the inconvenience that we noticed is the need to contact her directly if you want to find out the prices and details of her packages since they are not included on her website.
High-quality portfolio
Builds lasting relationships with clients
Flexible to changes
Highly professional
Very responsive
Extremely considerate
Prompt service
Bubbly and outgoing
Patient in answering inquiries
Customer Reviews
Wonderful to work with
"Marissa was wonderful to work with! She made us look like models even when we didn't necessarily know how to be in front of the camera. Her 'poses' made us look natural. She was wonderful to work with pre-wedding and post-wedding, her communication was wonderful. I loved how she was able to sit down with me and help me nail down a schedule for the day. She gave us BEAUTIFUL photos and we couldn't be more happy!" — Janelle Hildebrand
Kind-hearted
"We are so happy we chose to work with Marisa for our engagement and wedding photos. She is so kind hearted, takes a genuine interest her clients and did a fantastic job making us feel comfortable. So many of our wedding guests assumed we knew her personally as she truly wants to make a connection with her clients and cares so deeply about each of them. We received our photos back in such a timely manner (received a sneak peek of our wedding photos the night of) and we couldn't be happier with the results. The photos are incredibly good quality and her photography style was exactly what we were looking for. Not only is she a good photographer but she is an amazing human, we would recommend her 1000 times over." — Breanne Lachance
6. Tiara Nicole Photography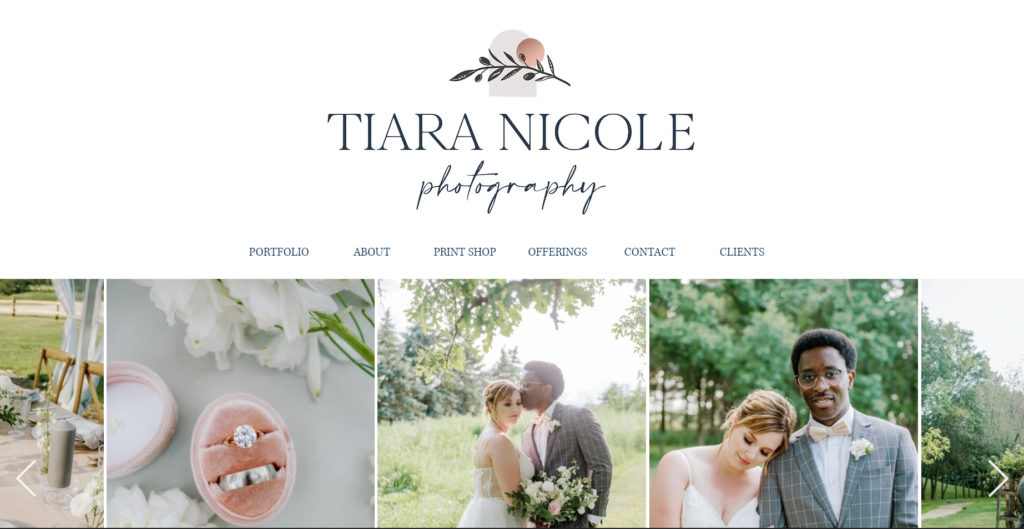 | | |
| --- | --- |
| Criteria | Ratings |
| Quality of portfolio | ★★★★☆ (4/5) |
| Personality | ★★★★★ (5/5) |
| Professionalism | ★★★★★ (5/5) |
| Affordability | ★★★★☆ (4/5) |
Tiara Nicole of Tiara Nicole Photography has a long history with photography, beginning in her teenage years. Over time, she has honed her skills and crafted a unique photographic style that captures couples' best moments while giving them natural, flattering shots.
Her attention to detail ensures each shot is perfect and she has an eye for capturing the most special, intimate moments between loved ones.
She takes a creative approach to wedding photography, shooting from the perfect angle and capturing the beauty of each wedding scene. She can also make suggestions for poses that will look amazing in photos, ensuring her clients get exactly what they want.
Tiara Nicole is an excellent wedding photographer for couples looking for both natural beauty and creativity in their wedding photos. Her skill set ensures that every picture taken is timeless and beautiful, as well as meaningful to those involved. With Tiara Nicole Photography, couples can rest assured that their wedding memories will be preserved perfectly!
Available for worldwide travel
Comfortable and enjoyable photography experience
Canvases, albums, and prints available
Takes a limited number of weddings per year
7. 47 Filmworks
| | |
| --- | --- |
| Criteria | Ratings |
| Quality of portfolio | ★★★★☆ (4/5) |
| Personality | ★★★★★ (5/5) |
| Professionalism | ★★★★★ (5/5) |
| Affordability | ★★★★★ (5/5) |
If you're looking for reliable videography and photography services, consider consulting with 47 Filmworks.
47 Filmworks offers freelance services, with the team earning a reputation for their commitment to their craft as well as customer service.
Many of their previous clients have praised 47 Filmworks for their extensive videography and photography services, unique approach, and attention to detail. They have also proven their knowledge in the industry, consistently delivering high-quality results.
Some have even commended them with how easy they were to work with, always taking into consideration their client's needs and preferences when it comes to the output they're looking for. However, 47 Filmworks also doesn't forget to provide their professional opinions and recommendations.
With 47 Filmworks, you can be sure that your project is being handled by experts who understand what it takes to capture stunning visuals in all sorts of environments.
Note, however, that they're a relatively small team. This means it may be hard to book them during peak seasons
Regardless, 47 Filmworks is an excellent option when it comes to the top photographers in Winnipeg. They have earned their reputation through quality results and customer satisfaction, so you can trust them with your next project.
Many years of experience

Skilled team of creatives

Collaborative approach to their work
Hard to book during peak seasons
FAQs about Wedding Photographers in Winnipeg
---
Though all these photographers are proven to provide top-notch services, we hope that we're still able to help narrow down your choices.
If you're still in need of some help in your wedding's food department, then check out our list of the best catering services in Winnipeg.
We wish you well on this new chapter of your life and hope that your wedding day turns out as perfectly as you deserve!
---