4 Best Urologists in Winnipeg
Urologists specialize in urinary tract illnesses and the male reproductive system. You should see one if you need any treatment for your bladder, urethra, kidneys, and adrenal glands.
If you're looking for clinics with the best urologists in Winnipeg, we got you covered. These urologists are among the best options for diagnosis and treatment.
However, before we delve into our list, let's discuss what you should consider when finding a good urologist and the average cost of this service in Winnipeg.
Here are the average costs of services offered by urologists in Winnipeg.
| Procedure | Cost |
| --- | --- |
| Urological Diagnostic Procedure | $250-$300 |
| Ultrasound-guided Injections | $150-$450 |
| Kidney Stone Removal | $4,500-$12,500 |
The Top Urologists in Winnipeg
To find the best urologists in Winnipeg, we have rated our top picks using comprehensive criteria. Here are the factors we considered:
Now, here's a list of Winnipeg's top urologists.
1. Assiniboine Medical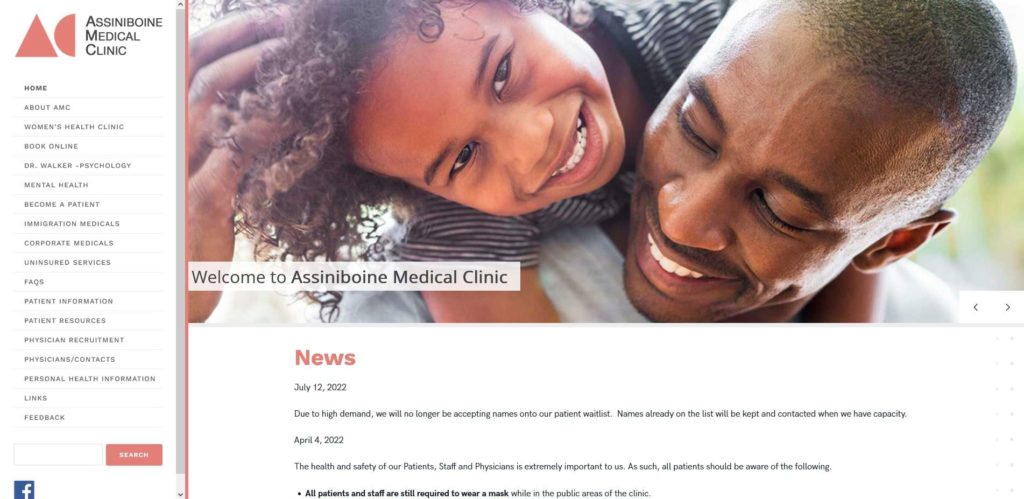 SERVICES

Urology

Surgery

Physical Exams

Routine Health Care

Immunizations

WEBSITE
https://www.assiniboineclinic.com/
ADDRESS
633 Lodge Ave, Winnipeg, MB R3J 0S9, Canada
CONTACT DETAILS
Phone: +1 204-958-6700
OPERATING HOURS

Monday - Thursday: 8AM–5:30PM

Friday: 8AM–1PM

Saturday - Sunday: 8–11AM
| | |
| --- | --- |
| Criteria | Rating |
| Expertise | ★★★★★(5/5) |
| Cost | ★★★★★(5/5) |
| Testing and treatment offered | ★★★★★(5/5) |
| Convenience | ★★★★☆(4/5) |
The Assiniboine Medical Clinic has been a family physician-based and owned clinic in Winnipeg since 1996. It is conveniently located adjacent to Grace Hospital, an operating division of the Winnipeg Regional Health Authority (WHRA).
This clinic is also one of the leaders in innovation by operating computerized medical records as early as 2001. Aside from that, the patient's laboratory results are directly integrated into its computerized medical records, making them easier to access.
On top of its innovation, this clinic also has a sizable team of physicians consisting of general practitioners, general surgeons, urologists, and other specialists. Currently, it has four assigned urologists that you can contact.
Moreover, this clinic has other services, including X-Ray, EKG, laboratory, pharmacy, and physiotherapy. There are also comprehensive services focused on women's health and mental health that you can choose from.
From what we've seen, the Assiniboine Medical Clinic offers its services to patients quickly and conveniently. For instance, it has a walk-in clinic that patients can access without booking.
It also opens daily, essential for patient care, especially for emergencies. Unfortunately, there are no available routine check-ups for walk-in patients.
You have to schedule an appointment beforehand, which can be inconvenient for several patients.
Wide range of medical services
Opens everyday
Has a walk-in clinic
Offers online booking
Provides access to numerous health services
No routine check-ups for walk-ins
No cafeteria services
Customer Reviews
Excellent service
"The doctor I talked to was exceptionally polite, helpful, and gave me great information. Service was fast and hours were very accessible. Would highly recommend this clinic." – K Thom, Google Reviews
Professional staff
"Went on Saturday morning, we didnt have to wait at all. The receptionist showed us right to the room and the Dr. Was in within mins. Very nice Dr." – Hayley Smith, Google Reviews
2. Men's Health Clinic Manitoba

SERVICES

Shockwave therapy

Fertility + family planning

Sexual dysfunction

Cancer care

Voiding dysfunction

Hormonal replacement

Ultrasound services

WEBSITE
https://www.mhclinic.ca/shockwave-therapy
ADDRESS
343 Tache Ave, Winnipeg, MB R2H 2A5, Canada
CONTACT DETAILS
Phone: +1 204-925-9780
OPERATING HOURS

Monday - Friday: 7:30AM–5PM

Saturday - Sunday: Closed
| | |
| --- | --- |
| Criteria | Rating |
| Expertise | ★★★★★(5/5) |
| Cost | ★★★★★(5/5) |
| Testing and treatment offered | ★★★★★(5/5) |
| Convenience | ★★★★☆(4/5) |
If you're looking for a clinic offering shockwave therapy, then you should consult Men's Health Clinic Manitoba.
It is the first specialty-run clinic in Canada with expertise in men's sexual health. It offers various treatments for men's health issues, from infertility to prostate cancer management.
Dr. Patel and Dr. Nayak, the sub-specialists in the clinic's men's health, are Assistant Professors in the Department of Surgery at the University of Manitoba.
They have also completed training in urologic surgery and additional fellowship training to sub-specialize in a wide range of men's health issues. So, you're assured that experts and specialists will attend to you when you visit this clinic.
Dr. Patel is also Manitoba's sole male infertility and sexual medicine specialist. He has a background in male cosmetic urology and genital refinement surgery.
On the other hand, Dr. Nayak is an expert in male urologic cancer and other men's health issues.
Furthermore, Men's Health Clinic Manitoba has also been working to offer specialist-level care for its patients through its hybrid model of virtual and in-person appointments. Both options for patients provide more accessibility, which is crucial in healthcare.
Aside from that, it has also partnered with a primary care physician. Through this partnership, patients can self-refer to the clinic, access on-site procedure rooms, and receive timely care.
This clinic is also active in research, which is crucial for high-quality healthcare. The Health Science Centre Foundation supports Men's Health Clinic Manitoba by developing a research fund for the clinic.
On the downside, it is closed on weekends, which can be inconvenient for patients who aren't available on weekdays. It also doesn't have extended hours, so make sure to book an appointment beforehand.
Offers Shockwave Therapy
Wide range of treatments
Provides fertility and family planning services
Conveniently-located pharmacy
Has online booking
No extended hours
Closed on weekends
Customer Reviews
Professional and punctual staff
"I have received great care from both Tad and Laurel. Lots of follow up, diligent and courteous. Very professional and punctual." – Stuart Eckert, Google Reviews
Top-level service
"Amazing physician, who always ensures his clients receive top-level service! Would highly recommend Dr. Kroczak's service to my friends and family, thank you for your ongoing commitment to excellence!" – Alex Ethans, Google Reviews
3. Maples Surgical Centre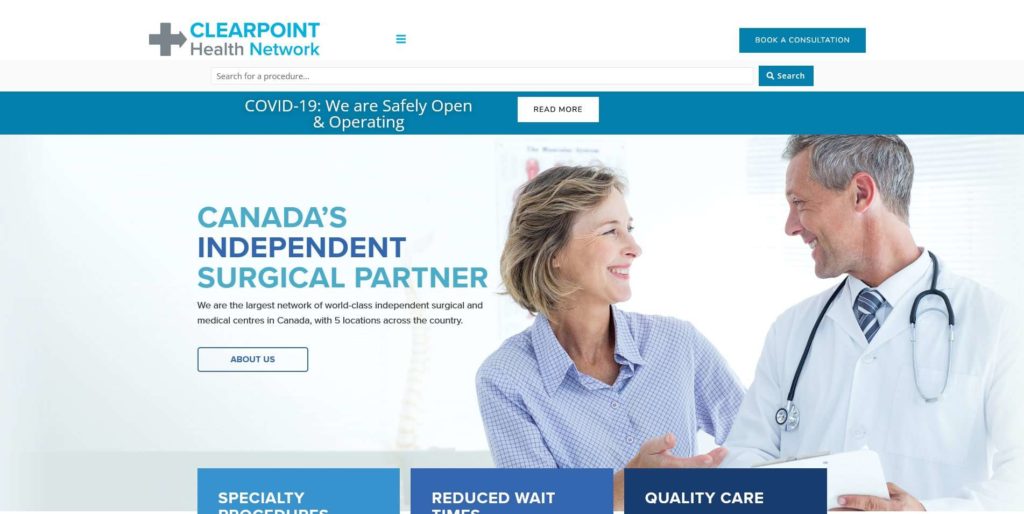 SERVICES

Vasectomy Reversal

REZUM for Benign Prostatic Hyperplasia

Gynaecology

WEBSITE
https://clearpointhealth.ca/
ADDRESS
1291 Jefferson Ave #7, Winnipeg, MB R2P 1S7, Canada
CONTACT DETAILS
Phone: +1 888-211-4222
OPERATING HOURS

Monday - Friday: 7:30AM–8PM

Saturday - Sunday: Closed
| | |
| --- | --- |
| Criteria | Rating |
| Expertise | ★★★★★(5/5) |
| Cost | ★★★★★(5/5) |
| Testing and treatment offered | ★★★★★(5/5) |
| Convenience | ★★★★☆(4/5) |
Maples Surgical Centre is a multidisciplinary center primarily focused on patient care to provide comfort and safety for you.
What we love about this clinic is its partnership with the Clearpoint Health Network, Canada's leading independent surgical partner. It works together with the public system and healthcare providers throughout the nation.
Clearpoint Health Network has multiple locations outside Winnipeg, including Toronto, Mississauga, Calgary, and Vancouver. It also specializes in a wide range of treatments, including general surgery.
Moreover, it is excellent on its own through its high-quality patient care and world-class healthcare facilities. It offers various services, including surgeries and consultations by expert urologists.
This clinic has a sizable team of surgeons and specialists who are board-certified and experts in their respective fields.
Add to the fact that it is a full-accredited non-hospital surgical facility by the College of Physicians of Manitoba. Hence, you're assured that it adheres to the highest standard of patient care.
Patients can expect minimal wait times and convenient appointment settings by booking online. Even if you're someone from an out-of-province location, Maples Surgical Centre will reach out to you and offer solutions through its network of surgical centers across Canada.
However, its office hours and operation hours may vary. It also has limited operations on Saturdays, so booking your surgical appointment beforehand is better.
Offers surgical treatment
Provides virtual consultation
Available in multiple locations
Has online booking
Accredited by multiple organizations
Extended hours may vary
Closed on weekend
Patient Reviews
Clean and comfortable environment
"Amazing center, Clean, Comfortable and professional staff. Everyone from the receptionist to the nurses and doctors made the experience as good as it can be under the circumstances of undergoing a surgery.
I had the pleasure of being taken care of by Dr. Esmail who is highly talented ENT and surgeon." – Garret Mcmilan, Google Reviews
Friendly staff
"Thank you for your kindness and compassion in a welcoming, warm, and friendly atmosphere.
Dr. Buchel, the anesthesiologist, the entire team of nurses, as well as Danielle and Tora, two helpful administrative secretaries, deeply reflect about the kind of professionals they want to be.
Because of their care, support, admirable reputation, and expertise, I fully trust them and feel terrific!" – Katrine Rioux, Google Reviews
4. The First Glance Aesthetic Clinic & Surgery Centre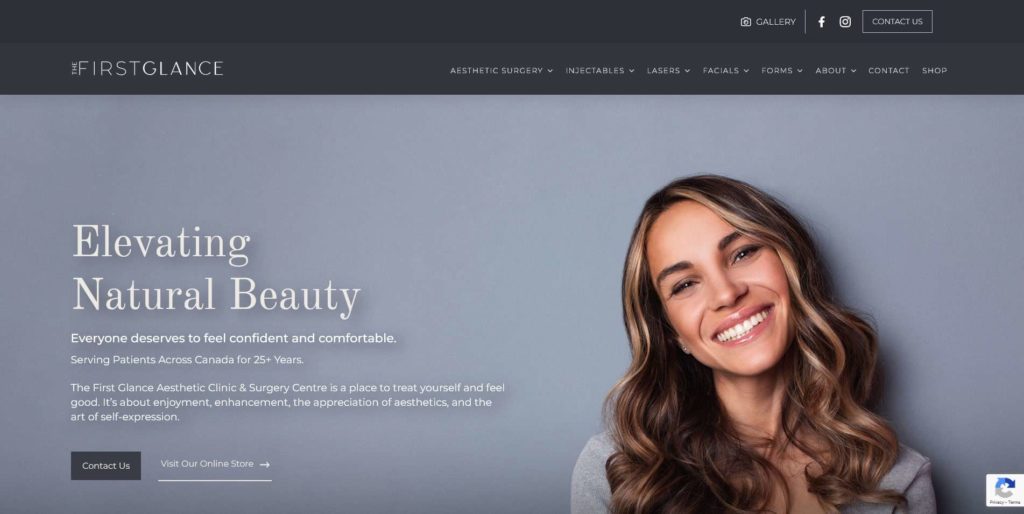 SERVICES

Vaginal Tightening

Labiaplasty

Hymenoplasty

Penile Enhancement

Penile Frenuloplasty

Revision Circumcision

WEBSITE
https://thefirstglance.ca/
ADDRESS
1851 Grant Ave, Winnipeg, MB R3N 1Z2, Canada
CONTACT DETAILS
Phone: +1 204-885-1419
OPERATING HOURS

Monday - Friday: 9AM–5PM

Saturday - Sunday: Closed
| | |
| --- | --- |
| Criteria | Rating |
| Expertise | ★★★★★(5/5) |
| Cost | ★★★★★(5/5) |
| Testing and treatment offered | ★★★★★(5/5) |
| Convenience | ★★★★☆(4/5) |
The First Glance Clinic is one of the oldest and most famous aesthetic clinics in Western Canada. Locally-owned and operated, it has served Winnipeg for over 25 years.
It is a fully-accredited non‐hospital medical facility by the Manitoba College of Physicians and Surgeons. This certification is only offered to a select group of health facilities, which shows the level of the standard this clinic upholds.
Another good thing about it is its wide range of services, including aesthetics, surgical, and non-surgical procedures. It also has a premium operating theatre where patients can feel comfortable during their treatments.
Aside from its state-of-the-art facilities, The First Glance Clinic has a team of specialists, including surgeons, expert nurse injectors, and laser technicians. Its staff is comprised of top experts in their respective fields and offers professional customer service.
From what we've seen, its experts work as a good team and provide a comfortable patient environment. Patients also tell us that they feel comfortable during their procedures because the staff is highly-skilled and knowledgeable.
Additionally, patients attest that they are friendly and professional. Providing a comfortable and friendly environment shows that this clinic values its relationship with its patients, which is essential in healthcare services.
As an award-winning surgery center, its team of specialists has performed over 10,000 surgeries.
However, we wish it could offer more convenience to patients by providing flexible operating hours. This clinic is closed on weekends, so book your appointments early.
Has over 25 years of experience
Award-winning surgery center
Fully accredited 
Over 10,000 surgery performed
Has board-certified specialists
No extended hours
Closed on weekends
Patient Reviews
Professional staff
"My experience with the individuals working at First Glance was amazing. I was made to feel comfortable well before my procedure date. During my procedure, I felt like I was in the right place with the most capable individuals taking care of me.
You can tell that everyone who works for First Glance takes pride in what they do. It must be a wonderful company to work for. First glance exudes professionalism and integrity.
They care about their clients, and I look forward to seeing them again in the near future." – Larissa, Google Reviews
Excellent service
"I have been going to First Glance for over a decade now. First I saw Dr. Anthony Lockwood, then Amanda Lockwood and now I am seeing Lindsay.
Lindsay is absolutely AMAZING, and is always able to make me look and feel how I want to. She is friendly and professional, and boy is she good at what she does.
The service I receive at the clinic is always 100%. I have never been mistreated, never felt judged, and I have always enjoyed my time there.
It's almost like a spa day for me each time I go and I will always continue to have my treatments done at First Glance!" – Kelly Lauren, Google Reviews
FAQs about Urologists
———————————————————————————————————————
And that ends our rundown of the best urologists in Winnipeg. If you have visited any clinics on the list, you can share your experience with us!
If you are looking for other health centers and clinics, check out these lists: