8 Best Photography Studios in Winnipeg
Photographs capture significant moments we can cherish for the rest of our lives. While outdoor photography has its charm, shooting in a photography studio also comes with advantages.
Photography studios give you the creative space and complete equipment for your projects. If you're a beginner or don't have ample shooting space, renting a photography studio is ideal.
Photography studios also offer additional services, including hiring a professional photographer for on-site or off-site projects.
If you're looking for photography studios in Winnipeg, we're here to help! We've compiled a list of the best photography studios in the metro.
But before we delve into our list, here are the criteria we used to find a good photography studio and the average cost of this service in Winnipeg.
Average Cost of Photography Studios in Winnipeg
Here are the average costs of photography studios in Winnipeg.
| Length of Session | Average Cost |
| --- | --- |
| Per hour | 40 - 80 CAD |
| Per half-day | 200 - 400 CAD |
| Per day | 300 - 600+ CAD |
Best Photography Studios in Winnipeg
We rated our top picks before rounding up this list of the best photography studios in Winnipeg.
Here are the factors we considered:
So, with that in mind, here is a list of Winnipeg's best photography studios.
1. Beyond Boundaries Academy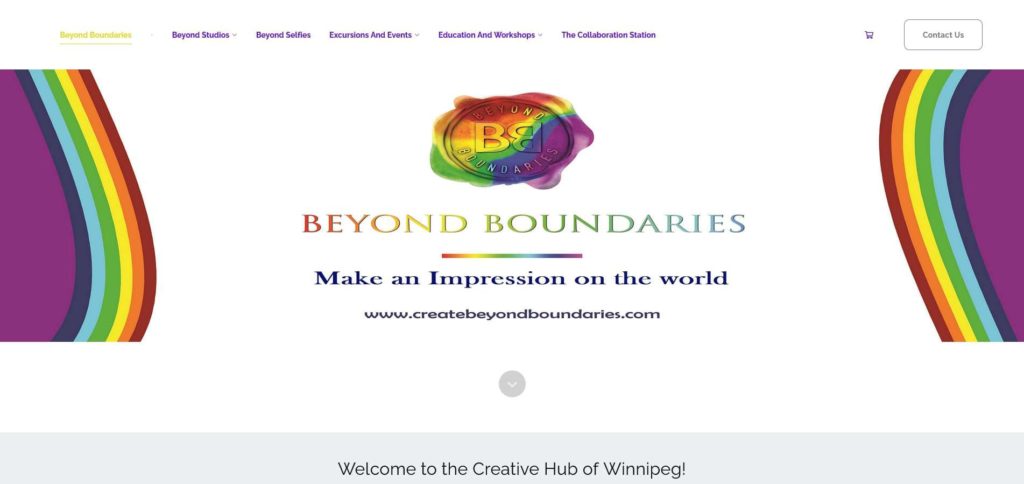 SERVICES
Commercial Fashion and Advertising Photography
WEBSITE
https://www.ryandunbarphotography.ca/
ADDRESS
Contact for more information
CONTACT DETAILS
Tel: +1 (204) 293-2195

Email: [email protected]

OPERATING HOURS
Contact for more information
COST
Contact for more information
| | |
| --- | --- |
| Criteria | Rating |
| Professionalism | ★★★★★(5/5) |
| Facilities and equipment | ★★★★★(5/5) |
| Prices and packages | ★★★★☆(4/5) |
| Portfolio | ★★★★★(5/5) |
| Convenience | ★★★★☆(4/5) |
If you're looking for a one-stop shop production studio in Winnipeg, you should book Beyond Boundaries.
This photography and production studio offers a wide range of services. Aside from its photography and videography studio, it also provides a space for workshops and events that you can book.
It serves as a creative hub, which we love. Through its extensive studio, creators, small businesses, and entrepreneurs can have a space for personal and professional growth.
Aside from offering a space for Winnipeg's creatives and entrepreneurs, it also provides education and workshops for aspiring photographers, as well as business coaching for businesses to improve their branding and marketing.
Its online portfolio shows the quality of its work throughout the years. Moreover, it facilitates art installations that clients can use for a self-portrait.
We also love how this studio maximizes its space to encourage its clients to create. Its vast space and inclusive facilities are also impressive.
For instance, it has gender-neutral bathrooms and a wheelchair-accessible entrance. We think that aside from having a fully-equipped studio, an inclusive facility shows how much it cares about its clients.
Although its membership fee is pricey, the cost is offset by comprehensive benefits and perks. These are ideal for professionals and entrepreneurs, allowing them to maximize using the studio.
However, we wish that it could provide more convenience to clients. Although the studio opens six times a week, sessions are by appointment only.
Fortunately, you can send a message through its website if you have any concerns. It also offers a one-hour complimentary consultation, which is a plus.
Wide range of services
Comprehensive portfolio
One-stop production studio
Extensive and inclusive space
Exclusive membership perks
Closed on Mondays
Relatively pricey membership fee
By appointment only
Client Reviews
State-of-the-art equipment
" Love working at Beyond Boundaries! – they have so many options for sets and beautiful natural light. Also a great selection of professional lighting equipment.
The studios are always spotless and Elizabeth is very helpful with getting set up for each shoot. I have shot here many times, and plan to return often!
Great value ! 10/10 " – Vivid Vividpixx, Google Reviews
Excellent customer service
" It was a seamless experience! Elizabeth was helpful and forthcoming with information as requested.
Also, she made her self available for assistance during the shoot and gave us some quality advice to help make our shoot productive and easy.
The space was beautifully decorated with lots of natural light. I would rent this studio again in a heart beat.
Entire staff were understanding with our kids as well. " – Yechenu Audu, Google Reviews
2. Allure Studios
Image from Allure Studios
SERVICES
Website photos

Social media photos

Maternity shoots

Family Portraiture

Wedding Services

Headshots

WEBSITE
https://www.allure-studios.ca/
ADDRESS
289 King St, Winnipeg, MB R3B 1M5, Canada
CONTACT DETAILS
Phone: +1 204-505-3950
OPERATING HOURS
Monday - Sunday: 8AM–11PM
COST
45 - 75 CAD per hour

600 CAD per month

*Custom rates available for a multi-day session
| | |
| --- | --- |
| Criteria | Rating |
| Professionalism | ★★★★★(5/5) |
| Facilities and equipment | ★★★★★(5/5) |
| Prices and packages | ★★★★☆(4/5) |
| Portfolio | ★★★★★(5/5) |
| Convenience | ★★★★☆(4/5) |
If you're a photographer or videographer who needs a space to jumpstart your projects, then the next studio on our list is ideal.
Allure Studios is one of Winnipeg's largest photo and video rental studios for creatives and professionals. Its expansive space is over 5500 square feet, with three separate studios that you can rent: the White Studio, Urban Studio, and the La Casa Consult Studio.
One thing we love about its studios-for-rent is how each offers complete equipment, props, lighting, and more.
The White Studio is perfect for elite creativity with its deluxe interior, backdrops, dressing rooms, and other equipment. On the other hand, the Urban Studio s ideal for those looking for an excellent indoor location for their photoshoots.
Its comprehensive portfolio shows Allure Studios' amenities and a unique interior, perfect for different client projects and needs. It also offers easy online booking, which we love.
You can easily book your choice of studio online, which is convenient. Plus, it offers hourly booking rates to offer practicality for clients who don't need to use the studio space long-term.
However, you need a minimum booking of two hours if you set your schedule beyond 5 pm.
On the downside, this studio is not pet-friendly. So, if you're a client who plans to have a pet photo shoot, this can be a disadvantage.
Opens everyday
Extensive studio space for rent
Offers per hour booking
Comprehensive online portfolio
Convenient booking options
Requires two-hour minimum booking after 5 PM
Not pet-friendly
Client Reviews
Easy booking process
" I love Allure Studios. The booking process couldn't be easier. Ample parking is awesome and great if needing to lug in extra props and gear (but keep in mind allure also has soooo many props as well).
Great views of the exchange from the third floor level at which the studio is located on. Very tidy space, lots of light, several different rooms with their own asthetics.
Staff very warm and welcoming! " – Jennifer Leschied, Google Reviews
Cozy studio space
" The studio's available at Allure are incredibly gorgeous and so well laid out, and the booking process couldn't be easier. The staff are so kind and welcoming and the additional furniture and props they have are beautiful!
Will definitely be booking again. " – Bailey Gilmour, Google Reviews
3. Chris Jensen Studios
SERVICES
Wedding Photoshoots High School Seniors Photoshoots
WEBSITE
https://www.chrisjensenstudios.com/
ADDRESS
Winnipeg, MB R2J 3Z4, Canada
CONTACT DETAILS
Phone: +1 204-990-7395
OPERATING HOURS
24/7
COST
300 - 2000 CAD for high school seniors photoshoots

3000 - 6000 CAD for wedding photoshoots
| | |
| --- | --- |
| Criteria | Rating |
| Professionalism | ★★★★★(5/5) |
| Facilities and equipment | ★★★★★(5/5) |
| Prices and packages | ★★★★☆(4/5) |
| Portfolio | ★★★★★(5/5) |
| Convenience | ★★★★☆(4/5) |
Chris Jensen Studios is a photography studio in Winnipeg specializing in wedding photography. Its owner and namesake is a multi-awarded wedding photographer.
Chris, who was a former Commercial Airline Pilot, has grown to be one of the recognized wedding photographers in Winnipeg. He was named one of Canada's most inspirational photographers.
Clients tell us that Chris is accommodating and engaging. He even helps them find a better location, which shows how much he cares about the quality of his work.
We think that aside from his expertise and skills, building a good relationship with his clients shows how good his customer service is.
Aside from the studio's award-winning photographer, its services are also a point for it in our book. It offers a comprehensive list of packages for weddings, engagements, bar mitzvahs, and other events.
Its comprehensive online portfolio shows its high-quality work for every event it covers. If you plan to book for an important event, you can be assured that it will provide complete services.
For convenience, Chris Jensen Studios is open 24/7. You can also call or send a message through its website if you wish to book an appointment.
However, it doesn't offer hourly rates, unlike other studios. While most of its services offer event coverage in complete packages, we wish it could provide hourly rates for smaller projects.
Opens 24/7
Specializes in wedding photography
Multi-awarded wedding photographer
Wide range of services
Comprehensive online portfolio   
Client Reviews
Professional photographers
" We couldn't have been happier that we chose Chris as our wedding photographer! He was a pleasure to be around, was extremely professional and was extremely accommodating when plans changed at the last minute.
Most of all his incredible pictures speak for themselves! We would highly recommend Chris for your next set of photos. " – Mark Misir, Google Reviews
Accommodating staff
" I had the pleasure of booking Chris to take graduation photos for my son and a group of his friends this past summer. Chris was fantastic to work with!
He had great ideas for location and various group shots. He was very accommodating and easy to work with. I was thrilled with the variety and quality of the photos we received. " – Andrea Thornton, Google Reviews
4. Empire Photography – Winnipeg
SERVICES
Wedding and Family Photography Business Headshots Product Photography Real-Estate Photography
WEBSITE
https://www.empirephoto.ca/
ADDRESS
128 Rochester Ave, Winnipeg, MB R3T 3W1
CONTACT DETAILS
Phone: (204) 955-7312
OPERATING HOURS
Monday- Saturday: 9AM - 9PM Sunday: 10AM–9PM
COST
200 CAD per person for professional headshots

starting at 100 CAD for product photography

150 - 300 CAD for real-estate photography
| | |
| --- | --- |
| Criteria | Rating |
| Professionalism | ★★★★★(5/5) |
| Facilities and equipment | ★★★★★(5/5) |
| Prices and packages | ★★★★☆(4/5) |
| Portfolio | ★★★★★(5/5) |
| Convenience | ★★★★☆(4/5) |
Empire Photography is an award-winning Winnipeg studio specializing in wedding and commercial photography. It also offers family photography services for different events and celebrations.
The studio has on-site and off-site services, which is convenient. So, if you plan to shoot a family portrait or have your wedding covered, this studio is for you.
Its owner Brian Rudolf has received multiple awards and recognitions over the years. He has received Best Photographer awards and Consumer Choice awards, which reflect the effort he puts into his work.
Brian also uses the latest equipment and professional lenses to cover any event. His comprehensive online portfolio showing his previous works is also easily accessible, which is a plus.
Clients tell us that he is friendly and pleasant to deal with. On top of that, the studio is also clean and has the complete setup needed for high-quality photos.
Providing clients with a comfortable and welcoming environment is essential to building a good relationship with them. So, having positive client feedback shows that Empire Photography offers excellent customer service.
When it comes to convenience, this photography studio is impressive. For instance, it has a quick turnaround time of 18 to 48 hours, depending on the type of service or event.
Even if Brian is covering group events such as company banquets or awards night, he can deliver with a turnaround time of 48 hours. Some photography studios would require a longer turnaround time, especially for large events, so this is another advantage.
The studio opens every day and has extended hours. If you plan to book its services, you can also easily set an appointment through its website.
Unfortunately, it doesn't offer hourly rates, which can make the prices costly for some.
On-site and off-site photography services
Opens everyday 
Offers online booking
Quick turnaround time
Comprehensive online portfolio
Client Reviews
Good communication with clients
" I recently met with Brian at his home studio for a website photo. Brian was very pleasant to deal with and his home studio was clean, tidy, well set up and had the equipment necessary for great photos.
Communicating with him was easy, and I appreciated being able to book with him directly through his website. I would recommend Brian to any professionals including realtors who need photography assistance. " – Andrew Torbiak, Google Reviews
High-quality service
" I ordered my headshots. Very nice studio and friendly man. I'm very satisfied with the quality of pictures! " – Ryutaro Hirose, Google Reviews
5. Teri Hofford Photography
SERVICES
Photography Courses

In-person Workshops

Virtual Coaching

Bootcamps

WEBSITE
https://terihofford.com/
ADDRESS
70 Arthur St, Winnipeg, MB R3B 1G7, Canada
CONTACT DETAILS
Phone: +1 204-390-3343
OPERATING HOURS
Saturday - Sunday: 10AM–4PM

Monday - Tuesday: Closed

Wednesday- Friday: 10AM–6PM

COST
400 CAD for virtual coaching 3900 CAD for bootcamp

50 CAD/hour for studio rental
| | |
| --- | --- |
| Criteria | Rating |
| Professionalism | ★★★★★(5/5) |
| Facilities and equipment | ★★★★★(5/5) |
| Prices and packages | ★★★★☆(4/5) |
| Portfolio | ★★★★★(5/5) |
| Convenience | ★★★★☆(4/5) |
Teri Hofford Photography is a studio in Winnipeg that specializes in boudoir photography. It offers photography services, studio rentals, educational sessions, and retreats.
What we love about this studio is how it empowers clients and challenges people's biases through boudoir photography. Its owner and founder, Teri Hofford, is a body image expert, photographer, and author.
Teri's work has empowered many clients and encouraged innovative education within the Winnipeg community. She also became certified in Applied Positive Psychology, which is impressive.
We also love that the studio has services beyond photography, such as studio rentals for your projects and photoshoot sessions.
It has two studios ideal for aspiring or advanced boudoir and portrait photographers. Both are located at a convenient location, which is easier for you to access.
Moreover, this company offers educational sessions, workshops, and coaching. Through these workshops, aspiring photographers can access educational resources to develop their skills and approach.
Teri created Beyond the Body: Mindset & Body Image Education, which helps photographers diversify body types shown in the industry. It also empowers them to build resilience and sustainability in their careers.
The studio offers hourly rates, which makes its services affordable for clients. However, you will need to book at least two hours and pay an additional fee for the succeeding hours.
Specializes in boudoir photography
Accessible and inclusive facilities
Offers hourly rates
Provides educational sessions and workshops
Offers studio rentals
Available for five days only 
Requires minimum booking
Client Reviews
Empowering boudoir sessions
" There isn't much to say about, Teri that likely hasn't been said already by others. She is the queen of boudoir here in the Peg. An empowering boudoir session with her will forever change you.
The investment in yourself that you come away with is truly insurmountable. If I could give her a ten start I would. She is that amazing at what she does! " – Jennifer Fisher, Google Reviews
Professional photographer
" Teri is the most incredible human being. she isn't only a photographer, but a teacher, a mentor, and someone worth looking up to.
She's so phenomenal to work with and the products she produces are top-notch across the board. i wish i could give 11 stars. for real. " – Cella Lao Rousseau, Google Reviews
6. EaRtHLiNg StuDioS
SERVICES
Photography Courses

In-person Workshops

Virtual Coaching

Bootcamps

WEBSITE
https://www.earthlingstudios.ca/
ADDRESS
255 Tache ave, 3rd floor
CONTACT DETAILS
431-866-3111
OPERATING HOURS
Tuesday-Sunday
COST
Contact for more details
| | |
| --- | --- |
| Criteria | Rating |
| Professionalism | ★★★★★(5/5) |
| Facilities and equipment | ★★★★★(5/5) |
| Prices and packages | ★★★★☆(4/5) |
| Portfolio | ★★★★★(5/5) |
| Convenience | ★★★★★(5/5) |
EaRtHLiNg StuDioS is an establishment that caught our eye for a number of reasons. For one, their background isn't limited to photography.
They also have experience in fashion, branding, curation, and art direction. This means that when you book a session with them for any of the services they provide, you're getting more than just a series of photos.
You're also entering into a creative collaboration that can help bring your brand or project to life in ways that photography alone couldn't.
Beyond their expansive skill set, EaRtHLiNg StuDioS is renowned for its high-quality work and customer service. They've worked with clients both large and small, including well-known local businesses in Winnipeg, creating visuals that have helped those companies build their brand image effectively. Their portfolio speaks for itself; the examples of their photography are stunning.
In conclusion, if you're looking for top Photography Studios in Winnipeg, we highly recommend EaRtHLiNg StuDioS. Their combination of creativity, expertise and excellent customer service is unparalleled in the area.
They have the experience and resources to help you create visuals that capture your brand message perfectly. Whether it's for advertising, product launches or simply a personal project, they're sure to deliver results that will exceed your expectations. Book them today and see for yourself!
Wide range of expertise
Excellent lighting in studio
Easy booking process
7. Luminaire Studio
SERVICES
Boudoir Photography
WEBSITE
https://www.luminairestudio.ca
ADDRESS
1426 Ross Ave W, Winnipeg, MB R3E 1C7, Canada
CONTACT DETAILS
[email protected]

+1 204-881-5041

OPERATING HOURS
Monday - Friday: Open All Day
COST
Starts at $225+tax
| | |
| --- | --- |
| Criteria | Rating |
| Professionalism | ★★★★★(5/5) |
| Facilities and equipment | ★★★★★(5/5) |
| Prices and packages | ★★★★★(5/5) |
| Portfolio | ★★★★★(5/5) |
| Convenience | ★★★★★(5/5) |
Next up is a photography studio known for its specialized services: Luminaire Studio.
Luminaire Studio has mastered this balance, making them one of the top Boudoir Photography studios in Winnipeg.
Unlike other options on this list, Luminaire Studio only works with a specific field of photography: Boudoir shoots. These are photos to celebrate your own authentic beauty.
Boudoir photography is for women of all shapes and types! Luminaire Studio passionately promotes a positive body image through their work.
Barbara Tomczyk is the owner and photographer for Luminaire Studio and she specializes in a very unique, moody and cinematic Boudoir style of photos. There are several studio sets that are included in your session! You can either choose their standard sets or customize it to your own Boudoir fantasy on special requests (for example they can recreate a scene from your favorite movie!) How cool is that!?
Keep in mind that boudoir photography is not a specialization every photographer can take on. It takes a certain level of skill, creativity, and comfort in order to create photographs that both flatter the subject and keep them feeling safe and comfortable.
Excellent Google reviews from Luminaire Studio clients inform that it is a very empowering and one-of-a-kind experience. Moreover, Luminaire Studio has built an online empowering group just for women in Manitoba where you can continue enriching your self love journey.
High-quality shoots

Flexible price ranges

Personalized services
Customer Reviews
"As a self conscious woman I was hesitant at first to book an appointment for a Boudoir photo shoot. I called a few different studios before booking, but after speaking with Barbara I knew she was the one! When I arrived at her studio for my photo shoot I was welcomed with my own personal set up, snacks, drinks and even a personalized welcome sign with my name on it. She is very thorough with explaining how the shoot will go, giving pointers and constantly encouraging you and making you feel comfortable and confident. The photo shoot itself was so much fun! For the first time in a long time I felt beautiful, sexy, and confident in my own skin. My photos turned out amazing! I highly recommend Barbara and I can't wait to book another appointment in the future." – Jen Shellenberg
"I'm not exaggerating when I say that Barbara changed my life. I went to my reveal last night and was so pleased with her work! She managed to allow me to see myself in a light I never have before and for the first time in years (maybe ever) I feel confident to say that I am a beautiful, sexy woman! I recommend this experience to anyone, and I literally mean anyone. I am somebody who avoids cameras and attention, but I have never felt so special in my life throughout the whole process. Barbara is incredible and I thank her for what she's done to my self image and my ability to love myself!! ❤️" – Samantha Gauthier
8. Impact Photographic Design
SERVICES
Various Photography Styles
WEBSITE
https://www.impactphotographicdesign.com
ADDRESS
875 Simpson Avenue, Winnipeg, Manitoba, Canada, R2K 1S3
CONTACT DETAILS
Phone: 204.224.2424

Toll Free: 1.866.338.0633

OPERATING HOURS
By appointment, Monday to Saturday
COST
Contact for more information
| | |
| --- | --- |
| Criteria | Rating |
| Professionalism | ★★★★★(5/5) |
| Facilities and equipment | ★★★★★(5/5) |
| Prices and packages | ★★★★★(5/5) |
| Portfolio | ★★★★★(5/5) |
| Convenience | ★★★★★(5/5) |
If you're looking for a photographer with a diverse portfolio, consider checking out Impact Photographic Design.
Unlike other photographers, Bruce of Impact Photographic Design doesn't limit himself to one subject. Instead, he works with animals and people, be they children or adults.
He can also work on personal, commercial, promotional, and engagement shoots, so there's no need to look far if you're interested in multiple services.
Bruce's flexibility in terms of his service is partly due to his decades of experience handling a camera. He had his first professional assignment at 17, and continued to enhance his skills ever since.
Studio owner/photographer Bruce Allen Hendricks is among the most decorated photographers in Canadian history. He's been named Manitoba Photographer of the Year (or been a finalist) on numerous occasions. Besides serving his clients, he routinely shares his photographic knowledge by judging professional photographic competitions as well as putting on photographic seminars locally, nationally and internationally. Hendricks has also written several articles for photographic publications throughout North America.
Uses various photography techniques and styles
Open to taking photos of animals and people
Wide range of photography services
No appointments on Sunday
Customer Reviews
"Bruce is as amazingly talented as he is a nice guy!  He puts alot of time into his projects, thinking about locations that tell a story with what he's photographing. And he knocks it out of park!  It was such a neat experience to watch him work.  If you want one of a kind artwork of anything you love,  here's your guy!   Cannot thank Bruce enough for the absolutely stunning photo, and a great overall experience!!"
– Devan Humphrey
FAQs about Photography Studios in Winnipeg
---
And that concludes our list of the best photography studios in Winnipeg! If you have experience with any of these studios, feel free to share them with us!