Explore the Best Places to Paddleboard in Winnipeg
As a lifelong Winnipeg resident, my passion for paddleboarding dates back to my childhood. From those early days of wobbles and falls, I've explored the city's paddleboarding scene extensively.
In this article, I'll guide you to discover the best paddleboarding locations in Winnipeg.
We'll navigate the serene waters of Birds Hill Provincial Park, embrace the urban paddling at The Forks, and uncover hidden gems along the Red River.
So, join me as I share the top paddleboarding spots in Winnipeg that will help you make the most of your paddling adventures in our city.
1. The Forks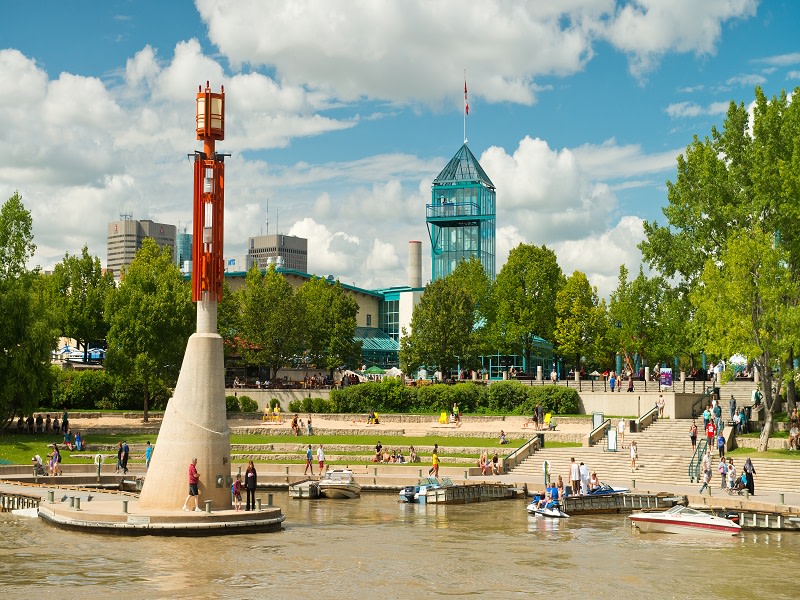 When it comes to paddleboarding in Winnipeg, there's one spot that effortlessly blends the convenience of urban amenities with the allure of pristine natural surroundings — The Forks.
Nestled in the heart of Downtown Winnipeg, The Forks holds a special place in the hearts of locals and visitors alike.
But what makes it a prime paddleboarding destination? It's simple: The Forks is where the Red River and the Assiniboine River converge, creating an aquatic haven for water enthusiasts.
At The Forks, you'll find more than just a place to paddleboard. It's a multifaceted hub that caters to all interests.
You can skim the serene waters on a paddleboard and soak up the stunning cityscape from a unique vantage point.
Plus, the convenience factor is hard to beat — The Forks Market provides sustenance with an array of culinary delights, while local coffee shops offer that perfect morning pick-me-up.
The site also isn't just for grown-ups seeking relaxation; it's a family-friendly locale. Kids can unleash their energy at the playground while you plan your next paddleboarding escapade.
And let's not forget the varied river activities beyond paddleboarding, from boating to kayaking, ensuring that there's never a dull moment.
So, if you're looking to paddleboard in Winnipeg, consider The Forks as your go-to spot. And it offers more than just a destination as it seamlessly combines the peacefulness of paddleboarding along the converging rivers with the excitement of urban life.
2. Kildonan Park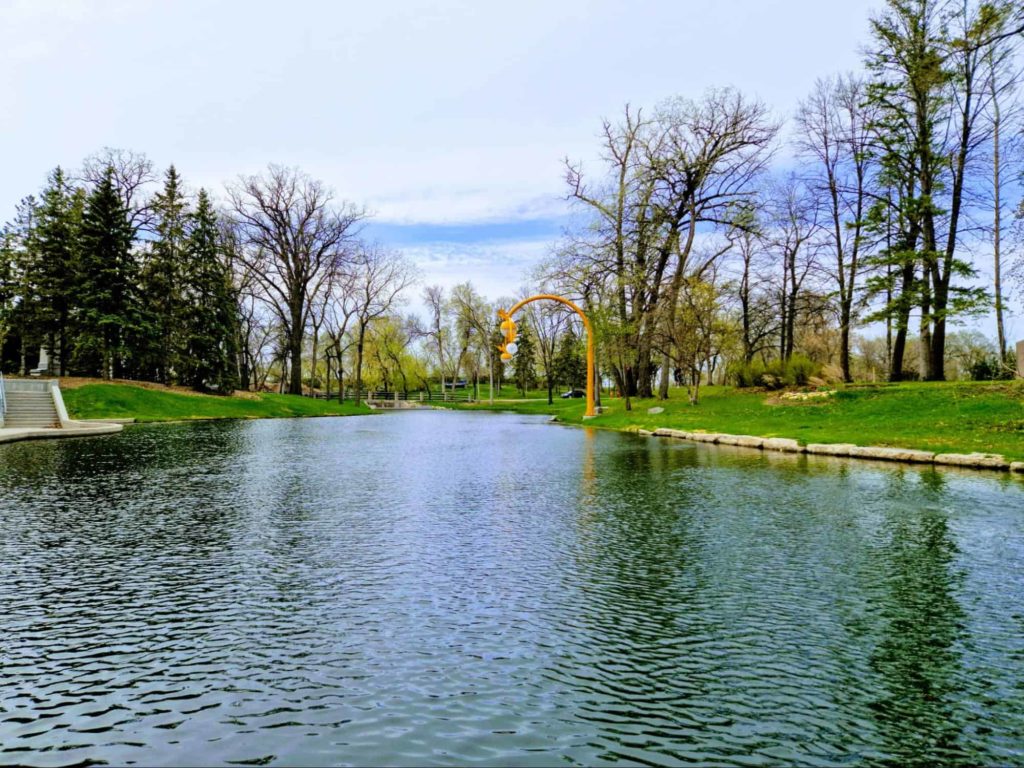 For those seeking paddleboarding perfection against the backdrop of natural beauty, Kildonan Park emerges as a local favorite.
Located along the serene Red River, this park offers a prime paddleboarding spot that effortlessly combines leisure and adventure.
The appeal of Kildonan Park is a perfect haven for paddleboarding. Its grassy river banks beckon you to launch your paddleboard onto the serene waters effortlessly.
As you glide along, taking in the sweeping views of the river and the park's lush landscape, you'll feel a world away from the urban hustle.
Still, Kildonan Park goes beyond paddleboarding; it's a treasure trove of recreational choices. After your paddleboarding session, you can indulge in a variety of amenities.
These include access to pools, playgrounds for children, a park theater hosting performances, and even a nearby golf course.
And this makes it stand out because of how well it combines outdoor activities. You can easily move from paddleboarding to a day of family enjoyment and relaxation, all in one place.
This also makes it a valuable find for both those who love water activities and families wanting to make the most of what Winnipeg has to offer.
So, if you're scouting for a paddleboarding spot that marries scenic paddling with post-paddle diversions, Kildonan Park stands out as a must-visit destination in the Winnipeg area.
3. Maple Grove Park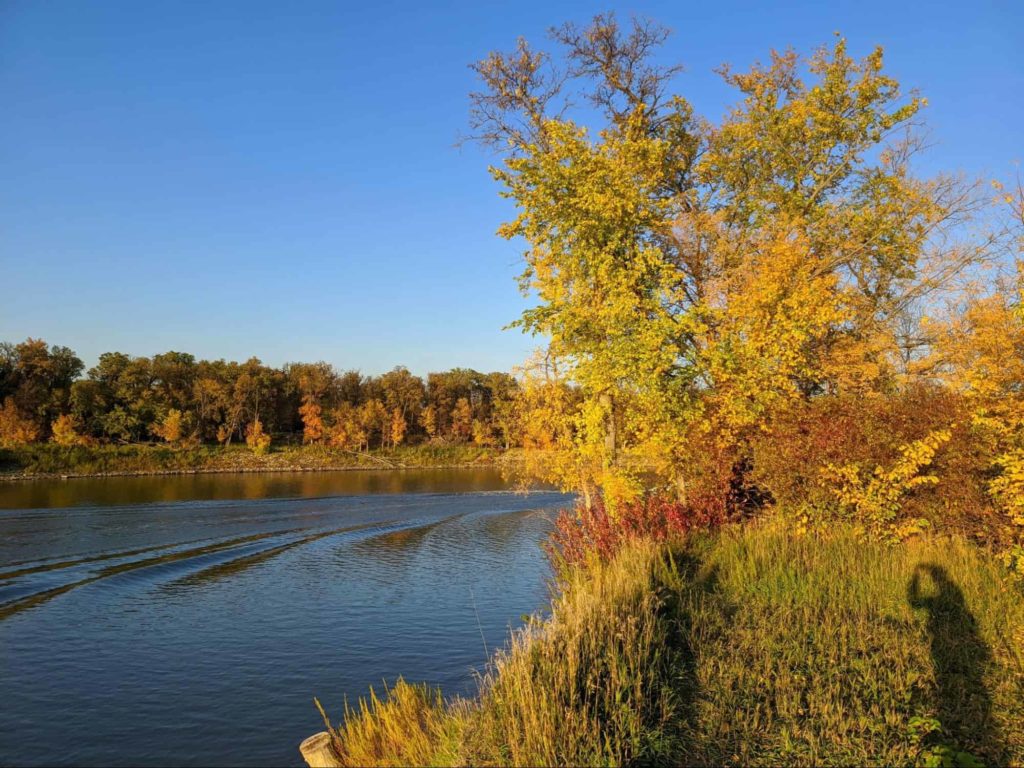 Regardless of their expertise, paddleboarders will find Maple Grove Park to be an excellent locale, set against the serene beauty of nature and complemented by practical amenities.
The park boasts serene lakes and easy access to the Red River making it a haven for paddleboarding enthusiasts. The tranquil waters and scenic surroundings provide a calming escape from the hustle and bustle of the city.
However, the park's true distinction lies in its pet-friendly atmosphere. If you're a paddling enthusiast who enjoys having your four-legged companion join you, Maple Grove Park is a fantastic choice.
Paddleboarding with your dog is a unique experience that adds an extra layer of enjoyment to your outing.
Moreover, the off-leash dog park is a perfect place to unwind after your paddleboarding session. You can let your dog stretch its legs and have some fun.
And beyond paddleboarding, the park offers various amenities to enhance your visit. Frisbee fields, beach volleyball courts, and a boat launch along the Red River cater to different recreational preferences.
Maple Grove Park ticks all the boxes for a well-rounded and enjoyable paddleboarding experience that combines natural beauty with canine companionship.
It's a must-visit destination for anyone looking to explore Winnipeg's waterways, unwind in a picturesque setting, and share the adventure with their furry pals.
4. Beaudry Provincial Park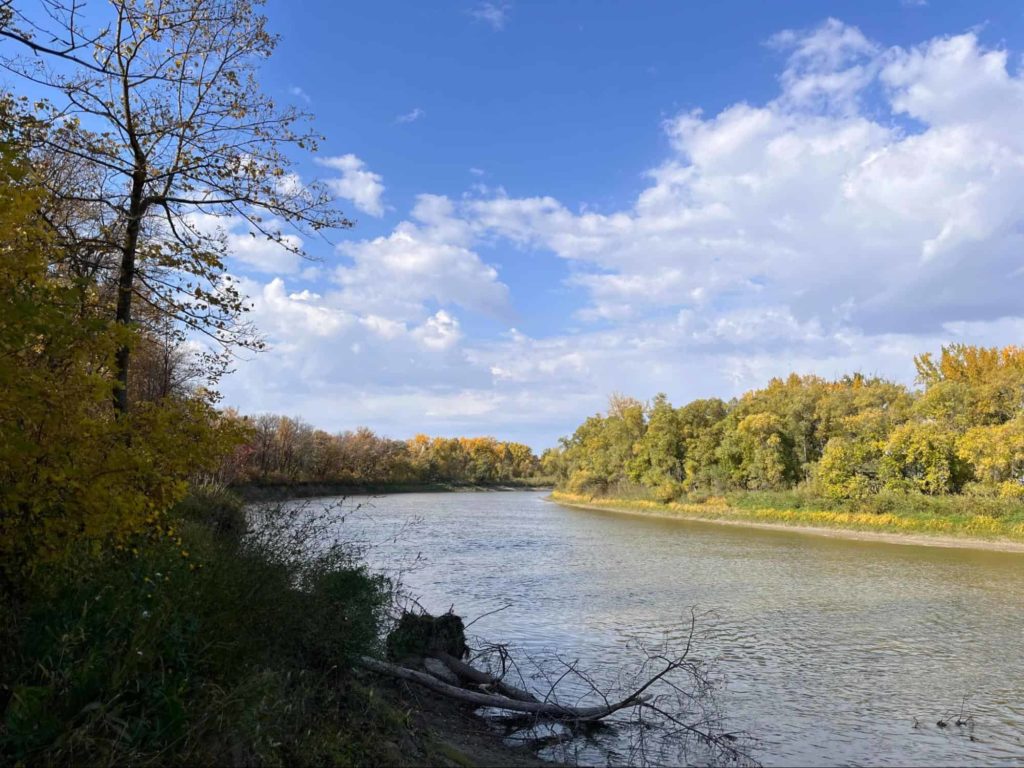 Within a convenient 30-minute drive from Downtown Winnipeg, Beaudry Provincial Park establishes itself as a leading paddleboarding spot outside the city.
Positioned along the Assiniboine River, Beaudry Provincial Park provides an excellent trail for paddleboarding. The park's proximity to the river makes it a convenient starting point for paddlers looking to explore the waterway.
The gentle currents of the river also make it suitable for both beginners and experienced paddleboarders which ensures a pleasant experience for all skill levels.
But aside from its paddleboarding attraction, Beaudry Provincial Park houses a wide-ranging population of wildlife, which includes songbirds, whitetail deer, raccoons, beavers, and muskrats.
This makes the park a nature lover's paradise as it offers glimpses of Manitoba's native species in their natural habitat.
So, for paddlers seeking a brief escape from urban dynamics and embracing Winnipeg's natural charm, Beaudry Provincial Park emerges as a readily accessible and gratifying destination.
Its peaceful waterways, complemented by the possibility of encountering indigenous wildlife along your journey, position it as a top preference for those looking to explore Winnipeg's paddleboarding scene.
5. Assiniboine Park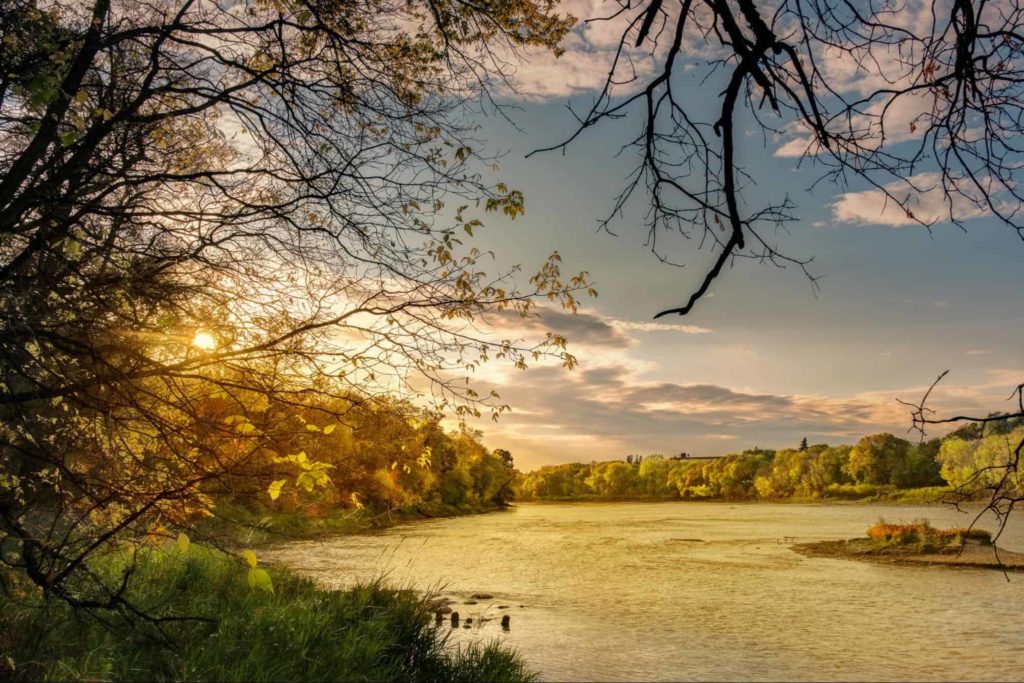 Amidst the previously mentioned paddleboarding gems, Assiniboine Park truly stands out as another remarkable spot that caters to both novices and avid enthusiasts of this water activity.
Sitting alongside the serene Assiniboine River, the park features an alluring combination of peaceful waters, lush scenery, and a diverse selection of amenities.
The Assiniboine River's shallow depth makes it an ideal playground for beginners and even young paddlers. This offers a relaxed setting to learn and enjoy paddleboarding.
Its easy navigation adds to the appeal, providing a gentle introduction to the sport. And the surrounding natural beauty only enhances the experience as its verdant surroundings provide a peaceful backdrop.
Additionally, Assiniboine Park gains the upper hand thanks to its convenient rental system which guarantees that everyone can participate in the fun.
The park also includes good river accessibility, thought-out launch areas, and ample parking facilities.
Yet Assiniboine Park extends beyond paddleboarding. It boasts an impressive array of attractions that enhance the overall visit.
The park features an outdoor theater, a zoo that introduces visitors to diverse wildlife, a stunning conservatory filled with exotic plants, and charming gardens that showcase seasonal blooms.
Assiniboine Park stands as a testament to the seamless integration of outdoor recreation and natural beauty. Its tranquil waters provide a welcoming environment for beginners, while its attractions offer a broader canvas for exploration.
So, if you're seeking a leisurely paddle or to immerse yourself in Winnipeg's scenic splendor, the park's multifaceted offerings beckon you to embrace paddleboarding within a captivating urban oasis.
6. La Barriere Park
La Barriere Park is another hidden gem for paddleboarding enthusiasts, located just south of Winnipeg. While the park offers various attractions like hiking trails and picnic sites, it's particularly cherished among paddlers for its exceptional features.
One of the park's standout qualities is its calm river current, making it an excellent choice for those new to paddleboarding. Beginners can comfortably practice their skills and build confidence in this gentle water environment.
La Barriere Park stands out as a prime destination for paddling enthusiasts in Winnipeg, primarily due to its immense popularity among the local paddling community.
This park offers a serene and tranquil setting that serves as a stark contrast to the city's fast-paced life. It has effectively become the go-to location for Winnipeg residents in search of a calm and soothing paddleboarding adventure.
7. Seine River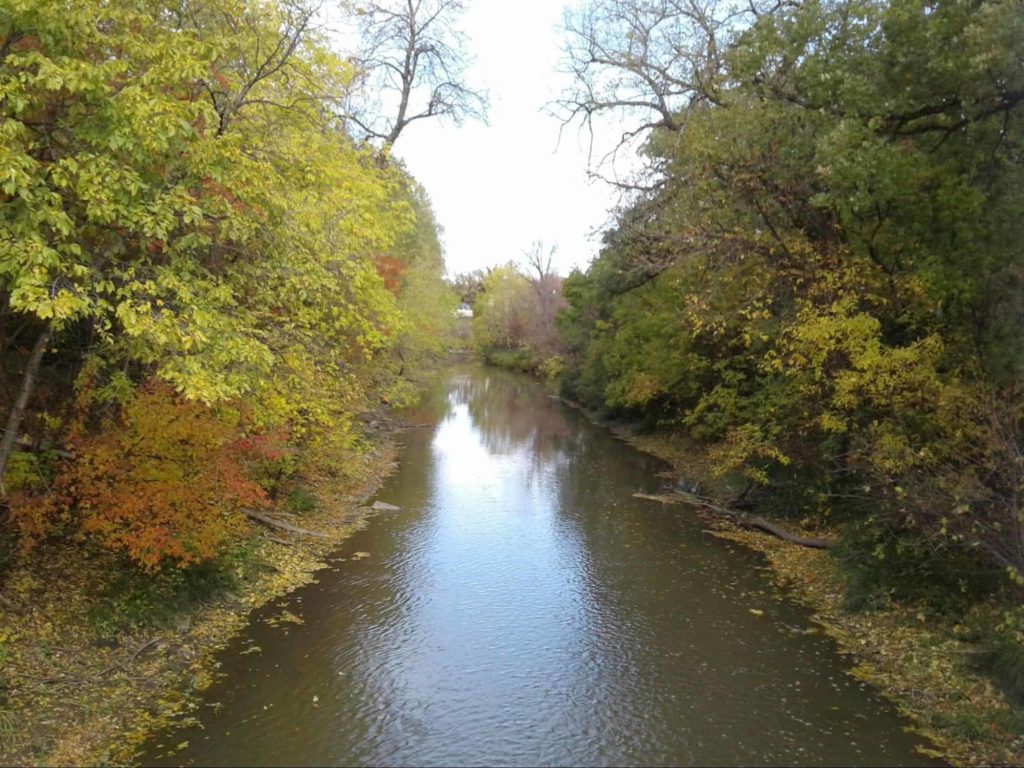 Location
Address: Winnipeg, MB, Canada

Google Maps: Seine River

Operating Hours
Open 24 hours
The Seine River presents a unique and refreshing addition to the paddleboarding spots in Winnipeg.
In contrast to the other locations mentioned, which may be confined to specific spots, the Seine River offers a dynamic experience as you navigate along its flowing waters.
What truly sets Seine River apart is its intimate and secluded paddling environment. Despite not being as expansive as some of Winnipeg's other rivers, its smaller size contributes to a more tranquil and private journey.
Starting your paddleboarding adventure in the heart of Downtown Winnipeg, with options like Whittier Park and Lagimodière-Gaboury Park, offers a striking balance between urban settings and natural scenery.
As you venture southeast, the river's meandering course guides you through various residential areas. This also offers glimpses into the daily lives of Winnipeg's locals.
During the scorching summer months, the Seine River also becomes an oasis of comfort. The river's tree-lined banks provide ample shade and a cooler atmosphere and make it an ideal escape from the heat.
Whether you're seeking a peaceful paddle through serene waters, a connection with nature amidst an urban backdrop, or a cooler summer escapade, the Seine River caters to it all.
Its diversity in starting and ending points combined with its secluded charm, makes it a must-visit destination for both residents and visitors seeking a unique paddleboarding experience in Winnipeg.
8. FortWhyte Alive
Website
https://www.fortwhyte.org/
Location
Address: 1961 McCreary Rd, Winnipeg, MB R3P 2K9, Canada

Google Maps: FortWhyte Alive

Contact Details
Phone: +1 204-989-8355
Operating Hours
Monday 9 AM–8 PM

Tuesday 9 AM–8 PM

Wednesday 9 AM–8 PM

Thursday 9 AM–8 PM

Friday 9 AM–5 PM

Saturday 9 AM–5 PM

Sunday 9 AM–5 PM
FortWhyte Alive is a top-tier destination for paddleboarding in Winnipeg regarding the unique blend of outdoor recreation and environmental stewardship.
This well-maintained site is dedicated to promoting sustainability and outdoor education, making it an ideal spot for those seeking more than just a paddleboarding experience.
One of its unique features is its commitment to preserving the natural surroundings. Paddleboarding here isn't just about gliding on serene waters; it's an opportunity to observe local wildlife and immerse yourself in a peaceful environment.
Plus, the spacious lakes cater to paddlers of all levels, ensuring a comfortable and enjoyable ride.
The calm and quiet ambiance adds to the allure. Whether you're new to paddleboarding or a seasoned pro, FortWhyte Alive welcomes everyone.
And the chance to paddle amidst such unspoiled scenery is a treat for nature lovers and adventure seekers alike. It's a place where you can unwind, relax, and connect with the outdoors.
Plus, when you incorporate paddleboarding into your visit to FortWhyte Alive, it will mean not only enjoying a recreational activity but also supporting a cause.
By engaging in paddleboarding here, you contribute to the promotion of environmental awareness and appreciation. So, if you're looking for a paddleboarding destination that offers more than just water, FortWhyte Alive should be at the top of your list.
9. Oak Hammock Marsh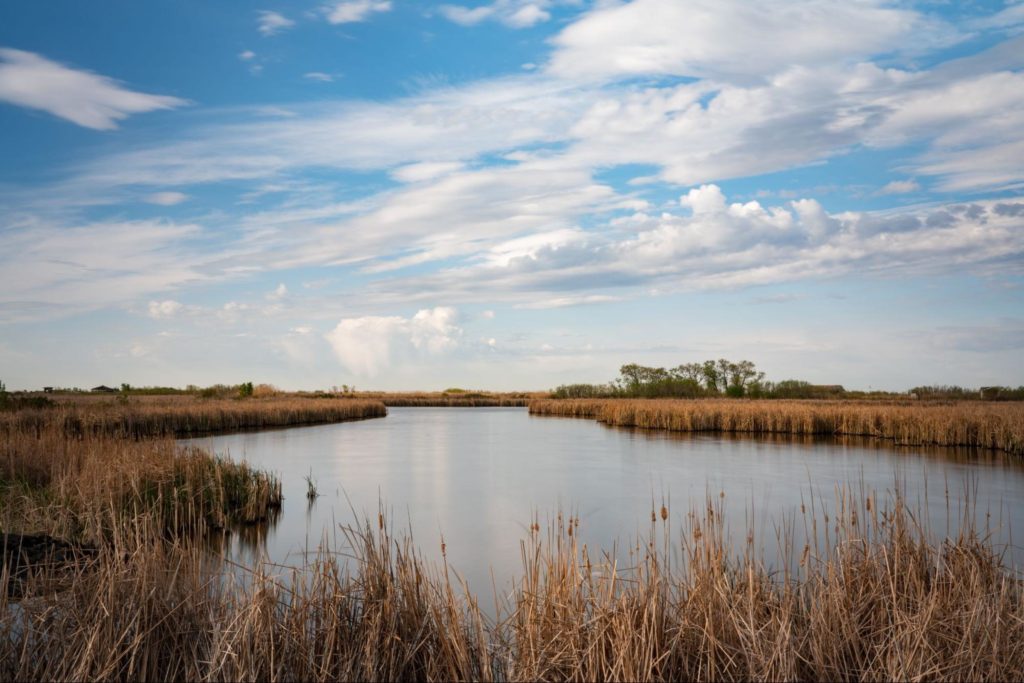 Website
https://www.oakhammockmarsh.ca/
Location
Address: 1 Snow Goose Bay, Stonewall, MB R0C 2Z0, Canada

Google Maps: Oak Hammock Marsh

Contact Details
Phone: +1 204-467-3300

Email: [email protected]

Operating Hours
Monday 10 AM–4:30 PM

Tuesday 10 AM–4:30 PM

Wednesday 10 AM–4:30 PM

Thursday 10 AM–4:30 PM

Friday 10 AM–4:30 PM

Saturday 10 AM–4:30 PM

Sunday 10 AM–4:30 PM
An exceptional paddleboarding destination beyond the borders of Winnipeg is the Oak Hammock Marsh.

Situated in close proximity to the city, this site presents a picturesque backdrop that captures the hearts of paddleboarding enthusiasts regardless of their proficiency.
However, it is particularly ideal for beginners, thanks to its shallow waters that provide an excellent environment for learning the ropes of paddleboarding.
The marshland is also a nature lover's paradise. It boasts over 36 square kilometers of pristine wetlands and diverse wildlife.
Paddleboarders can navigate through a network of waterways surrounded by grasses, lily pads, and cattails, creating a serene and immersive experience.
The calm waters of the marsh provide the perfect conditions for beginners to learn the art of paddleboarding while also offering a challenge for more experienced riders.
Aside from the breathtaking scenery, Oak Hammock Marsh is home to an array of bird species, making it a birdwatcher's haven. As you paddle along the waterways, you may spot elegant herons, majestic bald eagles, and a variety of waterfowl.
Additionally, the marsh's ecosystem supports a rich diversity of plants and animals. This makes every paddleboarding excursion a unique and rewarding adventure.
But the cherry on top here is that Oak Hammock Marsh offers paddleboarding tours led by knowledgeable instructors.
These tours go beyond just recreation; they offer a unique blend of education and enjoyment. As participants navigate the waterways on their paddleboards, they gain invaluable knowledge about the marsh's intricate ecology and its diverse wildlife.
Safety is of utmost importance when engaging in any water activity and Oak Hammock Marsh ensures that all paddleboarders are equipped with appropriate safety gear.
Life jackets are provided and participants are briefed on safety protocols to ensure a memorable and secure experience.
10. Birds Hill Provincial Park
Location
Address: Oakbank, MB R0E 0K0, Canada

Google Maps: Birds Hill Provincial Park

Contact Details
Phone: +1 204-654-6730
Operating Hours
Monday 7 AM–11 PM

Tuesday 7 AM–11 PM

Wednesday 7 AM–11 PM

Thursday 7 AM–11 PM

Friday 7 AM–11 PM

Saturday 7 AM–11 PM

Sunday 7 AM–11 PM
Nestled just 30 minutes outside the city, Birds Hill Provincial Park offers paddlers a unique opportunity to connect with nature while indulging in their passion for paddleboarding.
The park boasts a variety of water bodies, including tranquil lakes and meandering rivers. This makes it an ideal destination for paddleboarding enthusiasts of all skill levels.
One of the main highlights of paddleboarding in Birds Hill Provincial Park is the breathtaking scenery. As you glide across the water, you'll be surrounded by lush greenery, picturesque landscapes, and an abundance of wildlife.
It's not uncommon to spot a variety of birds, deer, or even the occasional fox during your paddleboarding adventure.
In addition to the stunning natural beauty, Birds Hill Provincial Park also provides excellent facilities for paddleboarding. Visitors can rent paddle boards from the park's rental shop and ensure that everyone has the opportunity to experience the sport.
The park also offers lessons for beginners. This allows them to learn the basics of paddleboarding in a safe and controlled environment.
Plus, safety is a top priority at Birds Hill Provincial Park. It has implemented various measures to ensure the well-being of all visitors.
Paddlers are required to wear life jackets and there are designated areas for paddleboarding to avoid any conflicts with other water activities.
So, grab your paddleboard and head to Birds Hill Provincial Park to explore one of the best paddleboarding spots in Winnipeg.
11. Lake Winnipeg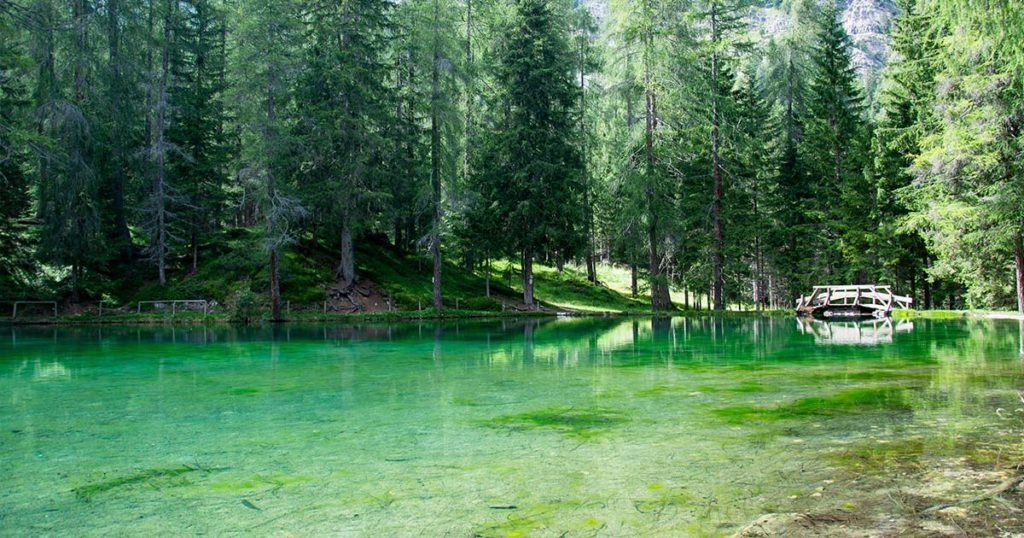 Location
Address: Manitoba, Canada

Google Maps: Lake Winnipeg

Operating Hours
Open 24 hours
Situated just 55 kilometers away from Winnipeg, the expansive and captivating Lake Winnipeg is a prominent destination for paddleboarding enthusiasts of all skill levels. 
As a haven for both the adventurous and the novice, this majestic lake offers a unique blend of tranquility and excitement.
Lake Winnipeg's vast expanse presents a playground for adventurous paddlers seeking new challenges and thrilling experiences. Its sheer size provides ample opportunities for exploration, and its depth caters to all levels of paddlers.
Beginners can even take advantage of the lake's shallow areas, honing their skills in a safe and controlled environment.
For those yearning for solitude or quality family time, Lake Winnipeg's remote location is a perfect escape. The serene surroundings offer a tranquil backdrop for paddlers to immerse themselves in the calming rhythm of the water.
While Lake Winnipeg is a retreat for the solitary seeker, it also plays host to a vibrant community of paddleboarding enthusiasts from across Manitoba.
The lake's popular spots, including bustling beaches, bonfire-friendly areas, and scenic camping sites, attract visitors from different cities.
This creates a dynamic atmosphere that combines the thrill of paddleboarding with the camaraderie of like-minded individuals.
So, whether you're a novice seeking tranquil moments or an adventurer craving thrilling escapades, this lake offers the best of both worlds.
You can experience the sheer joy of paddleboarding against the backdrop of Lake Winnipeg's breathtaking beauty and discover a realm where serenity and excitement converge.