The 6 Best Private Schools in Winnipeg
Featured Image Source: Max Shilov via Unsplash
There are a lot of things to consider when choosing a private school. As a parent, you naturally want the best education for your kids.
Fortunately, Winnipeg has great private school options that highlight different factors that make for a holistic educational experience for the students.
To help guide you select the best private school in Winnipeg for your child, we have also put together a comprehensive guide in assessing private schools.
How Much Do Private Schools in Winnipeg Cost?
Tuition often covers salaries of the school staff, facility maintenance, classroom supplies, and property taxes. This will be especially true for cities and places where real estate prices are high.
In general, boarding schools are the most expensive as they also cover the expenses of housing, supervising costs, and the meals of their students. Prestigious boarding schools cost in the range of $40,000 to $50,000 per year.
Religious schools also have considerably the lowest tuition rates.
Another general rule is that since parents often have more alternative schools in the younger grades, tuition for younger grades is also lower.
See the table below to see the average of the tuition fees of the best private schools in Winnipeg.
| | |
| --- | --- |
| Day School | $13,233 to $16,479 |
| Boarding School for Canadian Residents | $32,394 to $40,740 |
| Boarding School for International Students | Additional $5,000 to $10,000 |
| Kindergarten to Grade 6 | $10,700 to $17,450 |
| Grades 7 to 9 | $12,300 to $18,990 |
| Grades 10 to 12 | $13,600 to $23,240 |
Things to Consider Before Selecting A Private School
Aside from the school's curriculum, here are some of the factors that can help you identify which option may be the best fit for your child.
1. College or University Prospects
Aside from giving your child a quality education, one of the most important goals of selecting a private school is ensuring that the school ultimately sets them up for success in college admissions.
SAT and ACT scores of previous students may be a great indicator. Find out if the school is helping their students find the right college fit and a degree meaningful and personalized to their students' interests and skills.
2. Class Size and Student Demographics
Choosing the right private school has a lot to do with getting to know your child. Different students thrive in different environments.
Does your kid learn better in small classes? Most private schools have a lower student-to-teacher ratio which leads to an enhanced engagement and more conducive to learning class styles.
What interests does your kid have? Most private schools also accept students with various academic and social profiles. Take a look at the extracurricular activities, like sports, art programs, and community service opportunities the school offers.
3. Religious Affiliations and Culture
Another very important consideration is whether the school's viewpoints are compatible with you and your child. Fortunately, Winnipeg is a city of diversity and different cultures.
Know that certain areas of the city have predominant cultures. Religion, for instance, is often a part of the structure of various private schools.
4. Teachers and Pedagogy
It will be beneficial to understand how the school selects and trains its teachers as the teachers usually contribute a lot to the students' learning and well-being.
It also pays to find out the kinds of policies and teaching approaches that the school implements.
How integral is technology in the teaching process? How does the school handle a child who doesn't meet academic expectations? How do teachers deal with behaviour issues in some of their students? These questions are worth addressing.
5. Tuition and Other Miscellaneous Fees
Do research on the fees. Most of the schools can provide this on their websites. These fees can also clue you in on the resources schools consider 'essential' in supporting their curriculum. Keep an eye out for books or library fees, health or guidance fees, and field trips, to name a few.
Some of the most common fees are administrative support fees, energy fees, and facility improvement and maintenance fees.
6. Bonus: Notable Alumni or Alumnae
Finally, you can easily find out famous personalities who have graduated from different schools. If your child wants to be a professional athlete or even run for office, it might be a good idea to check anyone notable who graduated from the school you're considering.
Best Private Schools in Winnipeg
Now that we've listed some of the more important factors worth considering in assessing a private school, let's get to the top 5 private schools in Winnipeg.
1. Balmoral Hall School
GRADE LEVELS
Kindergarten to Grade 12
WEBSITE
https://www.balmoralhall.com/
ADDRESS
630 Westminster Ave. Winnipeg, Manitoba, Canada R3C 3S1
CONTACT DETAILS
Phone: +1 (204) 784-1600
Email:

[email protected]

OPERATING HOURS
Monday-Friday, 8:00 AM – 4:00 PM
Balmoral Hall School is an all-girls boarding school founded in 1901. The school is accredited by the Canadian Accredited Independent Schools (CAIS).
The school also adheres to the educational guidelines set out by the Province of Manitoba.
Their mission is to inspire girls' imagination and the courage to excel, to reach, to lead, to care. This mission is supported by their students' opportunity to immerse themselves in various cultural, academic, and athletic activities.
Notable alumnae include journalist and CNN anchor, Ashleigh Banfield; Canadian Senator, Patricia Bovey; ice hockey players, Christine Bestland, Bailey Bram, and Taylor Woods; actors, Sarah Carter, Colleen Furlan, and Carla Lehmann; and singers Chantal Kreviazuk and Loreena McKennitt.
Strong athletic programs
Has a tuition support program
Multiple after-school activities
Supportive alumnae community
Reviews
One of their former alumnae, Laura Wetton left a glowing comment on Google Reviews:
"I attended this school from Junior Kindergarten to Grade 12, and my 3 year old daughter is now in her second year of the childcare program. I cannot say enough positive things about our experiences at BH, as a student myself and now as parents of the school. I cannot wait until our younger daughter turns 2 so she can start at BH too!"
Another alumna left this review:
"Balmoral Hall is a school unlike any other. My daughter attended BH in the first year of their 3-year old childcare program and for the next 14 years our family made a deliberate and wonderful decision to choose BH. The entire staff are caring and skilled professionals who form a community of exceptional learning. BH prepared my daughter for life beyond grade 12 and while we're sad to no longer be a daily part of the community, we – as a family – cherish and are grateful for the BH experience and would highly recommend [it] to all. BH is the best place for girls … and their families."
2. St. John's-Ravenscourt Private School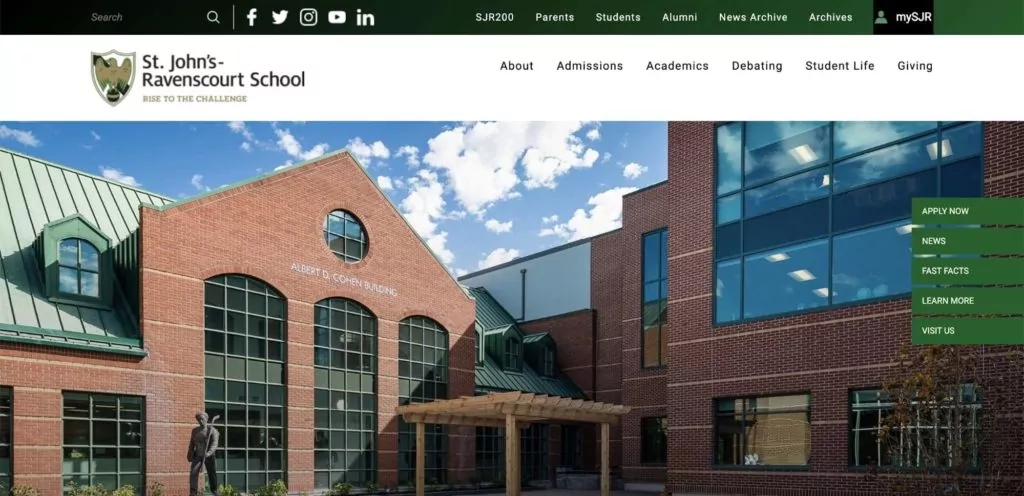 GRADE LEVELS
Kindergarten to Grade 12
WEBSITE
https://www.sjr.mb.ca/
ADDRESS
400 South Drive Winnipeg, MB, Canada R3T 3K5
CONTACT DETAILS
Phone: +1 (204) 477-2400
Email:

[email protected]

OPERATING HOURS
Monday-Friday, 8:00 AM – 4:00 PM
St. John's-Ravenscourt School (commonly referred to as SJR) is a co-ed boarding school founded in 1820.
In 1821, Her Majesty Queen Elizabeth II granted patronage and established a scholarship in her name. Currently, about 80% of their students receive scholarships and grants.
SJR continues to have a strong academic program paired with equally strong attention to the values of stewardship, ethical leadership, and excellence in all areas of academic, social and athletic life.
This mission is solidified by the SJR community's deep regard for their athletics with soccer and ultimate frisbee being their most popular sports.
Notable alumni include CFL Football player, Donovan Alexander; Olympic gold medallist and former member of the Canadian national women's hockey team, Jennifer Botterill; Canadian explorer, author, founder of the Royal Canadian Geographical Society, Deputy Minister of Mines and Natural Resources, Commissioner of the Northwest Territories, Charles Camsell; and many others.
Co-ed typically means a wider, more diverse network of friends
Various extracurricular activities
Available partial scholarships and a financial assistance program
A Mobile App for the alumni community
No full scholarships available
Reviews
Jai Akerstream left this review on Google:
"Amazing education, hands on learning, and great opportunities, sets you up for the future."
Another review from Vicky Vorovska via Google Reviews commends the school:
"Best school ever, extremely welcoming, high in academics and sports, lots of fun and interesting activities."
3. CASA Montessori & Orff
GRADE LEVELS
Infant Toddler to Elementary
WEBSITE
https://montessoriandorff.ca/
ADDRESS
1055 Wilkes Avenue Winnipeg, Manitoba R3P 2L7 80 Fennell Street Winnipeg, Manitoba R3T 3M4
CONTACT DETAILS
Phone: +1 (431) 531-5363
Email:

[email protected]

OPERATING HOURS
Monday-Friday, 7:30 AM – 5:00 PM
Casa Montessori & Orff started in 1991 and operates under the philosophy that the environment where a child learns is crucial in fulfilling their true potential. This kind of style came from Maria Montessori and Carl Off.
Montessori was an Italian physician with a background in the fields of anthropology, education and psychiatry. On the other hand, Orff was a German composer and conductor primarily known for his contributions to music education.
Both are teachers who believed that children can gain self-confidence, independence, and inner discipline in a trusting and non-competitive atmosphere.
This philosophy has been carried out since and has led to teachers providing children with a caring and holistic environment to learn.
Unique class styles
Development-focused education
Co-ed typically means a wider, more diverse network of friends
More expensive than other schools
Curriculum may not be for all types of student
Reviews
Evelyn Yauk, a parent whose daughter goes to Casa Montessori left a positive comment via Facebook:
"My daughter was a student at Casa Montessori for 7 fulfilling and enriching years right up until she graduated from grade 6. Casa provided her with a well-rounded learning experience – she learned how to be self-directed, interact respectfully with her peers, and be community-minded. The classroom at the Caboto Centre is an inspiring space with so much to explore within the authentic Montessori learning modules. The teachers have so much to offer to the students and, as a parent, I felt confident that my daughter was in a caring environment. When my daughter was in grade 6, there was some trepidation about how the transition to 'regular' school would go but it ended up being seamless. My daughter faced every new experience and challenge with confidence. I am grateful that there is a Montessori elementary school in Winnipeg and that it is run so professionally."
4. St. Mary's Academy
GRADE LEVELS
Kindergarten to Grade 12
WEBSITE
https://www.smamb.ca/
ADDRESS
550 Wellington Crescent Winnipeg, Manitoba R3M 0C1
CONTACT DETAILS
Phone: +1 (204) 477-0244
Email:

[email protected]

OPERATING HOURS
Monday-Friday, 8:00 AM – 4:00 PM
St. Mary's Academy is an all-girls, Catholic school founded in 1869, making it the oldest continually operating independent school in Winnipeg, Manitoba.
The Academy views its single-sex environment advantage to motivate young women to excel, explore their skills, and exercise their leadership capabilities.
The Academy has also maintained an exceptional academic program, extensive athletic program, various extracurricular activities, as well as campus ministry and religious education program.
Its facilities include a new library, a Mac lab, Wacom tablets, and a fitness center. It also boasts of a new art studio, a new art lab with drafting tables, pottery wheels, and a new dramatic arts wing complete with props studio, make-up and dressing rooms, and a costume lab.
New facilities for different kinds of art and science programs
Multiple school clubs and sports to choose from
Supportive alumnae community
A Deo Gratias Fund for non-tuition needs for an equitable experience for all students
Expensive tuition fee
No scholarships available
Reviews
A review of the school from alumna, Justice Kim Prost, can be found on the school's website:
"St. Mary's was much more than what I learnt in the classroom. I am grateful for many other attributes of the school which surrounded that core education. In the way we were taught, the expectations, our interactions and treatment of others, and extracurricular programs, we were exposed to the fundamental values of faith, humanity and the importance of services."
Another review from alumna Rita Mae Race said:
"I've been involved with St. Mary's Academy for so long, forming life-long friendships here, as a student in high school and college, teacher and parent."
5. Gray Academy of Jewish Education
Gray Academy of Jewish Education is a co-ed, Jewish private school established in 1997. The school continues to provide its students with opportunities to learn and thrive in a warm Jewish community environment.
Gray Academy's values-based approach encourages its students to develop a love of community and a strong sense of Jewish identity. The school also highlights the importance of nurturing relationships between teachers, students and families.
Parents also have a Family Portal that can be accessed through the school's website. The portal is a go-to resource for important school-related information like the staff contacts, uniform info, school calendars, policies, and even the students' lunches.
Co-ed typically means a wider, more diverse network of friends
Has an ice skating rink
Online portal for everything school-related
Financial support available
Supportive alumni community
Uniforms requirement
Expensive tuition fees
Reviews
Cindy Lazar glowingly remarked on the school's Facebook page:
"Gray Academy hits all the high notes – great academics, great staff, great community!"
Another remark from Cheryl Talkington-Altman via Facebook said:
"Amazing school, amazing teachers, amazing community"
6. Dashmesh School Winnipeg
GRADE LEVELS
Kindergarten to Eighth Grade
WEBSITE
https://www.dasmeshschoolwpg.ca/
ADDRESS
3707 Roblin Blvd,
Winnipeg, MB R3R 0E2
CONTACT DETAILS
Office: 204-633-6670 / 204-219-3757
Cell: 204-890-6670
Email: [email protected]
OPERATING HOURS
Monday to Friday, 8:30AM to 4:30PM
Next on our list is a private, non-profit insititution that offers K-12 classes.
Dashmesh School Winnipeg was established by a dedicated group of intellectuals from Sikh community, who are committed to academic excellence. Classes at Dashmesh School Winnipeg puts great emphasis on Mathematics, Science, and Language Arts to prepare students for University.
It's also worth mentioning that the school strives to preserve the Punjabi language and the rich cultural heritage of the Sikhs, all of which are passed on to Indo-Canadian-Sikh children.
Not everything is about academics and logic in Dashmesh School Winnipeg, though. The school also aims to develop young students with active and creative minds, a sense of understanding and compassion for others, and the courage to act on their beliefs.
If a child graduates from Dashmesh School Winnipeg as a holistic person, who has high marks in spiritual, moral, intellectual, social, emotional, and physical aspects, then Dashmesh School Winnipeg has done its job right.
Full service moving option available
Moves residential and office properties
Capable of successfully moving large, fragile objects
Prompt and professional movers
Not a lot of information regarding tuition and fees online
---
We hope that our list of the best private schools in Winnipeg made the process of evaluating different private schools in Winnipeg a bit easier for you.
Get with any one of the best private schools in Winnipeg listed here, and ensure your children's access to quality education and to a great community of educators and students.
Know any private schools in Winnipeg that you expected to see on this list? Let us know your suggestions.
If you're looking for other places where you can learn, you can check out our list of the best places for swimming lessons in Winnipeg.