10 Best Dishwasher Repair Services in Winnipeg
Featured Image Source: Jon'Nathon Stebbe via Unsplash
Sometimes, even your most trusted appliances break. No matter how careful or clean you are, inconveniences like a dishwasher failing to start can happen.
Luckily, there are dishwasher repair services both for residential and commercial needs in Winnipeg that you can call for just this problem. We put together a list of them right here, as you'll see below.
Before that, however, we'll take you through the costs of getting dishwasher repairs done here.
How Much Do Dishwasher Repair Services in Winnipeg Cost?
In general, the cost of having your dishwasher repaired varies depending on the problems the appliance is experiencing. Factors such as the age and the brand of your dishwasher affect the price.
See the table below to see the average of how much the best dishwasher repair services cost in Winnipeg.
| | |
| --- | --- |
| Average Cost | $220 |
| High Cost | $600 |
| Low Cost | $50 |
| Hourly rates for a professional | $130 to $260 per hour |
| Dishwasher Pump Replacement | $150 to $600 |
| Dishwasher Motor | $400 to $600 |
| Filter | $50 to $100 |
| Sprayer Arm | $75 to $100 |
| Water Inlet Valve | $80 to $125 |
| Door Latch Assembly | $150 to $250 |
The Best Dishwasher Repair Services in Winnipeg
Now that you know what you'll face when it comes to costs, here's our list of the most reliable and most efficient dishwasher repair companies in Winnipeg.
1. Cappliances Repair
Cappliances Repair is a locally owned appliance repair company in Winnipeg. They are one of the top 3 appliance repair services in Winnipeg based on a 50-Point Inspection including their services, customer reviews, and other company milestones.
They specialize in the maintenance and repair of dishwashers and other appliances. They also repair various appliance brands like Whirlpool, LG, Samsung, Admiral Canada, and many others.
Their appliance repair experts are available for 24 hours, 7 days a week. They are also available during weekends and holidays, as well any emergencies for their customers' convenience.
Aside from that, their technicians are always ready with new replacement parts as they take pride in the seamlessness of their service within the specified time or day.
Same-day service
Competitive pricing and no hidden charges
Available 24/7, including weekends and holidays
Works with the best service warranties in the industry
A user-friendly website to access their services
Easy to book a service through their website and social media pages
Refunds may not be guaranteed
Customer Reviews
Cappliances Repair has numerous positive reviews. One of them is from Lucas Andrich on Facebook:
"Ethan just helped us out and I have to say that it was some of the best and most positive customer experience I've had after calling many different appliance shops. Super helpful. Coming here for all my needs from now on."
Another review came from mrsr0218 via Yellow Pages:
"I was very satisfied with the service. The technician was very friendly, worked quickly & took the time to explain things to me. I will definitely call them again if needed & recommend this company to anyone that is looking for an appliance repair."
2. Mike's Quality Appliance Repair
Mike's Quality Appliance Repair (MQAR) may have only started in 2016, but they had already won the Consumer's Choice Award by 2020.
MQAR offers a same-day appliance repair service. They have years of combined appliance repair experience and dedicated staff who are highly trained.
Their team of professional technicians is also trained to work quickly to get your appliances up and running. They have emergency restoration services and same-day services for most of the appliances customers have at home.
Note that they can repair dishwasher problems like defective pumps, failed or dying sprayers, motor issues, drain blockages, faulty latch or door seals, and knob, fuse or electrical issues. They also repair other appliances, by the way.
Same-day appliance repair
Available emergency repair services
Fast response from the company after your booking
2020 Consumer's Choice Award winner
 Lesser known brands of dishwashers may not be accomodated
Customer Reviews
One review from a previous client, Marni Domolewski, left this review on Google:
"Mike provides top notch service. He arrived at my door promptly and followed health protocols. He quickly assessed the dishwasher issue. He informed me of my options. I appreciated his honesty and although we tried a fix, the machine started to act up again a week later. The problem unfortunately had me go a different avenue of just having to buy new. That was okay. We tried. THEN I had a problem with my older kitchen aid fridge. Worried that I would have to look for a new fridge during this pandemic, Mike came once again and this time he was able to replace the defective part and has saved me a BIG pile of money. Thanks Mike!!"
Another review from a customer, Ron O., says:
"Super-quick response (less than two minutes) to my online request for service. Anton provided quality work, was very respectful, maintained a clean work area, and followed COVID-19 protocols (mask use, etc). Would highly recommend!"
3. Premium Solution Appliance Repair
Premium Solution Appliance Repair was established in 2014 and has been known to work with leading brands in the industry like Samsung, GE, Whirlpool, LG, Bosch, and Frigidaire, to name a few.
Their website helps customers identify right off the bat which common dishwasher problems have afflicted a machine. These problems include but not are not limited to leakage, failure of the appliance to start or drain water, and the appliance making noises.
They also pride themselves in having technicians who are very attentive to their clients. Their goal is to be punctual and honest, saving both money and time for their customers.
Their skilled technicians also stay up to date with new models and technologies to cater to their customers' needs.
Provides service for all appliance brands
Discounts for new customers and senior citizens
Have served over 1000 customers, making them familiar with all types of appliance problems
Customer Reviews
A review from a satisfied customer, Adrian W. via Yelp reads:
"A couple of months ago, my dishwasher broke down. I called several masters who said that the breakdown is very complex and it is better to buy a new one. They called different prices for repairs from $350 and more. My friend advised me to ask for help from this company… A technician arrived very quickly, without delay, and repaired my dishwasher. Oh, it's excellent, only one hour of work and my dishwasher is working like [it's] new !!! And what's interesting is the price for all of $ 195 , Now I have a fixed dishwasher, money saved, good mood for the holidays and a discount on the repair of other household appliances from Premium Solution. [Highly recommend] this guys :)"
Here's another review from Mike K. via Yelp
"This company is very fast and reliable. Working quickly and quality. [Will] recommend [them to] my friends and others."
4. Pro-Tech Kitchen Repair Specialists
SERVICES
Commercial Appliance Maintenance and Repair, including: Dishwasher, Oven and Microwave, Deep Fryer, Toaster, Grill, Wok, Induction Cooker, Steam Equipment, Gas Equipment, Slicer, Mixer, Grinder, Beverage Machine, Range, Warming Cabinet, and Food Warmer
WEBSITE
https://protechrepairs.ca/
https://www.facebook.com/protechKRS/
ADDRESS
304 Mcleod Avenue, Winnipeg, Manitoba R2k0A9
CONTACT DETAILS
Phone: +1 (431) 887-2477
Email:

[email protected]

OPERATING HOURS
Open 24/7
Pro-Tech Kitchen Repair Specialists provide quick and professional repair for commercial customers. Their goal is to provide customers with the best kitchen equipment repair service.
To help with this goal, they have factory-authorized parts for all commercial cooking equipment. They also have a stock of kitchen equipment parts to help with their customers' replacement needs.
Customers can trust their technicians to be on-site for a quick and professional repair. They also provide 24-hour emergency service to ensure that their customers' businesses will keep running smoothly.
For Pro-Tech, cleaning commercial dishwashers and providing regular maintenance are key to keeping dishwashers in top condition. They prioritize efficiency and want to make sure machines operate without interruptions.
Their commitment to helping businesses minimize future issues means their technicians will also help and enable their clients to spot damaged or broken parts easier, early on.
Fast response
Available 24/7
Easy-to-navigate website
No mention of warranties from their site
Customer Reviews
Shannons Pub via Google Reviews said:
"Found them online. Quick response for service request. Very fair pricing for service. Will definitely be [our] go-to for any other equipment repairs."
A repeat customer left this review through Yelp:
"Pro-Tech is my go-to company for all my appliance repairs. They are always on-time, courteous, and most importantly, are able to diagnose and fix whatever it is that is broken. I have used them multiple times for all different appliances including my washer, dryer, refrigerator, microwave, and stove-top too. I highly recommend their technician, Sam."
5. RG Prado Appliance Service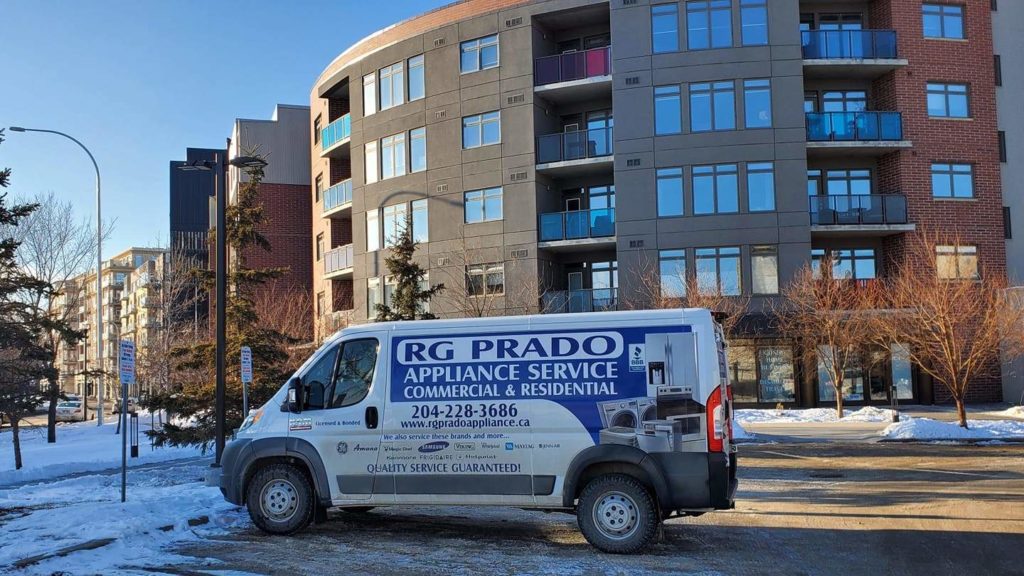 SERVICES
Repair of the following: Dishwasher, Washer and Dryer, Cooktop, Stove and Range, Range Hood, Microwave, Refrigerator, Over-the-range microwave
WEBSITE
https://www.facebook.com/Rgpradoapplianceservice/
ADDRESS
1514 Manitoba Avenue, Winnipeg, MB R2X 0L5
CONTACT DETAILS
Phone: +1 (204) 228-3686
Email:

[email protected]

OPERATING HOURS
Mondays to Fridays: 9:00 AM – 5:30 PM
Saturdays: 9:00 AM – 5:00 PM
RG Prado Appliance Service was established in 2010 in Winnipeg to handle both domestic and commercial appliance repairs and installations. They are currently a part of the Electronic Equipment Repair Services Industry.
They keep their technicians up to date on the most modern and advanced technologies. They also educate and train them to be reliable and efficient in the repair of dishwashers.
They provide emergency appointments to help address different appliance-related challenges of their customers. Their years of being in the industry have given them experience in dealing with any kind of dishwasher issue.
They service almost all major brands of home appliances. They also respond quickly to booking requests and can accommodate whatever the age or condition of their customers' appliances.
Services major brands
Provides emergency appointments
Positive feedback from over 200 previous customers
Same-day repair services are not guaranteed to be available
Customer Reviews
One of their customers, jord2811, left this review via Yellow Pages:
"Awesome service. Explained everything as he went along so there were no mysteries."
Another review from Yellow Pages by jhanch1938769 says:
"Jun provided same-day service. He is respectful, knowledgeable and honest. Should we have another appliance needing repair we would not hesitate to call him again."
6. Fix Up
The dishwasher is a vital component of any full kitchen. When it isn't at its best, or isn't functioning at all, it's important to choose a company that can bring it back to its former glory without your wallet weeping in the process.
Here is where Fix Up comes in.
Fix Up is a specialised company that deals with concerns related to dishwashers. Its diverse team consists of licensed and skilled technicians whose years in the business allows them to accommodate dishwashers of any brand, model, and make.
Not only that, but the team is also capable of accepting requests around the clock with their 24/7 service hours. This makes Fix Up an excellent company to choose for both regular concerns and emergencies.
Aside from the expert team and the company's schedule, Fix Up is also known for being prompt and professional.
Typically, clients set a date and time for the repairs, and Fix Up technicians make it a point to always arrive on time. This makes it so that no person's time is wasted.
It's also worth noting that the Fix Up team is highly communicative and transparent in every job they take on. Clients should expect the technicians to explain the root of the problem, and what it takes to fix it.
They also recommend the most economical choice to ensure that you won't be ripped off by repairs that will last for a short while only.
Lastly, Fix Up's services don't end with repairs. The company also offers routine maintenance checkups to ensure that your dishwasher is always running in top condition.
Prompt, professional, and trained specialists
24/7 service hours
Quick and efficient repair services
7. Canadian Repair Solutions
SERVICES
Repair and Maintenance for Kitchen and Laundry appliances
WEBSITE
https://appliances-service.ca
ADDRESS
Manitoba, Canada
CONTACT DETAILS
Ottawa: (613) 702-8533
Ontario: (226) 270-8770
Manitoba: (204) 817-9313
OPERATING HOURS
Contact for more information
Canadian Repair Solutions began as a humble workshop in 2006. Through the dedication of its team, the company has grown and expanded to what it is now: One of the most reliable and trustworthy repair centres for kitchen and laundry appliances.
Now, this growth wouldn't have happened had it not been for Canadian Repair Solutions' consistency since it first began operating. Their trained technicians have the skills and expertise to accommodate repairs for various brands, making the company a popular choice regardless of what model you have in your home.
Another thing worth noting about Canadian Repair Solutions is that they are very transparent in all of their jobs. Their pricing is transparent, with the team explaining why the cost is the way it is.
They also try to give an exact estimation of how long a job would take. Plus, they try to be cost-efficient and recommend to clients if a repair is more reliable in the long run or if there are other options available.
Finally, Canadian Repair Solutions has one of the largest service areas in the entire list, spanning Manitoba, Ontario, Ottawa, and more.
Reliable and prompt team

Qualified engineers
Fairly priced services
Original parts used
Labour and parts guarantee
No information regarding service hours online
8. Affordable Appliance Repair
If we're talking about dependable repair services at low prices, then Affordable Appliance Repair should be one of the names on the list.
This locally owned and operated company has been trusted by the local community for a few years now, thanks to the consistency they have to offer in terms of service and repairs. Affordable Appliance Repair is one of the few repair centres that offer 24/7 services.
Not only that, but their crew is made up of exceptional individuals as well. All of them were thoroughly checked before being allowed on the team, which means clients can rest easy knowing that these repairmen are skilled, knowledgeable, and personable regardless of which client they're interacting with.
Now, in terms of range of services, Affordable Appliance Repair addresses issues related to dishwashers, ovens and stoves, washers and dryers, and refrigerators. Clients in need of repairs or check ups can call their hotline and expect a call as late as forty-eight hours after first contact.
Affordable rates

Professional and prompt servicemen

Emergency and late-night calls accepted
9. Masson Appliance Sales
Appliances are a necessity in life and if yours needs repairing, you can't afford to wait.
Masson Appliance Sales provides professional appliance repair and parts in Winnipeg. They also offer service calls, appliance delivery, and used appliance sales and parts.
They accommodate a wide range of appliance products and brands, including but not limited to LG, Viking, Bosch, Whirlpool, Amana, Kenmore, Samsung, Kitchenaid, and more.
While Masson Appliance Sales doesn't have 24/7 services, the company does operate six days a week, from Mondays to Saturdays, with pretty long operating hours.
Wide range of appliance and brands serviced

Affordable rates
Offers used appliances and parts
10. RF Appliance Service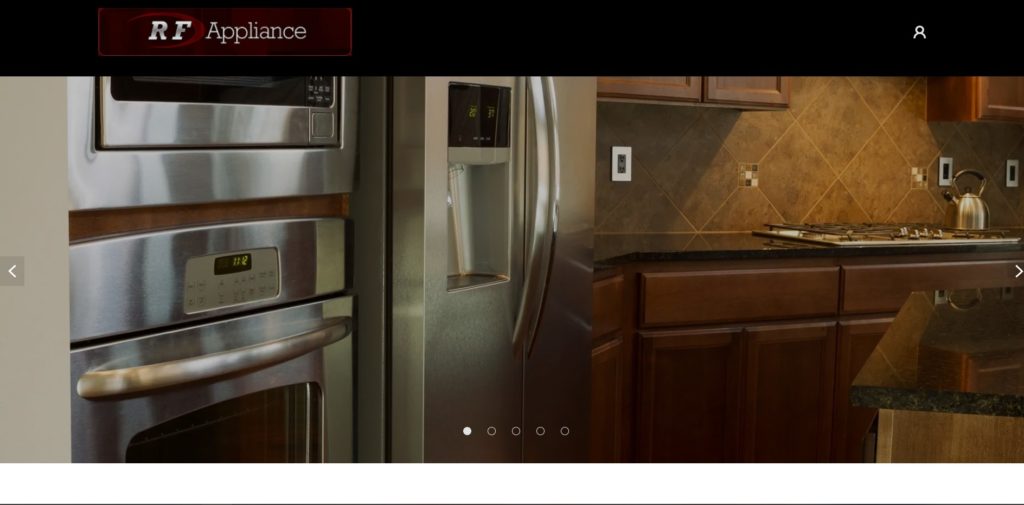 | | |
| --- | --- |
| SERVICES | Home appliance repair and service, stocking of spare parts |
| WEBSITE | https://rfappliance.ca |
| ADDRESS | 62 Scurfield Blvd #20, Winnipeg, MB R3Y 1G4, Canada |
| CONTACT DETAILS | +1 204 453 3545 |
| OPERATING HOURS | Monday – Friday, 9 AM – 4:30 PM |
RF Appliance Service offers its clients with more than 50 years of combined experience in the appliance industry.
We highly recommend their team of skilled technicians who can work on brands like KitchenAid, LG, Samsung, Whirlpool, and Electrolux.
We were also amazed with how fast they can get the job done, especially when dealing with leaky and malfunctioning dishwashers and laundry machines. In fact, we've seen several reviews from previous clients that the technicians managed to resolve their problems in minutes. Amazing, right?
However, you need to schedule your appliance repairs on weekdays, since RF Appliance Service is closed during the weekends. The information on their website is also fairly limited, so you really need to get in touch with them first to see if they can provide the service that you need.
Other than that, you'll be pleased to know that they actually stock parts of various appliances. So even if you need a part replacement service, you don't need to worry about it since they're likely to have what you're looking for.
Repair team very knowledgeable about appliances and parts

Fast service

Stocks parts required to fix appliances
Closed on weekends
Website offers very little information to potential clients
Customer Reviews
Professional, courteous, and helpful
"The woman I spoke with to book the appointment was very professional, courteous and helpful. The Technician (Denis) was wonderful. He explained the situation after inspecting my dryer and confirmed the parts I wanted replaced. The entire appointment took less than 45 minutes. I am very happy with the service I received and will definitely co tact RF Appliance in the future." – Melanie Anderson
Provides quality workmanship
"My experience with Kerry with RF Appliances Repair was excellent.  Kerry came to our home to repair our washing machine, dishwasher and stove.  He is extremely knowledgeable, provides quality workmanship and explains the nature of the repairs in a way everyone can understand.  I appreciate your kindness, professionalism, timeliness and getting the job done quickly." – Christine Maruda-Granger
---
FAQs about Common Dishwasher Problems
---
Know any other great dishwasher repair services in Winnipeg that you expected to see on this list? Please reach out to us with your favorite company and we'll check them out!
If you're also looking for assistance with some plumbing issues, check out our list of the best plumbers in Winnipeg.