The 8 Best Roofing Companies in Winnipeg
Featured Image Source: João Jesus via Pexels
Some home-related maintenance and renovation jobs are better left to the professionals. Roof installation, repair and maintenance are only a few of those projects we recommend you hand over to the best roofing companies in Winnipeg.
There are many reasons why we think professionals are better for the job. For one, contractors dedicated to roofing services spend most of their days in high places, sometimes during intense heat or cold.
These professionals are also used to carrying heavy materials, like shingles, climbing up ladders to get to roofs.
Anyway, we put together a list of the best companies in Winnipeg that are professionally trained and equipped to handle different services for homeowners' roofs.
But first, how much should you expect the best roofing companies in Winnipeg to cost?
How Much Do Roofing Companies in Winnipeg Charge?
Costs vary greatly depending on the pitch and size of your roof, the type and layers of your shingles, and the condition that your roof is in. Additional features on the roof, like chimneys, skylights, and ventilation pipes also affect the cost.
The best way to estimate how much your roofing project will cost is to have a free quote done. Roofing contractors usually provide an estimate of this if you call them.
It's also worth noting that many roofing warranties are for 25 years, with a few roofing manufacturers also providing a lifetime warranty.
There are also insurance companies that offer discounts if you use impact-resistant shingles. We recommend that you consult with your insurance broker before beginning any roofing projects.
See the table below for how much the best roofing companies in Winnipeg charge on average.
| | |
| --- | --- |
| Roof replacements | $4,707 to $10,460 |
| Roof inspector to evaluate if you need a new roof | Around $200 |
| Roof removal | $1,500 to $3,000 |
| Roof repair | $225 to $1,150 |
| Asphalt roof | $3,600 to $10,800 |
| Metal roof | $8,000 to $24,000 |
| Average cost to reshingle a roof | $4,000 to $10,000 |
| Roof tile replacement cost | $1,400 to $1,600 per square unit |
| Slate roofing | $1,480 per square unit for materials and professional installation |
| Installation of flashing on roof | $200 to $500 for each chimney or skylight |
| Installation of plywood sheathing or replacement of roof decking | $1,050 to $1,575 |
| Roofing permit | $150 to $500 |
The Best Roofing Companies in Winnipeg
Cost aside, we want to make sure that your roof lasts decades and you are protected from issues like leaks or other structural inconsistencies.
Hence, we compiled the best roofing companies in Winnipeg based on their services, certifications, costs, and customer reviews. Check them out below.
1. Pristine Roofing & Siding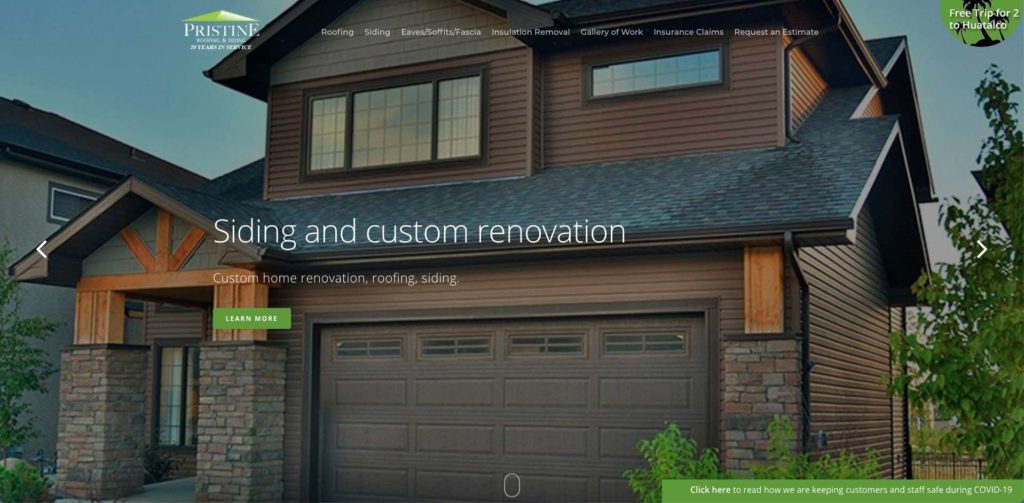 | | |
| --- | --- |
| SERVICES | Roofing, Siding, Custom Construction, Spray Foam Insulation |
| WEBSITE | https://pristineroofing.com/ |
| ADDRESS | 524 Fleet Ave, Winnipeg, MB R3L 0S2, Canada |
| CONTACT DETAILS | Phone: +1 (204) 237-7663 |
| OPERATING HOURS | Mondays to Fridays: 9:00 AM – 5:00 PM |
Founded in 1998, Pristine Roofing has completed over 7000 roof projects in Winnipeg. They are COR certified, a BBB accredited business, a member of the Manitoba Home Builders Association, a HAAG certified inspector, and a member of the Manitoba Shingling Contractors Association.
All these accreditations are important and should not be taken for granted. They help indicate the quality of their services.
Pristine does residential homes, commercial properties and condominiums. Their services also include all roof repairs and improvements.
This company is considered to be one of the best roofing companies for having fine-tuned their process to make it simple for customers to efficiently get the service they need.
Customers can call or send an email about their roof project. An estimator will come to review the job site, gather more details about the kind of work that needs to be done, and provide a detailed estimate for the project.
Once the customer is ready to begin, the estimator will return to review the contract and answer any questions the customer might have. Once everything is settled, a work order for the Winnipeg roofing contractors who will be working on your project will then be created.
Once the work has been completed, an inspector will come to review the work, make sure that the specified tasks have been accomplished, and that the job site is in good shape.
Customers are also asked to complete a survey to gauge their satisfaction. That's usually a good sign, as far as we're concerned, as it indicates that the company truly cares about its clients.
COR-certified
Insured and covered by WCB
Recycles all used construction materials to lower their environmental footprint
5-year workmanship warranty
15-year to lifetime warranties for roofing and materials
Higher rates compared to competition
Customer Reviews
A review from Ian Dobbelaere via Google says:
"Pristine replaced our roof recently. The entire process was positive and stress free. They had very competitive pricing, best warranty in the business, excellent workmanship, responsive to any and all questions and concerns, cleaned up sites like they were never here, and excellent follow up after the job was complete. Highly recommended!"
Another positive review from Brittany Rea recommends the company:
"I would highly recommend the entire crew at Pristine Roofing. When I called for an estimate, the estimator was at my house within the hour (and in the rain). He was very friendly and provided the quote on the spot. The quote provided was on par with other quotes I received. The estimator also followed up to see if I had any questions or concerns, which I appreciated. In turn, the follow up was what won my business. The day of the install, the crew was also very friendly and provided very quick and efficient service. After the install, a manager come by to inspect our roof about 1 week later to ensure everything was up to snuff. I really appreciated the friendly, quick service of the entire crew, as well as the follow ups throughout the process. Thanks team!"
2. Above All Projects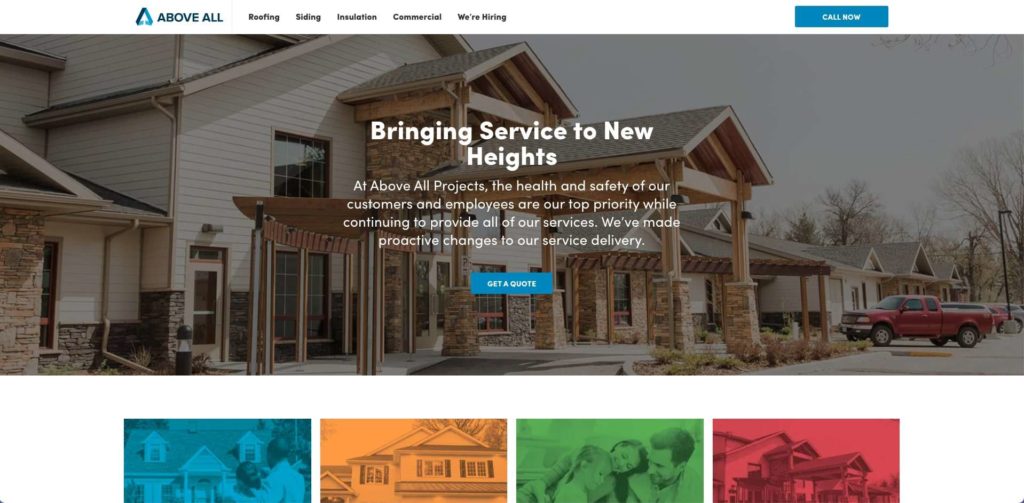 SERVICES
Roofing, Siding, Eavestroughs, Insulation
WEBSITE
https://aboveall.net/
ADDRESS
1450 Wall St, Winnipeg, MB R3E 2S3, Canada
CONTACT DETAILS
Phone: +1 (204) 999-4674
Email:

[email protected]

OPERATING HOURS
Mondays to Fridays: 8:00 AM – 4:30 PM
Above All Roofing is a COR certified business and a member of the Manitoba Shingling Contractors Association (MSCA), Manitoba's largest team of sloped roofing specialists. The MSCA is a network of contractors committed to a standard of excellence in service, workmanship, and professional business ethics.
Above All has built their company around making an efficient and enjoyable end-to-end roofing process. They make sure that from the first interaction to the final cleanup of the property, customers are met with cheerful workers – from listening representatives to installation crews.
The company also understands that for a house to be able to withstand the extreme weathers of Manitoba, the roofing materials need to work in harmony with the ventilation and insulation systems of the house.
Their team even invests in experts who are specifically trained in residential exteriors. All of their team members are integrated to make sure that the entire roofing system is working together to protect their customers' homes.
Their representatives are also available to guide their customers in deciding the best products for their homes whether that may be fibreglass laminate shingles, metal roofing panels, cedar shakes, or synthetic slate or cedar.
COR™ Certified
Have implemented a comprehensive safety program for everyday operations
Complete liability insurance
WBC coverage for all workers
Good warranty
Slightly higher rates compared to competition
Customer Reviews
A five-star review from Sheri Block via Google says:
"I had Above All out to my house 4 years ago to find the cause of a condensation issue in my closet. They found that the insulation above that portion of the house had been missed when it had been built 25 years prior. They insulated and I had them inspect my roof while they were here as it was showing wear. They told me I had another 4 to 5 years of use with the roof so to wait. They gave me a quote anyway so that I would know what it would cost. I had two other well known roofing companies out and they quoted me double what Above All had and said the roof needed to be replaced right away. This past week I had Above All come out to replace the roof and they did an amazing job. The price stayed the same after 4 years, which surprised me. Their crew was professional and courteous. I will be recommending them to everyone I know."
Another five-star review from Mary Hill reads:
"We had contracted with Above All Projects to reshingle our roof. Although there was a slight hiccup in estimating the number of bundles required, Above All was there bright and early the next work day morning to complete the project. We could not have been more pleased with the end result. Right from the initial contact with Chris, and then Dan, to the work crew and accounts receivable everything was handled in a very professional manner. Dan kept us up to date every step of the way. The work crew was very hard working and did an excellent job. They seemed to work very well together as a team, which is a plus for any company. Should the occasion arise, we would not hesitate to call them for another project, or to recommend Above All Projects to our friends and family. We are very pleased we chose Above All Projects."
3. RonOvations LTD
SERVICES
Roofing, Siding, Soffit, Fascia and Eaves
WEBSITE
https://www.ronovations.ca/roofing
ADDRESS
125 Kowalsky cres, Winnipeg MB R3R3A8
CONTACT DETAILS
Phone: +1 (204) 396-4143
OPERATING HOURS
Mondays – Thursdays: 7:00 AM – 8:00 PM
Fridays: 7:00 AM – 5:00 PM
Sundays: 10:00 AM – 8:00 PM
RonOvations have certified professionals who can check or locate signs of roof damage caused by age, wear, or a storm.
One of the most important reasons that this company made it to the list is that they understand that it can be difficult for customers to fully identify roof damage since these issues are not always obvious. Because of this, the company will never recommend a roof repair that isn't necessary.
Their team can also identify and fix problems with any type of roof: asphalt shingles, shake, or metal. RonOvations offers home renovation services and helps their customers identify problems like buckling and curling, indoor ceiling stains, missing granules, and blistering.
For instances where their customer's roof is beyond repair, RonOvations offers options for roof replacement. Part of their mission is to educate their customers, which is why their team helps customers compare the advantages of the different types of roofs so they can make an informed investment.
Their well-trained workers are experts at the interpretation of drawings and construction of various kinds of roofs. Their partnership with roofing materials manufacturers allows them to provide suitable, waterproof, cost-effective, safe, durable roofing solutions to their customers.
5-year workmanship warranty on residential roof installations and commercial roof replacement
Enhanced labour and material warranties available
Covers everything from roof design stage to roof installation stage
Fully insured workers
All roofing debris goes to government-approved facilities
Relatively fewer roofing services compared to bigger roofing contractors
Customer Reviews
A five-star review from Alexander Pertsev via Google reads:
"Quick and professional service from Ron and his team helped me to repair the roof after a recent wind storm. I contacted Ron on Sunday and he was very responsive and scheduled the repair for the next morning. Leaving the damages for a longer time would have caused much more repairs due to rains coming. Thank you Ron for fixing the issue quickly and with excellent quality!"
Another review from Rachelle Pancoe recommends the company:
"Had our roof shingled by Ronovations. We received our quote fast and the job was completed within a week and a half upon agreeing to the quote. Extremely fast considering the rush before winter. Ron was professional and thorough throughout the process and had a team of 4 guys which got the job done quickly. No mess left either after the job was done. Would highly recommend this company!"
4. KLZ Roofing, Siding & Exterior Renovations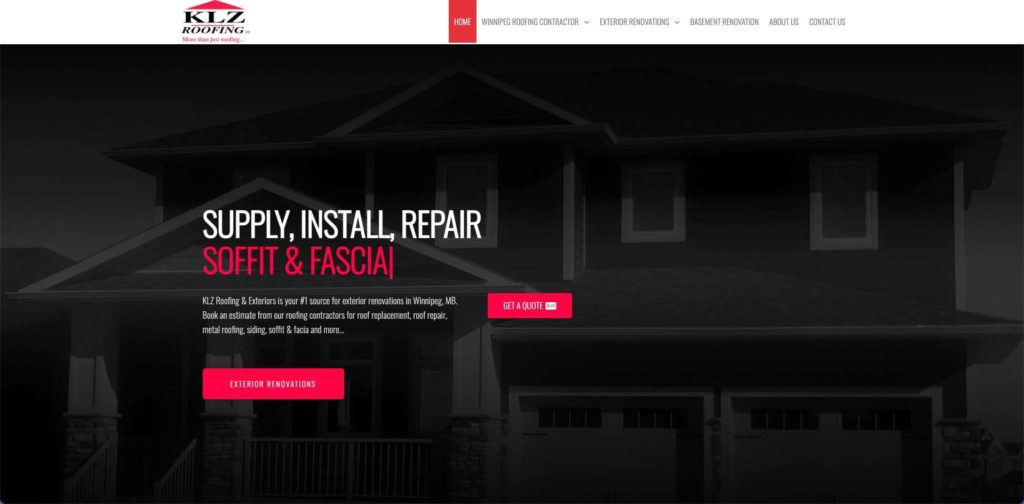 SERVICES
Roof Installation, Roof Inspection, Roofing Basics, Exterior Renovations, Soffit, Fascia and Eaves
WEBSITE
https://klzroofing.com/
ADDRESS
480 Harbison Ave W, Winnipeg, MB R2L 0A9, Canada
CONTACT DETAILS
Phone: +1 (204) 229-1822
Email:

[email protected]

OPERATING HOURS
Mondays – Saturdays: 9:00 AM – 6:00 PM
KLZ Roofing & Exteriors is a local company that does both residential and commercial work. They are also Shingle Master certified and a member of the Life Workplace Safety & Health.
KLZ Roofing's most popular shingle types are premium asphalt and fiberglass shingles, both available in a wide array of colours and styles. These shingles are manufactured with self-sealing adhesive strips, which makes for faster installation and ultimately saves money.
The company is considered one of the best because they help guide their customers in the selection process of the right shingle product and colours to match their budget.
KLZ Roofing also has one of the best roof warranties in Winnipeg for both the workmanship as well as the materials. The shingle warranties in Manitoba are extendable as well as transferable.
Offers a six-year workmanship warranty, as well as term financing for your home renovation project
Manufacturer warranty is for 25 years to lifetime
Available extended and transferable warranties
A+ BBB accredited business
Higher rates compared to competition
Customer Review
A positive review from Aaron Lavallee via Google says:
"Fantastic work, amazing crew and top notch customer service. The only reason I didn't highlight good value is because if you want quality workmanship you need to open your wallet a bit. But it's well worth it. Highly recommended by me."
A five-star review from Louis Bonneteau also via Google reads:
"I couldn't have hired a better company to do the roofing and siding on our home. From beginning till the end we were completely satisfied with the communication and the superior workmanship. Our house looks fantastic thanks to the great work from Kirk and his team. Kirk's team was very polite and respectable beyond our expectations. We will definitely recommend them to all of our friends and family. Thank you and all the best."
5. All Weather Exteriors Winnipeg Roofing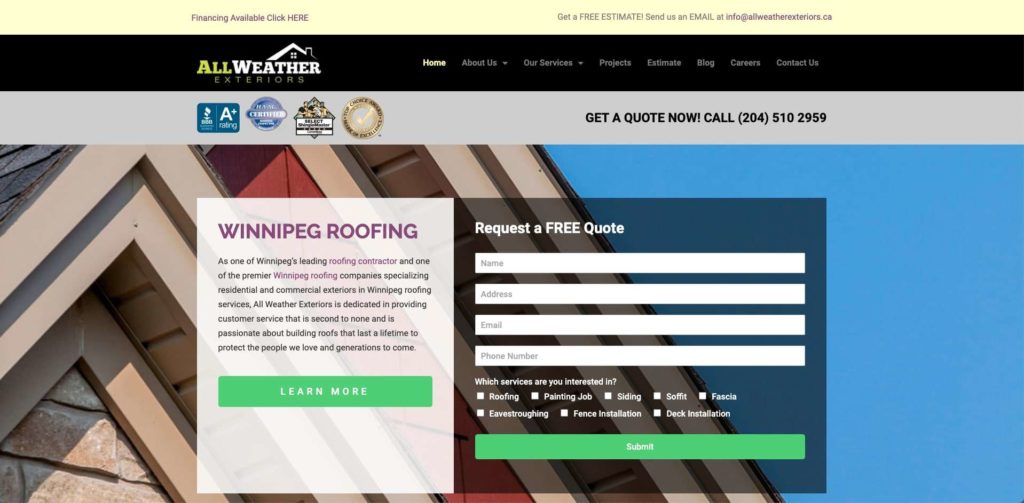 | | |
| --- | --- |
| SERVICES | New Roof, Re-roofing, Roof Restoration, Roof Extensions, Eavestrough, Gutter installation and repair, Siding installation and replacement, Window and eaves cleaning, Interior and Exterior Painting |
| WEBSITE | https://www.allweatherexteriors.ca/ |
| ADDRESS | 534 Trent Ave, Winnipeg, MB R2K 1G3, Canada |
| CONTACT DETAILS | Phone: +1 (204) 510-2959 |
| OPERATING HOURS | Mondays to Fridays: 8:00 AM – 5:00 PM |
All Weather Exteriors has over a decade of experience in roofing services in Winnipeg.
The company offers a variety of roofing services and materials for their customers to choose from should a replacement be required. They will work with you to find a perfect match for your home improvement.
What makes All Weather one of the best is their deep understanding of their customers' needs. This enables them to design a roofing package to meet with the building's long-term plan and future maintenance requirements.
Their professional workers also know how to work with most materials including asphalt shingles, slate tiles, or metal roofing. They take great pride in their attention to detail, cleanliness, and management of all roof debris.
The company also stays ahead of the curve, always learning and training on new Winnipeg roofing technologies.
A+ BBB accredited business
HAAG Certified for 13 years
Years of guarantees on all their work
Accept financing
No clear mention of available insurance
Customer Reviews
A five-star review from Blair Lawson via Google says:
"Met Rob for the first time after receiving his quote and immediately I knew I would be taken care of. He showed us the various shingle colours and kinds of shingles and offered his suggestions which was appreciated greatly. The crew came out and finished in a little over a day which was quite amazing. The yard was clean, the shingles looked great, and the workers were friendly and attentive to the tasks at hand. Phase 2 is the facia, soffits, eavestroughs etc. and can hardly wait until they come to tackle that job. Great work and reasonable pricing. Should be set for life now!"
Curtis Nichol, a happy customer, also left a review via Google saying:
"Excellent job done re-roofing my home. I couldn't have asked for anything more. Rob & the team are very friendly and professional and pleasant to deal with. The price was competitive with all other quotes received, and the work was completed quickly and well executed. When they were finished the yard was left very clean."
6. Alpha Roofing

SERVICES
Shingle and Flat Roofing services
WEBSITE
https://www.alpharoof.ca
ADDRESS
66 Red River Blvd West
Winnipeg, MB, R2V 3X1
CONTACT DETAILS
204-295-5045
OPERATING HOURS
Monday – Friday: 8:00 AM – 6:00 PM
Alpha Roofing is a long-standing roofing company that provides fast and reliable improvement services for both residential and commercial properties. Their specialisation lies in roofing, both flat and shingle, but they also offer services for eavestrough and downspouts, soffit and fascia, as well as sidings.
Speaking of services, they're few of the reasons why Alpha Roofing made it on this list. The company consistently delivers quality work, which is thanks to Alpha Roofing's experienced team as well as the top-notch materials they use in each build.
Aside from the quality, Alpha Roofing's work is also very well-priced, with the company offering some of the most competitive rates in the market. This, coupled with the fact that they have warranty, makes them a popular choice for the people of Winnipeg.
Lastly, Alpha Roofing's team isn't only commendable for their experience in roofing and other improvement services. They are also highly professional, communicative, and prompt in their responses to clients.
Overall, Alpha Roofing makes an excellent choice for individuals looking to have new roofs installed or old ones revamped thanks to their amazing service.
Free quote
Transparent rates
Labour and roof under warranty
Trained under WHMIS (Workplace Hazardous Materials Information Systems)
Trained under CSAM (Construction Safety Association of Manitoba)
Customer Reviews
A five-star review from Rob Drummond via Google says:
"Alpha roofing has done a lot of work for me and I would recommend them to anyone! Their work is top quality, they are very efficient and keep a clean site. I couldn't be more happy. Truly professional."
Another one from Dave Peters says:
"One of the best experiences I've ever had in hiring a service provider. Very professional, great communication, did what they said they would do and provided me optional upgrades/enhancements with pricing, before the project started. Began the work on schedule with a team of people and thoroughly cleaned up when finished. (new shingles on bungalow and detached garage). I have already recommended Alpha Roofing to family and friends."
7. Advanced Level Roofing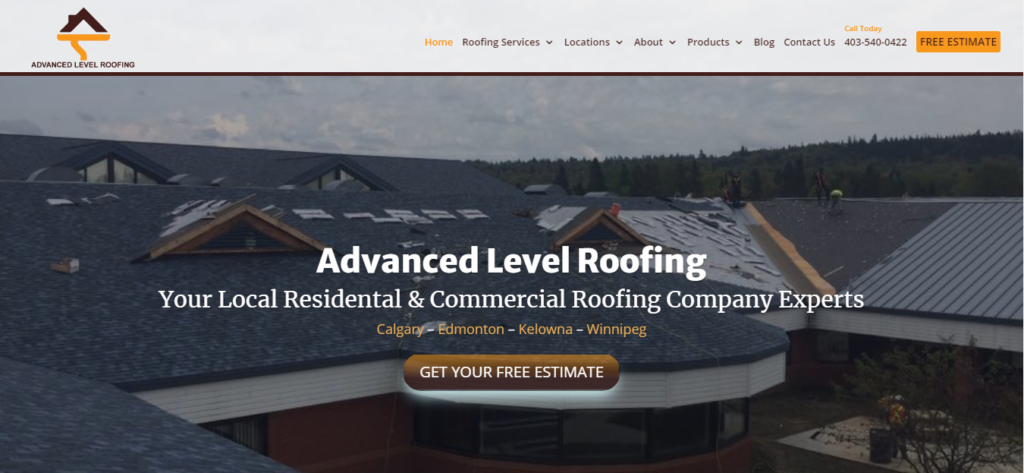 | | |
| --- | --- |
| SERVICES | Roof installation, repair, maintenance, and inspection, flat roofing |
| WEBSITE | https://www.advancedlevelroofing.com/ |
| ADDRESS | 1549 St Mary's Rd #101, Winnipeg, MB R2M 5G9 |
| CONTACT DETAILS | (204) 272-3006 |
| OPERATING HOURS | Monday – Friday : 9:00 AM – 5:00 PM |
If you're looking for a roofing company that can handle just about any type of roofing, then Advanced Level Roofing may be what you need. This roofing company does commercial and residential roofing to cater to just about anyone in Winnipeg.
Aside from the usual roofing services, Advanced Level Roofing also does flat roofing for those who want a stylish and functional roof.
Additionally, Advanced Level Roofing is also qualified for roof inspections. This way, homeowners or business owners going through insurance claims after storms can also approach this roofing contractor.
Since Advanced Level Roofing Winnipeg is a part of the larger company, it also aims to deliver reputable roofs by providing a 30-year warranty. This contractor also adds extras like water shields, vents, and plumbing collars for each installed roofing.
It also uses only premium roofing brands for durability. That said, this contractor doesn't offer many options when it comes to roofing products.
Advanced Level Roofing also prides itself on its fast services as it can finish most roofing jobs in a single day. Besides, this contractor also provides quotations within 24 hours of each request.
Free quote within 24 hours
30-year warranty for roofing installations
1-day turnaround time for roofing projects
Extra furnishings already added per installation
Available for roof inspections and insurance claims
Customer Reviews
Read these reviews to know what makes Advanced Level Roofing among the best roofing contractors not only in Winnipeg but in other major Canadian cities, too:
"Excellent all around. Friendly, great customer service, prompt, on time, and a great price. Everything I could ask for. I definitely recommend you use Advanced Level Roofing for you next roof repair or replacement"—Marie Holmes
"Advanced Level Roofing did excellent job replacing my roof. Estimator was on time to meet with us. Crew arrived on time to do the work. Any concerns were addressed quickly and to our satisfaction. They handled communication with insurance company very well. Thank you for great work."—Nathalie Burnett
8. Sharp Roofing & Exteriors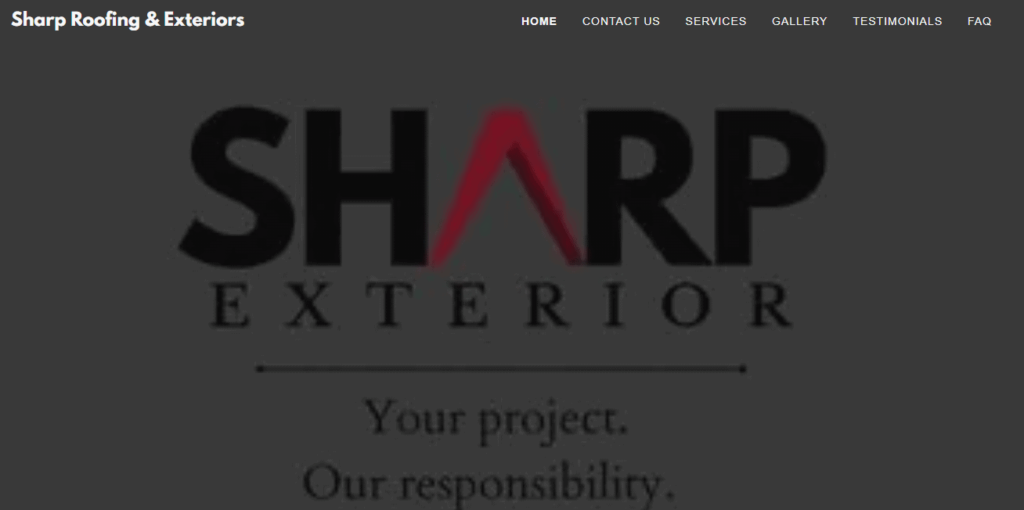 | | |
| --- | --- |
| SERVICES | Roofing, Soffit/Fascia, Eavestrough and Siding |
| WEBSITE | https://sharpexterior.ca/ |
| CONTACT DETAILS | (204) 599-2212 |
| OPERATING HOURS | 8:00 AM – 8:00 PM daily |
From repairs to replacements, we think that Sharp Roofing & Exteriors is one of the more straightforward companies customers can use for their roofing needs.
For starters, we like that they are open daily, and for longer-than-usual operating hours. Clients appreciate that it is easy to connect with them and that estimates are quickly produced after a courtesy visit.
We were pleased to hear that booking an appointment with them is relatively quick and painless, which takes away unnecessary stress in an already stressful situation.
Since this is a very weather-dependent service, it is important to address important issues before a change in season arrives and ice damming becomes a problem.
Sharp Roofing & Exteriors is also known for its team's great communication style. Clients appreciate that they are regularly kept in the loop so that they know how the project is progressing, ensuring peace of mind.
Finally, we are happy to share that they are one of the few companies with friendly rates. Given the quality of their services, we'd say that what they offer is great value for money.
Despite having a more limited range of services compared to other roofing companies, it looks like Sharp Roofing & Exteriors does the very few things it offers exceptionally well. At the end of the day, this is what matters to customers – which is why they belong to this list.
Long operating hours and open daily
Quick turnaround on estimates
Easy booking process
Good communication all throughout
Reasonable rates
Limited range of services
Customer Reviews
Check out what these happy clients have to say about Sharp Roofing & Exteriors:
"The Sharp Roofing & Exteriors team was very fast, efficient, and friendly when replacing our roof. After a curtsey call, a quick estimate was performed. Booking a date was simple and the team showed up on the specified date and time. The lead on the project was transparent and kept us updated on the progress especially when it was unexpectedly discovered that most of the wood was rotten and needed to be replaced. In the end the roof turned out great and the clean-up was beyond our expectations." —Andrew M
"Huge help saved me when all hope was lost ,and gave me a great price would highly recommend to anybody looking to get exterior work done !!!" —Shingle Shack
FAQs on Roofing Services
---
We hope that our list of the best roofing companies in Winnipeg made fixing and remodeling your roof a bit less intimidating.
Know any other amazing roofing companies in Winnipeg that weren't on this list? Let us know by reaching out to us.
If you're looking to replace the colors of your walls and freshen up your house, check out the best painters in Winnipeg.