Stay and Play at These 10 Staycation Spots in Winnipeg
We all deserve to rest every once in a while, but not all of us have the time, money, or energy to travel far. Luckily, Winnipeg has plenty of places that make for great staycations, and they won't even cost you that much!
Out of all the places we've checked out, these are our top 10 staycations in Winnipeg.
1. Delta Hotels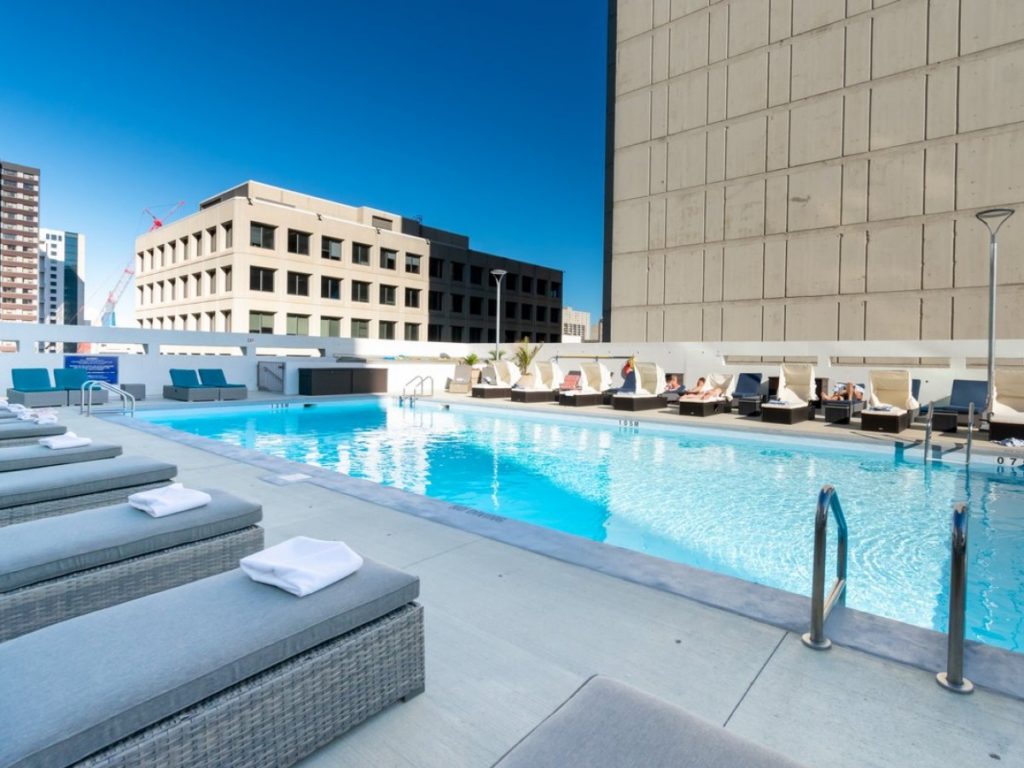 Right in the heart of downtown Winnipeg, Delta is the perfect place to relax even if you have no plans of leaving the premises! It's got both an indoor and rooftop pool, a poolside bar, tanning benches, and hot tubs!
Everything here is designed to keep you inside (comfortably). Each room comes with 37-inch TVs, heated floors and mattresses, and some of the fastest wifi you've ever seen.
We have to warn you, it'll be hard to adjust to your real home after a few nights here. We initially booked a 3-night stay and ended up extending it to a week since we just didn't want to leave!
Just place your phone on DND and watch your stress melt away.
If you don't want to stay cooped up during your stay though, then that's fine too since it's right in the middle of Winnipeg. You're just a few minutes' walk away from the Winnipeg Art Gallery, Manitoba Museum, The Forks, and Assiniboine Park.
Address
350 St Mary Ave, Winnipeg, MB R3C 3J2, Canada
Contact Details
+1 204-942-0551
Price per night (Two Adults)
$400
Amenities
Indoor and Rooftop Pools

Poolside bar

Hot tubs
2. Inn at the Forks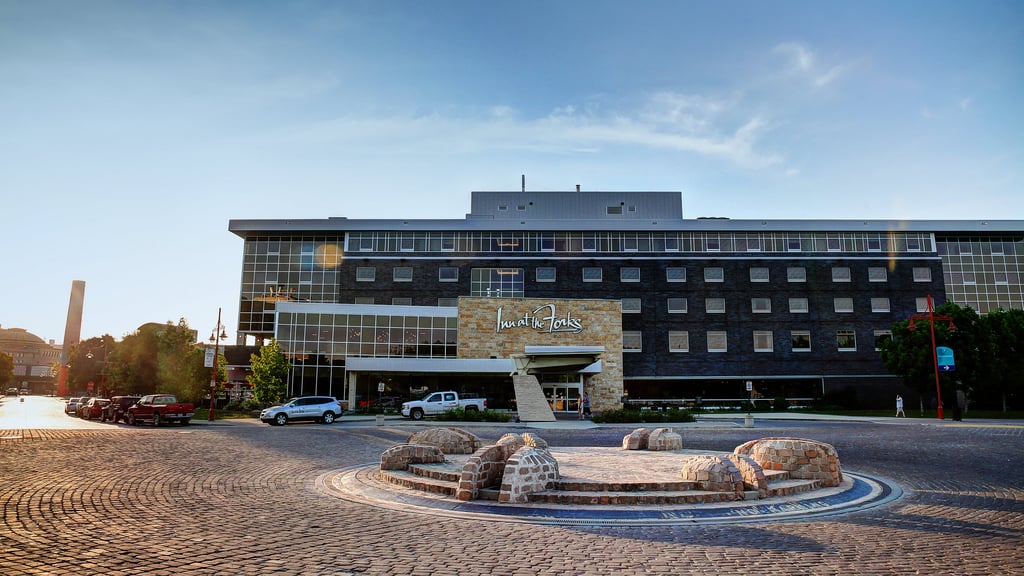 The Inn at the Forks is located right in the middle of Winnipeg's famous Forks district, meaning you're also beside some of the best museums, galleries, and markets.
You can explore these for free since each stay comes with two free tickets to the Winnipeg Art Gallery and Human Rights Museum! You also get access to an in-house spa with some of the best masseuses in the city.
You can try doing what we did and spend the whole day exploring the neighborhood then come back to the Inn and destress at the spa. If you're not a massage fan, then you can try relaxing at the spa's hot tubs and saunas too!
There's also the option to rent bicycles if you want to explore as much of the neighborhood as you can, which is pretty cool. There are a bunch of parks nearby where you can spend the day biking.
Address
75 Forks Market Rd, Winnipeg, MB R3C 0A2, Canada
Contact Details
+1 204-942-6555
Price per night (Two Adults)
$225
Amenities
Spa

Two free Winnipeg Art Gallery and Human Rights Museum passes
3. Larga Hotel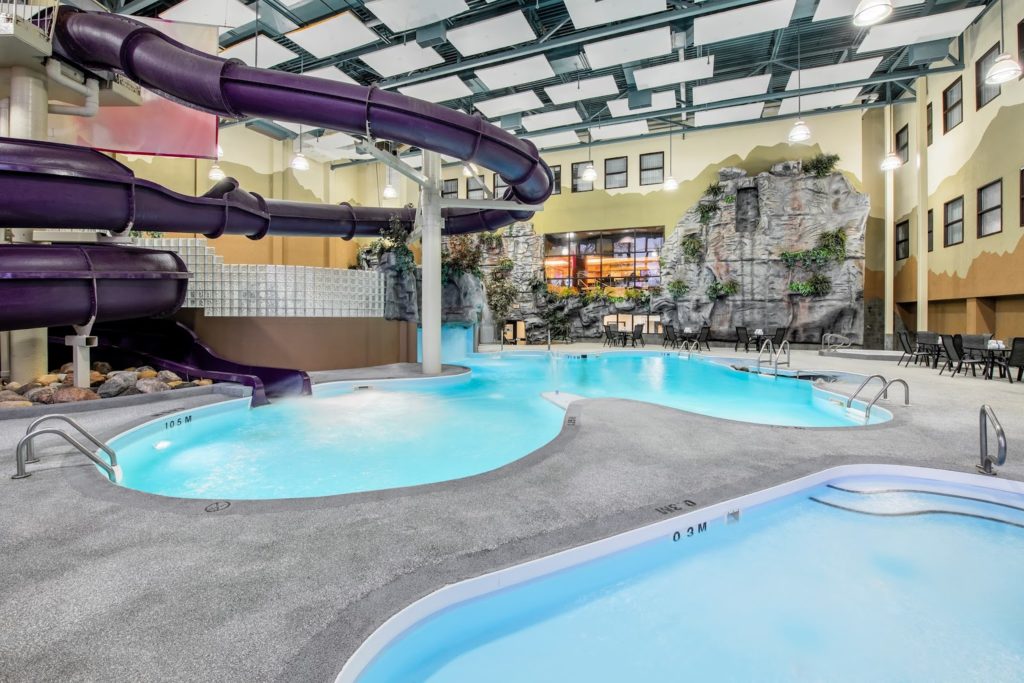 The Larga Hotel is one of the most fun hotels you can have your staycation in, especially if you have kids! There's a small waterpark inside complete with adult and kid-sized pools, waterslides, and heated pool options.
There's also a spa with a mineral pool you can relax in while your kids have fun at the waterpark. Don't worry about them though, the lifeguards are there pretty much 24/7 and will make sure your younglings don't get kidnapped.
If the spa isn't your ideal relaxation spot, then you can also check out the poolside bar and drink with the rest of the tired parents. The bar has some amazing cocktails and even some weird mixes we liked chugging down!
Perhaps our favorite part about this hotel is that this is all at just $200 a night! If you're looking for value, then that's what you're gonna get at Larga.
Address
1445 Portage Ave, Winnipeg, MB R3G 3P4, Canada
Contact Details
+1 204-774-5110
Price per night (Two Adults)
$200
Amenities
Waterpark

Spa with mineral pool
4. Best Western Premier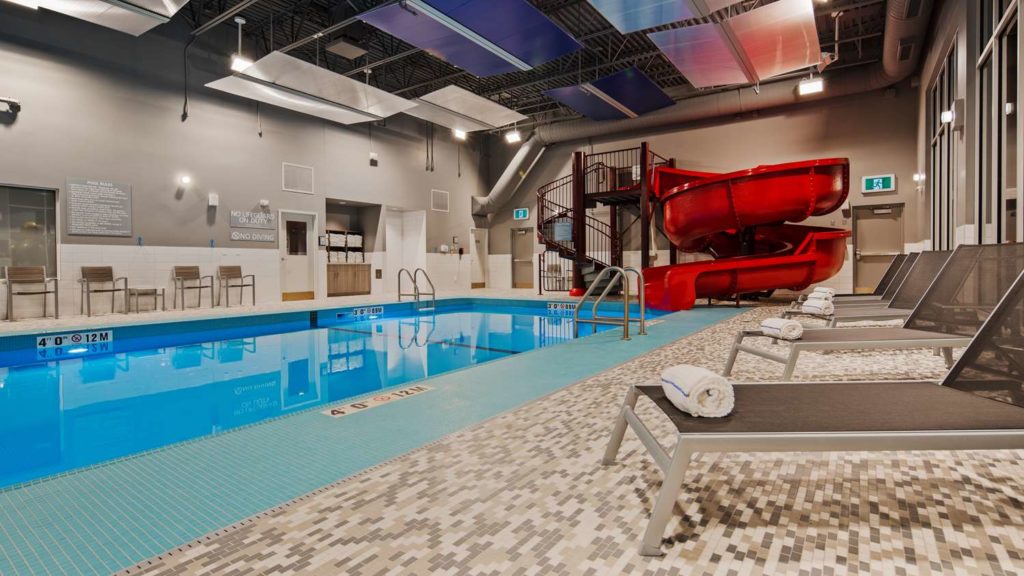 The Best Western Premier is the perfect staycation spot, offering a blend of comfort, luxury, and proximity to local attractions. It's also one of the few places you can stay in with an indoor waterpark!
At such a cheap price, the place was surprisingly well maintained and the staff weren't cranky in the slightest! This was despite a full lobby in the middle of summer.
Room service was great – our UV lights didn't show any hidden body fluids on the bed, and the bathrooms were just as hygienic as other more expensive hotels.
We particularly enjoyed the coffee makers and huge TVs that came with our room, which is what we spent most of our time here using. There's no better way to enjoy a staycation than with a cup of coffee while binge-watching mindless shows.
The hotel food isn't great though, so try to eat out whenever you can. There are a ton of neat restaurants nearby anyway, so it won't be too much of a problem.
Address
900 Regent Ave W, Winnipeg, MB R2C 5C6, Canada
Contact Details
+1 204-416-1920
Price per night (Two Adults)
$200
Amenities
Indoor pool with waterslide

Gym
5. Fairmont Hotel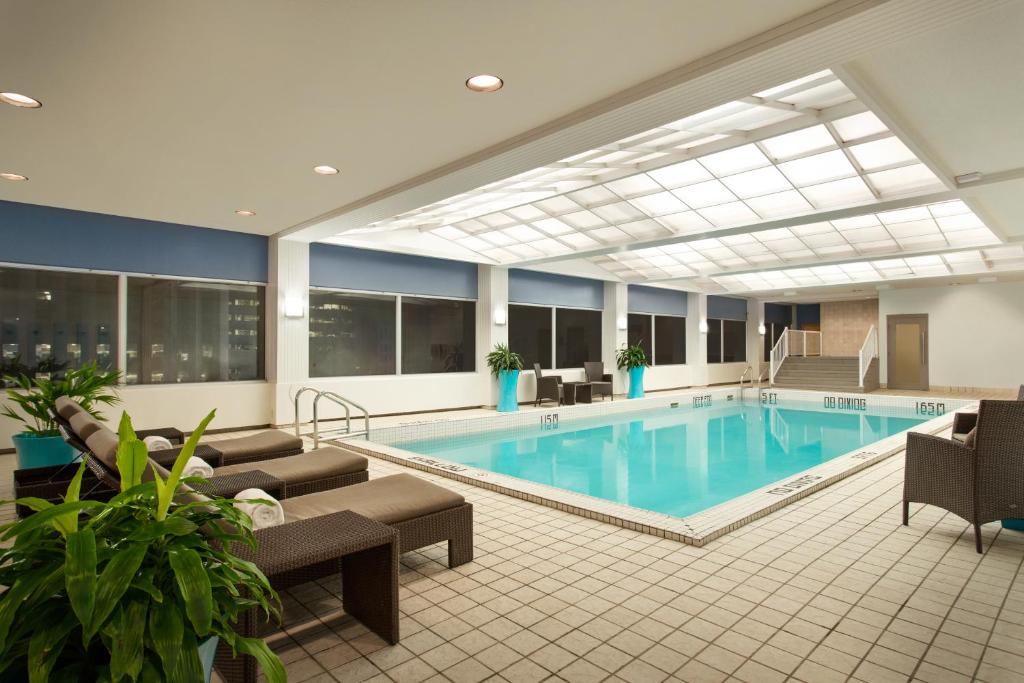 Fairmont is one of the biggest names in the hotel industry, but we still think it's underrated. The hotel is practically one giant spa where everything about it just makes you feel relaxed.
There's an indoor saltwater pool you can enjoy. It overlooks Winnipeg's skyline which looks absolutely stunning at night.
There's also a poolside bar you can use along with some heating options for the pool, turning it into one big hot tub. Pair this with the comfy beds and 42-inch TVs in your room, and you won't want to leave — ever.
If you do decide to leave for some fresh air, you can visit some nearby places like the Old Market Square and Assiniboine Zoo, which are just a walk away from the hotel.
This place isn't too pricey either, costing about $300 per night. That's a bargain considering the quality you'll be getting throughout your stay!
Address
2 Lombard Place, Winnipeg, MB R3B 0Y3, Canada
Contact Details
+1 204-957-1350
Price per night (Two Adults)
$300
Amenities
Indoor pool

Bar

Gym
6. South Beach Casino & Resort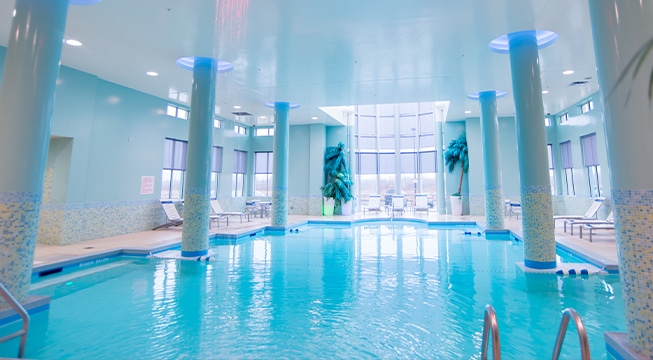 South Beach Casino and Resort is the best place for staycations based on pleasure. For just $200 a night, you get access to huge art-deco bedrooms, a casino with over 500 slot machines and electronic table games, and access to dozens of nearby bars!
This place also has an indoor pool with huge windows overlooking Winnipeg's countryside, which we all know is one of the most relaxing views you can have. We really liked casually floating while watching the outside trees sway with the wind.
The casino isn't one of those sketchy, scammy places either! We were able to win a couple hundred bucks before we decided not to push our luck.
The nearby bars are pretty decent too. They aren't as packed as the ones in the city, but there's still a sizable amount of people and the drinks taste better!
If you're someone who likes adult fun, then this is definitely your staycation spot. Just try not to spend your life's savings on the slot machines.
Address
1 Ocean Dr, Scanterbury, MB R0E 1W0, Canada
Contact Details
+1 204-766-2100
Price per night (Two Adults)
$200
Amenities
Pool

Casino
7. Aaron's on the Lake Bed & Breakfast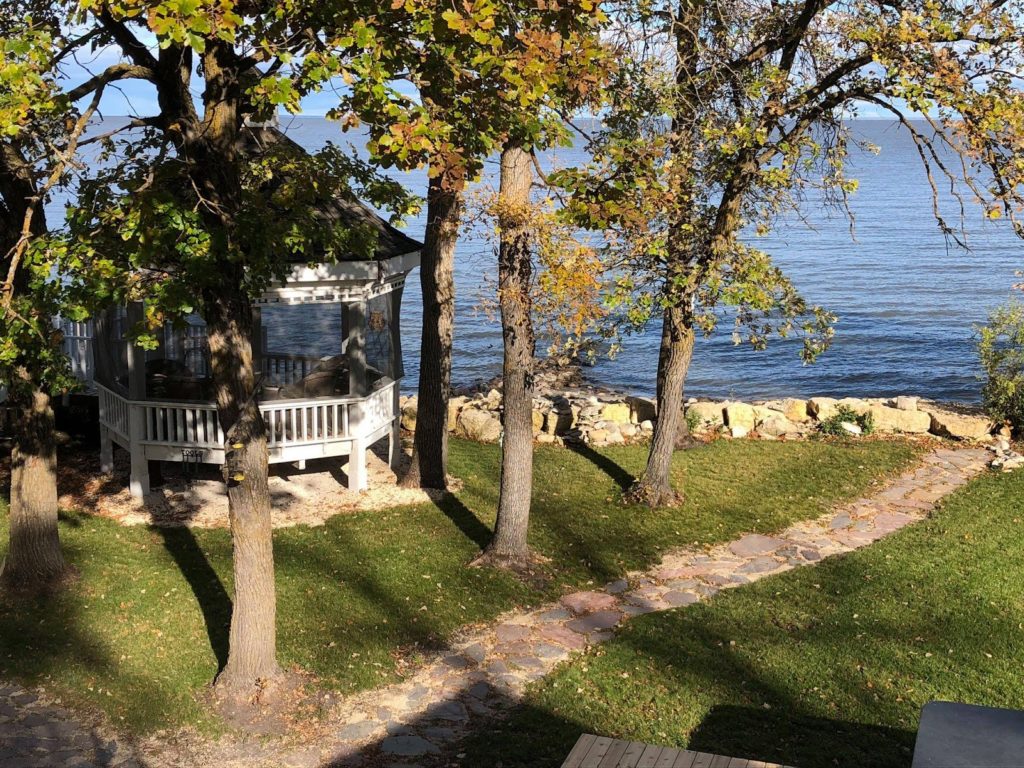 Aaron's on the Lake provides one of the most unique staycation experiences you can get. Unlike most other countryside staycation spots, this place doesn't look rundown and it feels like it's worth more than the price!
When you check-in, you can either get the garden view, lake view, or pier view rooms, each with its own unique charm. We suggest you try getting the lake view room since it's right by the short, giving you access to as much nature as possible.
The food here is pretty great and is usually served buffet-style. There aren't many food items to choose from, but each one is well-seasoned and very worth the price.
If you decide to check in, we suggest you try swimming or canoeing during your stay. It'll make your staycation more memorable and relaxing, and the water looks absolutely stunning when it's dark.
Address
311 Gimli Rd, Dunnottar, MB R0C 2B0, Canada
Contact Details
+1 204-223-1690
Price per night (Two Adults)
$165
Amenities
Canoes

Spa
8. Tallpine Lodges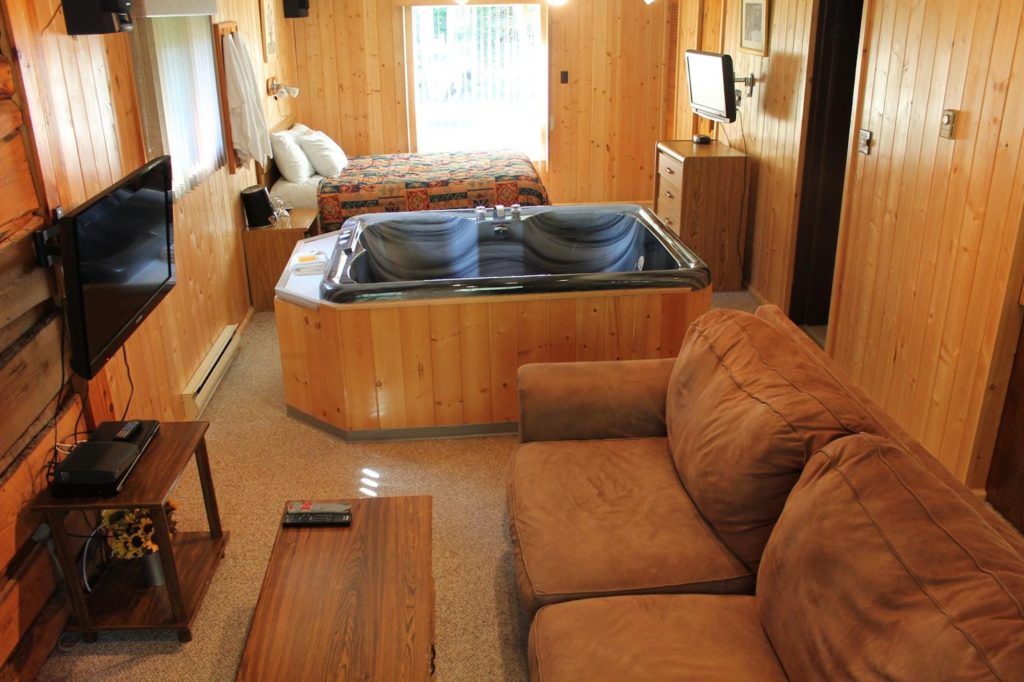 Tallpine Lodges is a hidden gem in Whiteshell although it's become a popular staycation spot in recent years. The place is small but well-maintained and comes with as many relaxing amenities as other bigger hotels!
Each room is fitted with its own hot tub and windows overlooking the surrounding lakes and nature, and it gives you access to some fun outdoor activities.
If you decide to leave the premises, you'll be able to hike some national parks, go canoeing, and even go cross-country skiing during winter. Of course, all these things are tiring, but you can easily relax at Tallpine's sauna!
Everything about Tallpine Lodges—the tall pines, peaceful nights, wildlife, and fresh air add to the perfect atmosphere for relaxation.
This place is great for kids too, and we're sure yours will spend 90% of their time in the hot tub, leaving you with plenty of self-care time.
Address
800 W Hawk Blvd, Whiteshell, MB R0E 2H0, Canada
Contact Details
+1 204-349-2209
Price per night (Two Adults)
$300
Amenities
Outdoor pool

Hot tub (per room)

Sauna
9. Lakehouse in Wasagaming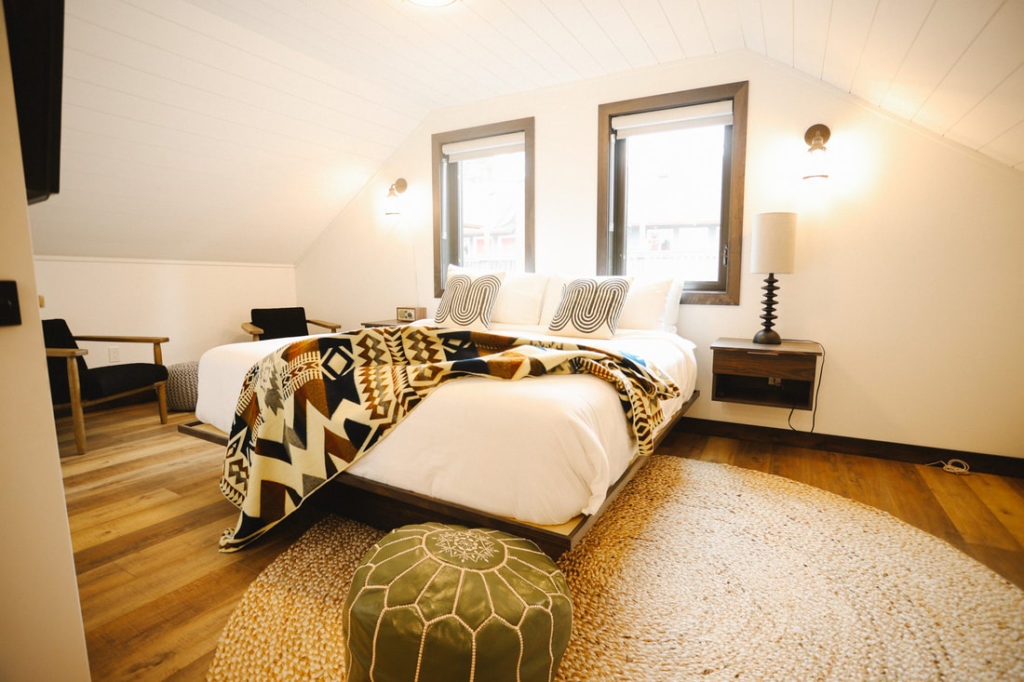 The Lakehouse in Wasagaming's main thing is how you can use it as a base of operations while you explore Winnipeg's countryside during your staycation. You can even rent some bikes to help you explore more easily.
It's located close to Riding Mountain National Park and Clear Lake, both of which are popular outdoor adventure places. During our stay, we had to book for a week just to fully explore what the lakehouse had to offer.
Hiking through Riding Mountain can take up to two days, but the outdoor experience is well worth the trouble. You can also choose to use the patio and fire pits for those campfire nights.
If hiking isn't your thing, then canoeing around Clear Lake can be just as therapeutic, and you can always come back to the lakehouse if you want to rest! If you're an outdoor person, there's no better place to spend your staycation than right here.
| | |
| --- | --- |
| Address | 128 Wasagaming Dr, Wasagaming, MB R0J 1N0, Canada |
| Contact Details | +1 204-848-7366 |
| Price per night (Two Adults) | $550 |
| Amenities | Patio with fire pits |
10. Lakeview Hecla Resort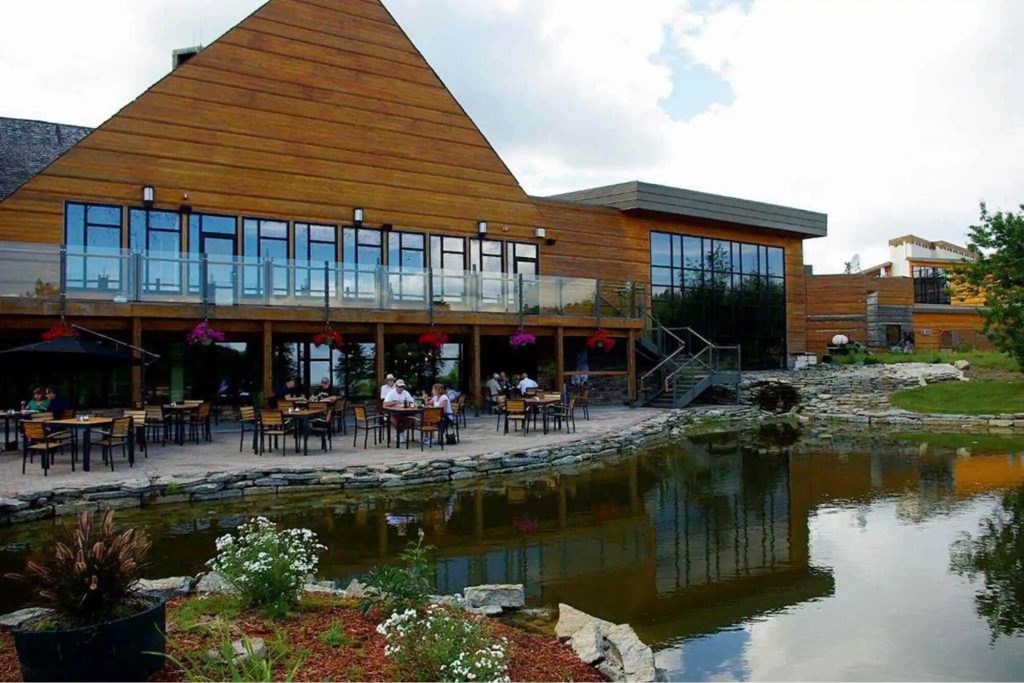 Lakeview Hecla is Winnipeg's most gorgeous countryside resort, and you don't have to break the bank to experience it. For just $200, you can relax in its indoor and outdoor pools, waterslides, and hot tubs.
The water used for these amenities all comes from the nearby lake, so everything's as fresh as possible. If you walk outside the resort for a few minutes, you can even go fishing or kayaking.
Aside from the water, Lakeview also has a private golf course you can use throughout your stay. Based on our time there, there aren't that many people on the course so you practically have the whole place to yourself.
All of this for $200 a night is a huge bargain, so it's not just you who gets to relax, but your wallet too! Try to bring cash though since the card readers malfunction a bit too often.
If you can, wait until it's dark before you use the pool. The skies are clear on this side of Winnipeg and the moonlight reflects beautifully against the water.
Address
MB-8, Gull Harbour, MB R0C 2R0, Canada
Contact Details
+1 204-279-2041
Price per night (Two Adults)
$200
Amenities
Indoor and outdoor pools with waterslide

Gym

Golf course

Hot tubs