The 5 Best Taxi Services in Winnipeg
We all need someone to get us to where we need to be. Sometimes, that someone is a taxi driver.
Today, we're queuing up our list of the best taxi services in Winnipeg. We tried them out, had others try them, and talked to their patrons.
We'll also discuss fares and answer some FAQs about taxi services in the city, so you can get a full picture of what to expect.
How Much Are Taxi Fares in Winnipeg?
As with any transport service, taxi fares depend a lot on the distance travelled. That's why most traditional taxi services in Winnipeg are metered, though there are exceptions (which we'll get into later).
Taxis can typically transport up to 4 passengers with a modest amount of luggage. Here's what approximate taxi fares in Winnipeg look like, including GST:
| | |
| --- | --- |
| DISTANCE (km) | ESTIMATED FARE |
| 3 | $8.91 |
| 4 | $10.63 |
| 5 | $12.35 |
| 6 | $14.07 |
| 7 | $15.79 |
| 8 | $17.51 |
| 9 | $19.23 |
| 10 | $20.95 |
| 11 | $22.67 |
| 12 | $24.39 |
Some other things that can affect your fare include traffic, available routes, and weather conditions. That's why it's good to know the city-issued fare schedule, which accounts for idle time in traffic:
| | |
| --- | --- |
| SERVICE | ESTIMATED COST |
| Basic charge (first 100 m) | $3.75 |
| Basic charge, from the airport | $5.00 |
| For every additional 100 m | +$0.16 |
| Metered waiting time | +$0.16 per 18.4 seconds |
Some taxi services in the city have additional features such as wheelchair access too. They're called accessible taxis, and they don't charge extra fees.
Our Picks for the Best Taxi Services in Winnipeg
Now that we've gotten into the subject of price, here are the taxis you can get into for your next trip. These are our picks for the best taxi services in Winnipeg.
1. Greencity Taxi Winnipeg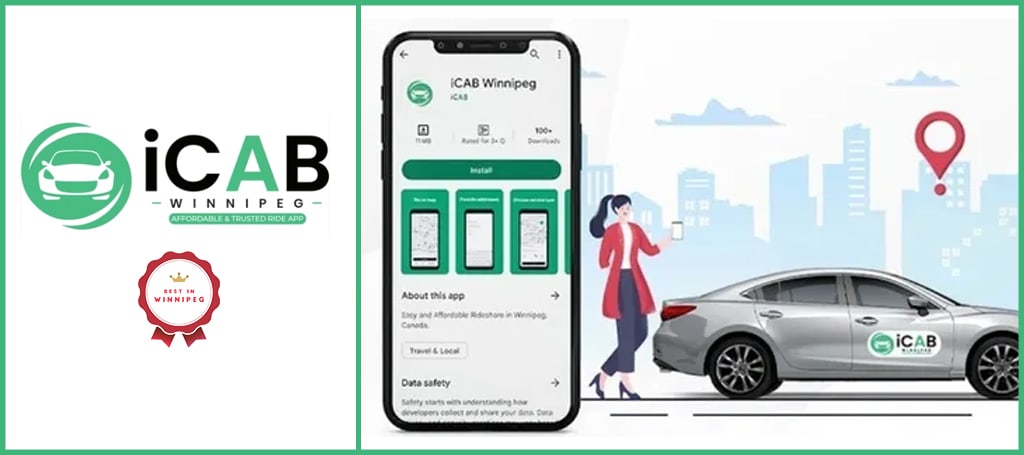 | | |
| --- | --- |
| BEST FOR | Flexible payment methods |
| WEBSITE | www.greencitytaxi.ca |
| ADDRESS | 834 Ellice Avenue, Winnipeg, Manitoba R3G 0C2, Canada |
| CONTACT DETAILS | Phone: 204-202-3300 |
Whether you're catching a flight or an appointment somewhere in town, Greencity offers reliable transport around Winnipeg. Let's talk about some of the features that set it apart from conventional taxi services.
One of the most unique things about Greencity is that they accept payments in cryptocurrency. That's right―they accept Dogecoin, Bitcoin, and Ethereum and have an electronic receiving address for each.
That means mining Bitcoin or trading Ethereum can actually get you a ride! What's more is that it's pretty useful for foreigners who prefer a unique conversion-free way to get around.
While cash is still an option, Greencity also accepts major debit and credit cards. You can hook up these payment methods to their free app, My Cab―and we do recommend that you install it first.
It's not an absolute must, and you can still hail a vacant Greencity cab from the street. The added benefit of the app is that you can pre-book your trips in advance and go cashless.
Additionally, the interface of the My Cab app is much more informative than the Greencity website (which we think could use a bit of an overhaul, by the way). There, you can track your driver on a map, just like Uber and Lyft.
There is the option to pre-book through their site, but you don't get consistent updates and it's not as efficient.
Accepts cryptocurrency
Flexible payment methods
Mobile booking with map tracking
Out-of-town service available
Not as efficient to pre-book through their site
Some complaints of unanswered phone calls
Customer Reviews
Here's some feedback from customers who got to their destination on time thanks to Greencity & the My Cab app:
"Overall good experience from scheduling to taking me to my destination. The car was very clean and Tek (driver) was most friendly and courteous. Will definitely go to them again and very much recommended."―J Adalia
"This taxi company is the best in Winnipeg. My family and I were headed for the airport in August 2019 and they arrived 10 minutes earlier. When we came back and arrived from our trip they were excellent and had no delays. Excellent professional service, on time, great value and quality. Will use it again! Thank you!"―David Lim
2. Unicity Taxi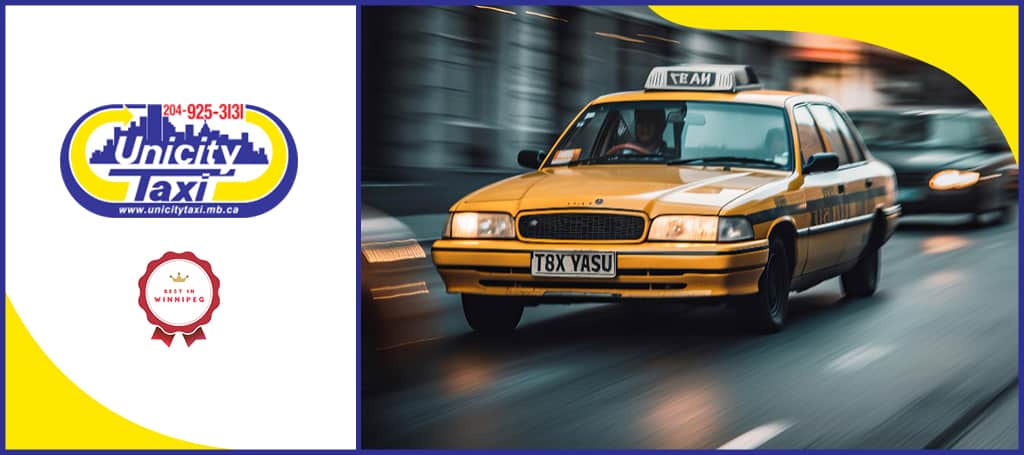 | | |
| --- | --- |
| BEST FOR | General commuting |
| WEBSITE | www.unicitytaxi.mb.ca |
| ADDRESS | 340 Hargrave Pl, Winnipeg, MB R3C 0X5, Canada |
| CONTACT DETAILS | Phone: 204-925-3131 |
| OPERATING HOURS | 24/7 |
If you've been using taxis way before ride-hailing apps were a thing, then Unicity Taxi will feel familiar. They've also caught up to the mobile booking scene, so it's got the best (and worst) of both worlds.
First, the old-fashioned stuff: street hailing and phoning a dispatch centre is still possible. What's nifty about Unicity's dispatch centre is that it has an Integrated Voice Recognition system.
Calling them for a ride using your home telephone will prompt them to store your caller ID and the address you've given. So, the next time you call them, simply dialing "1" will let them know that you want to be picked up at the same location.
Just remember, this system doesn't work for cellphones. Instead, you can use your smartphone for mobile booking, which also stores your preferred address.
Some other things that add to Unicity's appeal are occasional discount coupons and gift certificates. They also have a Lost and Found portal to help you retrieve items that may have been left in the taxi.
Unicity has one of the largest taxi fleets in Winnipeg too, with around 300 vehicles in circulation. This is good for availability, though it has its cons too.
Based on reviews, they seem to lack quality control with their drivers. Isolated cases of misbehaviour in large fleets are a bit harder to manage, and unfortunately, customer complaints reflect that.
Despite that, our own experiences and most of those of most people we know have been positive. We do think a few flies in the ointment aren't enough to completely spoil this one, overall, as it still outdoes most of the competition in most cases.
Operates 24/7
Integrated VR system
Large taxi fleet
Accepts cash and credit card
Discount coupons and gift certificates are available
Lost and found portal
Out-of-town service available
Mixed reviews
Does not accept debit card
Customer Reviews
Here are some reviews from people who've had a good experience with Unicity Taxi:
"Taxi arrived quickly. It was late at night and the driver waited until I was in my building. Much appreciated."―Hazel George-Saito
"Taxi pickup was on time. The driver was polite, and the car ―was very clean."Mel Roman
"From the very beginning, I have always gone through Unicity Taxi! From the dispatchers to the drivers, they have always been so professional and provided such a good service! Definitely appreciate the safe drives, helpfulness with helping me carry my groceries and to getting me to my destination!"―Amber Thiessen
3. Dependable Dispatch Service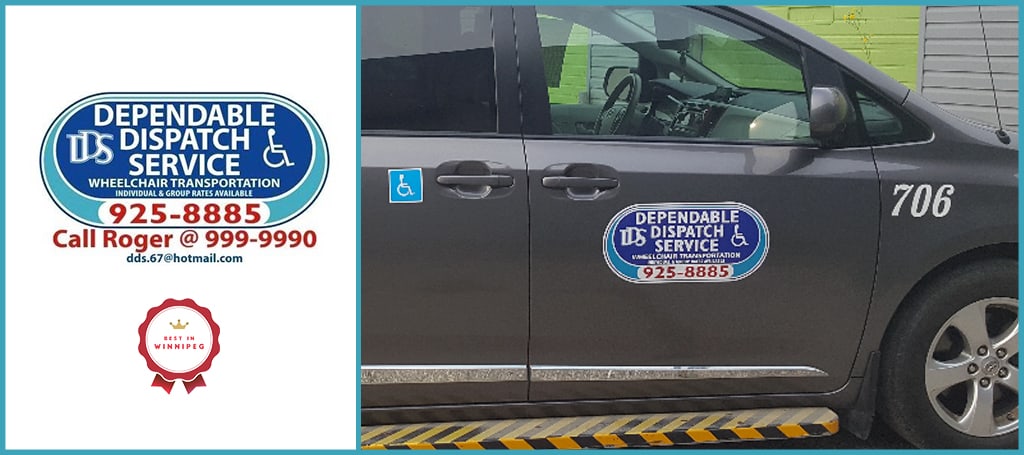 We know that it can be difficult to commute on a wheelchair, so we included Dependable Dispatch on this list. They're a taxi service that's specifically designed around special needs and disabilities.
Dependable Dispatch has been operating in Winnipeg since 2002, with the aim of providing inclusive and accessible transportation. Whether it's for school, work, or a doctor's appointment, special ramps and fixtures make it easy for wheelchairs to board and alight their cars.
In fact, some of the best doctors in the city are located in places where parkades can get busy. Dependable Dispatch makes it easier for people with disabilities to get to their appointments on time without having to worry about parking.
Booking in advance will get you the most reliable service, so we recommend planning ahead. Since it's a relatively small fleet, on-demand availability doesn't cover all of Winnipeg at any given time.
Be that as it may, what you get in exchange is high-quality control and well-maintained vehicles.
We like that their cars are always clean and their drivers are well-trained to make the trip comfortable. Customers praise the drivers at Dependable Dispatch for their polite and punctual service, as well as their smooth driving skills.
Depending on your transport needs, they have both individual and group rates. You're also allowed to bring companions and even service dogs onboard, which can be a major convenience.
24/7 service
Wheelchair transportation
Polite and punctual service
Smooth driving
No upfront pricing
May take some time to accommodate short-notice bookings
Customer Reviews
Here are some reviews from customers who can attest to the dependable service of Dependable Dispatch:
"They transported me in a wheelchair, my helper, and my service dog on time, and well. Very professional service, EXCELLENT driving. I was nervous since the roads were basically like driving through mashed potatoes, but he did amazingly!! I've never seen someone handle a van so well in that weather. And so respectful and kind. Best taxi experience I've literally ever had."―N.M.
"We used Dependable to transport my dad on the day of my mom's funeral. There were several pickups and drop-offs between the hospital, the church, and the post-funeral reception. Dependable was there exactly when they said they would be, they were very kind and very friendly, and took very good care of my dad. It was a very stressful day and Dependable gave us one less thing to worry about. Thank you so much."―Angie Carfrae
4. Uber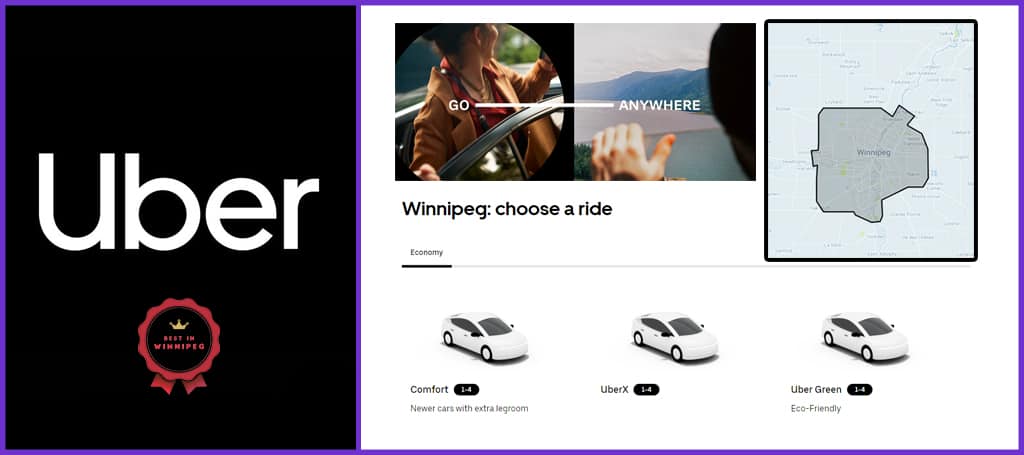 Yes―Uber is finally in Winnipeg. Back in early 2020, Winnipeg was the only major city in Western Canada without the global ride-hailing app.
Now that they've launched in July of the same year, they have some sizable expectations to live up to. Let's see how they're doing so far.
If you're visiting from other parts of the world and already use Uber, expect the app to work as it normally would. This makes it easier for people on vacation or business trips to get around in a familiar way.
It's also less demanding on your part because you won't have to download a new app and populate it with your payment details. That's why we recommend Uber to tourists, especially those who aren't too comfortable with hailing cabs from the street in a new city.
You can choose between a private and communal ride, with the latter being less expensive. They also give you the fare estimate upfront, which includes a base fare plus surge markup (during busy hours).
In terms of booking speed, the average wait time is 6-10 minutes. The fact that it's already this fast shows how much their driver base has grown in the past year.
Passengers also enjoy clean and well-maintained cars and Uber's new sanitation policies. They also have a responsive customer care division, which is an added benefit of the global franchise.
Because their service coverage is constrained by the app, however, other entries on this list may be better for out-of-town trips. Unfortunately at this time, Uber excludes parts of East Saint Paul, Howden, and Headingley.
Convenient for people who are familiar with Uber
Accepts cash, credit, and debit 
Fast booking
Clean, well-kept cars
Active customer support
No streetside hailing
Limited out-of-town coverage
Customer Reviews
Here are some passenger reviews about Uber's performance in the city:
"I requested a ride, literally 3 minutes later our ride was there. I have NEVER had that before with cabs or other ride services. The driver was awesome, offered us water, masks, hand sanitiser… etc. Would definitely recommend it."―Colby C.L.
"I took my first UBER ride on Thursday and it went perfectly. I had to wear a face covering, as did the driver and he opened the windows a bit as per their COVID-19 policy. The ride arrived within 10 minutes and I arrived at my destination without any issues. 100% would recommend."―G.S.
5. "Home, James" Pet Taxi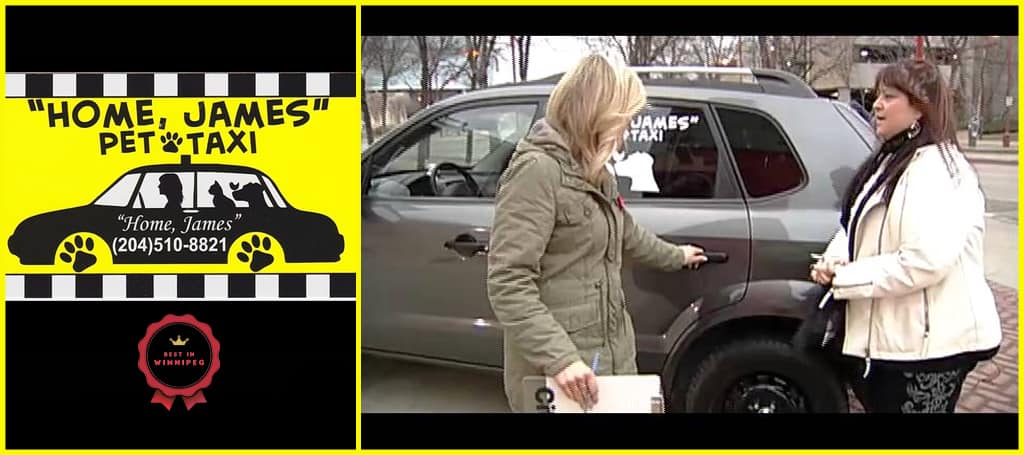 With Home, James Pet Taxi, owning a pet doesn't have to be synonymous with owning a car. If you've ever had trouble reconciling pets and public transport, then this might be the fix you're looking for.
Home, James started up in 2014 and is owned and operated by part-time pet-sitter Carla Greenberg. She offers transportation for people and their pets, from small reptiles to cats and large dogs.
This service is ideal for grooming appointments, visiting the vet, or simply getting around. There's an extra charge of $5 per pet if you bring more than 2, so just be mindful of that.
While she's great with animals, it's a small operation and you'll have to make arrangements in advance. This could be a bit of an issue if you need to transport your pet at short notice.
On top of that, because there's only one driver who doubles as a pet nanny, it can be difficult to navigate her schedule. It would be great if their site had calendar booking so people know immediately whether the trip they're planning is feasible.
On the plus side, we think booking with her over the phone is a good way to give special instructions like what size of crate to bring. Alternatively, you can specify whether you want your dog harnessed or just happily sat at the back.
Right now, they only accept e-transfers and cash, which isn't too bad (though we do wish they also took debit and credit). Additionally, booking a return trip later in the day will require upfront payment for the two-way ride.
Good for grooming appointments
Accepts all kinds of pets
Ready with pet crates of different sizes
Out-of-town service available
Limited availability, pre-booking needed
Does not accept debit or credit card
Closed on Sundays and holidays except for emergencies
Customer Reviews
If you're curious about the experience, here are some reviews on Home, James Pet Taxi:
"We hired Carla to transport our dog and us from the airport to temporary accommodations. Carla was professional, reliable, and responsive. It was a pleasure to arrive after a long transatlantic flight to have a friendly face take us where we needed to go."―C.W.
"We found ourselves in need of transport to take our little dog for an ultrasound test. The clinic was way across town and we had no way to get there with her. Carla came to our rescue and not only did she provide transport she was also extremely helpful and supportive in a stressful situation. My dog took to her immediately and she had a calm and caring way which really helped. I would highly recommend Carla's services in transport and we will surely call on her to dog sit when we require that service."―Diana S.
FAQs About Taxi Services
---
And that's the end of the road! If you have any questions about getting around the city, our lines are always open.
We've also written a review of the best driving schools in Winnipeg in case you want to take charge of the wheel yourself one day. Do check that out, too!